20 Best Pinterest Halloween Party Ideas
I like Halloween, but I don't enjoy the spooky decorations. Having cute and elegant decor is what I like to have around my house. If you're planning a Halloween party and want the elegant and cute party, here I will show you the 20 Best Pinterest Halloween Party Ideas. I will also include affiliate links at the bottom.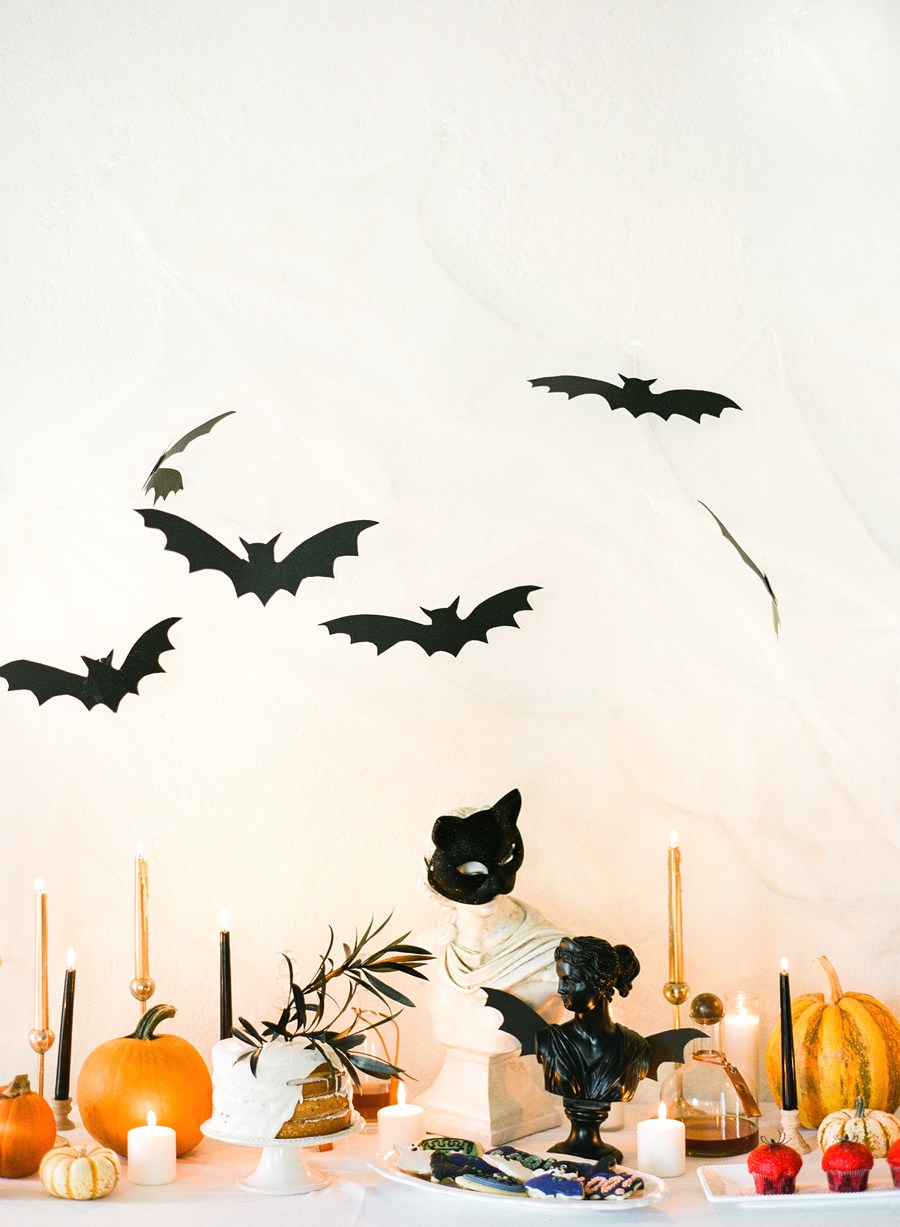 Loving the bats! What a cute idea to add the bat wings to the Roman bust that's painted black.

Affiliate links used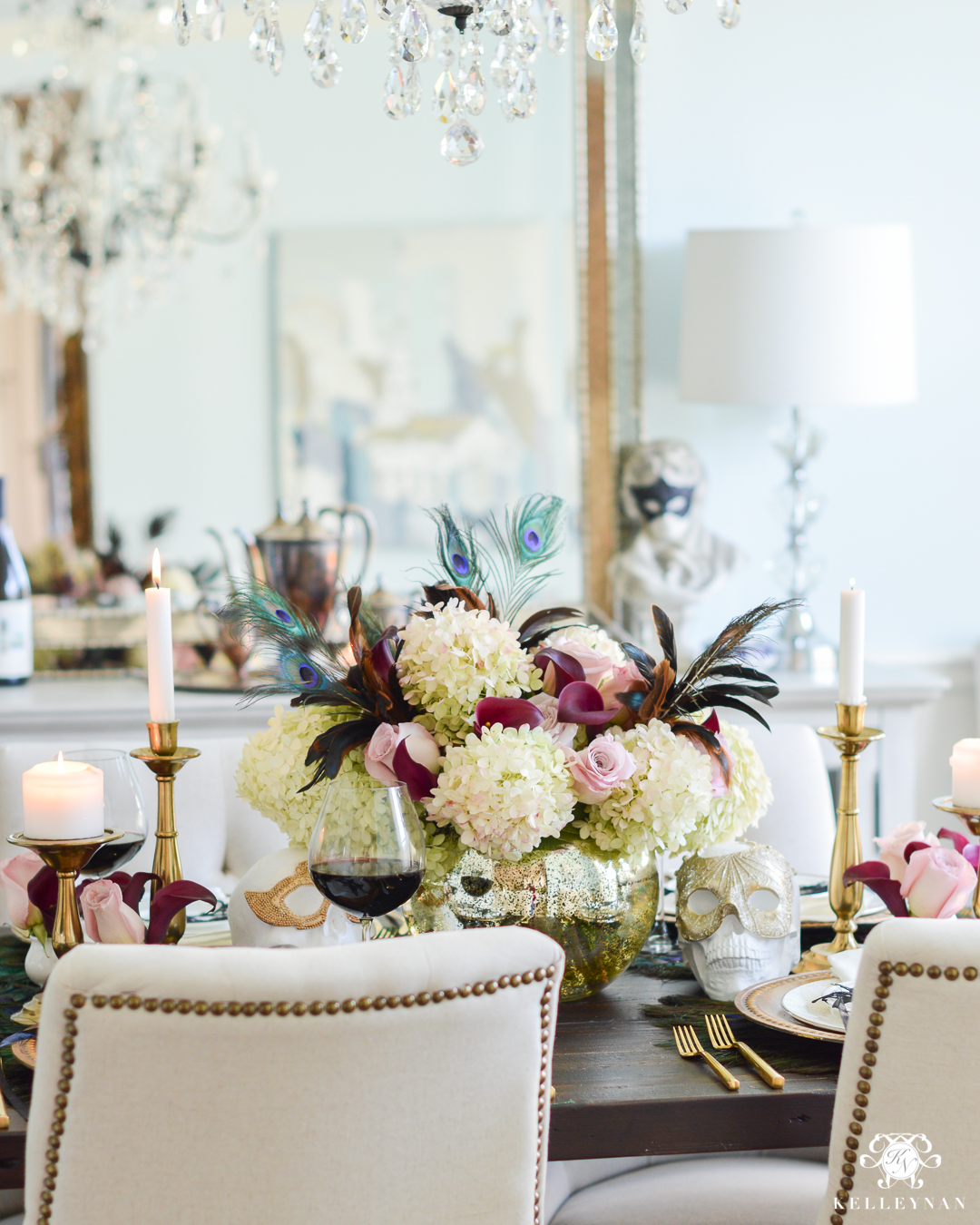 Adding some feathers or embellishments to your centerpiece can really add that Halloween touch. The skull and Roman bust with the masks on, is such a creative idea. Seems like I'll have to do something Halloween related with my Roman busts!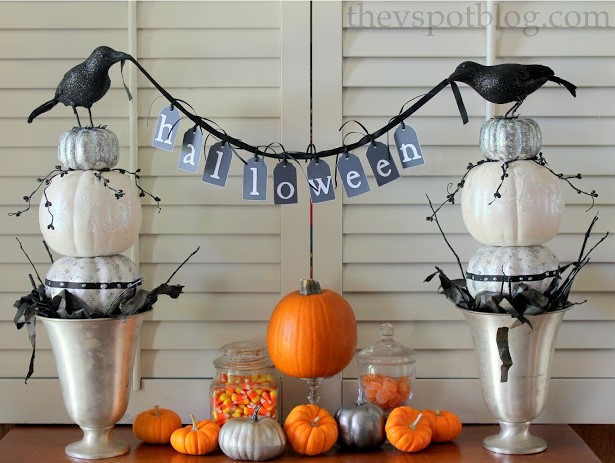 Stacking pumpkins and painting them is so cool. I have a recipe to chalk paint pumpkins here. Which you probably will want to try, because you can make any color you want. Just get creative!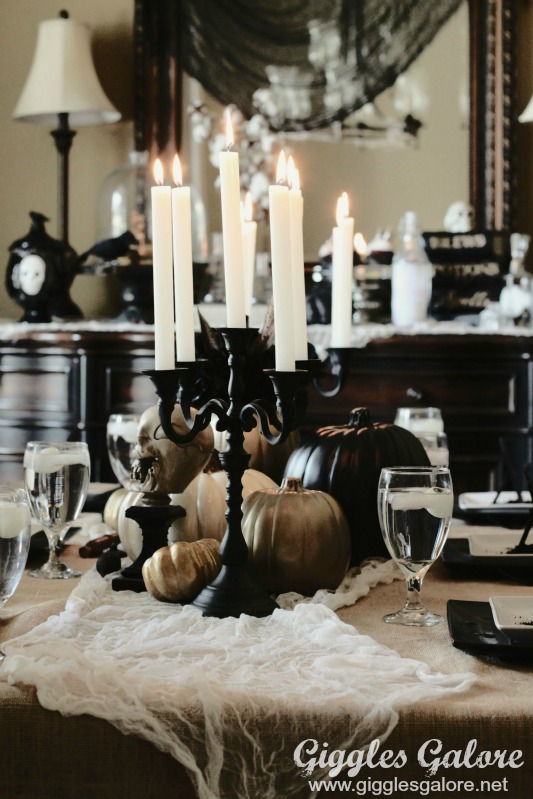 I love the elegance to this table, but it is also very eerie. It is a simple but beautiful centerpiece with many pumpkins and the black candelabras.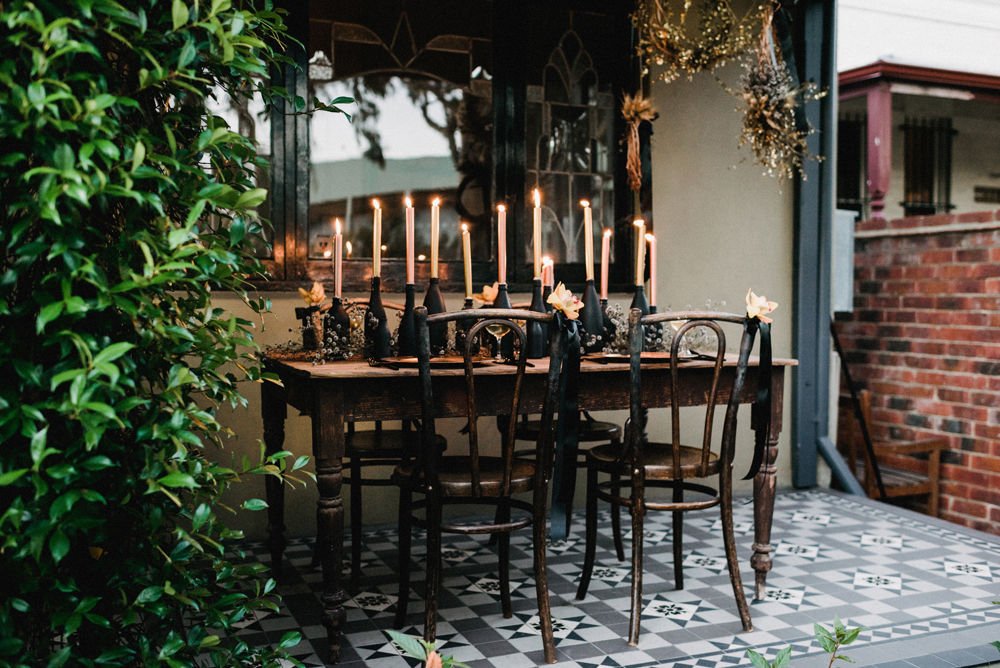 20 Best Pinterest Halloween Party Ideas
All those black bottles to hold the candles gives it that dark feel. I love the metallic candles, they add some Halloween glam.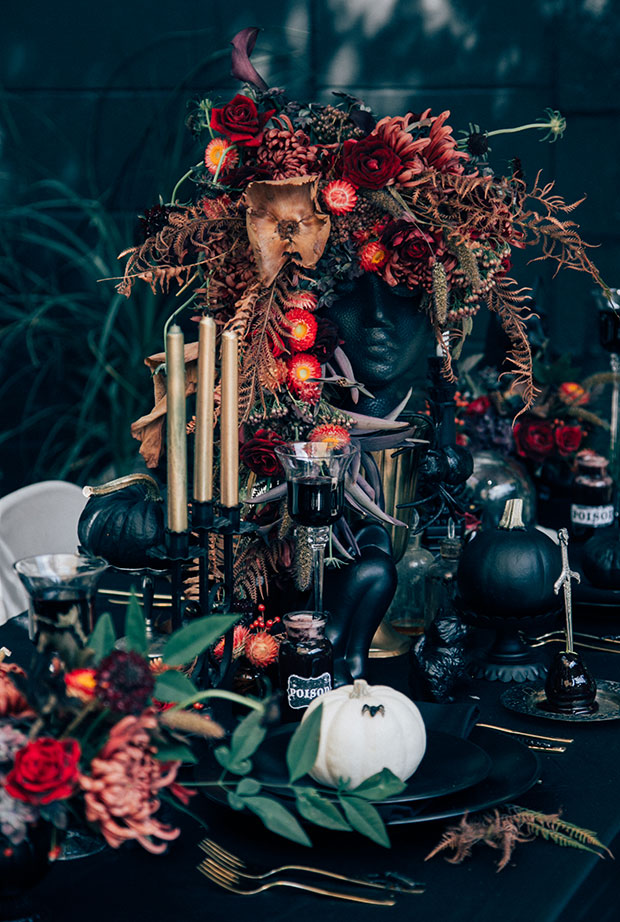 This is not your typical black and orange themed party. This is so much better! Having those pops of color against the black is brilliant.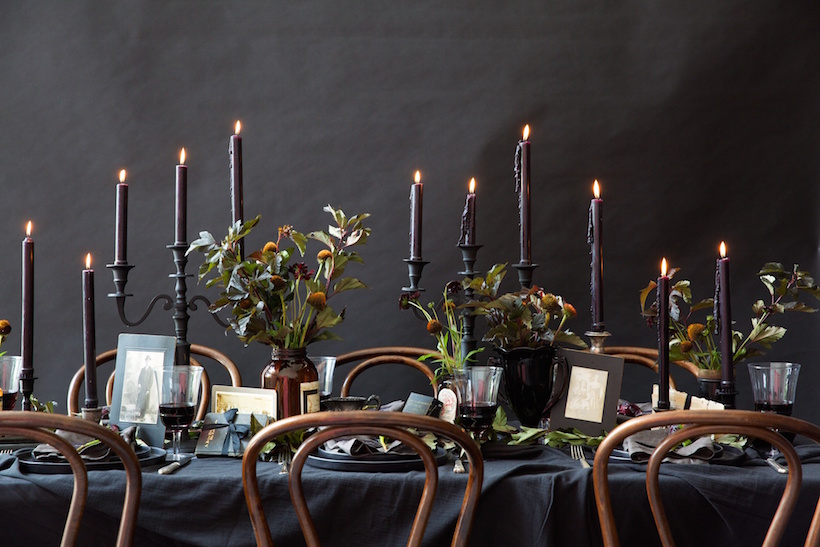 All black is sinister, but so elegant. How can that be? The black candelabras with the deep red candles dripping wax, that is just so pretty.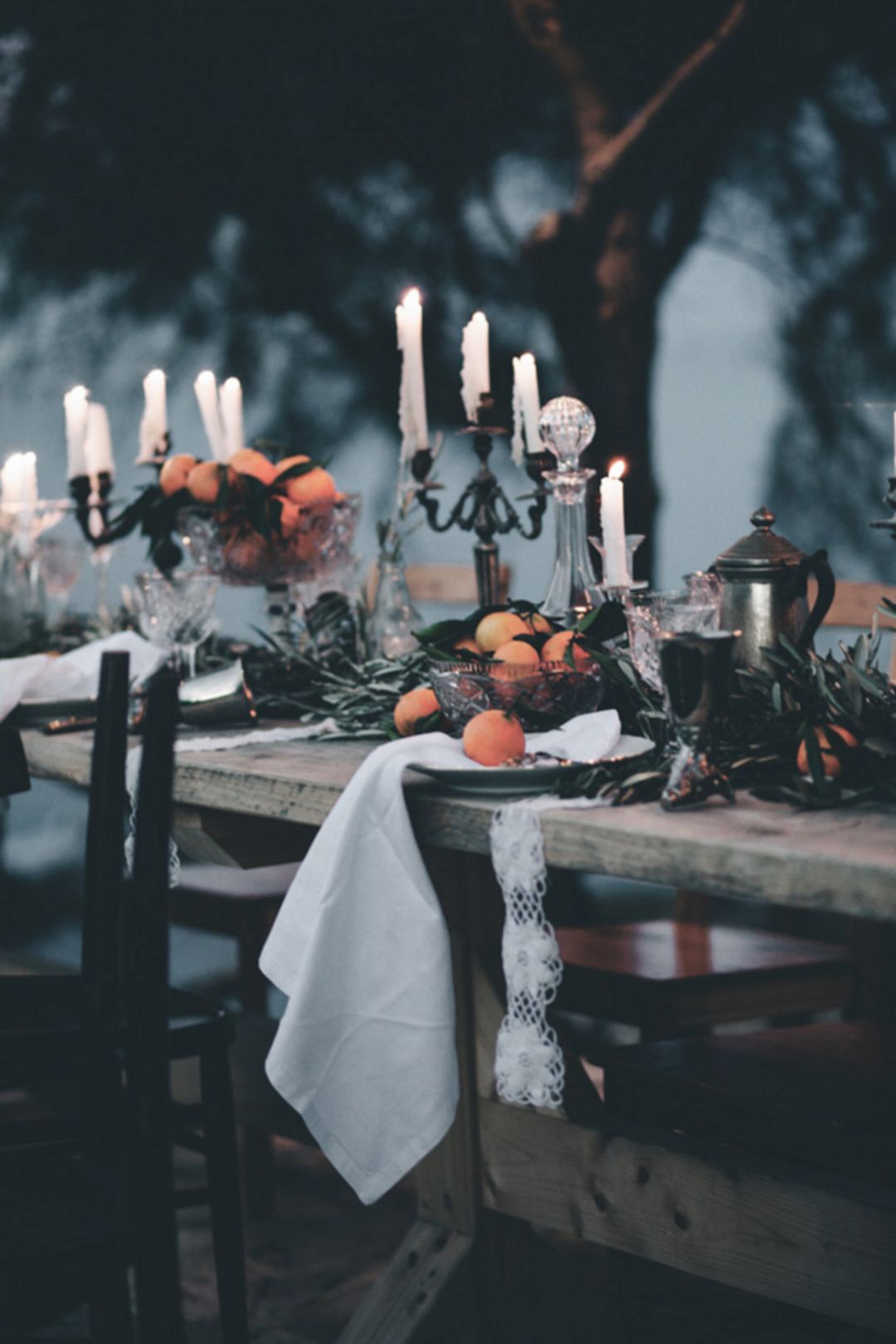 Here in the Pacific Northwest we can't have an outdoor Halloween party. But that does seem a little scary eating by candle light in the fog.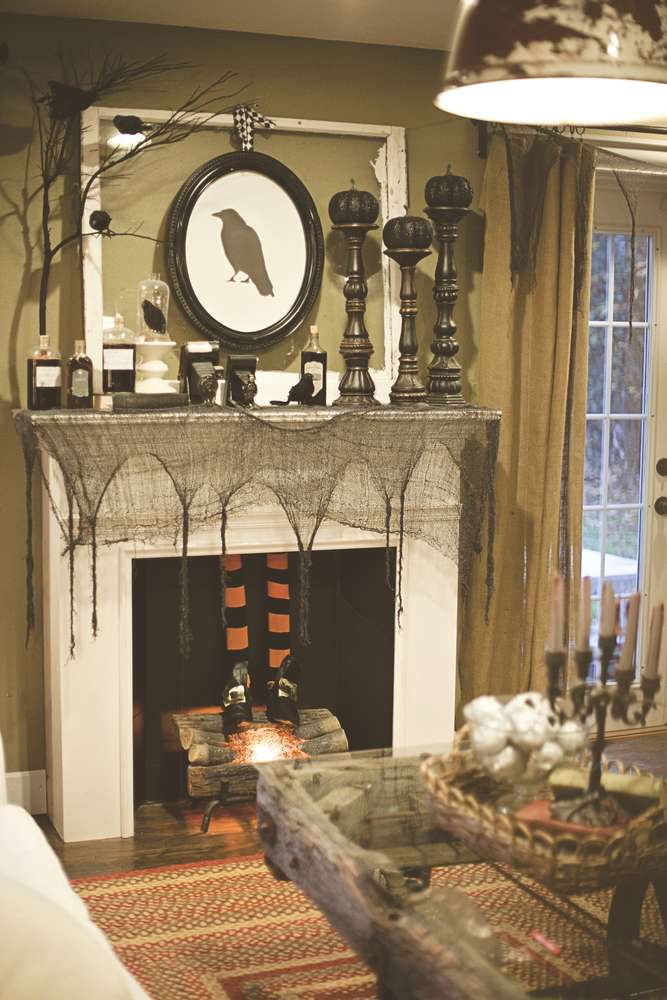 If you have candle sticks please add pumpkins to them. I love doing that for my living room decor, it is different than what people are used to seeing.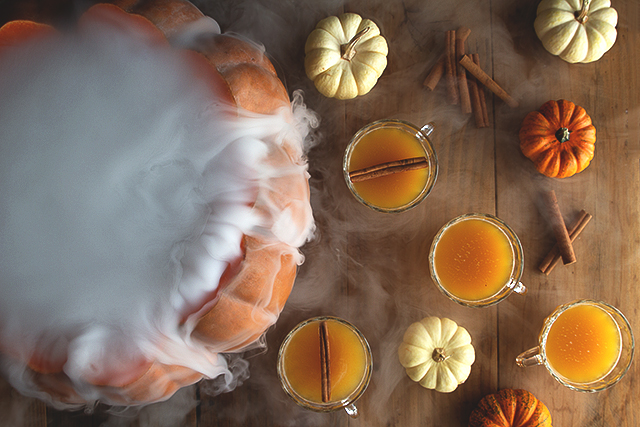 20 Best Pinterest Halloween Party Ideas
So I thought I'd share with you guys this delicious drink to creep your guests out with. You could really add any sort of drink you want. Fog just drizzling over the pumpkin, now that's a great way to serve a drink.
Halloween Pumpkin Party Punch
Author:
Prep time:
Cook time:
Total time:
Ingredients
Cup orange juice
1 cup lemon juice
1 cup spiced syrup
1/2 cup pumpkin puree
2 1/2 cups sparkling water
cinnamon sticks for garnish
Spiced Syrup:
1/2 cup demerara sugar
1/2 cup water
6 whole cloves
6 allspice berries
1 cinnamon stick (broken into pieces)
1 star anise pod
6 white peppercorns
1/2 nutmeg (cracked)
Instructions
In a large bowl, add the orange juice, lemon juice, and pumpkin puree. Stir to combine.
Once combined, pour the mixture through a fine mesh strainer into a large pitcher and chill until ready to serve.
Garnish with a cinnamon stick
Spiced Syrup:
Add the spices to a small saucepan over medium heat. Shake the spices back and forth so that they do not burn.
As soon as the spices become toasty and aromatic add the water and sugar. Stir continuously to dissolve the sugar. Bring to a simmer and turn the heat to low. Let simmer for 10 minutes, remove from heat, and strain through a fine mesh strainer.
20 Best Pinterest Halloween Party Ideas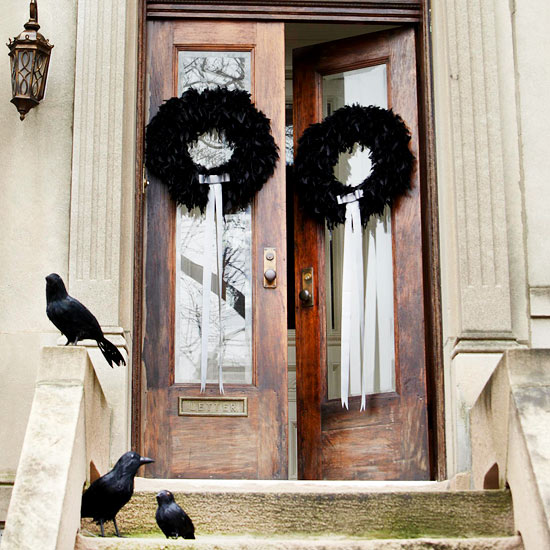 What a spooky way to welcome your guests. Oh and if you're loving shopping the look, I have tips for a perfect Halloween table here.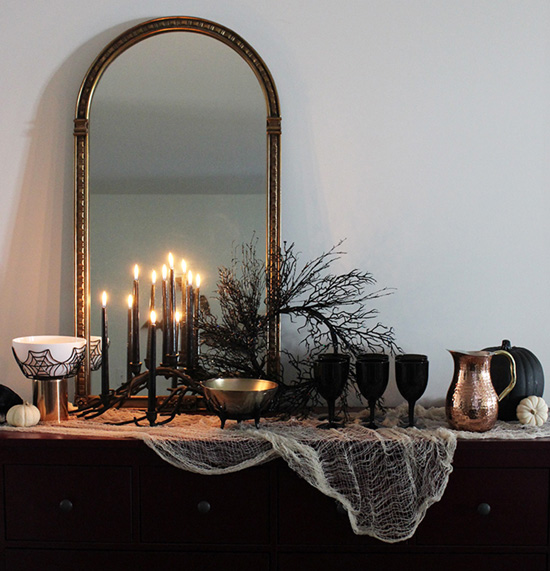 The bold gold mirror adds and eerie feel. Pops of the gold and copper always look great with the black and white.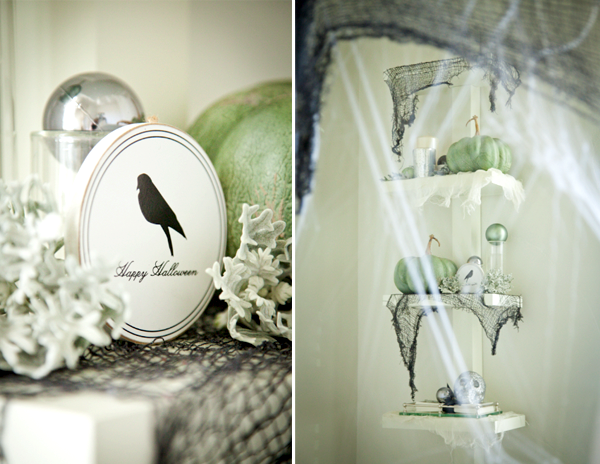 This is such a great way to brighten up your Halloween party! Adding cobwebs to any space definitely makes it Halloween.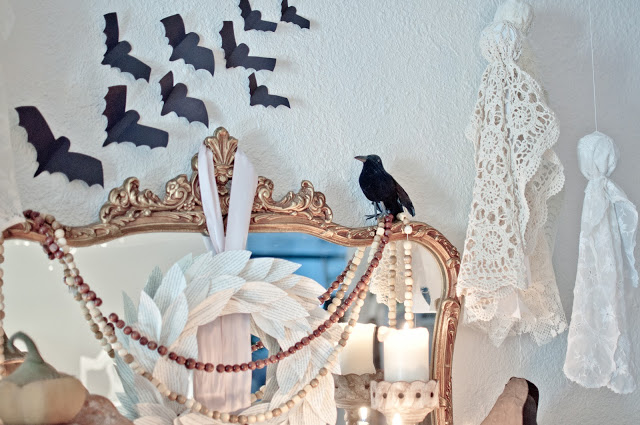 When I look at this I just think farmhouse Halloween party. The doily ghosts, gold mirror, and beads. But this is simply gorgeous and so shabby chic.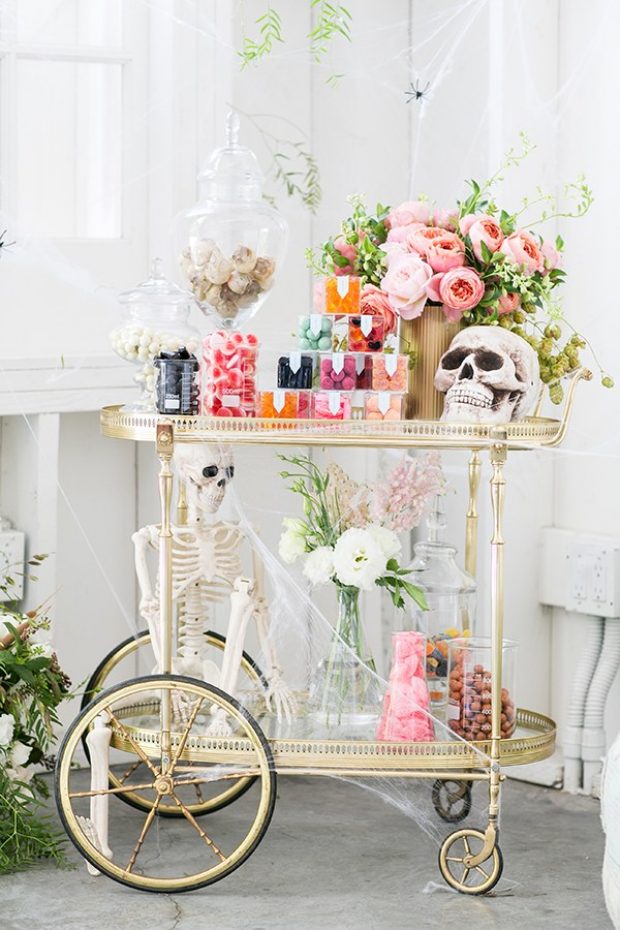 Now this is a fun way to serve candy. Get a rolling cart and add some spider webs and you got yourself a Halloween candy cart! But don't forget the skeletons!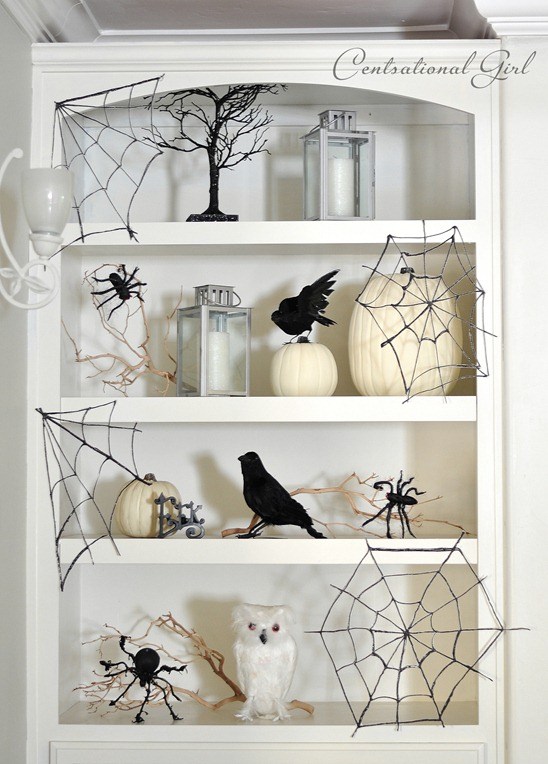 20 Best Pinterest Halloween Party Ideas
Adding crows always works for Halloween. But adding spiders and even owls, gets you more in the spirit.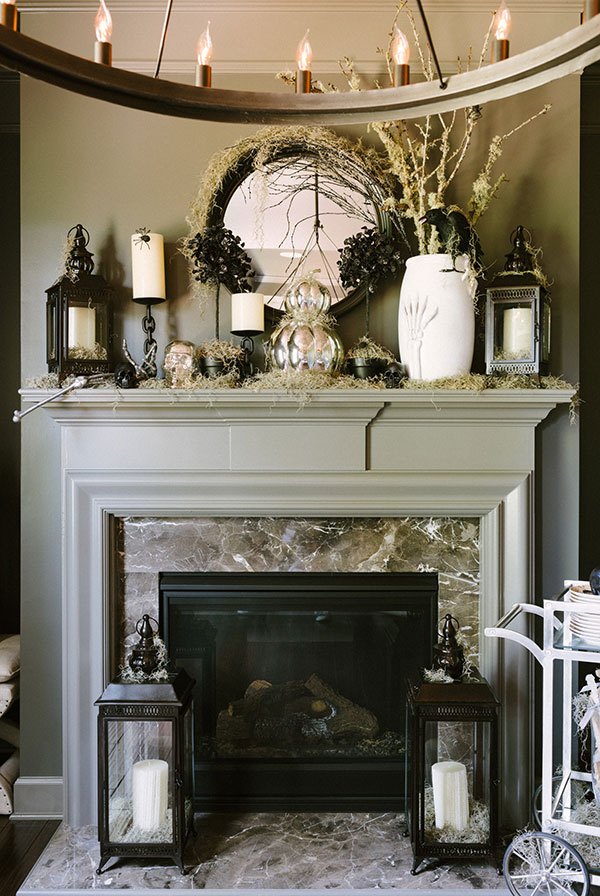 This is a gorgeous mantel set up for Halloween! I love all the dark colors, even with a Halloween set up I think I'd want this all year round.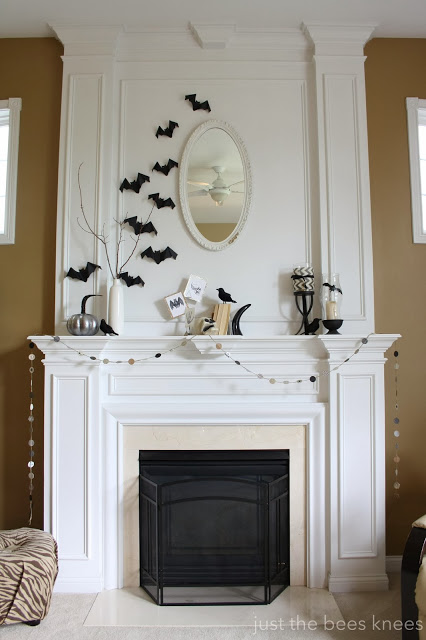 I know another mantel, but they are both so wonderful. I think I'm just obsessed with those bats. Probably will have to go pick up some of my own now!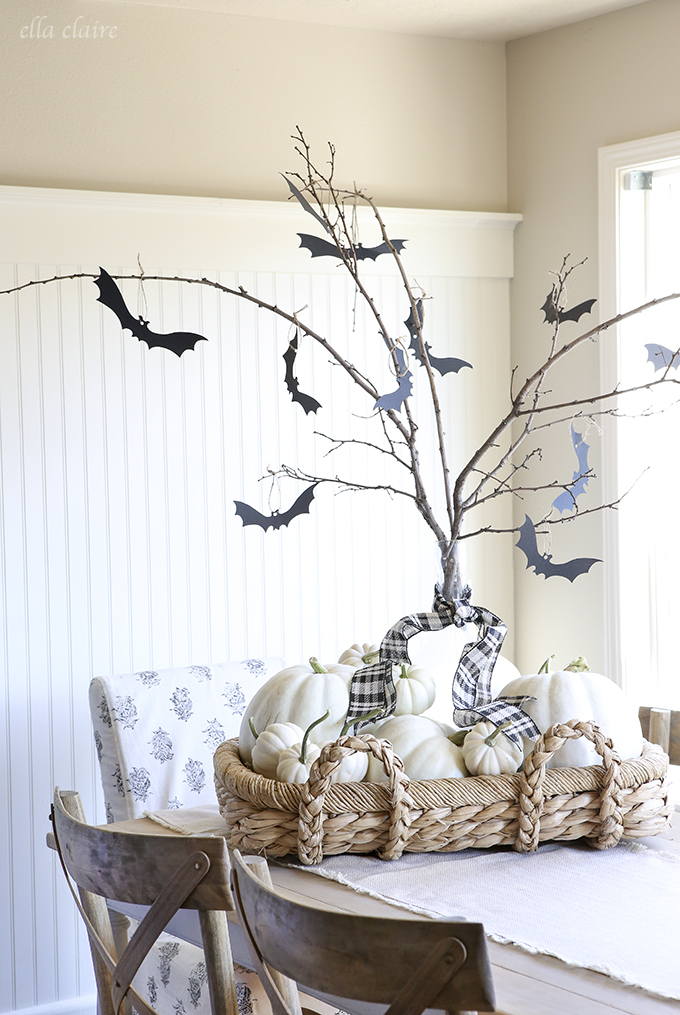 This is such a lovely Halloween centerpiece. It would look wonderful in a farmhouse! You can check out all the fun I have on the farm on my Instagram here. But guys I am telling you, I am obsessed with these cute bats! I will need to go get some pronto.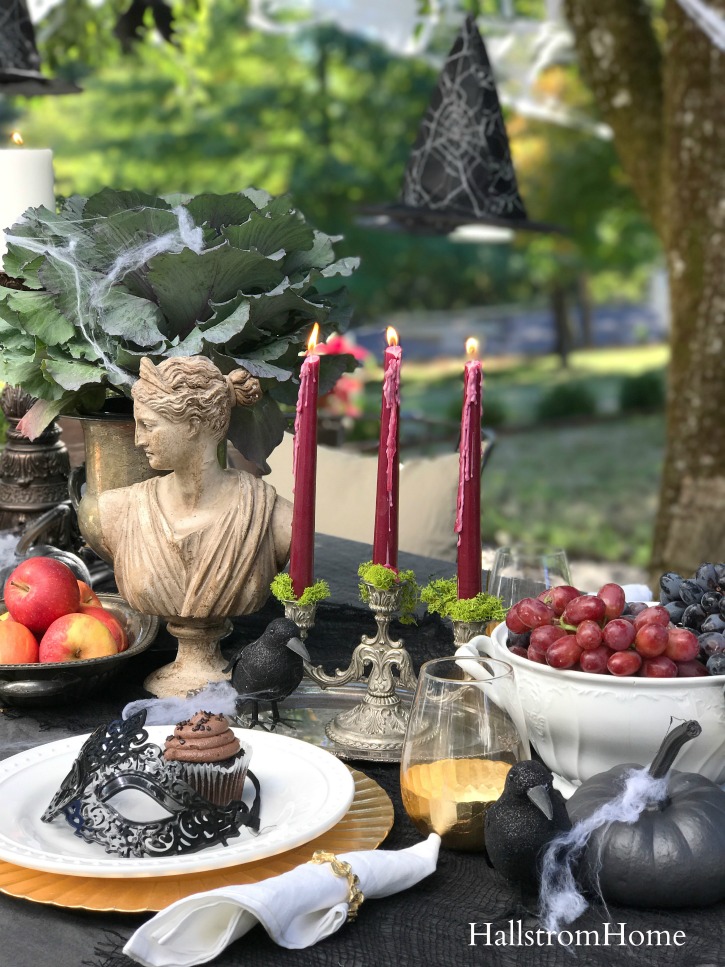 I had so much fun creating this Halloween tablescape, it's just so darn cool! If you'd like to stay updated on what's going on here at Hallstrom Home be sure to sign up for the emails. These lovely table linens they're in my shop here, so go check them out. Now I just need some company over to help me eat those cupcakes!