Easy 9 Kitchen Sink Style Tips for making your home have that classy hygge home feel and style. This also works well in a modern farmhouse kitchen. Sometimes a kitchen sink can be so boring, but you can add a few special items to excite the space.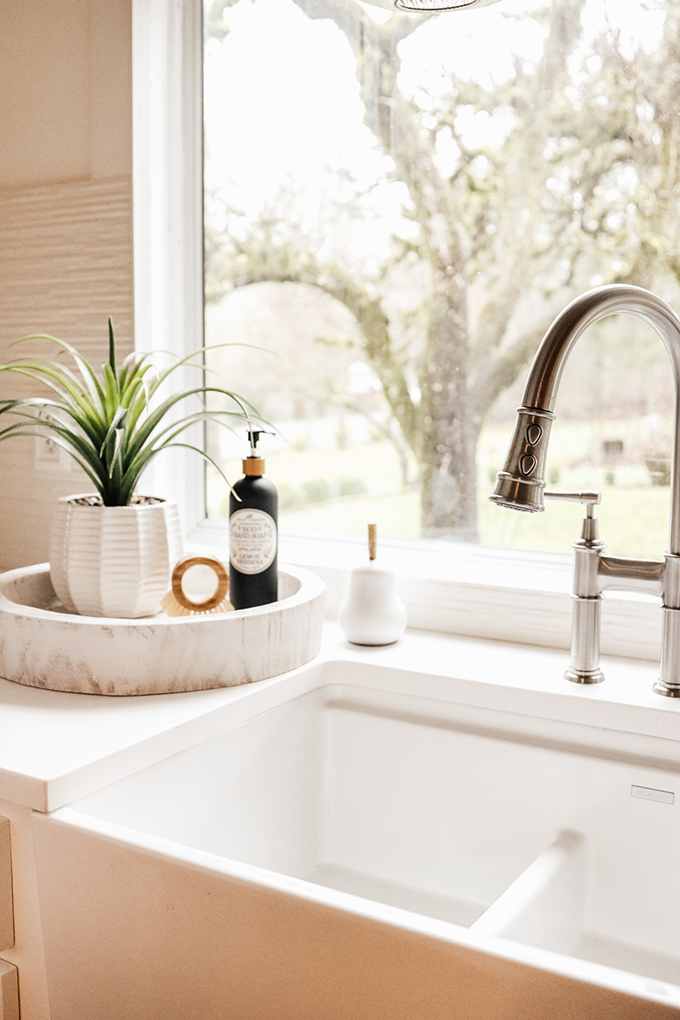 9 Kitchen Sink Style Tips
Start with really nice kitchen soap that smells good and makes you happy to use it. I also like a beautiful bottle as I think it sets the tone and makes me extra happy versus having a boring ol bottle in our modern farmhouse kitchen.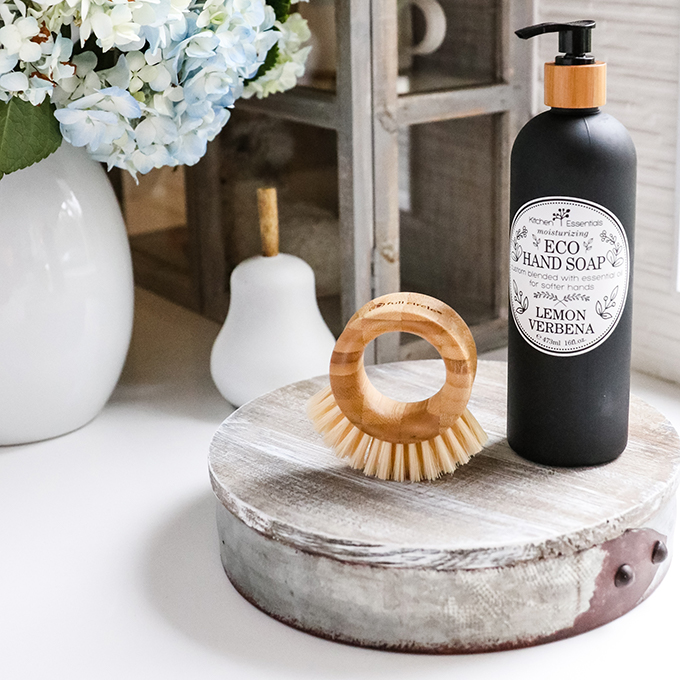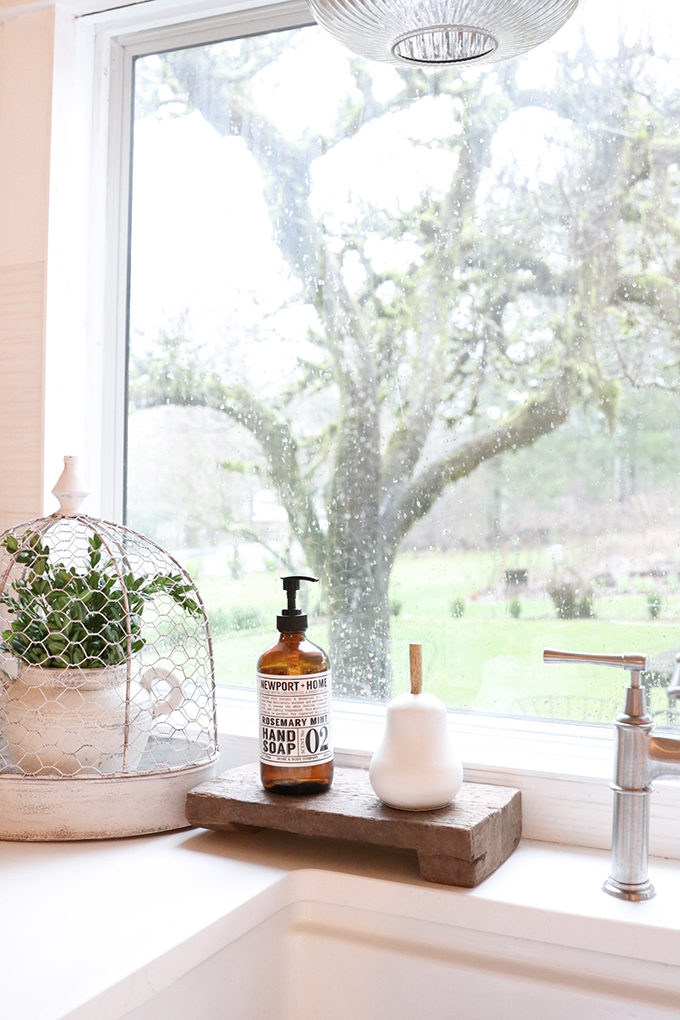 2. Set your soap on a pedestal. These are available in our shop and look great as a way to set the soap up on something that isn't just on the counter.
3. A good scrub brush not only looks cute but serves a purpose. I like wood to bring about a level of richness and texture over plastic. I picked up this kitchen brush from world market. They have a lot of items perfect for a modern farmhouse kitchen.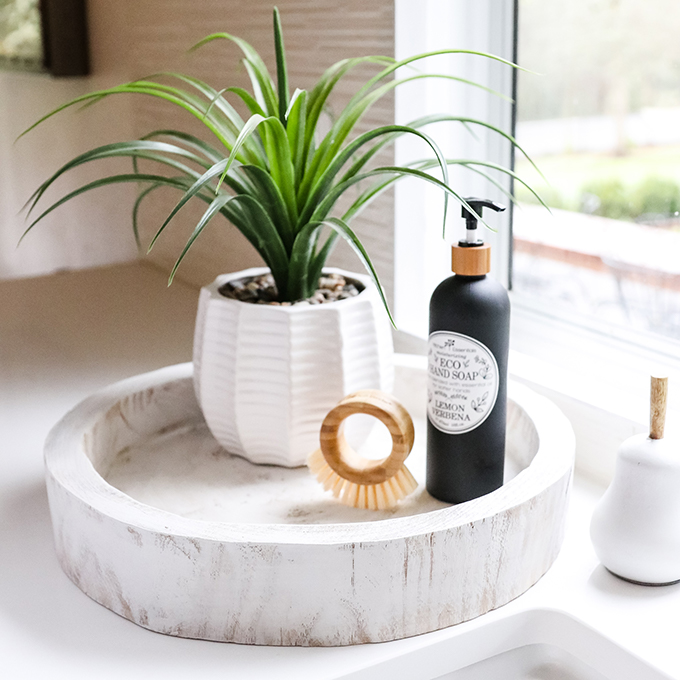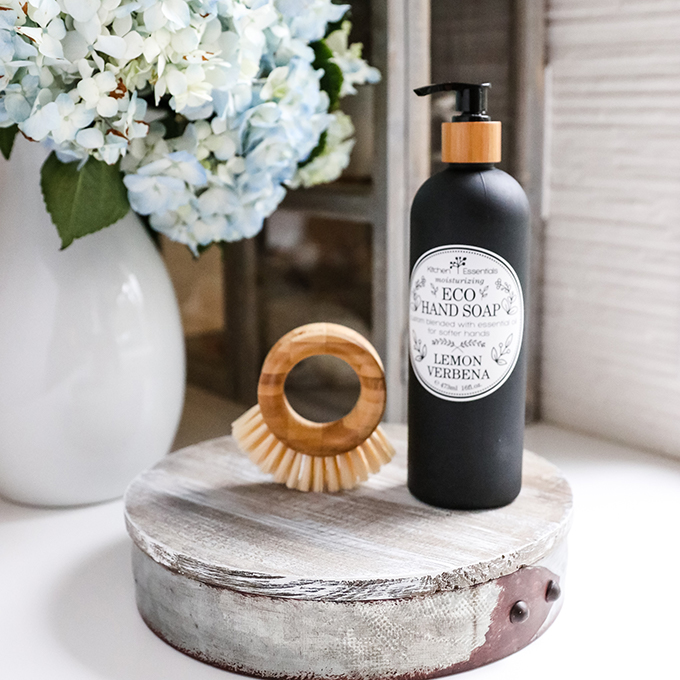 4. Faux or fresh flowers are my favorite but I don't always have them in my kitchen. It depends on how much stuff I have on my counters. I try to keep things fairly open and spacious but then I keep collecting so many gorgeous pieces like cutting boards and vases. I will give you a few of my favorites to shop here. We just did another fun styling tutorial on tiered trays, there are so many options.
5. Small cutting boards also make nice soap trays and can be used for cutting on if you need something handy.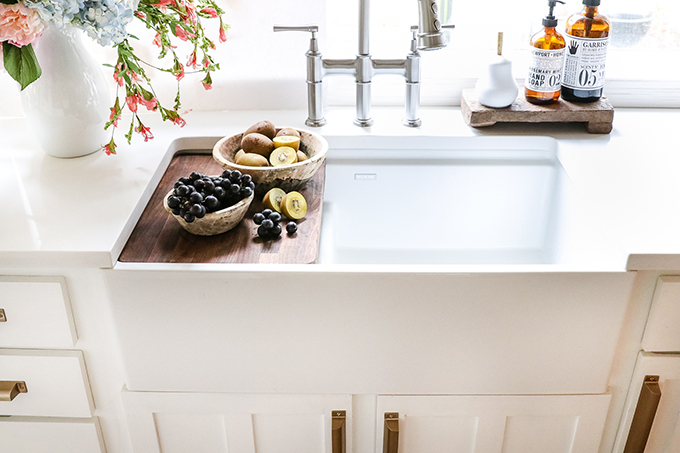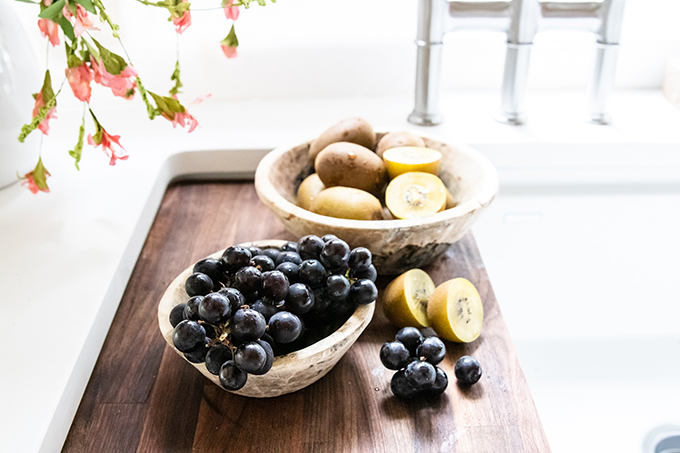 6. Having a beautiful soft kitchen towel by your sink make me feel good about my kitchen and company really enjoys a nice hand towel. I personally don't use decorative towels with so much company and kids coming over, so I found these farmhouse style towels to be my favorite.
7. Use a rustic wood bowls to keep a small stack of wash cloths available on the counter. When we host a lot of company I find we use a lot of washcloths and towels so its nice to have then handy and cute.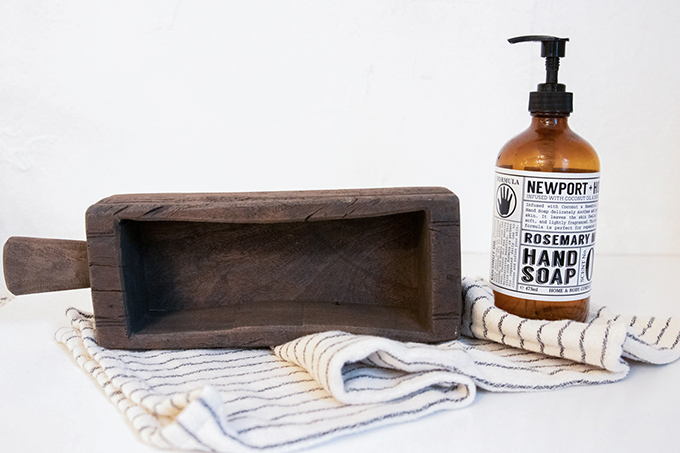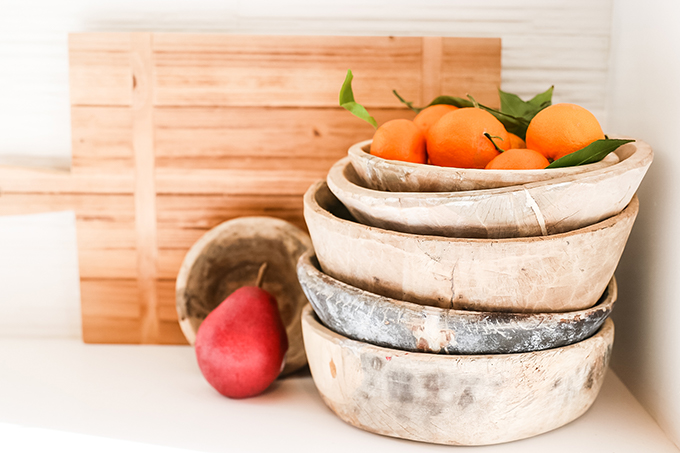 8. A nice strong hook to hang a beautiful kitchen towel will help. I picked some up from Pottery barn and love how they have lasted me for years.
9. Cleaners can also be placed in a bowl instead of on a pedestal if you like that style more and want your soaps displayed and easy for others to use.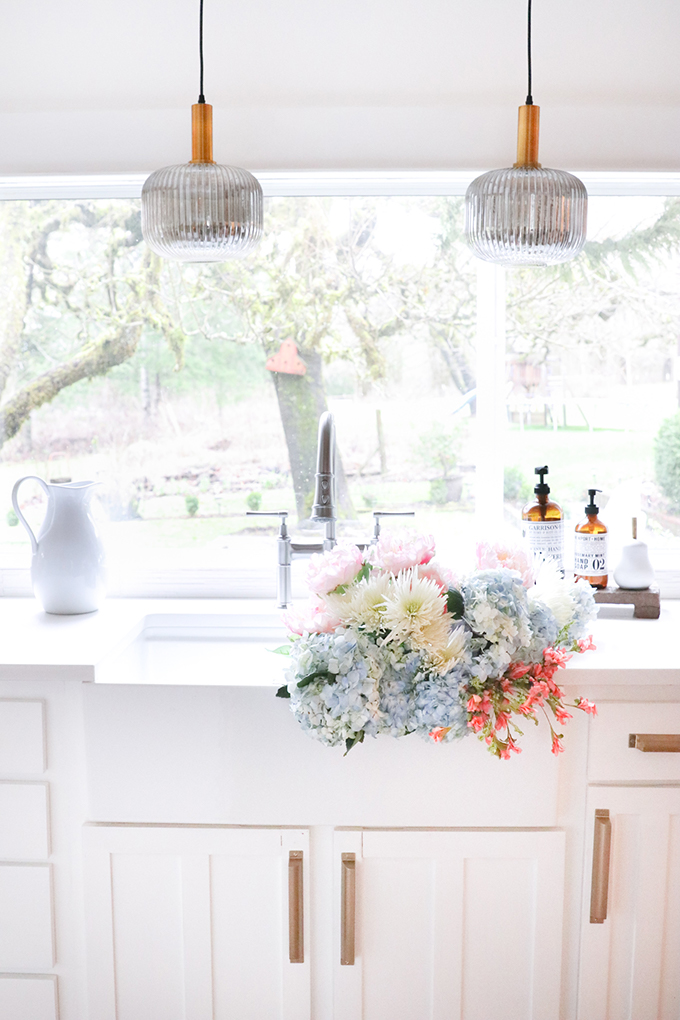 9 Kitchen Sink style Tips with Questions and Answers
Do you only use eco friendly cleaning products?
No I used to be very careful about this but find it overwhelming now days to find the right eco friendly products that work just as good and are truly eco friendly so I mix it up. I can provide a list of what I use now if you'd like. I am a fan of blue dawn dish soap.

Why don't use set your soap directly on the counter?
I love having my soaps on a riser or tray as it looks good and it keeps the counter from getting so wet.
Do these wood bowls and risers get water marks?
The dark wood risers are sealed and dry out very nicely so soap and water doesn't seem to damage them. The rustic antique wood bowls can pick up water marks so I would set them back from the faucet a bit more. I use them regardless of water marks though as I love the look and they don't look bad.
How do you clean your modern farmhouse sink and counters as they are all white?
I use Ajax or Bar Keepers Friend for both my sink and quartz counters. This is what the counter installers recommended and I love it. so fresh and clean and easy.
Let me know if you have any other questions or leave me a comment just saying Hi. It's nice to know who's reading my posts and if you want any other content like how to do a simple farmhouse kitchen update without spending a lot of money.