This past year has been quite challenging. When this new year came, I had a change of heart and mind. I decided to embrace the small holidays and occasions as well as the massively celebrated ones too. We are still dealing with mental illness and life changing issues but still leaning heavy into what brings joy such as creating a Simple Farmhouse Valentine's Day Tablescape for my family.
Be sure to sign up for my email to get new recipes, crafts and home ideas in your inbox, plus access to our free printable vault! *This post contains affiliate links*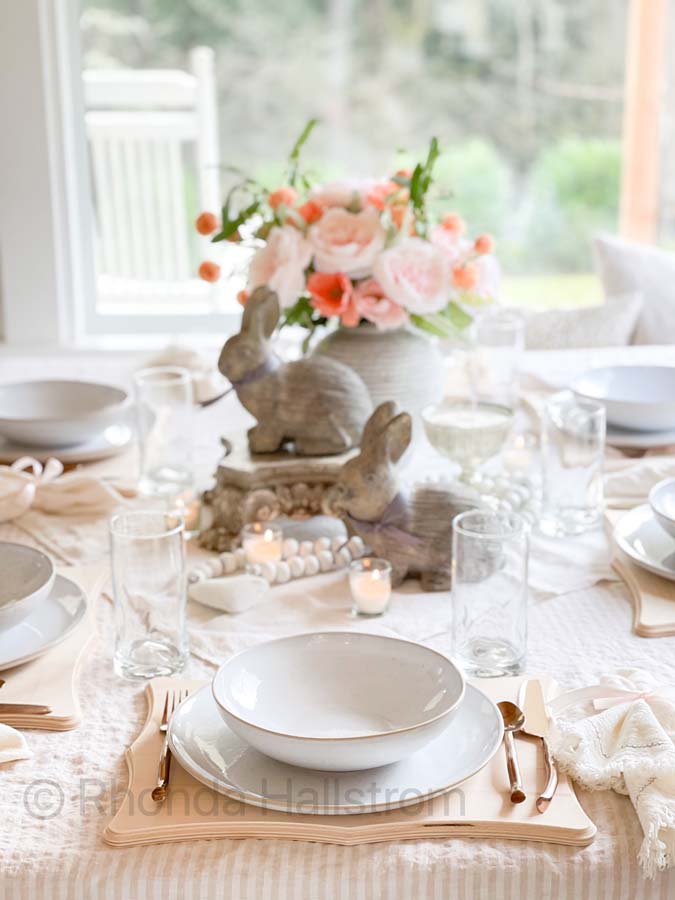 How To Set a Table
Setting a table doesn't have to be difficult. First we like to start with layering a table cloth. There's many different styles you can choose from. For this table we went with a striped linen table cloth to add a layer of elegance. My kids like to use the table cloth as a napkin which is a big problem so I always try to use one with color and texture that's easily washable. I then add the dishes and silverware on top of a charger. It adds so much more depth to the setting which I just love. These can be found in our home decor shop.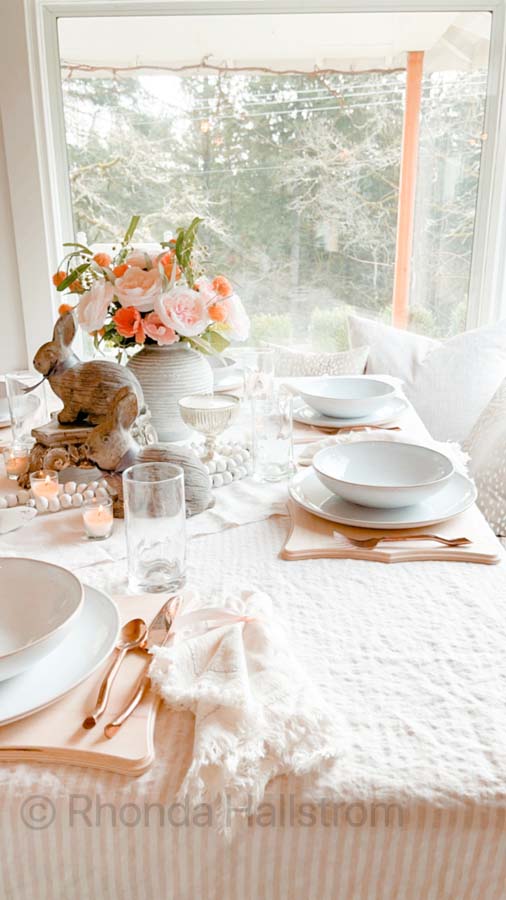 Romantic Valentines Day Table
Color adds a lot to a tablescape so if you're decorating for a romantic style I would suggest lots of pinks and reds. Flowers also add a lot to the romantic style but for my tablescape we went with light pink colors and look how beautiful this turned out!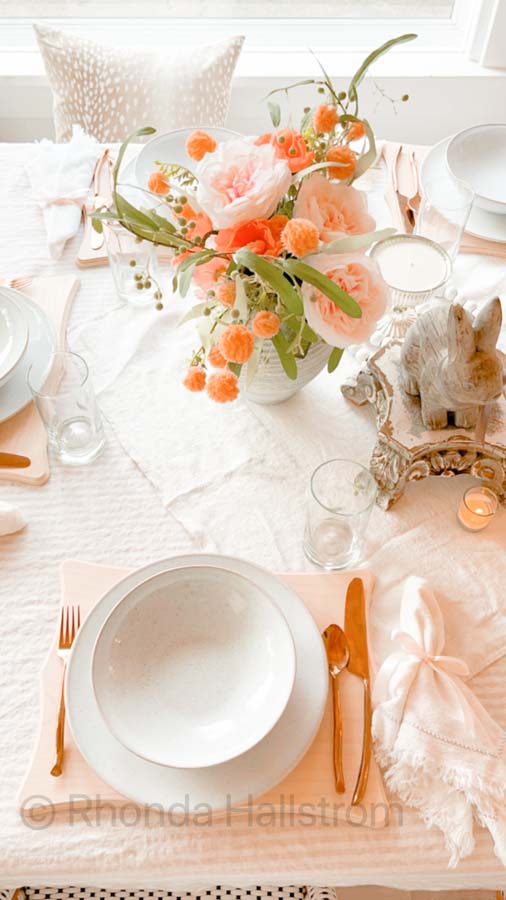 Transitioning from Valentines to Easter
I kept the centerpiece the same but changed out the plate chargers. These Grey wood heart plates can be used in many different ways. These aren't food safe but more decorative so I would look at adding a desert plate size to these. Here is another soft pink Valentines table we did for some more inspiration.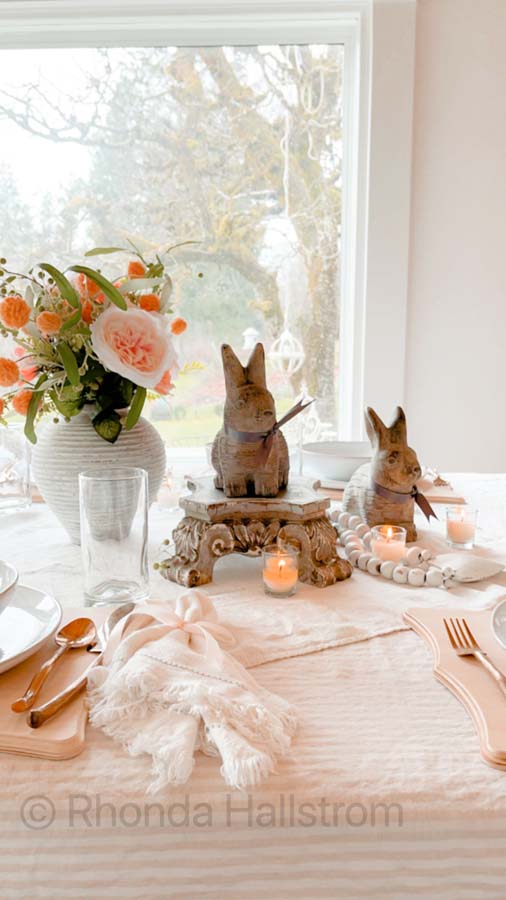 Easy Easter Table Setting
Since Easter is right around the corner as well I wanted to show an Easter tablescape look so I added some bunny decor and flowers to the center. My family does not like when there is big center piece in the middle of the table. I can't help myself so I add them anyways and when we sit down to eat I take them away so we can see each other.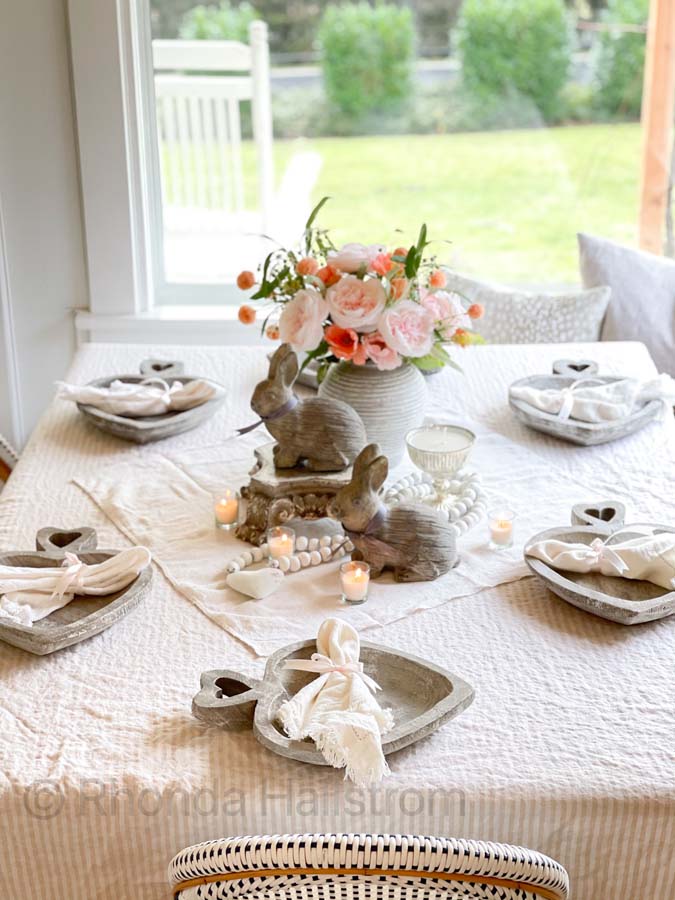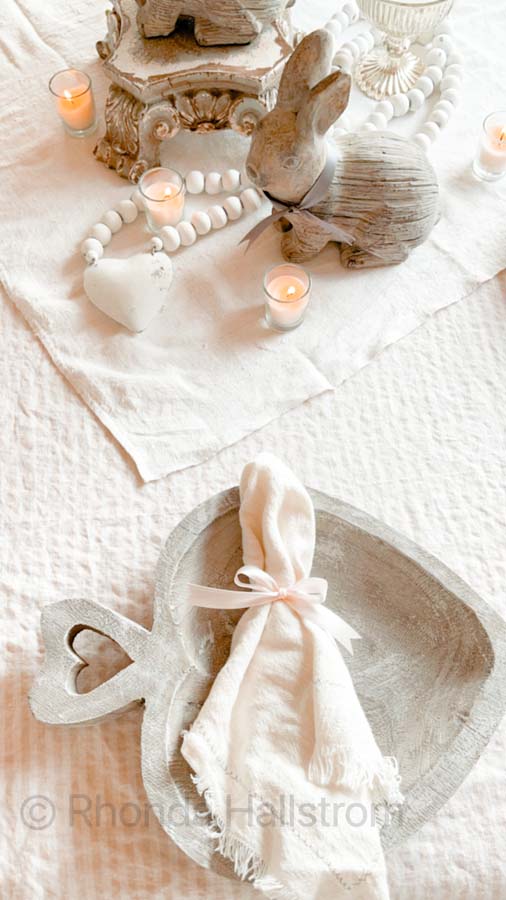 Couples Table for Two
A big part of decorating a tablescape is the center pieces. If you are looking to style a table for two for a romantic date, just place the setting pieces on the corner. For hubby and I, we will sit him on the one end and I will sit to the left on the corner. It's close enough to eat and chat with ease. Candles are always my go to for adding more romance to a table setting.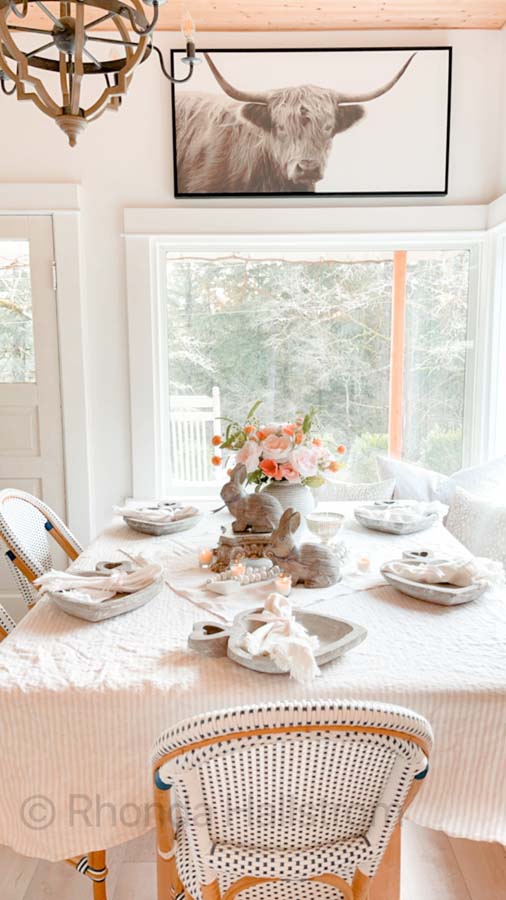 Simple Farmhouse Valentine's Day Tablescape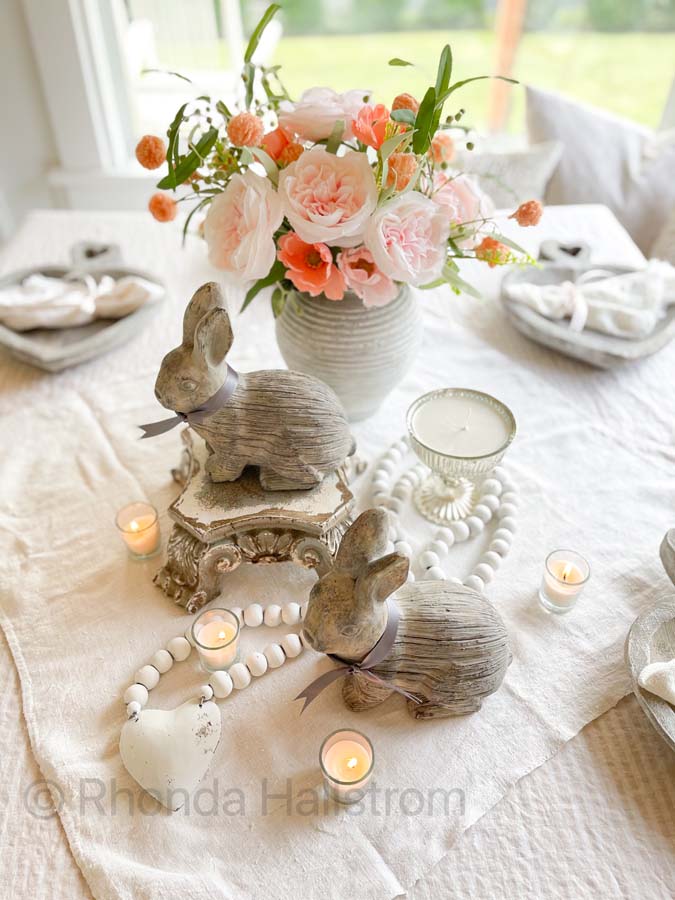 Shabby Chic Valentines Decor
Shabby chic is always my fave. It's layers of beautiful things in light shades to whites. This wood bead strand was a dark wood but I chalk painted it white and is now available in our shop. We also have a chalk paint ebook guide to show you all the tips and tricks to chalk painting.
We have a beautiful Shabby Chic Pinterest Board with more ideas to help you decorating. Pinterest is our go to for ideas