You ready for a cake recipe that will tantalize your taste buds and cause you to go back for more? This Best Moist Chocolate Cake Recipe is so easy that you can whip it up in no time for last minute company or a party. The best part is this is not a cake made from scratch. Nope this is a box cake mix with a twist that is amazing.
Be sure to sign up for my email to get new recipes, crafts and home ideas in your inbox!
*affiliate links are used in this post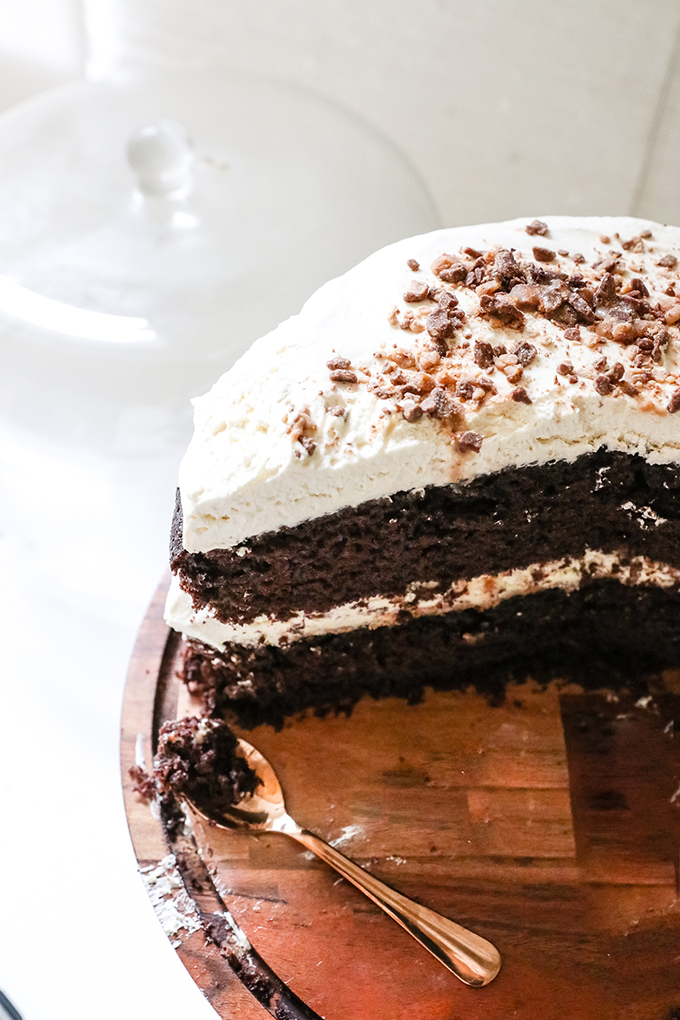 Best Moist Chocolate Cake Recipe
Let's start with all the ingredients that you will need and then I will tell you how to put this all together.
One chocolate box cake mix. I use what ever brand is on sale. I don't like to pay more than a dollar for these.
One can of sweetened condensed milk
Heavy whip cream- the best is from Costco and worth making the trip there for that.
Caramel sauce. I made my own and will tell you how below. You can use this caramel sauce on pretzels, ice cream and more.
Heath bar bits from the baking section or any other toppings like chocolate or butter finger.
Tips to Make a Layered Chocolate Cake on a Pedestal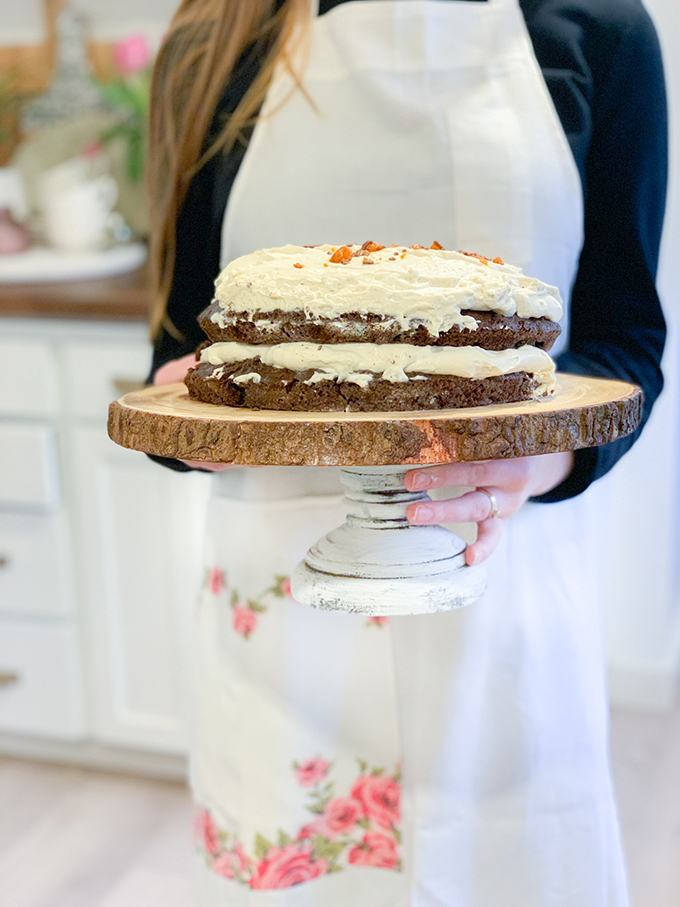 To start you will want two 9″ round cake pans to make a beautiful layered chocolate cake. Line your pans with parchment paper in 9″ rounds. You can set your pan down on a large piece of wax paper or parchment paper and then trace along the bottom of the pan to make a circle. Cut out along the traced lines and set into the bottom of your round cake pan. Grease the sides of your pans. This will help the cake layers come out easily without breaking.
Best Moist Chocolate Poke Cake Recipe
Follow the chocolate cake mix recipe and then fill your 9″ pans. For thinner layers you will split one cake mix in half and divide between the two pans or for a thicker taller cake you will make two cake mixes. One for each pan. I like a taller cake but it depends on if I have enough cake mix boxes in the pantry. I do have a homemade chocolate cake recipe if you would like to go that route and I have a blog post on some styling tips here as well.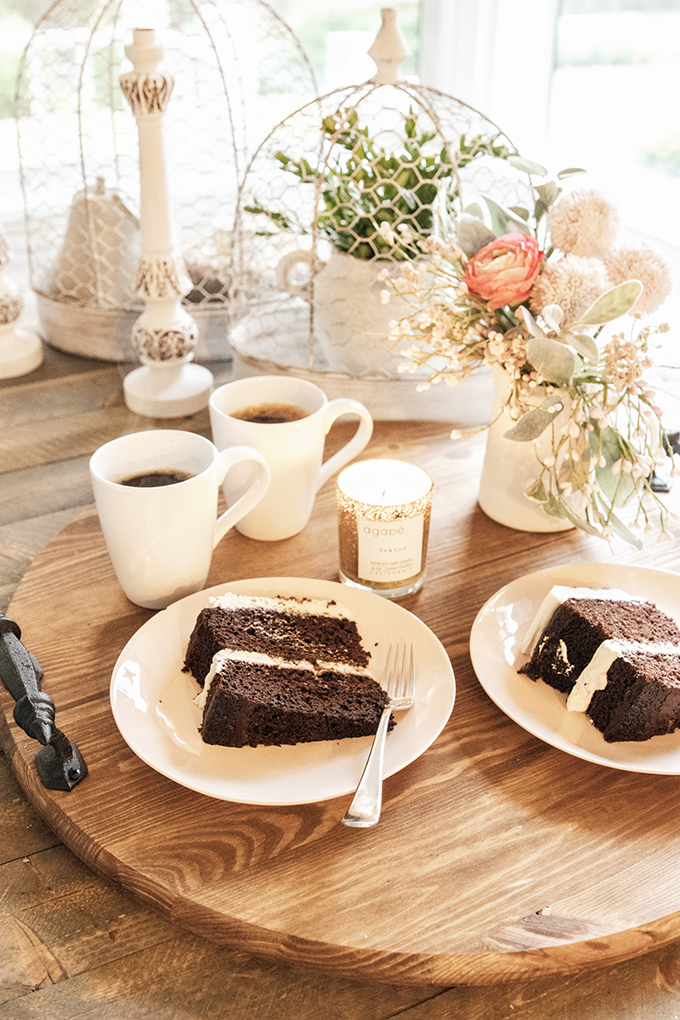 Tips for Making Your Chocolate Cake Recipe Fast and Easy
Bake according to the package directions. Once you remove your chocolate cakes from the oven, let sit about ten minutes to cool slightly. At this point the cakes will pull away from the sides a bit and you can run a butter knife around the edges to loosen completely. Now turn your cakes upside down onto drying drying racks to cool completely.
While cakes cool you can whip your whip cream into stiff peaks. Add brown sugar and vanilla bean paste for the best tasting frosting.
Yummy Whip Cream Frosting for The Best Chocolate Cake
When I shared this recipe on my Instagram stories so many said they would never have thought to use brown sugar and I stumbled upon this one day when I was out of regular sugar. It adds a level of goodnesses that will make you hooked. The vanilla bean paste also kicks this up a notch with its rich flavor. This is what I use instead of regular vanilla extract.
3 cups cream
1/2 c Brown sugar. Add more if you want it sweeter.
2 tsp vanilla bean paste. or just dump as I do because I never measure

How To Layer Your Moist Chocolate Cake Recipe
Now for the fun part. Putting your cakes together. Place your first cake layer directly onto your cake stand. Do not use cake liners. Start poking holes through your cake with a fork or knife. Don't get too close to the edge. Pour sweetened condensed milk over the cake layer. It will slowly go down into the holes you made and this is the key to all the goodness for the best chocolate cake recipe ever. You can let the sweetened condensed milk dribble over the sides of the cake or not. This depends on your style. Try to add maybe two tablespoons to each layer of cake. You don't want too much or it gets too sweet.
Caramel Sauce Over Chocolate Cake
The caramel sauce can be added just over top of the sweetened condensed milk. I only apply a thin layer. You can use store bought or homemade for your chocolate cake.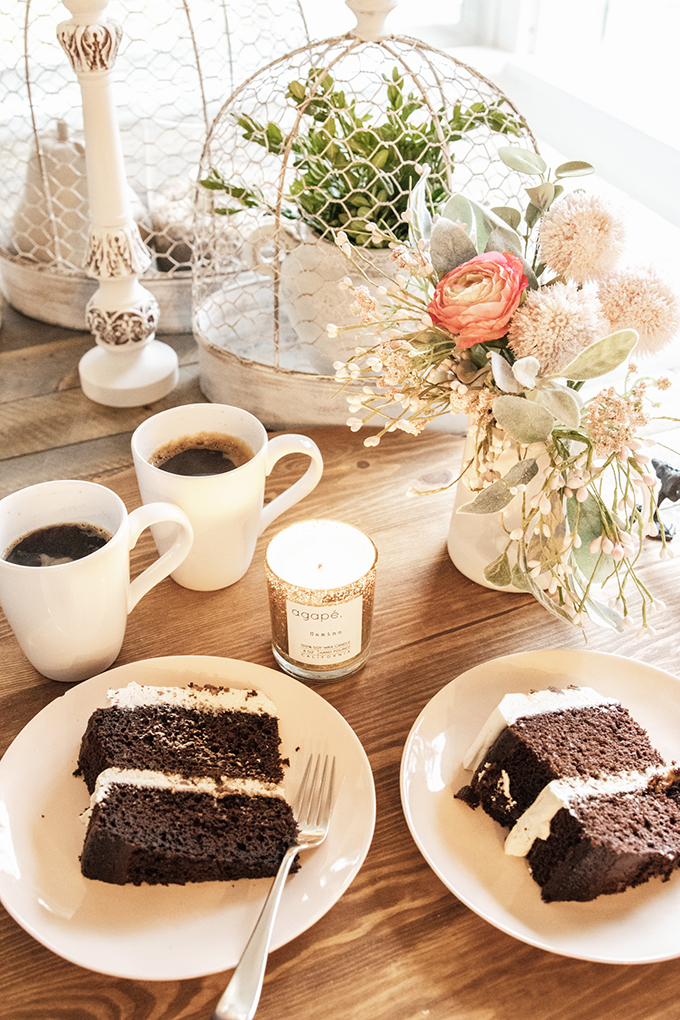 How To Make Homemade Caramel Sauce
To make homemade caramel sauce you will put about 6 cans of sweetest condensed milk into a crockpot and cover with water. Cook on high overnight or for 6 or so hours. Let cool completely before removing from the crockpot. Now you're caramel sauce is ready. You can make some cute labels for your cans if you would like to give for gifts or just to remember what's in the can.
Add the whipped cream overtop of your cake layer that has the sweetened condensed milk and caramel sauce on it. I add a lot of whipped cream because I love it. This will also settle a bit once you add your next layer of cake.
Repeat the next cake layer like you did the bottom cake and top off with bits of crushed Heath bar or other candy you like.
Best chocolate Cake Reviews
It is good to make this chocolate cake the day before if you can but I make this last minute all the time and it gets rave reviews. Make sure you refrigerate for best food quality. Will you please let me know what you think of this cake by leaving me a review. I hope you love it.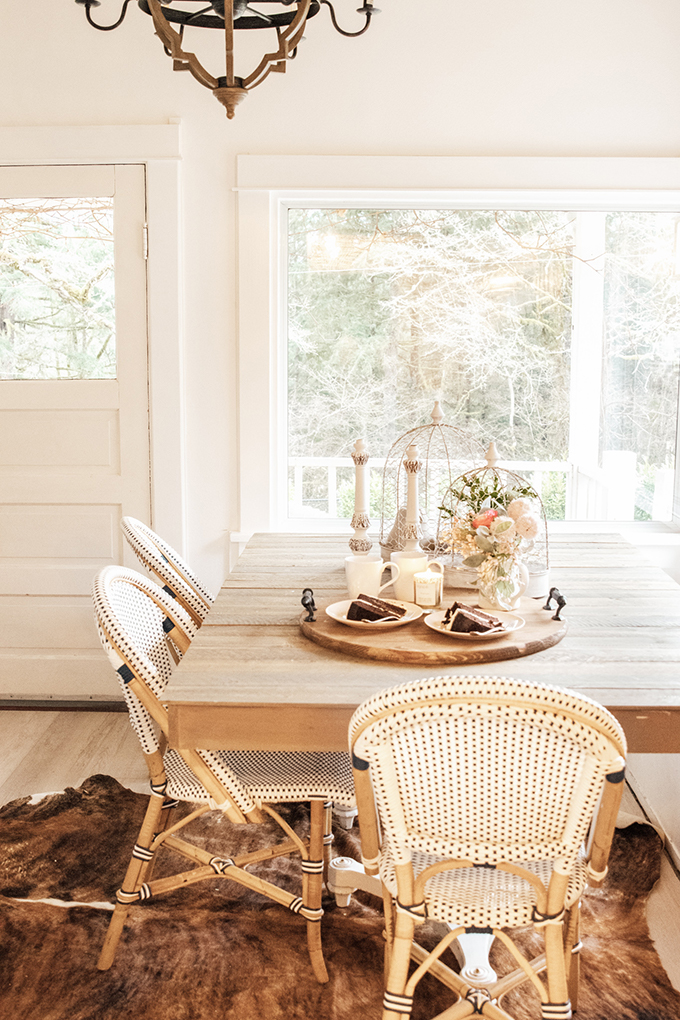 Check out our Easy Blueberry Muffin recipe here for more!