With the popularity of chalk paint, comes the options for other paints as well. One of my favorites being Fusion Mineral Paint. Both paints are uniquely different. I am going to go through both Chalk Paint Vs Fusion Mineral Paint and you can see what would be best for your project.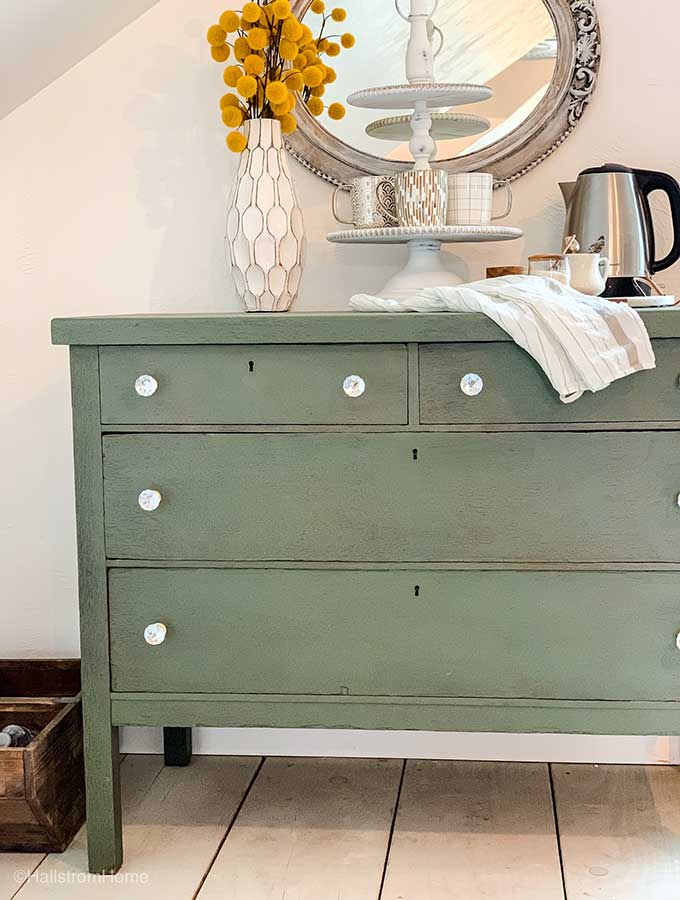 Chalk Paint Vs Fusion Mineral Paint
Let me start off with chalk paint and as we go I will talk about Fusion Mineral Paint and the difference between the two. This vintage green dresser was painted with Fusion Mineral Paint in BayBerry and it took about 30 minutes from start to finish.
Chalk Paint
I use chalk paint daily, with furniture pieces I find and on the mirrors in my shop. Chalk paint is so amazing and it is a very easy paint to use. I will share with you a ton of information I have learned over the years of using chalk paint and how awesome it is. My favorite chalk painting brand is Dixie Belle, we use it everyday.

Do you have to prep/sand for chalk paint?
Not often! Most of the time I do not prep my pieces. Sometimes I will give them a quick wipe down with TSP, wipes, or with soap and water. It's that easy. Chalk paint sticks to just about any surface. If there is a piece that has a high gloss, I will give it a quick sand to adhere better. For the most part just a quick wipe down will do the trick.
How thick is chalk paint?
Chalk paint is very thick. When I am working on bigger pieces like a dresser, I do like to water down my chalk paint. It goes on a bit smoother. It you want the shabby chic look, the thick chalk paint will be perfect. When I water down my chalk paint, I just add a thin layer to the top and mix.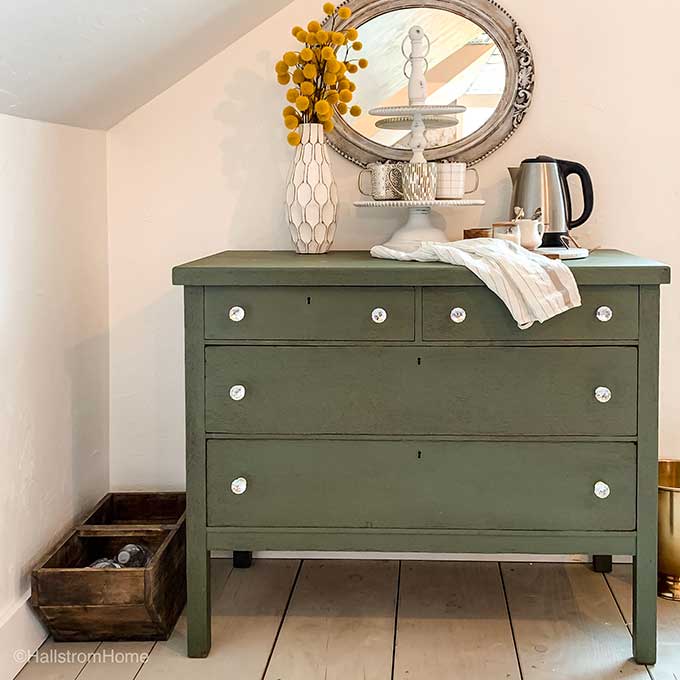 Can a piece be distressed with chalk paint?
Yes! Chalk paint is a great paint to use when wanting a distressed look. You can either sand the spots that you want distressed. For a quick and easy way, I apply Vaseline to the spots I want distressed then paint. You can read more about how I chippy paint with Vaseline.
Can chalk paint colors get mixed?
Yes, I do it all the time. Sometimes I want to make my own color, so that's exactly what I do. I just get another container and pour the colors in and mix well.
How do you get an antique look with chalk paint?
A great way to get that antique look, is to put wax on your piece. It can really bring out gorgeous detailing. If you want to learn more about dark wax, here's how I antiqued a mirror with dark wax.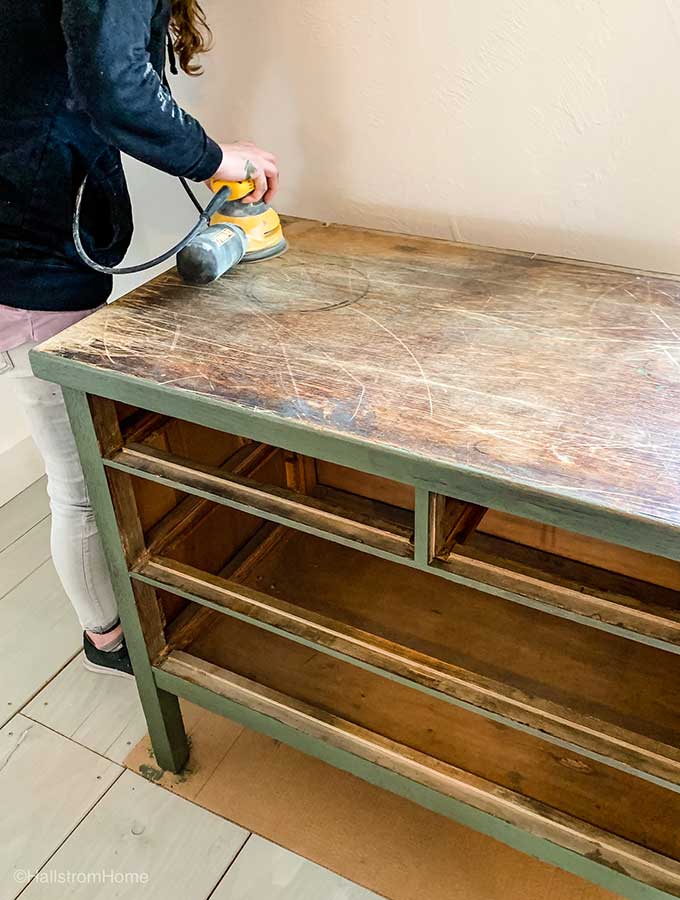 For this piece we did have to do a quick sanding. There were a couple large scratches in the piece, so we wanted to smooth it out. After we sanded we wiped it down, then slapped on the paint.
Can I waterproof chalk paint?
Yes you can. You can apply a wax or a spray non-yellowing clear coat. These will help to keep it water resistant and stain resistant. In my home there are lots of kids around and were always drinking coffee. I like to apply a wax or spray coat and I do not get any marks on my furniture. If I do I just apply the paint where the mark is and apply the wax again.
Do I have to put a top coat on my finished piece?
You don't have to, but if you want the piece's finish to last then I would. Like stated above, I put a clear wax on most of my larger pieces or a non-yellowing spray clear coat. Any color of wax will seal your piece. I like to use a rag when applying wax and just rub it in to the piece and let it dry.
Is chalk paint eco-friendly?
Well the chalk paint I like to use which is Dixie Belle is non-toxic and has no VOC's. Their wax is also eco-friendly. I highly recommend this brand, especially if you are painting with kids in the house.
What is the cost of chalk paint?
If you are getting a higher quality chalk paint a quart will cost you about $40. For a pint it will cost about $16. With doing a large piece I would highly recommend getting a better quality chalk paint, as it will go on smoother and thicker. You won't need to apply as many coats. A quart will last you a long time, it will cover about 150 square feet.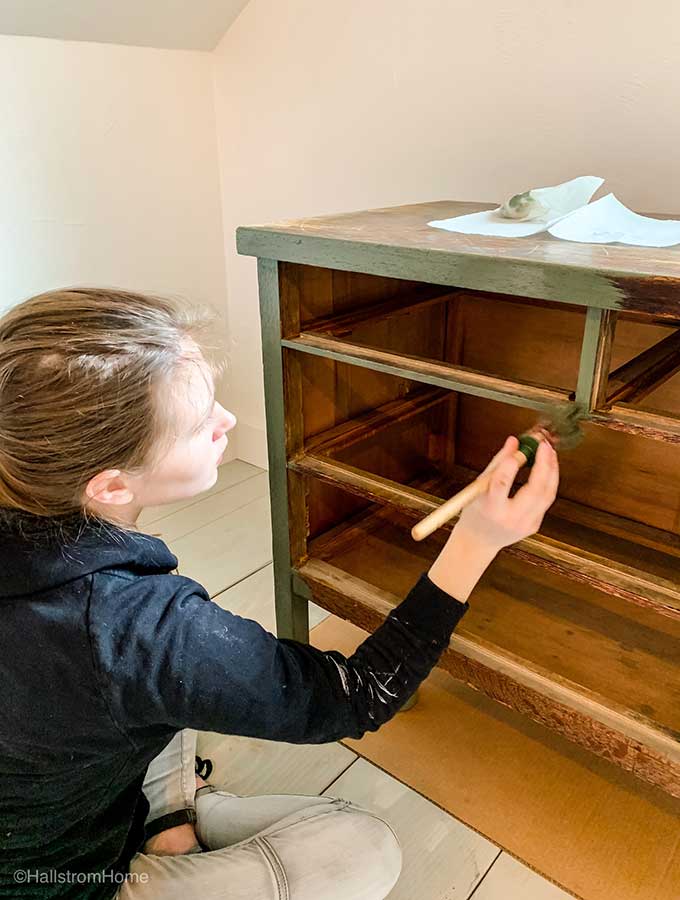 So for this piece we used Fusion Mineral Paint's brush. I am in love with this brush, it is awesome. It applies the paint so well and very smooth. I knew this color would be the finishing touch in our new office. It just fit so well and the green was really calling my name.
Fusion Mineral Paint
I have recently started to use Fusion Mineral Paint and I love it. Is is so easy to use and it goes on so nicely. Be sure to check out Fusion Mineral Paint and all that it has to offer. I will be sharing with you with what I have learned about Fusion Mineral Paint and all of its awesome features.
Do you have to prep/sand for Fusion Mineral Paint?
Prepping for Fusion Mineral Paint is just the same as chalk paint. Fusion paint will adhere to many surfaces. But if there are rough scratches, you might want to sand them down for a smoother surface. Same goes for if the piece is a high gloss. Once it's sanded the Fusion paint will stick much better.
How thick is Fusion Mineral Paint?
Fusion Mineral Paint is very thin. The consistency is very different from chalk paint. I applies so smoothly. So if you are wanting a more French country look I would go with chalk paint, it will give you that very textured look. But is you want a more sleek and clean look I would definitely use mineral paint. It gives you a very smooth finish. It shows very little brush marks, and while its drying it also keeps smoothing out the lines.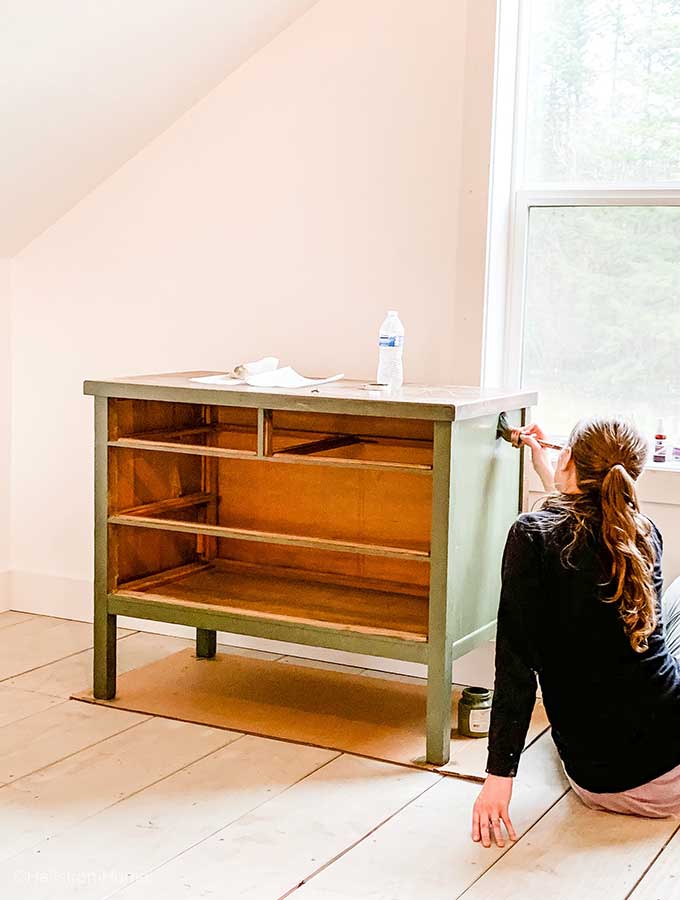 Can a piece be distressed with Fusion Mineral Paint?
Yes it can. Mineral paint adheres a little stronger than chalk paint, so it will be little tougher to get off once the piece is dry. So I would distress while the piece is drying. The Vaseline method will also work very well for Fusion paint.
Can Fusion Paint colors get mixed?
Yes they can. I have not done it yet. But I always love to try out new colors, so I'm sure it will be happening in the future.
How do you get an antique look with Fusion Mineral Paint?
Of course. It is like chalk paint in the way that you can apply a wax to it. If you want an antique look go for a dark wax, but if you want a modern sleek look you can apply a clear wax to make it more shiny.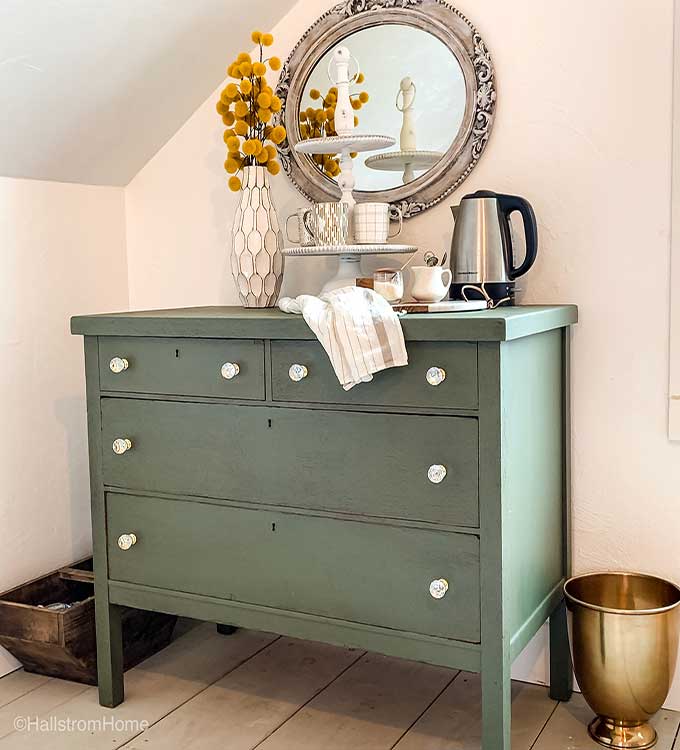 Once the piece was painted up and dry we added these crystal knobs. I think they really finished the look of the piece. The knobs really matched the look we were trying to go for in our office.
Can I waterproof Fusion paint?
Actually Fusion Mineral Paint is already water proof. I used this same color on my front door and it looks amazing. Just remember I live out in the PNW where it rains all the time, and my door is holding up great! If you have a piece that is going to be outdoors, for extra protection you could apply a spray non-yellowing clear coat and that will protect it even more.
Do I have to put a top coat on my finished piece?
No, as stated above it is waterproof. If is is going to be in a frequently used spot, I would. As it will keep the piece lasting longer and you won't have to retouch as often. Also you can apply a top coat if you want a different finish.
Is Fusion Mineral Paint eco-friendly?
Yes, is is non-toxic and has no VOC's just like Dixie Belle Chalk Paint. Fusion paint also carries all natural wax, which is great. They really strive to be a non-toxic brand.
What is the cost of Fusion Mineral Paint?
Fusion Mineral Paint's largest container is a pint. Their cost is about $20. Fusion paint sells smaller containers, because the average customer does not need a larger size. It helps with not having left over paint for the customer.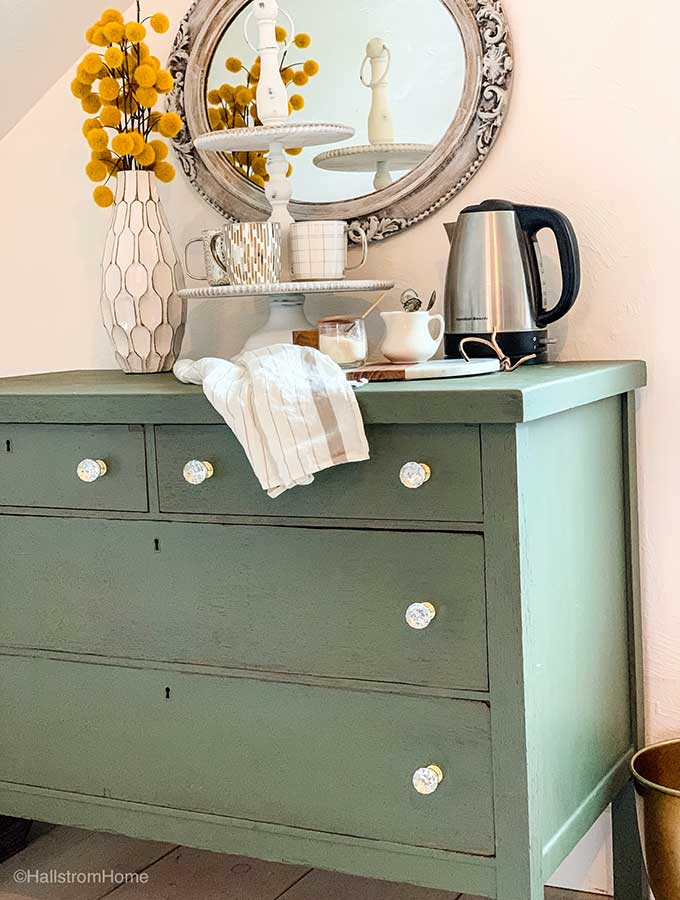 If you want to learn more about the basics of chalk painting and Fusion Mineral Paint I have a painting ebook. The book will help you get started with the project you've always been wanting to do. Etsy is a great place to find pieces to redo and also get some inspiration on pieces you already have. Be sure to follow us over on Instagram because we show all the behind the scenes at Hallstrom Home.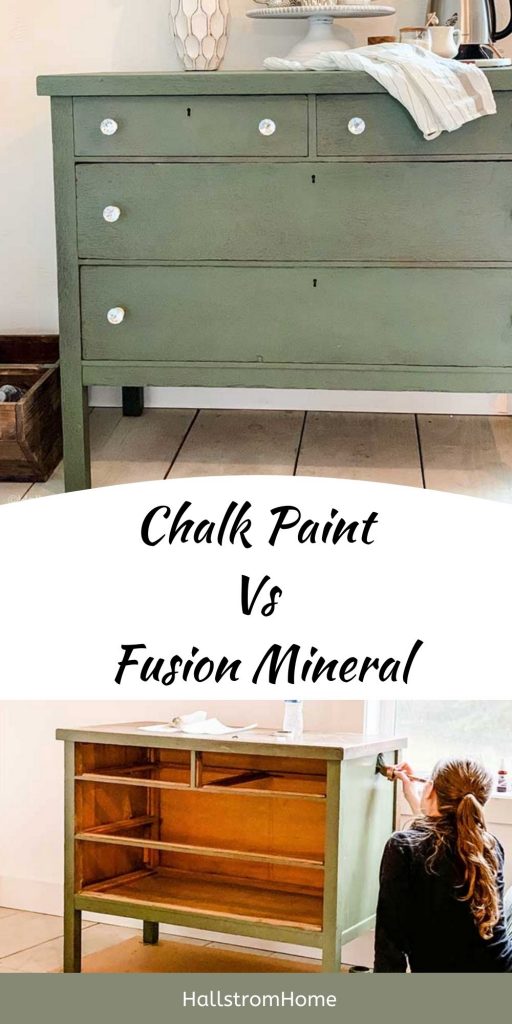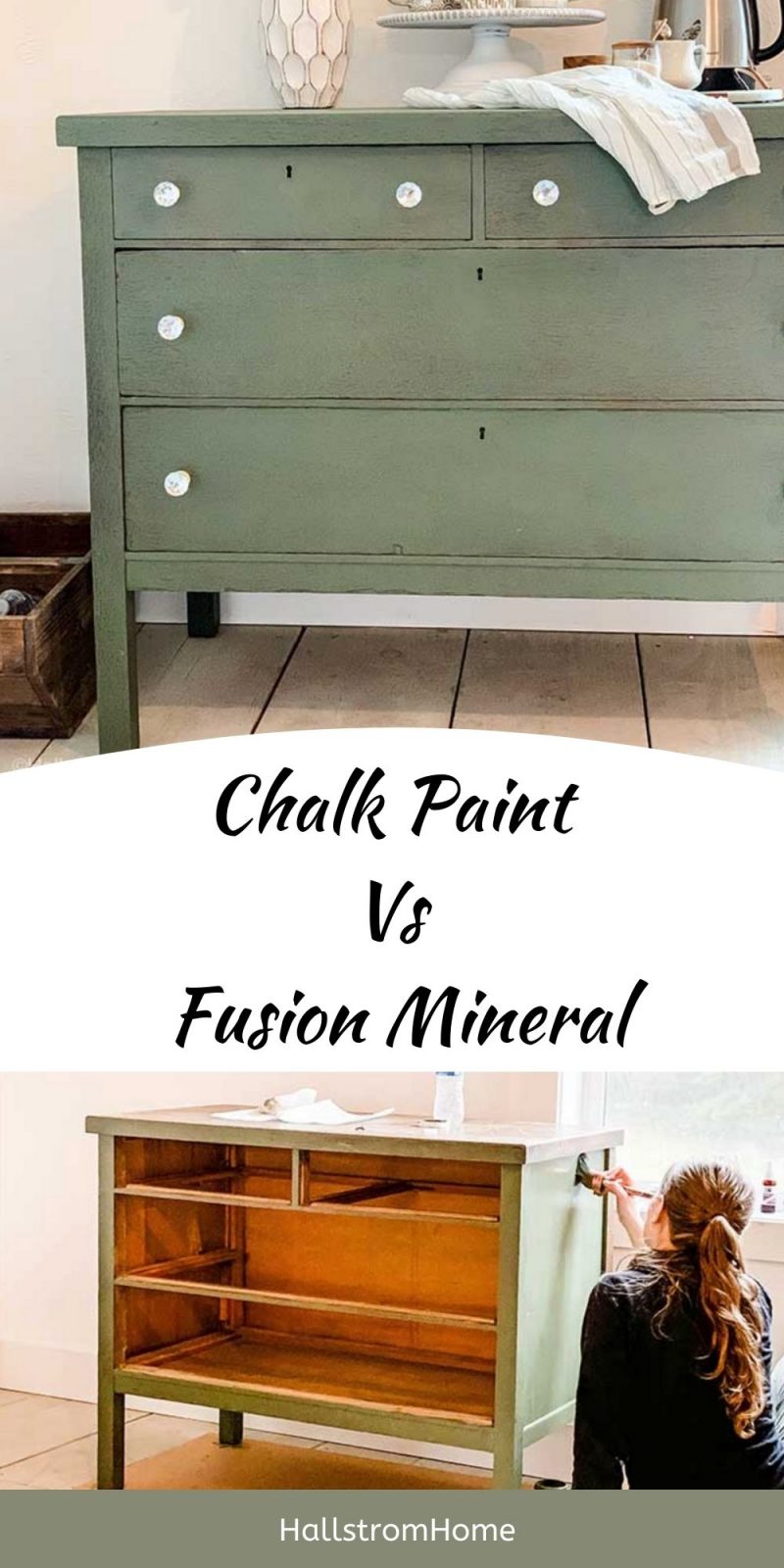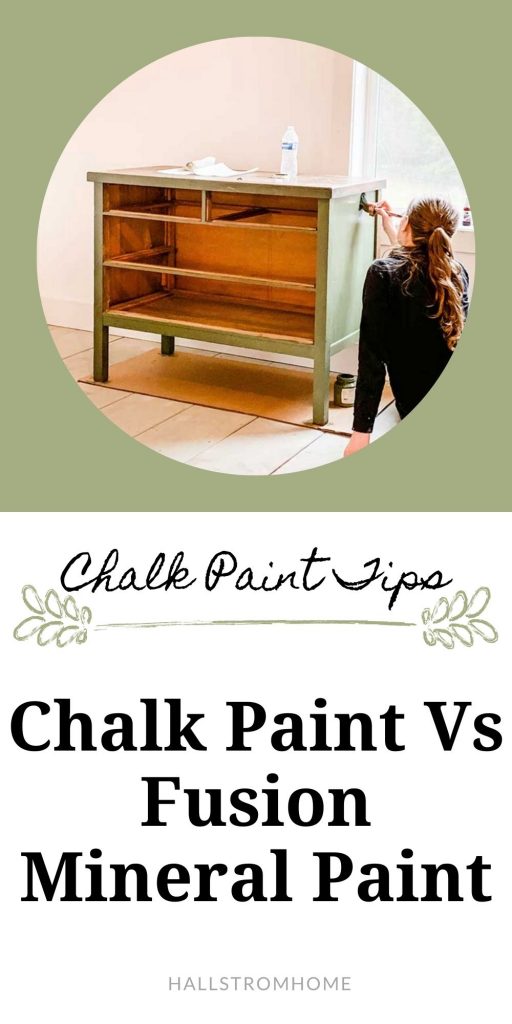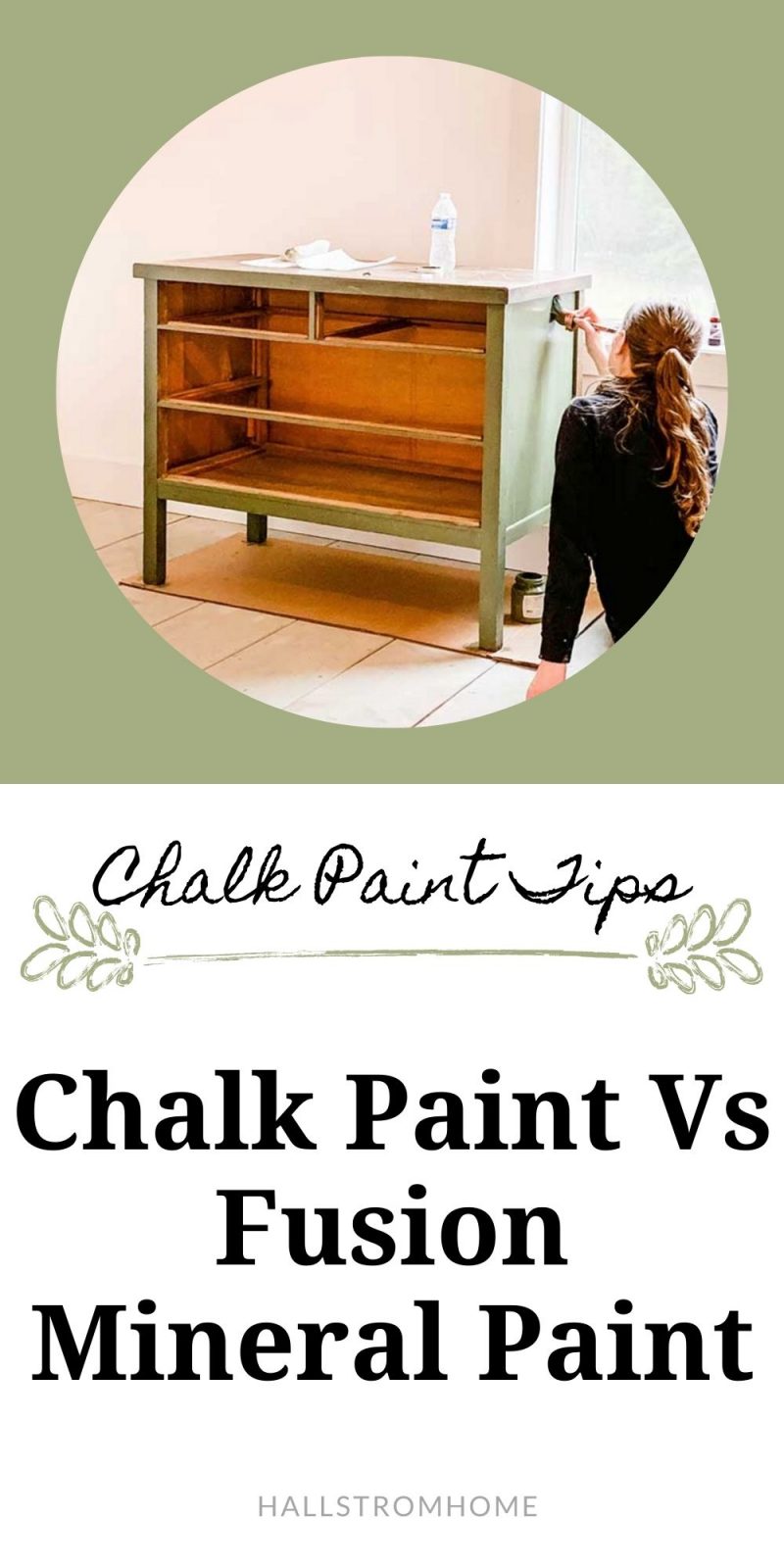 And today I'm joined by a fabulous group of blogging friends who are also sharing their Spring DIY Projects as part of the Seasonal Simplicity Spring Series. You're going to love all this springy inspiration…
The Happy Housie // Lolly Jane // Craftberry Bush
Inspiration for Moms // Rooms FOR Rent
Zevy Joy // Modern Glam // Hallstrom Home
A Pretty Life // Confessions of a Serial DIYer
Jenna Kate at Home // Life is a Party // Tatertots and Jello
Town and Country Living // Place of My Taste
Rambling Renovators // Home Made Lovely // The DIY Mommy // Sincerely, Marie Designs
Paint Me Pink // Amber Tysl
Southern State of Mind // This is Our Bliss // Tauni Everett
Finding Silver Pennies // Clean & Scentsible