We have gone batty!! The spooky times of Halloween are near and I wanted to share with you this Halloween Mantel. It is so simple to create, but the perfect touch of scary for Halloween.
Be sure to sign up for my email to get new recipes, crafts and home ideas in your inbox, plus access to our free printable vault! *This post contains affiliate links*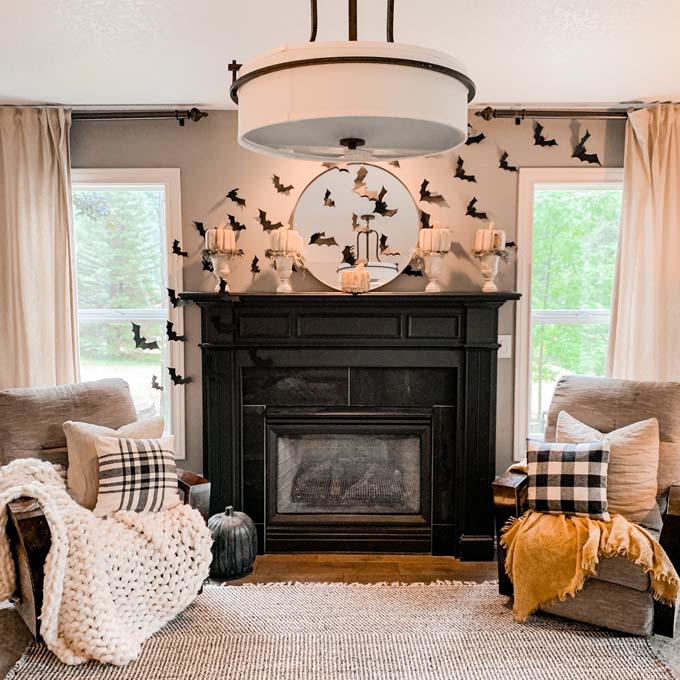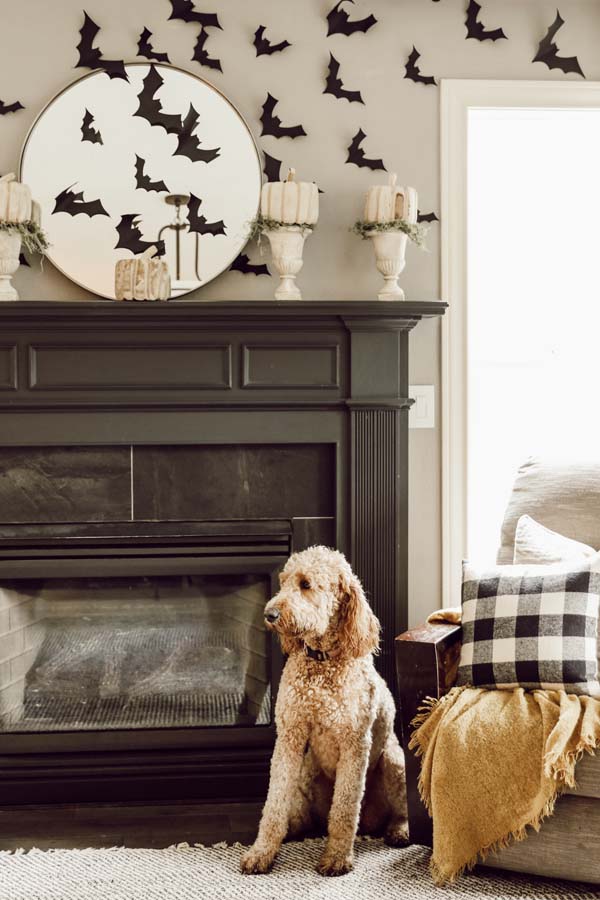 How to Decorate your Halloween Mantel
We actually went over to my sisters house to create this look! It's so much fun being in a new space. Her dog Maggie was our perfect model, you can see how we used bats for her front porch. We then brought the paper bats into the house, to make this spooky scene.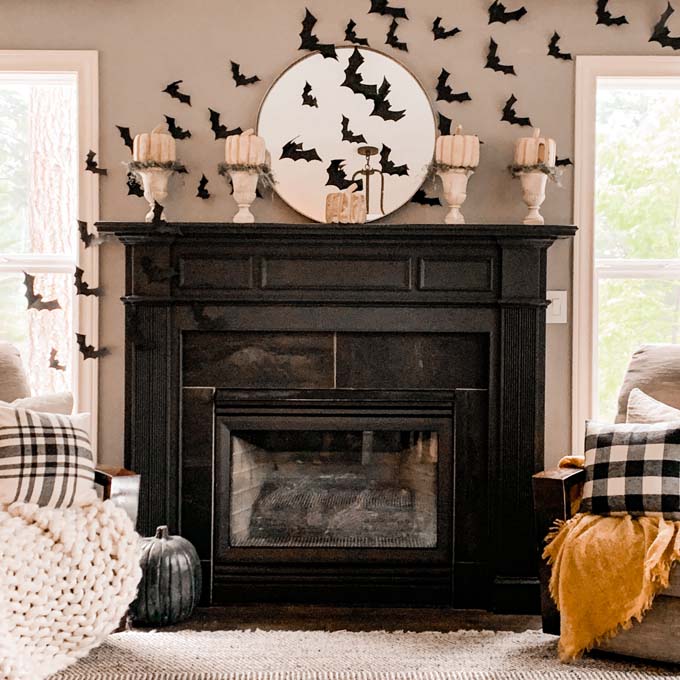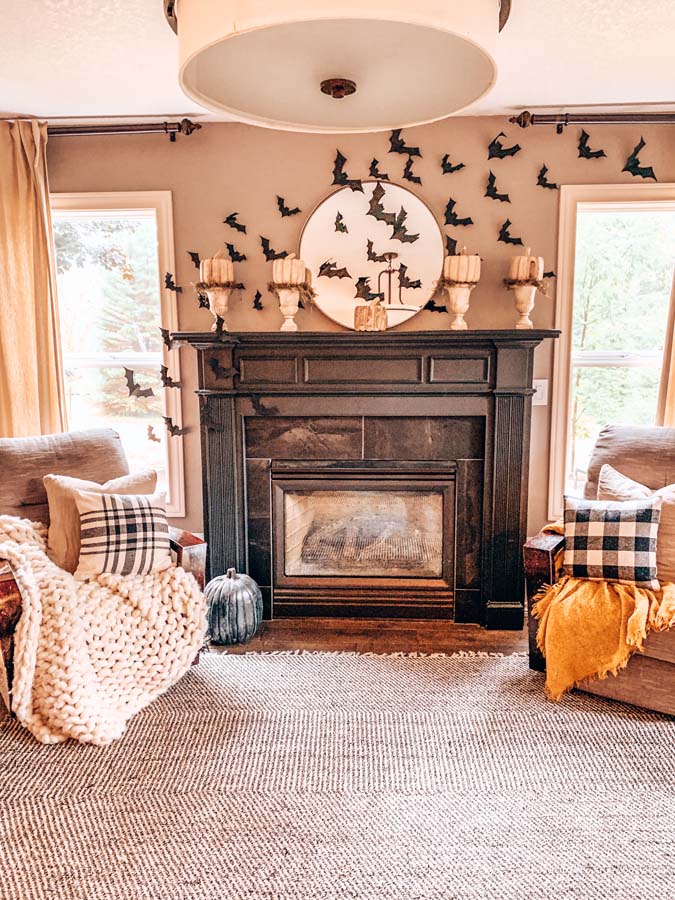 How to Style a Halloween Mantel
To create these paper bats I used our Cricut Explore Air 2 machine. I will share those templates below for you to use if you have a Cricut. We then uploaded them into Cricut design space and then had them get cut out onto our paper.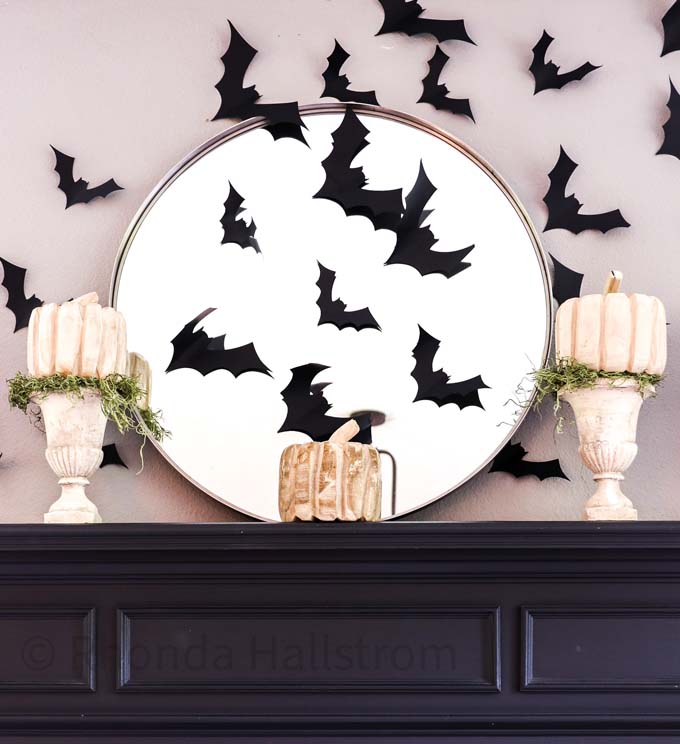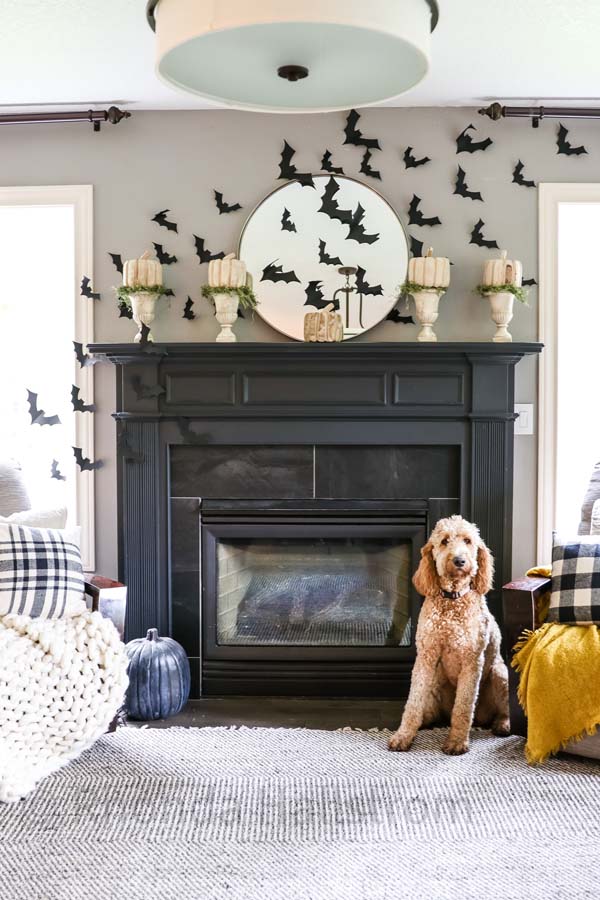 BLACK AND WHITE NEUTRAL HALLOWEEN MANTEL
For the cozy chairs next to the fire we simply placed a couple pillows and throw blankets. The blanket on the left is hand woven by Be Cozi. Use code R10 at BeCozi for a 10% discount. Use code R10 at BeCozi for a 10% discount. Adding pattern is a fun way to make the space not so boring. Go with some check or plaid pillows to add that texture.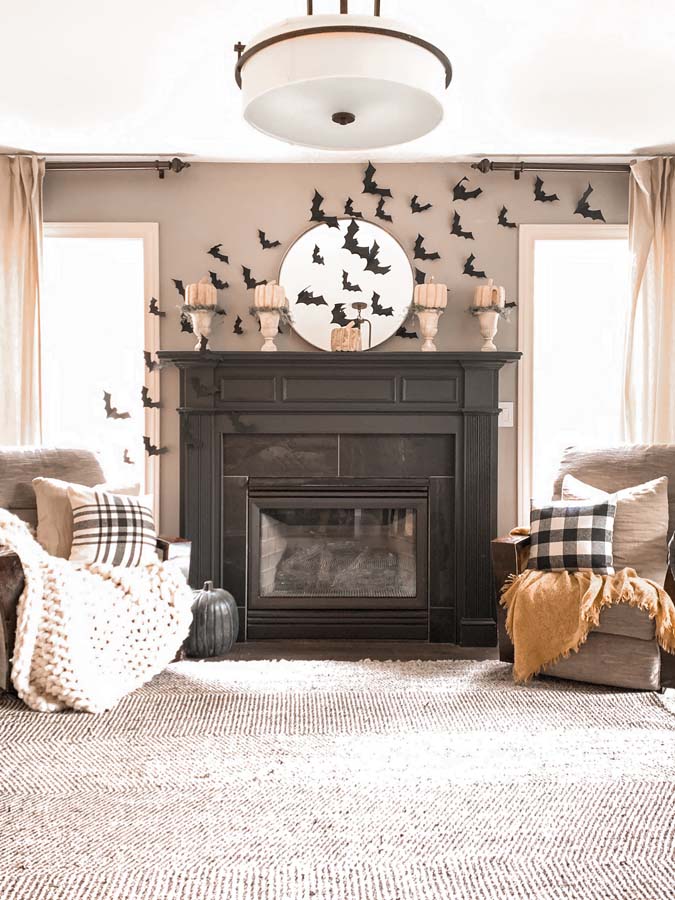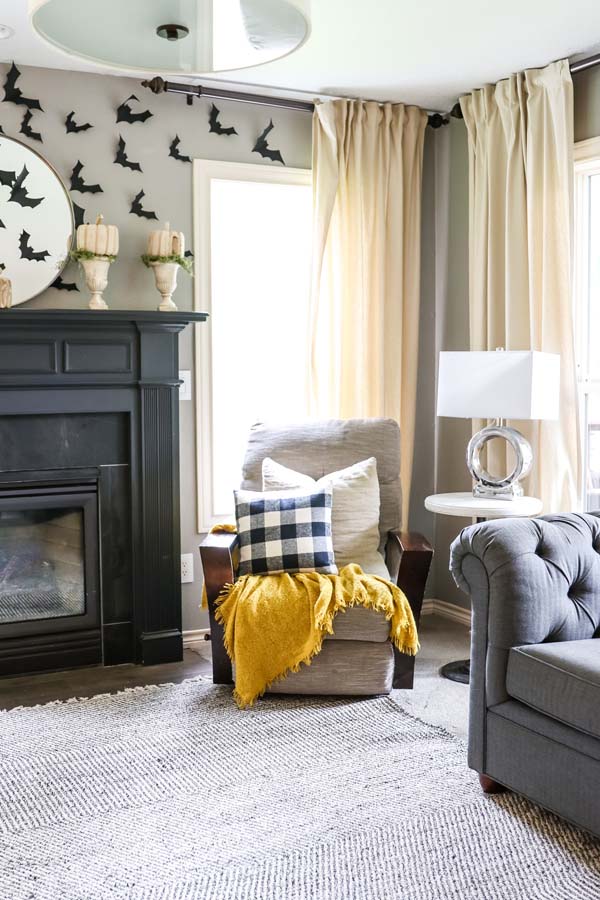 TIPS FOR DECORATING YOUR HALLOWEEN MANTEL
On the mantel itself we wanted to add some height so adding these urns helped with that. To make them a little more fallish, add some pumpkins! Of course we put moss as well. I wanted some symmetry in this mantel. To do that I evenly space my urns. Just because the bats are everywhere I thought it would be nice to have some structure.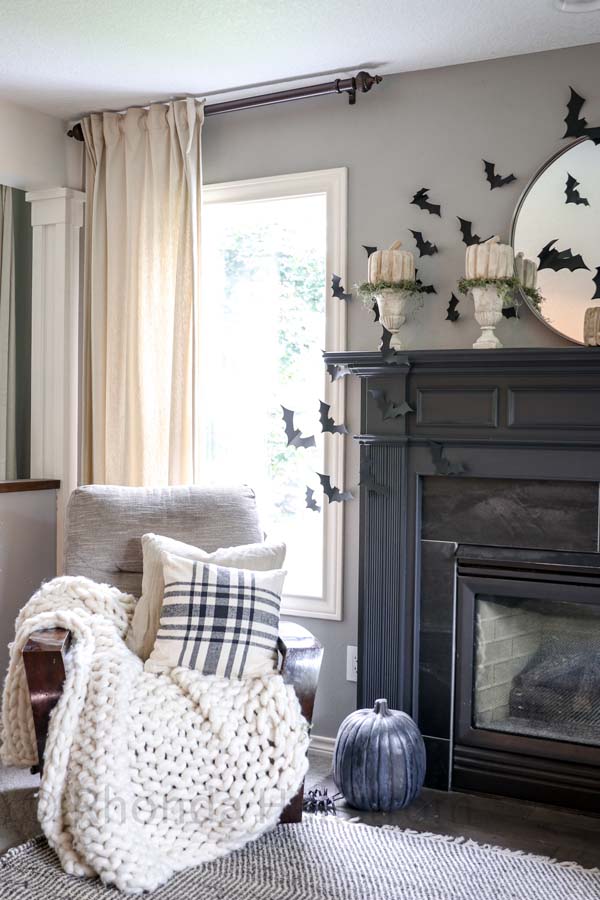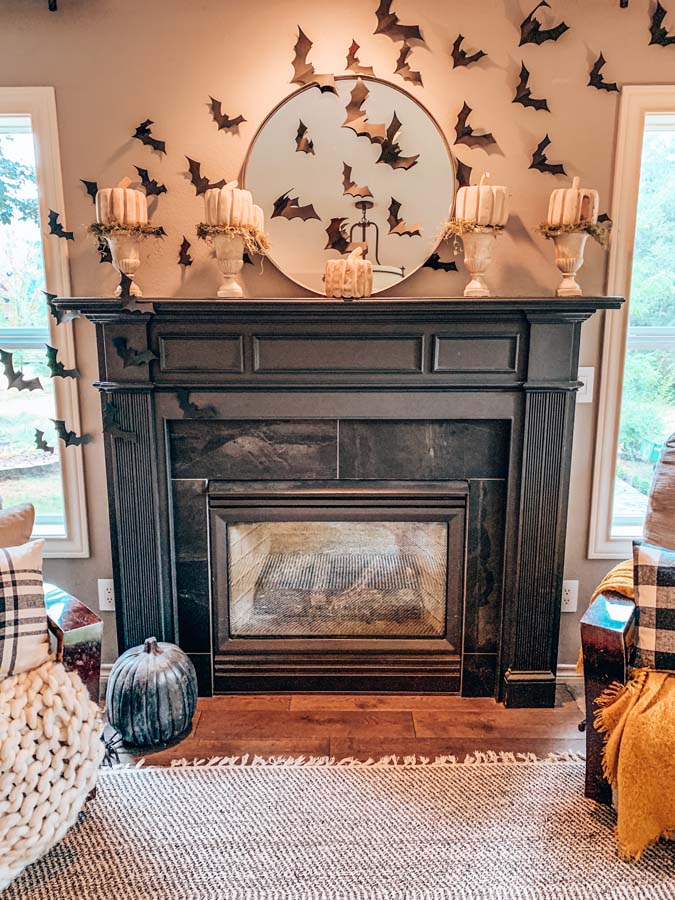 Glam Goth Halloween Mantel Ideas
Time for the spooky fun! I didn't want too much going on to distract from the bats. To place to bats on the wall, I used double sided tape. It worked perfectly and they stay on for a very long time. Placing them like they are flying away makes this look best. Be sure to Check our another one of our Spooky Halloween Mantle Ideas here for more!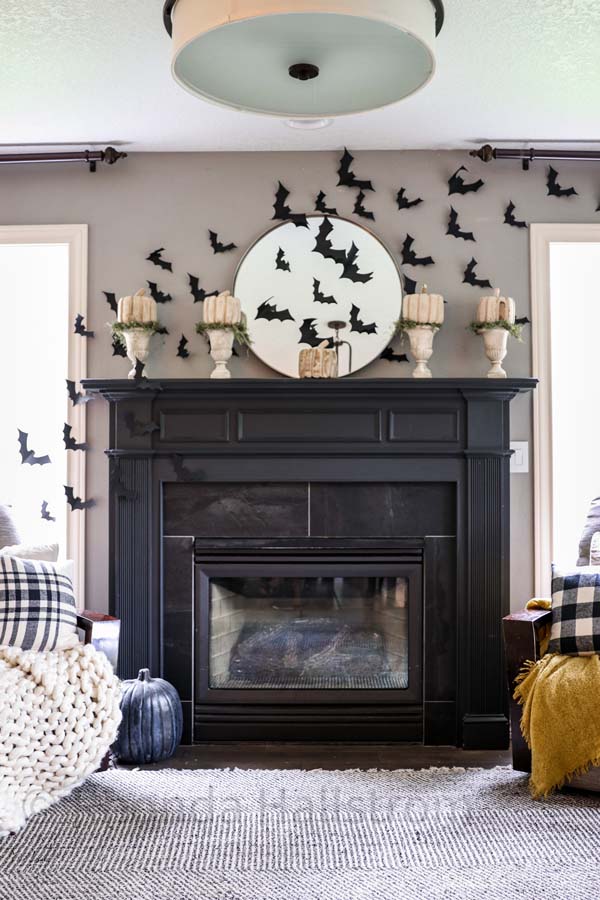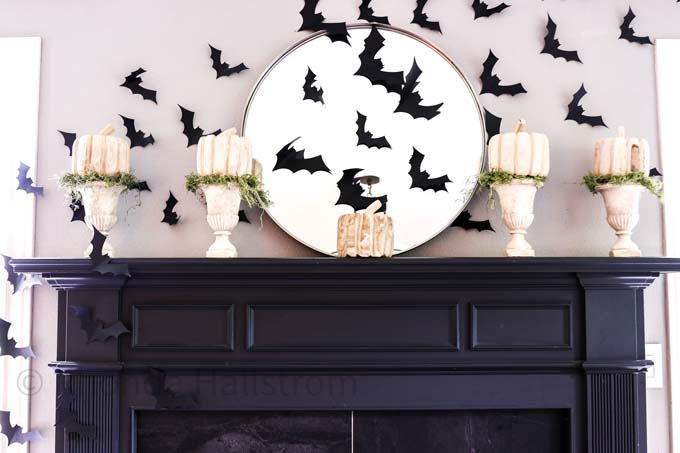 Spooky Halloween Mantel Decorations
If you know me you know I don't really like spooky. But I had to do it with these paper bats. They're actually sort of cute! Do you like spooky Halloween decorations?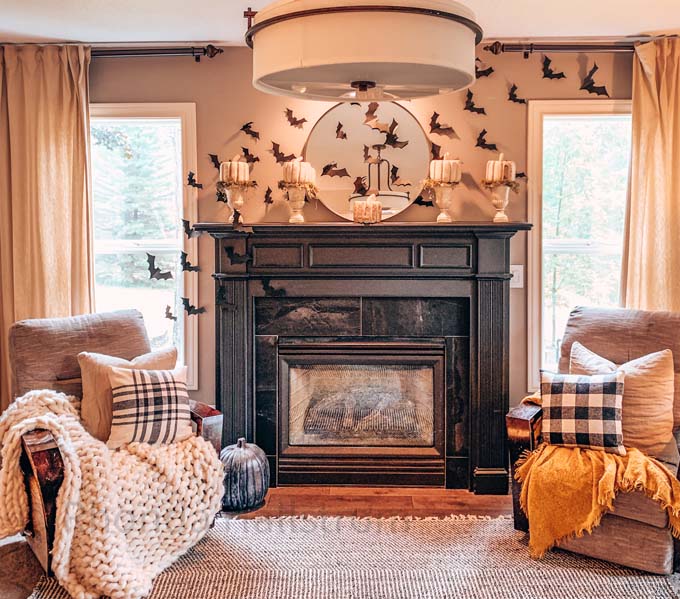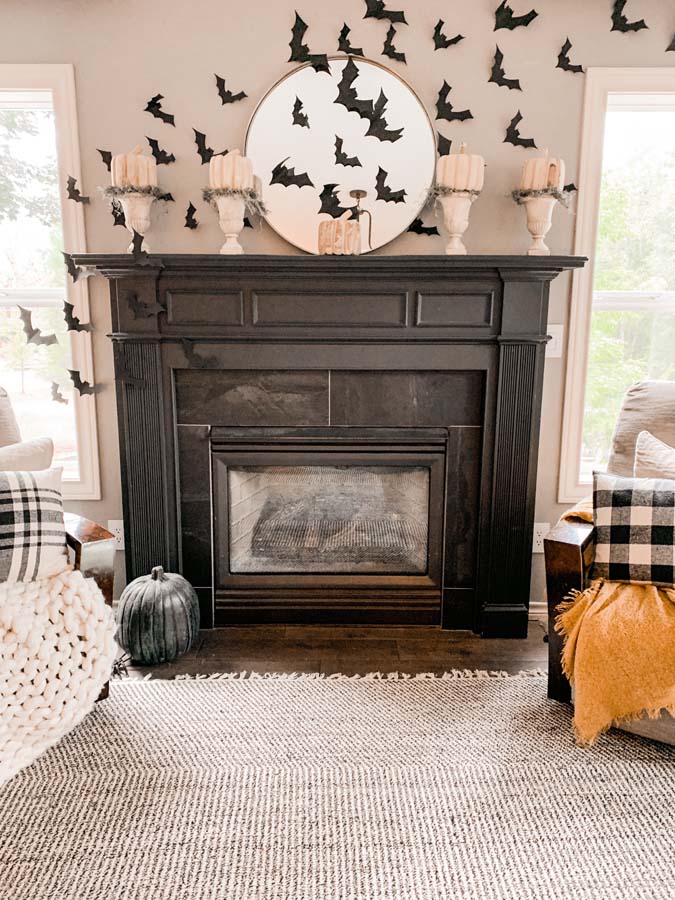 Transition from Fall to Halloween Decor
This look would be perfect for fall just without the bats. So in your normal fall decor, you can just simply add a few spooky things to let Halloween in your home. Like webs, wreaths or crows. You can have a lot of fun making this mantel. Like instead of urns, get a cute Halloween sign or some bare branches. That's always a fun one!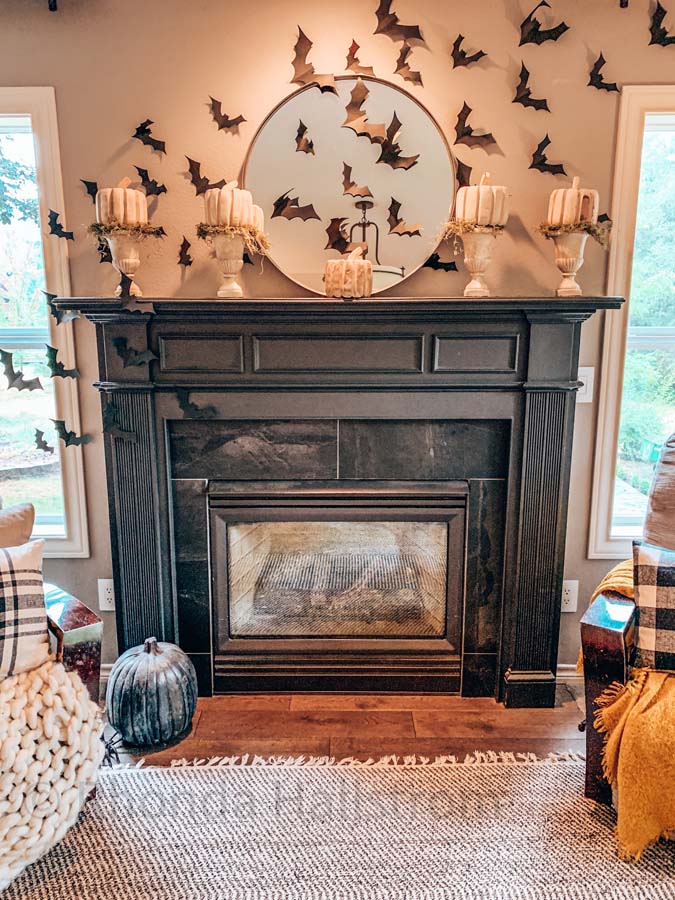 Halloween Mantel
Just get creative and have fun doing this!! Thanks for stopping by!