Sometimes life doesn't allow for spending a lot of money so we have to Decorate for Fall on a Budget but we still want it beautiful and without a lot of work. For me fall decorating is pretty but I don't have a lot of time so I have a list of nine tips to decorate on a budget.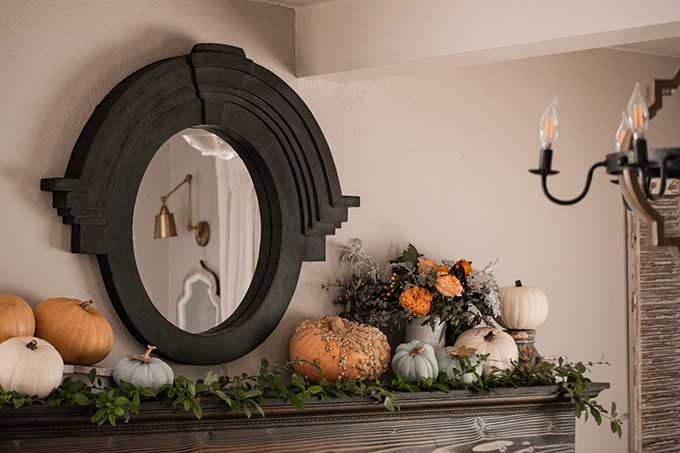 Decorate for Fall on a Budget
9 Ways to Decorate for Fall on a Budget.
Use natural and fresh. Greens and fresh pumpkins from outside are easy and beautiful. My greens won't last so I will let then sit here for about a week and then I will switch them out or I will use a faux garland that I've had for a few years.
Buy Faux. So here I mixed fresh pumpkins and faux chalk painted pumpkins together. Chalk Paint is a cheap way to Decorate for Fall on a Budget by updating an old piece. We have a link here to learn more about chalk painting. There are many paint techniques and brands that I think you will love. One of my favorite tutorials is how to use white wax like I applied on these blue chalk painted pumpkins.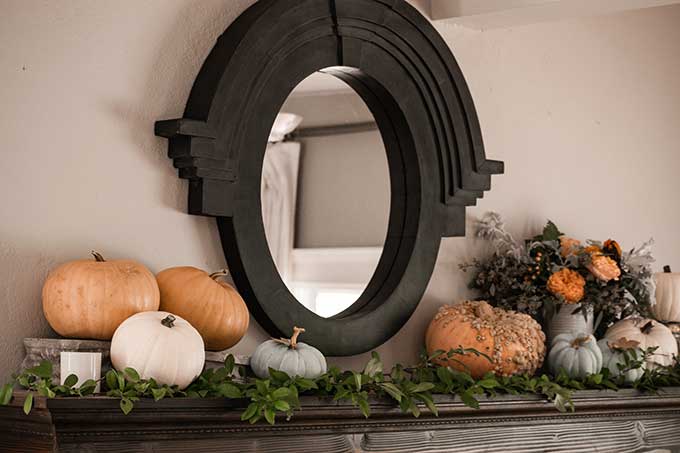 Decorating for Fall That's Easy
3. Shop your house. I know we forget what we have stored away or maybe we don't. But we need a few items with fall colors. Just take out the chalk paint and refresh some candle holders, paint a vase or even chalk paint some faux flowers into something more fall. I made some paper tissue flowers if you want to try that. It's super easy and I taught myself how to make them on the airplane coming back from Waco where I got to spend a day with Chip and Joanna Gaines at their paint launch which was so fun. Learn more about that day and the interview I had with Chip and Joanna Gaines by clicking this link.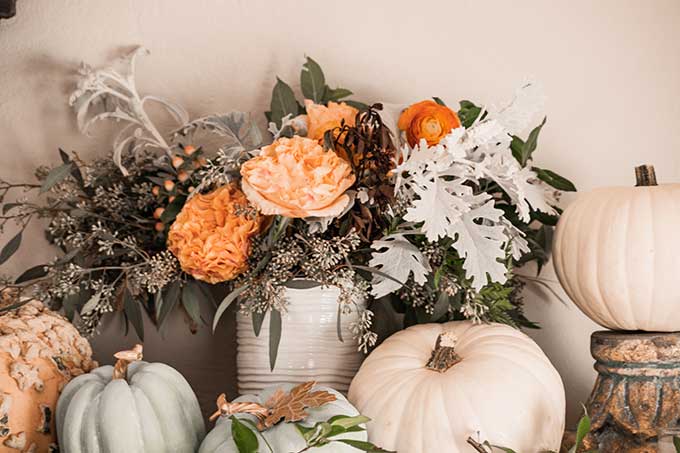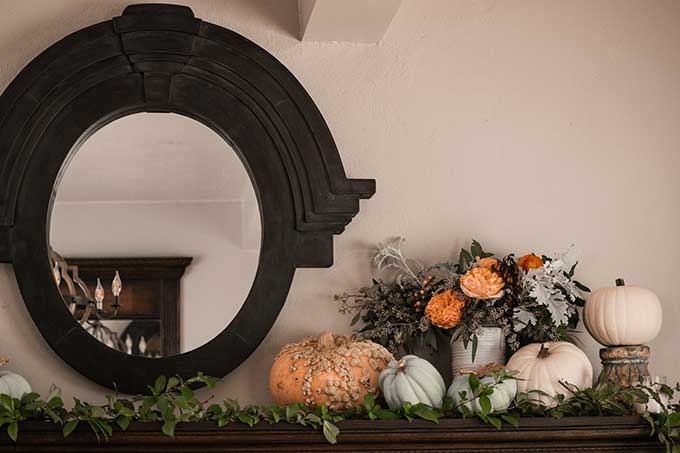 Fall Time Decor Ideas
4. Shop thrift stores. I got my first online business started by shopping thrift stores and then chalk painting candle holders, mirrors, vases and more. Now I don't have as much time for thrift store shopping but I do manage to hit the local antique stores because I tend to find more treasures there. Here is some Fall tablescape inspiration to help with decorating plans.
5. Borrow. I have friends who borrow out decor pieces which is a great way Decorate for Fall on a Budget. Sometimes I have to get rid of a beautiful piece so a friend can use it but we can borrow something from them for any season.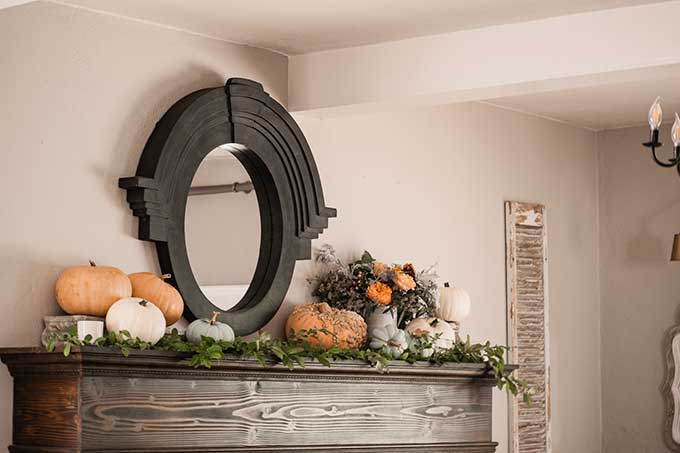 Cozy Fall Decor on a Budget
6. Shop sales and Amazon. I love amazon for lighting and some faux pieces when I want to Decorate for Fall on a Budget. Etsy shops are great for high quality hand made pillows. Amazon has some pillows that are cute and don't cost a lot so if you need just a pop, I would go that route. After season sales are great to use for the next year so if there is something that I fall in love with that's ons sale then that's the time to buy.
7. Make your own pillows to Decorate for Fall on a Budget. You can sew or you can glue them. No kidding I have used table place settings for pillows and then just glue the one edge closed. I will give you my no sew pillow tutorial incase you want to learn the details.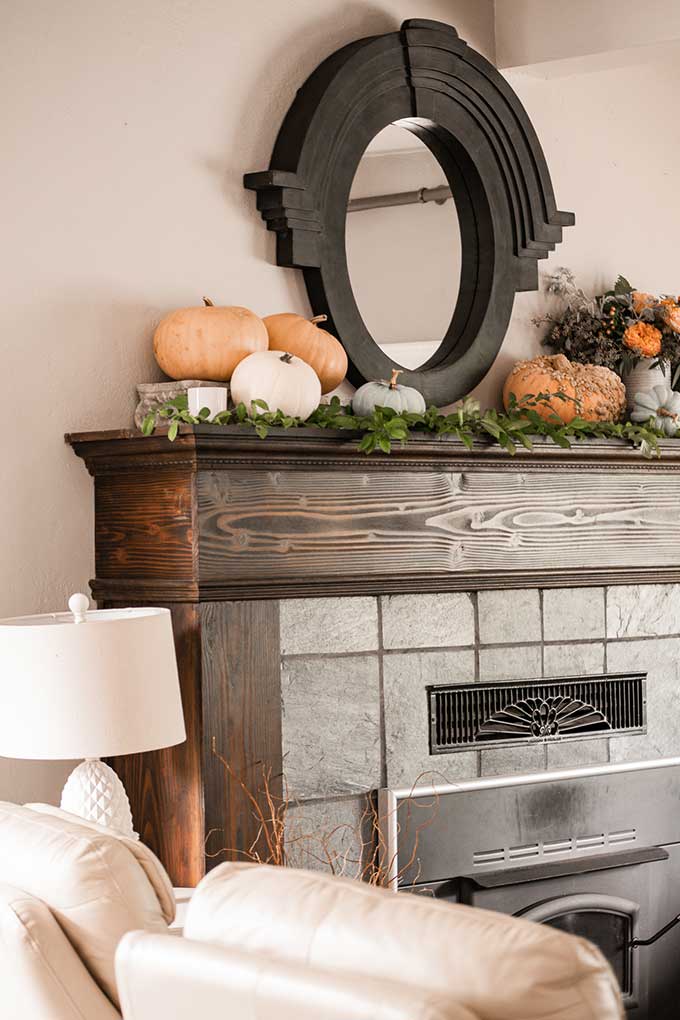 Candles for a Cozy Fall Home
8. Candles are my obsession. We have them in the office and scattered around the house. I don't like overpowering candles and I don't like wimpy smelling ones. Something in between that is made from soy. One of my favorite soft yet beautiful candle shops is Agape candles on Etsy and for something stronger. I use The Classic Candle Works in scents like spiced cider.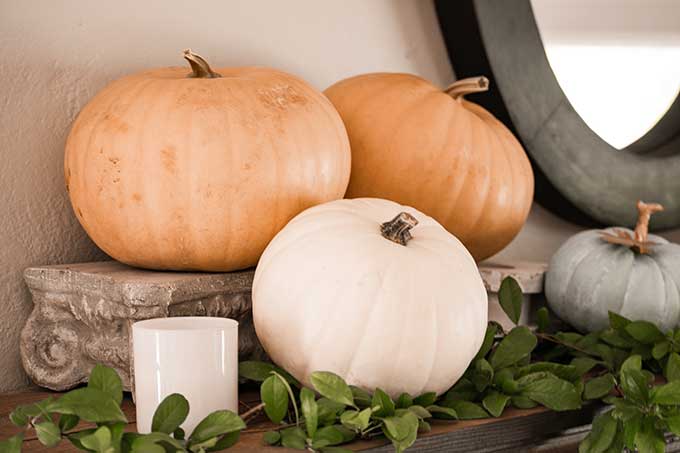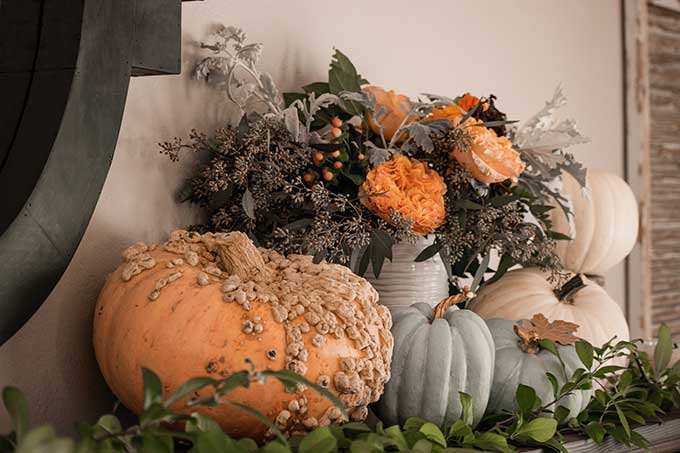 Cozy Throw Blankets for Fall Time Decor
9. Blankets are a must have and it's easy to buy too many so I found that if I purchase just a few really nice ones then they will last for many years. The fuzzy type are ones I have had for years and still love them and the girls love them too so I try to have them draped so they can wrap up easily in front of the fire on a cold fall day.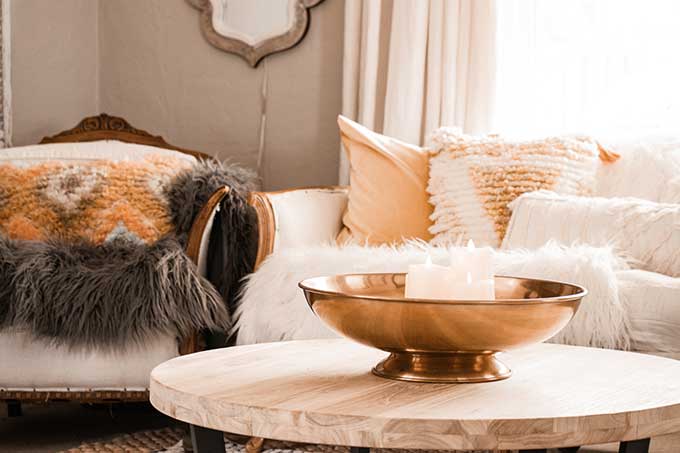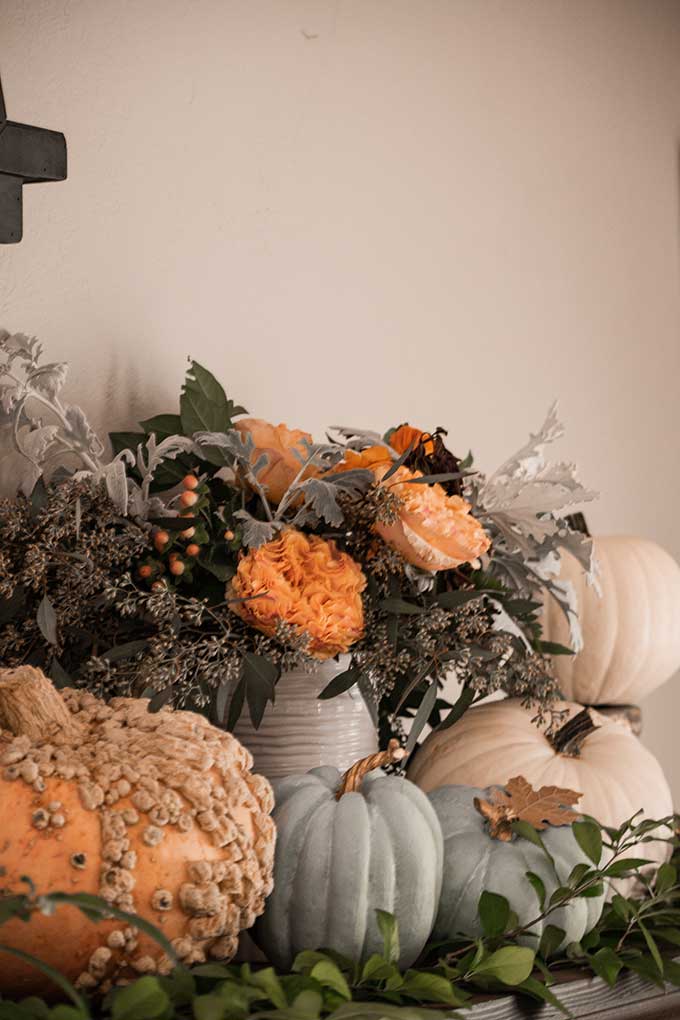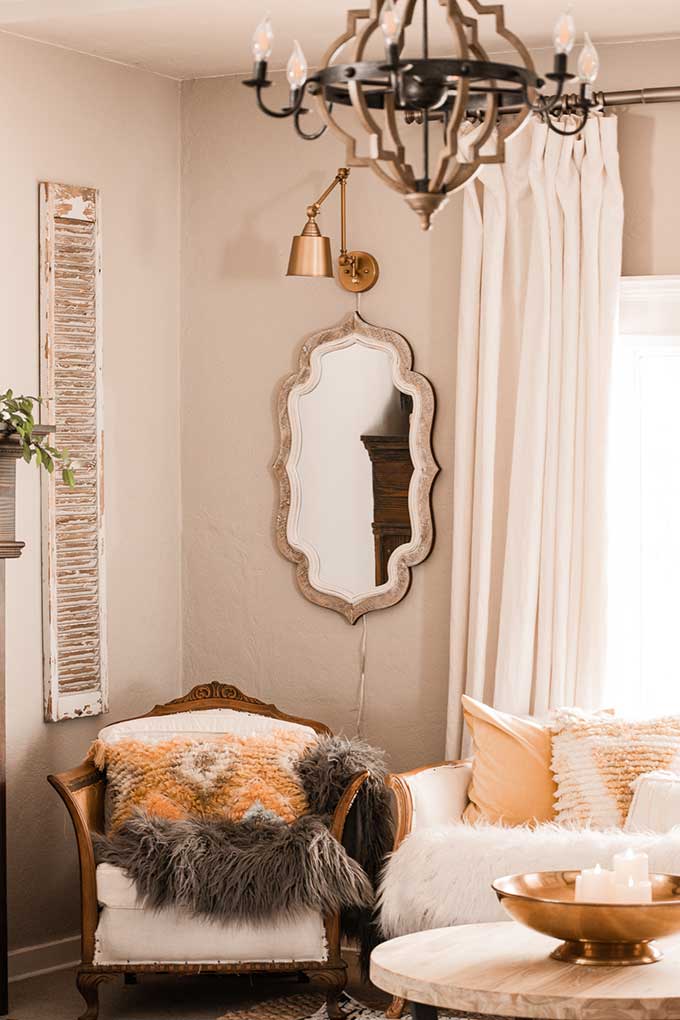 How I Decorate for Fall
I love fuzzy textures that add a layer of cozy. Add in some pillows with color and more texture such as velvet and linen and then a bit of color. This peachy orange color is still one of my faves but each year it's different depending on my mood and my budget. I have so many pillows that I really shouldn't get bored.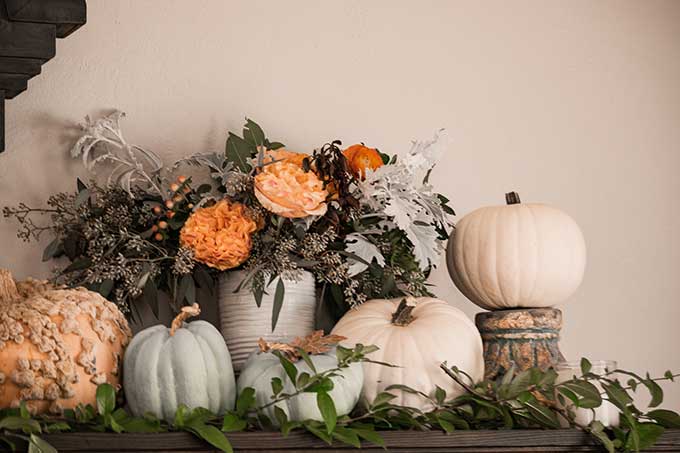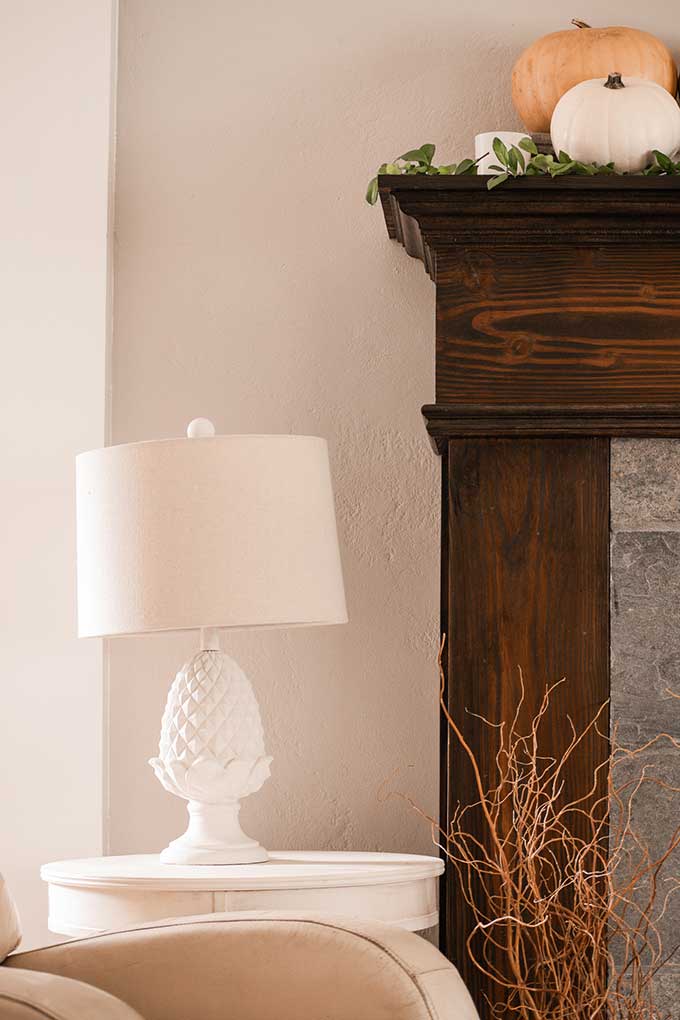 How I use chalk paint on furniture for fall.
I think I will always use chalk paint. I transformed these pineapple lamps from a dull brown to a off white to match my decor. Sometimes I want my lamps to stand out and sometimes blend in. I love the texture as well has the matte finish. You can paint and repaint as often as you like so that's one more reason I love chalk paint. Now I should go chalk paint up some wee small faux pumpkins like I did a couple years ago to place on my tables. Read how I chalk painted these pumpkins here.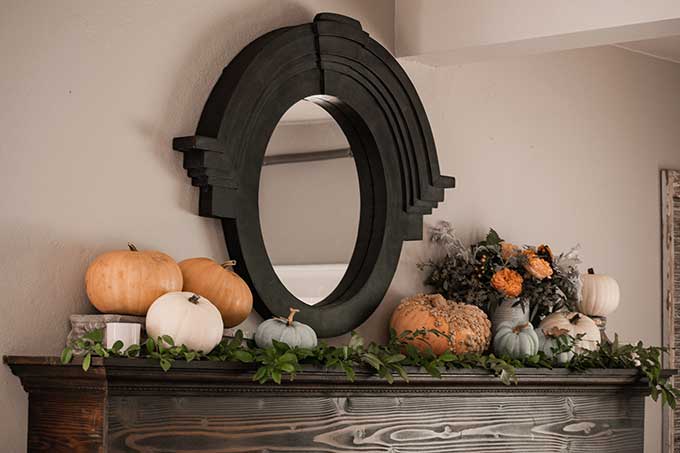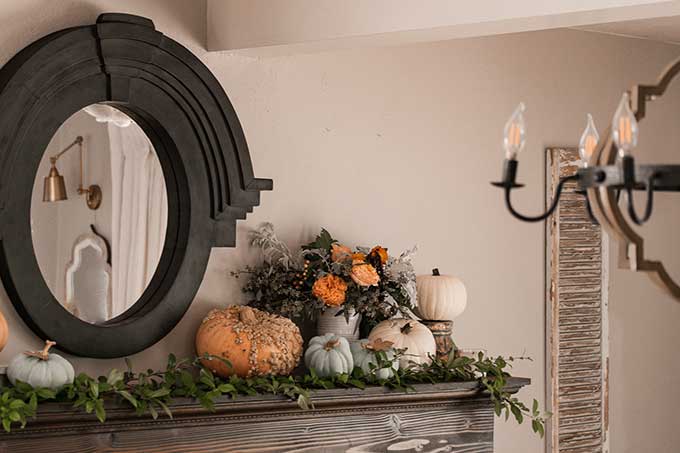 Mirrors for Fall Decorating
I change out my mirrors seasonally because selling mirrors is what I do. So I enjoy having a new one to grace my walls for a bit. This one is painted in matte black with a gray wax.
Question and Answers about Fall Decorating
How long will fresh pumpkins last in the house?
Honestly not too long. Each variety is different. The white pumpkins will last about a month but the soft orange ones are already soft so maybe a couple weeks, The warty one is about a month, if not longer. I like faux pumpkins best for the longevity.
Does faux go out of style?
No!! I think if you don't over use the faux greenery and flowers then it will look good and feel good too.
Check This Out! More ideas for fall decorating
We are super excited to share a bunch of other bloggers for fall home decor Ideas. Check this out and let me know what's your favorite thing about fall.
This week is Fall Home tour week! All week long talented bloggers are sharing their homes dressed and ready for fall to help inspire you with all kinds of ideas for your own fall decor. Just click on the links below the images to see more…
Sharing with me today…
Thursday
Sincerely, Marie Designs // Rooms FOR Rent // Shades of Blue Interiors
Stacy Risenmay // Hallstrom Home
Place of My Taste // Twelve on Main // Zevy Joy
The Turquoise Home // Doreen Corrigan
And sharing the rest of this week…
Monday
The Happy Housie // Modern Glam // She Gave it a Go
Inspiration for Moms // In My Own Style
Cherished Bliss // Grace in My Space
My Sweet Savannah // All Things With Purpose // Just a Girl and Her Blog
Tuesday
Clean & Scentsible // Two Twenty One // Love Create Celebrate
Rambling Renovators // Life is a Party
Lemon Thistle // Cassie Bustamante // So Much Better With Age
The DIY Mommy // Taryn Whiteaker
Wednesday
Home Made Lovely // Craftberry Bush // The Tattered Pew
Town and Country Living // Shabyfufu
A Pretty Life // Amber Tysl // Jenna Kate at Home
Kim Power Style // Summer Adams Designs