Have fun with breakfast and learn How to Make a Breakfast Charcuterie Board! Around our house we love waffles so we thought a waffle brunch board would be the perfect twist to your average breakfast.
Be sure to sign up for my email to get new recipes, crafts and home ideas in your inbox, plus access to our free printable vault! *This post contains affiliate links*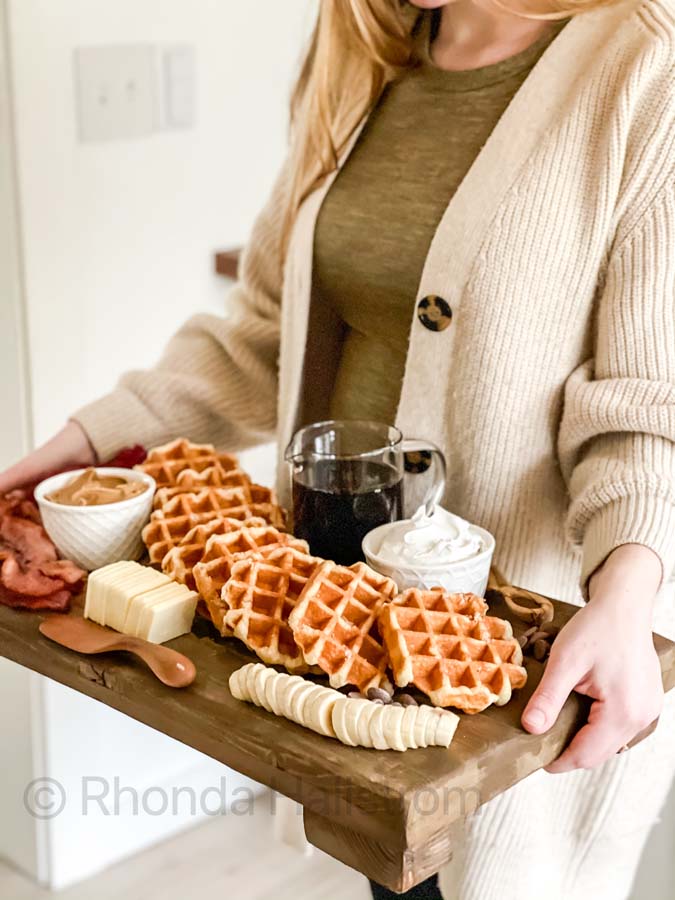 Waffle Charcuterie Board
To tell you a little secret, these were actually pre made waffles I found at Costco. They were so delicious, but homemade is better of course! We love the recipe from Tastes of Country by Frances A Gillette, it is the best you will ever try. We do the buttermilk waffles!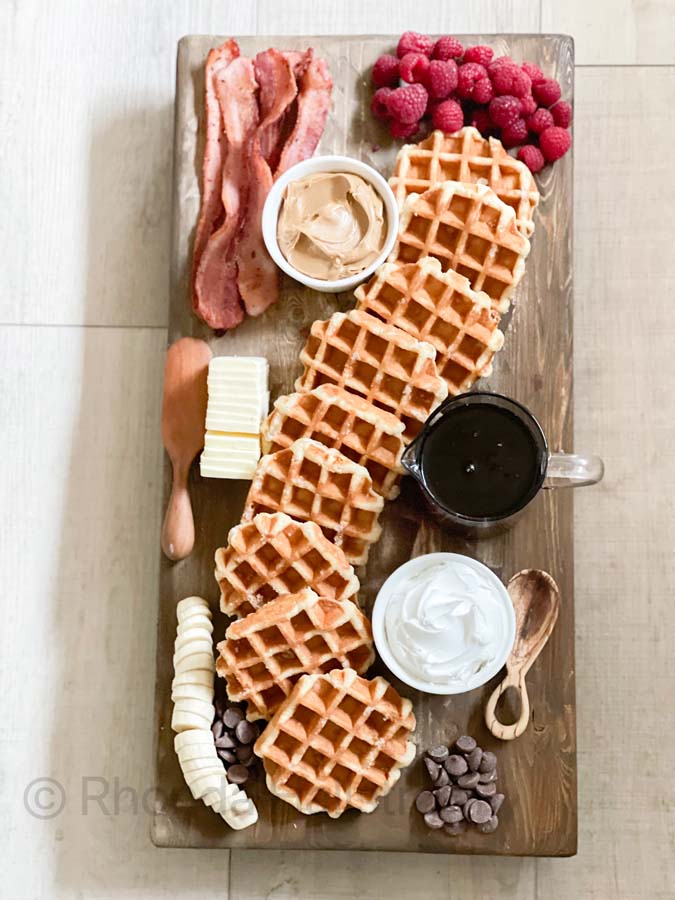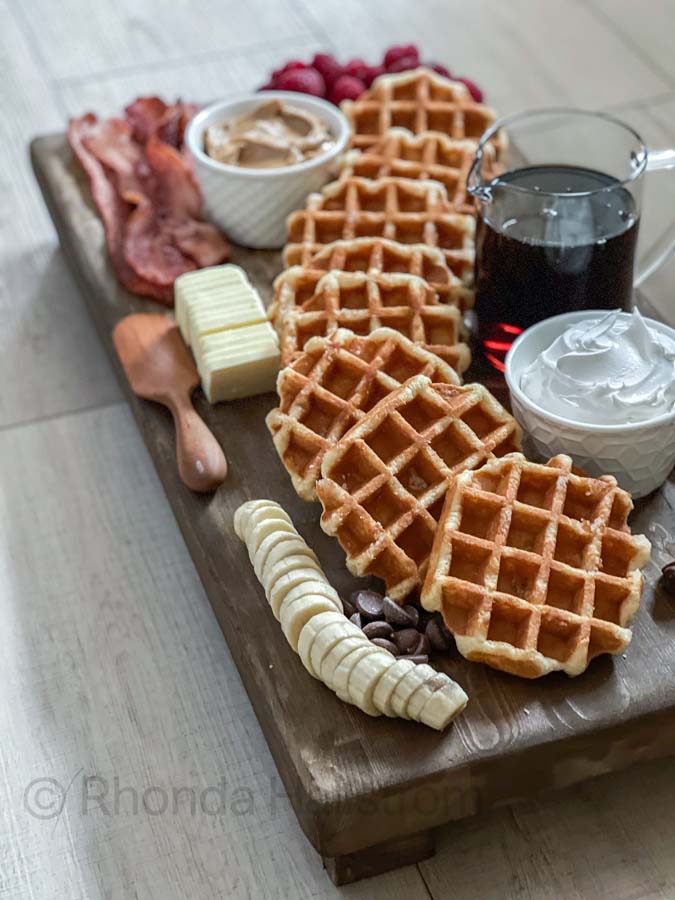 Easy Breakfast Ideas
Every Sunday morning you will find texts in our family group chat from our kids that don't live at home. "Any waffles for breakfast?" So we decided to do a Saturday morning breakfast with the kids last week. Time to start creating for the crowd. You will need a very large charcuterie board. You can find this one plus many other styles in our shop.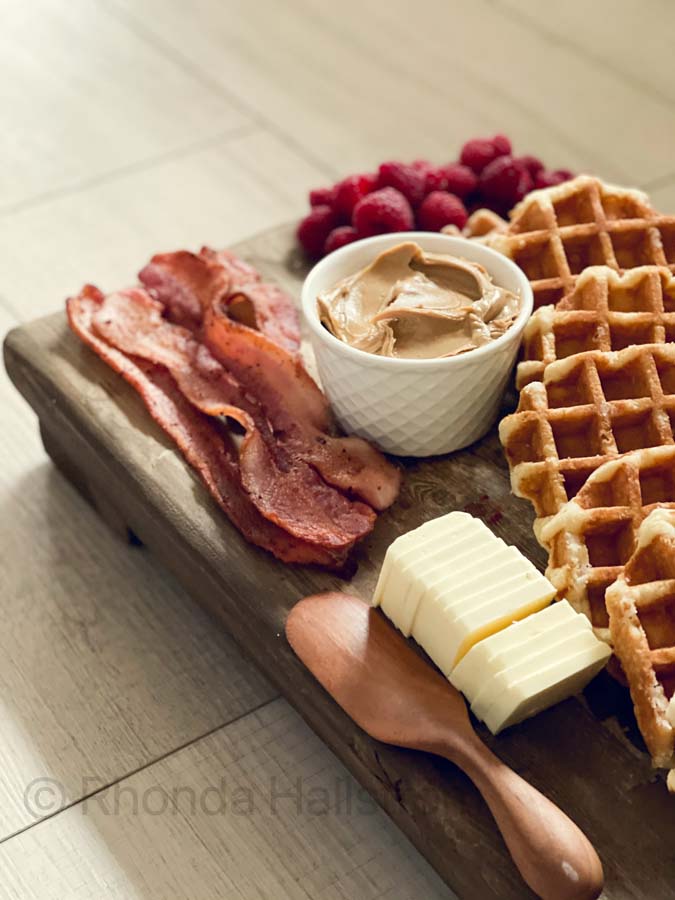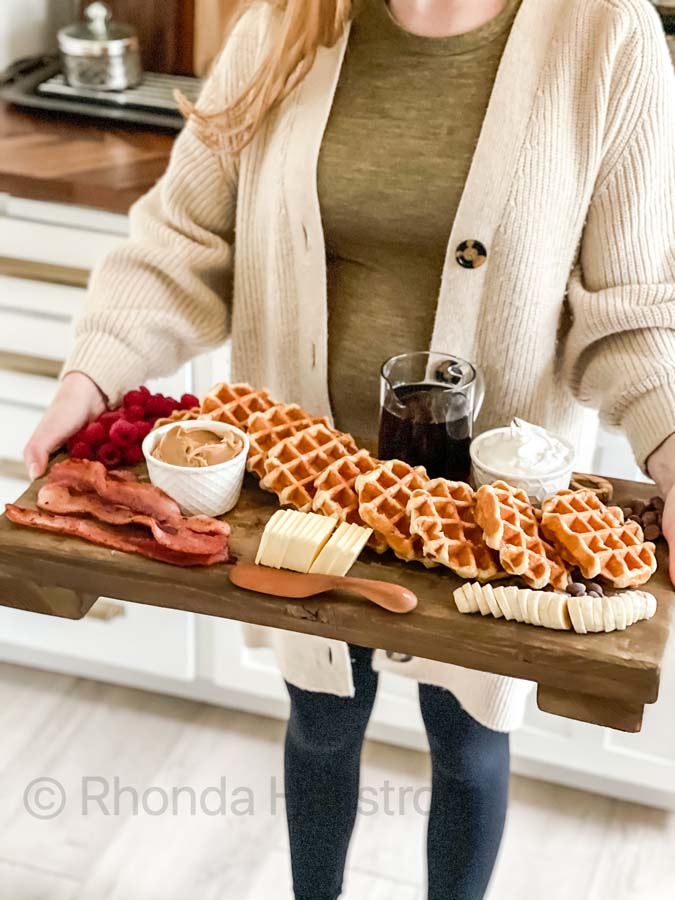 Brunch Ideas for a Crowd
Around here we are definitely feeding a crowd! Begin by placing your waffles on the board, we did it in a wavy pattern to be able to place more toppings on the board. Fill up your syrup jar, a ramekin with peanut butter. And whatever other toppings you love! At our house we love peanut butter with syrup.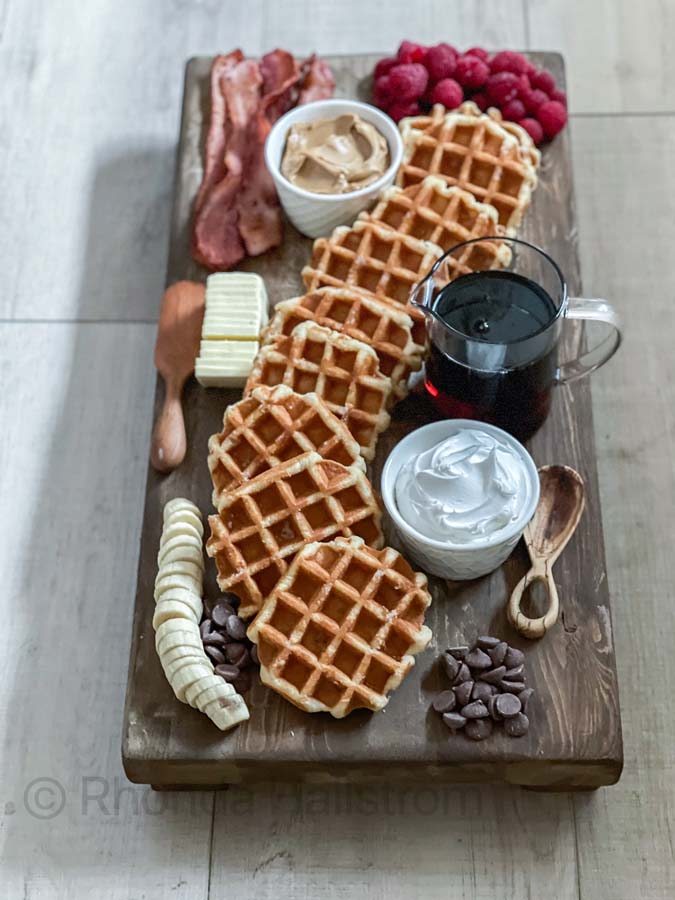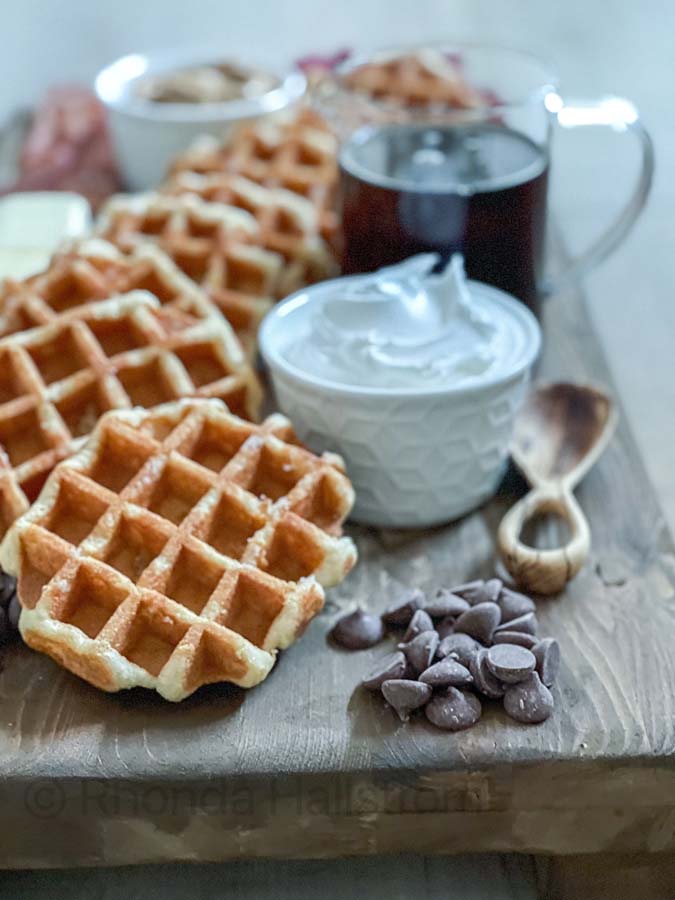 Best Waffle Toppings
Below are some of the family faves. This sounds a little different but Claire swears by thick Greek yogurt with some syrup on top. So I guess we'll have to give it a try. Also check out how we created a dessert charcuterie board and our cookie board!
Syrup
Peanut Butter
Nutella
Bananas
Fruit
Whipped Cream
Chocolate Chips
Greek Yogurt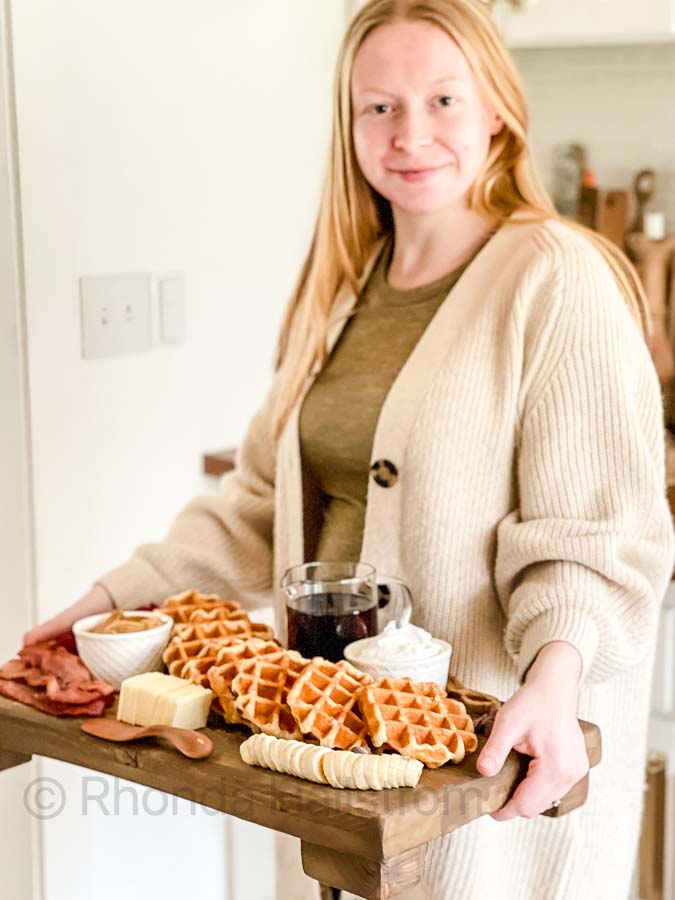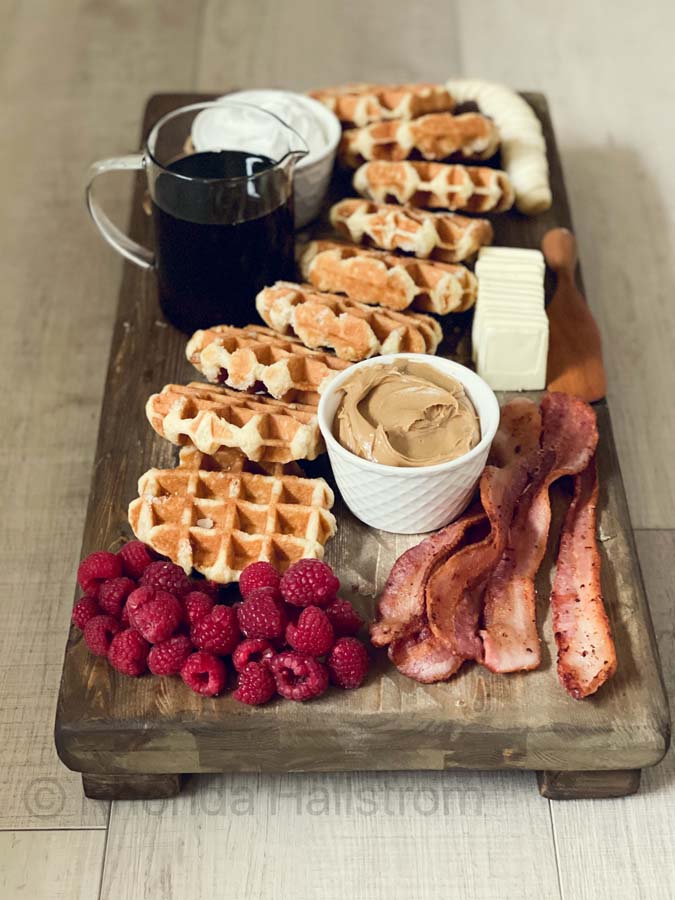 To make it easier for a crowd, I pre chop and lay out my fruits. I pre cooked some bacon and laid it out Just grab and go. This most likely will have to get refilled, but this makes it easiest for serving! If you are making the waffles fresh I like to leave the center empty, so we can keep placing the fresh waffles down. Check out our Fluffy Buttermilk Pancake recipe here for more!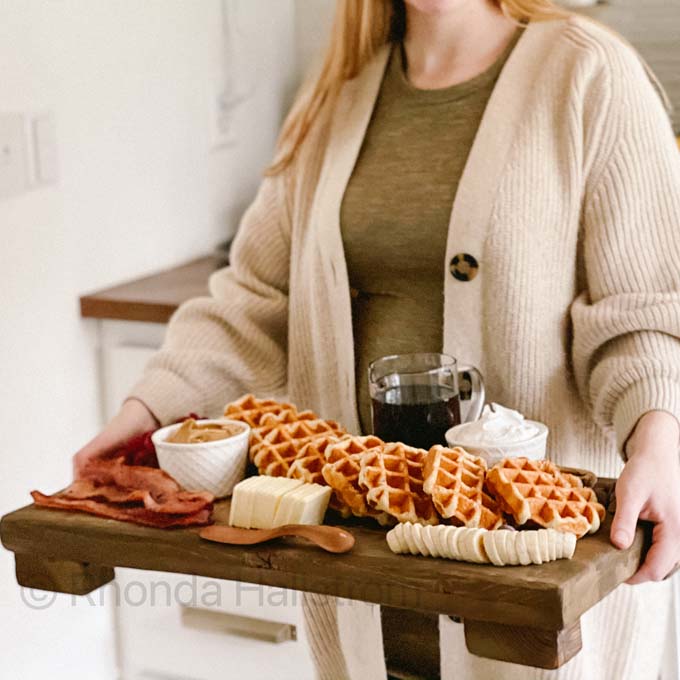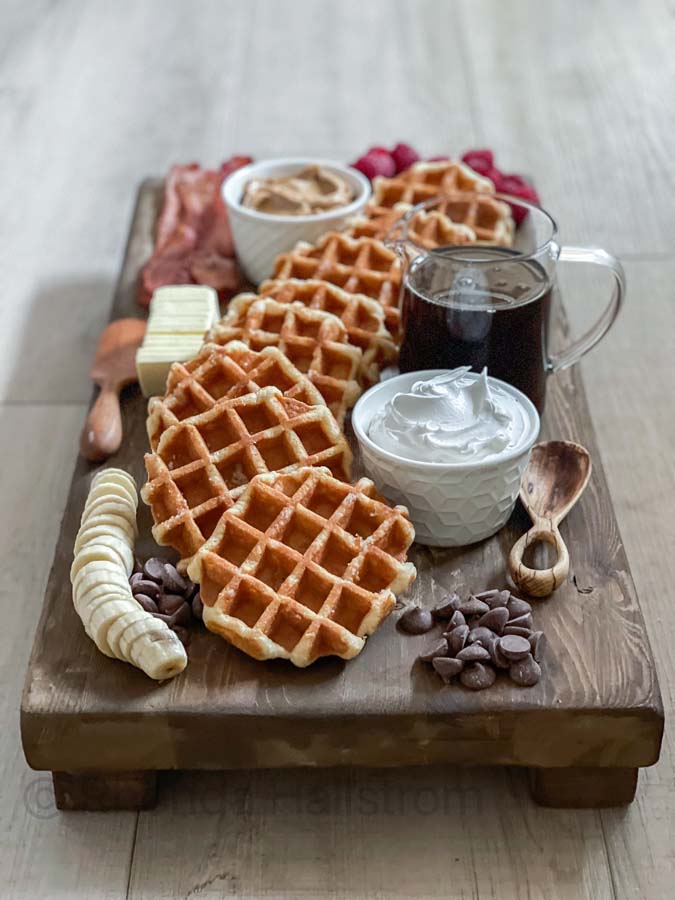 Thanks for stopping by and have more fun with eating breakfast, with the charcuterie board!