Great news, we got a new addition to our family over the weekend! If you follow any of our social media accounts like instagram or our facebook community, you know I am a huge animal lover. We introduced our new rescue pup but we don't have a name yet. I also wanted to share some tips and tricks on styling throw pillows today. Our new pillows have been so fun to decorate with!
Be sure to sign up for my email to get new recipes, crafts and home ideas in your inbox, plus access to our free printable vault! *This post contains affiliate links*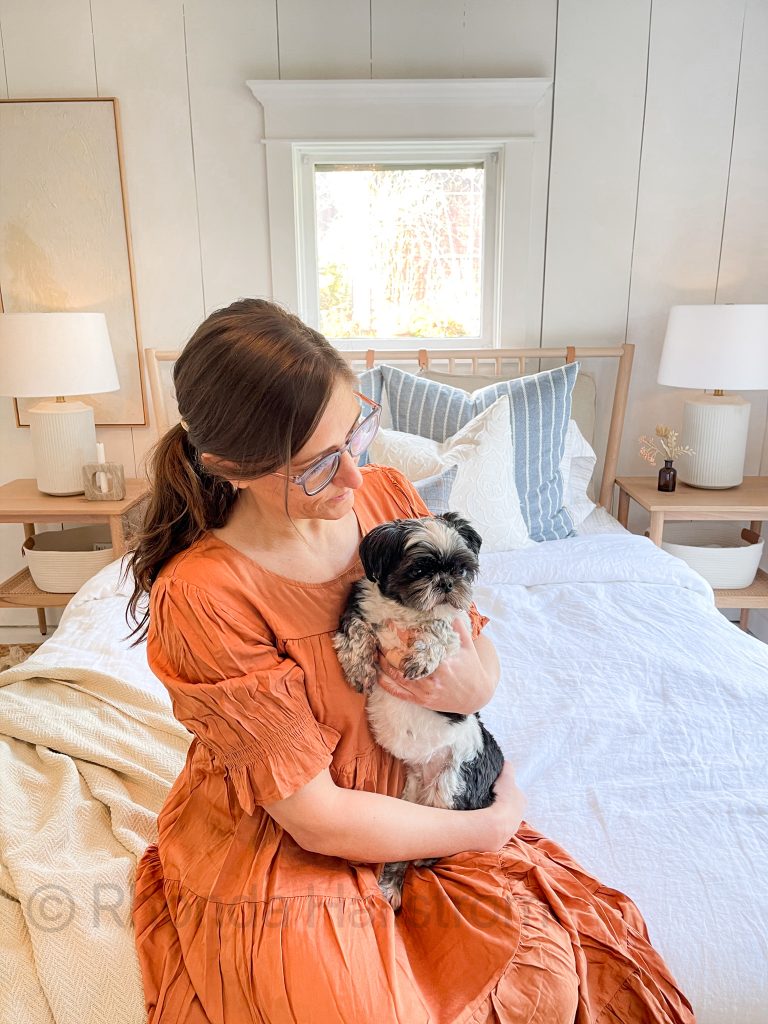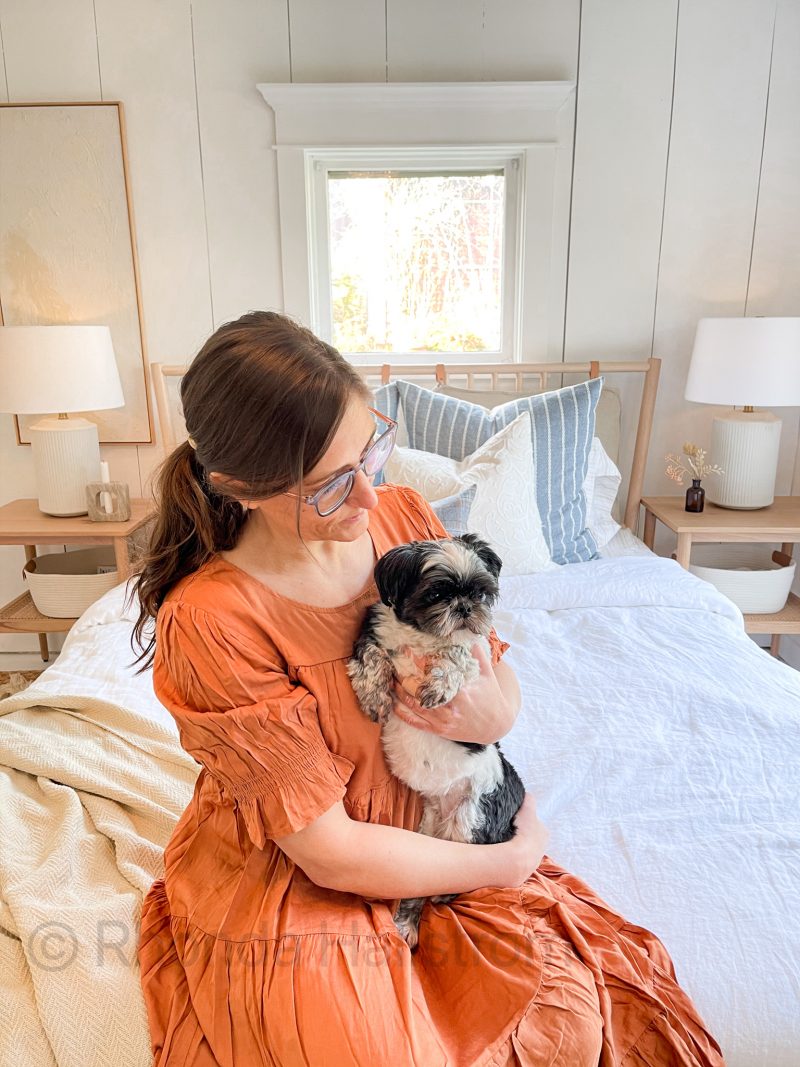 How to Mix And Match Pillows on a Bed
Ok lets dive in. Fixing a matching throw pillow can actually be a challenge. I've been there and I get it! We have some tips to make it super easy to make your throw pillows coordinate well together.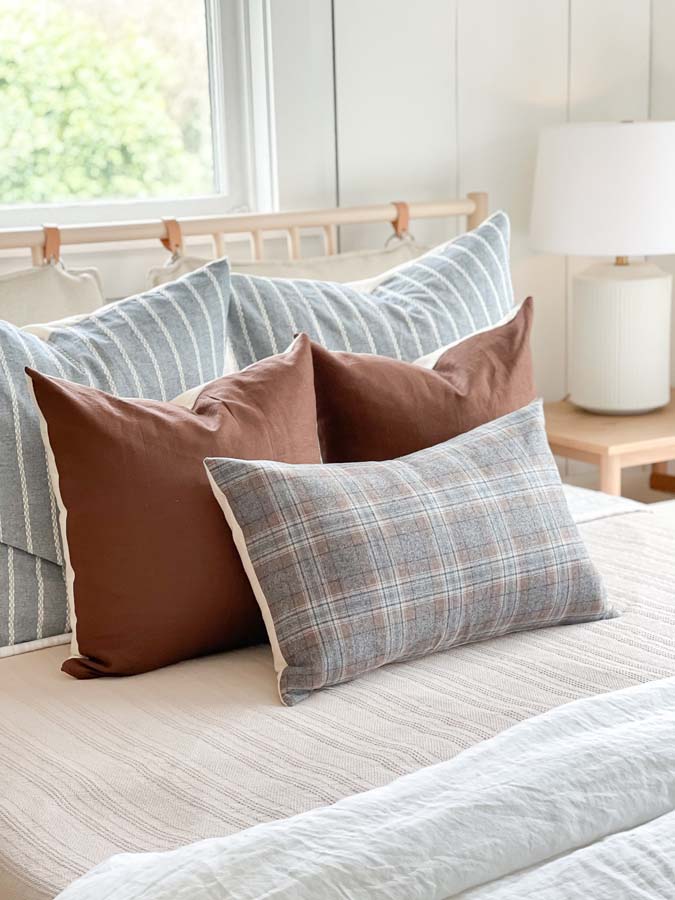 How to Mix and Match Pillow Patterns
First you're going to determine what your color scheme is. To make sure what kind of vibe you want, this is what I suggest. Sit in your room and find your favorite piece of decor. Maybe it's some art on the wall or a beautiful bowl. You can then coordinate your pillows piece by piece by matching them to the decor.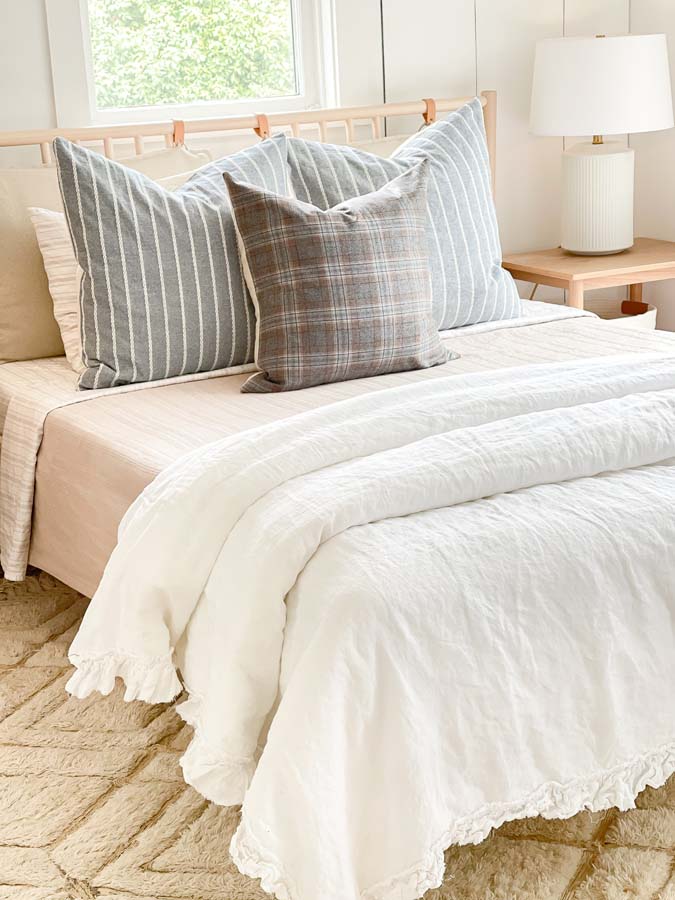 How to Coordinate Pillows
I like to choose pillows that are easy on my eyes like pillows that don't have a lot of bold color prints. However that's just a style preference. If you are going with bold prints and colors you're gonna want to pick pillows that all coordinate well with each other. So lets say you choose a floral print then you may want to pick checkers or strips to go along with that.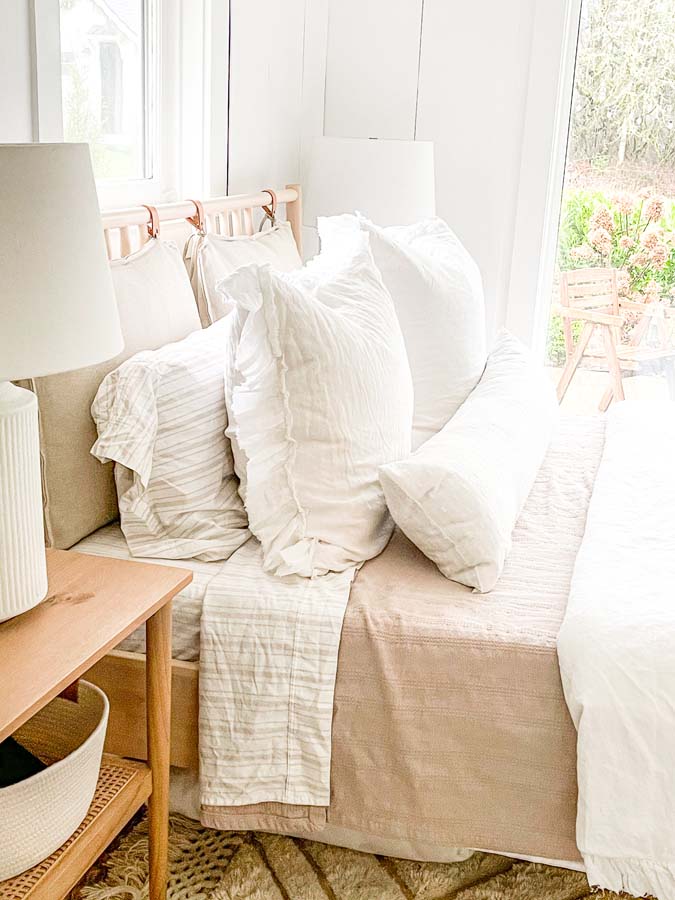 Mixing And Matching Pillows on a Couch
It's nice to grab pillows that are different in size. From large to small it adds a nice contrast to any setting like on your sofa or bed.
Different material such as velvet, metallics and embroidery also add dimension and texture to your style.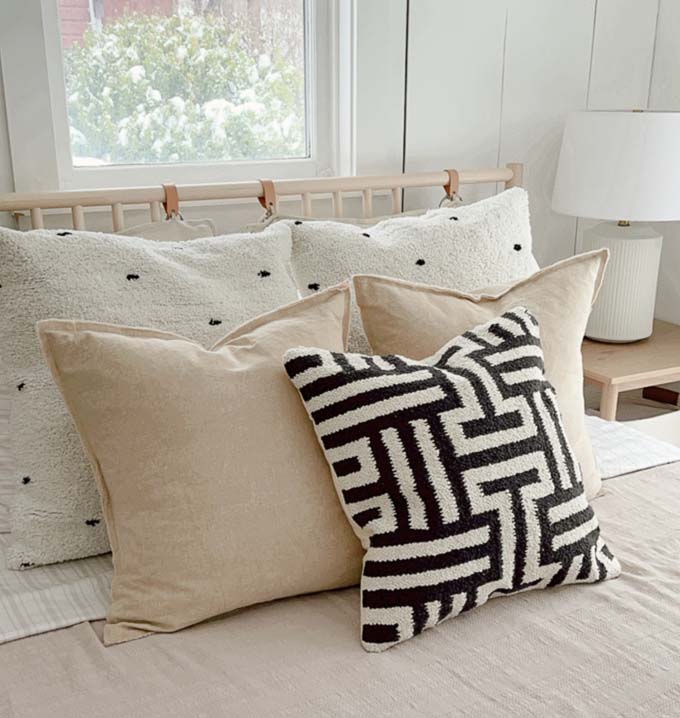 Shabby Chic Pillow Decor
One of my favorite tips to do is when styling your pillows on your sofa or bed. Snap a photo on your phone and then re-style your pillows multiple different ways. Each time taking a photo is of each set of pillows. Then you can look through the photos and decide what looks better.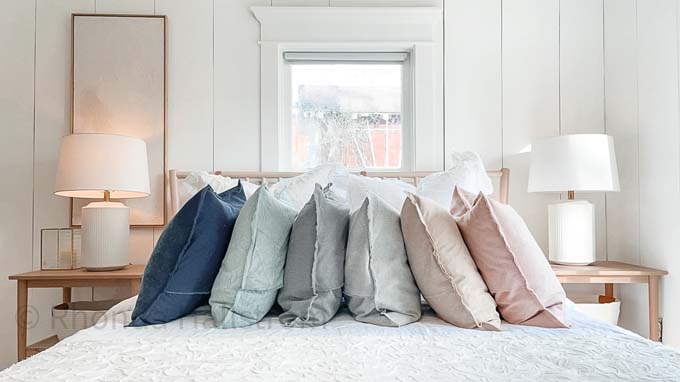 Accent Pillow Style Tips
There's a rule when styling pillows. You can place three pillows on one side and two on the other side of your sofa. I'll give you some examples in photos below. You can also go for a really simple modern style with just one long lumbar on your sofa.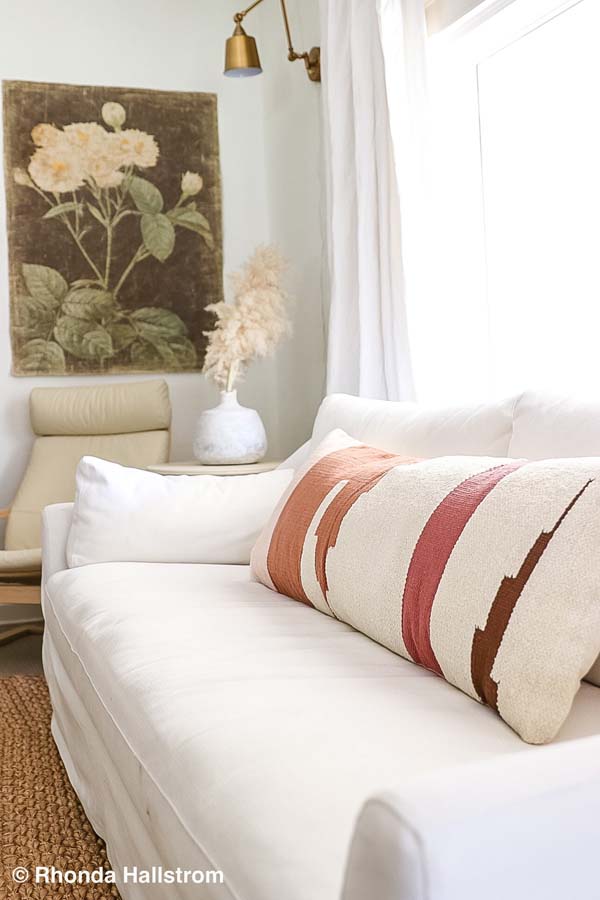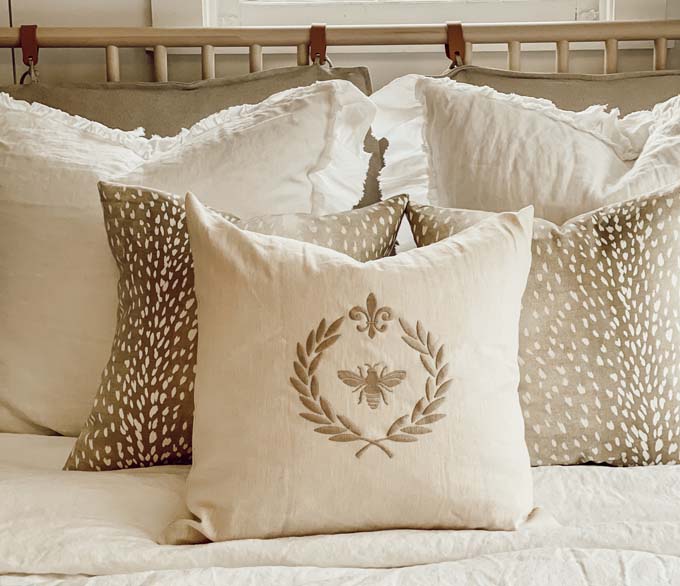 Easy Tips and Tricks
Pillows are the perfect way to set the tone to any room. I like to have different colors, patterns and textures to move them around often. It's just how I roll. Here is 20 Modern Throw Pillows for easy mix and matching.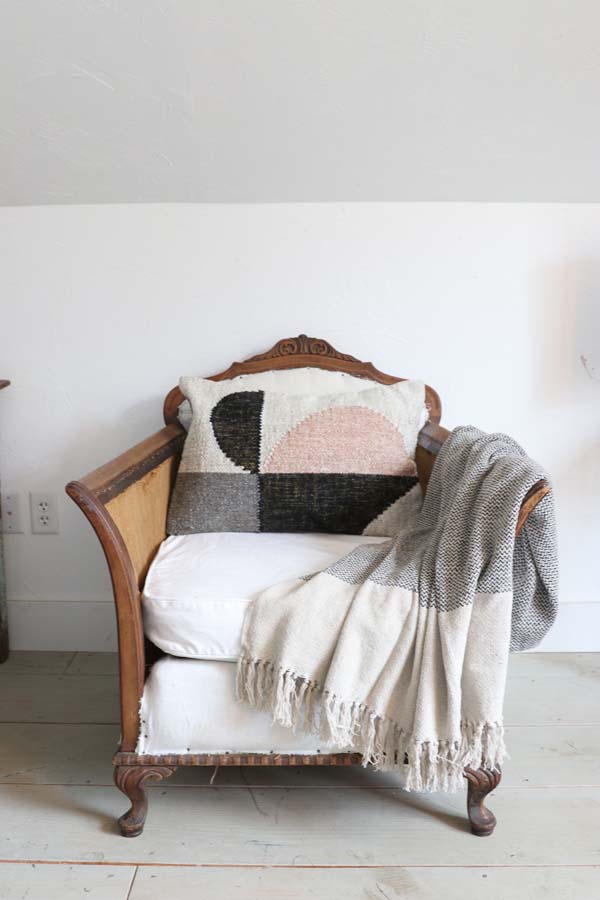 Home Decor Style Tips
Check out more styling tips and home decor here on the blog. We also have a facebook community with all sorts of fun tips, tricks and more. Daily life updates with my crazy life can be also found on Instagram. Our rescue dog is slowly getting use to the other animals around the farm. I can't wait for her to have a name that's perfectly fitting! Thanks for stopping by!