Are you struggling on how to decorate a teen girls bedroom? I know it can get difficult to put it all together in a way that she will love it. Our 5 Style Tips for a Teen Girls Boho Farmhouse Bedroom may help give you some ideas to get the right look without costing a lot.
Be sure to sign up for my email to get new recipes, crafts and home ideas in your inbox!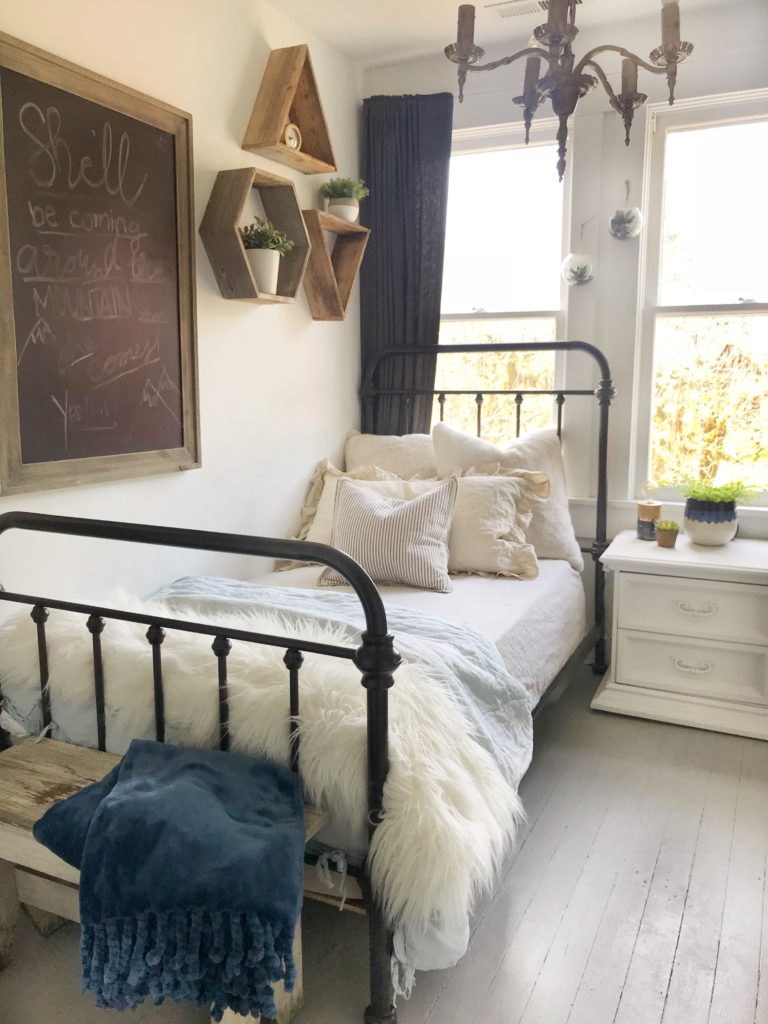 5 Style Tips for a Teen Girls Boho Farmhouse Bedroom
To begin styling a teen girls bedroom, you'll want to think about bedding. For a bohemian farmhouse bedroom, linen is the way to go. I have so many linen bedding options that make for a cozy yet washable bed. There are many great benefits to living with linen. One is that linen gets softer as you wash it. Pair it with a simple or bold accent pillow for a bohemian farmhouse style. This room is created with a relaxed easy feel.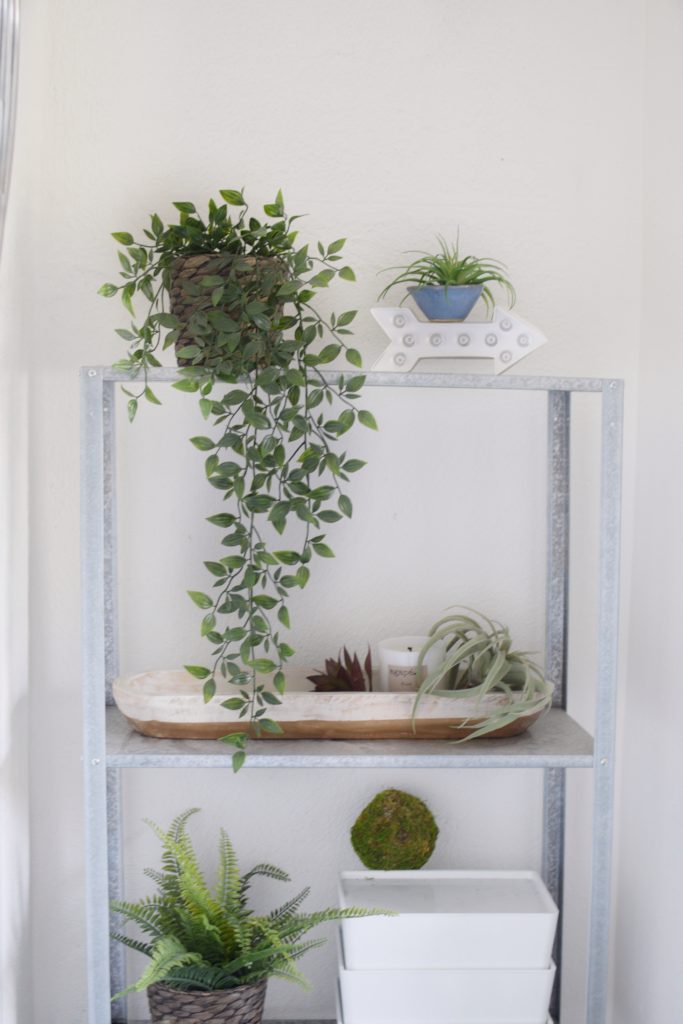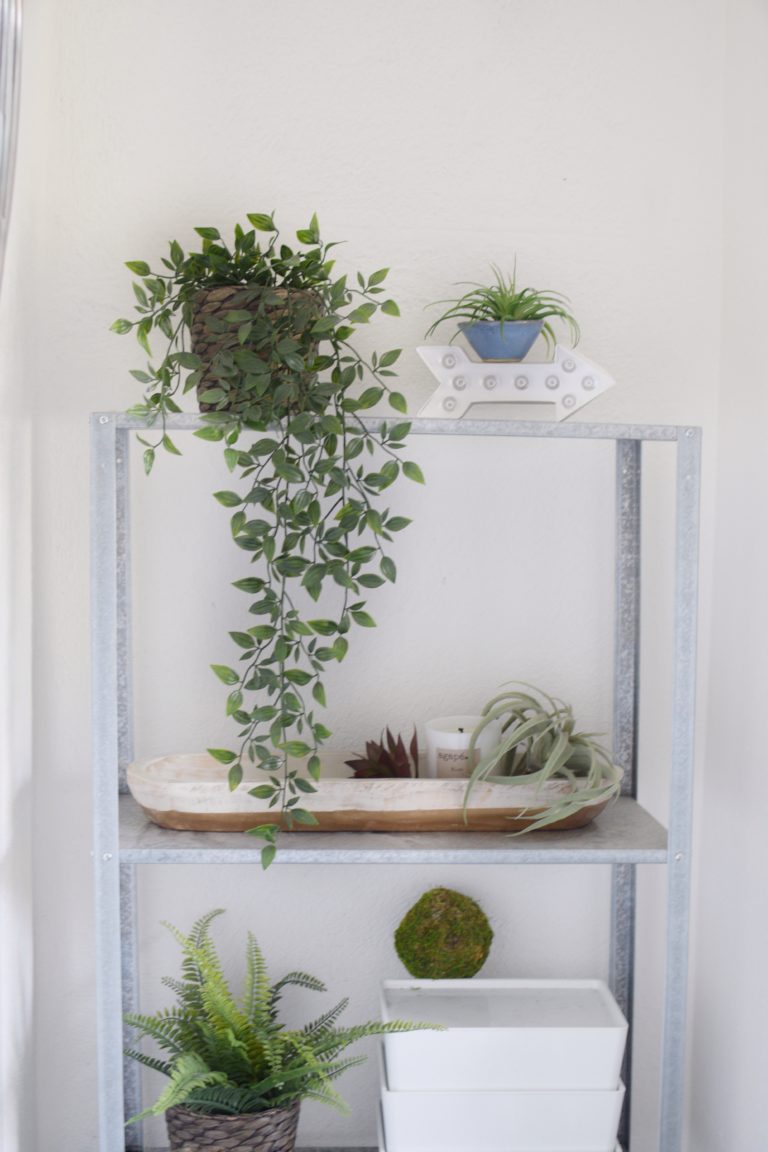 2. Plants are the second tip in mastering the boho farmhouse decor. They add an earthy feel to the room. When I was decorating our daughters boho girl teen bedroom I found many plants to fit her decor style. Any type of greenery is great for this look, especially succulent plants that are all the trend right now. Once you've added plants you have a great start for that boho farmhouse feel.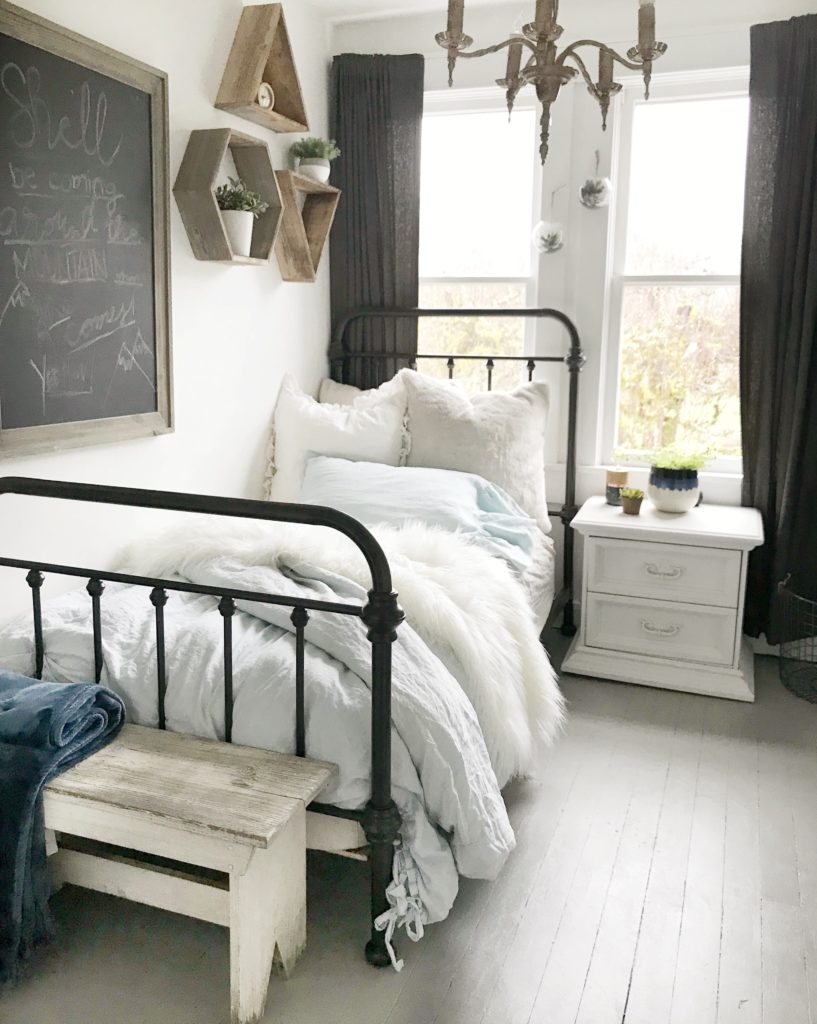 3. Metal and wood accents make your girls farmhouse bedroom go one step further. Warm wood tones against metal are a great add on to your teen's bedroom. Here we paired wood shelves with lots of plants to give an earthy relaxed fell to the room. We wanted her room to be inviting yet not to cluttered as it's a small room to live in. If you have a large room, a sitting area is is so much fun. Check out how we added a boho sitting area to one of our girls rooms.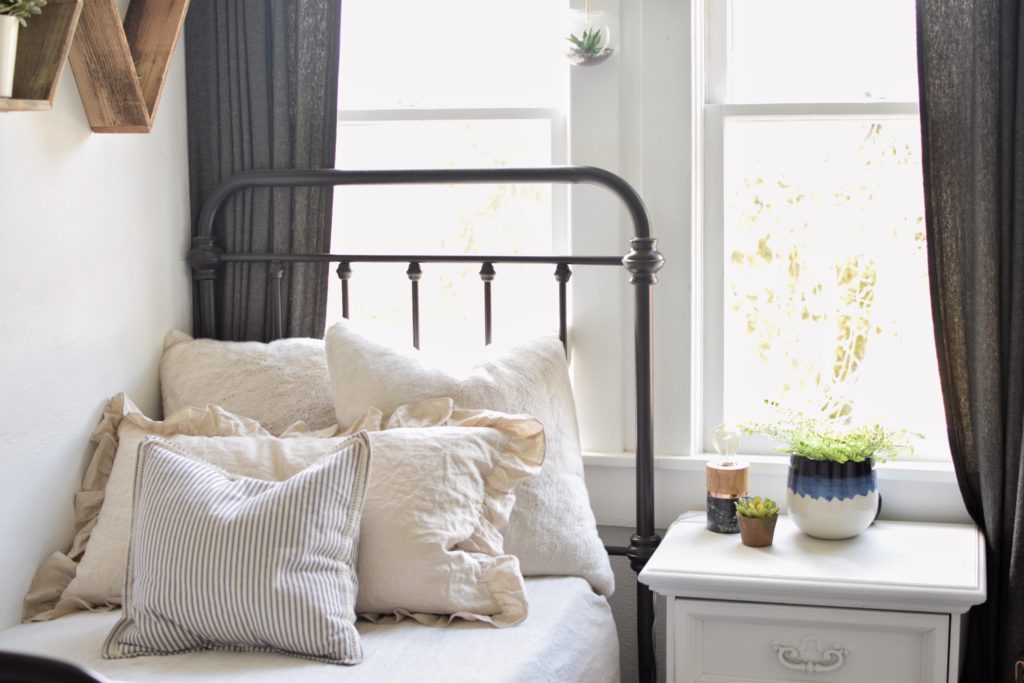 Farmhouse Metal Bed Frame
We then focused on her bed frame to really set the tone for her bedroom. This is one of the trends in farmhouse bedrooms and she lived the vintage vibe it had. Plus it wasn't expensive which is great when you're redoing a room completely. We found this bed doesn't sit to high off the ground so that works great for friends who come to hang out. Everyone wants to lounge comfortably in a teen girls bedroom.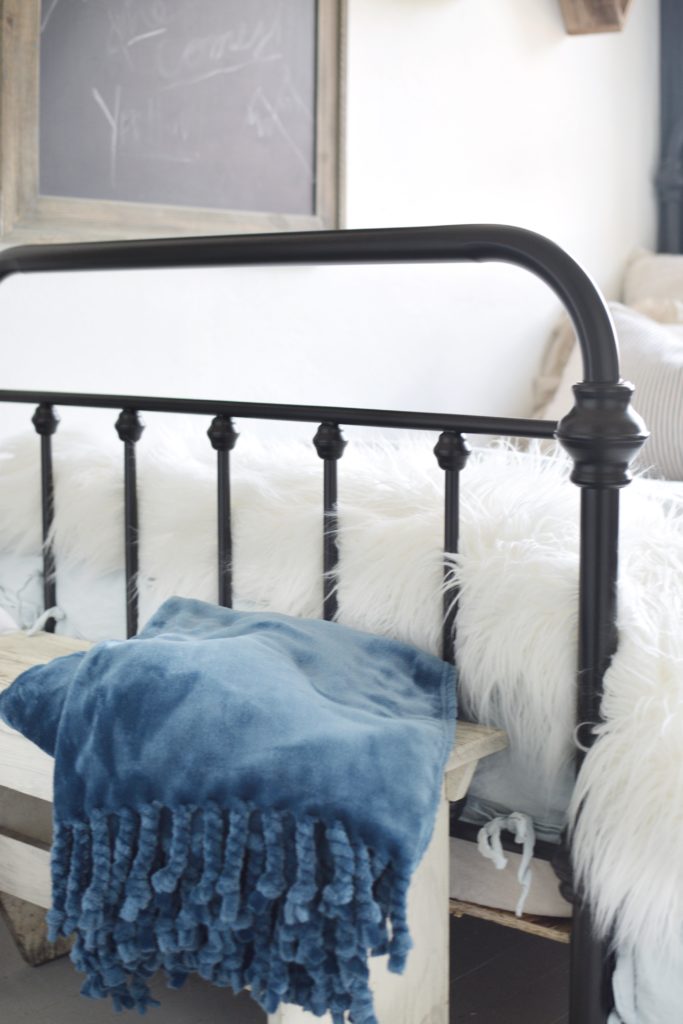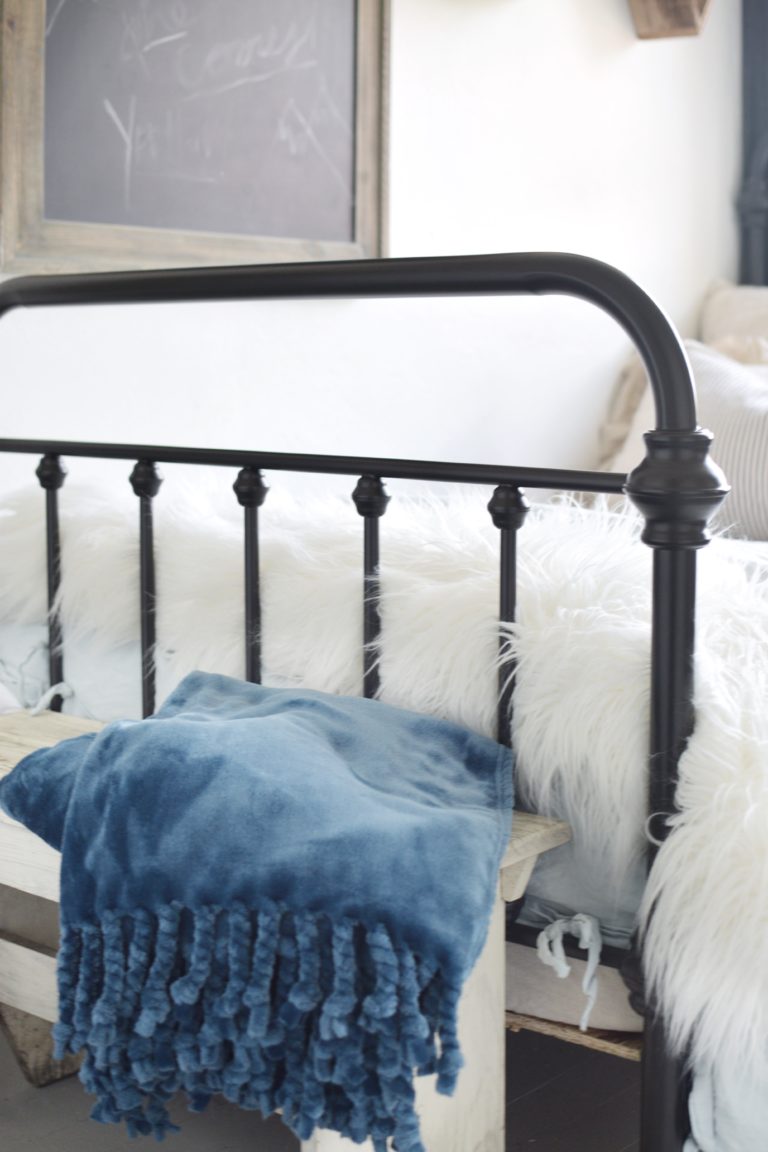 5 Style Tips for a Teen Girls Boho Farmhouse Bedroom
4. Wall decor is important when updating a teen room. They want their rooms to be unique and personal. I went with a wood framed chalkboard. My daughter and her friends can have fun being creative with words and drawings. a little colored chalk helps with the creativity part.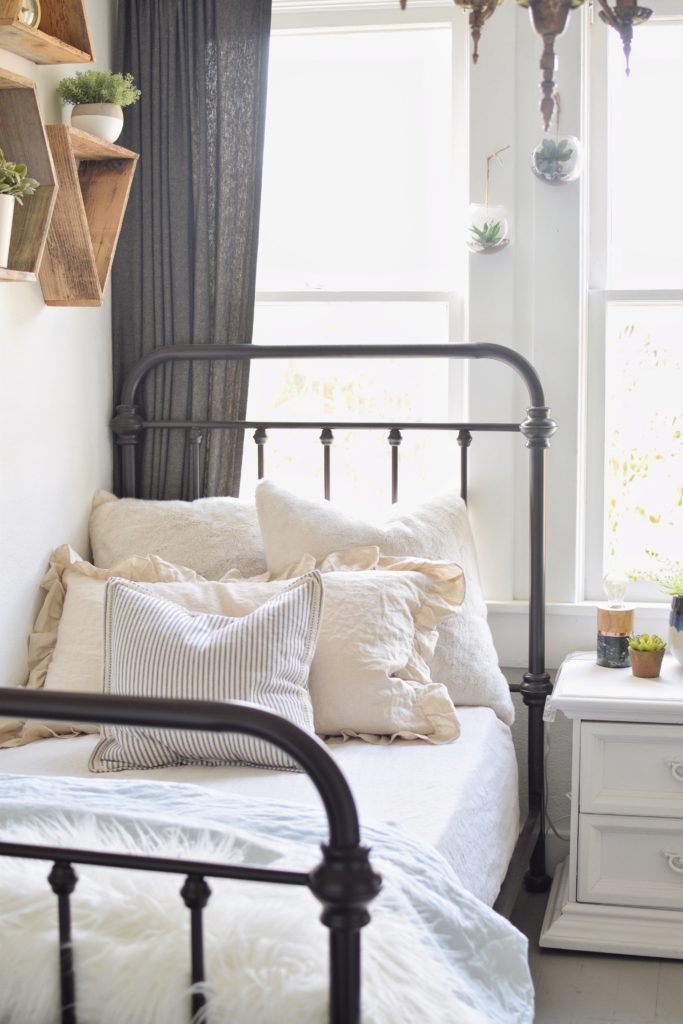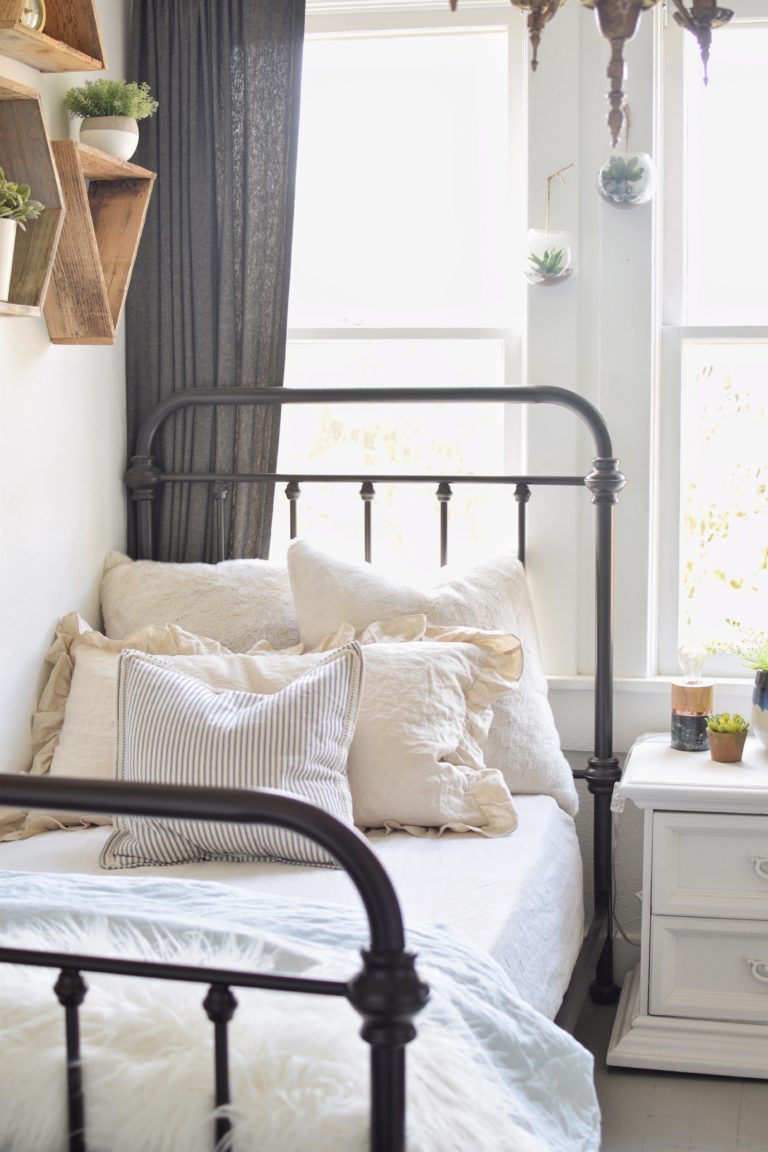 Modern Glass Terrarium
I'm not sure if you noticed the wall hanging glass terrariums that she hung by the windows? They are a fun collection she chose to put small plants in and adds to the boho feel of the room.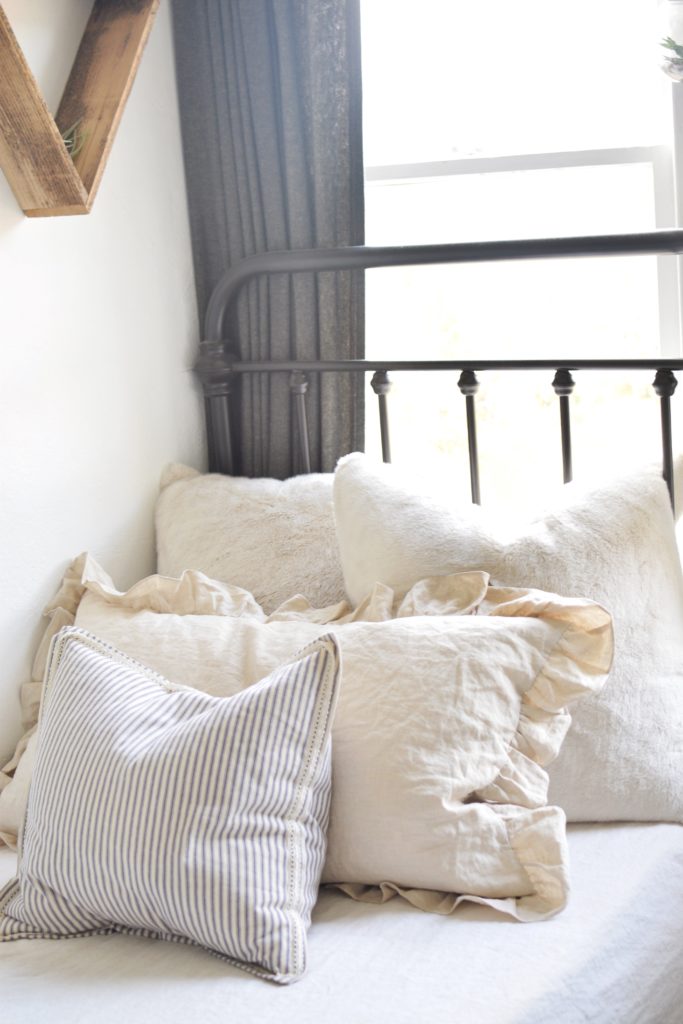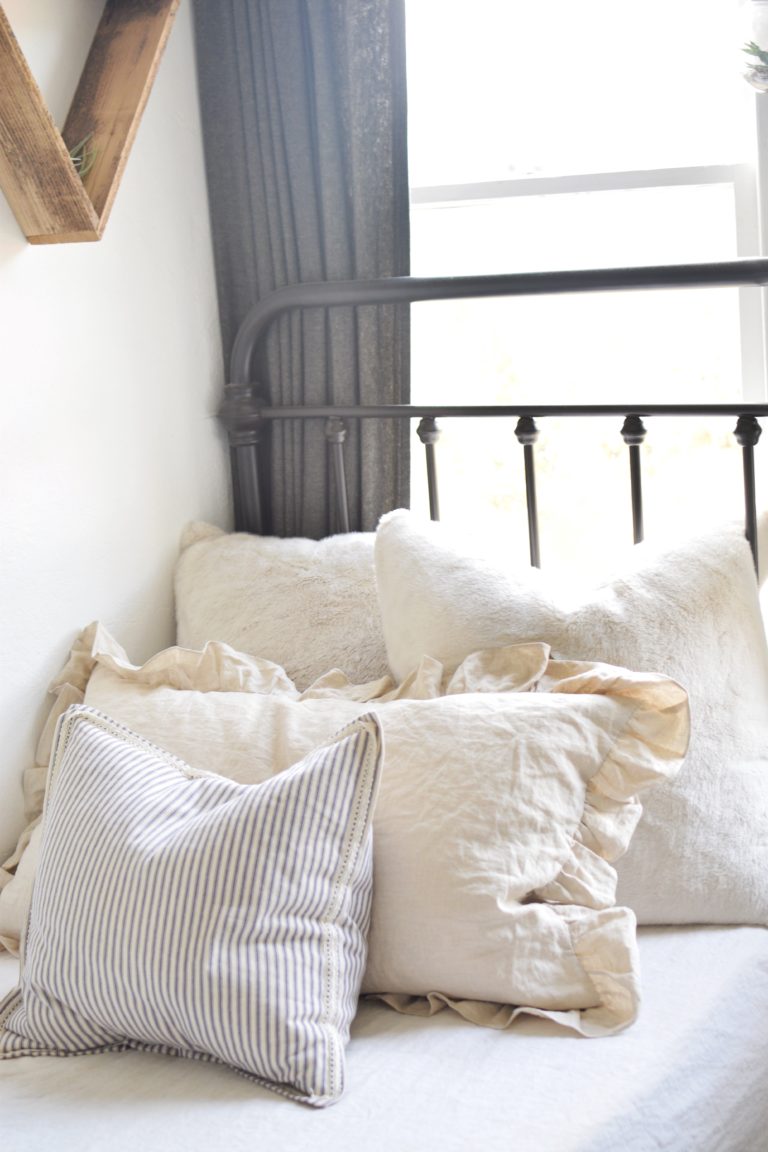 5. Textures and pattern is also important for boho farmhouse decor. I added a white fur throw blanket to give the room some texture, along with some fur pillows. Patterns are always great to add for a farmhouse boho look. My daughter didn't want to go too bold, so we went for a farmhouse ticking stripe pillow as an accent.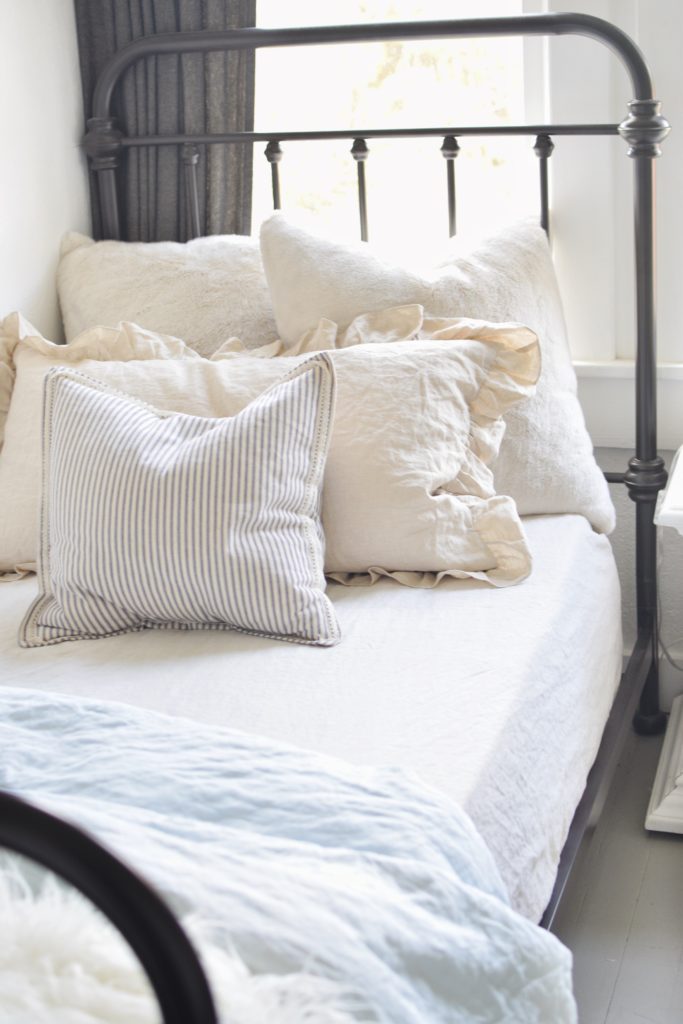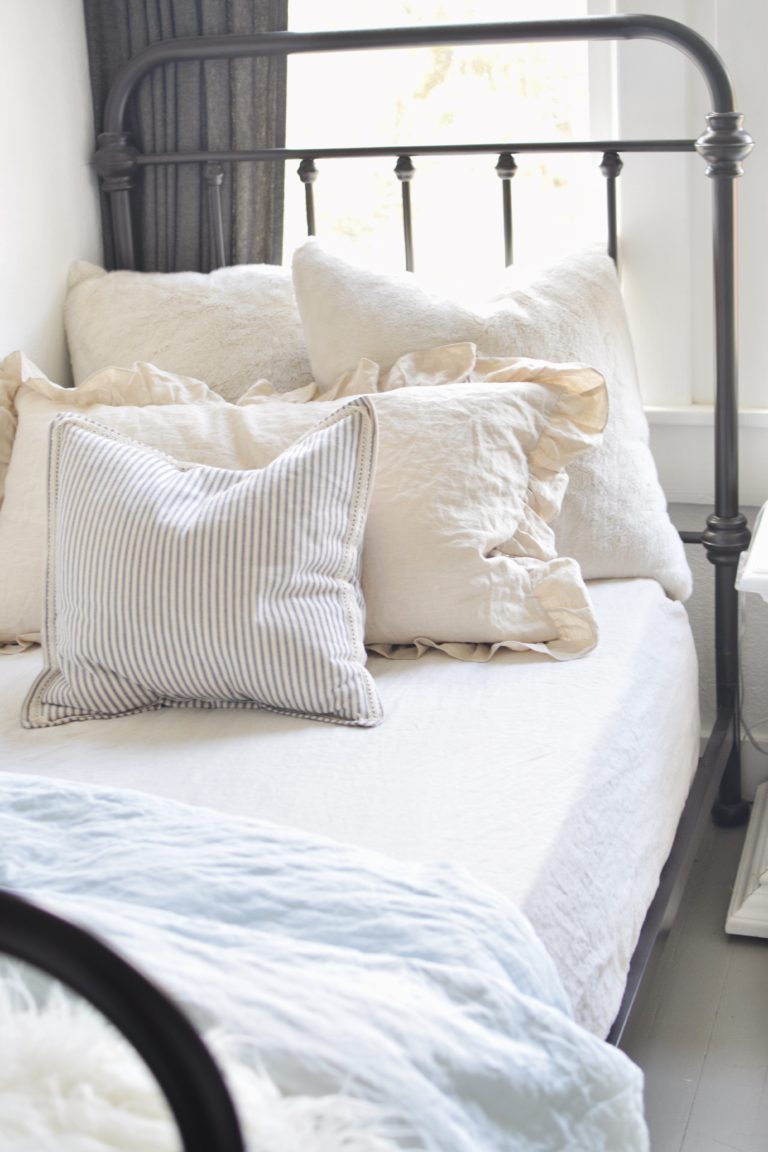 Some frequently asked questions are…
Why Linen Bedding?
There are so many benefits of sleeping with linen.
-It is 2 times stronger than cotton, meaning it will last a lot longer.
-Anti-cling and anti-static, the fabris goes away from the body and dries out any moisture and becomes cool again.
-It lets the heat escape, making a comfortable nights rest. You are never too cold or too hot.
-Linen is great for those with skin conditions. It stays away from the skin and is very breathable.
If you are loving the look of these benefits, I have many linen options to choose from in my shop.
Linen Washing Instructions.
Machine wash cold; tumble dry low; warm iron as needed. Do not bleach. Use a linen laundry detergent, it is more gentle. A linen spray helps get rid of the wrinkles.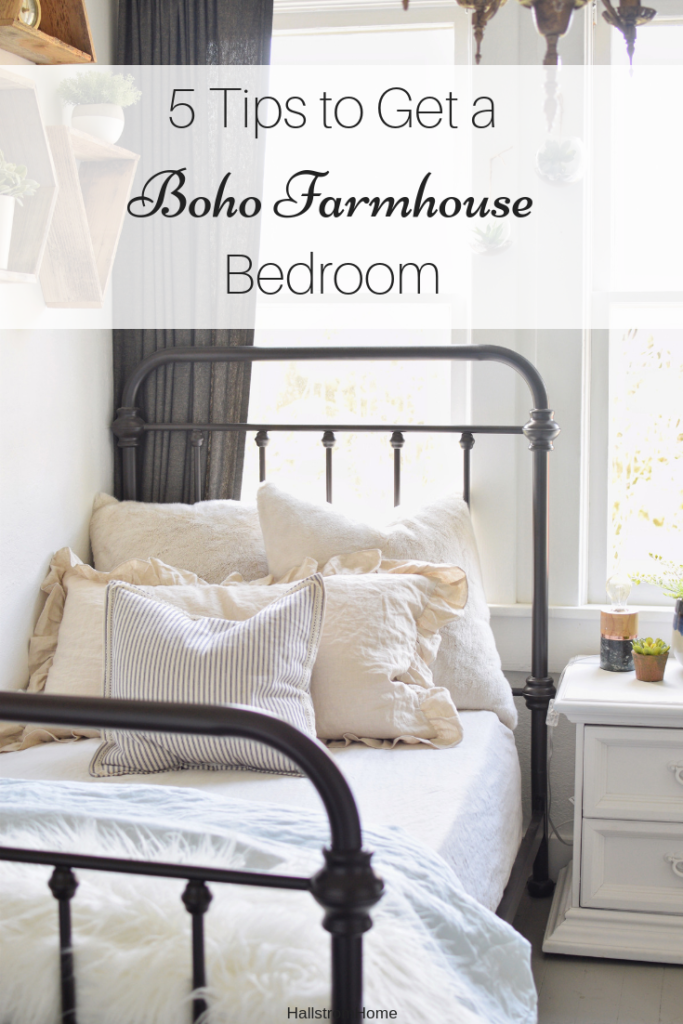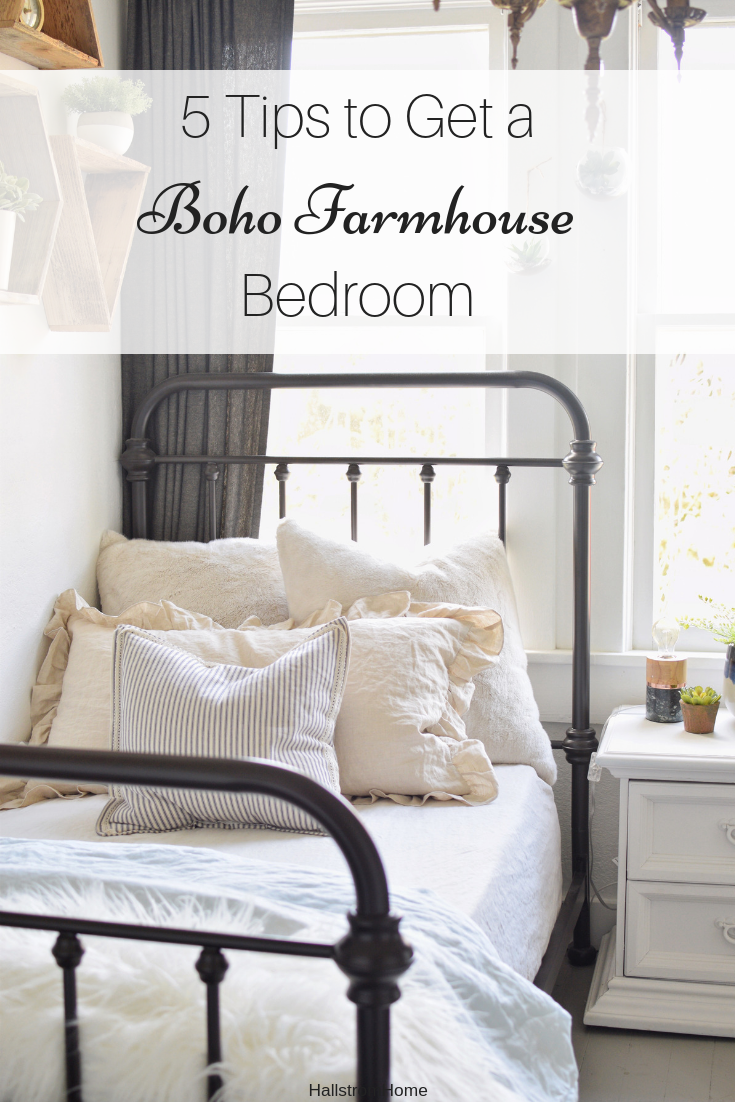 Read about how our 16 year old daughter chalk painted her wood floors and sealed it with a clear wax.
Follow us on Instagram
as we design home decor, paint mirrors amd make linen bedding