No matter what party you're planning for, there's so many different cake stand ideas. I'm a cupcake lover so I like to pull out my cupcake stand. But cake stands aren't just for putting a cake on anymore. They can be used in so many different ways. I am going to show you my Tier Cake Stand Decorating Ideas along with a few other bloggers and the special ways they use their cake stands.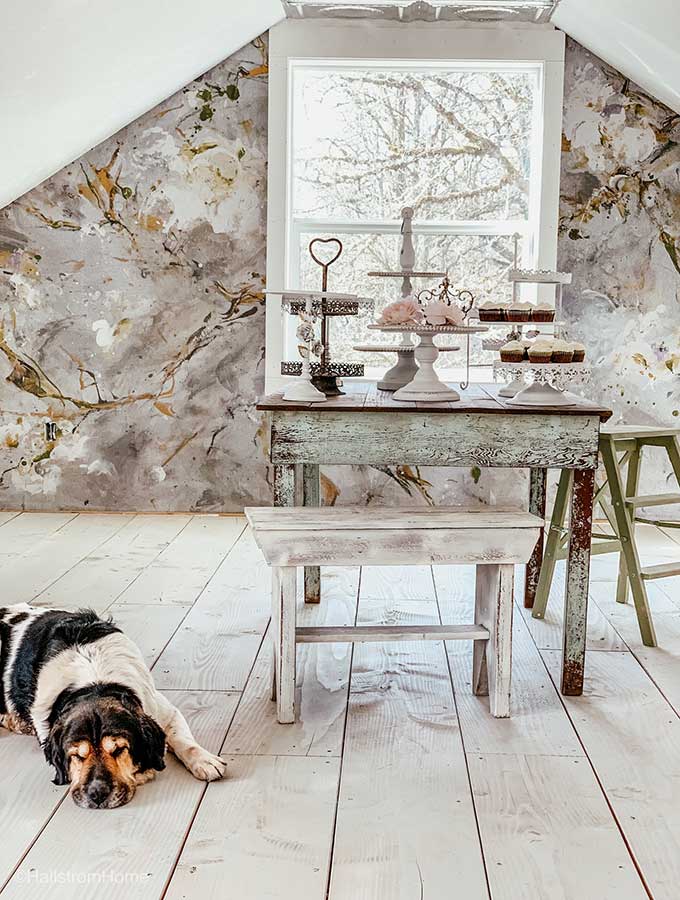 Tier Cake Stand Decorating Ideas
Like I said earlier cake stand aren't just used for our tasty dessert. They can be used for so much more. In this case I used them for a decor centerpiece and cupcakes. Cake stands are actually so functional and very cute. I love cake stands so much that they make my heart flutter. Maybe that's why I have so many of them. It just might be an addiction of mine.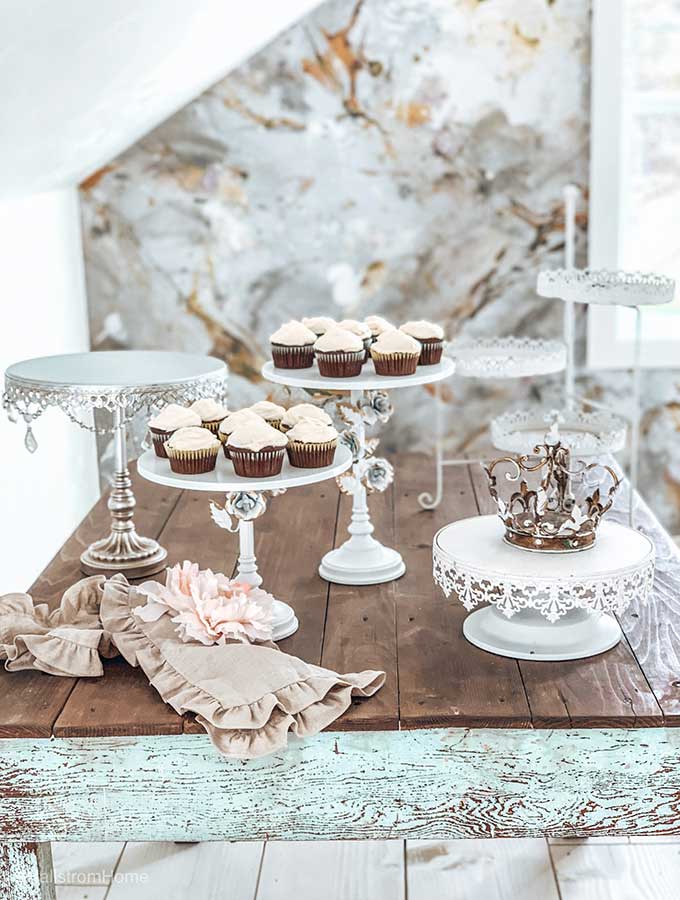 One way tiered cake stands can be used, is for a decor center piece. I do this all the time in my home. For a tablescape it is perfect I will maybe add a crown, flowers, or candles. It really adds a different look to a table center piece.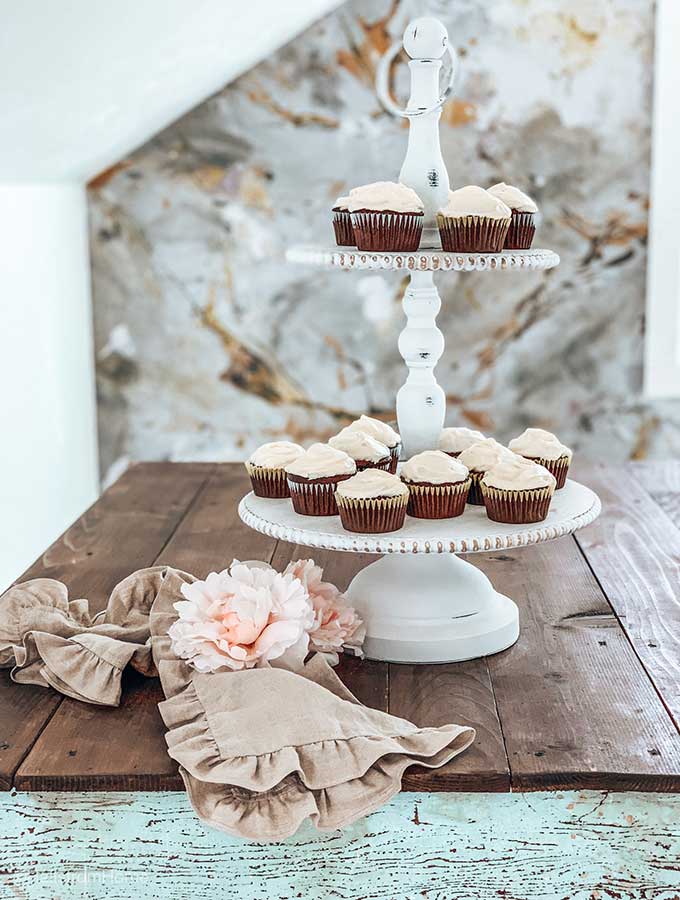 Use a two tiered cake stand to display your cupcakes. This adds height to your table rather than having the cupcakes just placed on a plate. Right now this cake stand is actually on my coffee bar holding the mugs.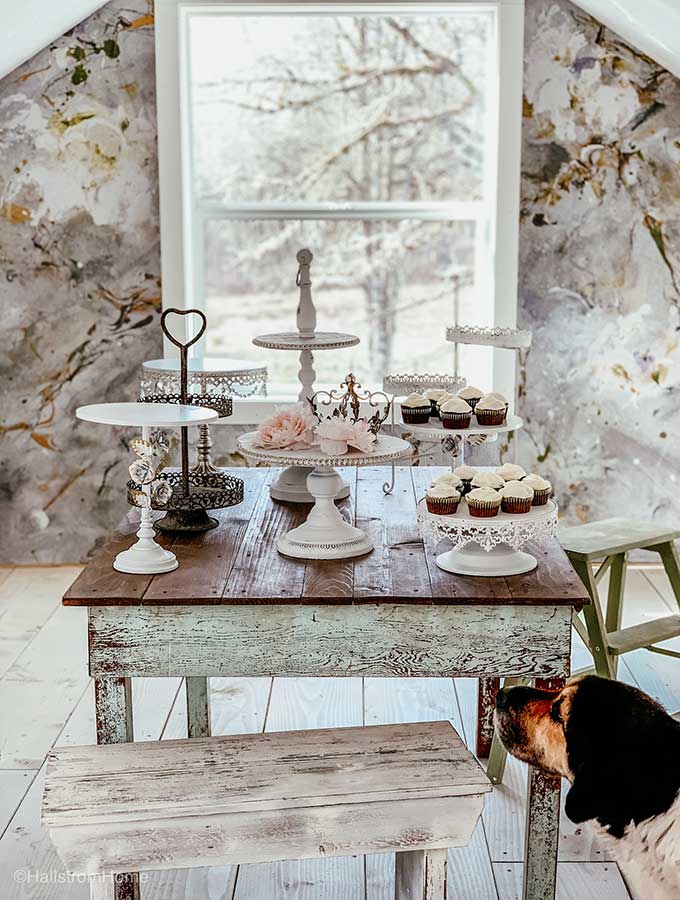 If you are having a large party a great way to serve the food is on cake stands. Like pictured above, I place all the food through out these cake stands and it was a hit. It is something very unique and a great way to display all of the treats. This would also work for a dessert table. What makes this special, is all of the different cake stands. If these were all the same it wouldn't give off that special, shabby chic look. These cake stands can be found in my Etsy shop here.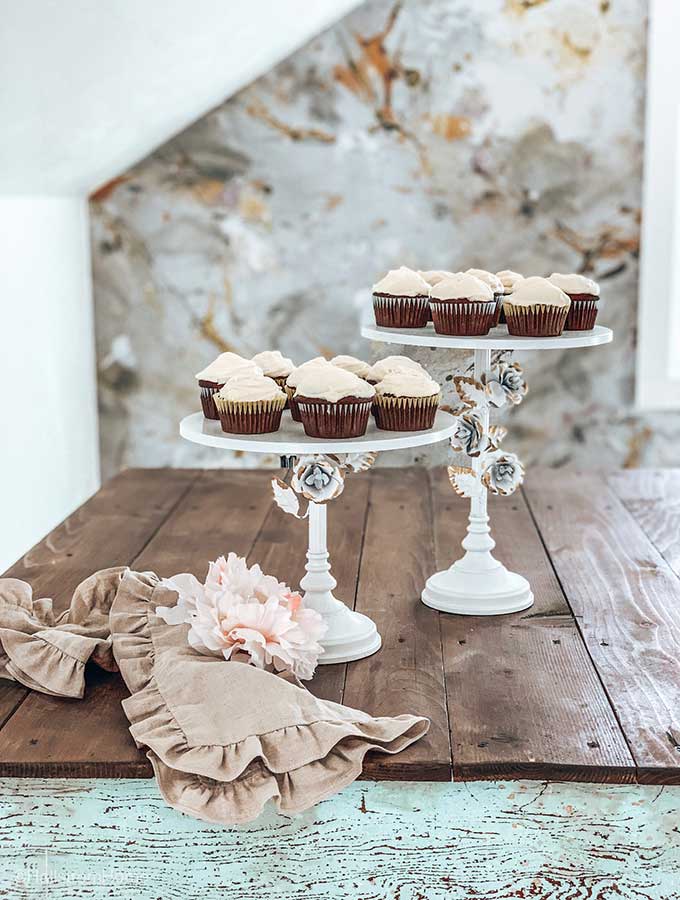 Another tier cake stand decorating idea is to use it in your bathroom or kitchen. They work well in keeping your bathroom organized, while adding a shabby chic look. Many people will place their soaps and beauty care on one. As far as the kitchen goes they look super cute with a tea towel and soap. It's a really simple, sweet addition in a kitchen.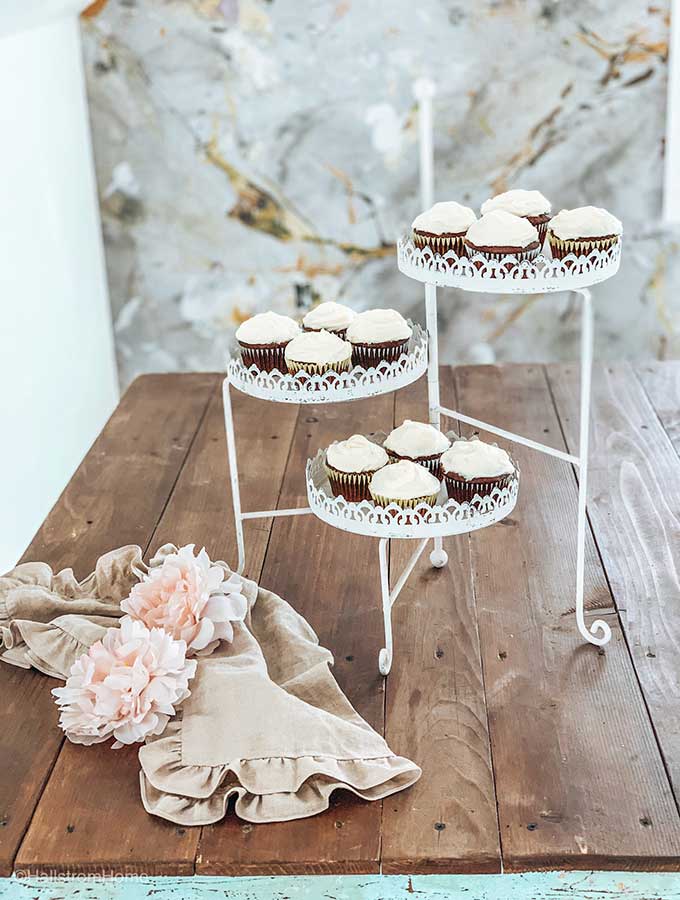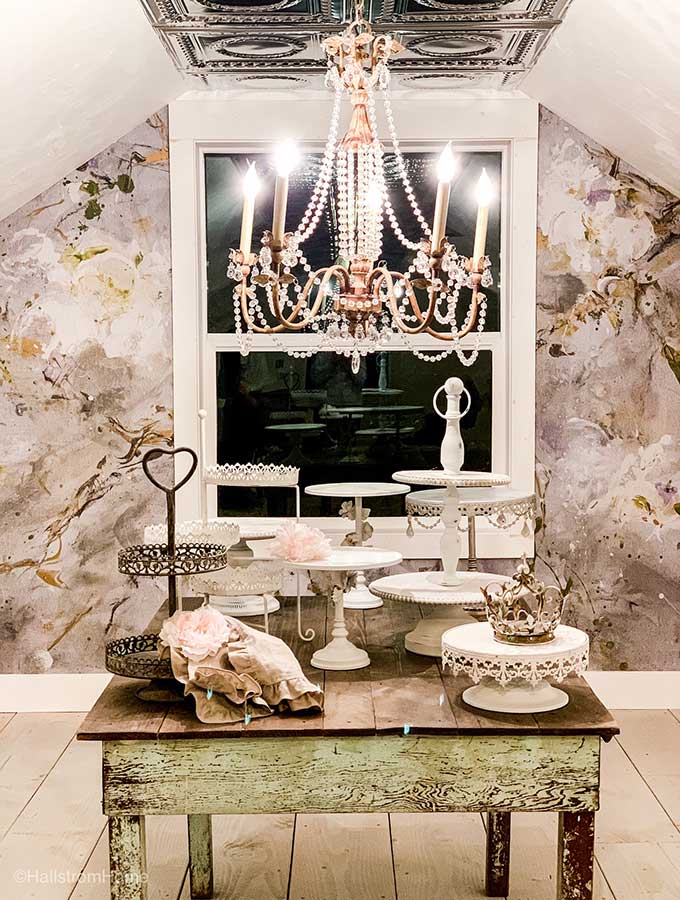 We actually just used a couple cake stands in our son and daughter in laws gender reveal party. We used one large one for the cupcakes and another for a veggie platter. Cake stands help to make the space not so boring. They add height and they are just so pretty, with the scallops and lace detailing. Oh but we can't forget the crystals. Crystals really add some sparkle to a cake stand.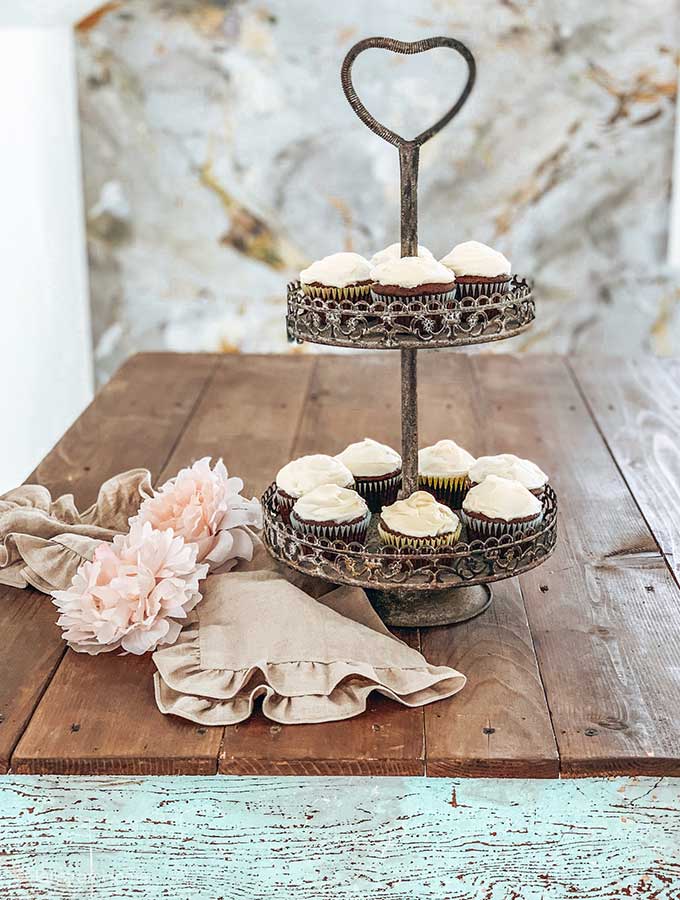 Cake stands are great for holding cakes, but they have many other ways they can be used. How do you use cake stands? Be sure to tag me on Instagram so I can see how you decorate with tiered cake stands. Now below I will share with you how these ladies show off their gorgeous cake stands. If you have a cake stand at home but you aren't in love with it, painting is an option. Read more about how I use chalk paint and Fusion mineral paint to update pieces.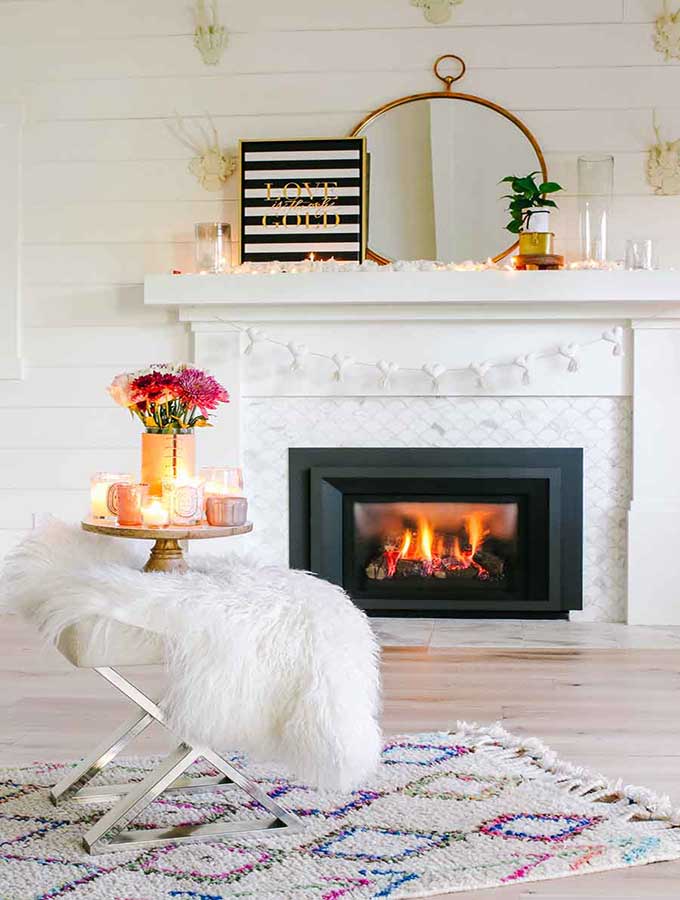 Modern Glam|Decorate with Cake Stands
Ashley show cased her cake stand by using candles. I love this idea. Adding the flowers really finished off the look. Surrounding her floral arrangement with candles is so cozy. Having it on the cake stand also allows you to move it almost anywhere.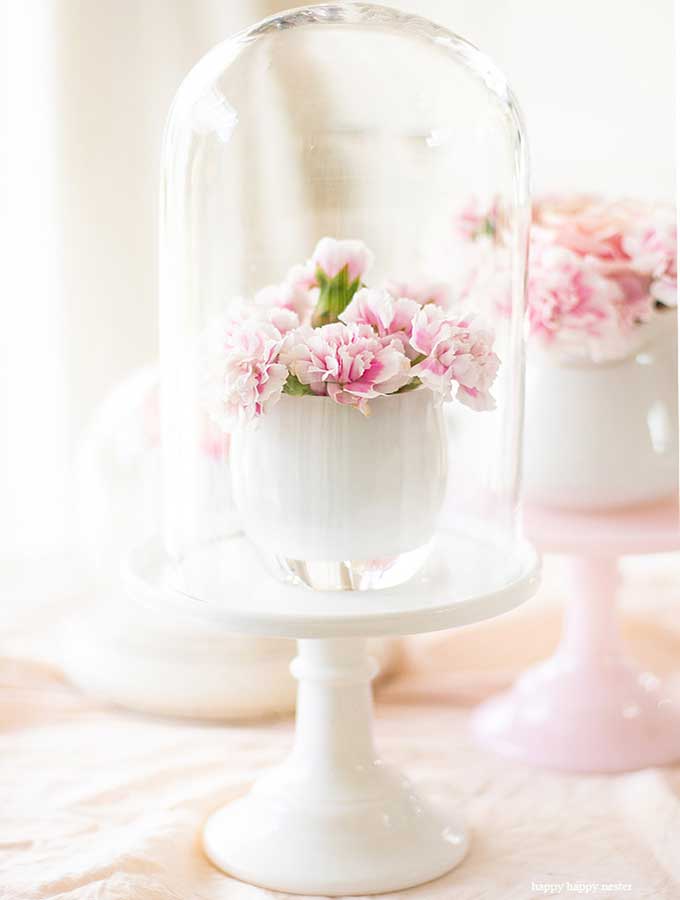 Happy Happy Nester|Cute Ways to Use a Cake Stand
Janine created this stunning cake stand with a floral arrangement. It is so simple but gorgeous. Having it on the cake stand really makes it a statement piece to the room.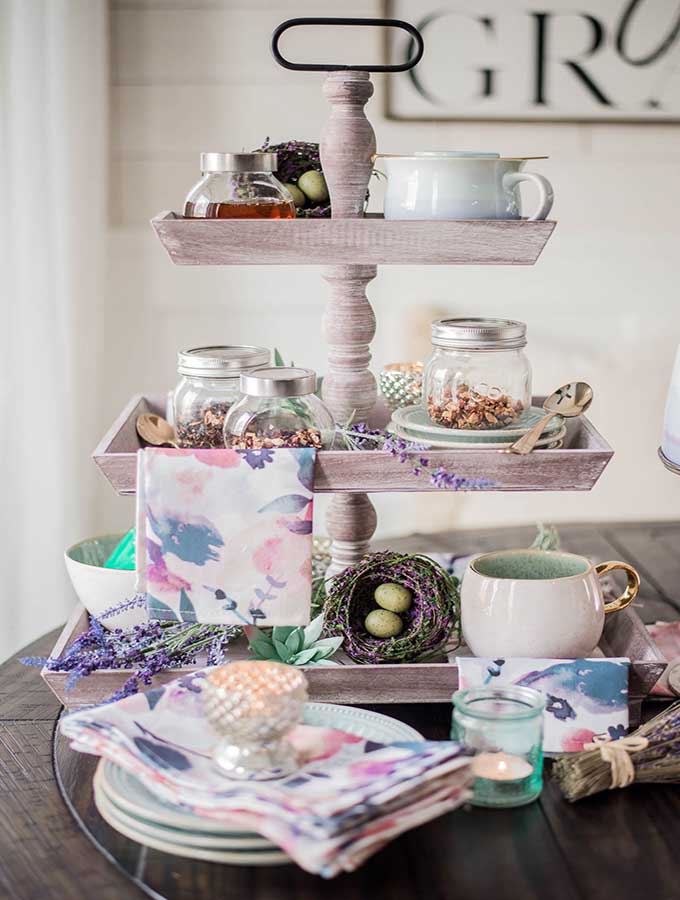 The DIY Mommy|Make a Spring Tea Station
The DIY Mommy serves an afternoon tea on her 3 tiered cake stand. A tiered tray can really be fun in the home. Having it also helps to keep the clutter down. Instead of having mugs in a cupboard and tea in another, it is all in one spot. It is practical and cute.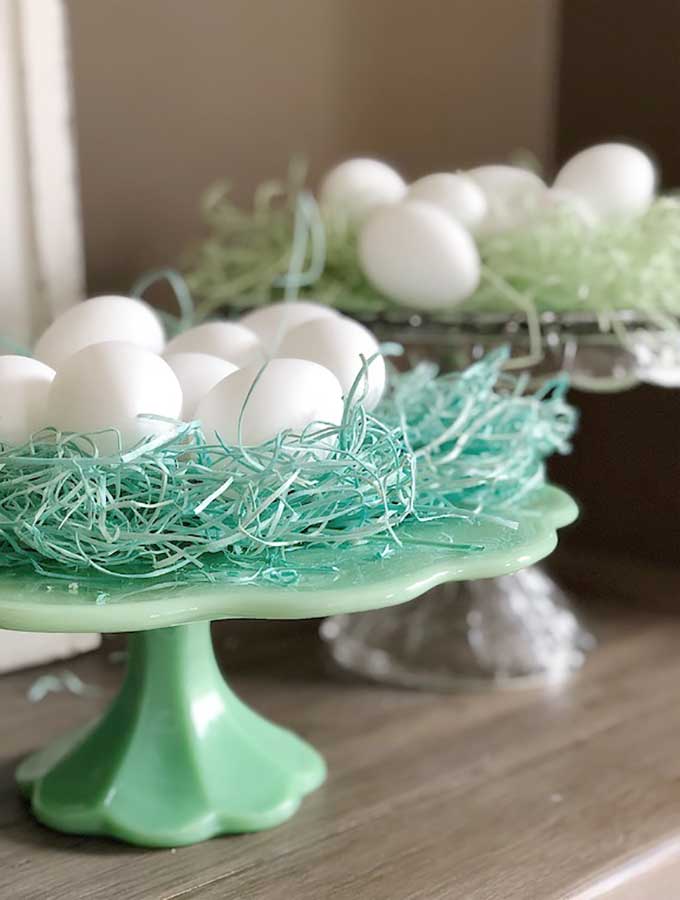 My 100 Year Old Home|Vintage Glass Cake Stands
Leslie is showing off some cute Spring decor with her vintage cake stands. Vintage glass cake stands are something so special. They are something a guest would bring a treat on and you are just hoping they leave the cake stand there for you to steal. That's how pretty vintage cake stands are!
Thanks for stopping by,
Rhonda