Apple Pie is good for all occasions. My hubby loves making this recipe for the Best Homemade Apple Pie. For summer evenings or cold winter days, you can't go wrong with some apple pie dessert!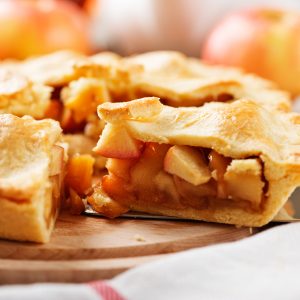 Apple Pie
Ingredients
Crust
2 Cup+1 Tbsp

Flour

1/4

tsp

Salt

1/2

cup

Oil

1/3

cup

Cold Milk
Filling
6-8

apples (we prefer Gala and Granny Smith)

3/4

cup

sugar

1/2

tsp

cinnamon

1/8

tsp

nutmeg

3

tbsp

cornstarch

1

cup

unfilered apple cider

2

tbsp

lemon juice
Instructions
Crust
Combine flour and salt. Then mix in oil and milk. Stir just until combined. Do not over mix. If it won't hold together add a little oil.

Separate in two balls and roll between 2 pieces of parchment paper. Do not add flour or oil to roll out.
Filling
In a heavy sauce pan, whisk together the sugar, cinnamon, nutmeg, and cornstarch. Stir in the apple cider and lemon juice. Cook on medium heat until thick and bubbly. When finished, scoop the sauce into a bowl and chill in the refrigerator.

Peel, core, and slice them into about ¼ inch slices and place them in a microwave safe bowl. When they are all cut, cover the bowl with plastic wrap and microwave for 2 minutes. Then stir the apples and microwave for another 1-2 minutes. Stir in the cooled sauce and place back in the refrigerator.

Fold bottom piece of dough in half and then again for easy transfer. Press the dough into the pan to remove any air pockets. Put the bottom crust in the freezer for 10-15 minutes to get it cold again.

Pour the apple filling into the bottom pie crust. Carefully move apple slices around until all the sides are filled and the top is even, without any apples sticking up which would protrude through the crust.

Roll the two crusts together, bottom side up all the way around, then crimp the edges. Cut slits in the top crust to allow air to escape. Brush it lightly with whole milk, avoiding the crimped edges, and sprinkle with coarse sugar.

Bake at 400 degrees for 20 minutes, then (leaving the pie in the oven) reduce the heat to 350 degrees and bake for another 30-40 minutes until the crust is golden brown.

Allow the pie to cool and rest at least for an hour or two before cutting it to allow the juices to thicken. And of course, it must be served with vanilla ice cream! ENJOY!