Are you getting sick of plain walls? DIY shiplap walls are the rage right now. You probably have seen them all over Pinterest and thought yeah right, why am I going through the work to make them!! Well I'm just gonna tell you, please don't think that anymore. This Easy DIY Shiplap Wall Tutorial is incredibly easy and gives so much charm to a room. I am so obsessed with shiplap walls that I created a shiplap Pinterest board!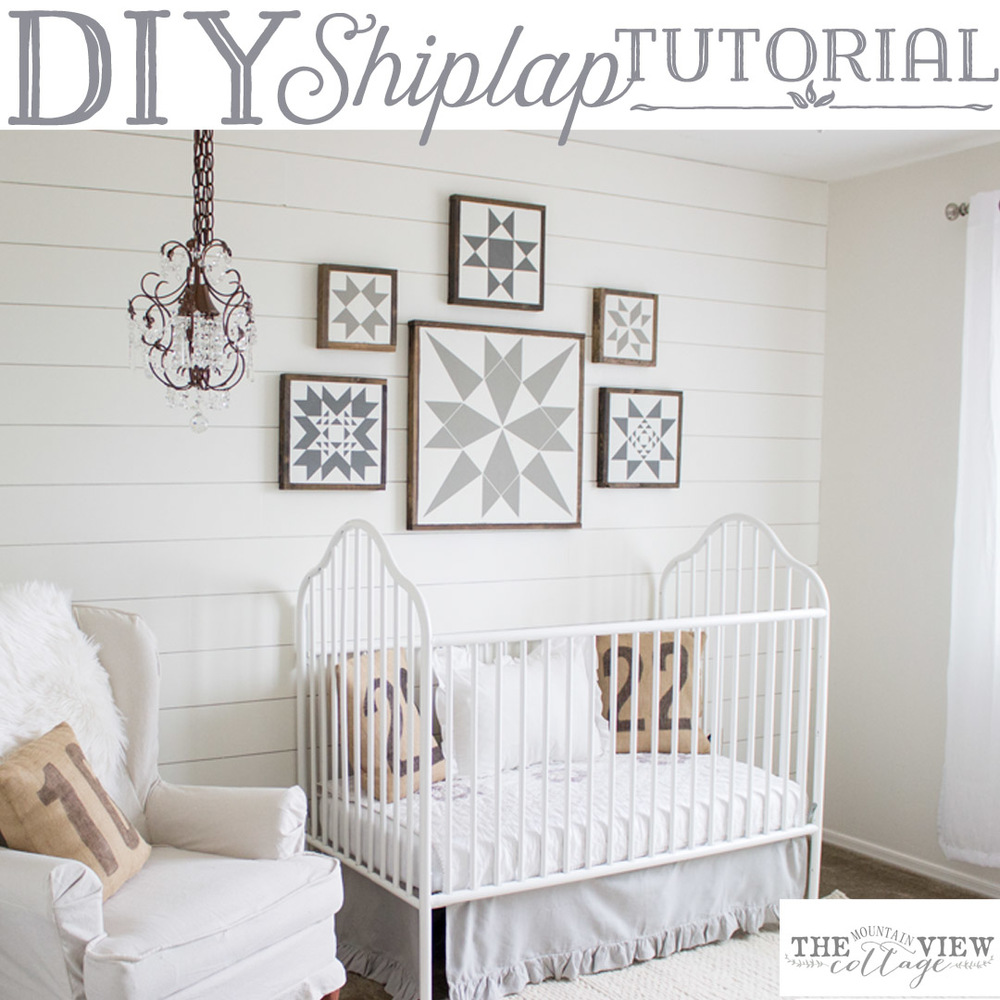 I have seen shiplap wall tutorials all over, and this is one of my favorites. You may know of The Mountain View Cottage, they have many other great tutorials as well. To see the entire easy DIY shiplap wall tutorial and supplies list, click HERE.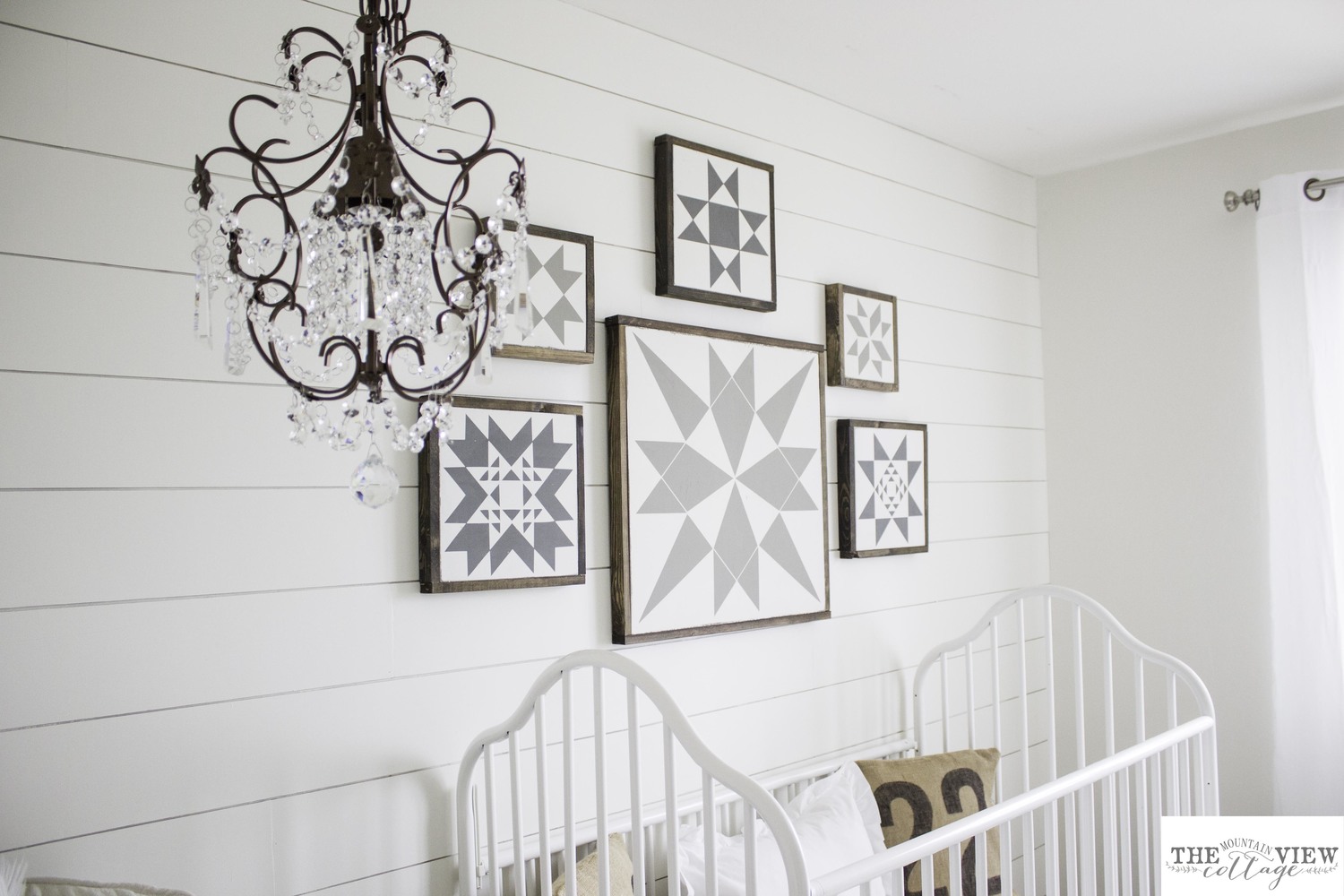 Maybe you are up against time or money but still are wanting a super quick, easy, and inexpensive way to renovate your walls. I have the perfect option for you. In our farmhouse entry, we chose to use wainscoting on our walls. They look great, and seriously, So. Blasted. Easy. Here's our entry. Get a peek at more of our farmhouse in our Dream Farmhouse Country Living post.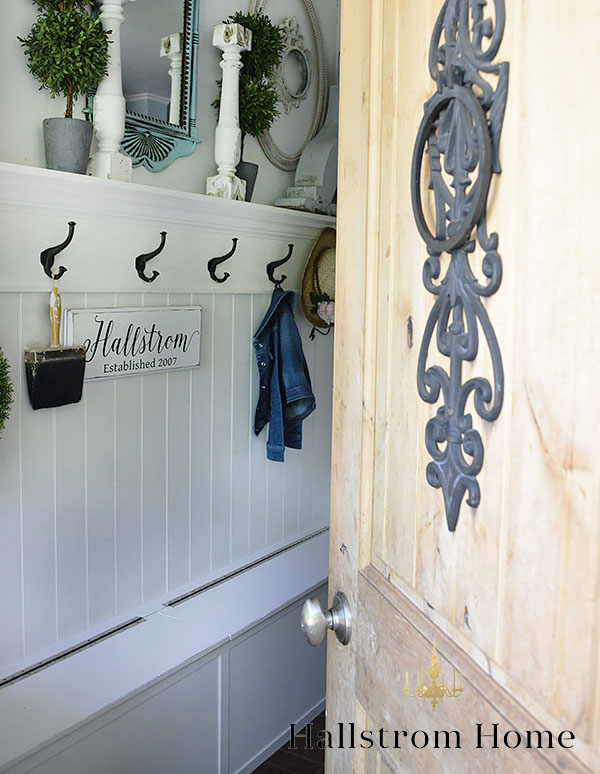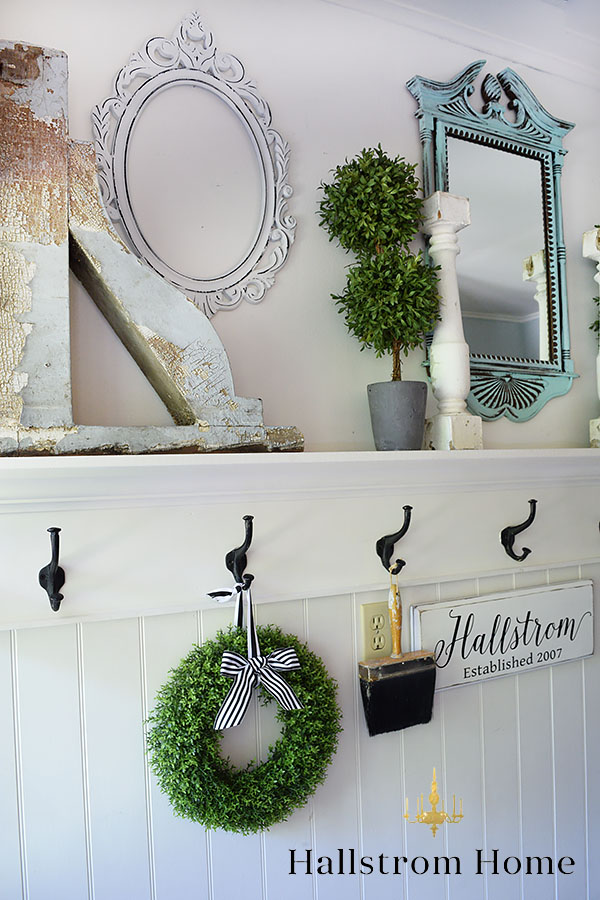 Easy DIY Shiplap Wall Tutorial
Seriously, this was like the easiest thing ever and I love the fresh white look when I walk in the door. Since this is in our entry/mudroom (which gets very dirty with kids going in and out like crazy) we needed something easy to clean. Mud and spots can be wiped off so easily. So we decided to go with wainscoting. This can be found in sheets at Amazon or Home Depot and you literally just slap them up on your walls and WALLAH there you go! We did wainscoting on the lower half of the wall and used a white trim piece so that we could have a shelf for decor. We hung hooks for coats, purses, and hats. Here is another time we installed shiplap in our master bedroom.
Here's a little tip: Order your wainscoting and hooks online through Amazon and you won't have to pull every 8 ft panel of wainscoting off the shelves by yourself! Saves you time and energy! I also purchased the paint for my upper walls. I will include affiliate links to shop the look.

The Decor
Once you have finished your walls and they are looking fresh and crisp and white, you can sit there and gaze at their beauty. Once you are done admiring your creation though, the fun part begins! Of course, you need to add wall decor to give that finishing touch of farmhouse charm!
Bring the farmhouse look to your home.
Other Shiplap Ideas
Pinterest has inspired me to shiplap my whole entire house!! I know its crazy but there are so many GORGEOUS shiplap styles. Here are a few in case you need some more shiplap ideas. Follow my shiplap Pinterest board HERE.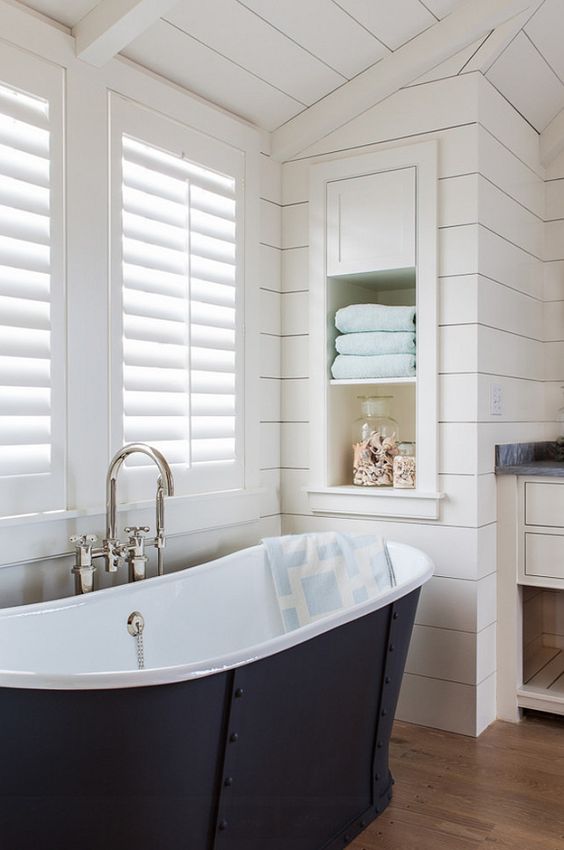 Shiplap can be used in the bathroom as well! I absolutely love this look. They used shiplap on the walls as well as on the ceiling.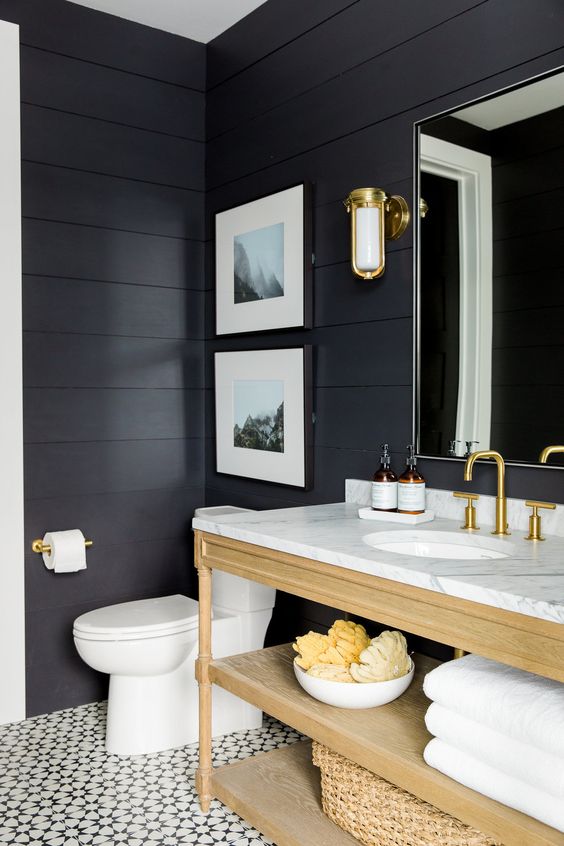 Shiplap does not have to be white. I adore how this paint gives such a rich look.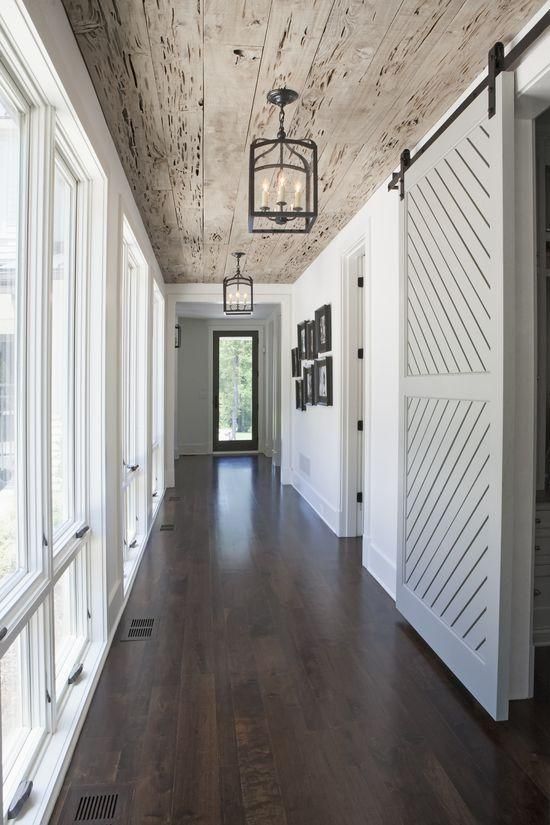 I love this idea because they used painted shiplap as well as wood shiplap on the ceiling for a variety of colors and textures. Lovely.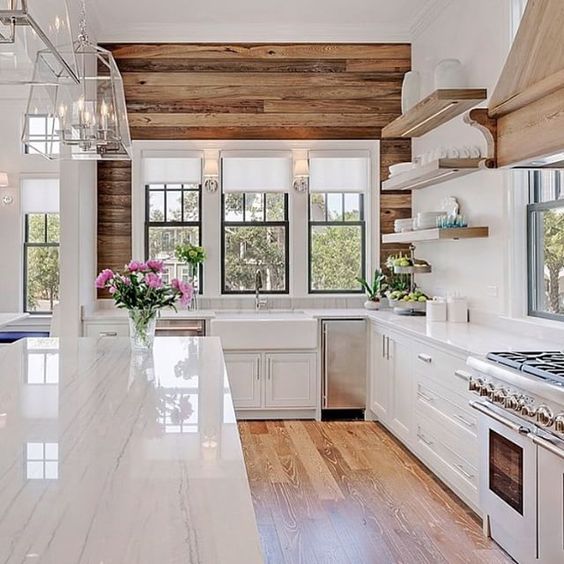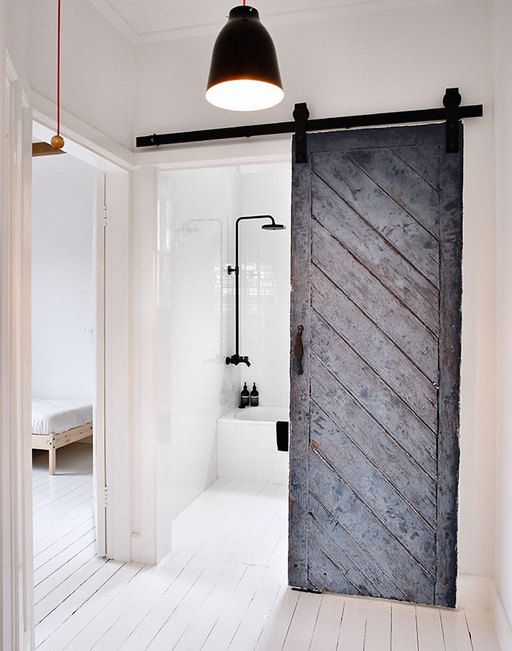 If this isn't stunning, what is? I think I just might have to shiplap my kitchen wall 😉
Shiplap doors are a hot trend right now and ever so stunning. Check out all my faves on my shiplap Pinterest board.
What's your favorite?
I absolutely love all these shiplap styles! Let me guys know what some of your favorites are 🙂 I think its so fun to get ideas and inspiration from each other and I hope this post gave you a lil' bit of whim! Leave any comments or questions you have below.