One evening I went to companies house and she had an Easy Sourdough Bread Recipe! It was so delicious and went great with our soup. She shared with me her recipe that I will share with you. I know sourdough can take some perfecting but after making this a couple times you will have it down.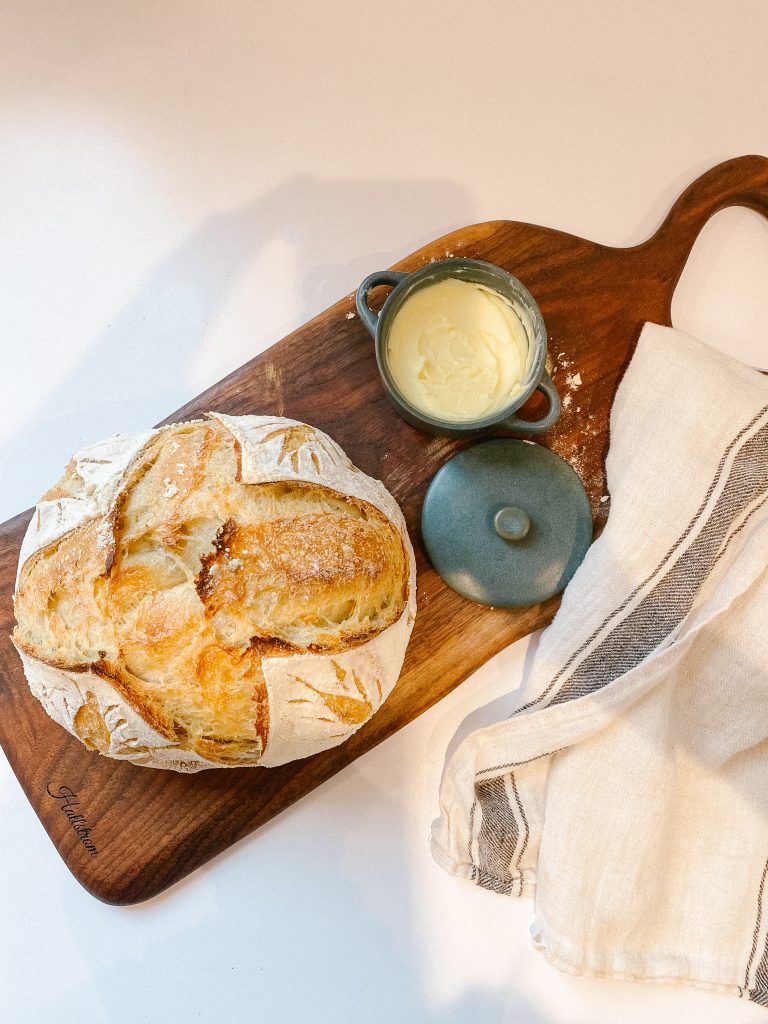 Personally homemade sourdough is great for any meal. Breakfast with jam and eggs, lunchtime with some ricotta cheese. Or for dinner with some soup. I know the kneading process can confuse people so I will link a video on how to knead and fold sourdough bread for a general idea. I think I need to get into making sourdough bread myself, how delicious would that be to have homemade bread anytime you please.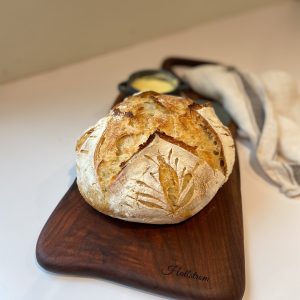 Sourdough Bread Recipe
My favorite bread is sourdough bread, try out this delicious recipe.
Equipment
Mixing Bowl

Iron Pot

Plastic Wrap

Oven

Kitchen Scale

Basket
Ingredients
250

grams

Active Starter

1000

grams

All Purpose Flour

24

grams

Sea Salt

735

Grams

Water

Plus another 50 Grams
Instructions
Combine active starter with the water in a mixing bowl. Mix well

Add the flour. Mix until combined

Add in the sea salt and other 50 grams of water

Cover and let rest 30 minutes

Cover and let sit 30 more minutes

Do this another 4 times(knead and rest 30 minutes)

On the final knead let the dough rest until double in size

Transfer dough to counter and cut in half

Square the dough up and then roll it up

Push the rolled dough first, then follow by pulling it towards yourself, giving tension.

Do the last step a few more times to both halves of dough

Let rest for 30 minutes uncovered

Do the push and pull one more time. Place both halves in 2 seperate baskets. Cover

Transfer baskets to fridge and cool for 2 hours

Place loaves in iron pot in oven

Cover and bake at 450 for 30 minutes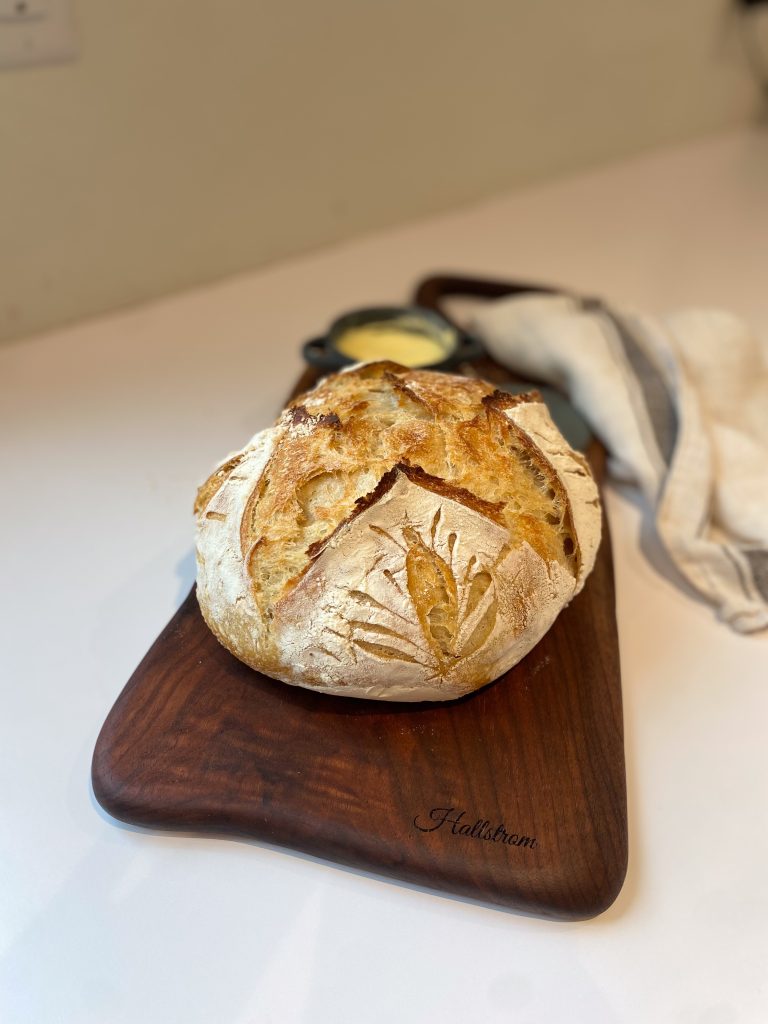 Easy Sourdough Bread Recipe
Look at the beautiful scoring she created on her bread! We actually sell some sourdough products. Like a bread lame, sourdough starter, and a proofing basket! My daughter in law Lissa has been making a lot of her own sourdough recipes lately from her starter. So far everything I have tried has been so delicious! There is a lot you can do with sourdough and a loaf is a great way to get started.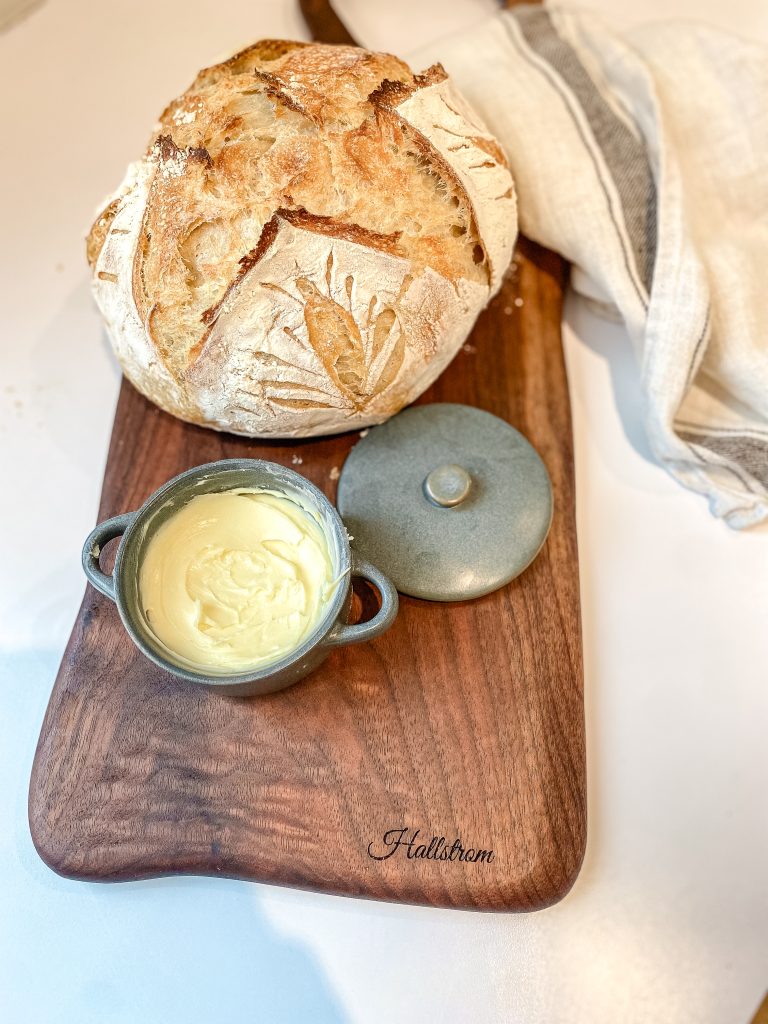 I wish I could make a loaf this stunning. So I think I will need to put some practice in and give it a shot myself. Let me know if you try it out and love it! Also if you want to get the latest details and see some of our great products we have in store, you'll want to join our email subscription. We send out an email once a week! Thanks for stopping by.