I let my fresh cedar garland sit outside in the rain for a couple weeks on accident but finally got one hung in our farmhouse entryway. This is the easiest way to get that wintery feel without a lot of time. In this post I will go over where you can purchase all the items shown so you can get your favorite things without searching all over. Our Farmhouse Entry with Fresh Holiday Garland is a great way to get ready for Christmas.
Be sure to sign up for my email to get new recipes, crafts and home ideas in your inbox!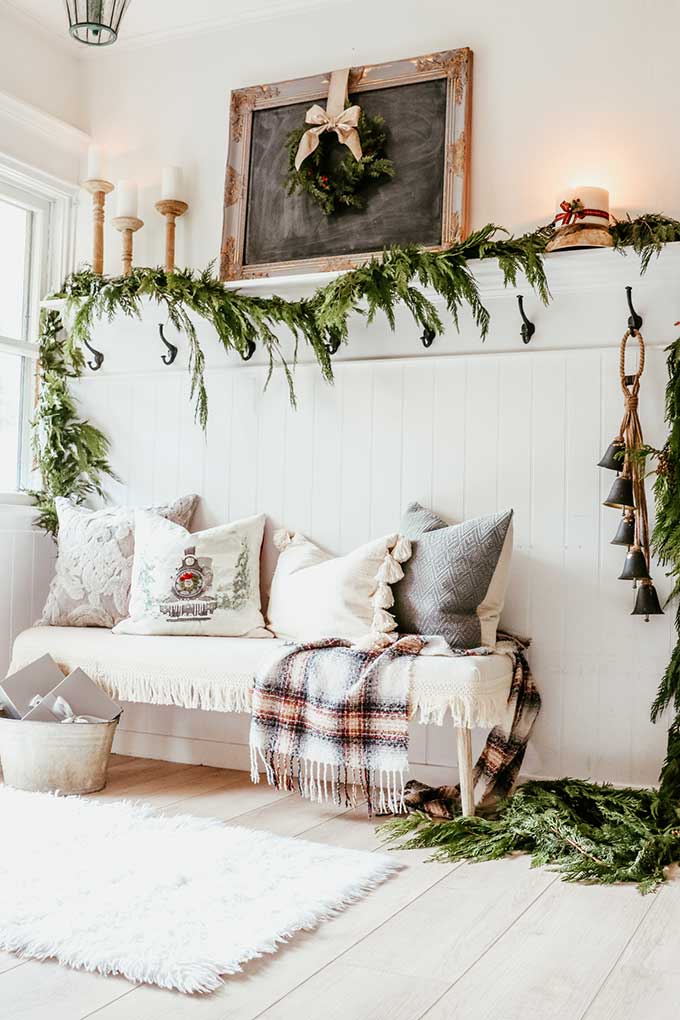 Farmhouse Entry with Fresh Holiday Garland
Can you guess how many people it took to style our farmhouse entry with fresh holiday garland? Three. It was me, Claire and our office manager. We had a small break in getting orders done and shipped out so we took part of one day to shoot new product photos and to style the mudroom for the holidays. It won't stay like this for long as Christmas is fast approaching but it is a style that can last through January.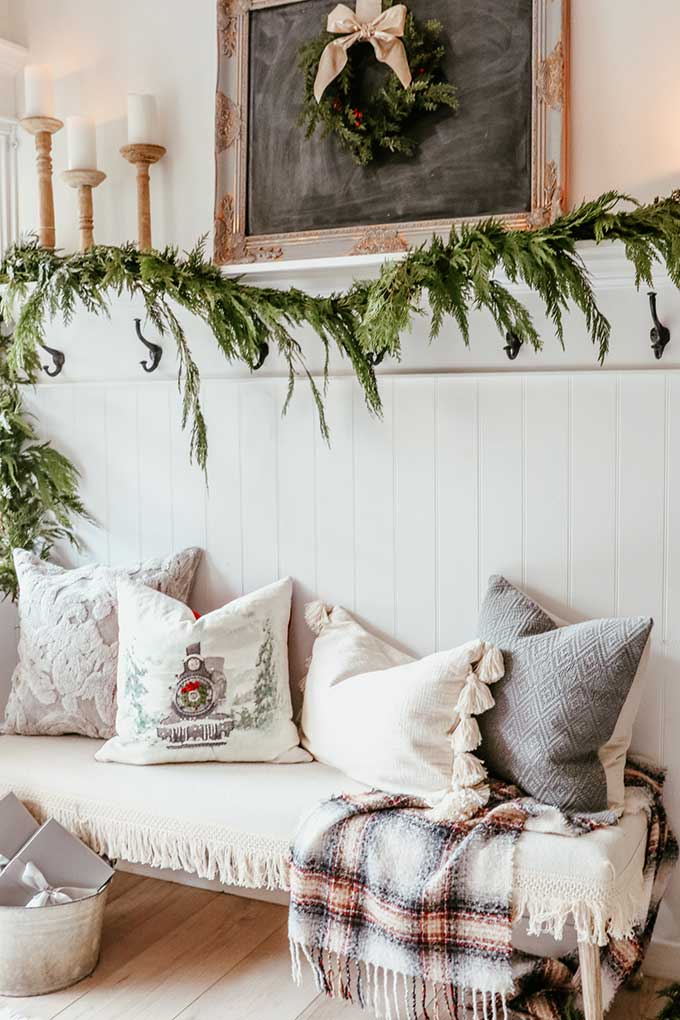 Chalkboards are so fun and this one has a french farmhouse style. We kept the base gold and added a grey over it. This is so pretty as a wedding chalkboard or in one's kitchen or dining space as a menu board and even as an office organization board. So many ideas for a chalkboard. On this one I kept it easy but hanging a wreath. But I like to write inspiring messages on mine. In the office we write notes for our supply runs and it helps keep us organized yet beautiful.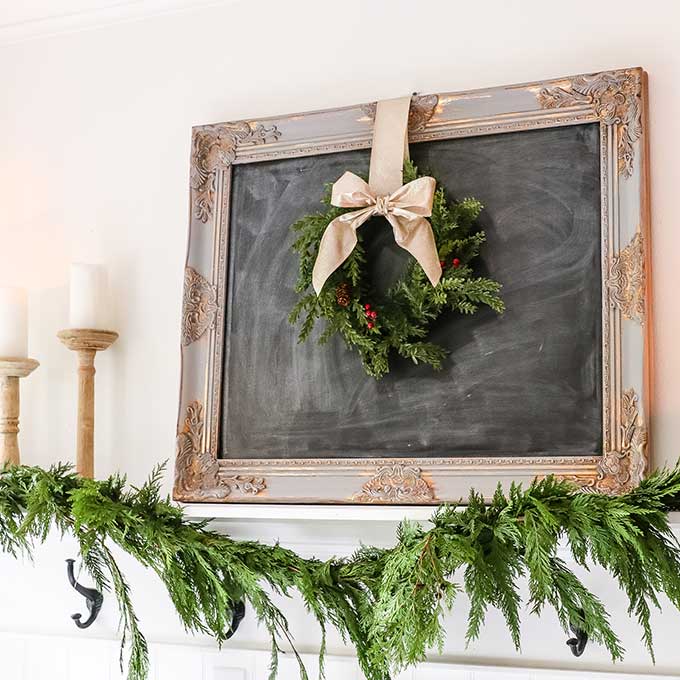 The candle holders are part of our latest farmhouse collection of antique wood items. I have to say these antiques have me so excited. It took us a long time to get these in. Our antique round bread boards sold out but we are getting more in and those rectangular ones are sold out as well but those will be a bit longer for a restock. I will update our social media once they are available. Check out this old truck photo shoot we did, it is so festive and it was so fun.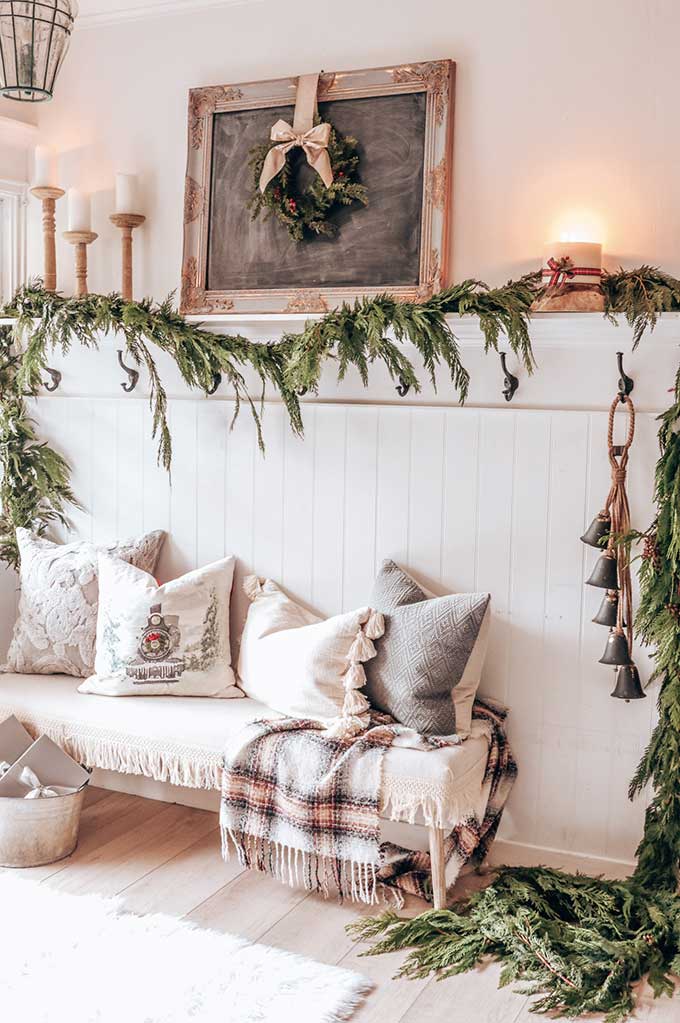 We stock the tassel pillows which are a really nice thick material with a hidden zipper. We recommend using feather inserts to get the soft comfy look and feel. Otherwise I shop one of my favorite stores for pillow covers which is Pottery Barn. I love their quality and sales. I have a friend on Etsy who also makes gorgeous wool, and velvet pillows with an exposed zipper. Supporting handmade shops as it helps families and women grow is what I love to do. Below I will share affiliate links to shop this post.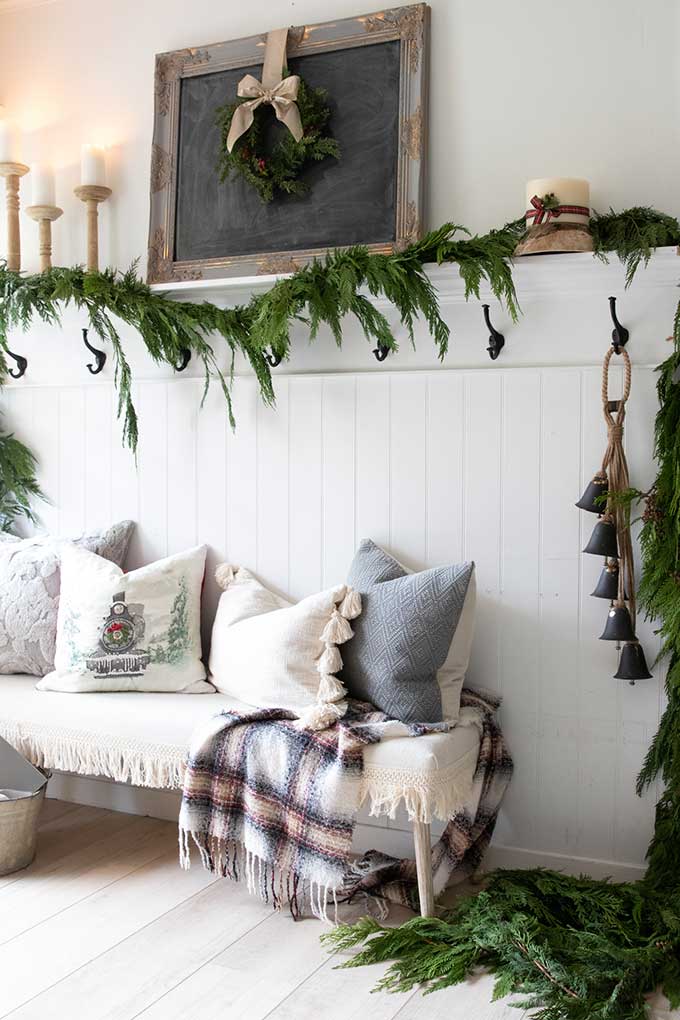 Gift buying for the holidays can be so stressful but I find myself shopping a lot at Nordstrom and love their gift boxes which means that's no gift wrapping for me but I also shop Amazon a lot. For those purchases I will use our natural gift wrap idea that you can use here. We have a great collection of printable tags that you can download when you sign up for our emails. If you have already signed up and can't find them, let me know so I can get those to you. Our favorite is the Faaalaaa gift tag.
To view our farmhouse mudroom from last year, please click this link. Then let me know what look you like better. Maybe you prefer the farmhouse entry with fresh holiday garland?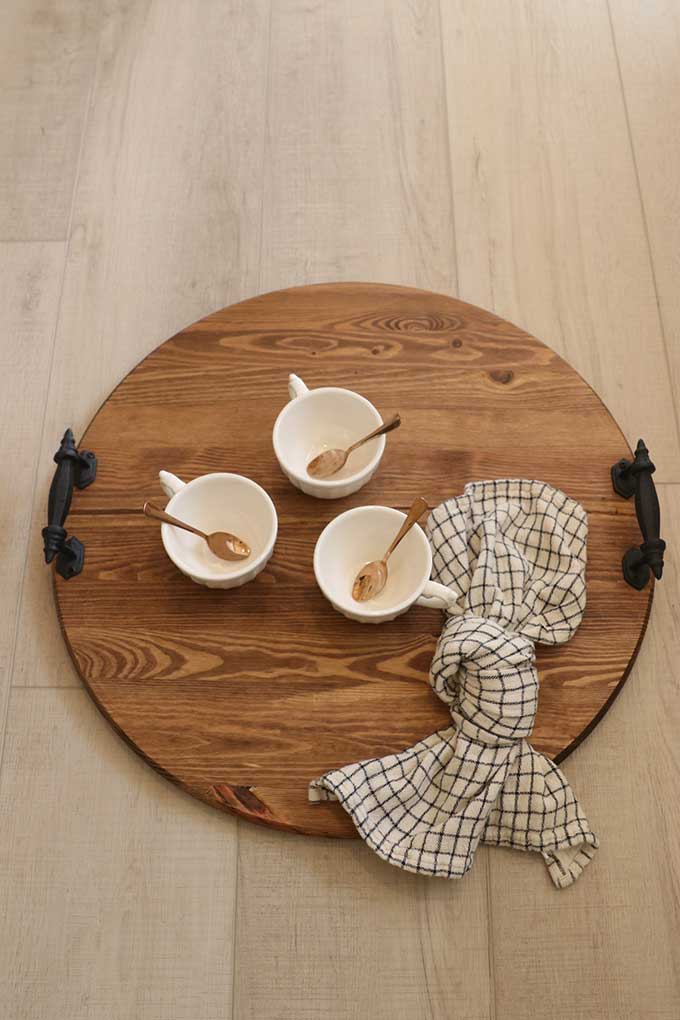 Welcome over to our Secret Giveaway where I mention this over on Instagram stories and Facebook. We are giving away our handmade round charcuterie board in 18″ round with rustic metal handles. I have pictured the 24″ round only because this is the stain and color we will be shipping out. I hope that's not confusing. To enter please leave at least a four word comment below as well as your name and email. We keep all personal info private and do not share this. Giveaway is our way of saying thank you for following us and hope everyone has a wonderful Christmas season. Open to US residents, excludes Hawaii and Alaska due to high shipping cost.
I will put a link here to our farmhouse decor page where you can find our charcuterie boards and antique finds.