Raising seven kids in an old farmhouse requires using every room well. So I am going to show you How I updated the Mudroom for the New Year with new pillows, fresh colors, and organization. I even found a few things at Target that would help keep life more organized. Those backpacks need a place to go and I need a room that's functional and welcoming so this is it.
Please note that affiliate links are used in this post.
How I Updated the Mudroom for the New Year.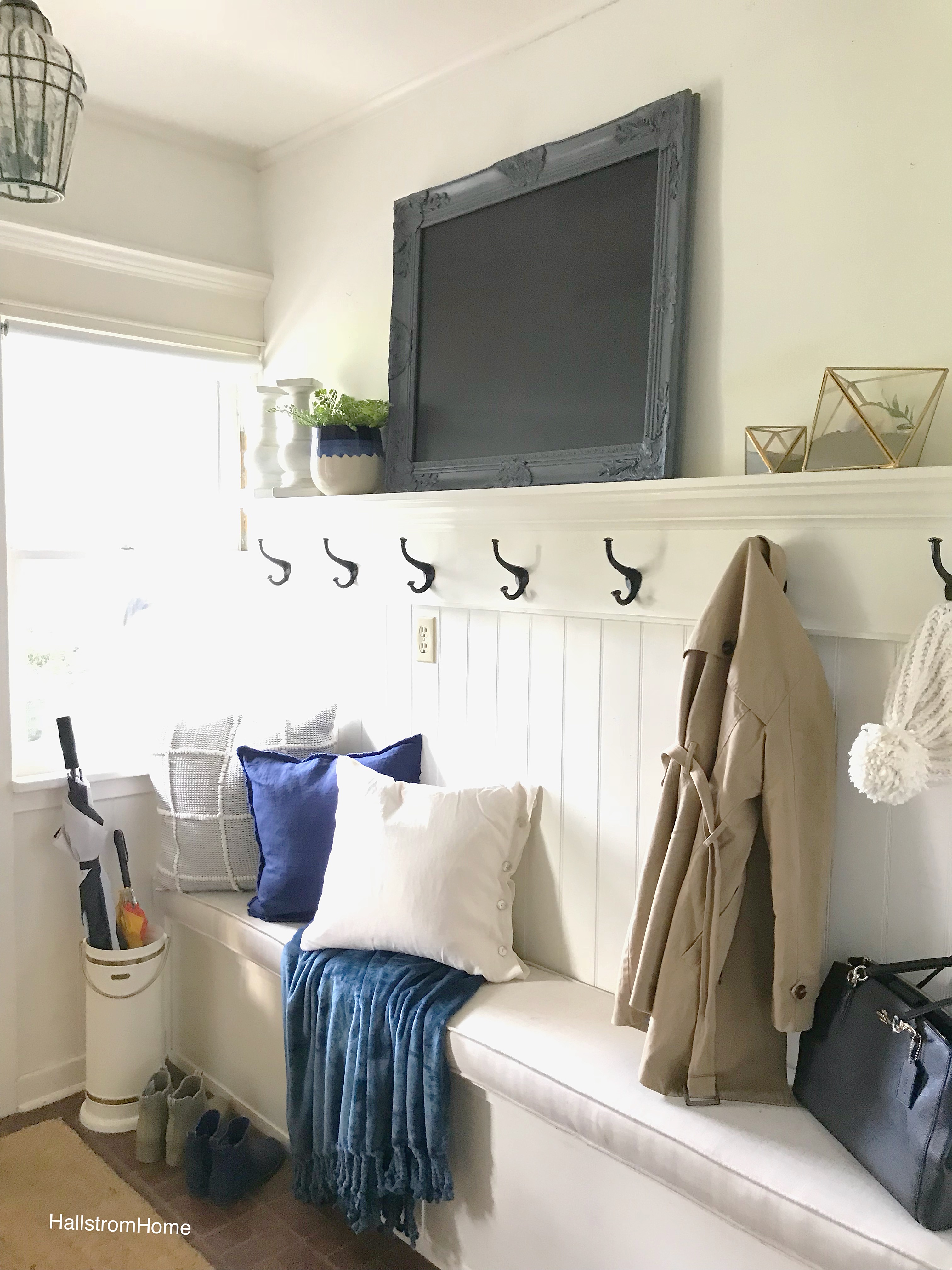 We moved into the farmhouse ten years ago and this mudroom was our first remodel. Check it out here. This is also used as our front door like many old houses in the country. I found this gorgeous textured pillow from Target and then I paired it with my Belgium linen pillows that I sell in my shop here at HallstromHome. We can make custom sizes if you need. One of our latest additions is this raw edge style. It's perfect for those that love the boho style, modern farmhouse to rustic industrial. I even pair this with my shabby chic style because it just looks good.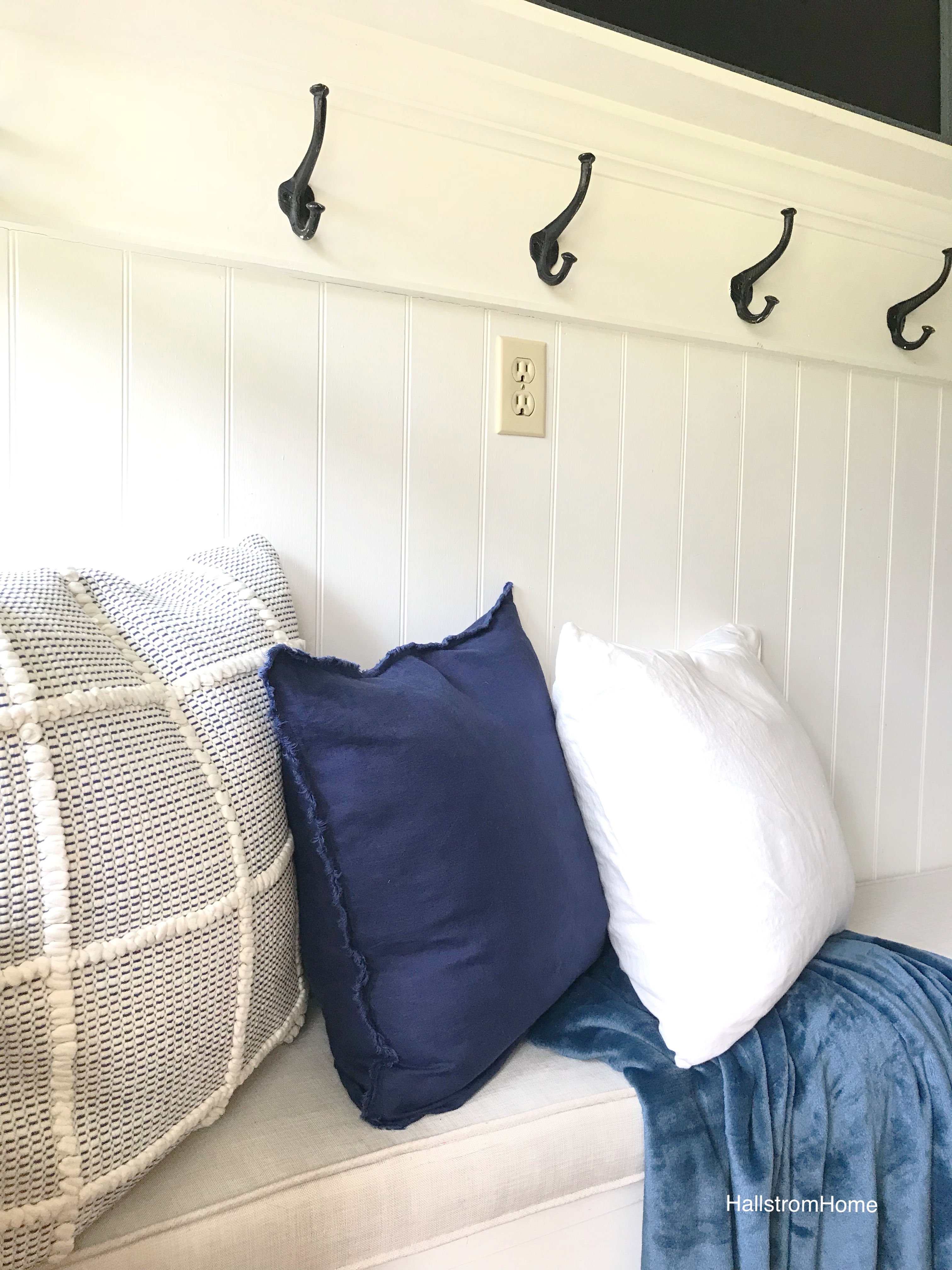 How I Updated the Mudroom for the New Year.
As I was cruising target online I found the new Hearth and Hand line from Chip and Joanna Gaines. Many of you know that I was lucky enough to get a sponsored trip to go visit them in Waco last year, for their new chalk paint launch. You can read my personal interview with Chip and Joanna here. Needless to say that I found this really cute umbrella holder that I will link below. It's classy and timeless which I love.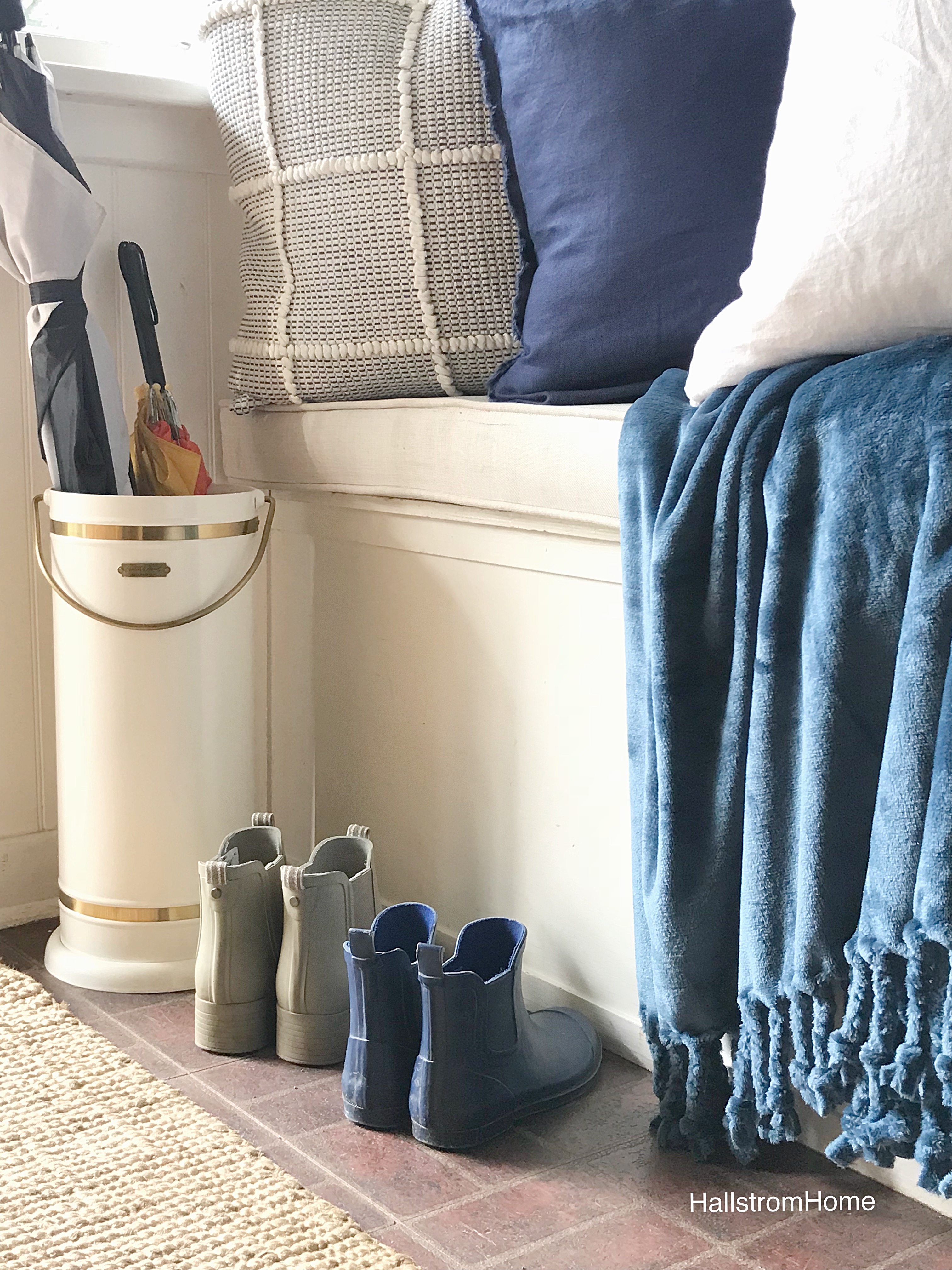 A mudroom is not complete without rubber boots and we have a lot of them. My personal favorites that I wear most everyday, are these by Tory Burch. I also have a pair of tall Coach boots that are lined so they are nice and warm. I sent these to my mom for Christmas even though she lives in the South and I live out here where it rains all the time. Also, I love CC Beanies. You can find them all over social media and they are so soft and cozy, perfect for this cold weather. Gotta love the Great Pacific Northwest. Take a look at Vintage Society Co mudroom ideas. They are so cute and perfect for the home.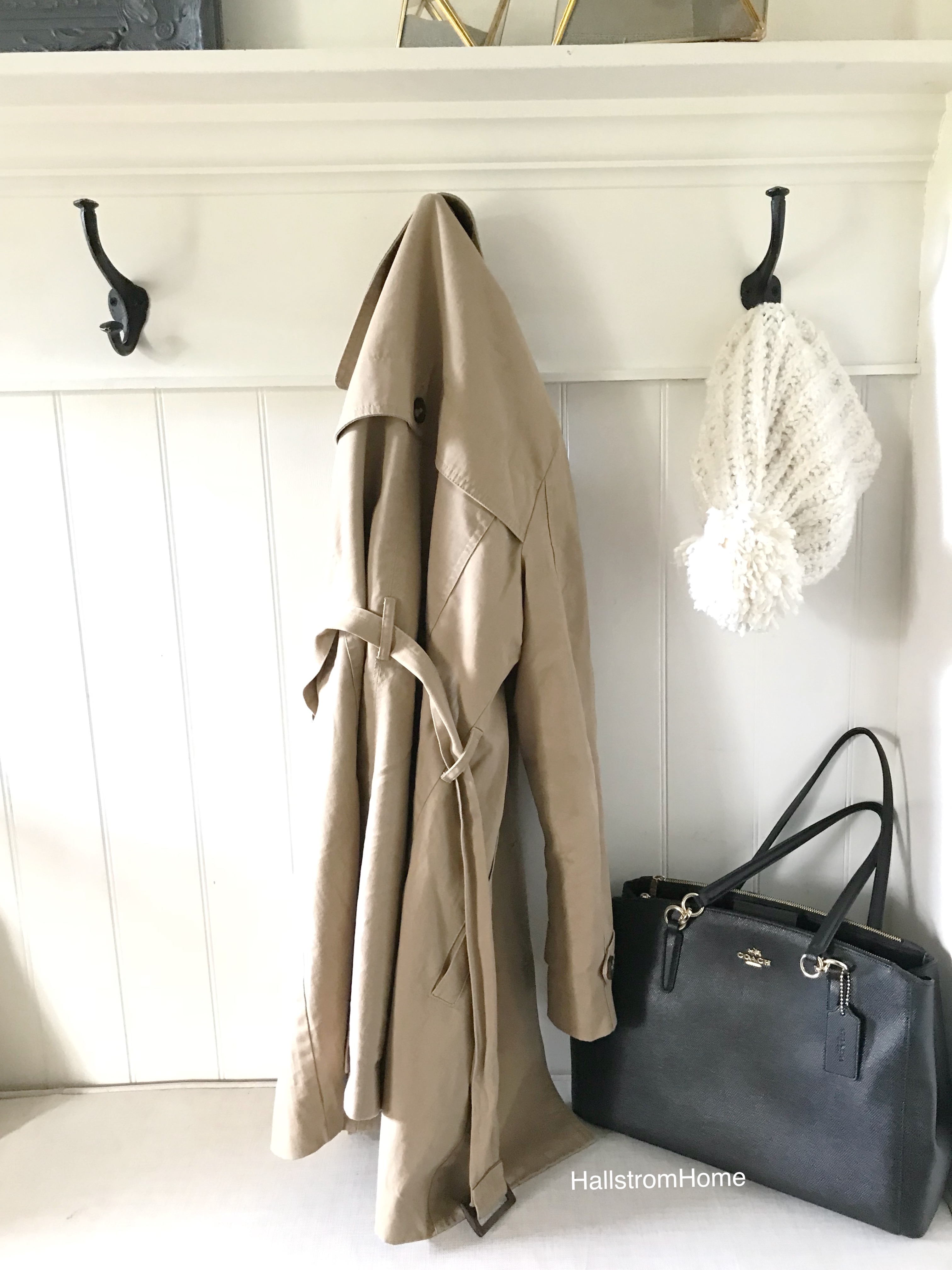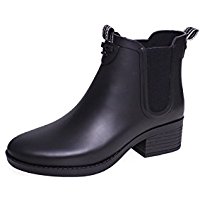 How I Updated the Mudroom for the New Year.
Sorry to get off track. One of my favorite things about this space is the storage and the coat rack. Hubby made this, and we now offer a similar style coat hook here in our shop. We can make custom lengths and I can paint these in basic colors if you would like. I just don't offer custom colors as it adds to much to our already busy shop. The bench hold extra shoes and boots so it comes in super handy to keep the clutter out of the way.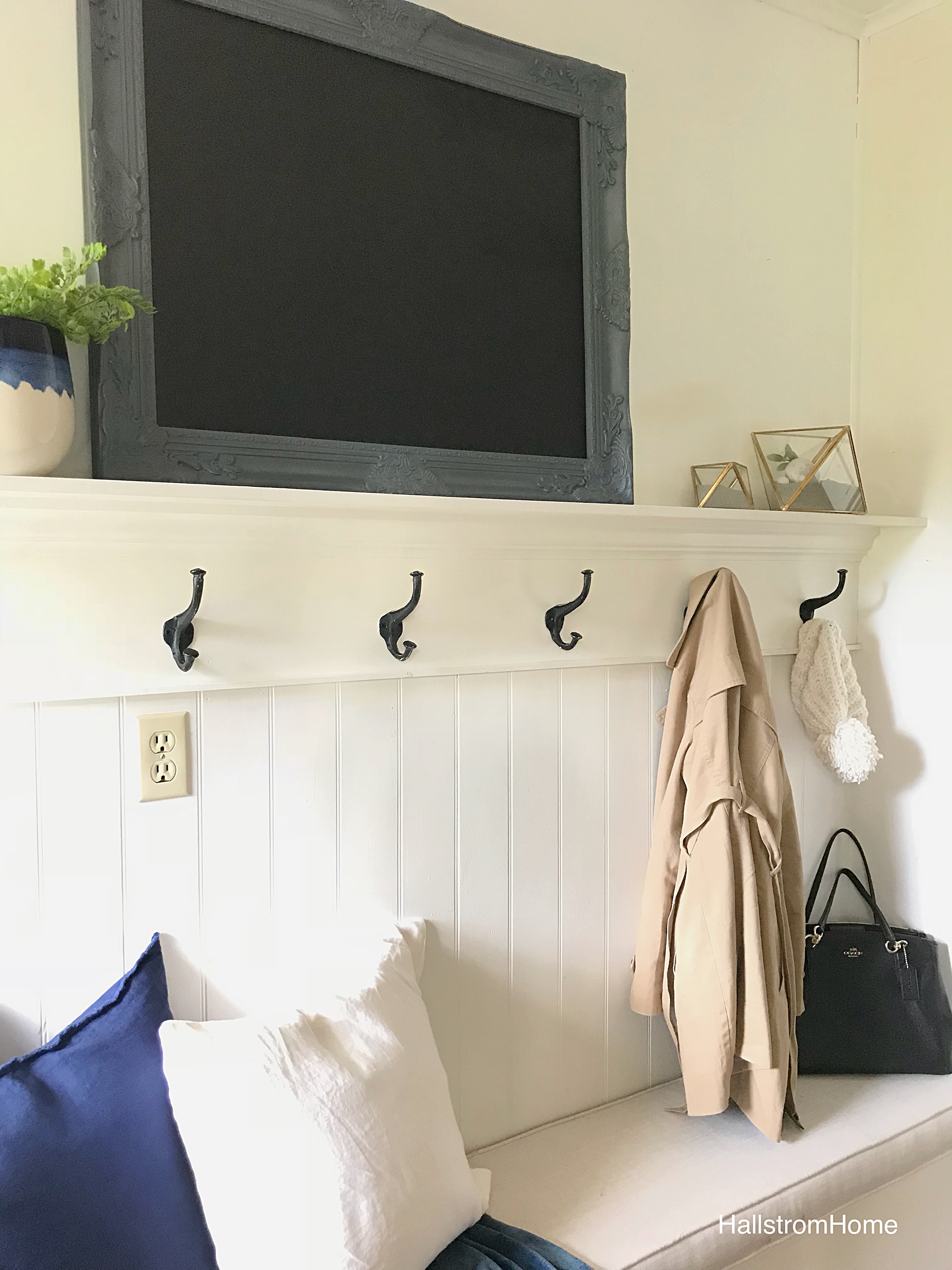 I also added one of our custom chalkboards. I usually have a mirror here, but lately I have been into writing motivational sayings so the kids have reminders as they leave the house everyday. Maybe they will take something good with them for the day without me reminding them? Umm, I doubt that, but it's worth a try. Right?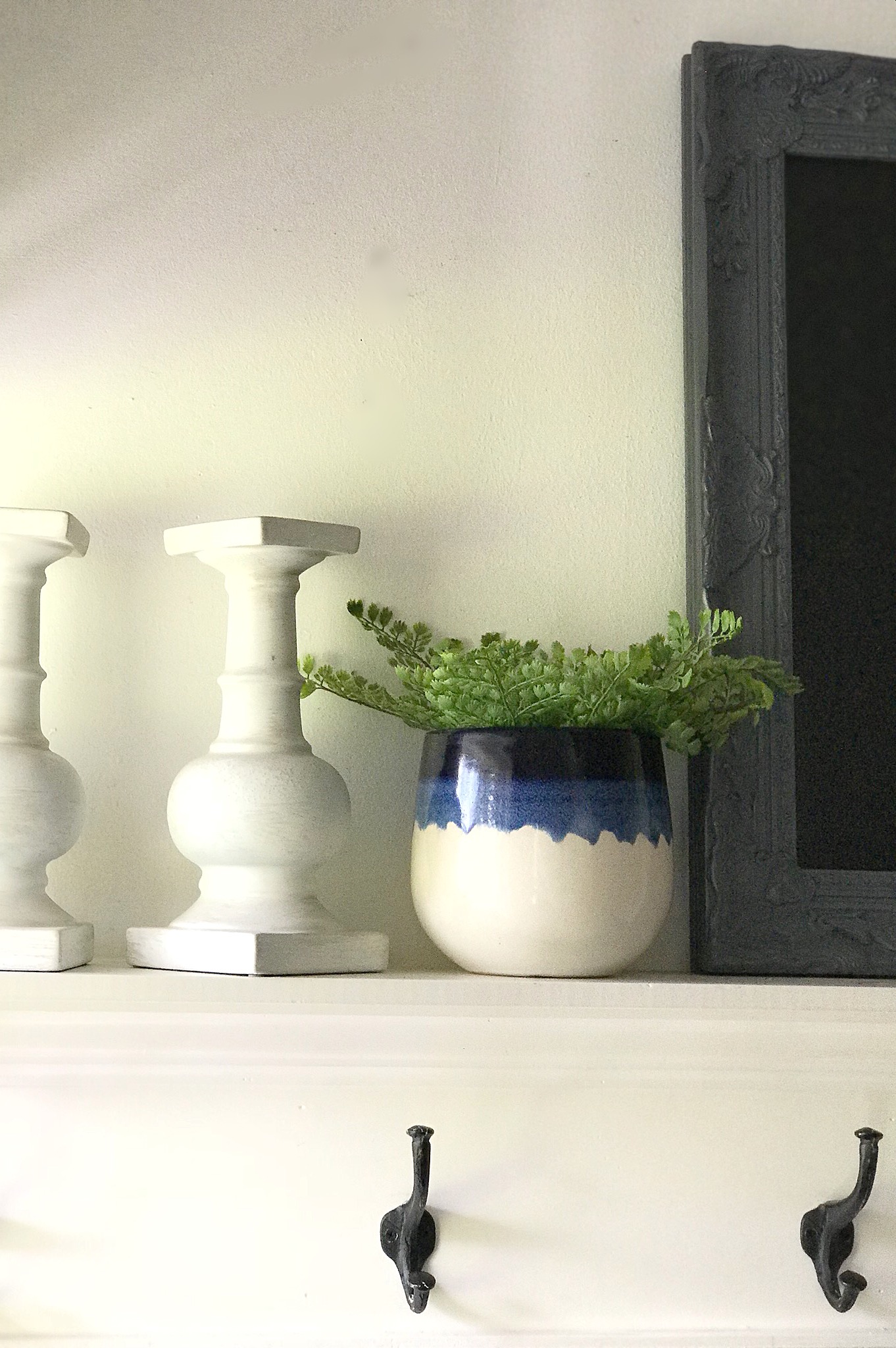 Ok so what did you think of How I Updated the Mudroom for the New Year? Is there something more you might add to make your life easier? Let me know in the comment section below. Also, don't forget to Pin this for later.