Hygge Home Decor with a focus on pillows, throws and the details that help create this Scandinavian style. Growing up in a Scandinavian community it's more of a way of life with a focus on values as well as style. Let's go over it in detail so you can include some elements in your way of living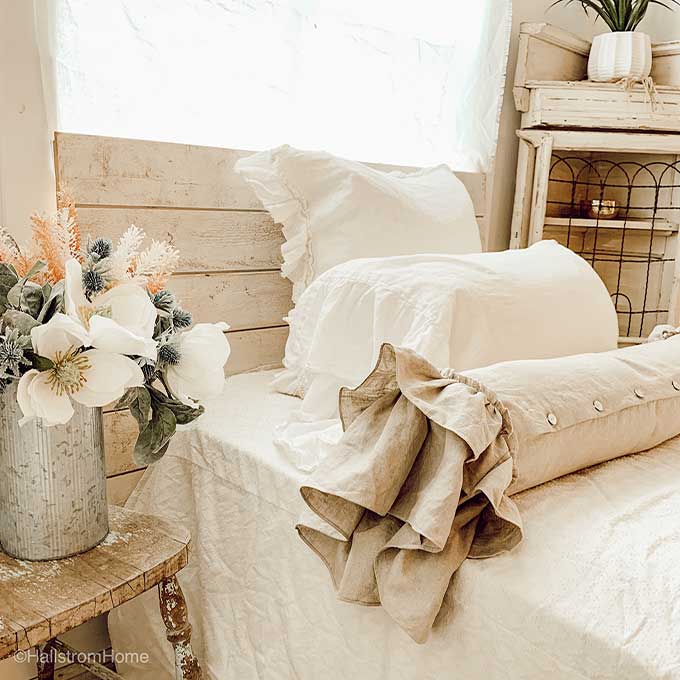 What is Hygge?
Hygge is a Danish word that means to enjoy life's simple pleasures. Hygge is a way of life for Scandinavians. When it comes to decorating their homes it translates to a space that is peaceful, comforting, and free of clutter. It is similar to modern farmhouse, however it is their way of living a joyful, relaxed style that is key.
How to pronounce "hygge"
Hygge is pronounced 'hoo-gah'. For the longest time I was pronouncing this wrong, but I have finally mastered the word!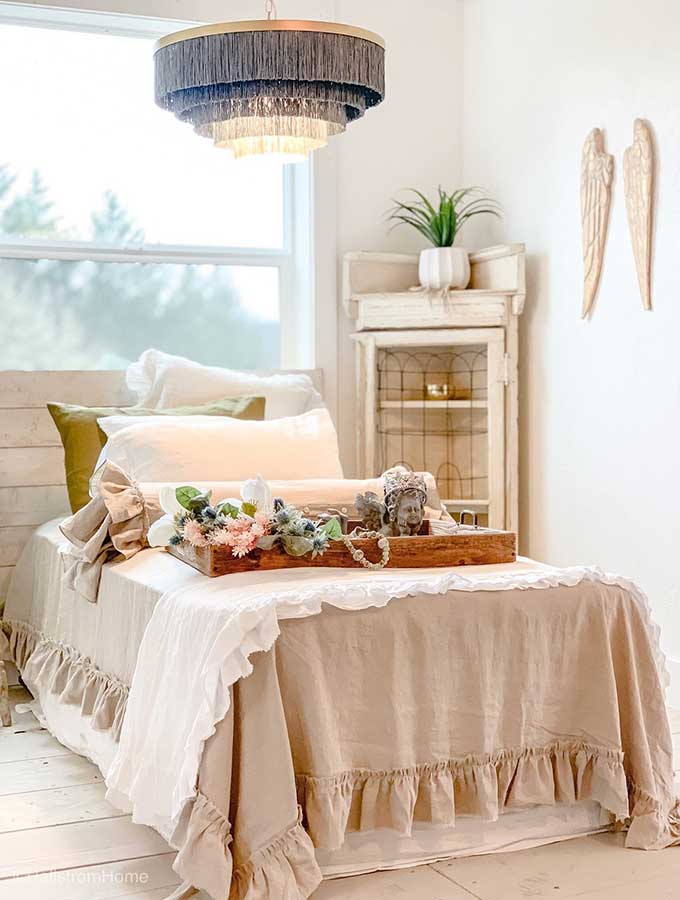 Tips for Styling Your Hygge Home with Pillows
Hygge is a Scandinavian style that is warm and calming. To choose pillows that incorporate hygge into your lifestyle are going to primarily be neutrals with texture and an emphasis on natural fibers.
Faux or real furs are part of this style due to the cold climate in the Scandinavian countries
Pillows with fringe or pom poms add visual appeal
Bold prints in geometric style
Leather pillows
Soft velvet pillows pair nicely with prints and other textures
Soft ticking stripe works well as an accent pillow
Linen is always a classic Scandinavian material that is widely used
Wool pillows represent hygge home very well with it natural fibers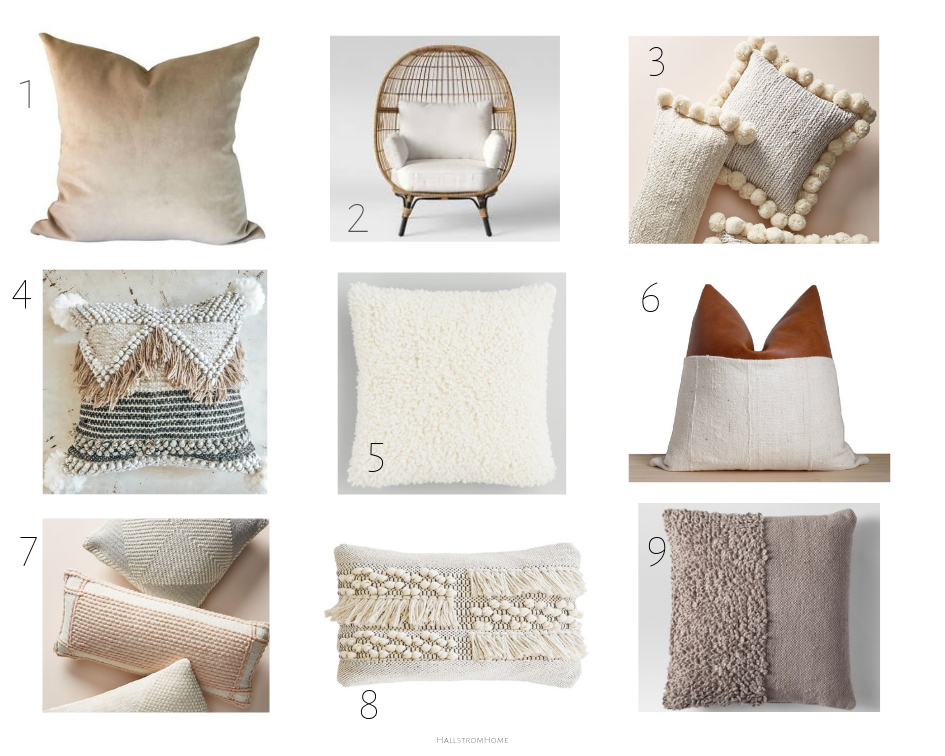 1: Velvet Pillow | 2: Rattan Chair with Pillows | 3: Pom Pom Jute Pillow | 4: Chunky Wool Pillow | 5: Faux Fur Pillow | 6: Mudcloth and Leather Pillow | 7: Wool Evie Pillow | 8: Zahra Accent Pillow | 9: Textured Throw Pillow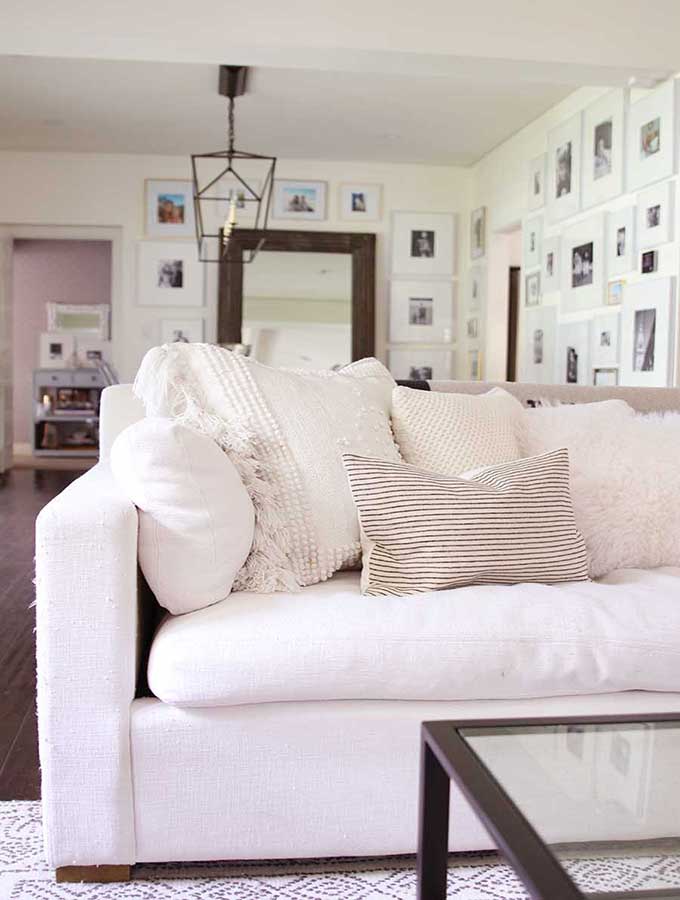 Modern Glam|5 Ways to Cozy Up Your Home for Winter
Ashley showcases hygge home style very well, with her textured pillows and the ticking stripe pillow. She has made her space very cozy and comforting.
Hygge Home Decor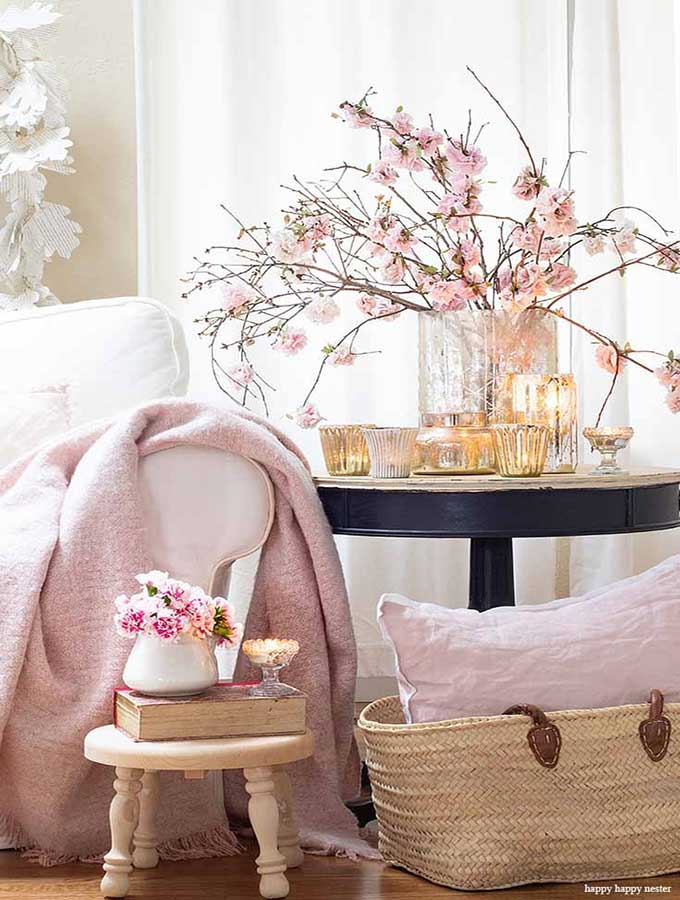 Happy Happy Nester|5 Hygge Essentials for Your Home
Janine added hygge to her home by adding some linen pillows. Linen is a big part of the Scandinavian life, as it is so cozy and a very simple material.
Hygge Home Decor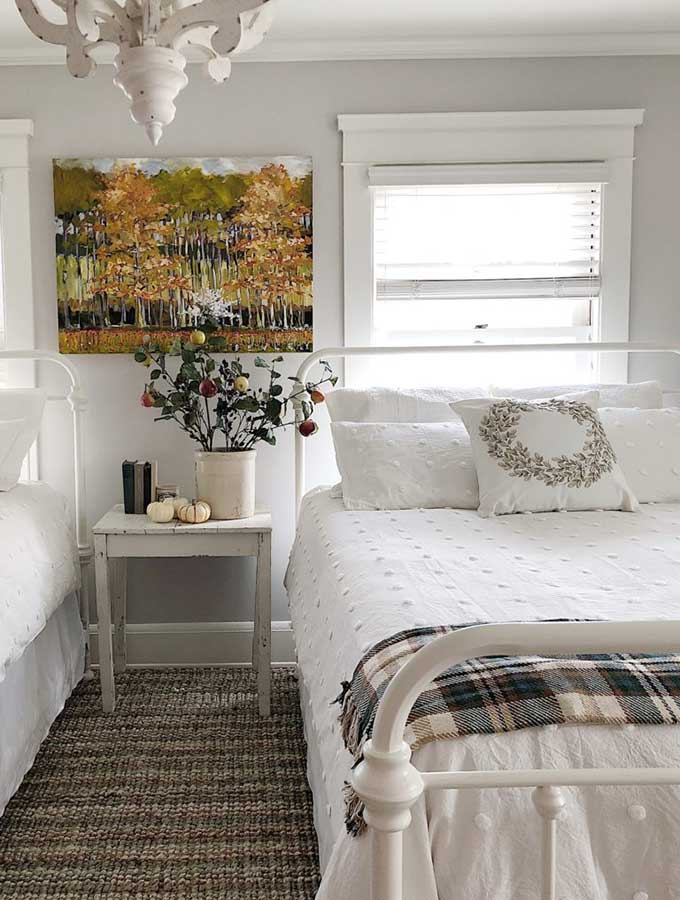 My 100 Year Old Home|Finding Comfort in Your Decor
This to me is classic hygge style, it's soft, neutral, with a hint of nature. What more can I say?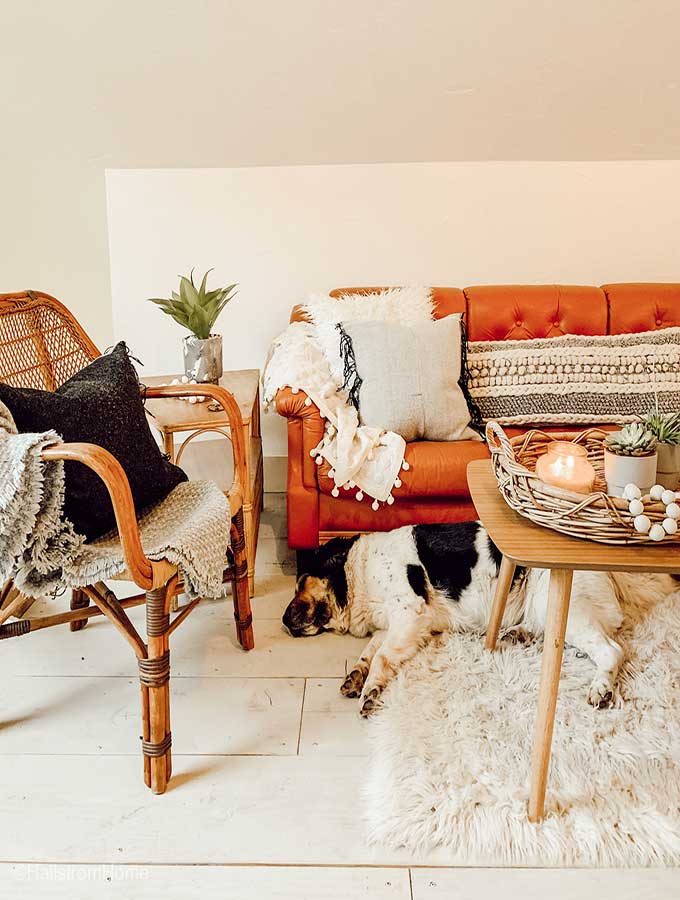 Hallstrom Home|Shabby Chic Linens for Hygge Home
Now for this space I added some wool pillows. Wool is such a natural fabric, and it really showcases the hygge style with the earth elements. But of course there's some fringe, because pillows with fringe are the best!
Hygge Decor Tips for Your Home
Hygge is about creating a comforting space. When decorating, it is important to keep things simple. When it is kept simple, there is less stress. Because you feel like you don't have to always be tidying up and fixing up the space. Below are some great tips in creating a hygge home.
Stay with neutral colors.
When creating a hygge space, you don't want the color scheme to be too overwhelming. Everything added to your hygge space should be something that makes you feel cozy and stress free. Using soft, earthy colors like grays, browns and creams will create a comfortable home.
Create a comfortable atmosphere with pillows and throw blankets.
Coziness is key when it comes to hygge decor. One way to do this is by decorating with textured pillows and cozy throw blankets. With pillows and big throw blankets, it's perfect to snuggle up on the couch. Adding these touches in your home, makes it a great place to unwind and relax. Having a window bench or love seat with hygge pillows is a great way to relax and enjoy your life of hygge. There's nothing quite like grabbing a book and cup of hot cocoa for some peace and quiet.
Decorating the space with candles.
Candles create such a warm and relaxing space. They give a warm feel, lit candles around a fire now that sounds relaxing. All of these things create a hygge lifestyle. There is nothing else like the soft glow of a candle. Candles should be used throughout your home to create a warm radiance. Okay a fire is almost just as cozy! I love to start a warm fire, then bundle up in some blankets and pillows and take a nap.
Create a hygge lifestyle
Introducing texture to your space is a great way to add interest. With a hygge design it is all about simple, but you do need to have some design elements like texture to make the space pop. Warm, natural materials like pom poms and wool to your decor. Greenery and flowers are also a great way to add texture. Most might not think of florals to add something, but they really help liven the space. They add a natural element, that makes the space very inviting.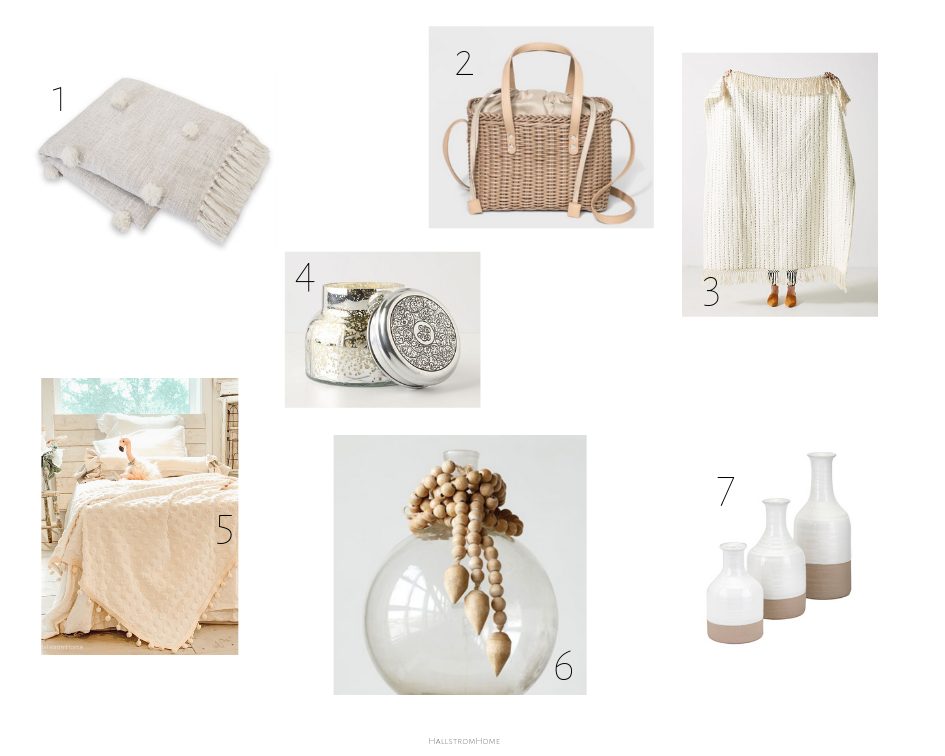 1: Pom Pom Throw Blanket | 2: Basket | 3: Nevin Throw Blanket | 4: Iridescent Jar Candle | 5: Pom Pom Tassel Throw Blanket | 6: Wood Bead Strand | 7: White Vases