Ruffled shabby chic linens have always been in style, but how do you mix it with the modern farmhouse and hygge home trends? Easy! First you want to start off with your base layers and build up. You can use prints, patterns or linen bedding. Then add a simple ruffle throw blanket and ruffled shabby chic linen shams. We also provide linen bedding that isn't ruffled to give a more stream lined look with decorating in farmhouse or hygge style. Let me give you some options and colors that may help as well as our latest Shabby Chic Linens for Hygge Home. Are you new to Hygge Home style? We have a post here with all the details on How to Create Hygge Home.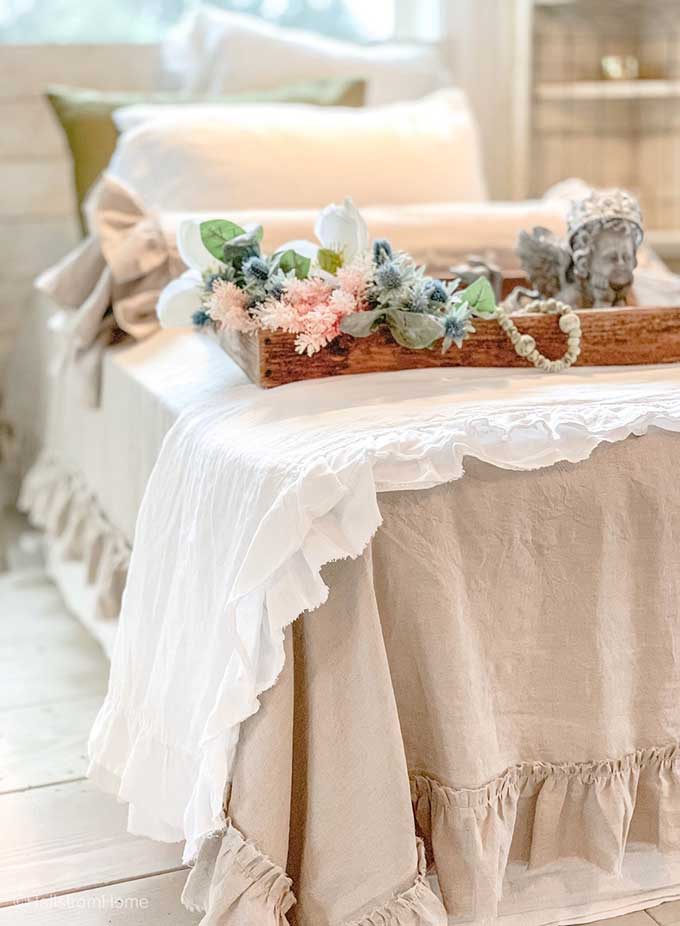 Shabby Chic Linens for Hygge Home
This is our new frayed ruffle bed throw. It comes in bright white and the frayed edge adds a perfect shabby chic touch. Now you might be wondering, what is linen?
What is Linen?
Linen is a fiber that comes from the flax plant. It is a natural fiber and is durable. The finest linen comes from Europe. If we want to get very specific, some the best comes from Belgium. That is because Belgium has the best climate for growing strong flax. When I was a little girl I would dream of having the gorgeous bedrooms in my mom's favorite magazines. She would read Victorian home and Romantic Home. They would have the bedding that was covered in ruffled linens. I knew I wanted the luxury of linens when I grew older. So when I started selling them in my online shop, I wanted a great quality linen. My linen is made from Belgium flax, so it is very strong. Linens that are long lasting will keep your home looking beautiful.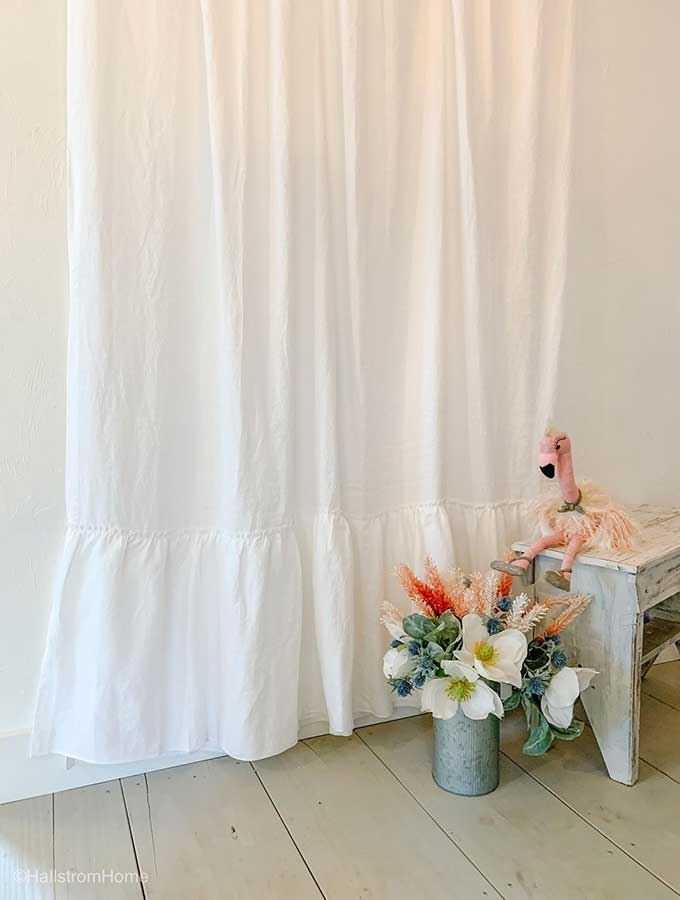 This is one of my new favorites. This has been in popular demand in my shop, so I listed it for all to enjoy. It is a one ruffle linen shower curtain, the large ruffle creates a farmhouse feel. Adding a hygge look to your home is simple. With the basic colors and cozy linen, you have already got the hygge look. Linen is also very good for you. Here are the many reasons.
What are the benefits of linen?
-Linen is 30% more durable than cotton. The weave of linen fabric allows for more airflow. The structure wicks away moisture from your skin which allows a better airflow. It is antistatic so it billows away, that means it will dry out and become cool again.
-Linen ventilates and filters, which is perfect for people with skin issues. It is hypo-allergic, breathable, and absorbent.
-Linen has a great and soft texture. They become softer and softer with each wash.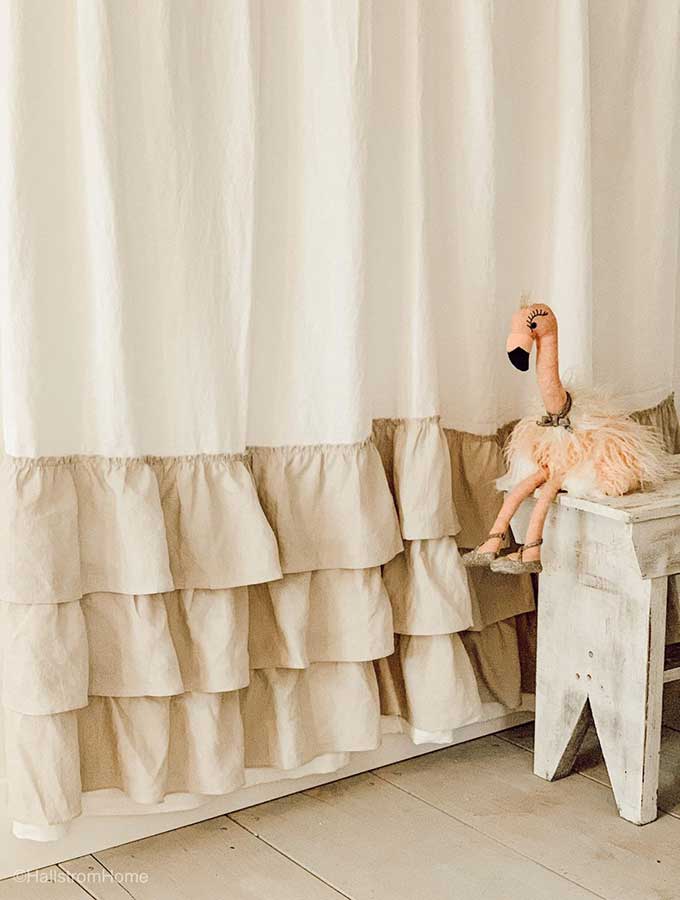 Here is our two tone 3 ruffle shower curtain. We wanted to change up the style a bit and add some color to our ruffles. My friend Janine over at Happy Happy Nester, did an interview with me all about our shop and custom linens.
Longevity of Linen.
Since linen is 30% stronger and thicker than cotton it makes it way more durable. Linen will last much longer that all of your other materials. Linen is an investment and for a great reason. That is why I invested in linens for my home. With 7 kids I always felt like I was having to replace sheets and also my table cloths. I even add French linens to my living space, you can see how here. Since I've got linen we haven't had to replace anything, because of its durability. It is a great investment that will last you ages.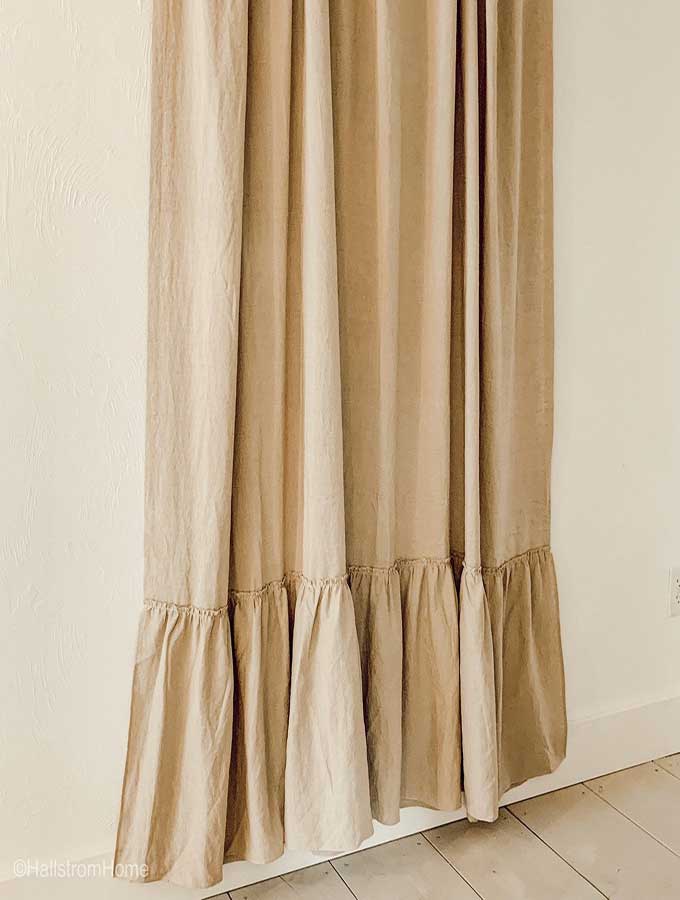 Here it is again, one of my new favorites. Except this one ruffle shower curtain is featured in natural. Getting a linen shower curtain is a great idea for a bathroom that gets used often. With the durability of linen, your shower curtain will last you a long time. The Design Twins have also given us a look at the linens they have used from my shop. Linen can be used throughout your home. We have bedding, shower curtains, throw pillows. You name it, linen is the best!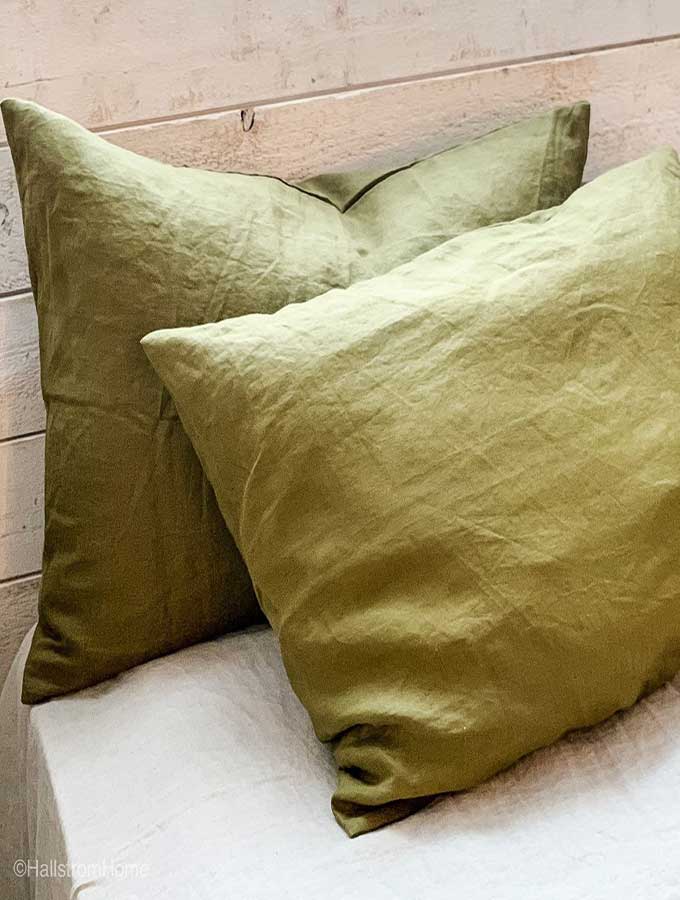 This is our new color! I am so in love with it, it is a deep green basic sham. The best accent color for any space. In a farmhouse with hygge touches, you need a pop of color. A earth tone is great for a hygge farmhouse look. Hygge homes are all about the smooth lines, a basic sham is perfect for the look. Now it is time for the proper care of linen.
How do I wash linen?
Wash linens in cold or lukewarm temperatures. On a gentle cycle and use a mild detergent. Do not bleach. Use a linen laundry detergent, it is more gentle. A linen spray helps get rid of the wrinkles. I will share some shopping links, so you can purchase the proper care items for your linens.
Can I dry linen?
You can tumble dry your linens. Do it on low temperatures. Or you can air dry. But our favorite thing of all is, linen is a care-free fabric. Needing only a simple machine wash, tumble dry on occasion to keep it looking fresh and new. And if you love an elegant, refined style it is easy to iron. However, if you like a vintage style, just throw on your bedding for a time-worn vintage look. If attention to detail, unique customization, and the highest quality of soft, beautiful fabric are important to you, you're going to love our linens.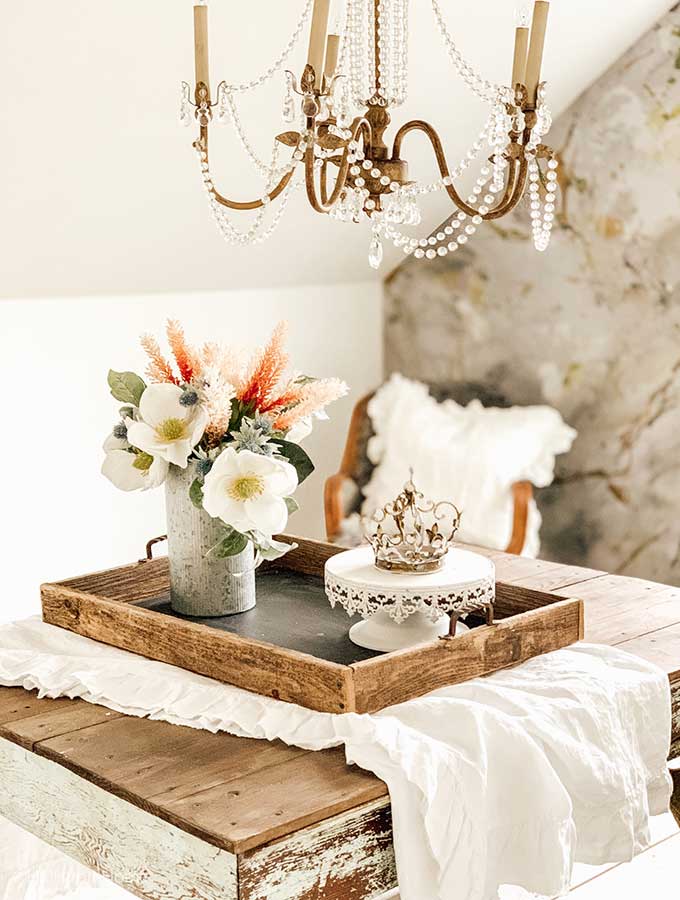 If you have the cozy hygge look and want to add a bit more of a shabby chic farmhouse look, ruffles will do the trick. Ruffled shabby chic linens make a space feel comfortable and cozy. This is our new frayed ruffle table cloth. To make my dining spaces more hygge, I like to add a table cloth they soften the space. A ruffled table cloth can make the space more whimsical, see how I added it to our garden party. Thanks for stopping by and let me know what you think about our new linens.