We have now launched our New Luxury Linens. I can say that not only am I really excited, but very scared as well. To be honest I sometimes question my sanity when knowing the online market place has so much competition but…I am a dreamer. I couldn't help myself when I found the softest luxury linen imported straight from Europe. This linen is like butter on the skin. I know bedding as well as table cloths. I have been a lover of linen most of my life and haven't found this type of linen used much. Let me show you some of my creations below. Our customers will be supporting local which helps our economy.
New Luxury Linens
When I created the napping porch, hubby asked what I was going to do when it rains. I stood there for two seconds and then said "watch this".  A couple minutes later, I had a few old doors out of storage and placed along the edge of the porch. I now had the solution to the rain that we receive out here in The Pacific Northwest. Snuggling into buttery soft linens on a cold rainy day is one of the simple pleasures in life. I'll be napping on the porch or sipping iced tea on the rocking chair. Today is beautiful and hope it is for you as well, because often life is crusty.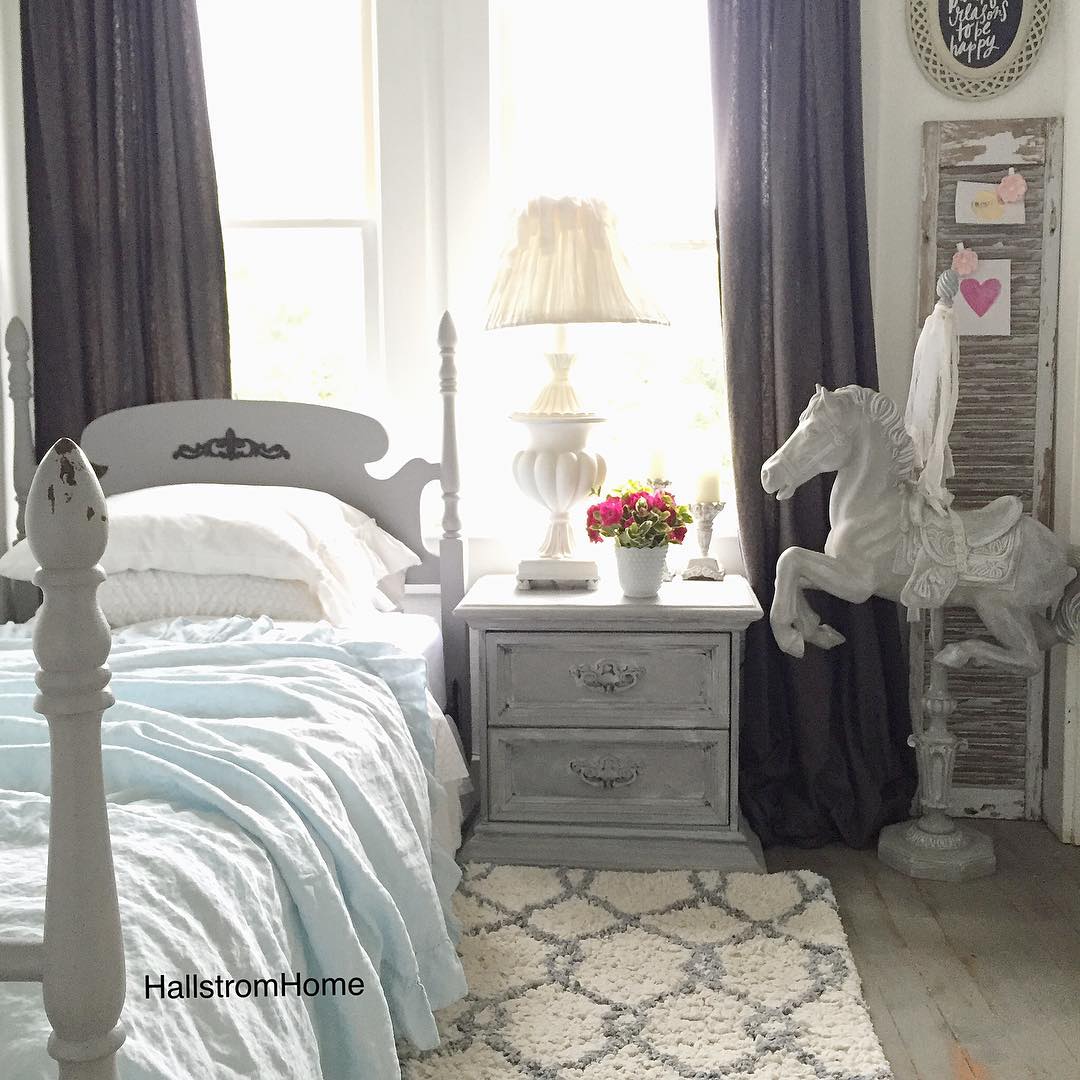 I believe in creating beautiful. Where one can find comfort in their surroundings and joy in items created well. These linens are soft and breathable, you will be wanting to stay in bed all day long. Shabby chic linen bedding is one easy and great way to make your space look luxurious.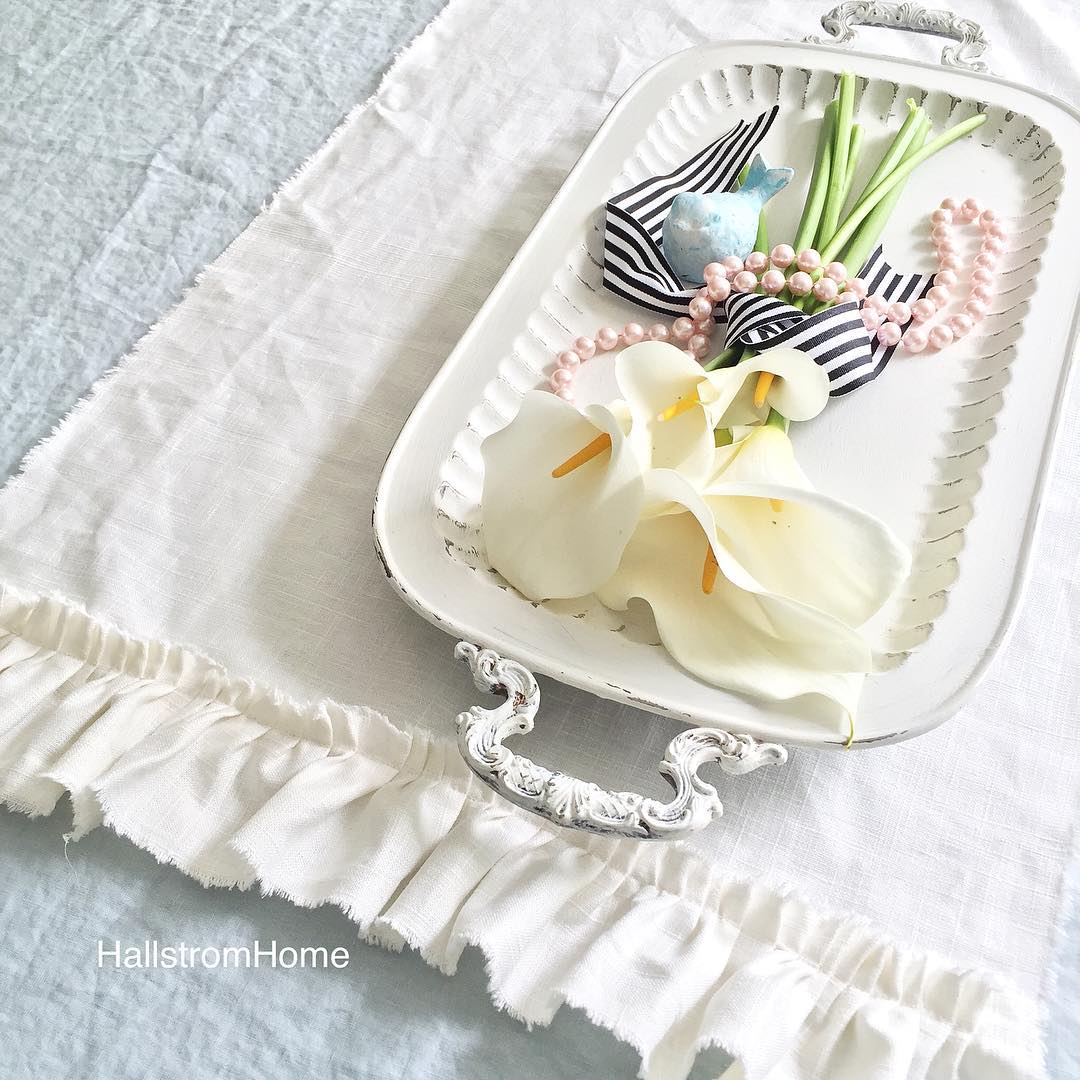 I opted for raw edge on this table runner to give it more texture and shabby chic appeal. I now have a few one of a kind linens in my shop, like tablecloths so you'll want to snag them before they're gone! I'm really easy to work with so send me an email. Washed ruffle linen bedding is the perfect fit to your bedroom, dining room, and bathroom.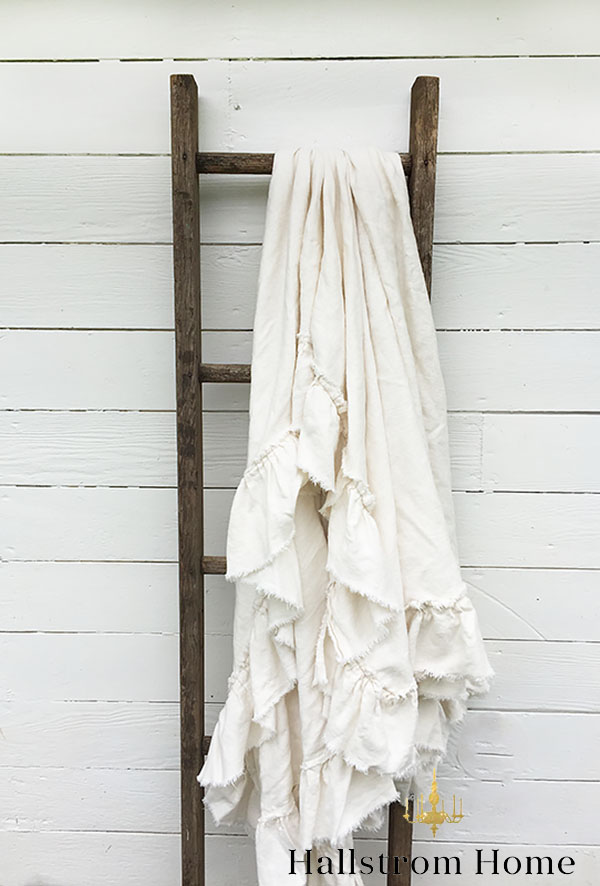 New Luxury Linens
Bedspread or table cloths, there are so many options. When ordering most of our linens, there will be a lead time of 1-2 weeks. I think the wait will be worth it knowing these are all custom made. Creating custom made items is a very special process and the time it well worth it.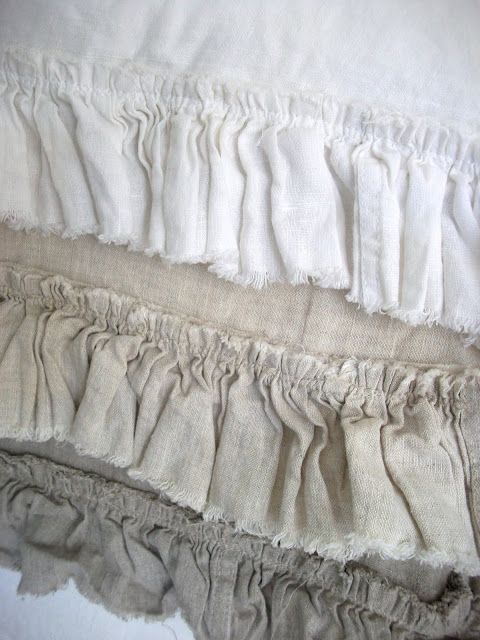 We will be offering most of our new luxury linens with a standard hem and also with a raw edge ruffle. I can't wait to mix and match. I think one of the best parts to our new adventure is that these new luxury linens will be made right here in America.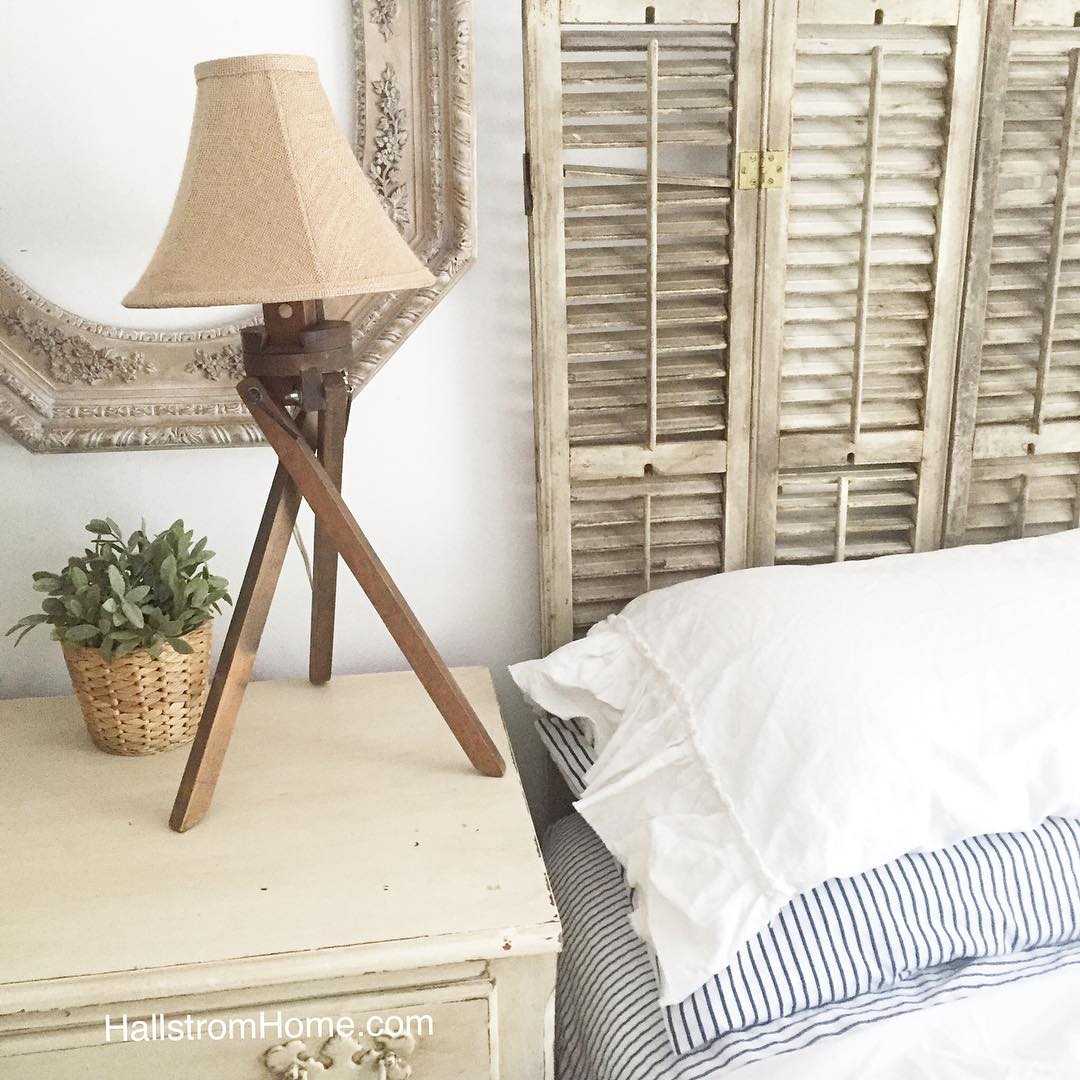 I'd rather stay in bed when there is so much softness around me. Offering shabby chic bedding is something we wanted to do, so you guys could get that timeless look in your home.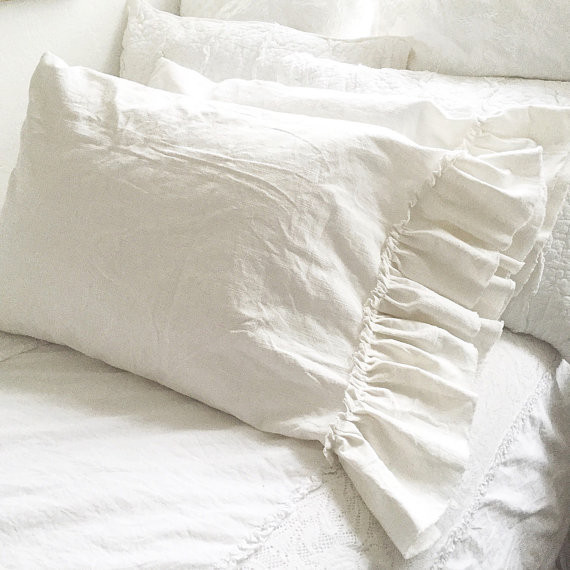 Our new raw edge ruffle Shams. This has been very popular on Pinterest, go follow our inspiring design boards. We have a really beautiful bedroom board that is my personal favorite. Finally these luxury linens are new to Hallstrom Home! I couldn't be more excited.
New Luxury Linens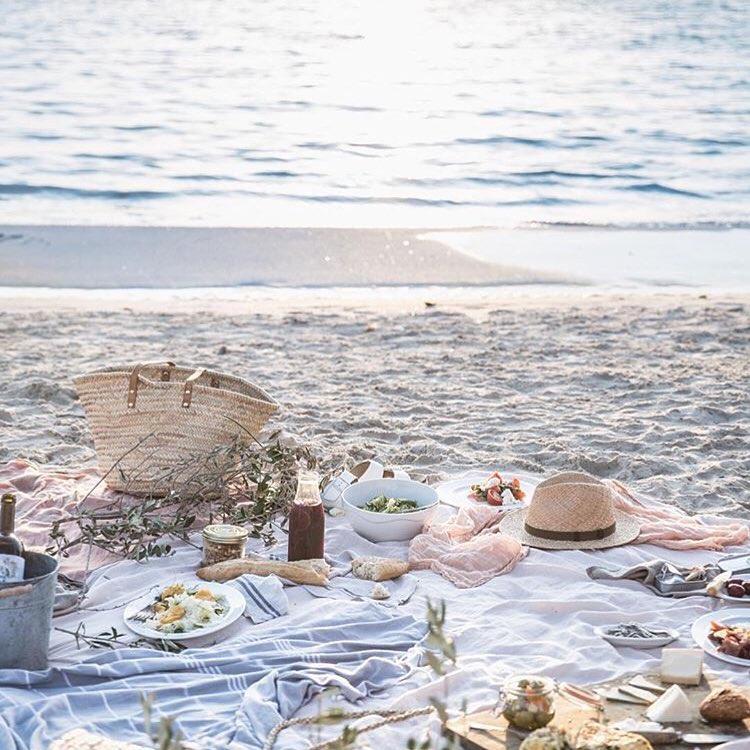 Who would like to join me here? Good food, beautiful scenery, linen blanket, and best of times. Check out my Instagram account, where this beautiful photo was found. It never hurts to dream. We have affiliate links included so you can shop the look.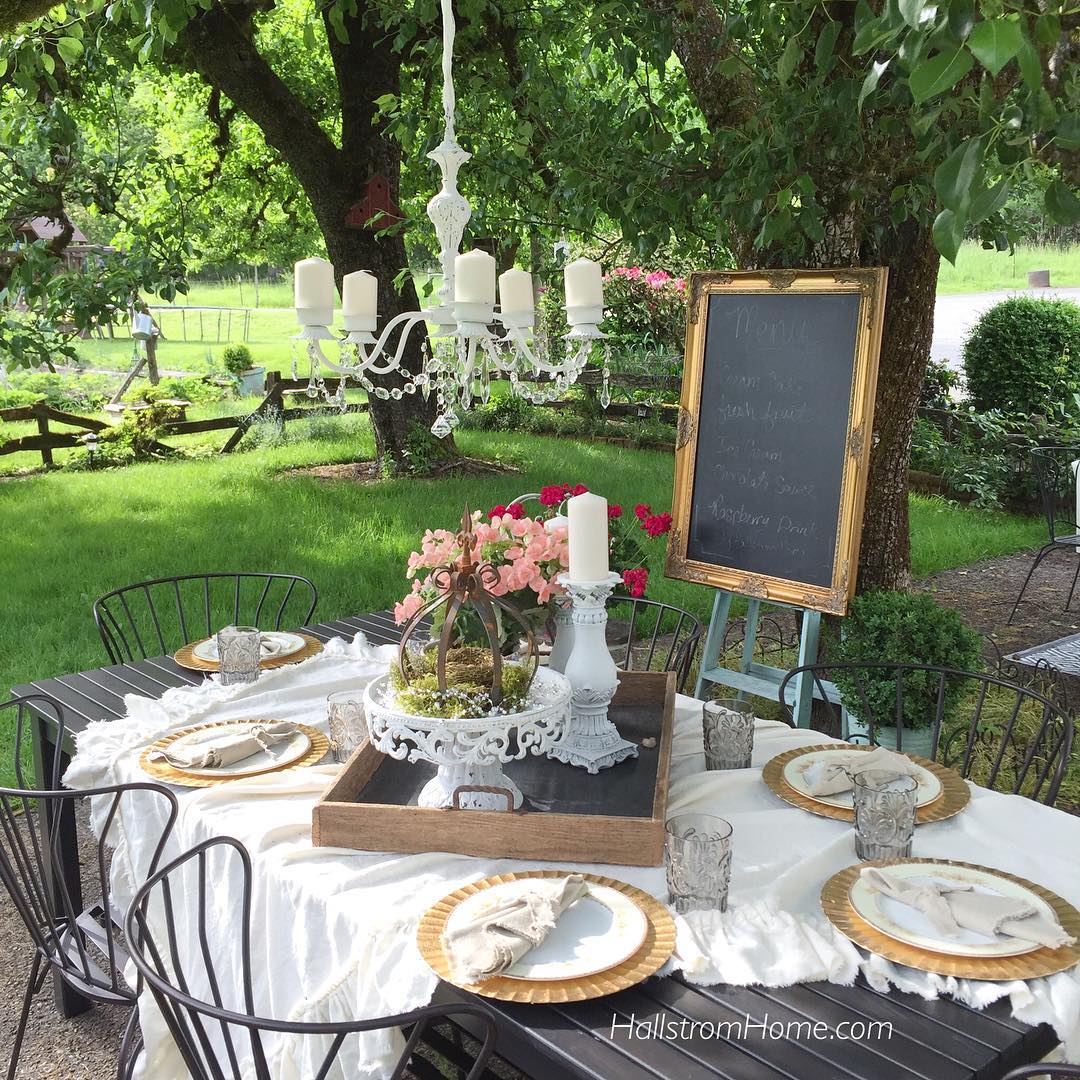 To create something exceptional, your mindset must be relentlessly focused on the small details. Quote of the day by Giorgio Armani. "We believe in things chosen well and not often."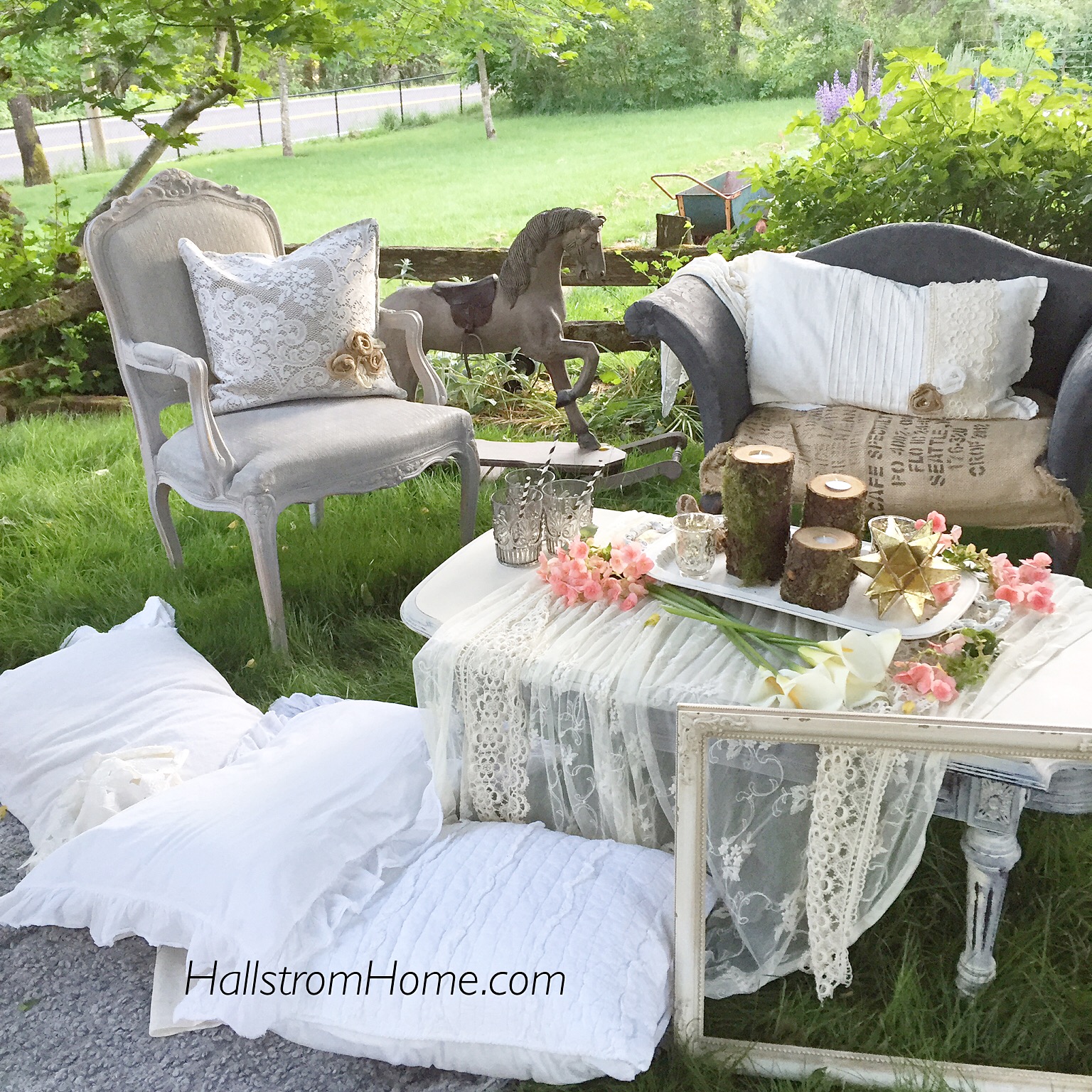 Throwing an outdoor garden party can be so easy and fun. I didn't hesitate to use our New Luxury Linen Shams. They wash up so nicely and get softer with each washing. I love to create BEAUTIFUL.
WHY LINEN?
There are so many benefits of sleeping with linen.
-It is 2 times stronger than cotton, meaning it will last a lot longer.
-Anti-cling and anti-static, the fabric goes away from the body and dries out any moisture and becomes cool again.
LINEN WASHING INSTRUCTIONS.
Machine wash cold; tumble dry low; warm iron as needed. Do not bleach. Use a linen laundry detergent, it is more gentle. A linen spray helps get rid of the wrinkles.