Come take a look at my Spooky Halloween Porch! This was very fun to make plus I created some hanging witch hats to make it a little more spooky! Creating a Halloween porch is so much exciting especially if you have trick or treaters coming.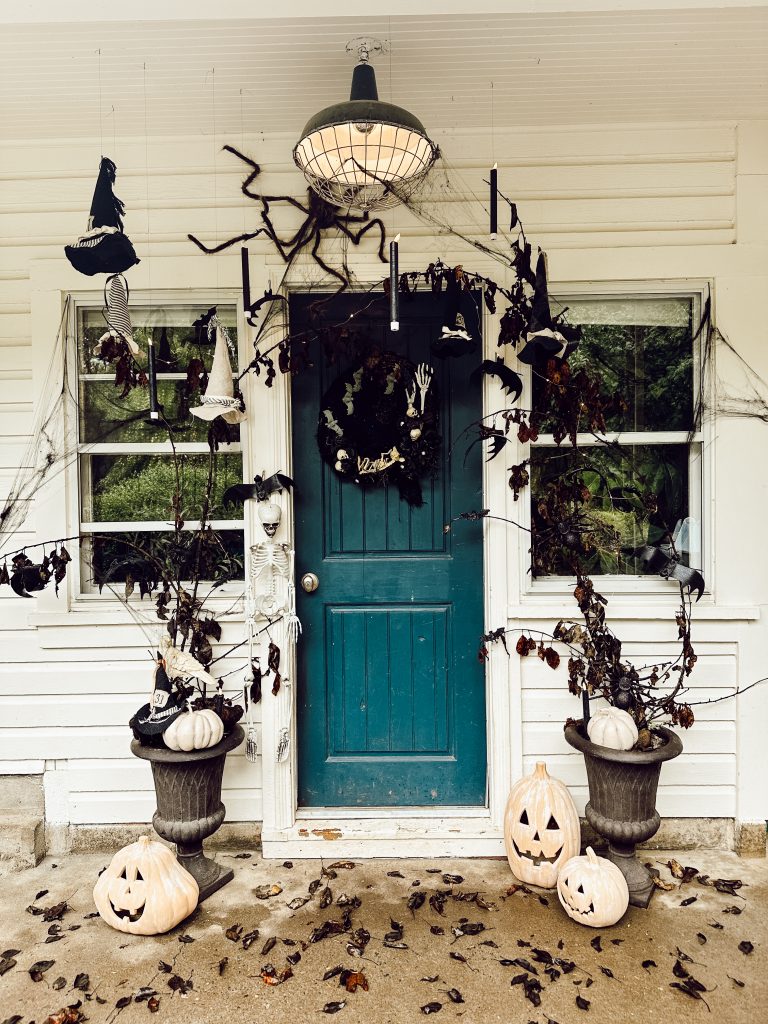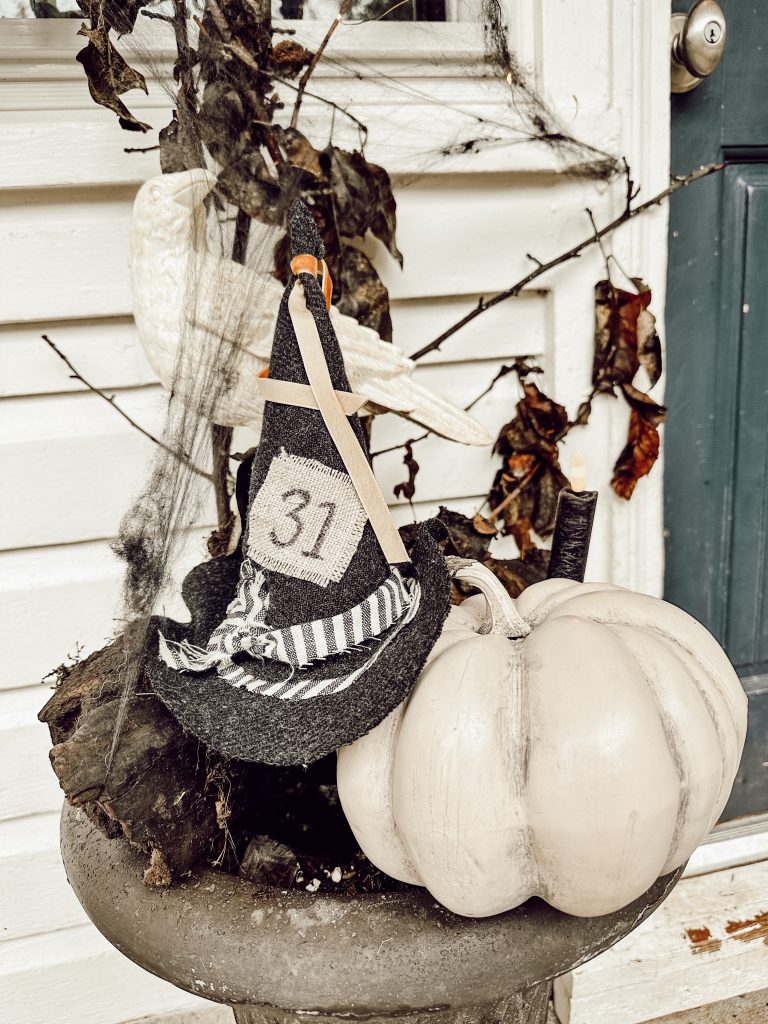 Halloween Party
We are doing another blog hop of Halloween porches, so make sure you keep reading to get a lot of amazing porch ideas! I don't really like Halloween, it's too creepy for me. But I still had to create a creepy Halloween porch. I had the branches in my yard with the leaves turning brown and wilted and thought these would be great for the entrance. When doing anything with my porch I always have a festive wreath hanging from my door. I have a halloween wreath diy if you want to make one!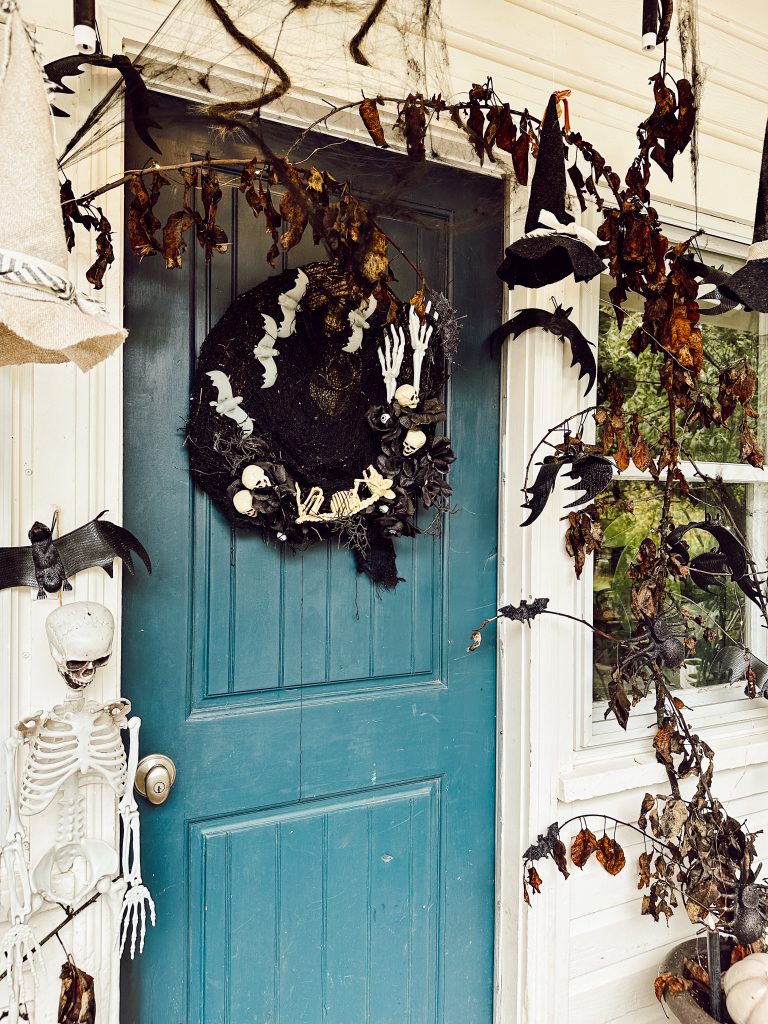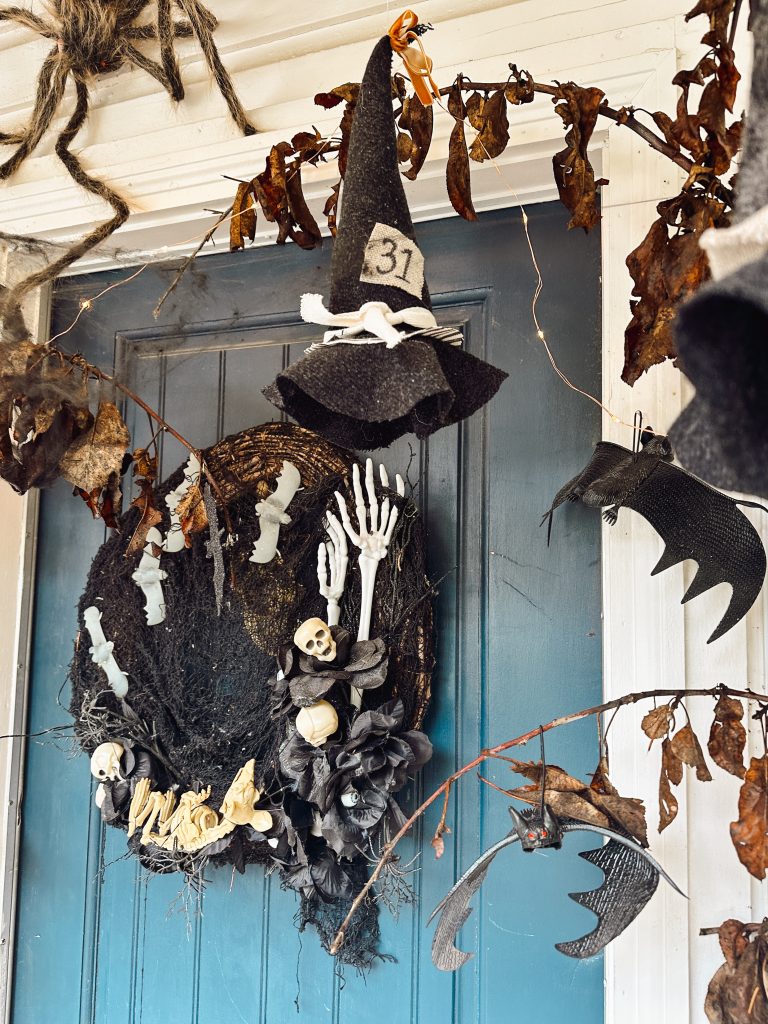 Hanging from the branches I pinned up my rubber bats. I have used these year after year and they are perfect! My favorite part of this porch is the hanging black candle sticks. I just took fishing line and pinned it to the ceiling and tied each candle. This was also done with the shabby chic witch hats I made. These are so cute, perfect for your Halloween decor.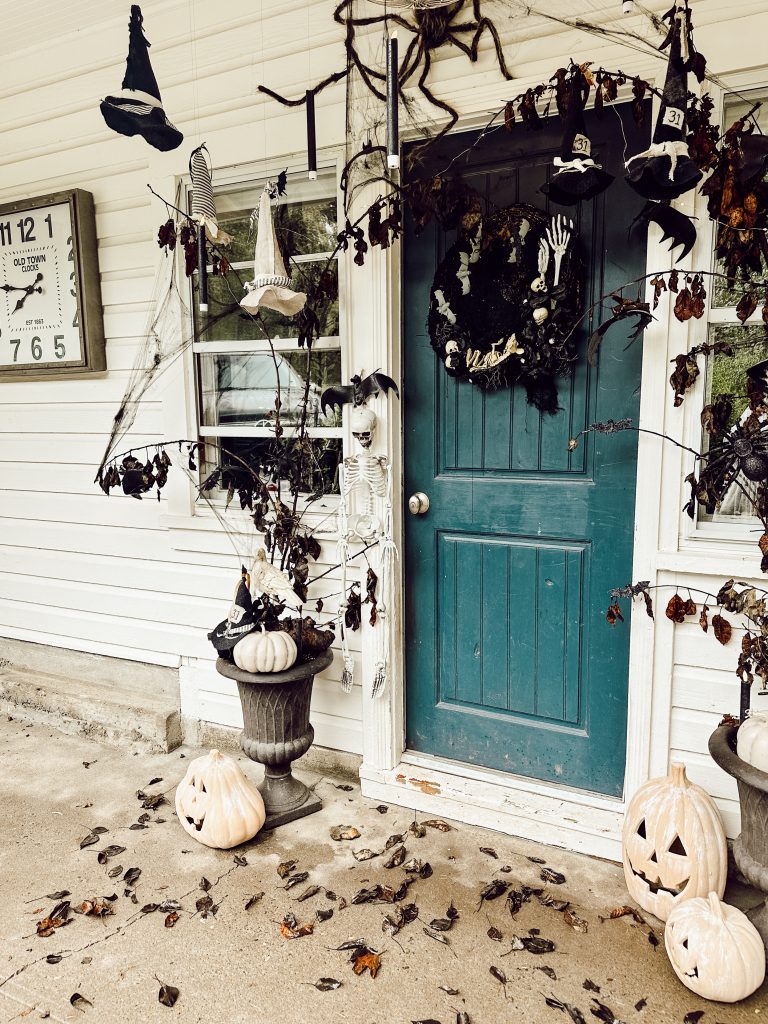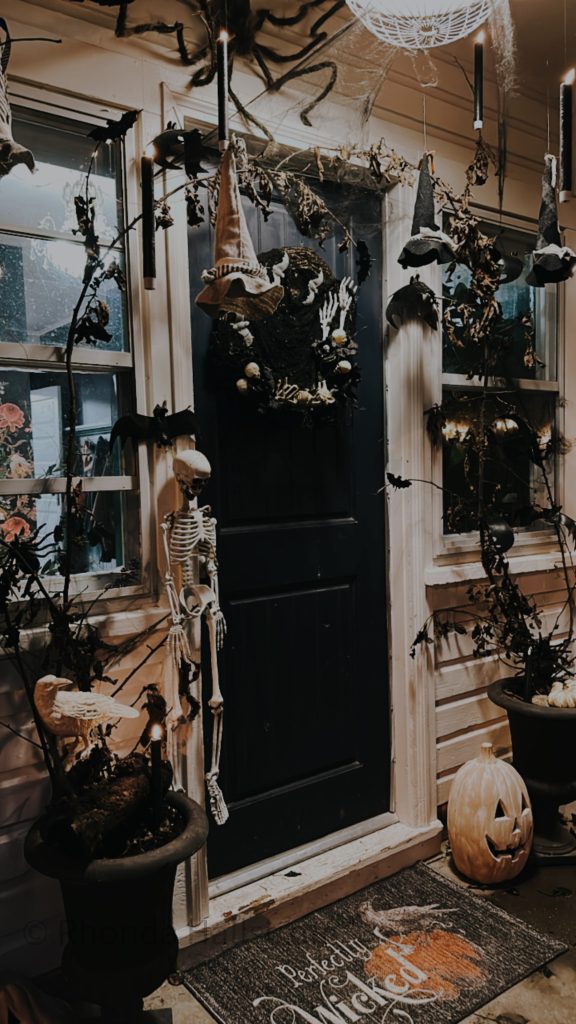 Spooky Halloween Porch
This is way too creepy! I actually took down the skeleton because the grandbabies were over and they don't like him at all! Of course you need pumpkins when decorating for Fall and Halloween! These pumpkins actually got chalk painted to fit more of my look. Also we can't forget about the big spider, he's pretty creepy and really big!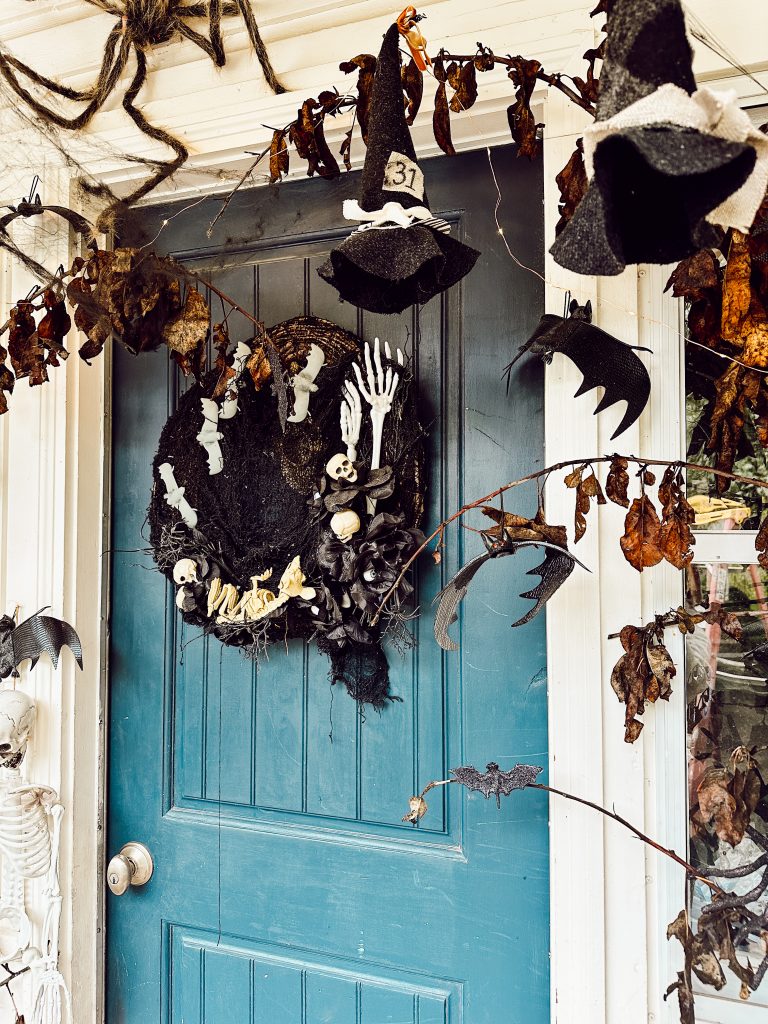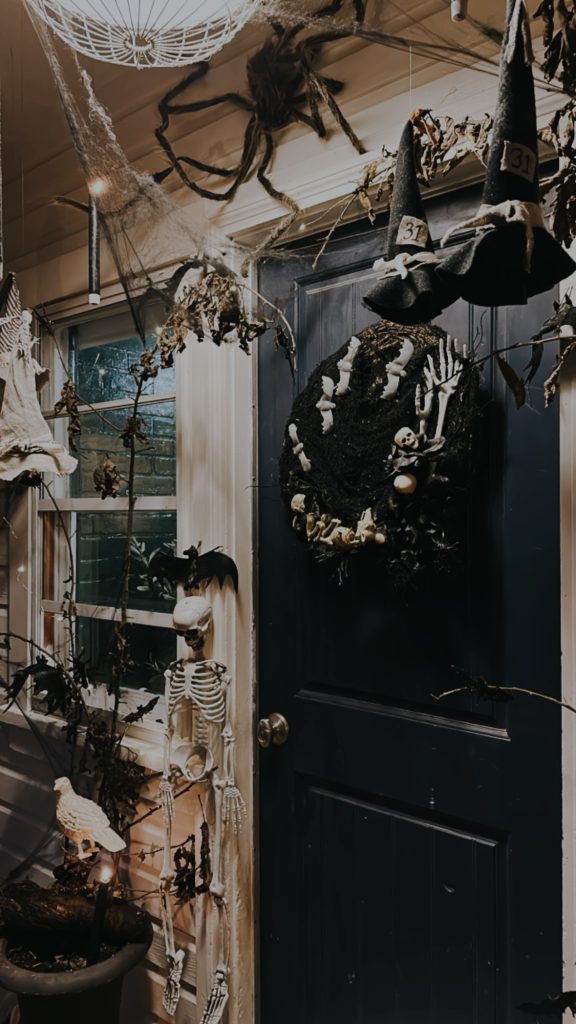 I had a lot of fun putting this together and I hope you think it's as creepy as I think it is! Now isn't that pretty spooky at night! If you need some Halloween party inspiration check out our Halloween Table!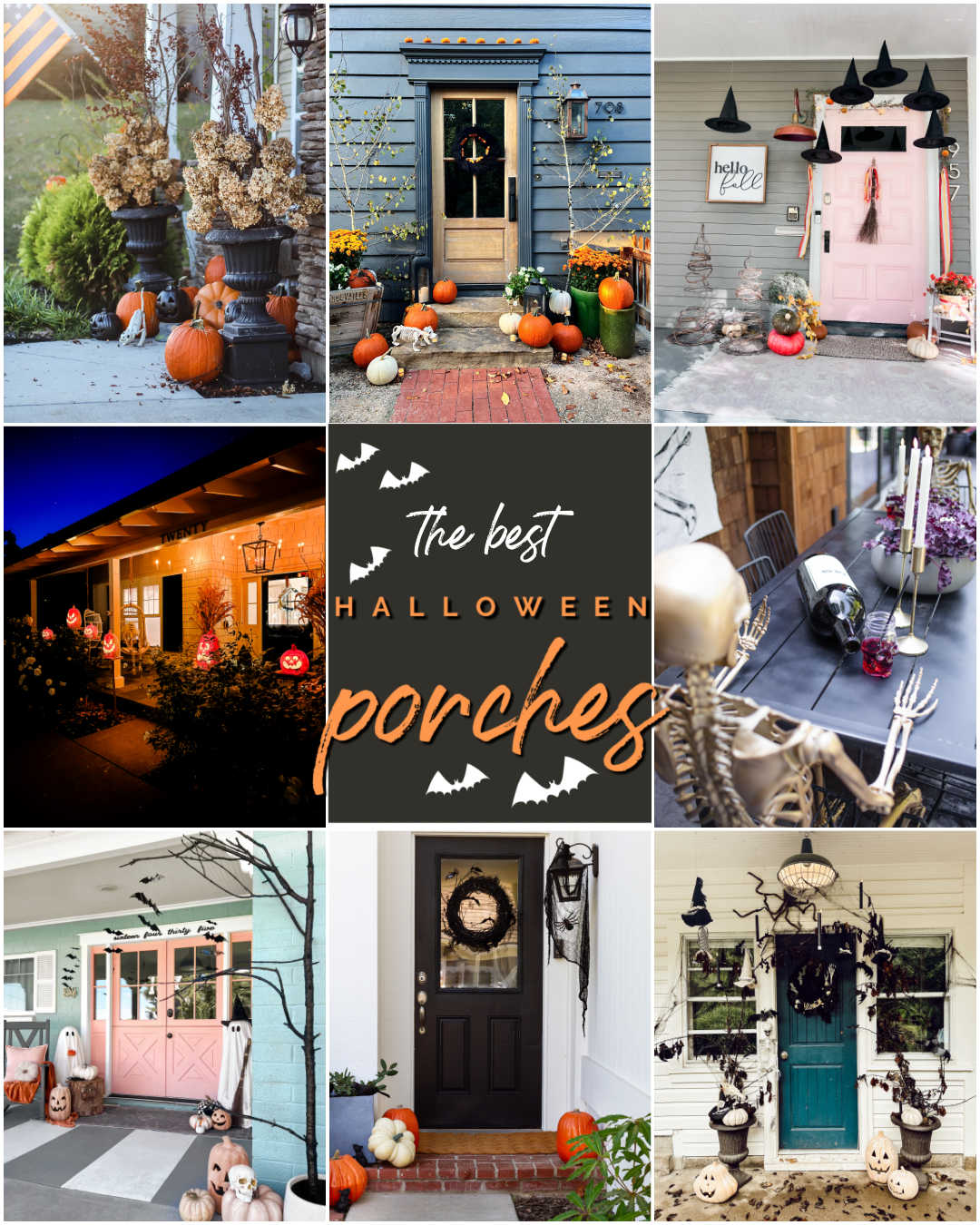 A Blue Nest | Creating a Natural and Spooky Halloween Porch The Tattered Pew | How to Transform Your Yard into a Whimsical Halloween Wonderland on a Budget Tatertots and Jello | DIY Pottery Barn-Inspired Witch Hats for a Spooktacular Halloween Porch Modern Glam Home | Scary Chic Halloween Front Porch My Sweet Savannah | Halloween decor on our deck + DIY art Lolly Jane | Halloween porch decor ideas Zevy Joy | Nature Inspired Halloween Front Door Decor Hallstrom Home | Spooky Halloween Porch