Who remembers getting Whoopie Pies in their lunch as a kid? You know, the oatmeal ones with the cream filling? Well in this recipe for Whoopie Pies you are going to learn how to make homemade chocolate whoopie pies with a fluffy, sweet marshmallow buttercream filling. No need to to go to an expensive bakery or grocery store to buy the pre packaged whoopie pies when you can make your own right at home.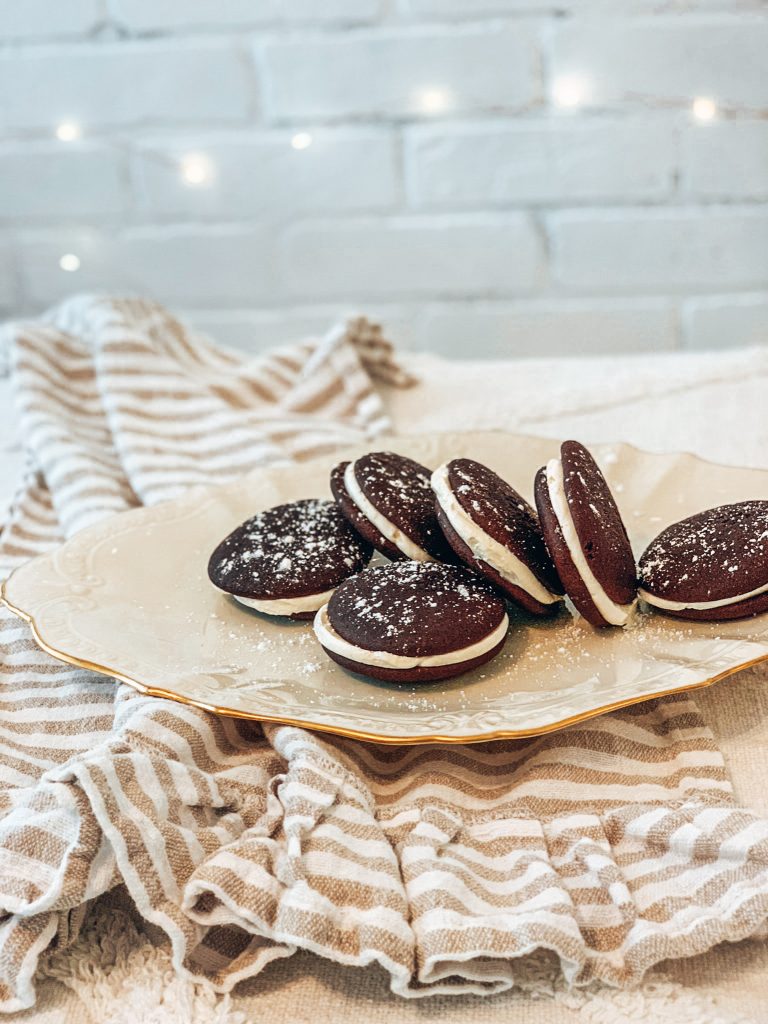 What is whoopie pie filling made of?
Marshmallow cream, confectioner's sugar and vanilla. 3 simple things when combined makes a delicious, light and fluffy marshmallow buttercream. This filling doesn't only have to be used for these whoopie pies. You can use this filling as a frosting or filling for anything really.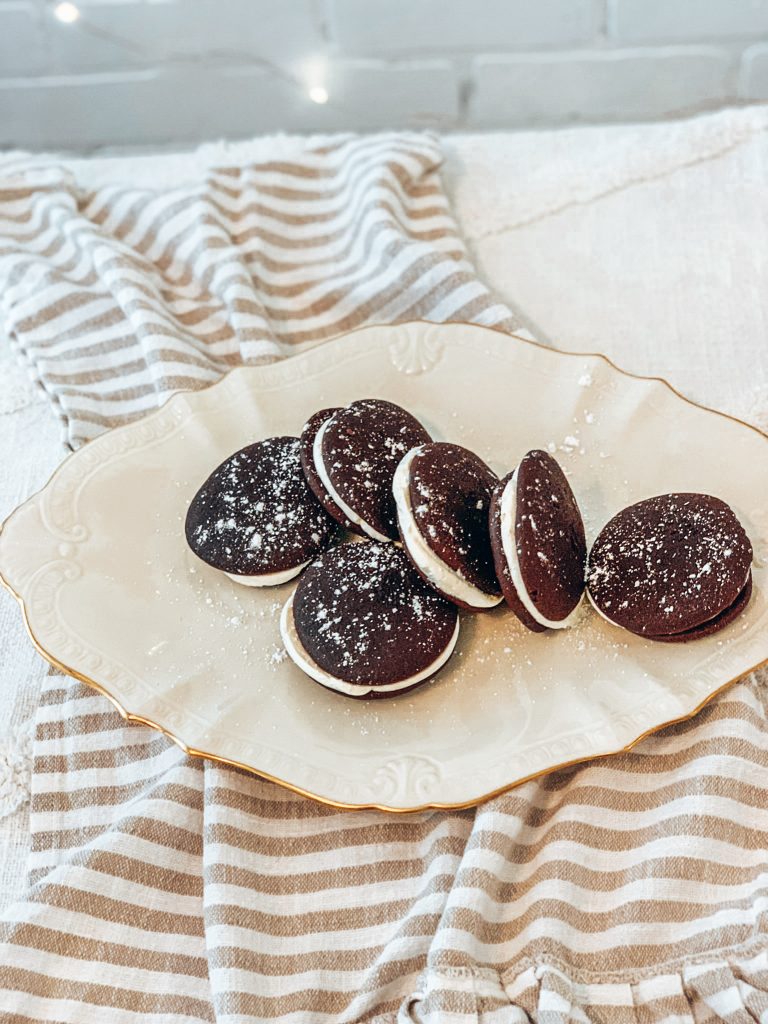 Why are my whoopie pies flat?
Whoopie pies can come out flat for a few reasons. The main reason is over mixing the cake batter. When you fold in the dry ingredients into the wet, make sure NOT to over mix. Just mix until the cocoa and flour just disappear. Another fun treat we have been having around our house is strawberry coconut popsicles. It's another favorite the grandbabies love! I linked my favorite handheld mixer we have had this for years.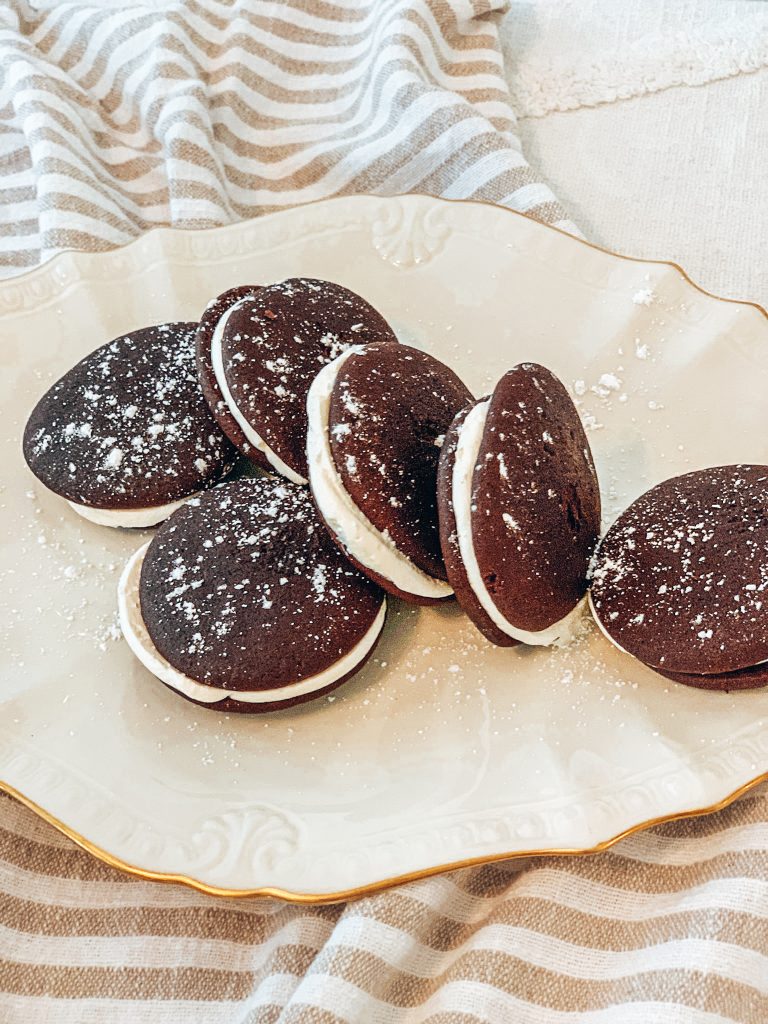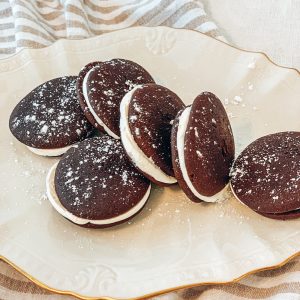 Whoopie Pies
Equipment
1 Hand Held Mixer

You can also use a kitchenaid if that is what you have
Ingredients
2

Cups

All-purpose flour

1/2

Cups

Unsweetened cocoa powder

1/2

Tsp

Baking powder

1 1/2

Tsp

Baking Soda

1/2

Tsp

Salt

1/2

Cups

Unsalted Butter Softened

1

Cup

Granulated Sugar

1

Cup

Milk

1

Large

Egg

1

Tsp

Vanilla Extract
Marshmallow Buttercream
1/3

Cup

Unsalted Butter, Softened

1

Cup

Confectioner's Sugar + 2 Tbsp

1

Cup

Marshmallow Cream + 2 Tbsp

You can use Marshmallow Fluff if you prefer

1 1/2

Tsp

Vanilla Extract
Instructions
Preheat oven to 375 Degrees

Coat 2-3 baking sheets lightly w/ non-stick cooking spray and line w/ parchment paper. Set aside

In a medium bowl, whisk together flour, cocoa, baking soda, baking powder, and salt. Set aside

In a large bowl using a handheld mixer, (or your kitchenaid) beat softened butter and sugar together until light and fluffy. (about 3 minutes)

Beat in egg and vanilla until mixed

Slowly beat in milk until mixed

Use a rubber spatula and fold in the dry ingredients into the wet ingredients until just combined

Using a small scoop, drop 1-2 tbsp worth of batter onto the prepared baking sheet. Leave 2in between each scoop of batter.

Bake in preheated oven for 8-10 min, or until the tops begin to firm up. Remove from oven and allow to cool on baking sheet for 1 min, then transfer to a wire cooling rack to cool completely.

While the whoopie pies are cooling, prepare the filling by beating together butter, confectioner's sugar, marshmallow cream, and vanilla until fully combined.

Using a piping bag or spoon, spread 2 tbsp worth of marshmallow buttercream onto the inside of one cake layer then gently press the other cake layer over top to make a sandwich.
How to Store Whoopie Pies
If you are planning on making your Wonderful Whoopie Pies and the saving them for a family or friend get together then you might be wondering how to store your delicious creation. You can store your whoopie pies in the refrigerator for up to 1 week. Layer your whoopie pies in an airtight container with wax paper in between each pie.
Recipe Tips
The most important tip of all is to not overmix your batter! Mix the dry ingredients just until your batter combined.
Make sure your Wonderful Whoopie Pie cake layers are completely cooled before you add your filling. This will help so the filling doesn't spill out the sides of your layers.
Put your filling into a piping bag and pipe it onto your cake layers. This helps keeps things clean and it gives your more control on how much filling your are adding to each layer.