This is the most Perfect Chocolate Cupcake Party Recipe. You will not be disappointed with it. I use this recipe all the time when company comes over, and everyone is wanting more! Do you ever feel like you are rushing to make something for guests? Me too, but with this recipe it feels so easy.

Perfect Chocolate Cupcake Party Recipe
Like the title says, these are the perfect chocolate cupcakes. They are perfectly moist and insanely chocolaty, topped with a deliciously sweet frosting. I don't know about you, but I adore easy recipes because when I crave something sweet, I want it now. Can you blame me? Well if you meal plan and want to add a special dessert to your plan, this would be the one!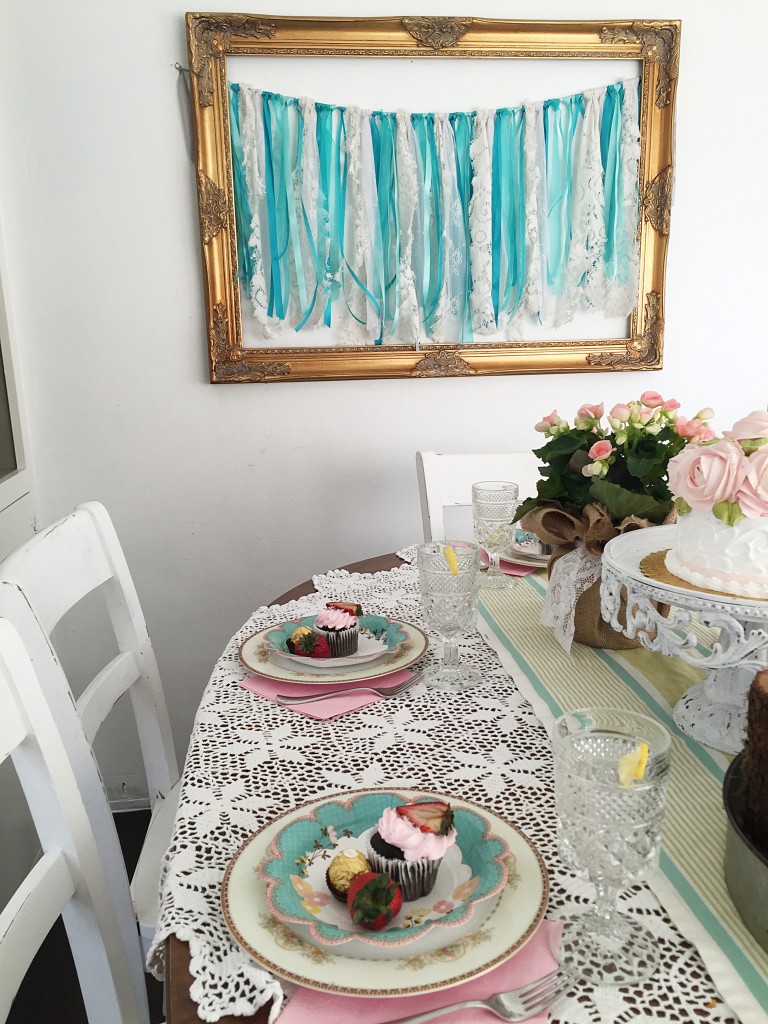 If you're planning a Spring party, these perfect chocolate cupcakes are a quick and easy way to delight your guests. If you're in a hurry (like I was), a super easy way to make your cupcakes look pretty is to add a slice of fresh strawberry or lemon. Believe me, it makes your cupcakes look irresistible. However, if you have a little extra time to plan, there are so many ways to make your cupcakes look even more professional and fresh out of the bakery. Do you want everyone to think you're the best hostess ever? I am going to tell you a secret–these pearl sprinkles make cupcakes look perfectly elegant, just try it and you will see.
…and of course, every hostess needs to have a cute cupcake apron:)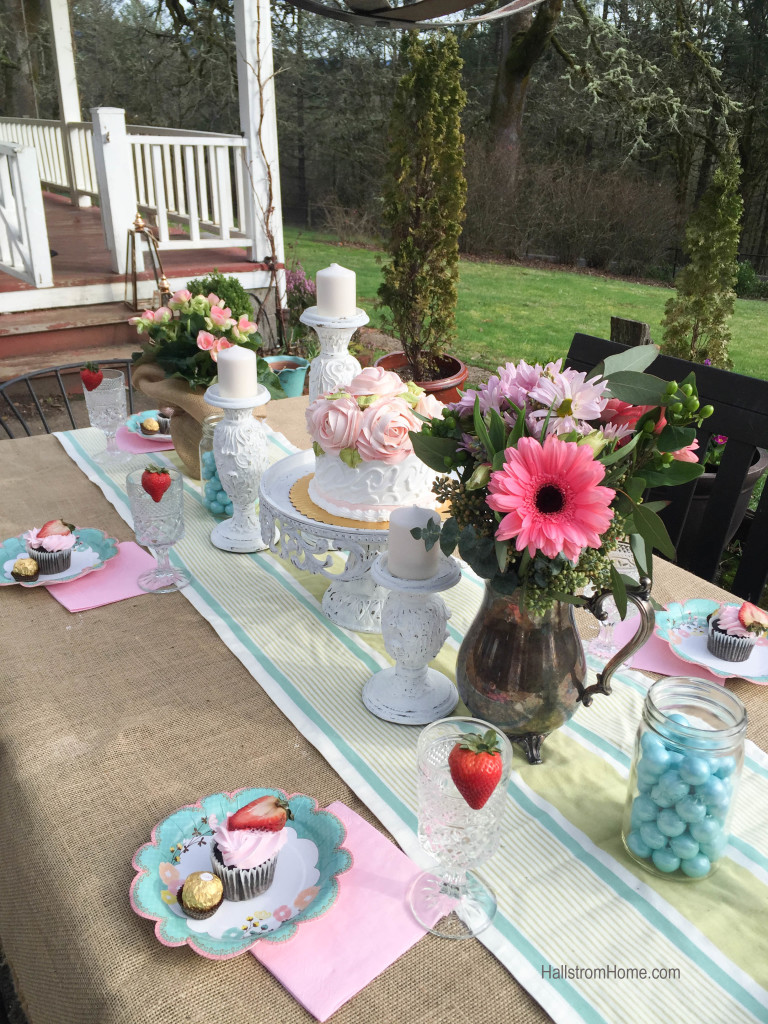 This chocolate cupcake recipe is perfect for parties because who doesn't like chocolate cupcakes? See how we created our Easter brunch party, it was super easy and fun.
There are so many cute ways to display your perfect chocolate cupcakes. Take a look at all the options: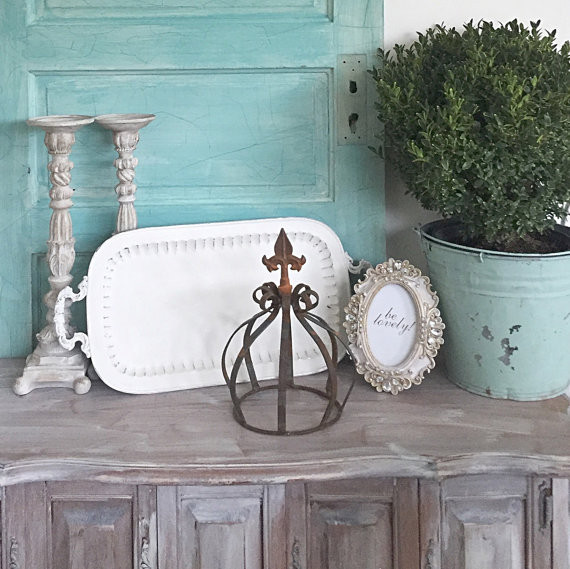 Shop more gorgeous home decor in my farmhouse decor section here. There have so many gorgeous options that, I promise will leave your guests amazed and in awe.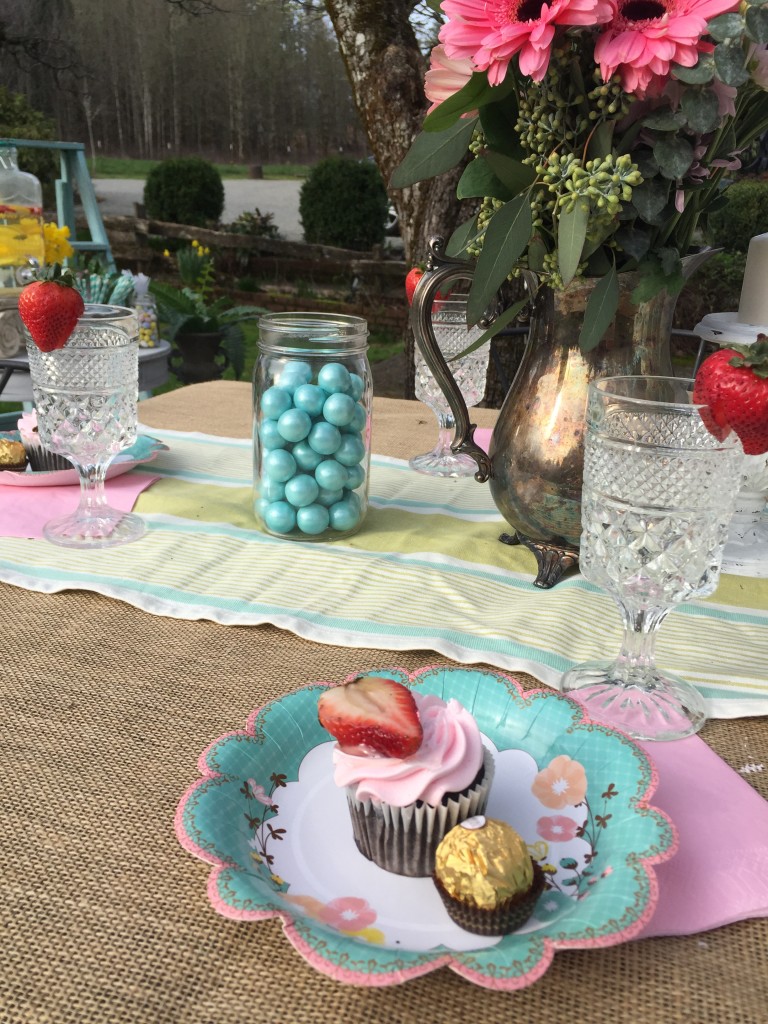 Perfect Chocolate Cupcake Party Recipe
Yields: 16 cupcakes Chocolate cupcakes:
1⅓ cups (185 g/6.5 oz) all-purpose flour
½ cup (50 g/1.7 oz) natural unsweetened cocoa powder
¾ teaspoon baking soda
¼ teaspoon salt
½ cup (1 stick/113 g) butter, softened to room temperature
1 cup (200 g/7 oz) granulated sugar
2 large eggs
1 teaspoon pure vanilla extract
½ cup (120 ml) whole milk
½ cup (120 ml) hot water
Instructions
Preheat oven to 350F/180C. Line a muffin tin with cupcake liners and set aside.
In a medium bowl, sift together flour, cocoa powder, baking soda, and salt. Set aside.
In a standing mixer fitted with the paddle attachment, beat together butter and sugar on medium speed until light and fluffy, about 2-3 minutes. Scrape down the sides and bottom of the bowl as necessary. On medium speed, beat in eggs, one at a time, beating well after each addition. Add vanilla extract and beat until combined.
With the mixer on low speed, add half of the dry ingredients and beat just until combined. Then beat in milk, followed by the other half of the dry ingredients, beating slowly until combined. Add hot water and beat just until combined. Do not overmix—the less you mix, the lighter the cake will be. The batter should be liquid.
Divide batter evenly between cups, filling them about ¾ full. Bake for 15-20 minutes, or until a toothpick inserted into the center comes out clean or with just a few moist crumbs. Allow cupcakes to sit for 10 minutes, then remove from pan and allow to cool completely on a wire rack.
Immediately frost the cupcakes, or store in the fridge, covered, for up to 3 days. Before using, bring to room temperature and whisk until smooth.
Cupcakes are best the same day they're made, but can be kept in an airtight container at room temperature for up to 3 days. Unfrosted cupcakes can be kept in the freezer for up to 2 months. Thaw, still covered, on the counter or overnight in the fridge.
Perfect Chocolate Cupcake Party Recipe
Do you have gluten free guests coming over, and you need a DELICIOUS dessert for them as well? No need to stress about what to make, I have the ultimate yummy gluten free coconut cake recipe.