10 Quick and Easy Thanksgiving Recipes
Oh the joy of Thanksgiving, all the wonderful people and the food you'll be sure to enjoy. I have 10 Quick and Easy Thanksgiving Recipes that are so delicious, everyone will be wanting thirds!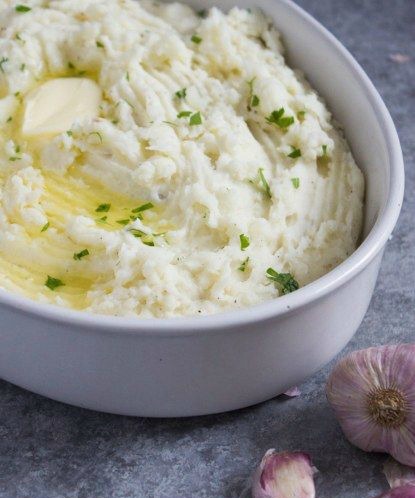 | | |
| --- | --- |
| | |
Peel potatoes and cut into 1" slices

Peel garlic and add potatoes and garlic to a large pot and cover with water

Bring to a boil and continue to boil for 25-30 minutes or until potatoes are tender

Drain the potatoes and garlic and add them back to the pot

Add in the butter, cream cheese, milk, salt, and pepper and mash with a potato masher

Serve immediately or add to slow cooker on warm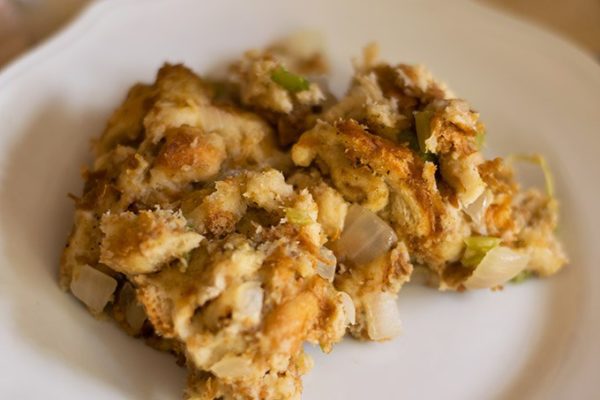 | | |
| --- | --- |
| | |
Melt two sticks of butter in a skillet over medium heat

Add celery and saute until soft about 8-10 minutes

Add onion to the skillet and cook until translucent and season with salt and pepper. Remove from heat

Place torn bread pieces on a baking sheet and bake for about 10 minutes or until bread is toasted. Use two baking sheets if needed

Pour celery, onion, and butter mixture over the bread

Sprinkle the poultry seasoning evenly over the bread

Season with salt and pepper

Slowly add in the chicken broth while you mix everything together with your hand

Make sure there are no dry pieces of bread, everything should be moist

Transfer bread mixture to a casserole dish and cover with foil and bake at 350 for 35-40 minutes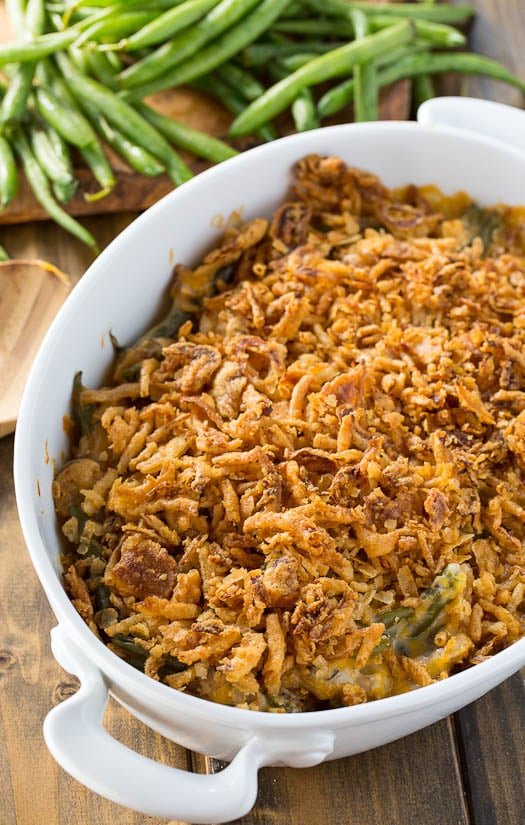 | | |
| --- | --- |
| | |
Place green beans and chicken broth in a medium saucepan. Add just enough water to cover green beans. Bring to a boil and simmer 10-12 minutes. Drain.

Preheat oven to 350 degrees and lightly grease a 1 1/2-quart baking dish.

Melt butter in a large skillet. Add mushrooms and cook until golden brown, stirring occasionally.

In a large bowl, mix together mushrooms, green beans, condensed mushroom soup, milk, cheddar, 1/2 cup of the French-fried onions, and soy sauce, and pepper.

Transfer mixture to prepared baking dish, Top with remaining onions.

Place in oven for 25-30 minutes, until bubbly and golden brown.
All the food served on Thanksgiving is so delicious! Mmm garlic potatoes, I might just have to fill my plate.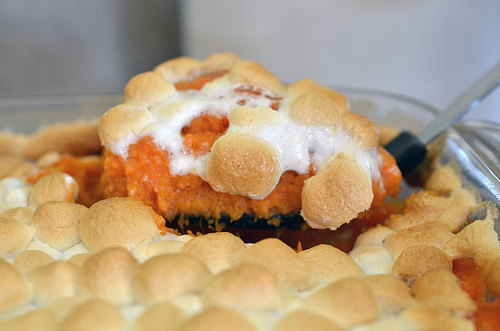 | | |
| --- | --- |
| | |
Place sweet potatoes in a large pot of boiling water. Boil until fork tender, about 15 minutes. Meanwhile, preheat oven to 350 degrees F.

Drain the potatoes and return to pot, away from heat. Mash in the butter, brown sugar, cinnamon and orange juice. Spread evenly in a greased 9- x 13- inch pan. Top with marshmallows.

Bake for 25 to 30 minutes, or until marshmallows are golden brown.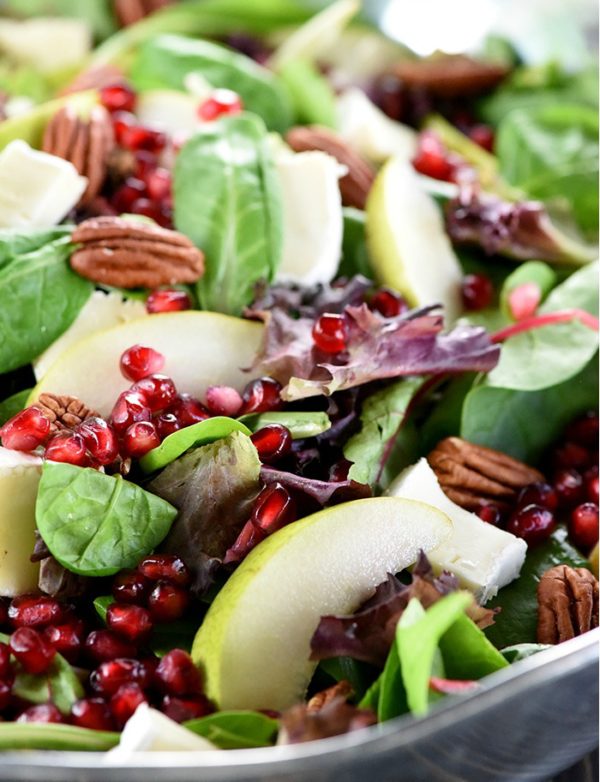 | | |
| --- | --- |
| | |
To prepare Balsamic Vinaigrette, measure all of the ingredients into a mason jar. Tightly screw on the lid and shake vigorously until everything is thoroughly combined.

Immediately after cutting the pear slices, place them in a large plastic baggie and squeeze fresh lemon juice over them. Close bag and gently shake to coat.

In a large salad bowl, layer salad greens, pear slices, pieces of Brie, pomegranate seeds, and toasted pecans

Just before serving, dress with desired amount of Balsamic Vinaigrette and toss until salad ingredients are evenly coated.
A nice fresh salad is always good to add to the sea of bread. It will make me feel like I was healthy for the night.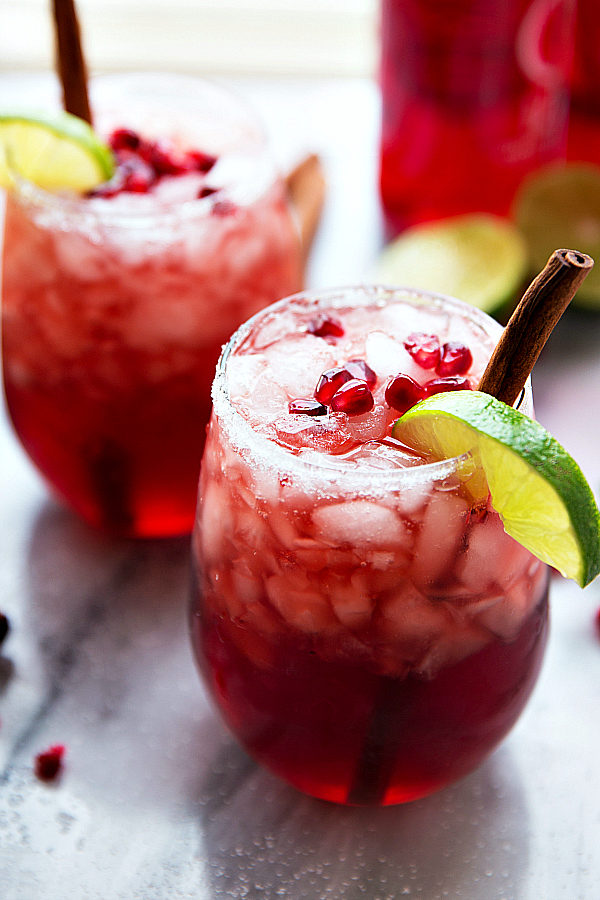 | | |
| --- | --- |
| | |
Deseed a pomegranate to get 3/4 cup pomegranate arils.

In a bowl, whisk together the water and 3/4 cup white sugar until the sugar is completely integrated.

Fill a large pitcher halfway with lots of ice. Pour in the simple sugar mixture of water and sugar.

Add in the unsweetened cranberry-pomegranate juice.

Add in the club soda or sparkling water

Stir together in the pitcher. Add in the sliced limes and pomegranate arils.

If desired, rim your glasses in sugar! Dip the top of the glass into a bowl filled with water and then into a bowl filled with sugar.

Pour the drink into the sugar rimmed glasses and garnish if desired with a cinnamon stick and/or fresh mint. Add a slice of lime if desired.

Enjoy immediately. (To make ahead, combine everything except the ice and sparkling water/soda. Add ice and sparkling water/soda right before serving.)
Yummy! A refreshing beverage that goes very well with the salad. Fruity drinks are so tasty.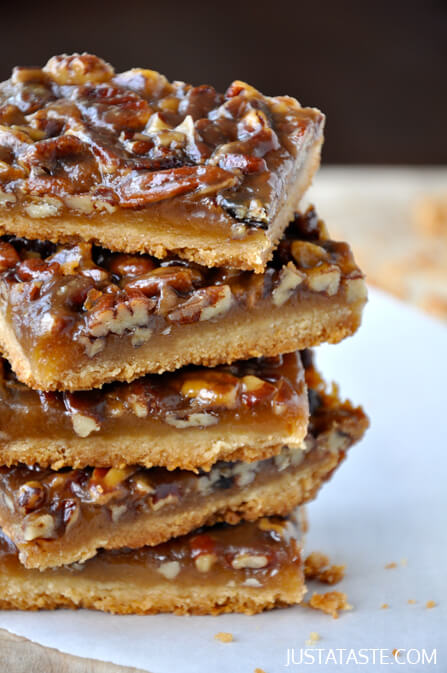 | | |
| --- | --- |
| | |
Preheat the oven to 350ºF and line a 9x13-inch pan with foil, leaving enough for a 2-inch overhang on all sides.

First make the crust by creaming together the butter and brown sugar until fluffy in a stand mixer fitted with the paddle attachment. Add in the flour and salt and mix until crumbly.

Press the crust into the foil-lined pan and bake for 20 minutes until golden brown.

While the crust bakes, prepare the filling by combining the butter, brown sugar, honey and heavy cream in a saucepan and stirring it over medium heat. Simmer the mixture for 1 minute, then stir in the chopped pecans.

Remove the crust from the oven and immediately pour the pecan filling over the hot crust spreading it to cover the entire surface.

Return the pan to the oven and bake an additional 20 minutes.

Remove the pan and allow the bars to fully cool in the pan.

Use the foil overhang to lift out the bars and transfer them to a cutting board. Peel off the foil, slice into bars and serve.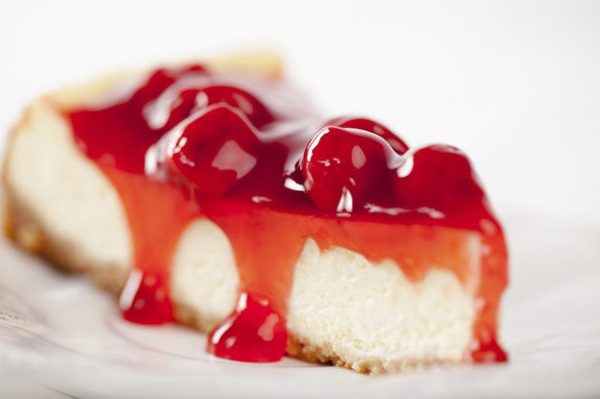 | | |
| --- | --- |
| | |
Preheat oven to 300F degrees.

Mix the graham cracker crumbs, sugar and melted butter and pack mixture firmly into bottom and sides of 9-inch pie pan. Chill in the refrigerator while preparing the filling.
Mix cream cheese, sugar, sour cream, vanilla extract and lemon juice in a mixer. Add eggs one at a time to the mixture and thoroughly combine. Mix these ingredients together really well until the mixture is kind of thick and smooth (about 4-5 minutes.) Pour into pie crust.

Bake for about 65-70 minutes. Chill in the refrigerator a few hours before serving. Optional: top with cherry or strawberry pie filling or drizzle with caramel sauce.
Dessert, yes please!! My favorite is having a creamy cheesecake. I shared a couple of the best desserts with you guys, so you need to try this for yourself!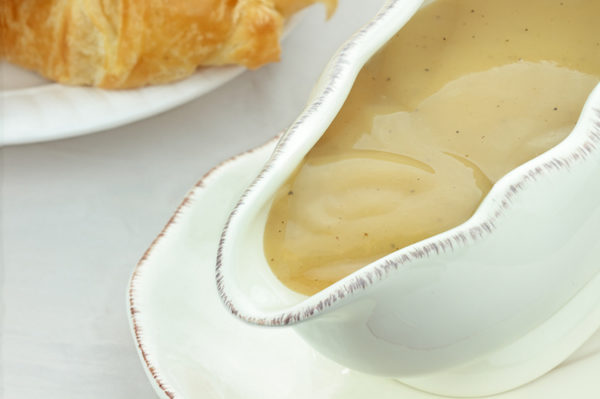 | | |
| --- | --- |
| | |
If using turkey drippings, pour cooking liquids from your roasting pan through a strainer and into a container to cool. Note: if you don't have enough drippings to amount to 4 cups, add water or turkey stock. If you're not using turkey drippings, just use turkey stock.

Melt 1 stick butter in a medium pan over medium-low heat and season with salt and pepper.

Once melted, add in flour and whisk constantly so it toasts and combines with the butter

Continue whisking your roux until you've got a smooth, paste-like mixture.

Slowly pour in your turkey drippings or turkey stock, stirring all the while.

Cook gravy for another 10 minutes, or until thickened.

Taste and adjust seasoning, if necessary. Serve immediately or keep on very low heat until ready to serve.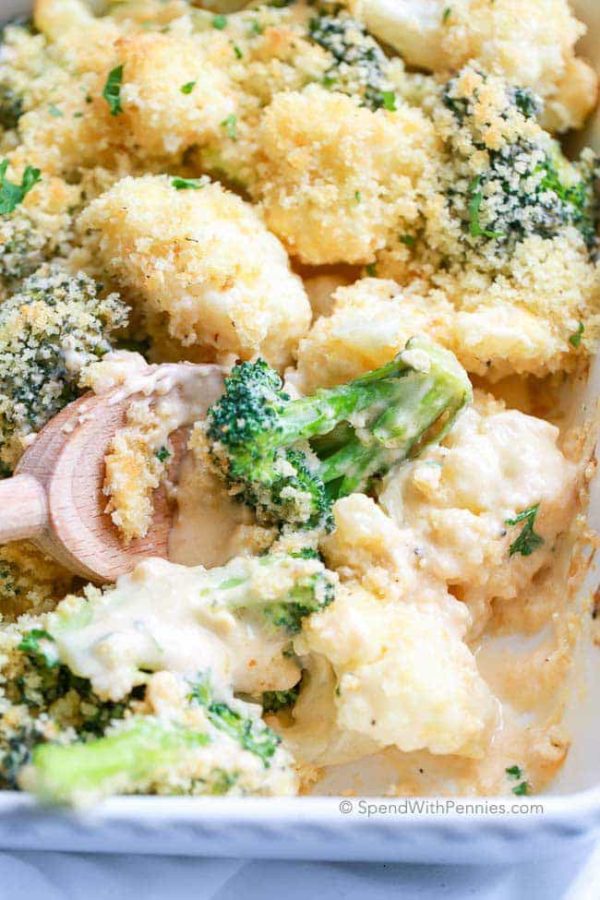 | | |
| --- | --- |
| | |
Preheat oven to 375 degrees.

Combine 2 tablespoons butter with bread crumbs and set aside.

Boil cauliflower in a large pot for 2 minutes. Add in broccoli and cook an additional 2 minutes or until tender crisp. Drain well.

In a saucepan, melt 2 tablespoons butter. Add in flour, stirring until smooth. Add milk whisking constantly over medium heat until thick and bubbly. Stir in salt, cream cheese, garlic powder, black pepper and mustard powder until smooth. Add in cheddar cheese. Toss with broccoli and cauliflower.

Top with breadcrumbs mixture and bake at 375 degrees for 20-25 minutes or until heated through.
You can never forget the gravy! It's especially delicious when it's made from the turkey drippings. If you're into quick recipes I have Olive Garden recipes here. For more food inspiration take a look at my Pinterest here.