Thanksgiving is right around the corner! That means many are already thinking of what they're going to be eating and how they will set their tables. Classic Thanksgiving Stuffing is something that everyone loves. I'll share with you Our Thanksgiving Table with Our Favorite Stuffing, you will want to eat it all.
Be sure to sign up for my email to get new recipes, crafts and home ideas in your inbox!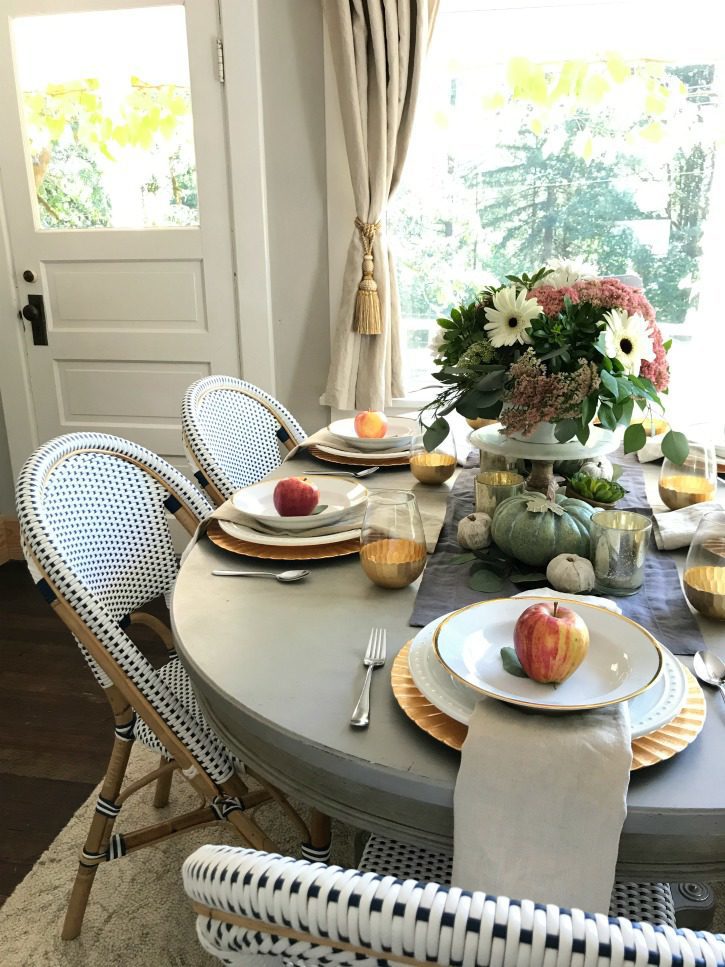 Our Thanksgiving Table with Our Favorite Stuffing
Do you ever start to freak out during the holiday season because you notice all the imperfections of you home? Like that really ugly table tha you've been meaning to chalk paint. That's how I roll, so you might want to think about chalk painting your table. Ok maybe it's not ugly and maybe it is, I don't know but I did mine and it only takes a few hours. I also have an E-Book if you've never tried chalk painting you're going to want to try this. Keep in mind it's all about the products that you're choosing to use and your finishing product. Take a look at it, I am particular about having a finish that will last long and it is all in my book.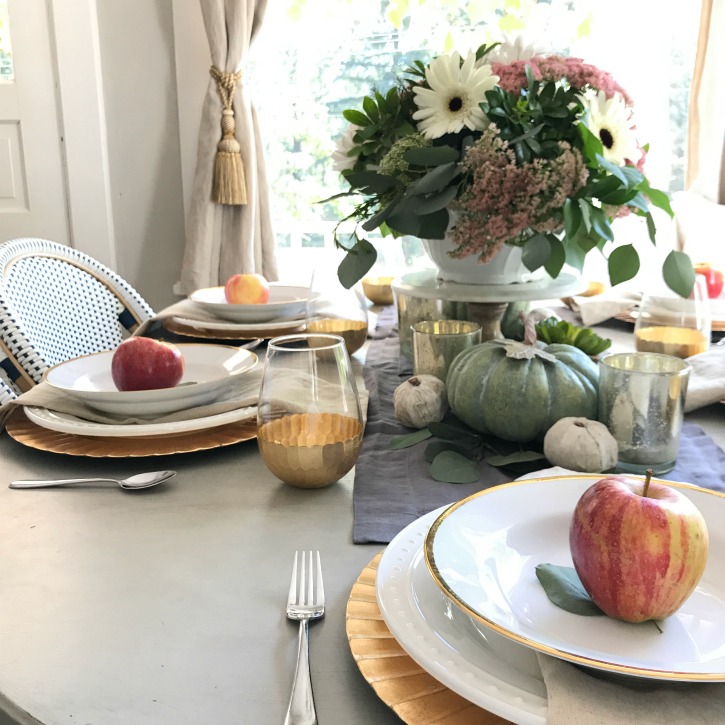 But back to Thanksgiving. I love classic recipes, so a simple stuffing recipe does the trick. I will share with you below, one of my favorite stuffing recipes. You can even print it out and try it yourself, but of course tell me how it goes! Oh and I have our top Thanksgiving recipes to make your mouth water. When cooking a classic stuffing recipe it is important season your stuffing well. I make sure to add a generous amount of salt and pepper. It helps bring out all the other flavors.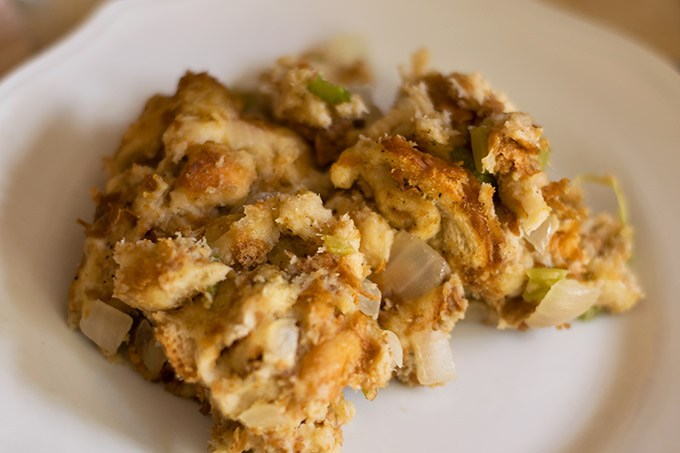 Stuffing
This Stuffing Recipe For Thanksgiving is the perfect family side for all your big thanksgiving meals!
Ingredients
3

Loaves

Bread

torn and dried

6

Celery Ribs

Chopped

1

Yellow Onion

Diced

1 3/4

tsp

Poultry Seasoning

32

Ounces

Chicken Broth

2

Sticks

Butter

Salt and Pepper
Instructions
Melt two sticks of butter in a skillet over medium heat

Add celery and saute until soft about 8-10 minutes

Add onion to the skillet and cook until translucent and season with salt and pepper. Remove from heat

Preheat oven to 350

Place torn bread pieces on a baking sheet and bake for about 10 minutes or until bread is toasted. Use two baking sheets if needed

Pour celery, onion, and butter mixture over the bread

Sprinkle the poultry seasoning evenly over the bread

Season with salt and pepper

Slowly add in the chicken broth while you mix everything together with your hand

Make sure there are no dry pieces of bread, everything should be moist

Transfer bread mixture to a casserole dish and cover with foil and bake at 350 for 35-40 minutes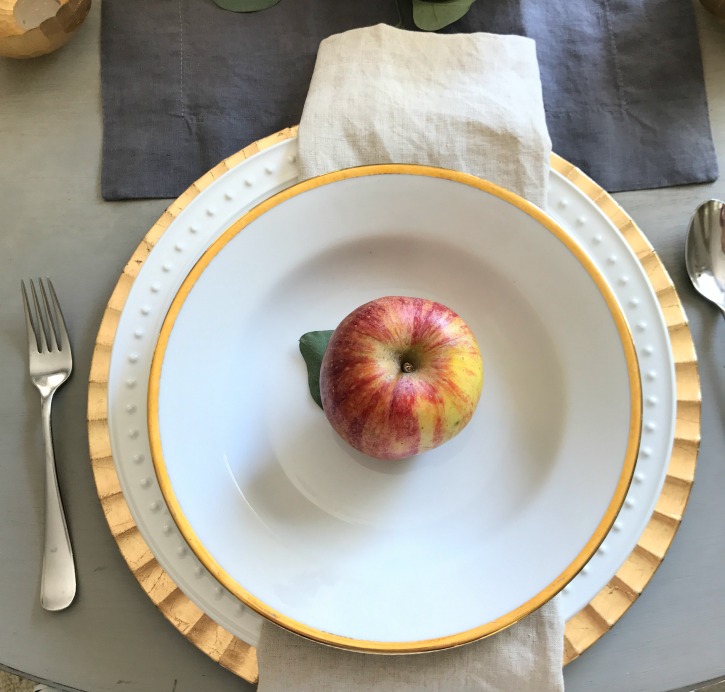 For the plate decor I just went with a simple apple. You can always add a name tag to the stem for arranged seating. If you would like some more Thanksgiving inspiration take a look at my Thanksgiving tablescape with apple crumble dessert. As you see I keep my style simple but a little festive. Fall is so pretty here in the Pacific Northwest, the colors only last for a couple of weeks then the rain begins. Check out my Instagram stories for a look around the Pnw. I love to show off old barns in the area and all the gorgeous Fall colors.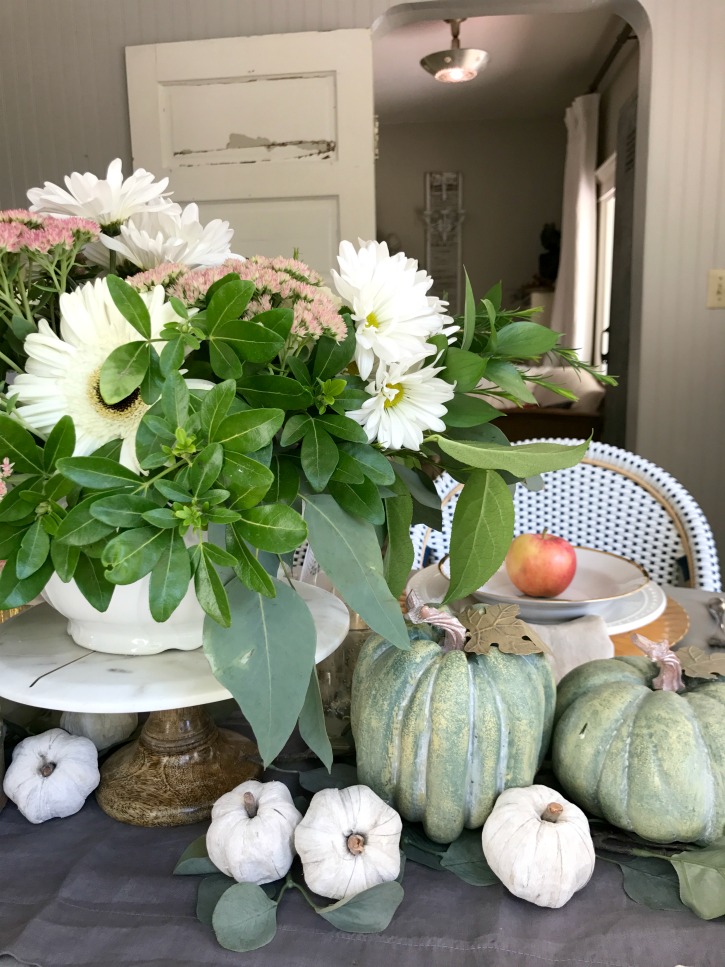 Our Thanksgiving Table with Our Favorite Stuffing
I went with a few different elements for the centerpiece. Adding flowers to a cake stand really adds height. Some nice Fall pumpkins help make it feel like Thanksgiving. I added some simple white and green ones. Thanksgiving table settings do not have to be stressful and over thought. Just work with what you have and it can turn out beautiful.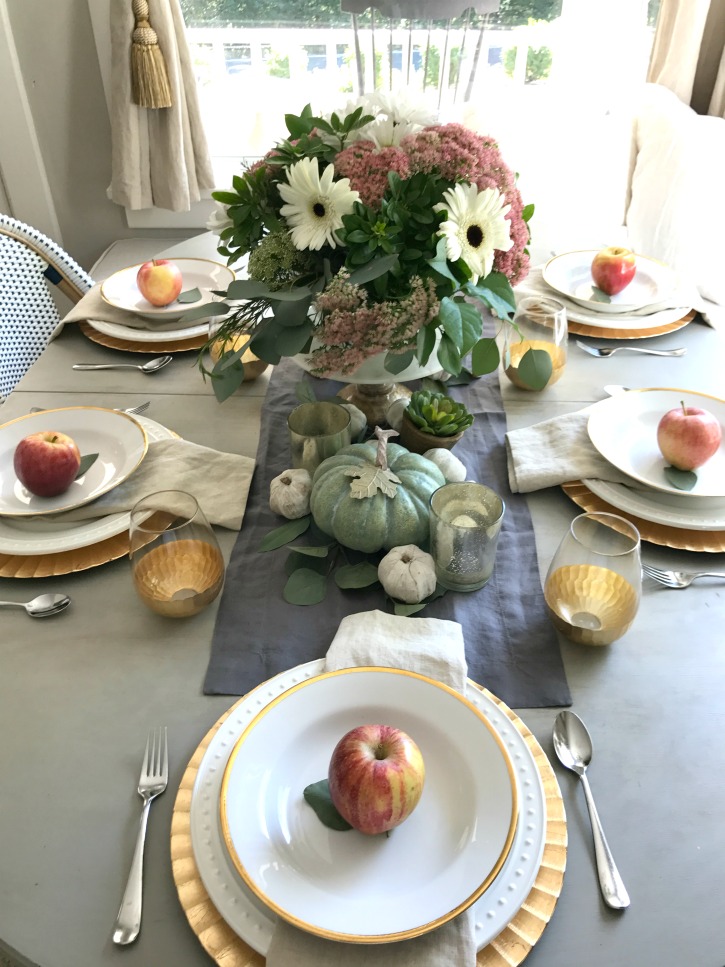 Adding a little gold in your table setting will prepare you for your Thanksgiving dinner party. Gold was the pop of color I went for. It helps to make the space look more elegant. If you want in on a couple secrets take a look at my cozy Thanksgiving table setting.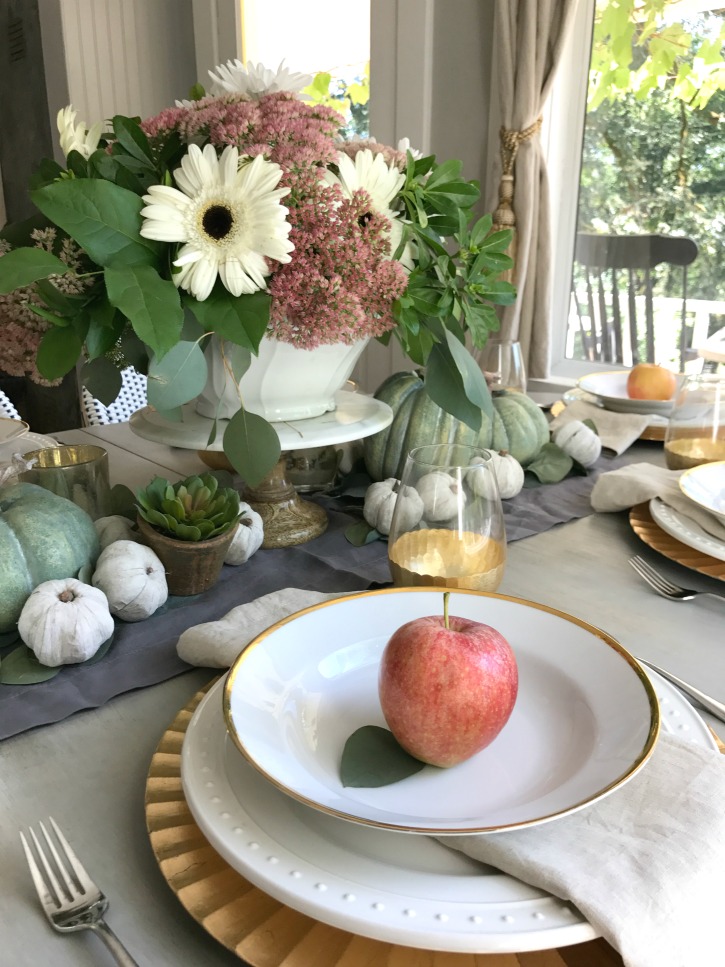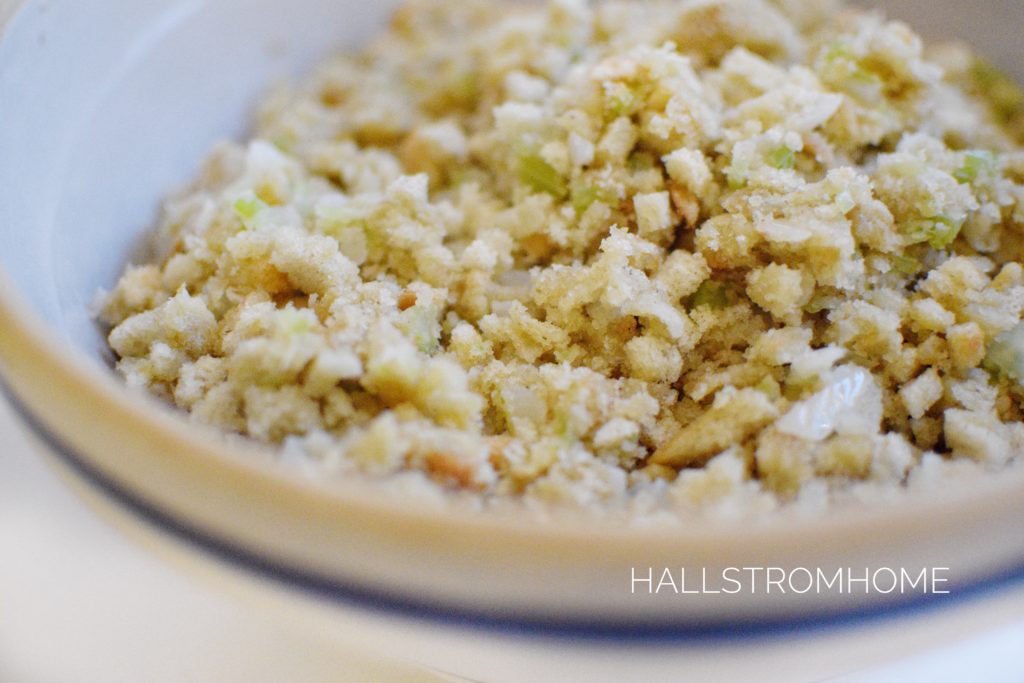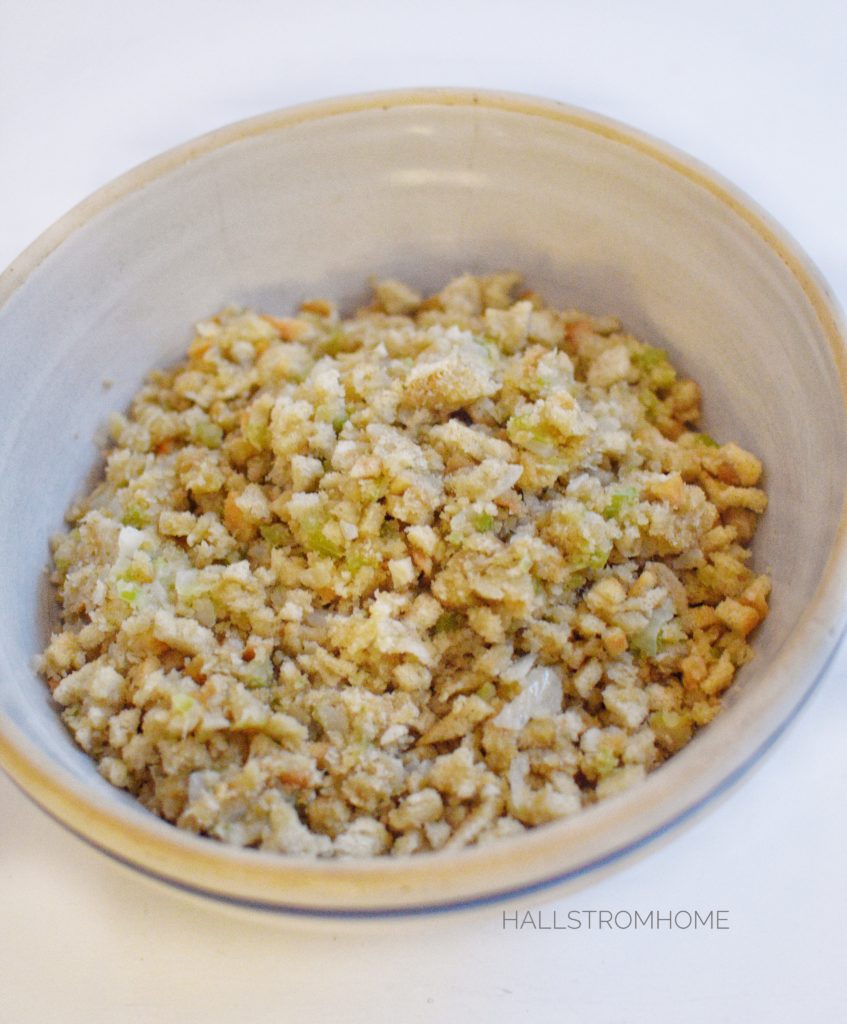 Pumpkins being part of the centerpiece is so trendy. They are so cute! Having a classic stuffing recipe is the perfect treat to add to this Thanksgiving tablescape. But don't forget the secret ingredient mashed potatoes. I will include affiliate links so you can shop this look.

Can you make this Thanksgiving stuffing gluten free?
Yes, just replace the bread with gluten free bread.
Can the stuffing be made in a crockpot?
It can. Cook it on high for 1 hour, then put it on low for 3.5-4 hours.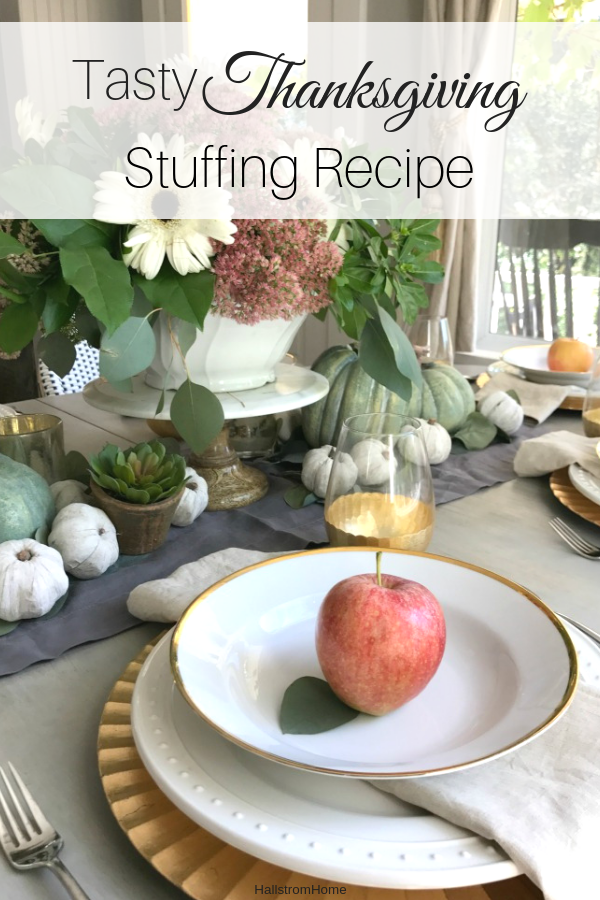 Beautiful Fall Farmhouse Home Tour with Easy Scone Recipe
Wednesday 11/8
Thursday 11/9
Friday 11/10