Ok let's make this really easy. We're going to start off by using a cupcake recipe out of a box. I don't know about you, but they are my bestie's. They make life so easy plus they're tasty, you can revamp them just slightly. I'll give you some more details of the bottom of the post. My youngest daughter saw this really fun idea to make Christmas Tree Cupcakes with Sugar Cones, so I thought why not? Now it's time to have some fun.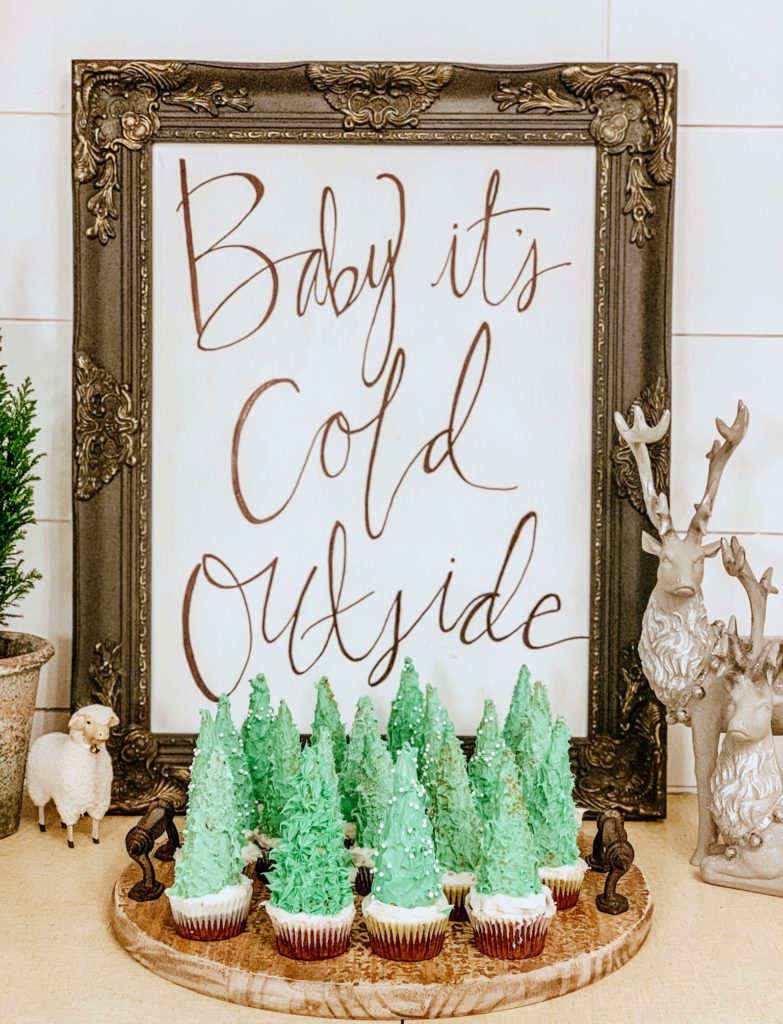 Christmas Tree Cupcakes with Sugar Cones
Now let's get started, make your cupcakes per package directions. I used chocolate cupcakes and cheated using store bought frosting with the cream cheese flavor. It is pretty good maybe not as healthy but thats ok sometimes. I totally get it, homemade cupcakes are so delicious too but this was the time we had to work with. There is a yummy Oreo cupcake recipe that would work perfect for this Christmas cupcake idea. You will want to let them cool completely. If you want a homemade cream cheese frosting I have our favorite one on the blog.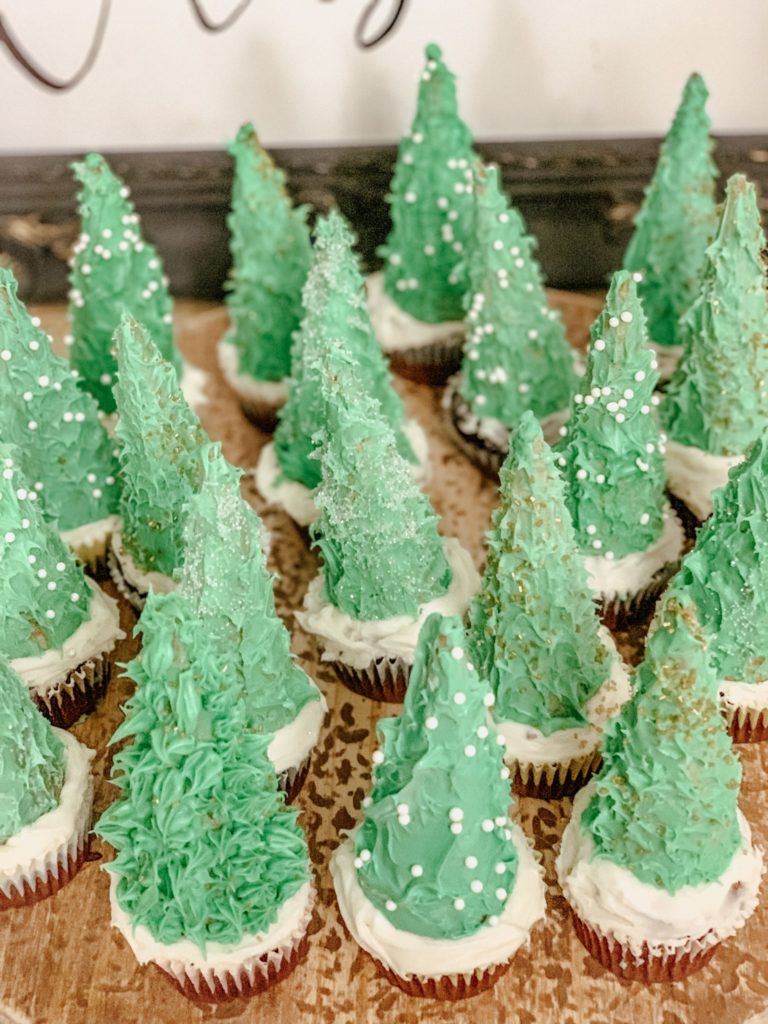 The goal on this project was to be able to have my daughter make it. She is 12 and could make these by herself and I love that there wasn't much mess. So grab two containers of frosting mix, one will be white and one you're going to dye green. I kept the frosting in the container so I didn't have to pull out any bags, I love that. After your dye is incorporated it is time to start creating.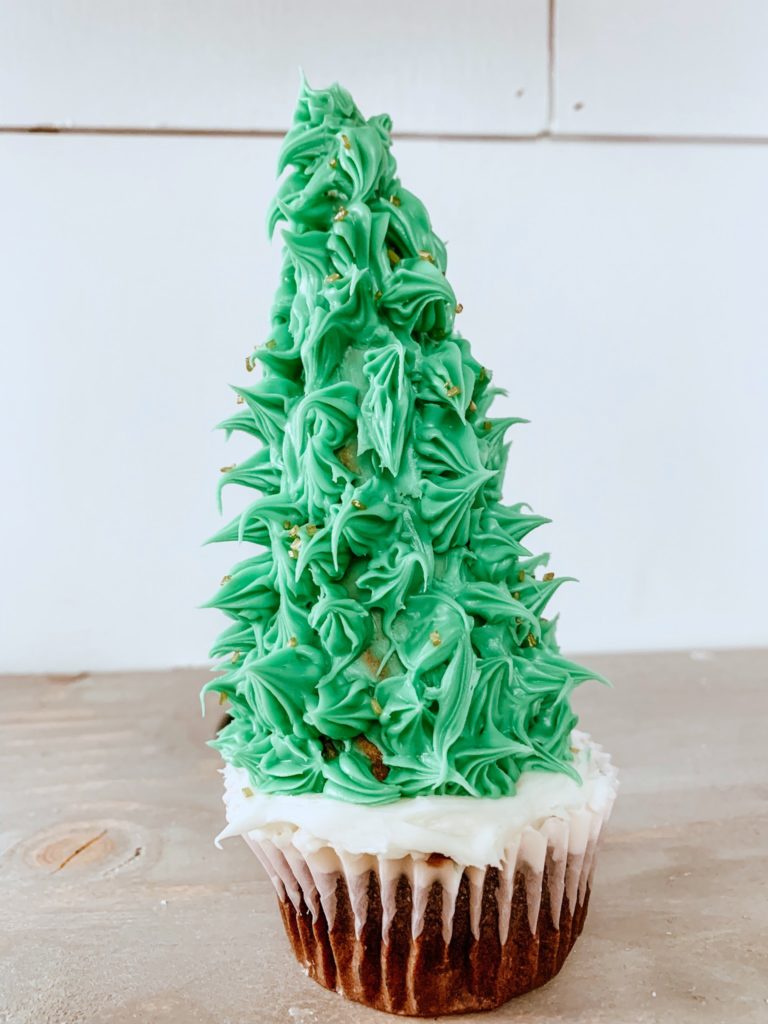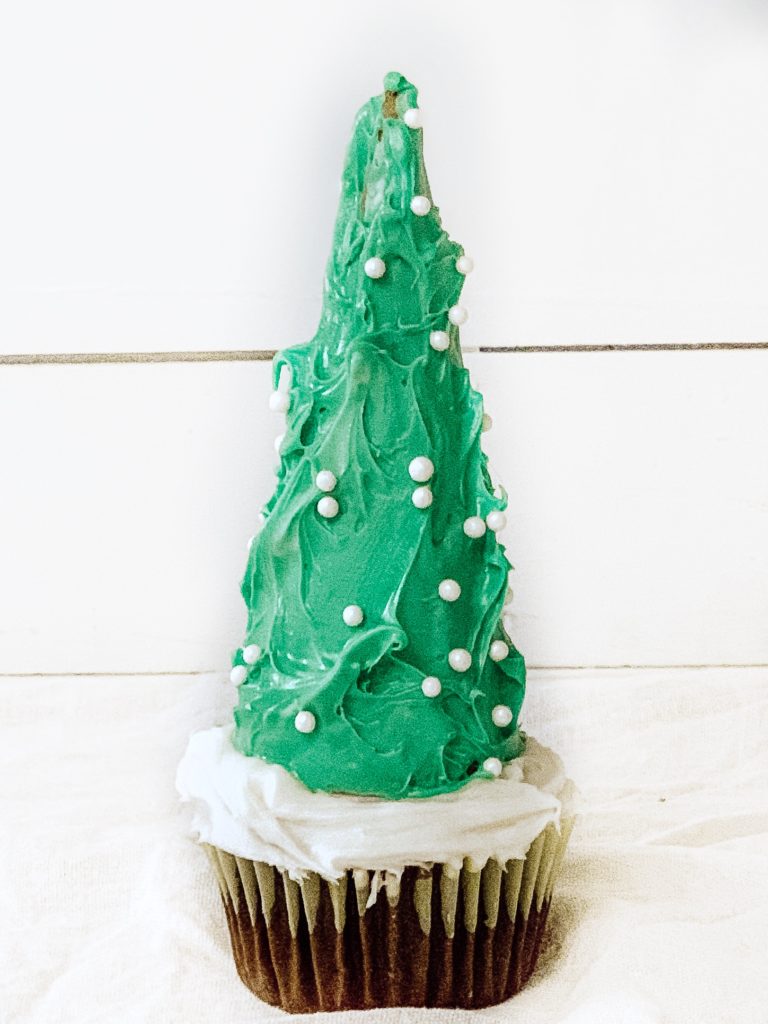 Your white frosting is going to be the snow over top of your chocolate cupcake which is the ground. I first just did a nice swirl on the cupcake so the cone could stick. For frosting I just used a Ziplock bag. Now comes the tricky part you're going to frost in the sugar cone using the green frosting. You will start with a base layer and either use a star tip frosting decorator thingy. Add stars all over your cone like I did here, however I found this to be very time-consuming. Keep reading to find a great video to help you with frosting tips.
Christmas Tree Cupcakes with Sugar Cones
So this is what our second Christmas tree cone cupcake looked like. We might have cheated and we just did smashy swirl pokey things and loved how it turned out. We just spread the frosting on the cone, then with our spatula dabbed on the frosting. Next we add sprinkles or powdered sugar for your snow. Be sure to do that before the frosting is dry, this is the messy part. But keep reading for a few fun twists on this recipe.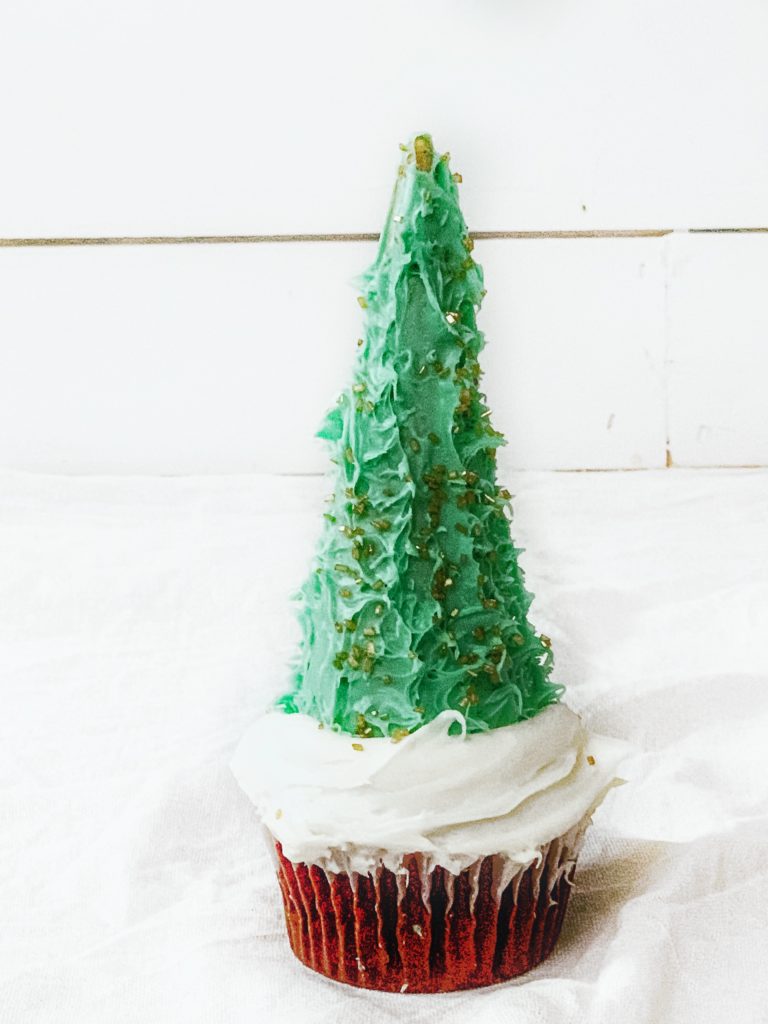 If you want to get really creative you can add some candies inside your sugar cone something like M&M's. But to be honest your hands will get fairly messy just to keep the M&Ms inside the cone as you place it on the cupcake. I'm sure kids would love to find a secret surprise under each Christmas tree cupcake. Adding a topper on top of your Christmas tree like a star candy is also another creative idea. Do you need a fun New Year's Eve slime party idea? I have 5 fun slime recipes as well as how to decorate!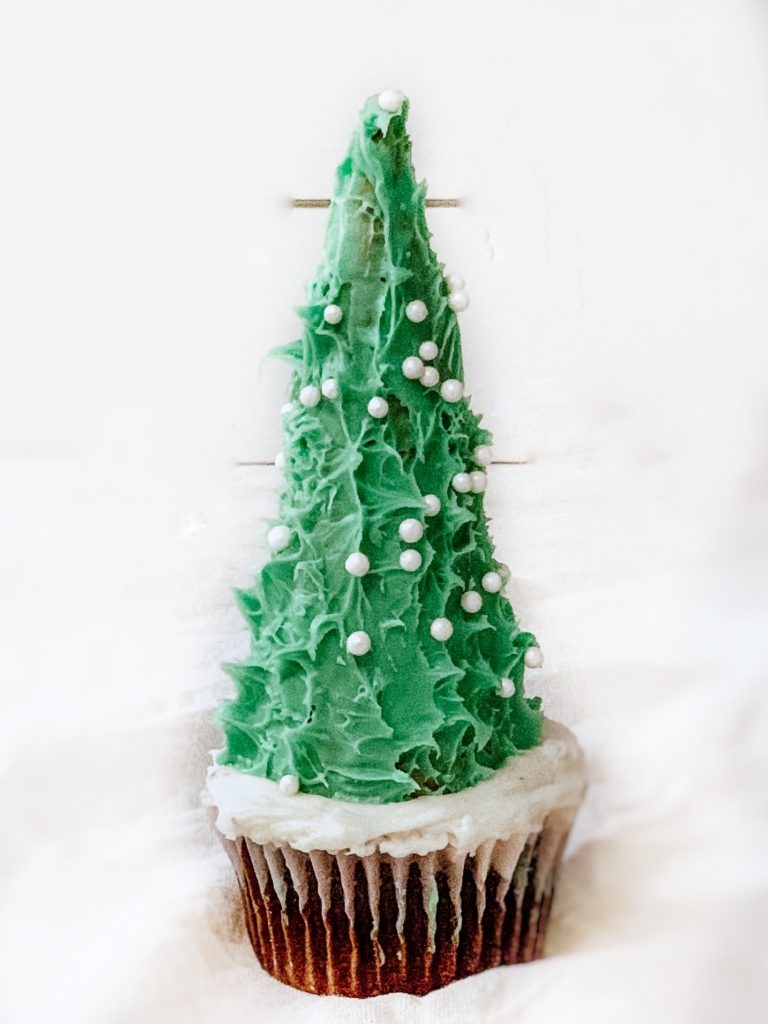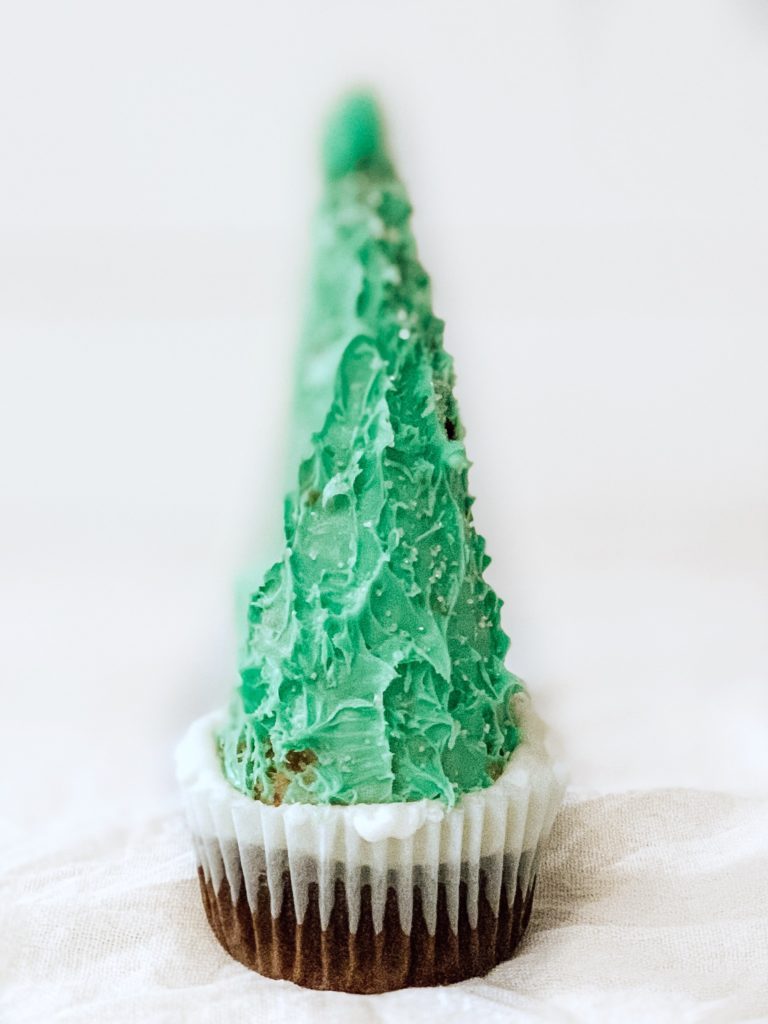 Shoot you don't even have to use green frosting. I'm sure you could use whatever color your kid would want, this is a great way to get creative, have fun, and cause a little mess. If you have some younger kids, having you frost the cone and place it on the cupcake would be best. Then have sprinkles and all sorts of things for them to put on the Christmas tree. This would also work great on a cake. Imagine all of the cute little Christmas trees covering a cake? Now that would be cute!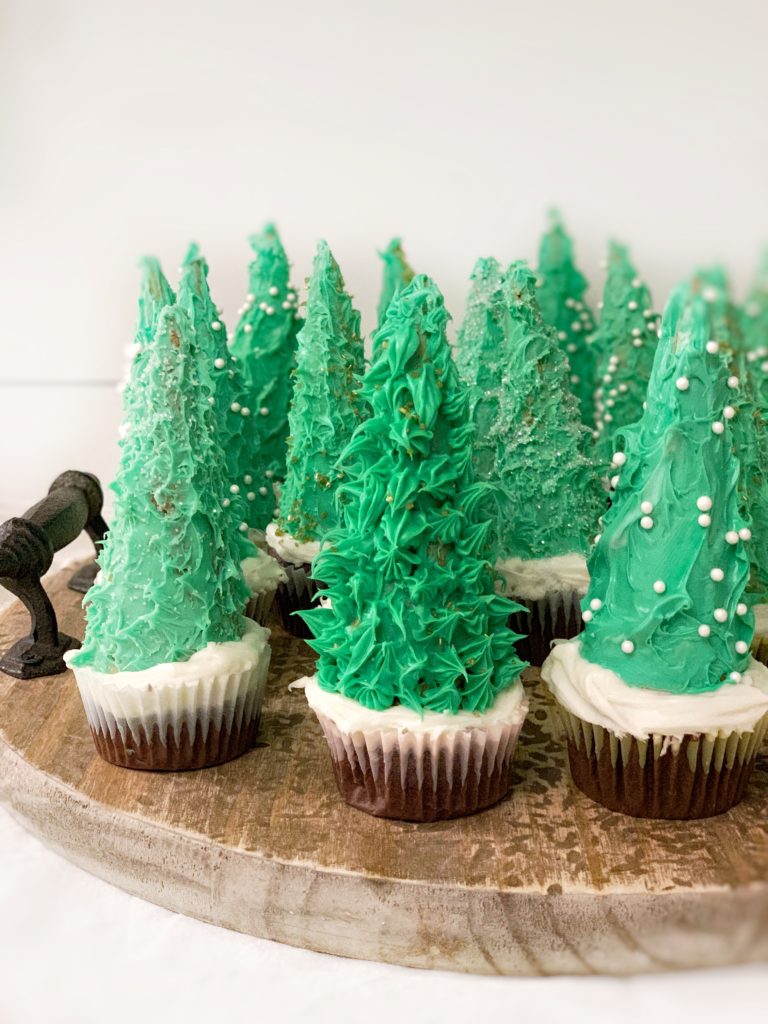 If you need some help learning how to frost, I shared a great video that is very easy to follow. We have some other cake recipes on the blog I'll put some here for you to enjoy because cakes are one of my favorite treats in life. What is your favorite dessert?