Ready for your No Mess Kids Party-Easy Slime Recipe? If you're anything like me, just thinking about having a kids party and all the mess is enough to give me hives. I decided to make this slime party as easy as possible. Let's go over some party tips and I'll include this easy slime recipe below, plus maybe few extra. I have some trouble shooting tips as well so keep reading.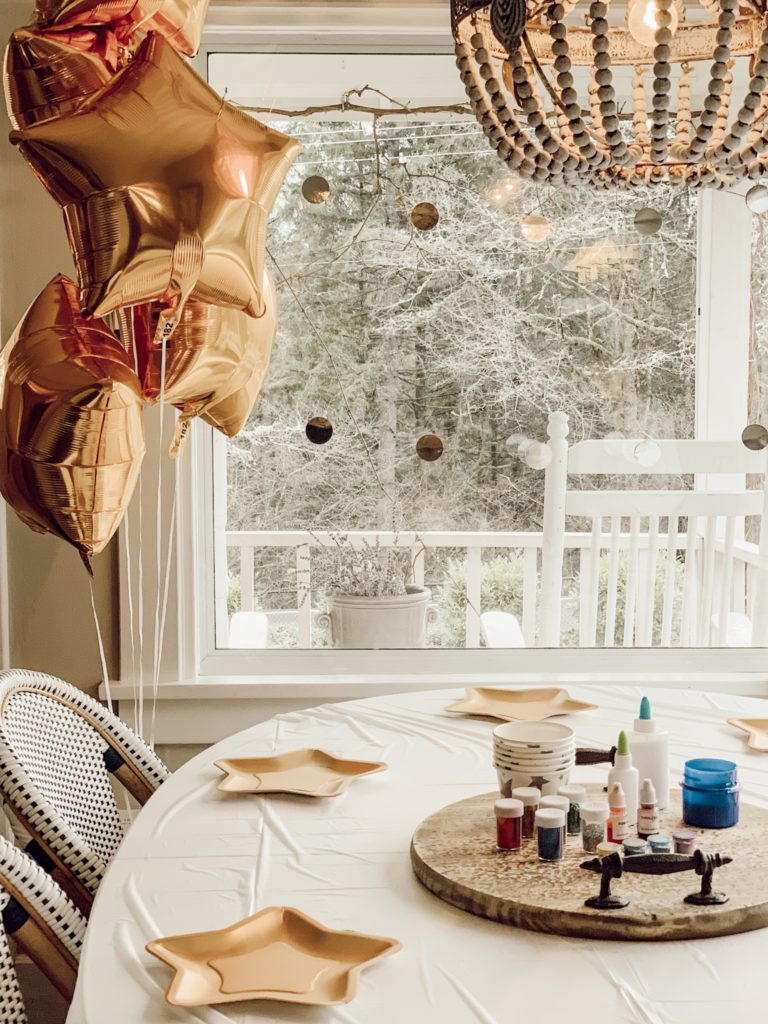 No Mess Kids Party – Easy Slime Recipe
When you have kids then you have parties. Lots of birthday parties and other special occasions like New Year's Eve parties, Christmas parties, Valentine's Day parties and so on. Making no mess kids parties are always my goal. Then adding and easy slime recipe into the mix makes each occasion very fun and hopefully not stressful.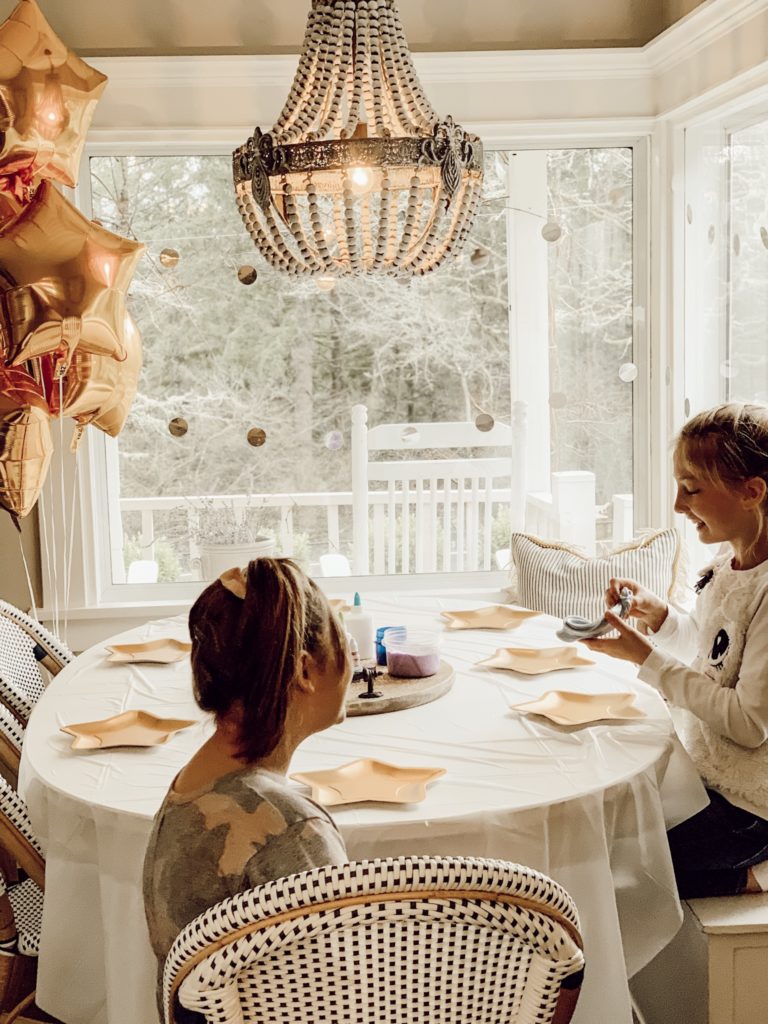 Ok so our daughter is master pro at making slime and your kid probably is too or wants to get to this status. There are some things to know. First- parents, go take an Ativan (Just kidding, I don't believe in self medication or drinking just to cope.) But it's a little saying us parents say just in hopes we can stay sane with all this party stuff.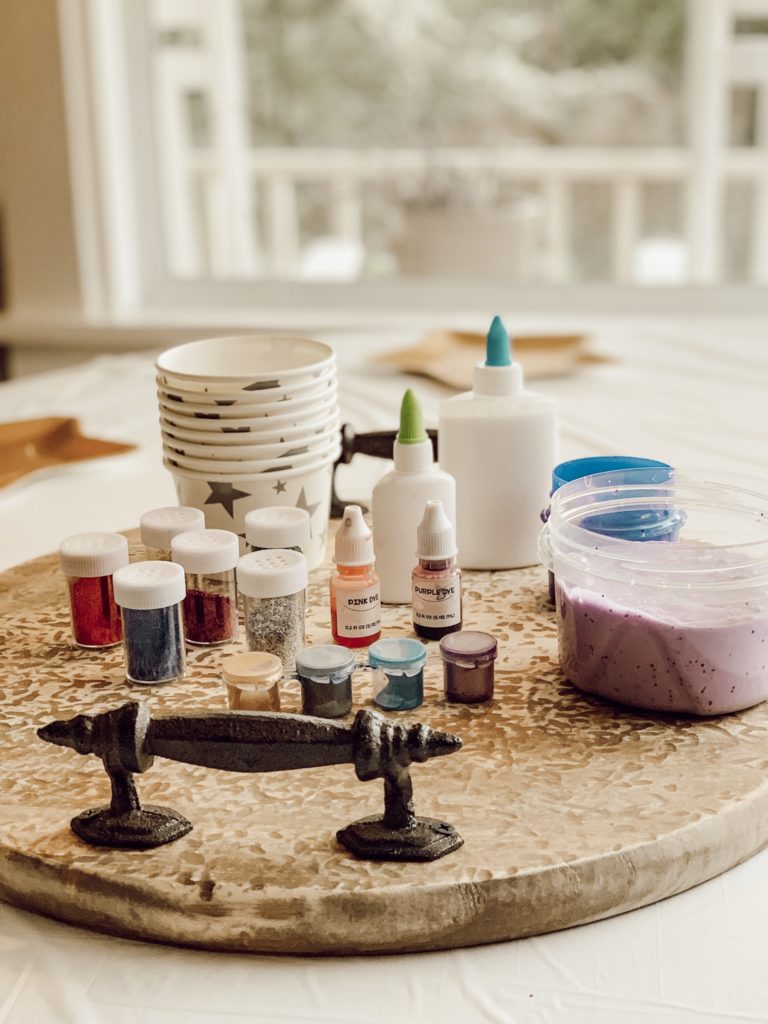 No Mess Kids Party – Easy Slime Recipe
Second I would use a disposable table cloth and all disposal supplies so you can wrap up all the mess into one heap and throw away. Saving the slime in cute sealable containers for later. See the farmhouse beaded light and the wood charcuterie board? Those are both available in my shop, the charcuterie board is great on clean up. If one of the girls spilled a little, it wiped off easy. Now adding lotion to your slime makes it so smooth and it smells really great. This is my daughters favorite kind, I will tell you more below.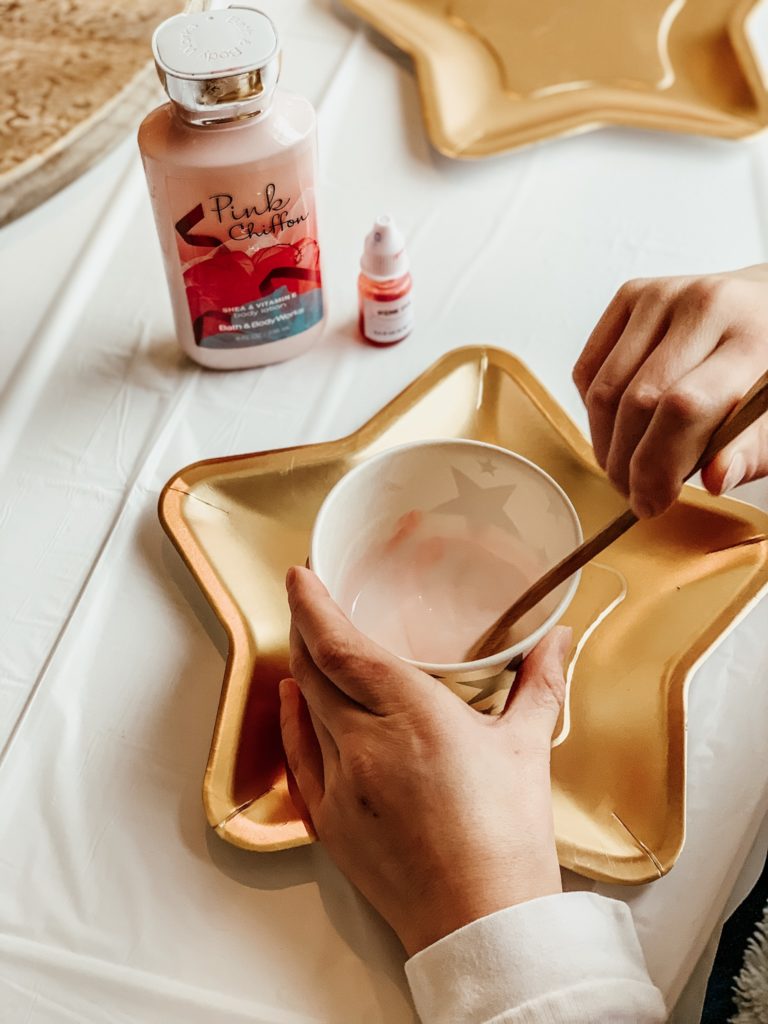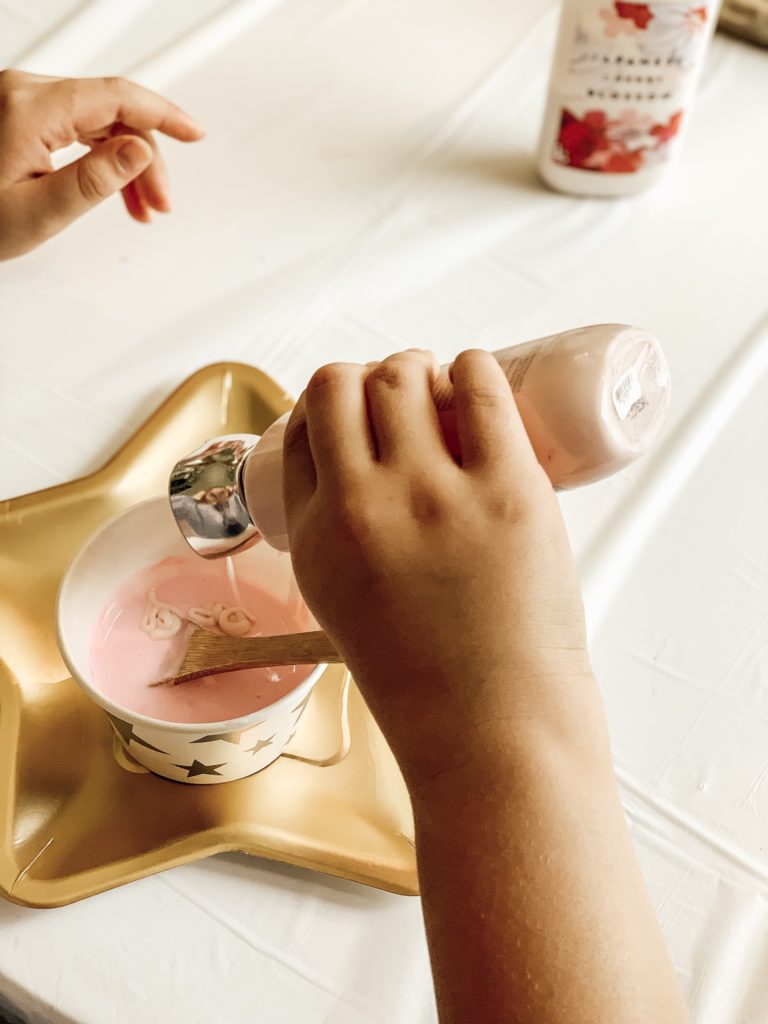 Don't worry parents, we have not had slime stick to carpets or furniture when this recipe is made right. But we also don't have three year olds that tend to get stuff all over. Let's go over your supply list and then get started. In the supply list I provided what you will need for each recipe. As well as some extra goodies like glitter. Oh and if you aren't looking to check out all the ingredients, I included a couple slime making kits as well.
Supplies: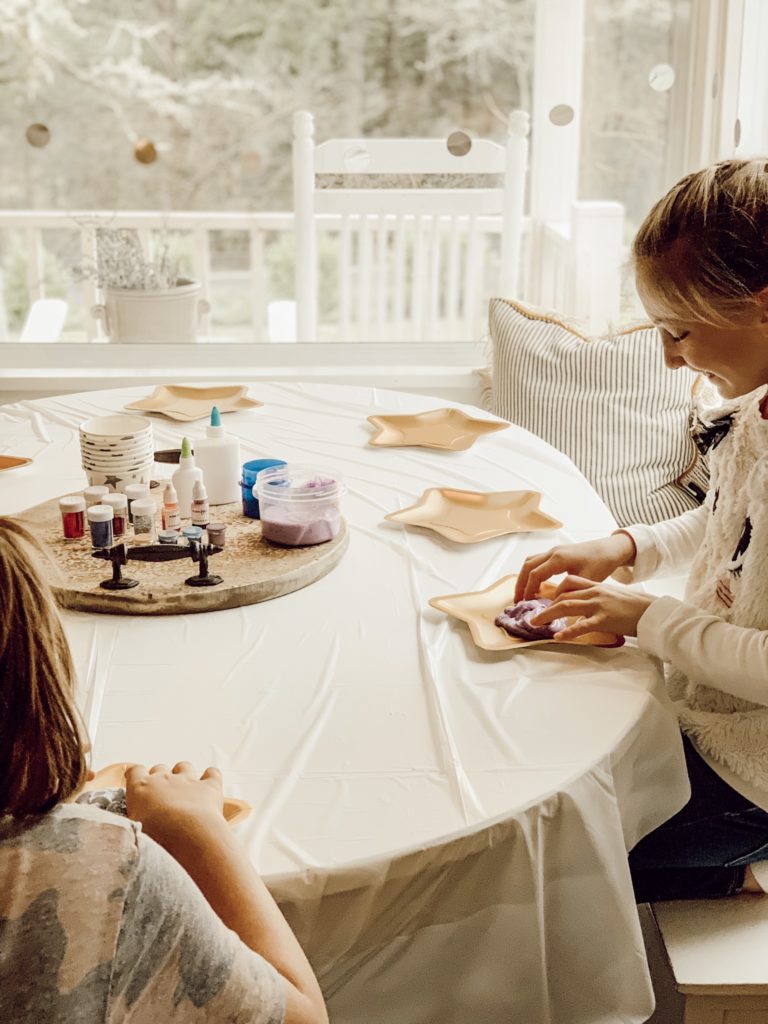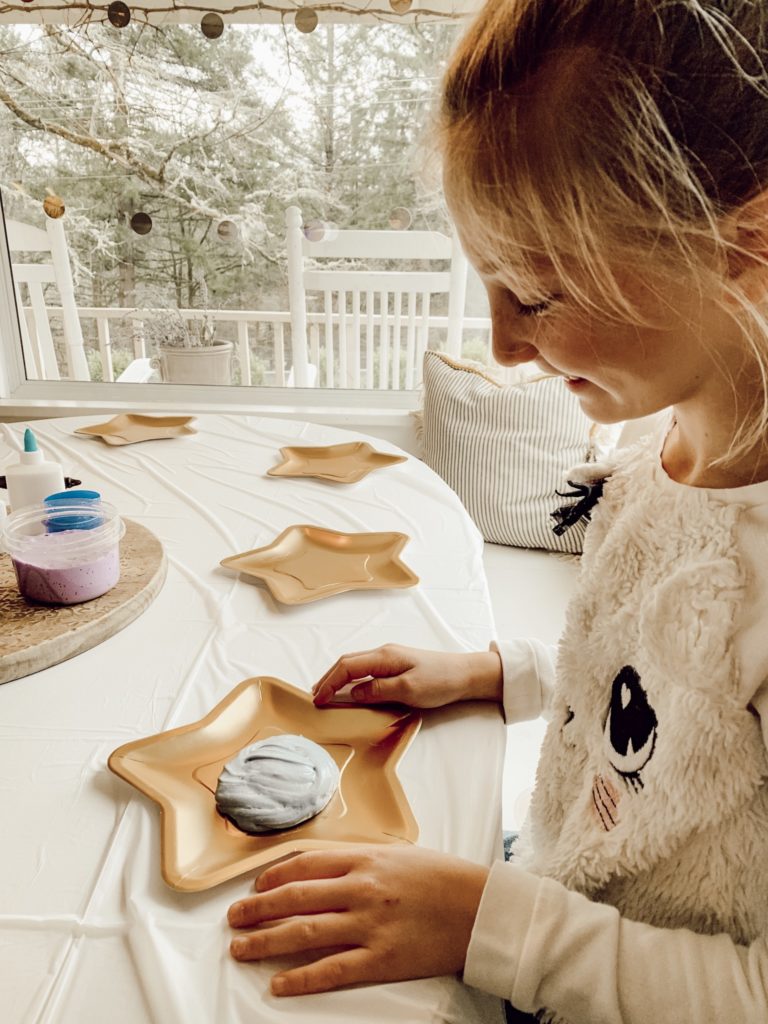 Recipes:
Basic Slime–
In one bowl mix 1 Cup of hot water with 1 Tbsp of Borax.
In another bowl, mix 4 ounces of Elmers glue with the food coloring. Then add in the Borax mixture one spoonful at a time.
Butter Slime (the best)-
Mix 3-4 cups of shaving cream, 1/2 cup glue, 1 tsp lotion, and food coloring.
Then mix in 1/2 tsp baking soda, 1 Tbsp saline solution. Knead with hands.
2 Ingredient Slime-
Mix 1/2 cup of clue, 1 Tbsp of Tide laundry detergent, food coloring, and glitter.
If it is not thickening, add a little more detergent.
No Mess Kids Party – Easy Slime Recipe
Clear Slime-
Mix 1 cup of clear glue and I cup of water.
In another bowl mix 1/2 tsp of Borax, 1 cup of hot water, and food coloring if desired.
Add the Borax mixture to the water and glue mixture. Stir, then knead with hands.
Glitter Slime (super cool)-
Follow any of the recipes above.
Either replace the glue with glitter glue or add desired amount of glitter.
Heathy Slime ( for those wanting a natural solution)- These are all natural ingredients and will not harm your children.
In a pot mix 2 cups of water, I Tbsp organic natural powder, 1 tsp cornstarch, and food coloring.
Bring to a gentle boil for 5 minutes. Do not stir. Remove from heat for about 2 minutes. Repeat the boiling and cooling step three more times.
Test the mixture to see if it is like slime, if it is not repeat the step one more time. Let it cool completely for about 3 hours.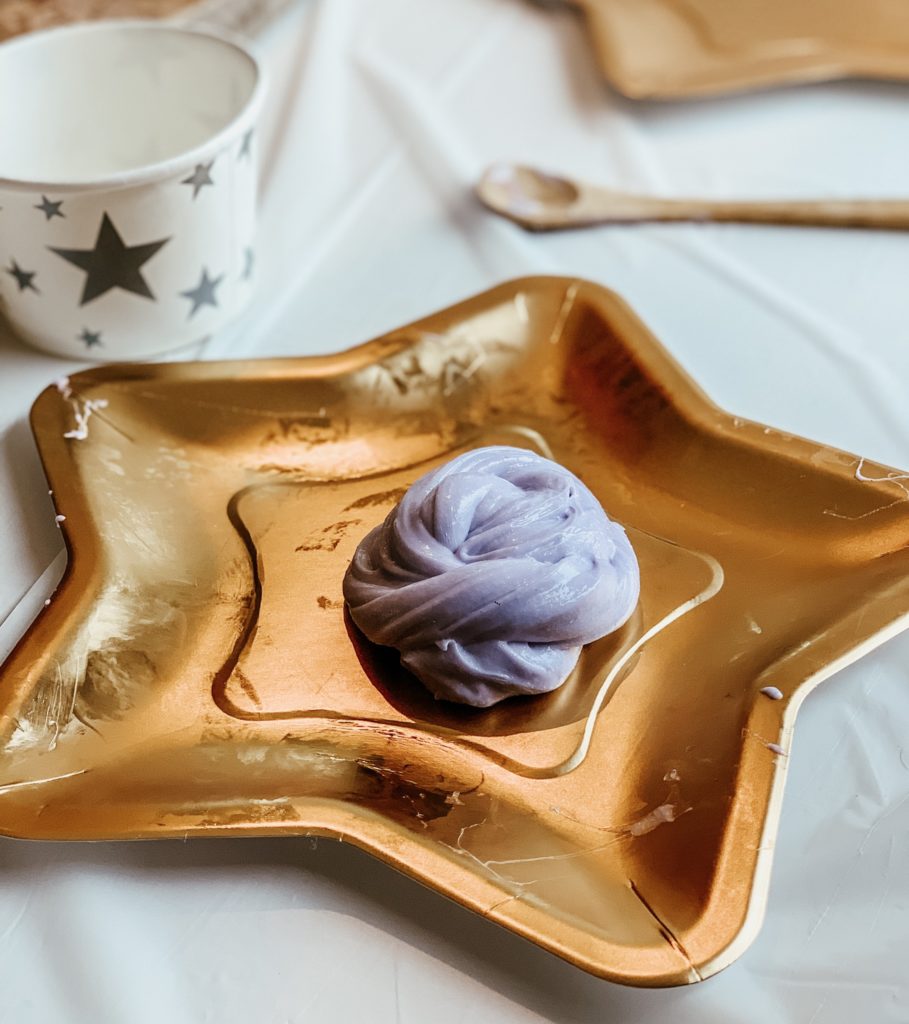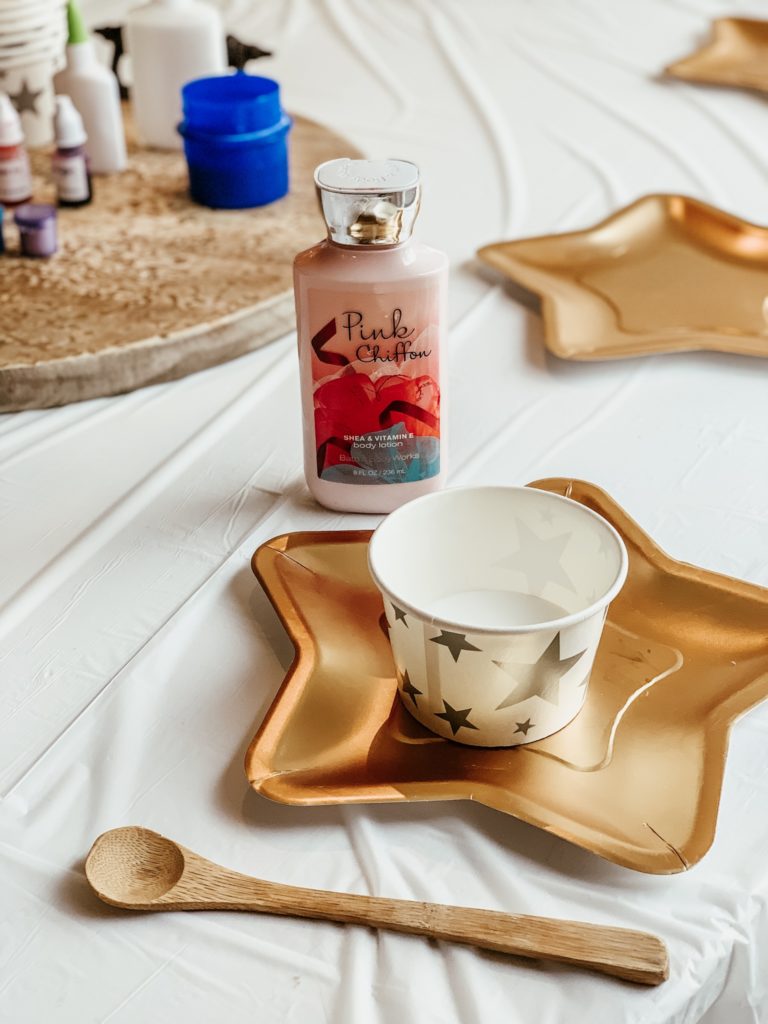 Trouble shooting and tips for the best slime recipe.
TIP- Add more saline solution if you have any stickiness. Go little bits at a time till smooth.
*Lotion makes it stretchy so add 1 teaspoon of lotion. This helps make you easy slime recipe smell really good.
*Keep away from wee little kids and furniture but I'm pretty sure if they are monitored that they would love to play with it as it's much like play dough but less messy.
*Glitter slime does not get glitter all over. It stays nicely in the glitter, so you won't find glitter all over.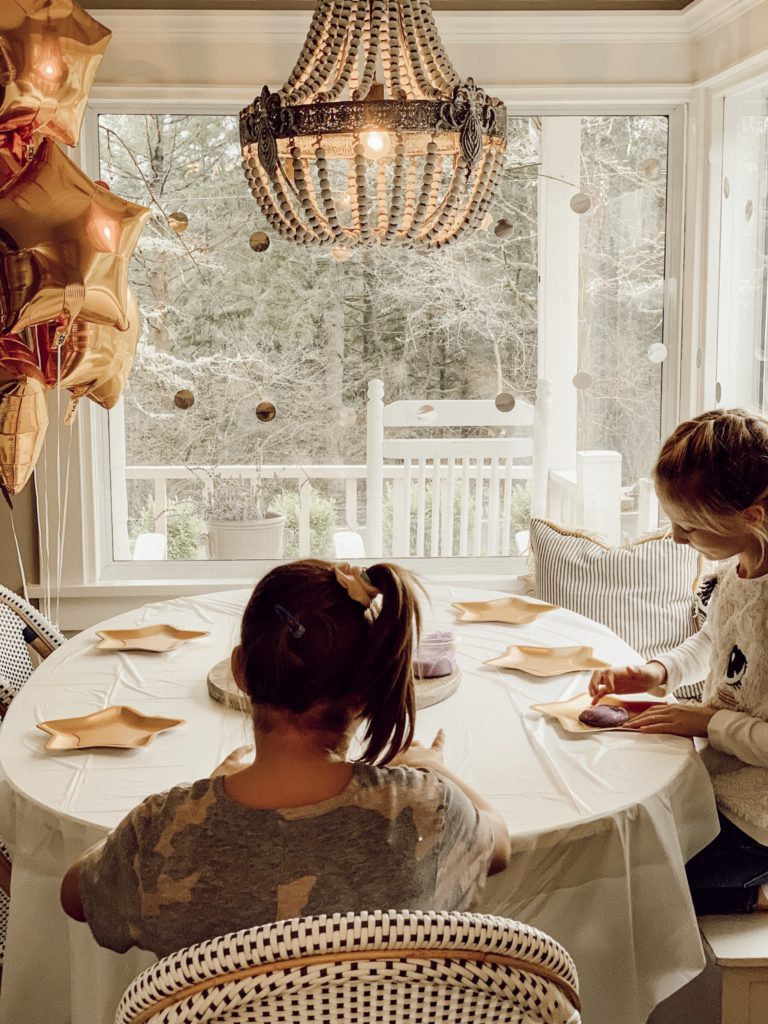 This can keep them busy for a very long time. I also have a post that has 13 different Christmas break crafts, perfect for the long break.
And today I'm joined by some friends who are also sharing their fabulous New Year's Eve Entertaining ideas, recipes, and printables with you!
3 Free Printable NYE Banners at The Happy Housie
Winter Gin & Tonic at Finding Silver Pennies
New Year's Eve Wet Bar at Rooms FOR Rent
Pomegranate Champagne Cocktail at Modern Glam
Year in Review Kid's Questionnaire Printable at The DIY Mommy
New Year's Eve Party Hat Tutorial with Free Clock Printable at Lolly Jane
Lindt Chocolate New Year's Eve Printable Gift Tags at Tauni Everett
New Year's Eve Hot Cocoa Bar Printables at Tatertots & Jello
6 Steps to a Fabulous Table for a New Year's Eve Party at Designthusiasm
Blackberry Sparklers at Life is a Party
No Mess Kid's Party Easy Slime Recipe at Hallstrom Home
New Year's Eve Tablescape with Fun Game Ideas at Summer Adams