With cold weather around it calls for some warm, cozy meals. When I think comfort food, yummy hot soup with buttered bread is just the ticket. My go to comfort food is Creamy Potato Hamburger Soup. This recipe is for everyone! If you're dairy free I've got options for you. Also if you have an Instant Pot, I have the recipe for that below. What I love about this recipe is that it is so easy, even my kids make it. I will also be sharing a few other ladies and their favorite soup recipes!
Be sure to sign up for my email to get new recipes, crafts and home ideas in your inbox!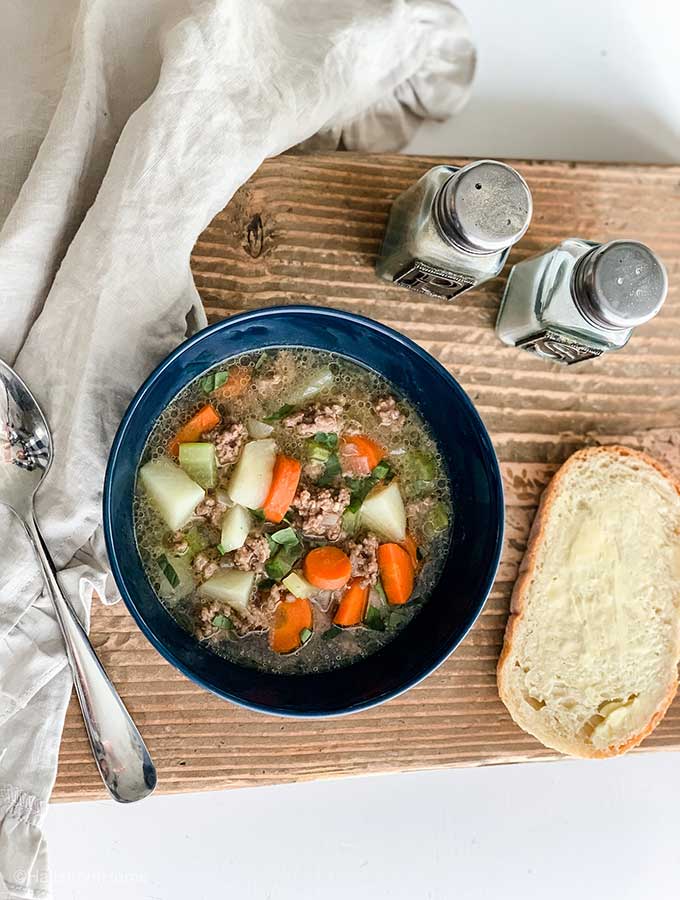 Creamy Potato Hamburger Soup
I like to keep things super easy at my crusty farmhouse. Usually it's a hurrying to get dinner going, but this recipe helps me get dinner done quickly. The kids are really helpful when it comes to making dinner. They have made this recipe by theirselves many times. Of course asking me questions along the way. Well I'll let you in on my secret. Somedays I happen to run errands right before they get home so when they get home they'll give me a call on how to make dinner. That means I don't have to be around the mess of making dinner and its done before I'm home. Now that is a good secret to share.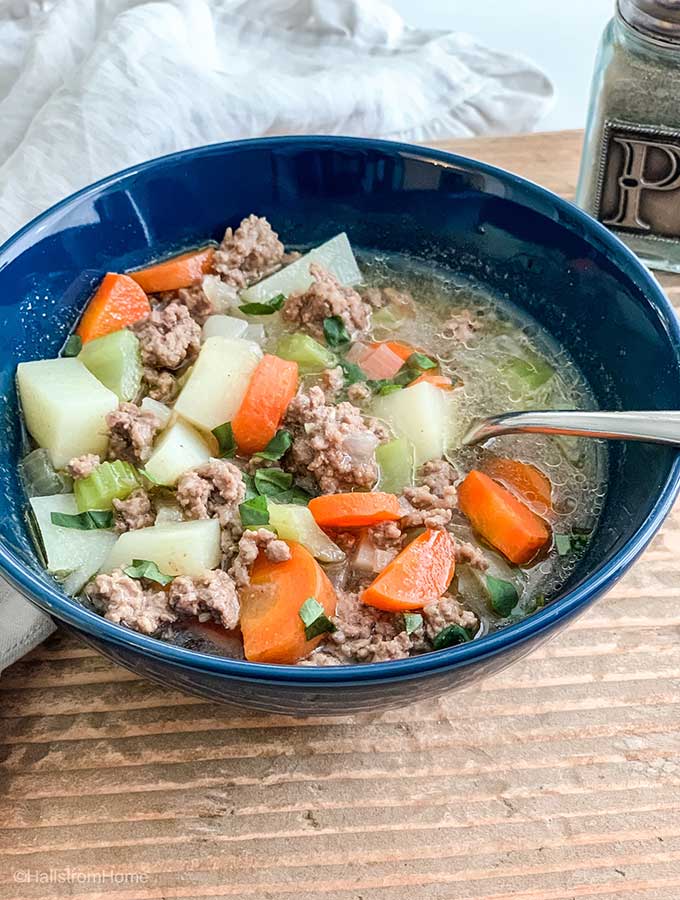 This is one of our favorite soup recipes, so I thought it was time to share. What makes this even better is having some delicious bread to eat with it. We like to make Grandpa Bob's bread recipe with the creamy potato hamburger soup. It is a recipe that has been passed down for generations and now my kids like to make it.
Creamy Potato Hamburger Soup without Dairy
Tip- Don't add the milk and cream cheese. This is a great soup without the dairy so don't feel like it's going to alter the flavor to much. If you do want it a bit creamier, add coconut milk from a can. It will change the flavor a little bit. If you do add the coconut milk, you can also add a couple tablespoons of cornstarch. Cornstarch will help thicken it up a bit.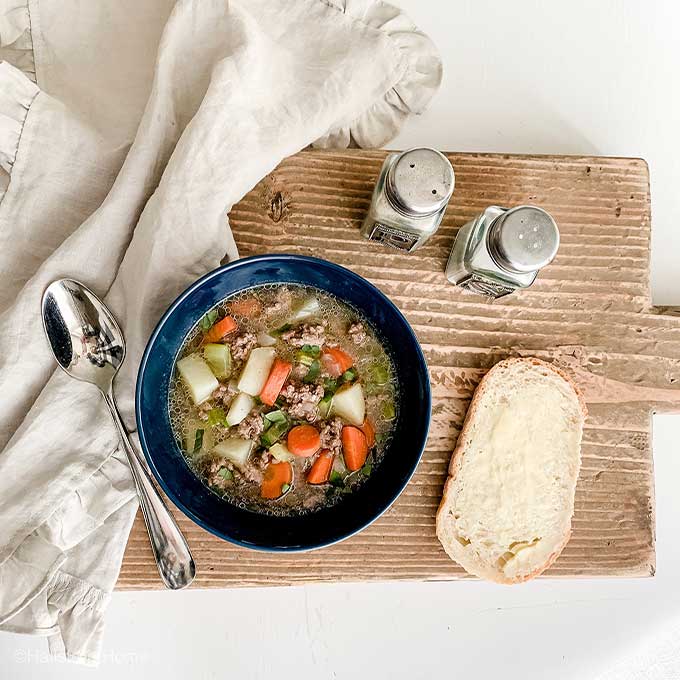 Not all of my kids are dairy free, so I thought I would make half dairy free and the other half the creamy potato soup recipe. In two medium pots, I made one creamy by adding the milk and cream cheese and set aside. The other pot, I didn't add any dairy to it. Usually I don't do this, but this is really easy and not much of a hassle. Either way the soup is delicious, most everyone goes back for seconds.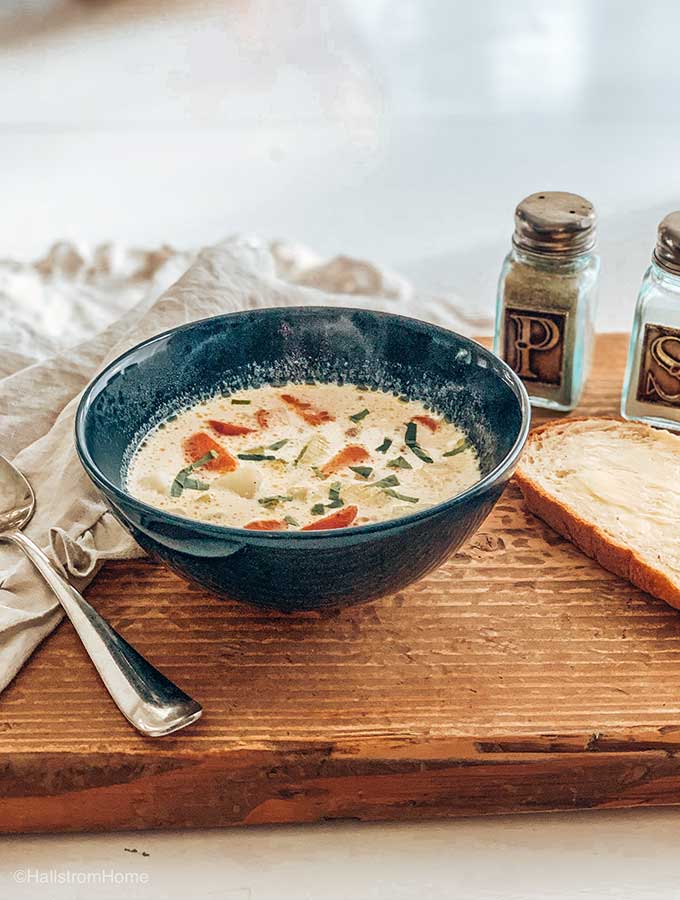 Creamy Potato Hamburger Soup in Instant Pot
The Instant Pot has become popular lately. I thought why not make it an option for this recipe. Creamy Potato Hamburger Soup is really quite simple and very similar to the stove top recipe. You are going to want to set your Instant Pot to saute when cooking the meat and onions. Instant Pot is really all of the same steps, but you will want to secure the lid and once it's done cooking let it sit for 10 minutes. That will assure that the vegetables are cooked through and soft. The Instant Pot helps with cooking things much faster.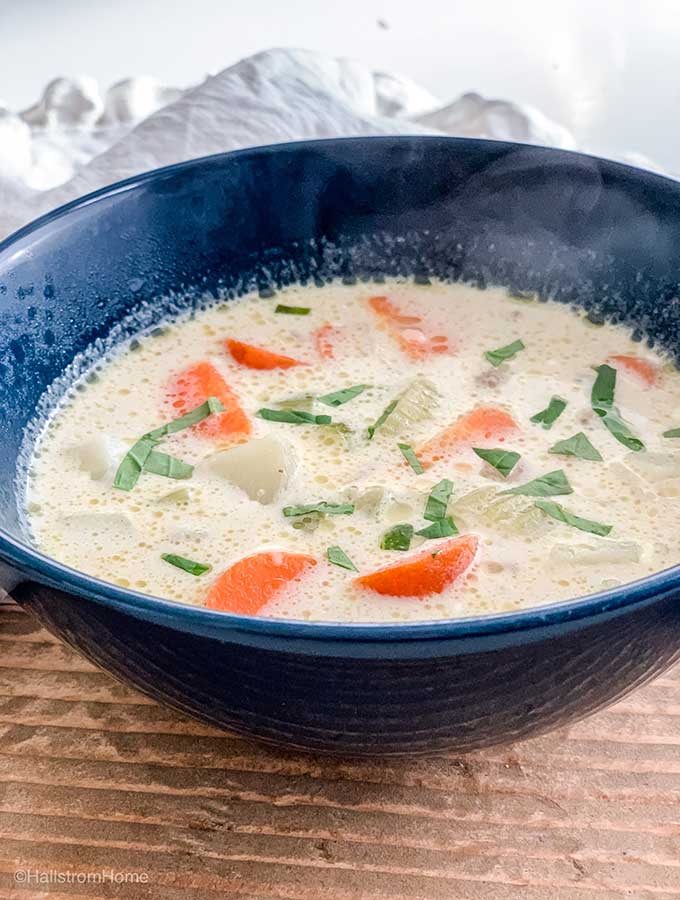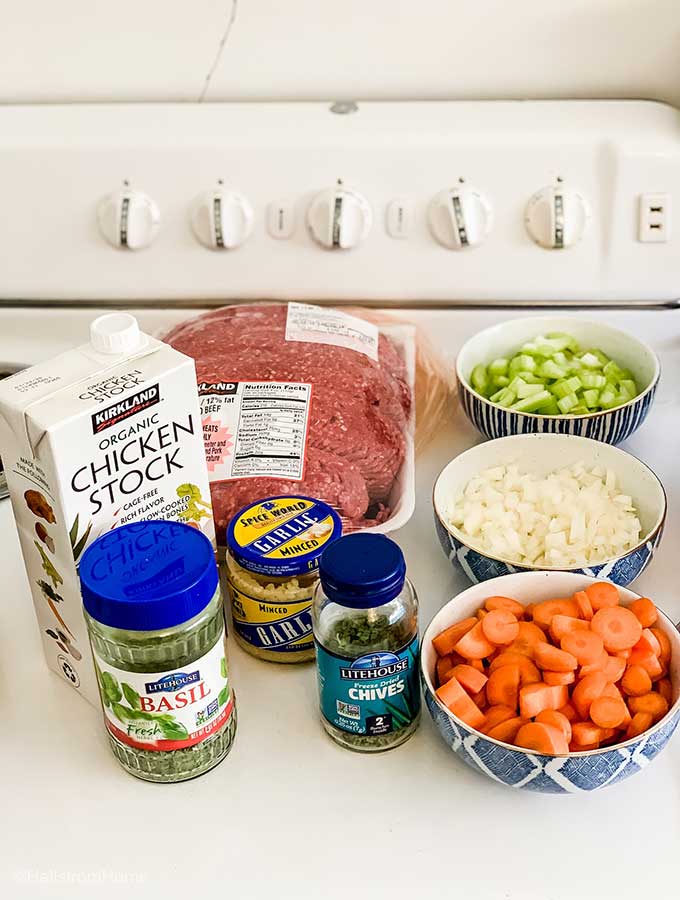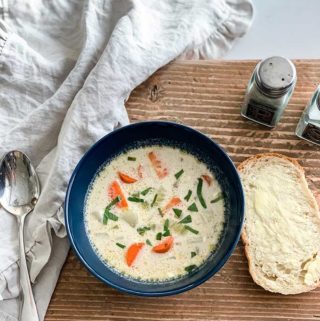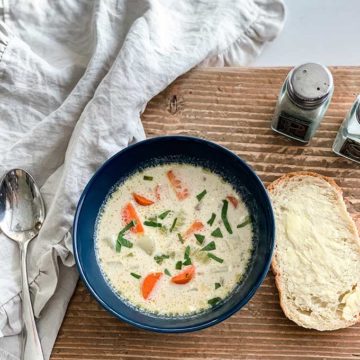 Creamy Potato Hamburger Soup
Creamy Potato Hamburger Soup|instant pot soup|instant pot recipe|dairy free potato soup|ground hamburger soup|winter recipes|comfort recipes|easy recipes|easy dinner|one pot recipes|kids recipes|instant pot meals|creamy soup|diary free dinners|Diary free creamy soup|HallstromHome
Ingredients
1

pound

ground beef

1

medium

Yellow Onion

1

tsp

Garlic Powder

1/4-1/2

tsp

nutmeg

3/4

tsp

Salt

1

tsp

garlic

minced

4

cups

Chicken Broth

4

cups

potato

peeled and diced

3

carrots

sliced

3

Celery Ribs

sliced

1

Tbsp

Basil

2

tsp

parsley

1

8 oz

Cream Cheese

1 1/2

cups

Milk

Salt and Pepper
Instructions
Stove Top
In a pan on medium add the ground beef, onion, garlic powder, nutmeg and salt. Cook until onions are soft. Drain out any excess grease. Add your chicken broth and scrape the bottom of the pot.

While this is cooking cut up your potatoes, carrots, garlic and celery. Add them to the chicken broth. Then add in your basil and parsley.

Let this cook for about 20 minutes.

Once it has been cooking, add in the cream cheese and have it melt. Then stir in the milk.

Once it's thickened add salt and pepper to taste. Serve!
Instant Pot
Turn your Instant Pot to the saute setting. When the display says HOT add in the ground beef. Cook the ground beef. Add in the onion, garlic powder, and salt and let the onion get soft. Drain out excess grease. Add in the chicken broth and scrape the bottom of the pot.

While the broth heats up in the pot cut your potatoes, carrots, and celery. Add them in pot. Add the basil and parsley.

Cover the pot and secure the lid. Make sure the valve is set to sealing. Set the soup button to 3 minutes. When the time is up let the pot sit for 10 minutes and then move the valve to venting. Remove the lid.

Turn the saute setting on. Stir in the cream cheese and melt it. Stir the milk into the Instant Pot.

Once soup is thick salt and pepper to taste.
One of my favorite tips when making soups is to add nutmeg. It adds a little extra flavor to our Creamy Potato Hamburger Soup creamy soup. You can also add either fresh garlic, or for something quick I use the minced garlic in a jar.
Spices –
For this recipe I add about 1/4 tsp nutmeg, but if I am making a larger recipe I will add about a 1/2 tsp of nutmeg. Herbs you can either use fresh or dried. Fresh is preferred, but dried work just as well.
Creamy Potato Hamburger Soup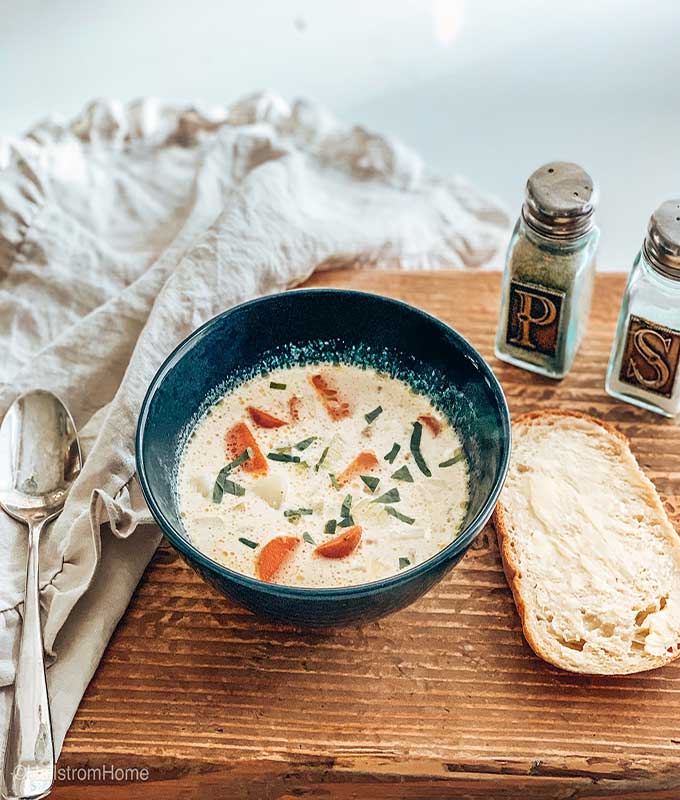 With 7 kids Its hard to please them all when it comes to dinners, but they all seemed to really enjoy this. Dairy free is made for three of our kids. Below I will share some ladies and their best soup recipes. My mom loves coming to one blog post where she can get more than one recipe so this is fun to bring a group together like this.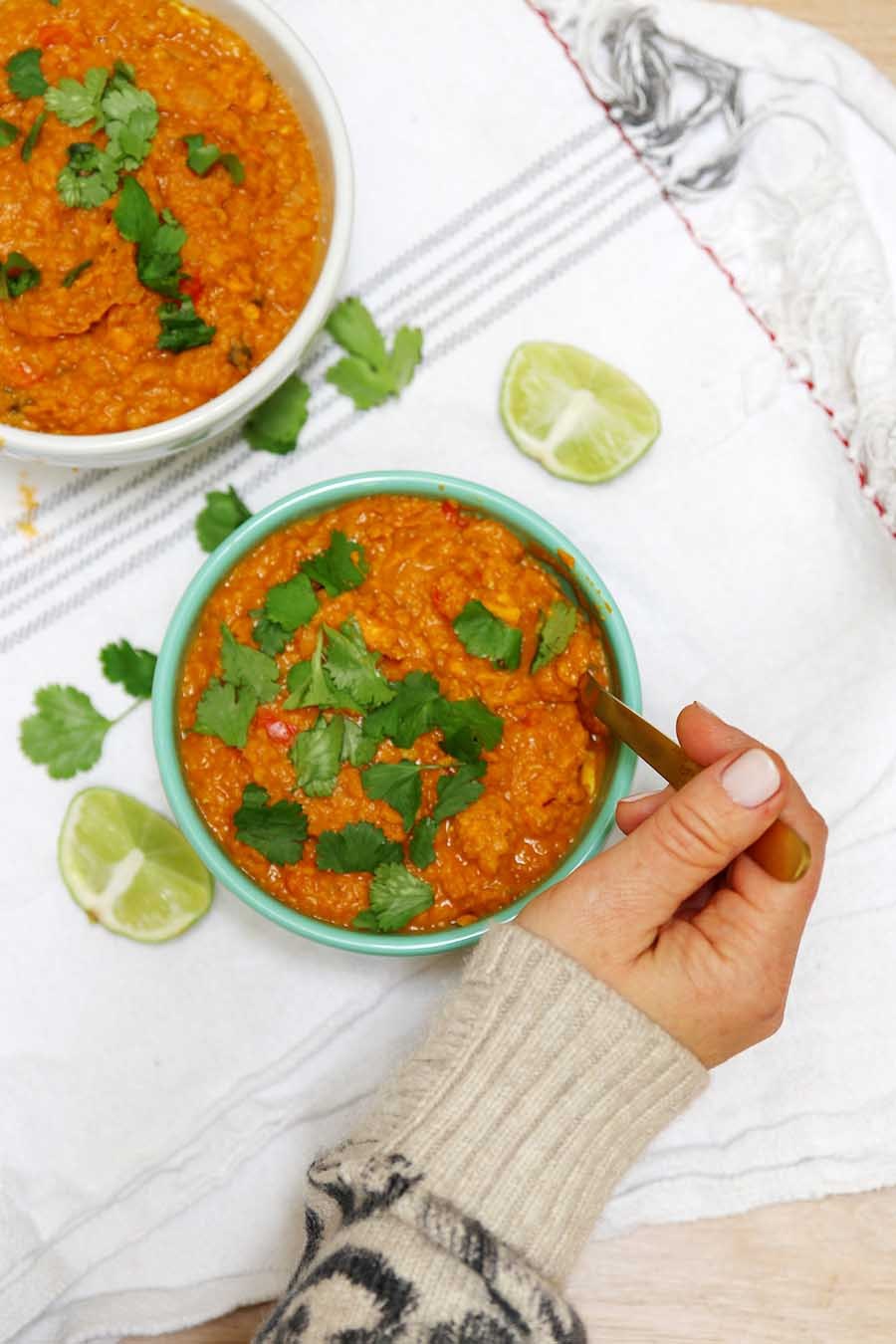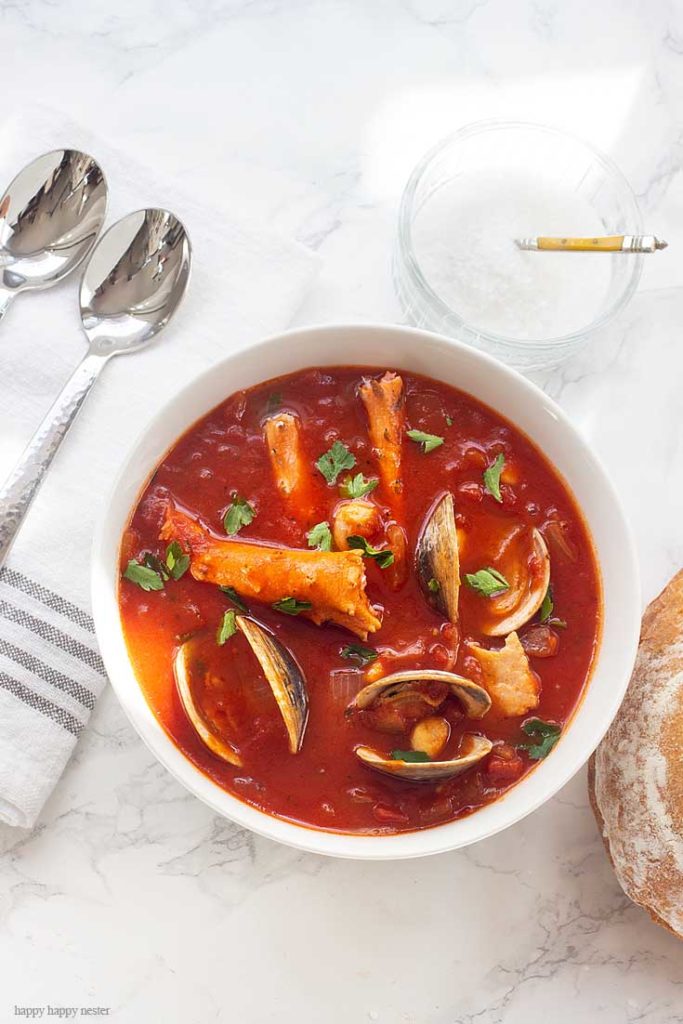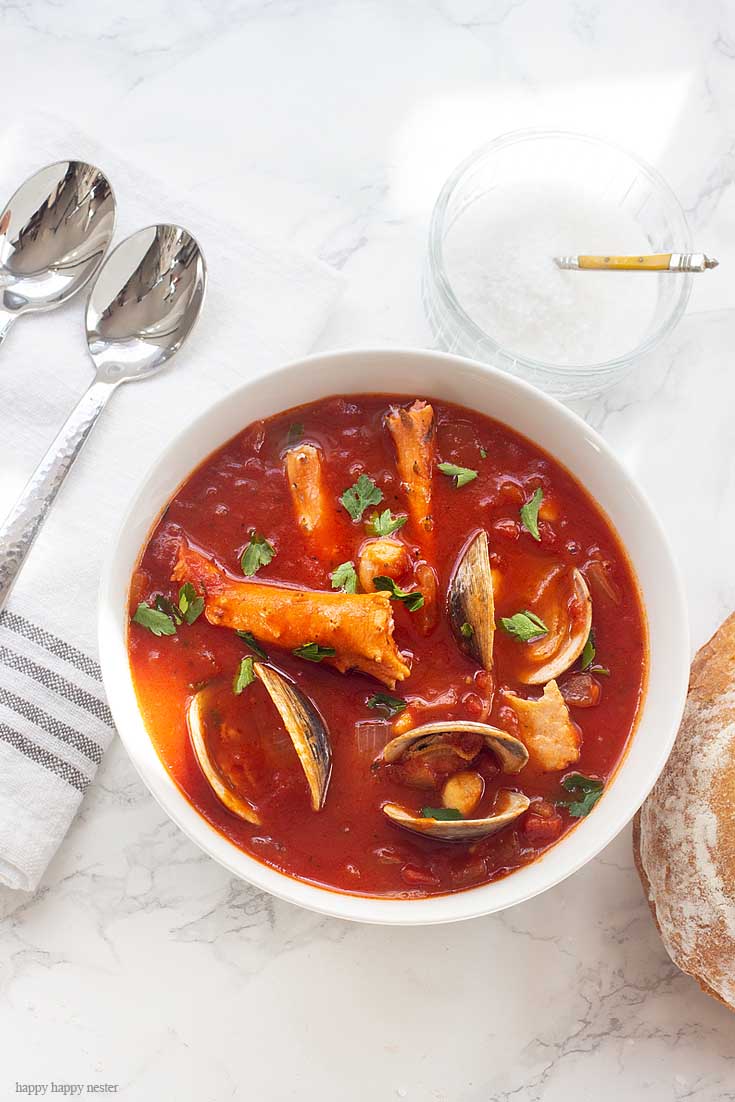 Happy Happy Nester|Our Secret to a Yummy Seafood Stew Recipe
Janine's yummy seafood recipe looks so delicious. I wish we could have more seafood around my house, but we have seafood allergies. Looks like we will be sticking to the classic hearty soups for our family.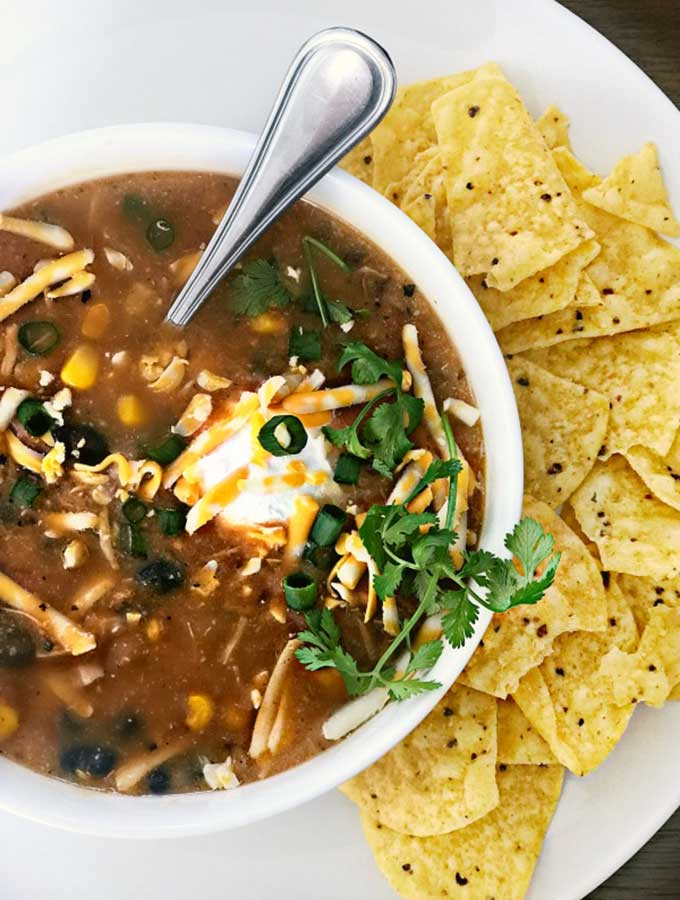 Tauni Everett|Instant Pot Eight Can Taco Soup
Taco soup with a dab of sour cream and cheese makes my mouth water. Especially when it's cooked in an Instant Pot. That means fast and easy or make in the crock pot ahead of time.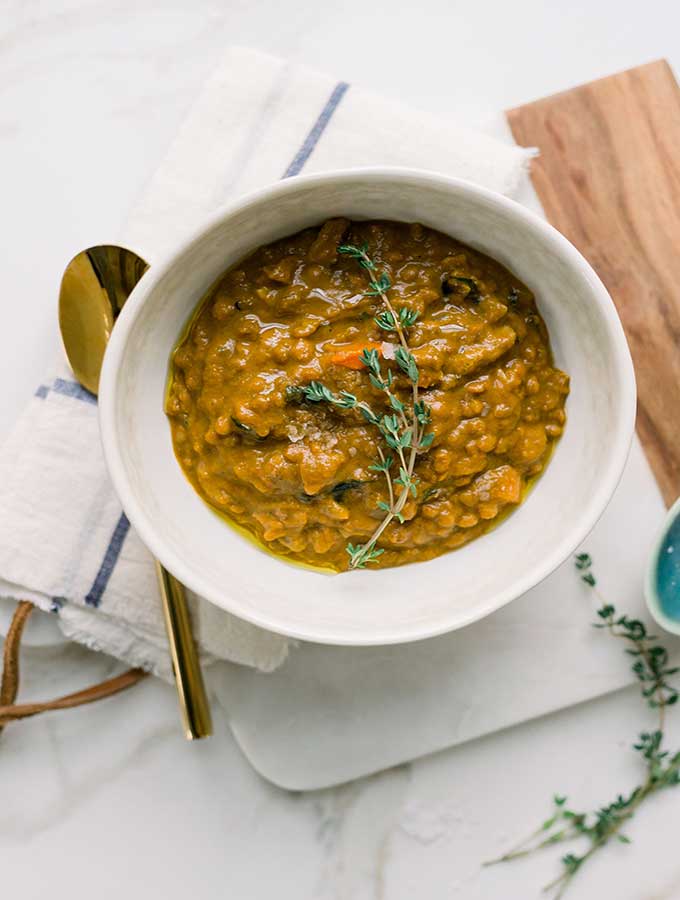 Finding Lovely|Healthy Lentil Soup
Lentil soup is one of those hearty meals that feels great on a cold day. Again you can use any cooking method to make this soup.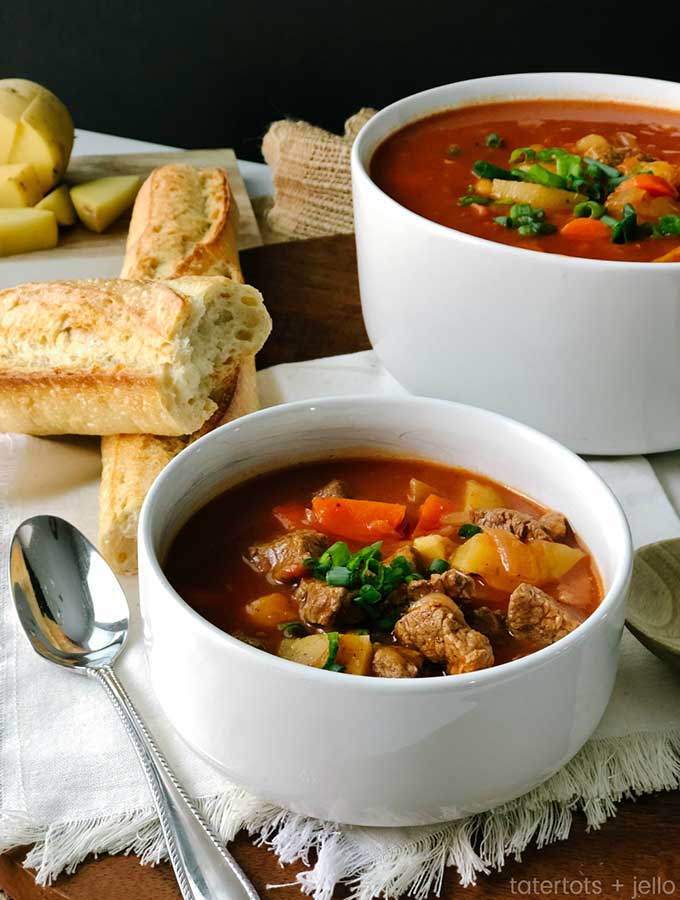 Tatertots and Jello|Mom's Famous Beef Stew in the Instant Pot
This is a classic stew that one can make in the Instant Pot or in the crock pot. Most times we make on the stove and serve right away. Below is a white chicken chilly recipe that is a personal favorite.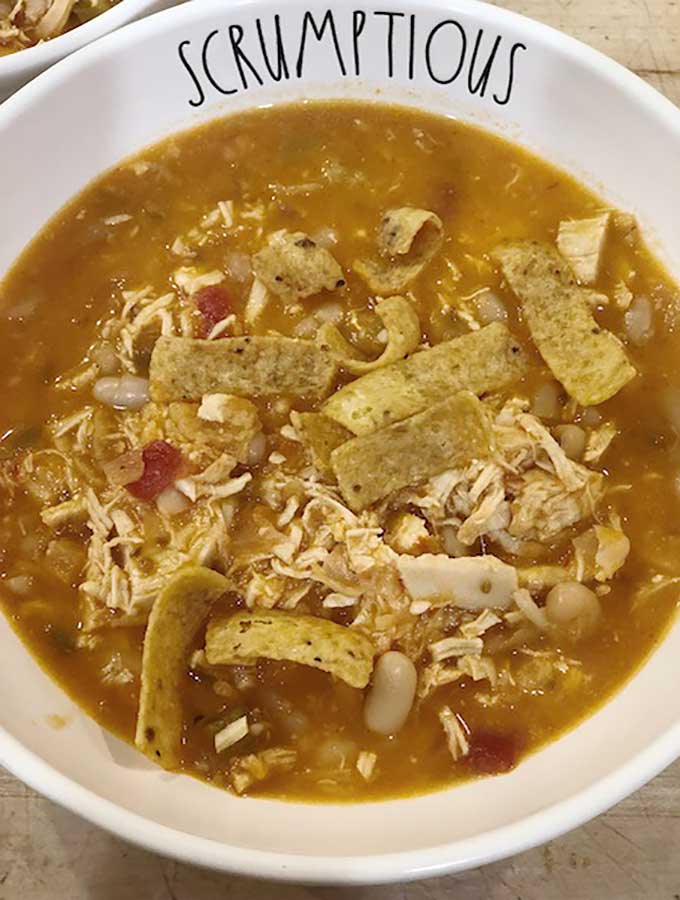 My 100 Year Old Home|Easy Crock Pot Chili Recipe
These soups freeze well so be sure to get your extras into the freezer for easy lunches. We love meal planning here so add these to your list.