Are you new to chalk painting or just need some tips to get the best results? We have you covered with our Chalk Painting for Beginners/ 7 things You Need to Know to get the best results. When Chalk painting, our Ebook can be downloaded, printed, and saved for later. Lets go over some basic tips here because I know some of you don't want to spend money. I created this ebook for those that want lots of details like how to successfully chalk paint a table. Along with details on how to use dark wax and white wax to get the best look. Oh and, we also compare chalk paint and fusion mineral paint in our book too because both products are so nice. Milk Paint is also covered in our chalk paint book.
Be sure to sign up for my email to get new recipes, crafts and home ideas in your inbox!
Chalk Painting for Beginners/ 7 things You Need to Know
Now that you have your supplies I thought I would go over some key Chalk Painting for beginner tips and the seven things you need to know when getting started. Don't leave yet as I have some great resources for you near the bottom. If you like us, be sure to sign up for our emails.
7 Tips for Chalk Painting
Buy a good chalk paint brand. We use Dixie belle paint company. This will give you better results for less time and more coverage
Use a good chalk paint brush. Start with a damp brush for smooth coverage. Apply chalk paint in up and down motions. Let first layer dry before applying last layer of paint. Do not overload paint.
Prep your piece by cleaning with TSP or a degreaser that you have on hand.
Do not sand or prime first. Did I just say that? Yes! Just add one layer of paint and let dry. If painting a table, please purchase our Chalk painting ebook for the best results. Over sanding can cause problems at the end so be careful.
Lightly distress if that's your style. You can do this before or after you seal your piece.
Finish your piece with wax or any other sealer. We like a spray polycrylic or clear wax depending on the piece. The cure time is 20- 30 days for wax. You can use it but just be careful until it's set.
Lightly buff your waxed furniture by rubbing with 400 grit sandpaper. I get this from the auto paint store. It comes out super smooth. We have more info in this blog post about getting a smooth finish with chalk paint.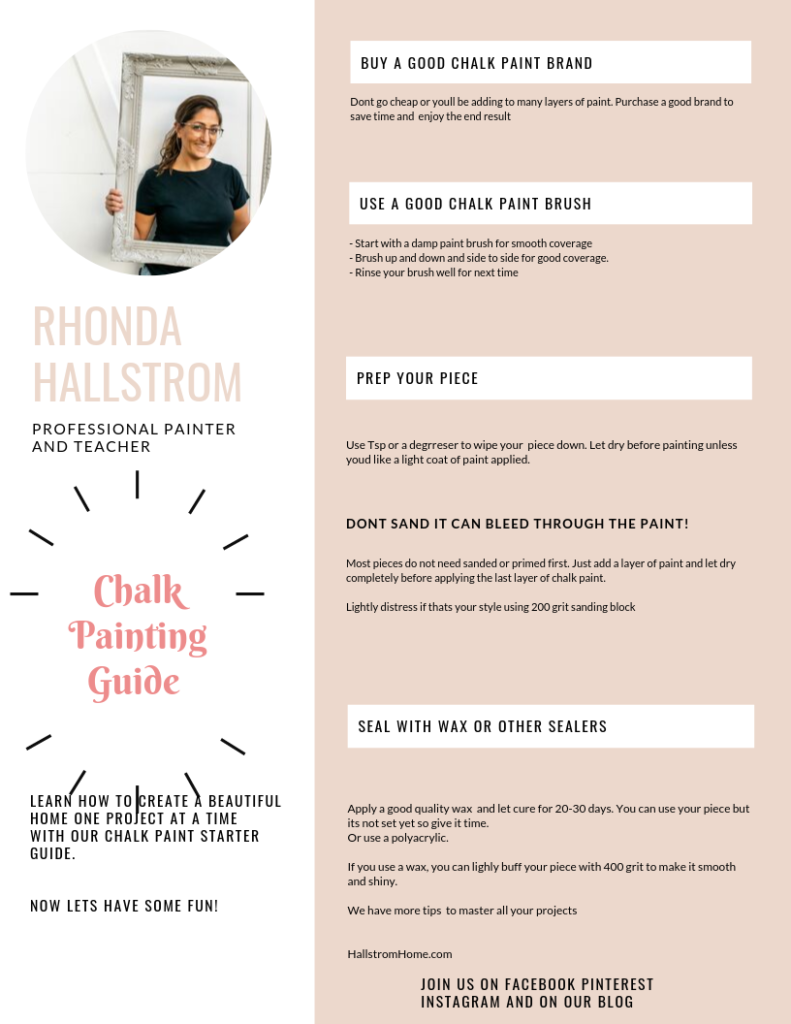 Here is a chalk paint video that may give inspiration to what you can do with Chalk Paint
Q&A About Chalk Painting Furniture
Do you have a chalk paint recipe? Yes I do and though it saves in cost I find the finish to be a bit more problematic. It can get chunky if the wrong ingredients are used and not mixed correctly. It can go on to thin so many layers of paint and time is required. I no longer make my own as Dixie Belle paint has a beautiful product that never fails me and I love their colors.
Get our paint resource guide as we go over great brands to buy and to have on hand for all your home projects.
Can You Chalk Paint Floors? Yes I painted wood floors three years ago and love them. Still no scratches. Read our chalk painting wood floor tutorial for all the details.
How do you mix chalk paint colors? I have a little guide you can read that should help.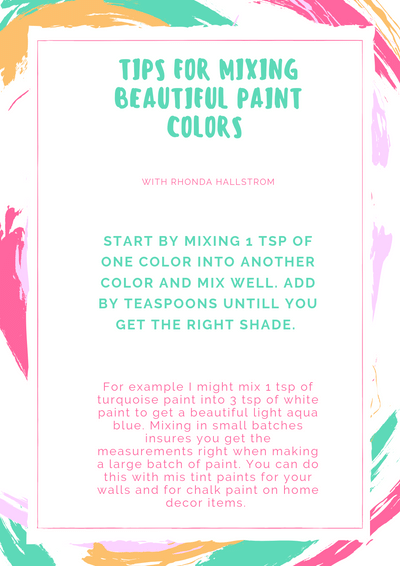 I think we covered our Chalk Painting for Beginners/ 7 things You Need to Know guide. If you want more info please purchase our Chalk painting 101 Ebook and then if you get stuck in your project just send me a email or DM on Instagram at HallstromHome