Since we now have tons of new product just recently added to our shop, I decided it would be a good time to talk a little about decorating. See how we decorated our small entryway here.
One thing, when it's the right thing, can fill a room.
This is the truest thing I have ever heard. Sometimes, it may seem overwhelming to know where to start when redecorating or styling a room. So I will share a few of my tips for Decorating: Start Small.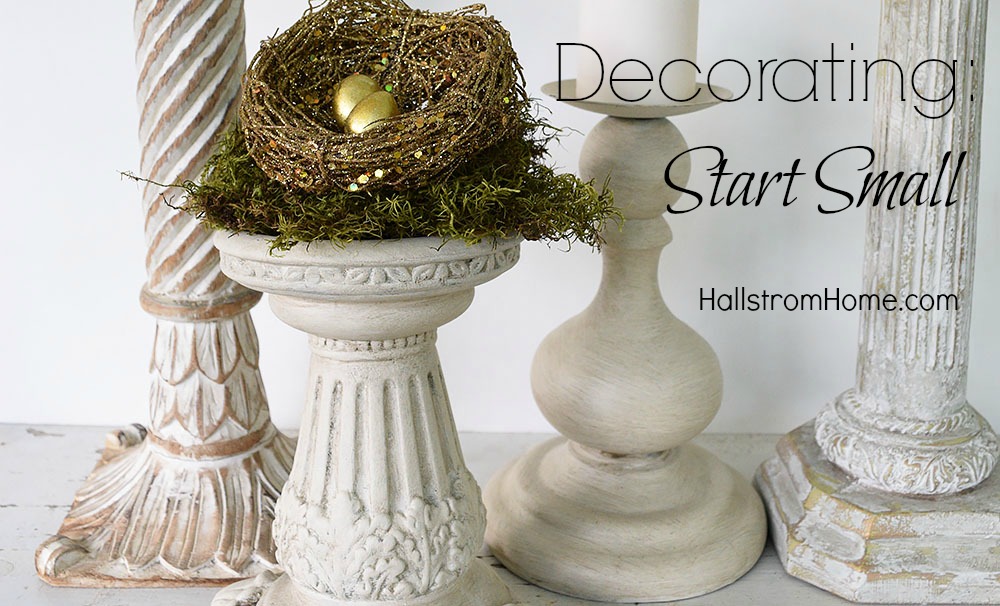 It is OK to splurge. When you find that one thing that you fall in love with, buy it. I myself love shopping deals and finding inexpensive ways to look high end. But that being said, when you find even one mirror or centerpiece to start with, it sets a rich tone to your room.
Choose your style. There are so many different gorgeous home decor styles. Before you start decorating, you need to decide which style is you. From rustic Shabby Chic, to French Provincial, Hollywood Regency, French Farmhouse, the possibilities are endless. For example, if you are wanting a Farmhouse style with a touch of bling, maybe start with a rooster painted in shimmery pearl. Or, if you are wanting a Shabby Cottage Chic look, you can never go wrong with a white candle holder collection.
Be unique. Everybody has their own personal style. That's why I am passionate about creating unique items that are completely one of a kind. Find that one item that calls your name and don't be afraid to try new things. If you find something that calls your name, no matter how small, start there.
Once you have your starting piece, the rest is easy. Simply find furniture and decor pieces that match the style of your one starting piece. Who knows? Maybe one of our new products is exactly the thing you've been looking for. Maybe not. No matter where you find that perfect start, I encourage you to buy it. You will be glad you did, and it makes decorating so much more exciting and fun.
Now, as I mentioned earlier, I am excited to share with you all of our newest product at Hallstrom Home. Take a look. You never know, maybe one of these pieces will be that special one.