The Girl Who Built a Beautiful Fire Pit
Does your outdoor space need some updating? Mine sure did!! I am The Girl Who Built a Beautiful Fire Pit. Twinkle tights and cozy chairs were calling my name. So I wanted to get this fun project done before hubby came home. I will include some yummy recipes for you to try over your fir pit.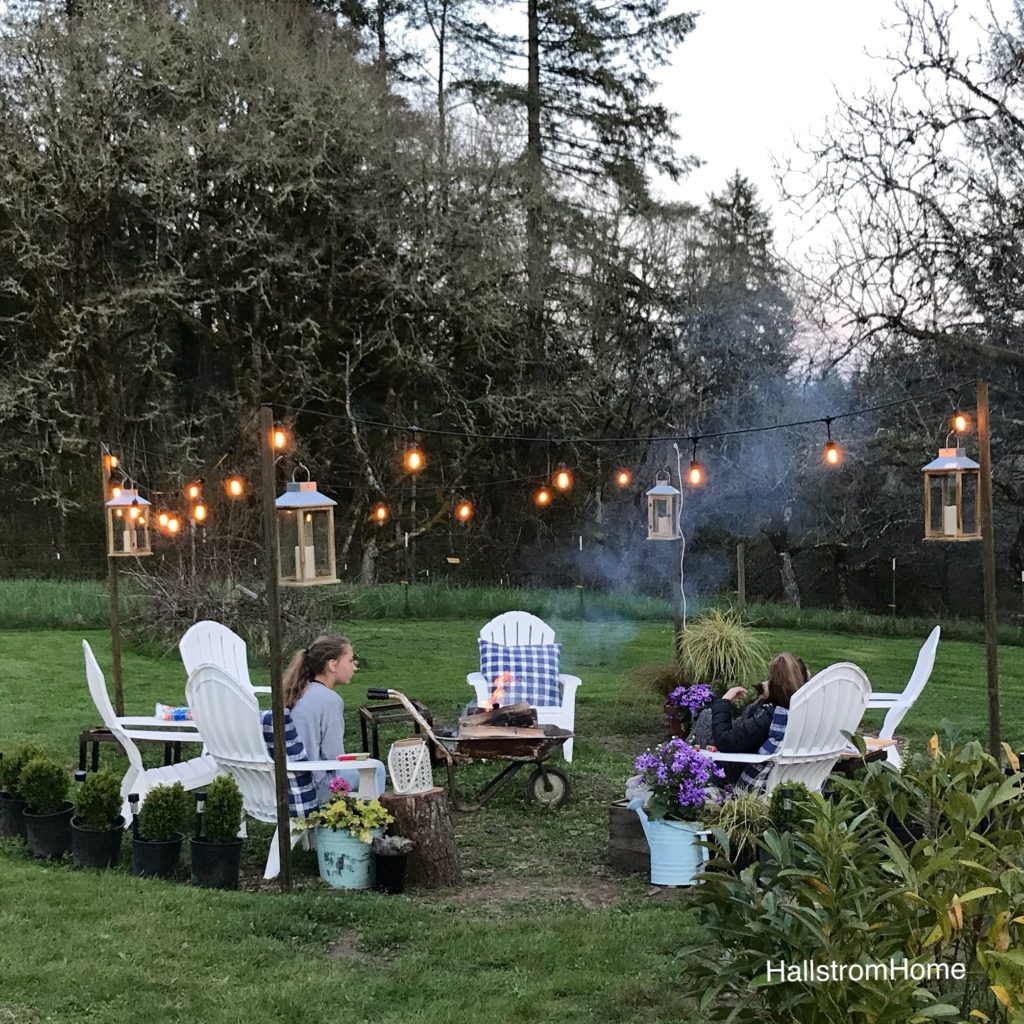 Here is where I got my inspiration from, Jessica at I Dream of Homemaking. She does amazing work. My fire pit isn't actually done yet but I wanted to share what I completed in a day in a half. Most of it was done before hubby got home on the first day. I strung the lights on the second day because I didn't have enough to start out with.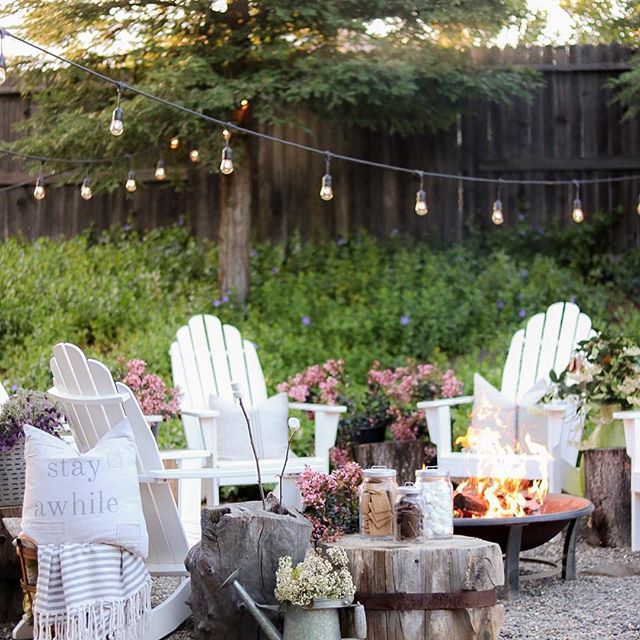 We have used a wheel barrow for years as a fire pit. I love that a wheel barrow is portable. Just get yourself an old crusty one and fill it with sand. The sand helps to keep in the heat, so the metal doesn't heat up. Trust me on this, the wheel won't melt and the handles won't get hot! I had people freaking out the first time I posted a picture of our fir pit wheel barrow, They claimed it was dangerous and the tire would melt. People can be so funny at times.
To be extra careful, I would set a small fire extinguisher around just in case a blanket catches fire. Or a cute painted bucket filled with water to stop a fire. This will also cool your metal roasting sticks.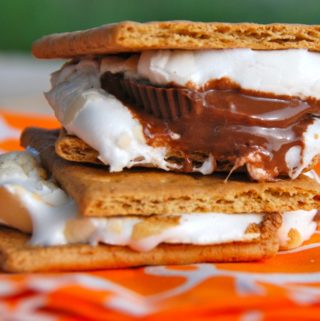 Mini Peanut Butter Cup Smores
Ingredients
1

Marshmallow

1

Graham Cracker

1-2

Mini Reese's Cups
Instructions
Split your graham cracker in half. Then place your 1-2 mini Reese's cups on them.

Toast your marshmallow to your liking.

Slide your roasted marshmallow on your graham cracker. Place other half on top. Enjoy!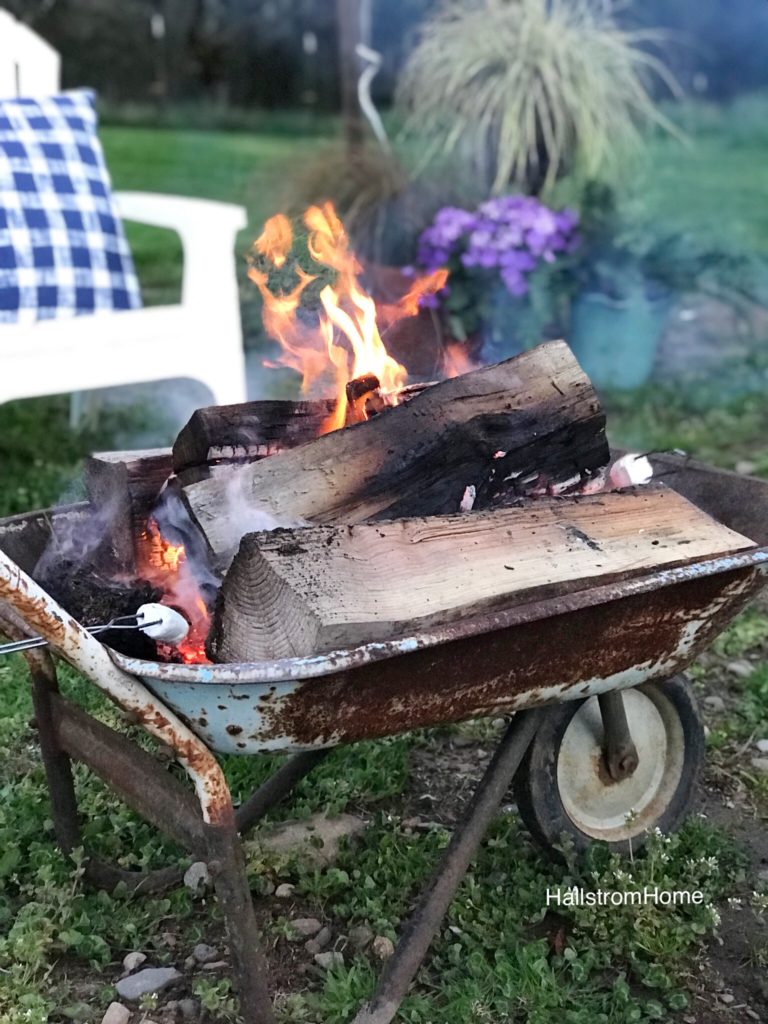 I began this project by getting wood posts from Lowe's. In a circle I staked them in the ground, bordering what would be my fire pit. I was going to fill this space with pea gravel..but I didn't get there yet. No big deal, I don't need the space to be perfect. It was finally a sunny weekend in the PNW, so I wanted to get started early on our fire pit.
For all my Target lovers, shop the links below to get this look. I will include affiliate links.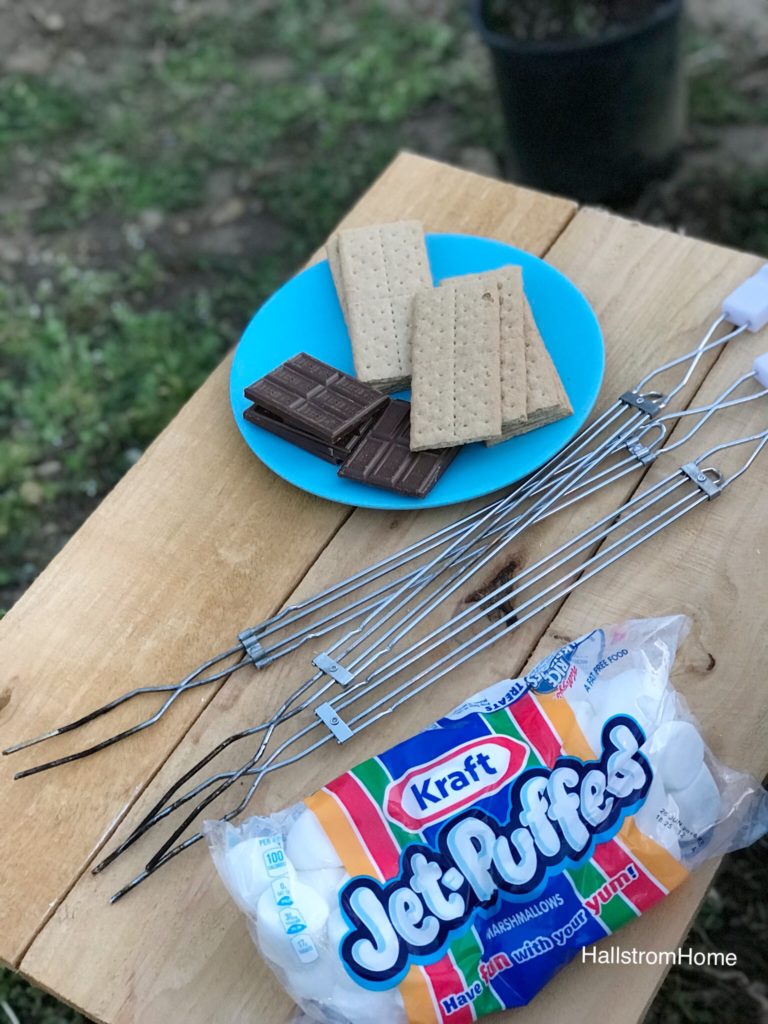 When the warmer weather hits, we have fires often so that means lots of s'mores. Jars are a perfect way to hold your s'more supplies!
This table is made from a bee box stand. Hubby has bees, and a few extra bee box stands so I thought, what a perfect table! The table top was created with cedar that I got at the hardware store. I think hubby was quite impressed, or maybe not because I am sure he would have made solid wood tables. But a girl has to do what she can with the little time that's available.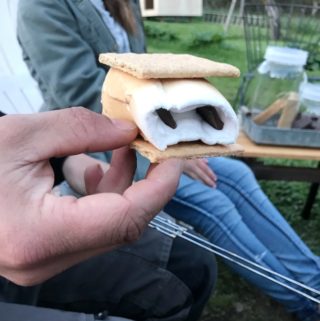 Heath Smores
This is not a normal smore. We added heath candy to the middle.
Ingredients
1

Marshmallow

1

Graham Cracker

1

Heath Bar
Instructions
Split your graham cracker in half. Place desired chunk of heath bar.

Toast your marshmallow to your liking.

Slide roasted marshmallow on graham cracker. Place other half on top and enjoy!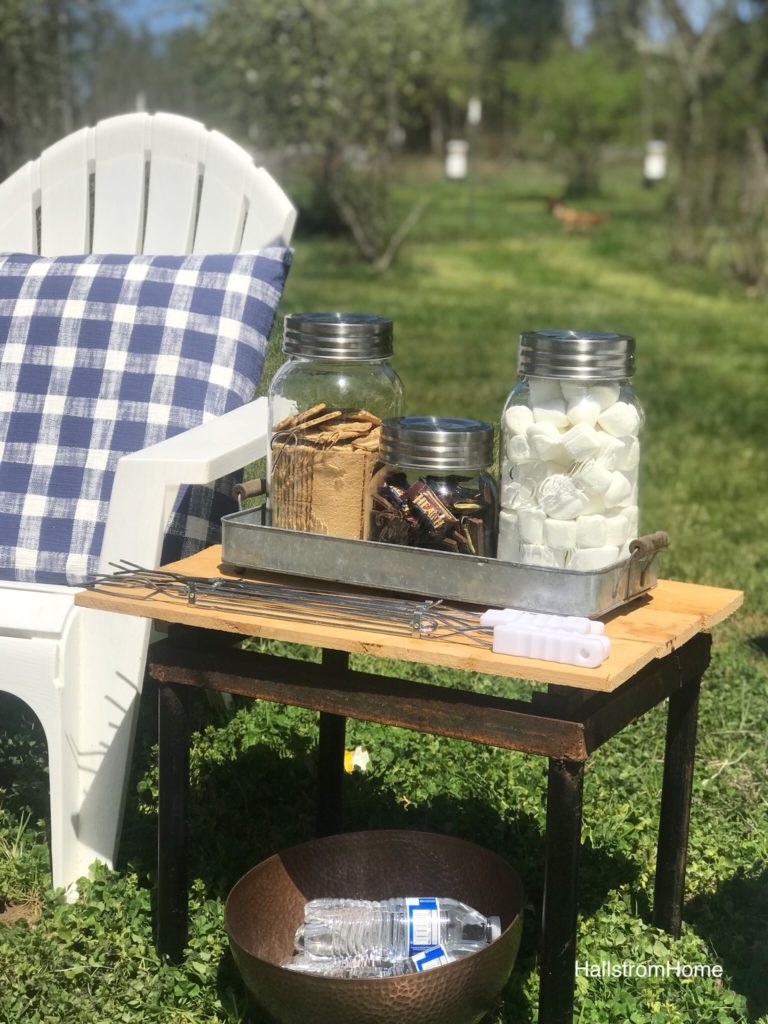 I strung my lights all around the border of the fire pit area. Then screwed hooks on the posts to hang lanterns from. If you are able to hang a chandelier, I highly recommend it. Take a look at my solar chandelier here. For the pillows that I use outdoors I like to water proof them, read how to do that here.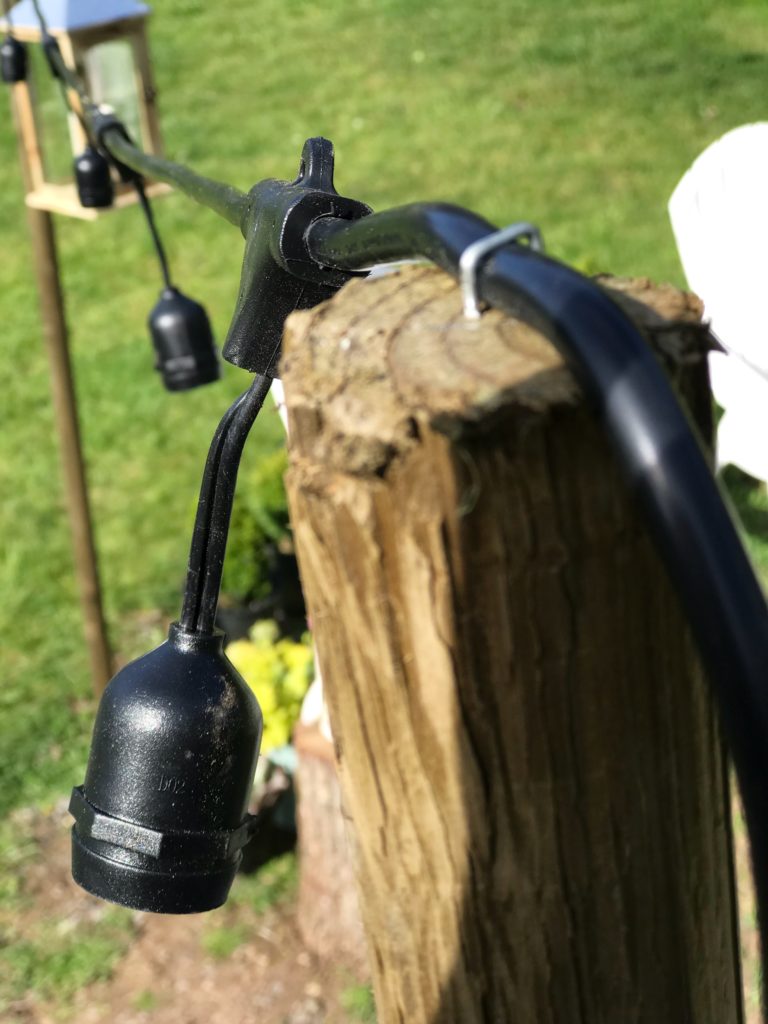 It is a good idea if nights get a little chilly to keep a basket of blankets. I have a basket in the mudroom filled with blankets perfect for by the fire. When the family is around the fire, the kids want to roast more than marshmallows so they get experimental. String cheese is one of their faves for roasting. Slowly roasting it for a gooey inside is so tasty.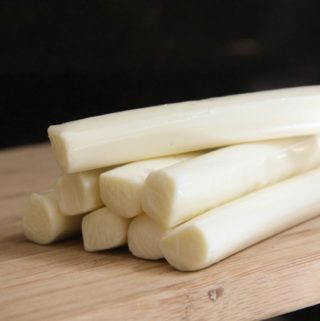 Roasted String Cheese
Instructions
Place your cheese stick on the roasting stick.

Slowly spin your stick, you want the inside to be gooey.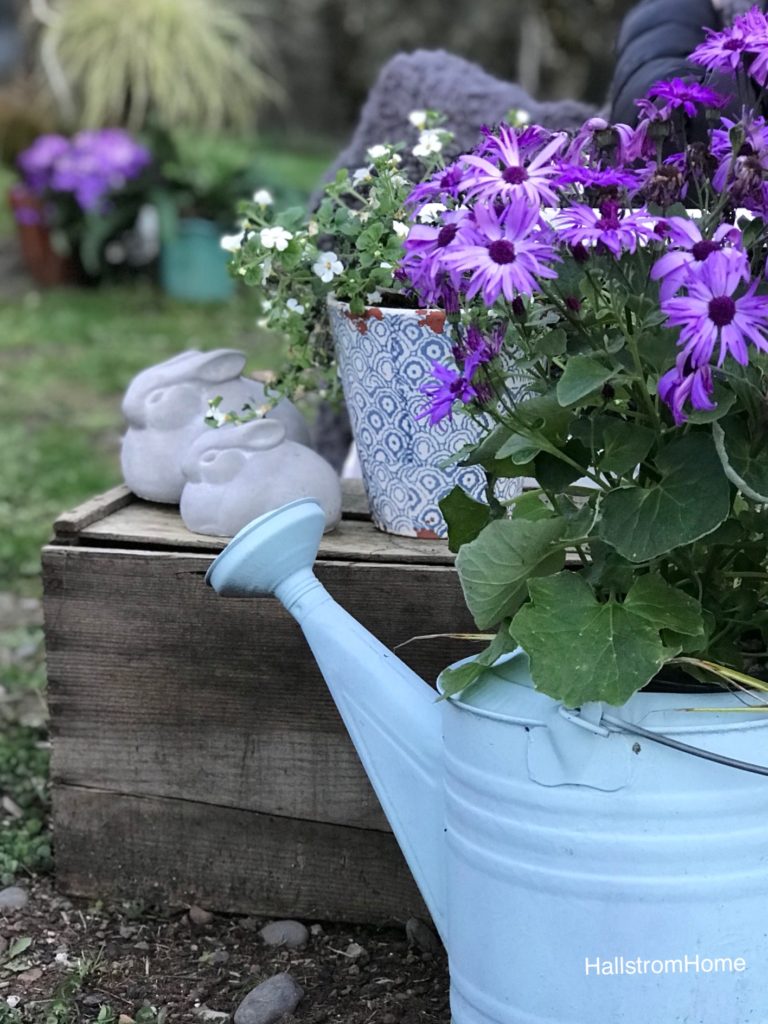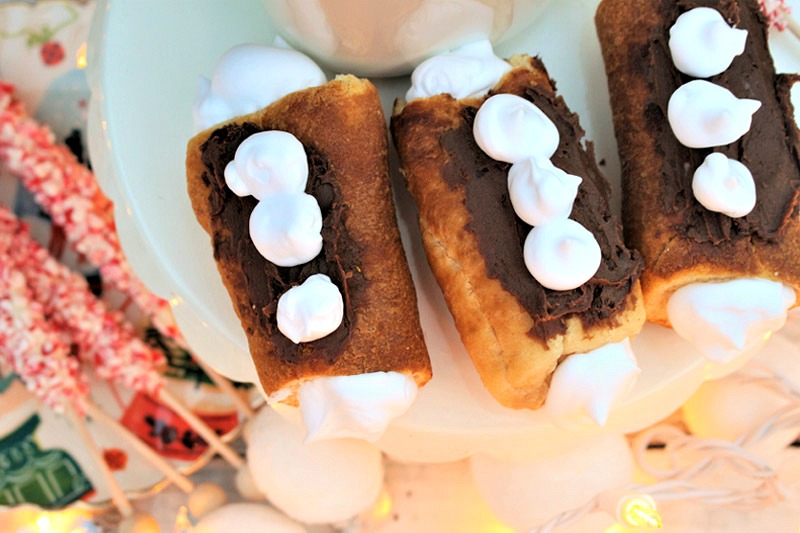 Janine at Happy Happy Nester has a delicious campfire Eclair recipe. You will have to try it out! Let me know how much you like it.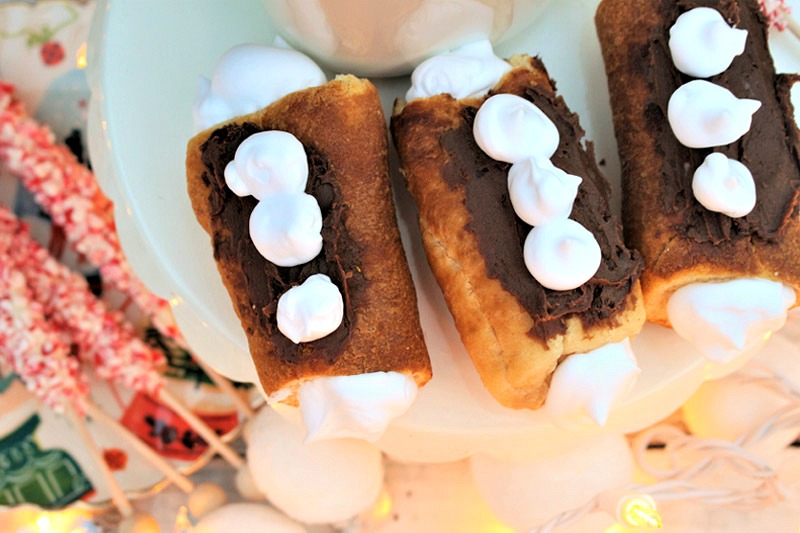 Campfire Eclairs
Ingredients
1

Package

Cresent Rolls

1

Package

Vanilla Pudding or Whip Cream

1

Jar

Nutella or Frosting
Instructions
Prepare your pudding ahead of time.

Wrap your roasting stick in foil and spray non stick spray. Wrap the dough around it closing the end off.

Roast until golden brown.

Fill the hole with pudding and spread nutella on top.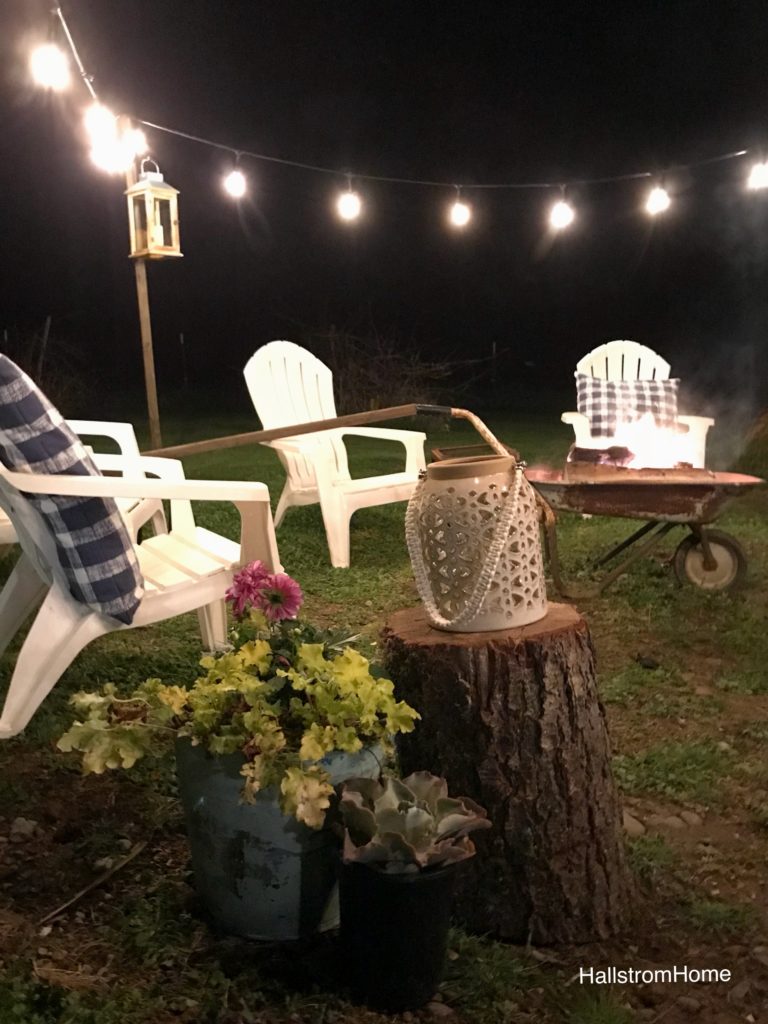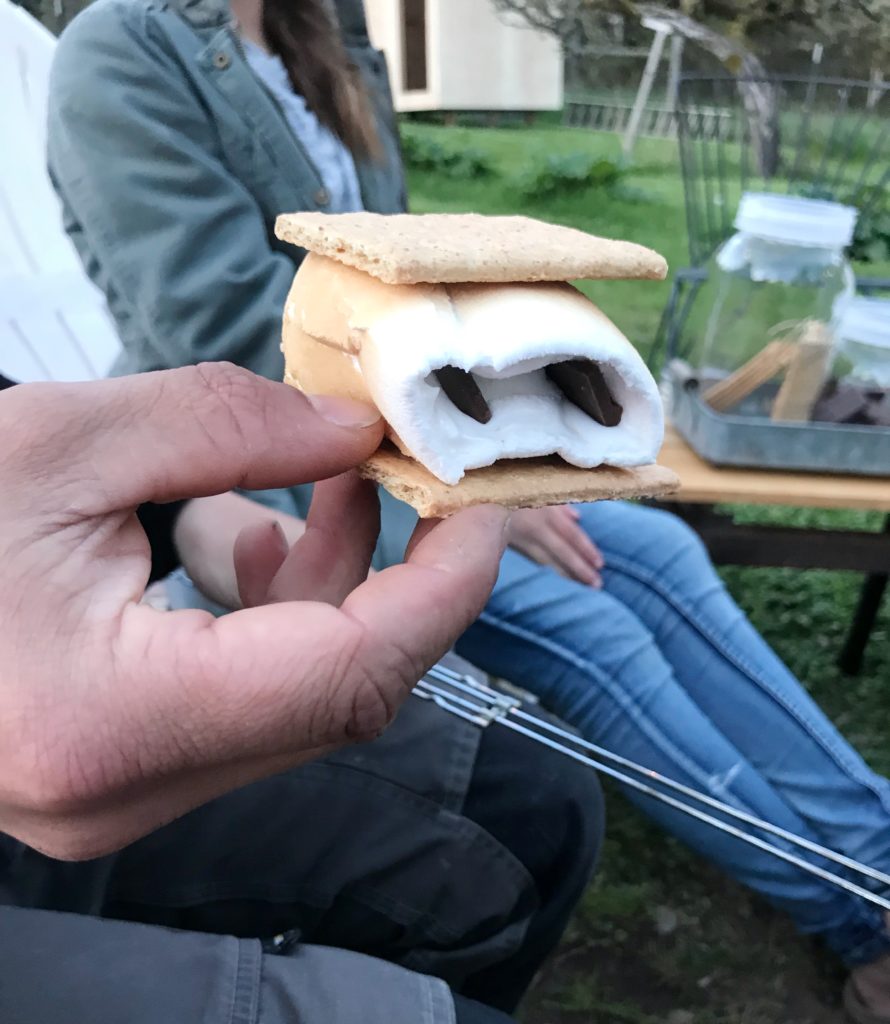 To see life in action check out my Instagram here. The kids made a creation with the jumbo marshmallows. Oh it was so good!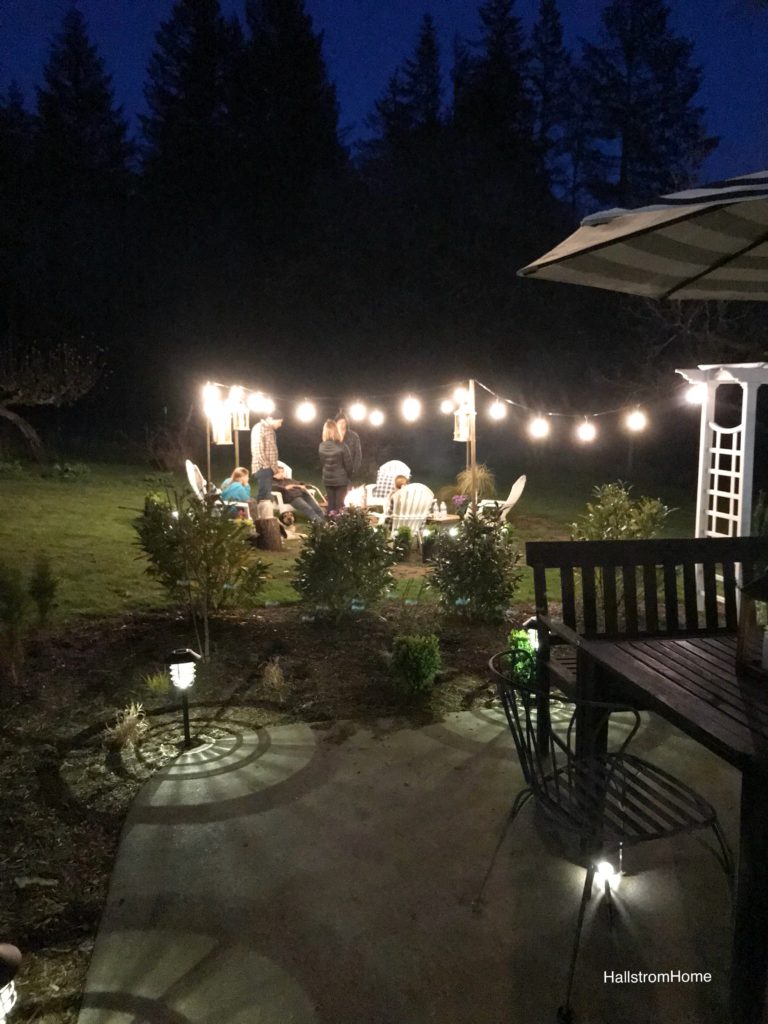 I would love to know what you love to cook over the fire. One thing to try is melting heath bars or mini reeces pieces cups instead of hersheys bars.
I will share links below for all my Amazon Prime people.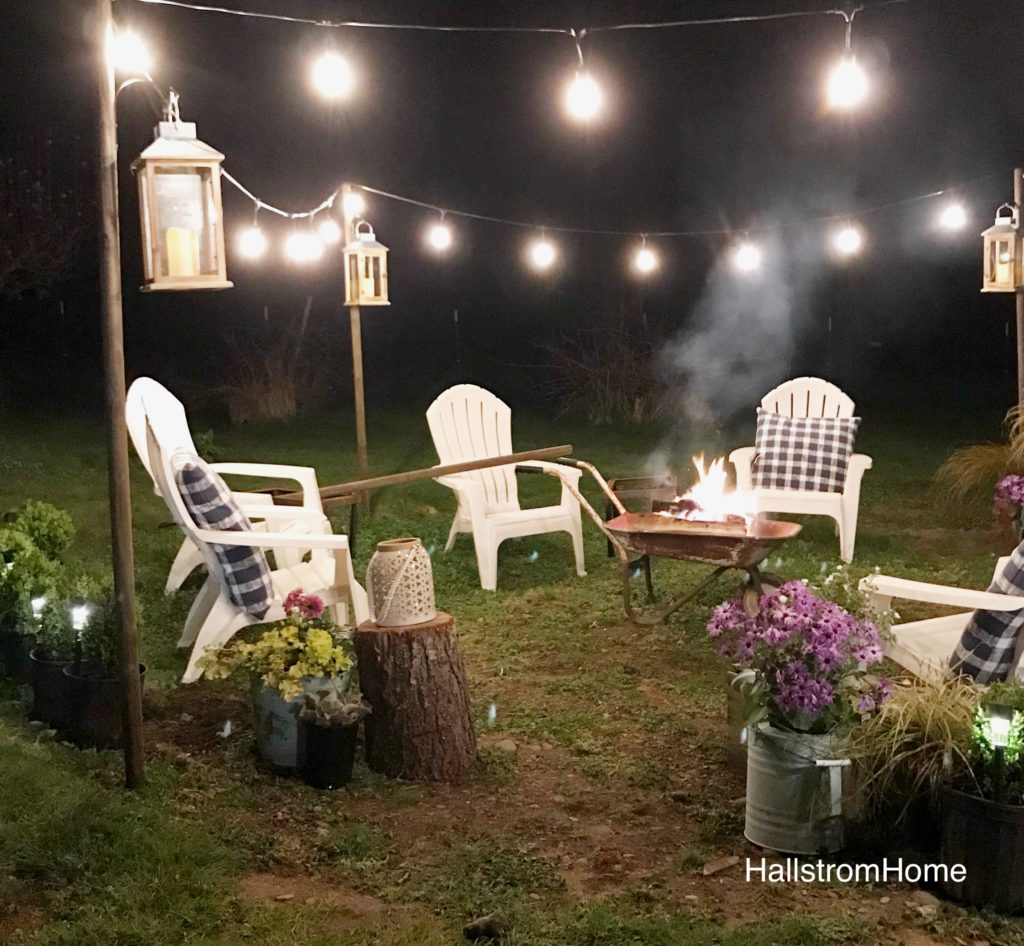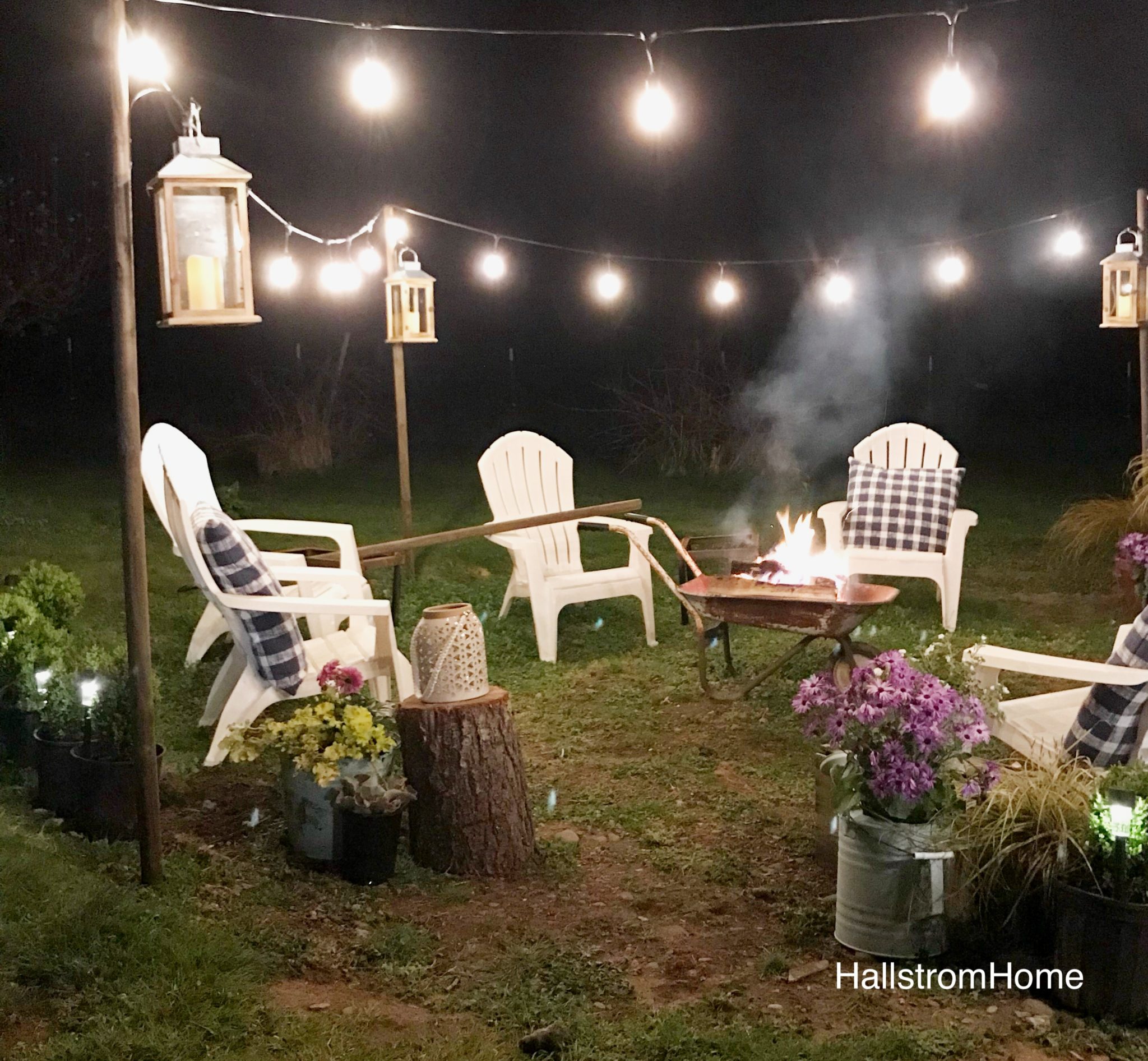 My friend Kim over at Today's Creative Life shared this peanut butter cookie recipe on her Instagram stories. She hasn't posted to her blog yet but there are many great recipes over there. I thought it would be so yummy, if you made these then roasted a marshmallow and put it on top of the cookie. What's great about these cookies is they only have 3 ingredients!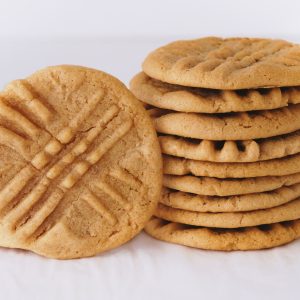 Gluten Free Peanut Butter Cookies
Ingredients
1

Cup

Peanut Butter

1

Cup

Sugar

1

Cup

Chocolate Chips

Optional

1

Egg
Instructions
Preheat oven to 350 degrees F

Combine all ingredients.

Place in small balls on cookie sheet.

Bake for 10 Minutes and let cool.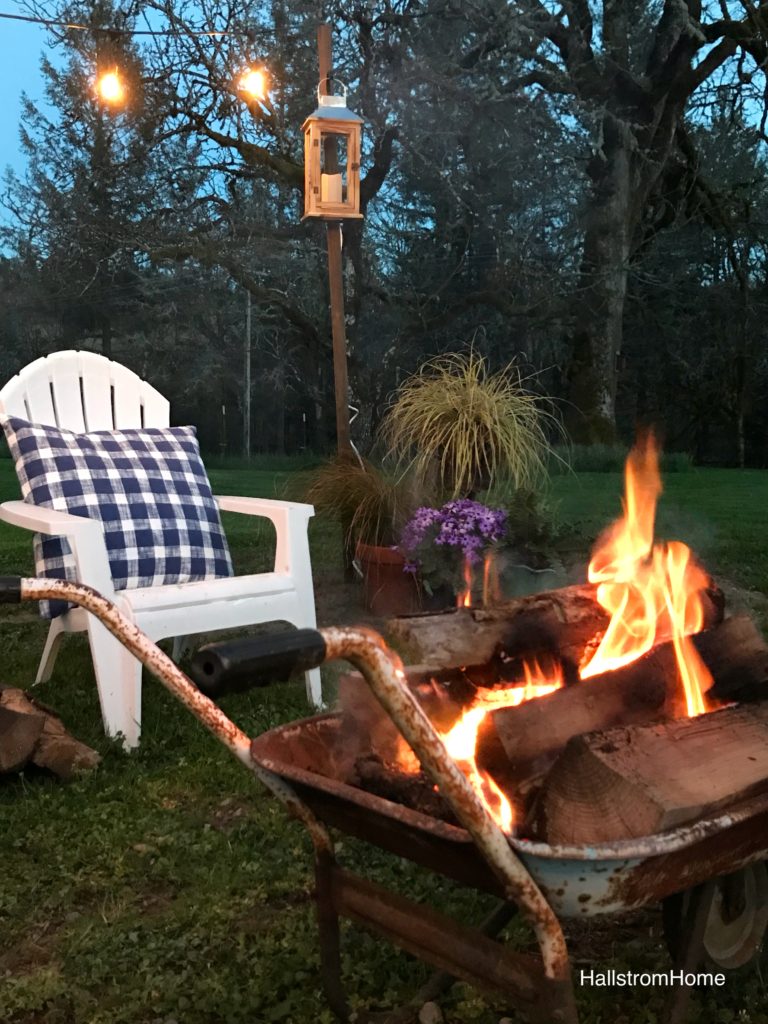 Thank you guys for stopping by! Now it's time to roast some marshmallows.