Spring is starting to inspire new changes so a group of us bloggers have come together to give some ideas on spring mantles and vignettes for your home. I have links at the bottom of this post will all the details. But first I want to give you some ideas on  decorating in French Country Style. It's is a mix of farmhouse design with the well established French Country chateau estate style. Incorporate ruffles, mixed patterns, baroque woodwork, and ornate decor pieces. With the new modern farmhouse movement, we're seeing a slight change in French country style that's a bit more simple yet elegant. Here we will go over 6 Easy Steps to designing your French Country Mantel Decor. This particular mantel is in our new office space, that we use as a photo prop for our mirrors and home decor.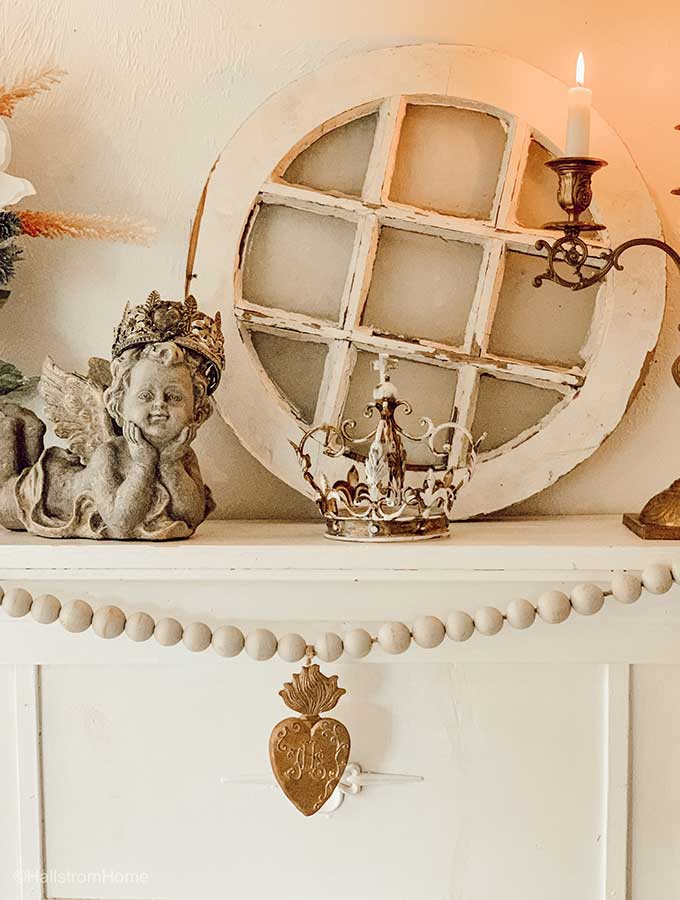 French Country Mantel Decor
Step 1: Start with Your Favorite Piece
Though French country design has been around for several centuries, it seems to have gotten a new fresher look. It was a style synonymous with overly decorated, traditional style. That reminds most of us of old world ranch style that your grandma may have had. We now embrace this elegant style with a bit more simplicity and charm by mixing elements of woods, metals and florals.
One of my all time favorite French country decor piece is this metal candelabra that I picked up from an antique store. We have two of them listed in our shop for sale, but in the meantime I have been using them for decor. My French loving heart can't resist the sexy scroll work on it.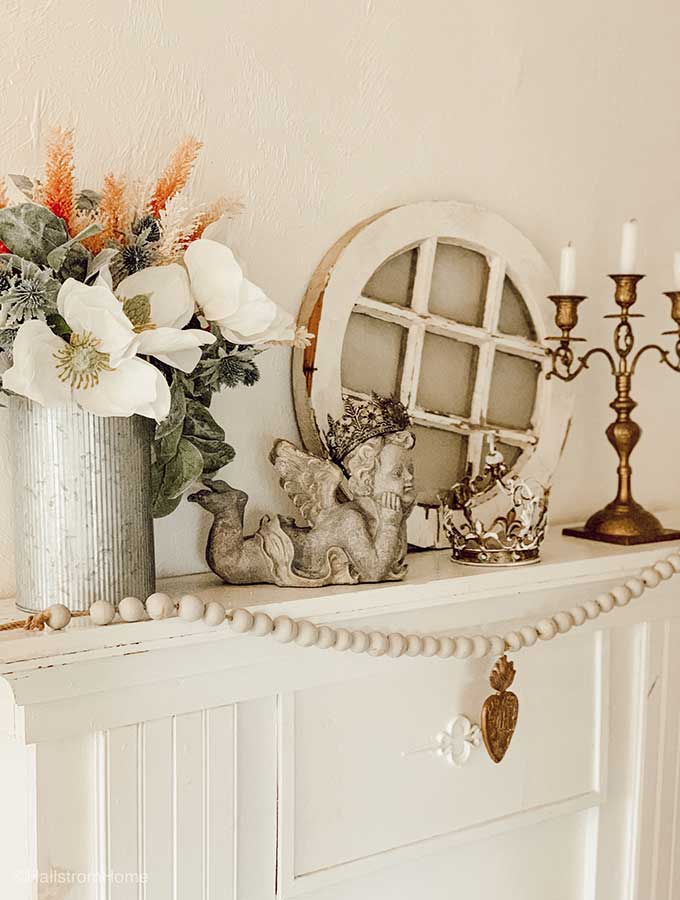 Step 2: Choose Your Focal Point
This is what I place in the center of the mantle. Here I chose this cute little round window I found. But often I would use a mirror or Baroque style frame like the one below. Other French country accents include ornate chandeliers, shapely mirrors, iron décor items and decorative wall clocks. Whichever items you choose, make sure they carry through the same feel as your other design elements.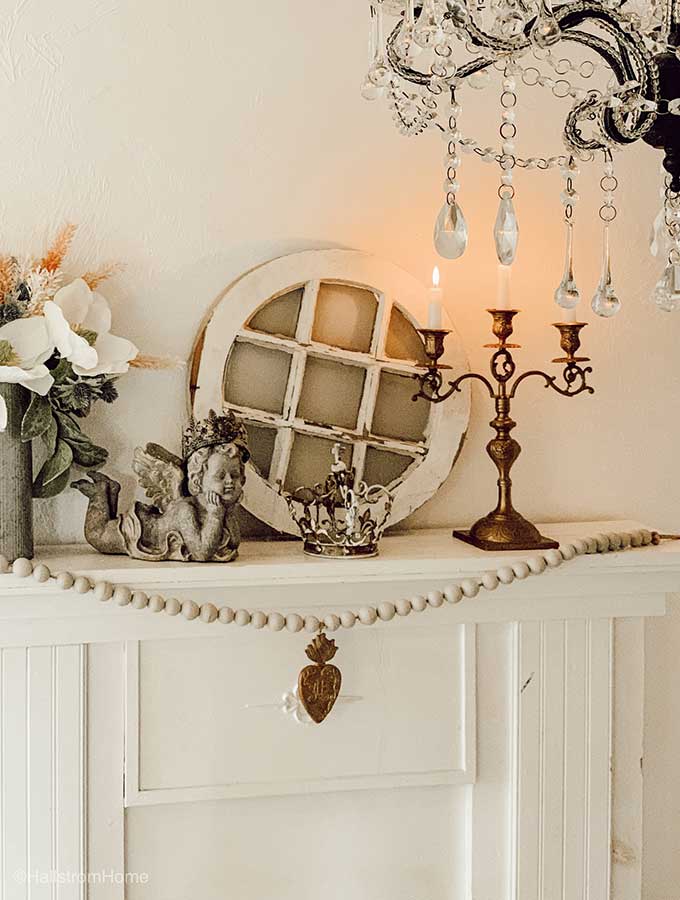 Step 3: Use French Decor
French country style is set in traditions that have been handed down from generation to generation. A few subtle nods to the past can be seen throughout this design.
Rather than having French decor look as though they've come straight from the store, you want the impression that your mantle has a bit of a history. The best way to achieve an antique look is to bring in real antiques or change up new pieces to look old. You may want to consider shopping on Etsy or secondhand stores. They help to bring in some vintage items to really cement that sense of history.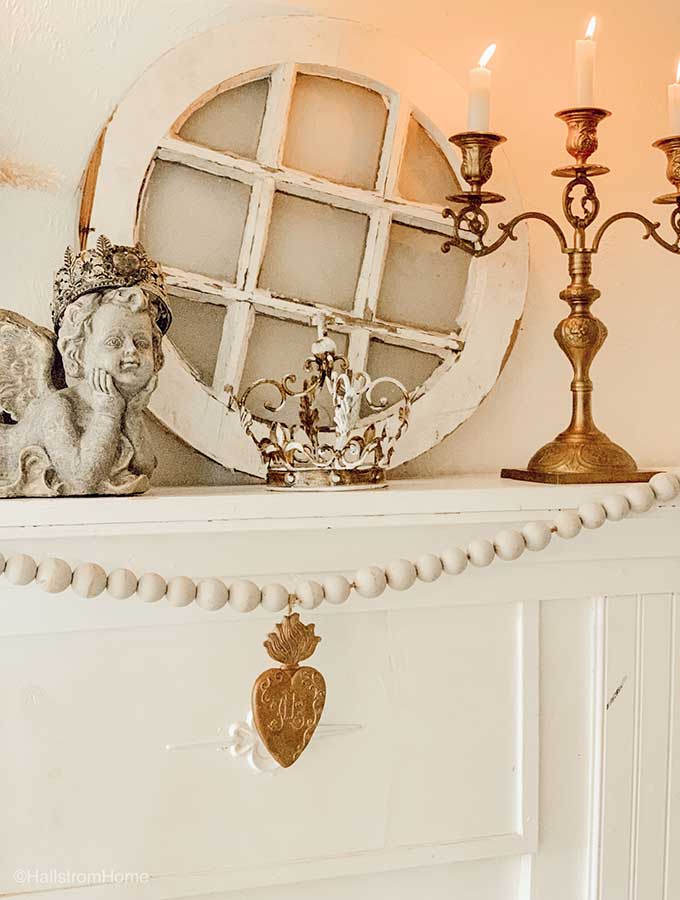 Step 4: Florals
French country design is inspired by the colorful countryside of southern France. Which is filled with warm sunny days, rolling hills dotted with lavender fields and charming country cottages. It's a welcoming mix of rustic and refined elements with a splash of romance. The color palette can reflect pale hues, such as lavender, soft white, heather blue, gentle peach and barely yellow. Or intense hues of gold, red, green, brown and blue. For me I like to use more neutral colors but then to bring out color in the florals I use. I made this particular flower arrangement to go with the more modern farmhouse style. I created the arrangement with bold flowers, leaves and textures designed with a whimsical feel.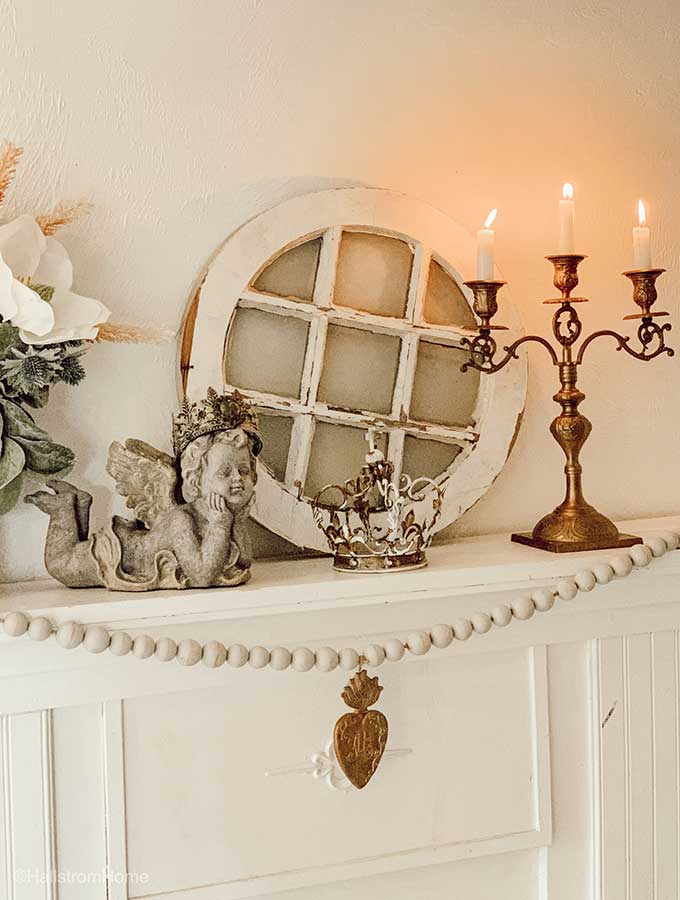 Step 5: Garland or Banner
Traditionally we think of a eucalyptus garland, but we have now found a new tradition of using wood beads as a banner. We can drape them along the front of our French country style mantel. This one was handmade with this charming, vintage inspired heart that I purchased on Etsy. I will include our wood bead painting tutorial here if you would like to make one. It's a fun way to get creative when decorating.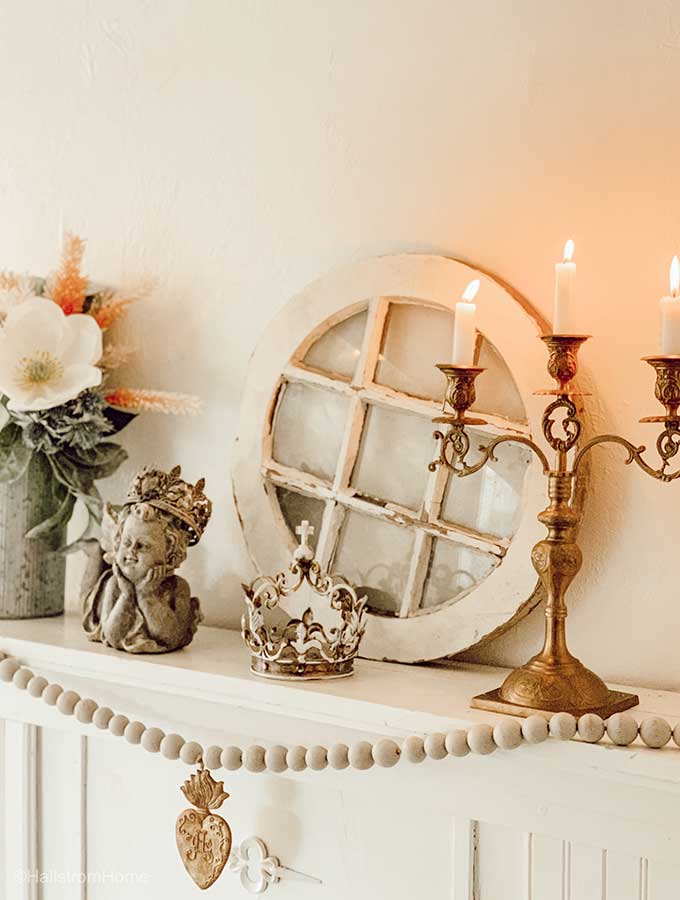 Step 6: Keep it Simple
Simplicity is the key for the newer style in French country decorating. I try not to overload the mantle with too many items that distract the eye. Instead I try to use just my favorite pieces and leave some space so the eye can rest between elements. We have found that the trend also goes away from the more traditional style or symmetry. It is now more off center with height. It is also more on one side than having heights exactly the same across the mantel.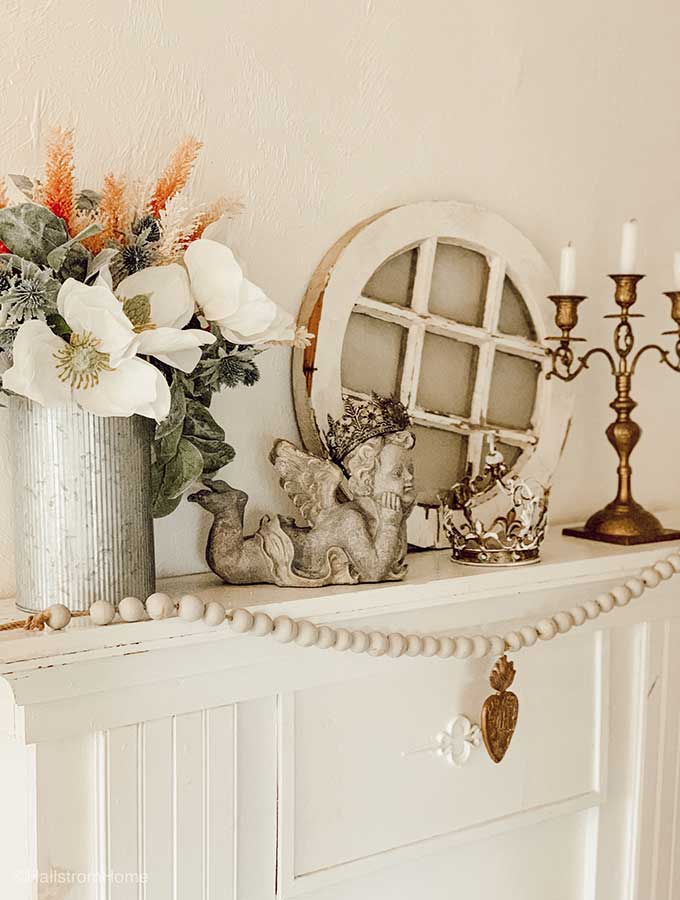 Am I aging myself by decorating with French Country Style?
This decor has no age boundaries.
To be honest, I wouldn't expect to find French country style in many 20 year olds homes. The farmhouse and mid century modern has become very popular with many. But I don't think this style is just for the older generations. It's become appealing to the younger generations as well, because this romantic elegant style will always have a place in the design community.
Let me give you some options and places that I shop for French Country Decor. This will mix well with farmhouse style if you love to incorporate these design elements. Keep in mind that I created my first online store with a French country style feel because it's always been one of my favorite styles.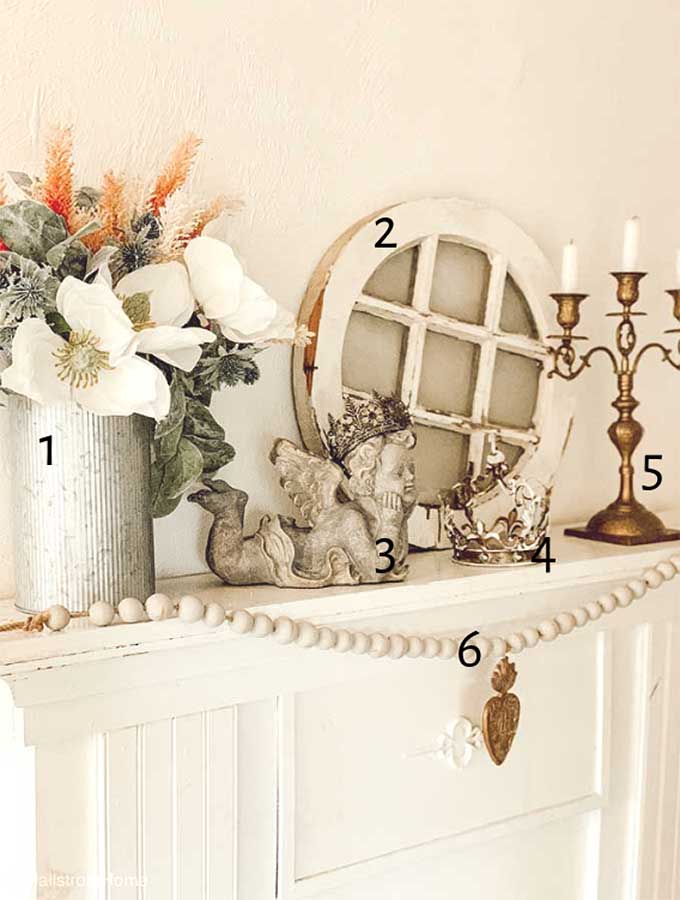 Shop Our French Country Mantel Decor
Click on these links below for your favorite pieces.
1: Galvanized Vase| 2: Window Pane Mirror| 3: Cherub Statue| 4: French Crown| 5: Candelabra| 6: Wood Bead Garland
Today I'm joined by a fabulous group of blogging friends who are also sharing their Spring Mantel or a Springy Vignette in their home as part of the Seasonal Simplicity Spring Series! You're going to love all this springy inspiration…
The Happy Housie //Rooms FOR Rent // Place of My Taste
Lolly Jane// Lemon Thistle
A Pretty Life // Clean & Scentsible // Tatertots and Jello
Tauni Everett // Amber Tysl
Bless'er House // Zevy Joy // So Much Better With Age
House by Hoff // Modern Glam
Home Made Lovely // Maison de Cinq // Sincerely, Marie Designs
Town and Country Living // Hallstrom Home
Rambling Reno // This is Our Bliss // Life is a Party
Southern State of Mind // Deeply Southern Home
Craftberry Bush // Taryn Whiteaker Designs // Finding Silver Pennies