Being a mama of 7 and running an online business is a lot of work, so all I want is quick and easy food recipes. This recipe does the trick. Easy Chicken Pot Pie for Busy Moms! My family loves this recipe and I can fling it together so fast! And if you have leftovers? Warm 'em up the next day for lunch when you're exhausted from all your mom work 🙂 Here's a little time saver tip…make one pot pie for dinner and save one for a freezer meal at the same time, for those nights when you're really stretched for time.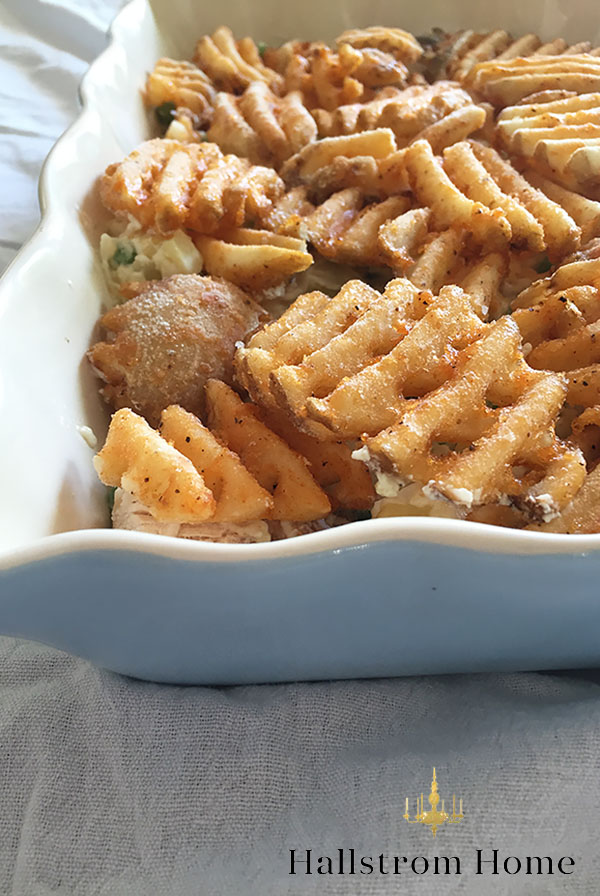 Easy Chicken Pot Pie for Busy Moms
Let's talk a little bit more about time savers. (because who doesn't LOVE time savers?! 😉 )
One of my time savers in cooking is to make two meals at the same time…one for dinner and one for the freezer.
Easy Chicken Pot Pie for Busy Moms is the perfect meal to do that with.
Another great time saver for my pot pie is using Alexia Crispy Waffle Fries
. Rather than cooking potatoes ahead of time to include them in the pot pie, we like to use Alexia Crispy Waffle Fries
 as the top of our chicken pot pie, rather than a pie shell.  Not only does it save time, but it's quite delicious too! These crispy potatoes are seasoned with a unique blend of sea salt, pepper, onion and garlic to create a distinctive flavor that you will love. Or, if you don't have waffle fries on hand, simply use Pillsbury Biscuits
 for a quick and easy solution.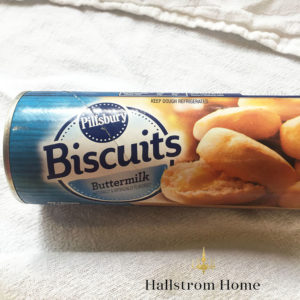 Seriously you don't have to scream and cry and get all stressed out just because you don't have something on hand. 😉 There's always something you can use instead. Always. And if not, just leave it out. Your family will never notice. Here's how I do the Pillsbury Biscuits.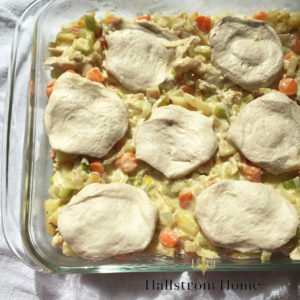 Just flatten the biscuits on your chicken pot pie, and they come out looking nice and golden brown. Easy as pie (get it? 😉 )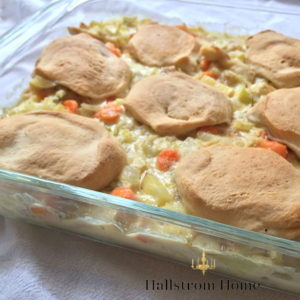 You'll find this chicken pot pie recipe quite easy (and you don't have to feel guilty because it's healthy 🙂 ). There is only about fifteen minutes of chopping and cooking to get the filling ready, and then they're ready to go in the oven. Pop them in the oven for about 30 minutes, and you'll have two dinners that are completely ready to go, one for dinner that night and one freezer meal for a night when you're really stretched for time!
If you are one of those Martha Stewart types, then use farm fresh ingredients for that delicious farm flavor taste.
Here's what you will need to get cookin':
Easy Chicken Pot Pie for Busy Moms
2 cans Pillsbury Biscuits or Alexia Crispy Waffle Fries
1 Rotisserie Chicken
1 bag frozen veggie mix
2 cans cream of mushroom or cream of chicken
1 1/2 cups of shredded cheddar cheese
Salt and Pepper to taste
1: Preheat your oven to the temp listed on your crescent rolls (for ours it was 350)
2: Shred your chicken and put chicken, frozen veggies, soup and salt and pepper to taste in a sauce pan and heat for 5-10 minutes. The chicken is already cooked so this is really just defrosting the veggies and blending the flavors.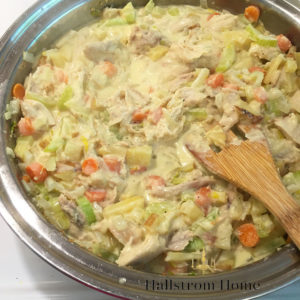 3: In a 9×13 baking dish unroll and lay flat your first can of Pillsbury Biscuits, covering the bottom of the pan.
4: Spoon creamy chicken and veggie mixture into the pan and then cover with the shredded cheddar cheese.
5: Top with the second can of Pillsbury Biscuits or Alexia Crispy Waffle Fries covering the mixture.
6: Bake for 20 minutes until topping is golden and flakey.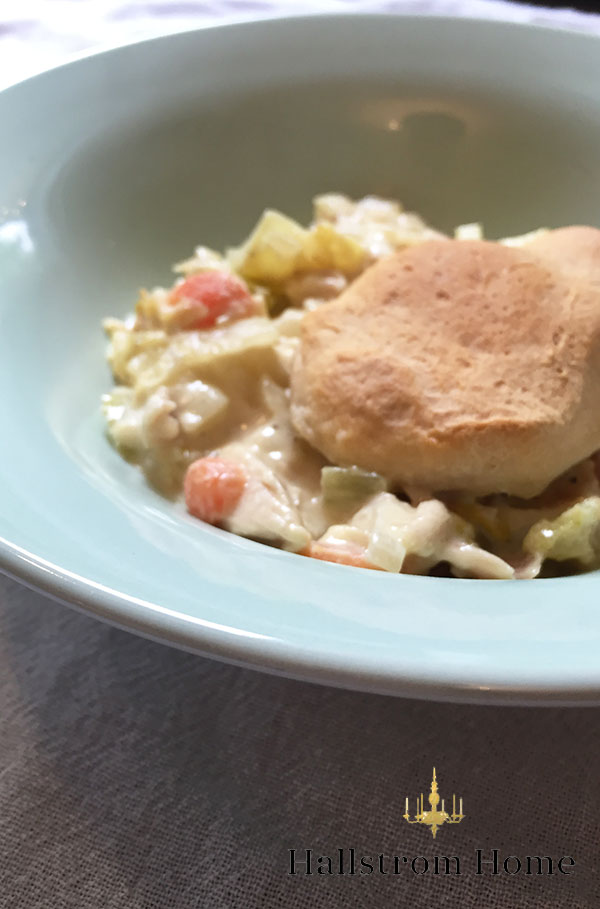 7: Try not to devour the entire pan in one sitting. It's tougher than it sounds.
Told you it was easy. I feel like Martha Stewart would be proud. If you liked this recipe then I suggest you try some of our other favorite foods like our Busy Mom's Farm Fresh Egg Breakfast Recipe, Raspberry Wedding Drink Recipe, and Yummy Coconut Layer Cake.
And while you are at it, why don't you share your favorite dish in the comments because sharing is caring my friends. 🙂
Save yourself time and effort by shopping through Amazon!
Are you having one of those busy weeks with NO time to go grocery shopping? Not a biggie! You can go online grocery shopping at Amazon. Saves you time and effort!
Disclosure: This post contains affiliate links. All items I personally recommend and would not suggest otherwise. I have purchased them or similar items with my own money and have found them to be useful for this recipe. I hope you will find them useful as well.