I might be a pillow addict.. they are such a great way to change up the look of your home without doing too much. Here I want to show you a few Ideas on How to Stage Pillows, so you can create a space you love.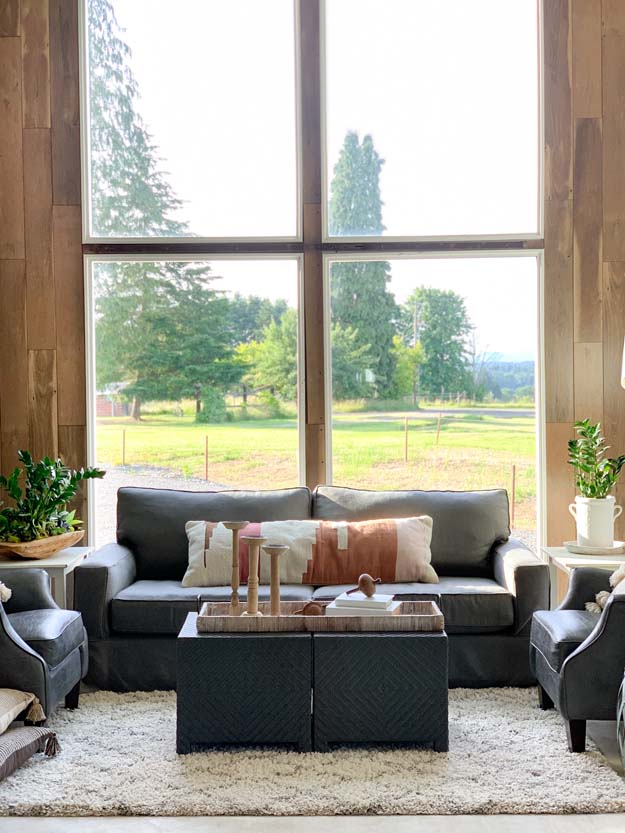 We ended up rearranging a new clients home with a few of the products in our shop that she loved. So to start we moved around the furniture to open the space up and give it a fresh feel. She has these amazing windows at the front of her house. They stretch from the floor to the ceiling, so we had to make these the focal point.
Ideas on How to Stage Pillows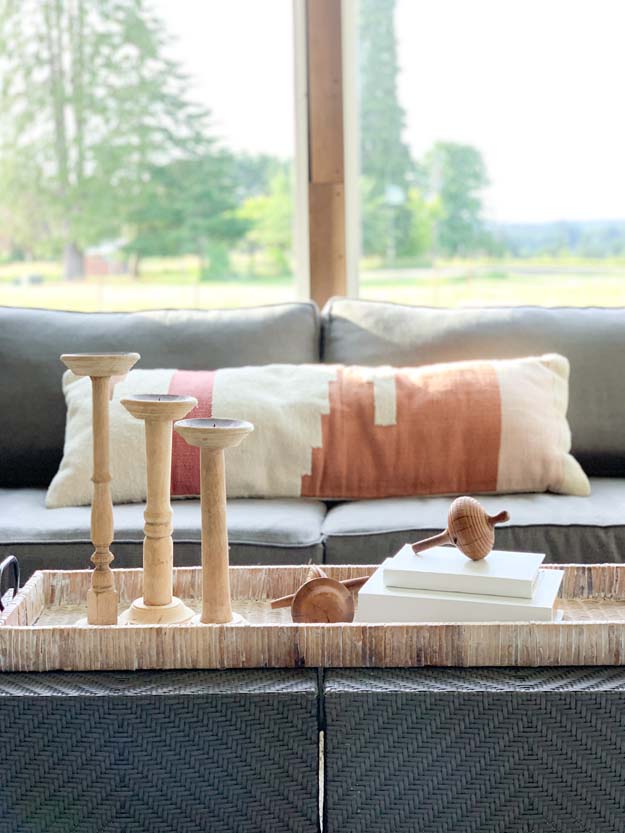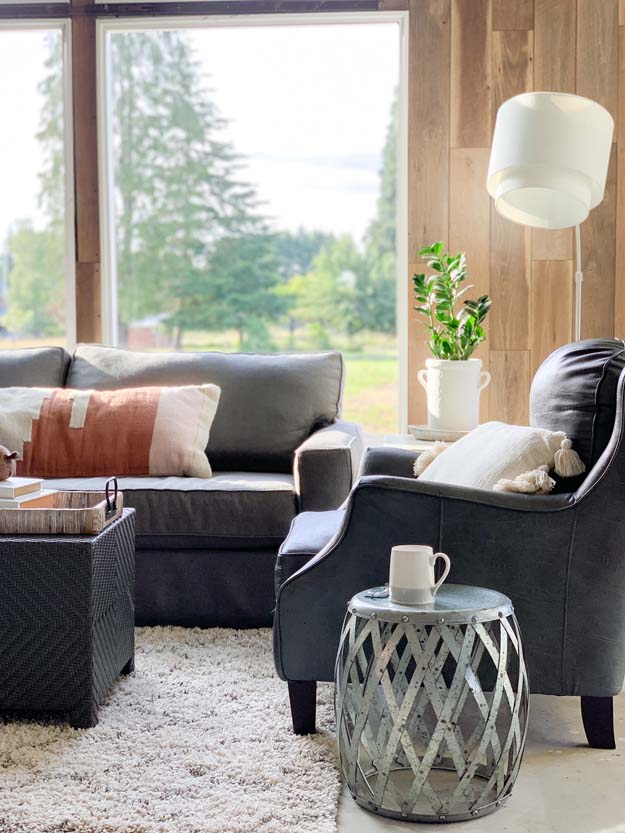 Start with a base color
Once her space was moved around where we liked it, it was time for the decor. Her dark gray couch and chairs were the base color for our pillows. We loved the simplicity that the large lumbar pillow gave, while still filling the space.
Watch our styling video above.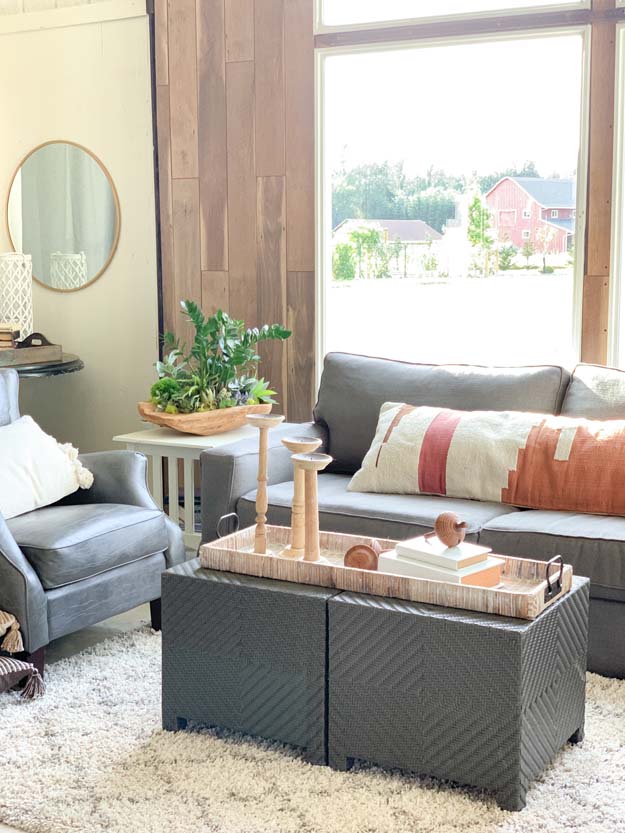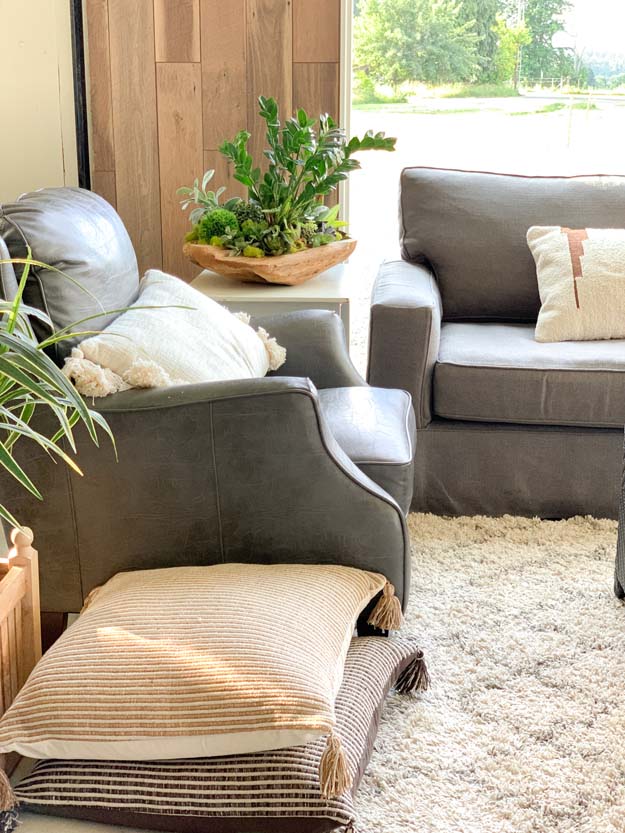 With the decor we wanted the colors in the pillow to go along with the table decor. Those natural tones from the pillow go well with the centerpiece. We used our wicker natural tray as well as some wood candles to add some height.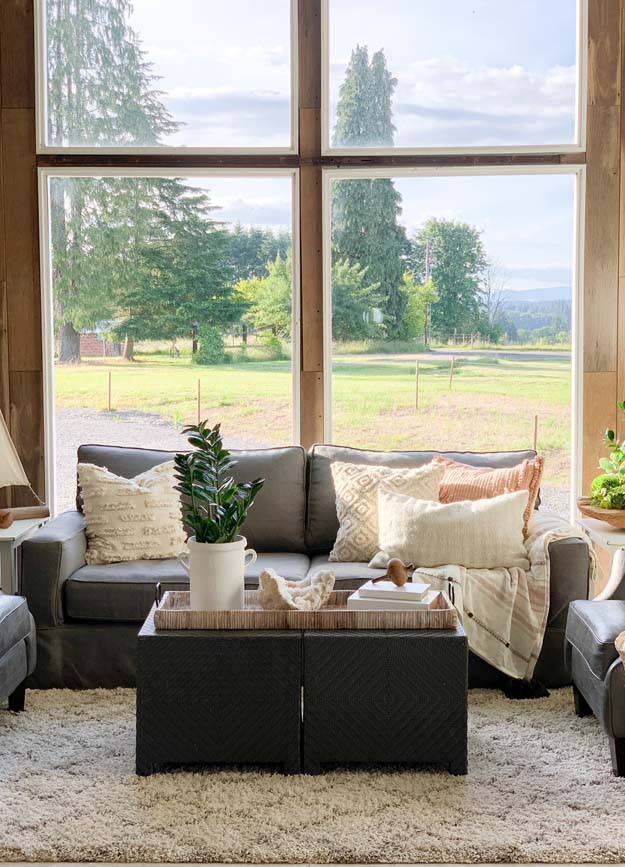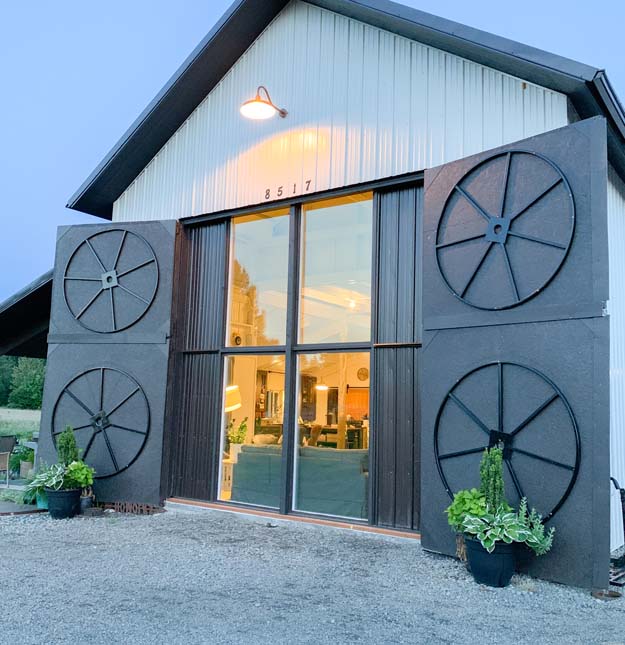 Modern Farmhouse Exterior
Aren't those windows just amazing! That's why they had to be our focal point in the living space. She wanted us to style her a couple looks, so she could change it up every once and a while. Time for look 2! We also have a new collection of pillows in our shop, so take a look at how we mixed and matched pillows for your home decor.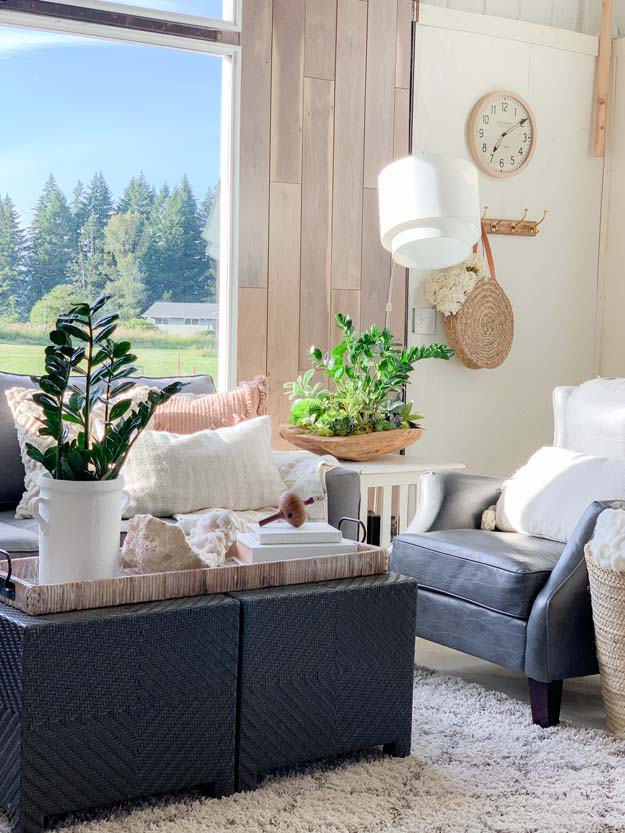 Natural Pillows
This time we kept it simple with the decor we moved the greenery over to the other side table. All of these natural and wood elements really tie into each other and make the space come together. We wanted to change up the centerpiece this time with some pops of greenery in a white terra cotta vase. Then we used a few of her home decor pieces. The crystals brought in the earthy elements, but still kept it simple by not adding too much clutter to the center. Here are the best trending pillows.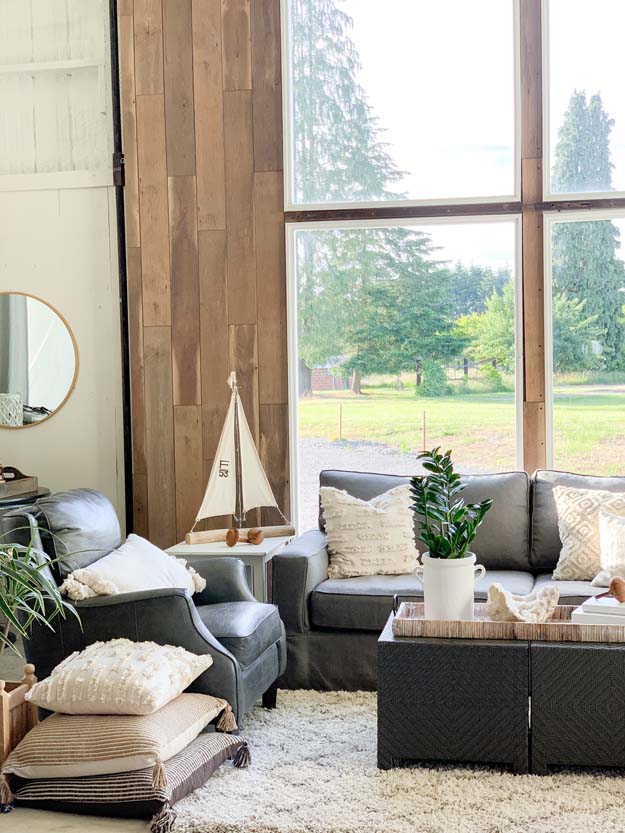 Floor Poufs
By adding a ship to her side table, it really gives a summer feel! The pillows on the floor are great for those nights when you have the grandkids over and they can use as a floor cushion. Plus they can be traded out for the chair pillows, to give a different feel.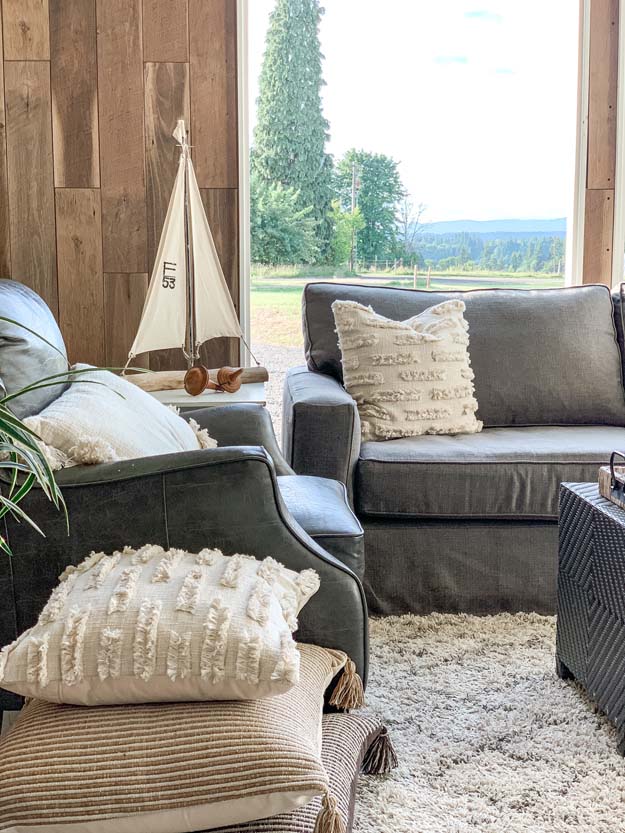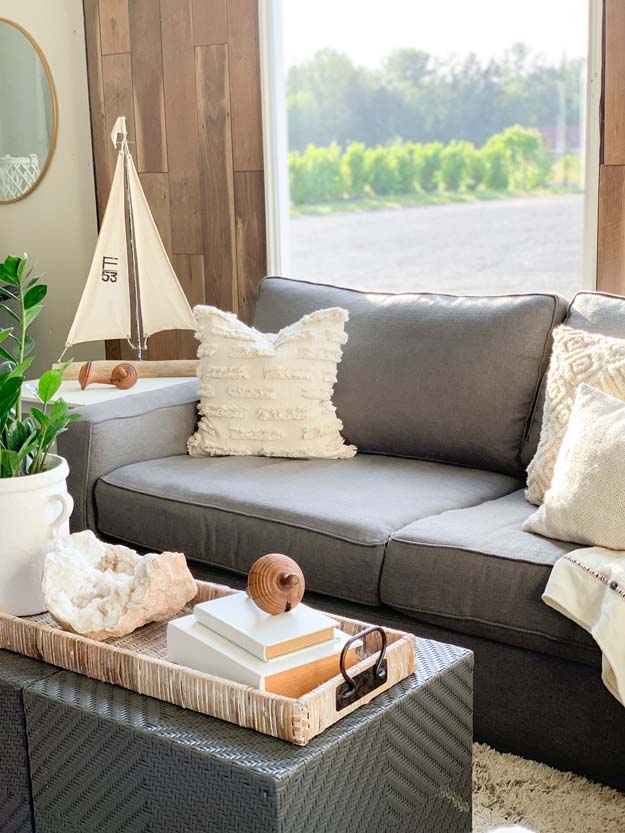 Start with a base pillow
As for the pillows we kept it neutral tones. For the base we chose a couple large cream pillows with lots of texture. Layering gives it a very cozy look. We did want a little pop of color so we added a pink pillow to the back, so it wasn't too bold. Then layered simple off white pillows over top. There are affiliate links below so you can shop this look.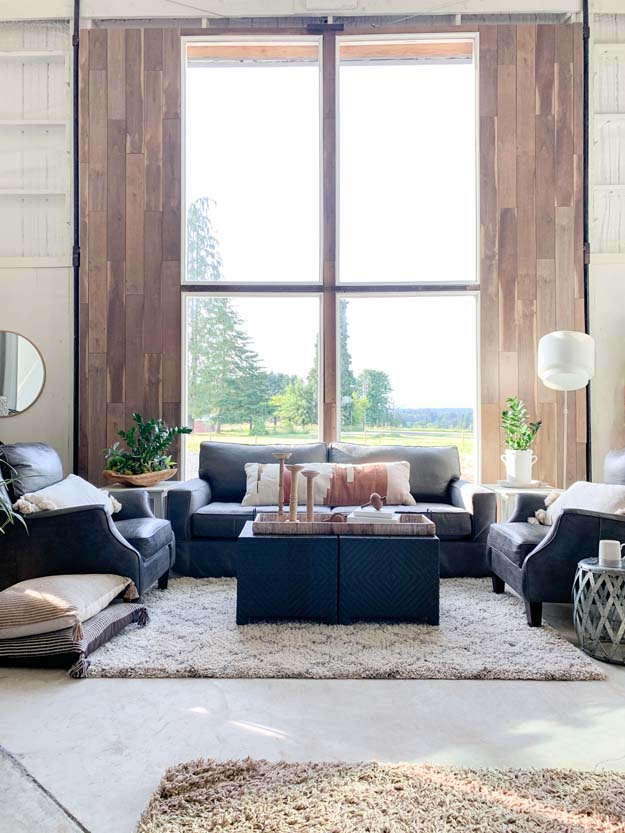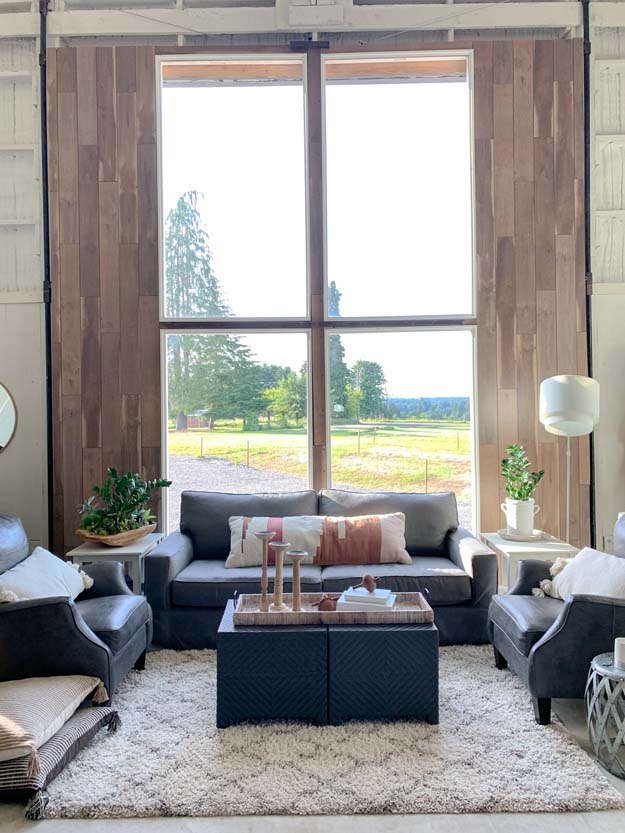 Styling your home with pillows can be simple, the bonus is you can change it up so easily. Plus they can really reflect your home style. Have fun decorating!