You know those bathrooms with the frameless mirrors glued to the wall? Do you want to scream because you know it's going to destroy the wall and make a big mess if you tear it out? Well, I say to do it!! I have an idea on how you can fix that situation so you can hang Beautifully Framed Bathroom Mirrors.
Be sure to sign up for my email to get new recipes, crafts and home ideas in your inbox!

Beautifully Framed Bathroom Mirrors
Placing mirrors throughout your home can be so pretty and open up your space. If you go through my home you will find many mirrors, that's the perks of being a mirror maker. They can just be so elegant and be painted to match the style you're going for. You can find all of these mirrors in our online shop!
How to remove mirror from frame
First get out the big garbage can, a hammer and a crowbar. Just don't tell your hubby as he may refuse this project. It's totally worth it though, unless it'll cause world war three. So let's get started.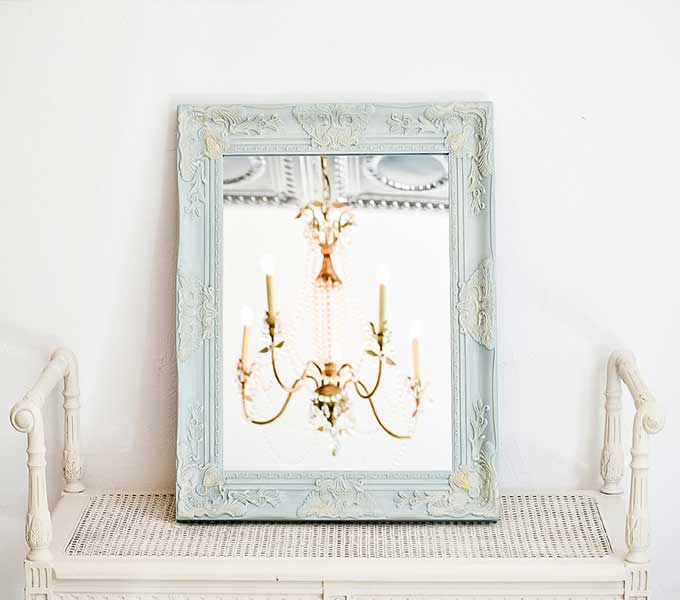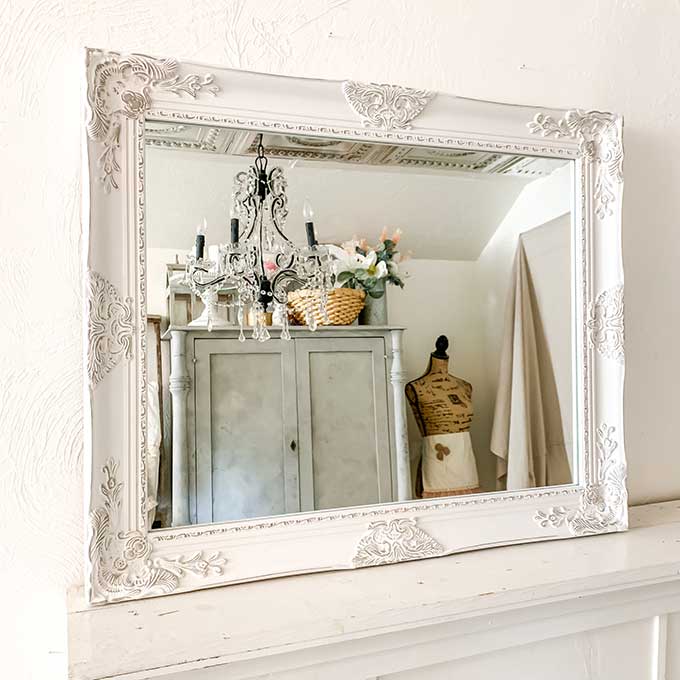 Drape a drop cloth over your sink so it will catch all of the glass. You will want to wear proper protection like gloves and eye protection. Once you get everything ready to go, you will bust your mirror with the hammer. You can then use the crowbar to remove smaller pieces of mirror instead of trying to remove one big piece and having it bust in your hands. The biggest problem to watch out for is getting cut by glass. You can apply masking tape across your mirror in many strips so that when you crack the mirror, it will stay somewhat in place for easy removal.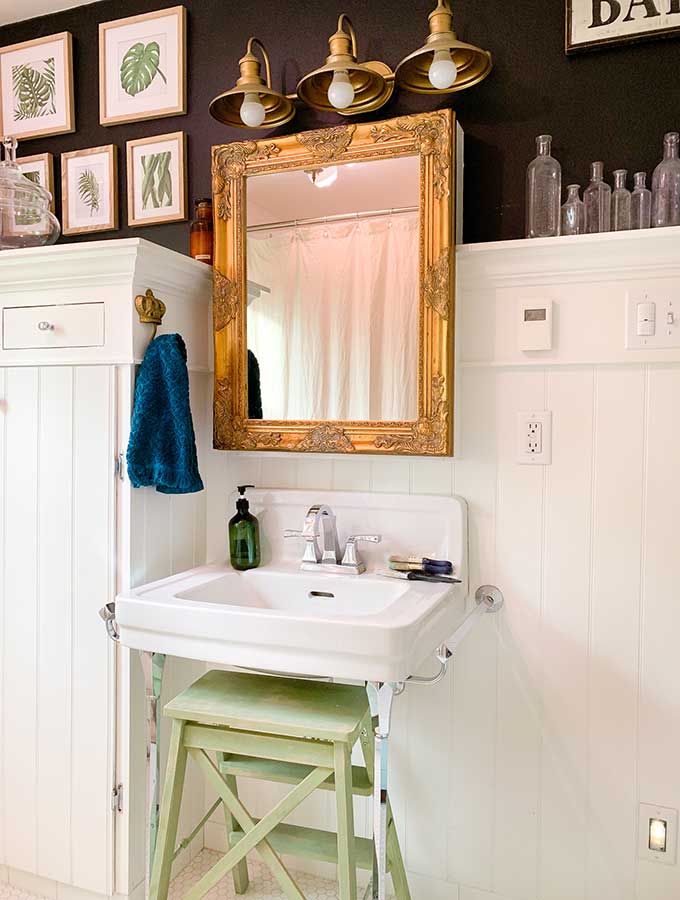 How to remove a mirror from a wall
The hardest part will be getting the glued spots of the stuck mirror off the wall. You may cause some holes but we have a plan to cover that up without much problem. Lowes has some shiplap pre-cut and painted. I would cover your wall with this or I would use wall paper. Once you get your wall covered up. It will be time to hang your beautifully framed bathroom mirror. Below are a couple review images we got sent, aren't they gorgeous in their bathrooms?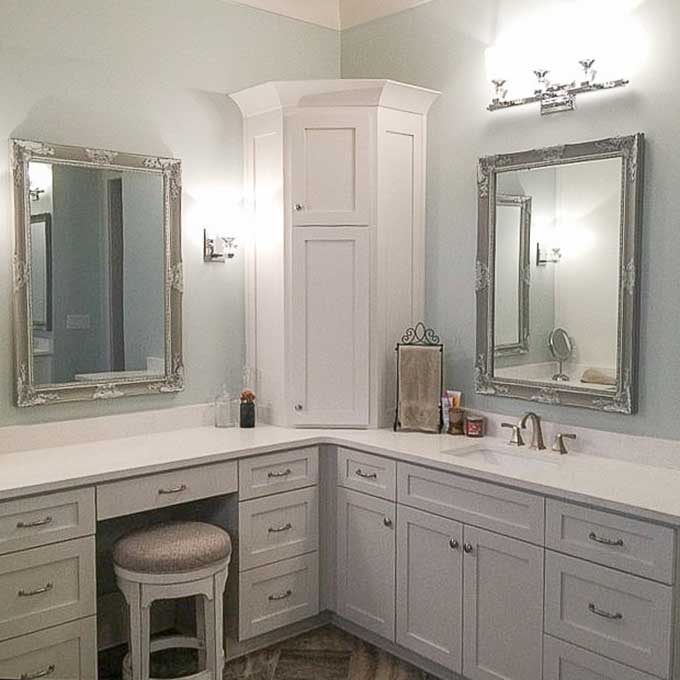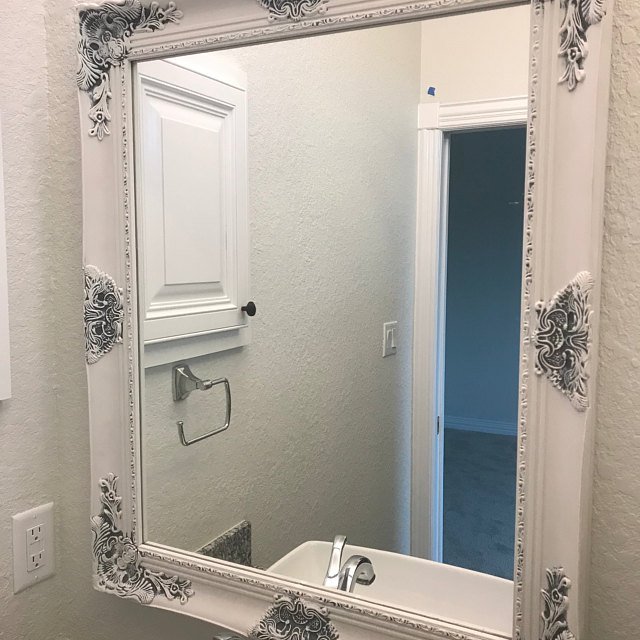 Can I paint a mirror frame?
A framed mirror adds so much to a bathroom space. You can paint the frame in a beautiful color or you can shop our large selection of hand painted bathroom mirrors. Our most popular mirror frame is this shabby chic frame. For example it comes in vintage gold, black or in our most popular of white with grey. We also do specialty colors because we know how fun it is to have something special and unique in our homes. Below is another review photo, I sure do love this!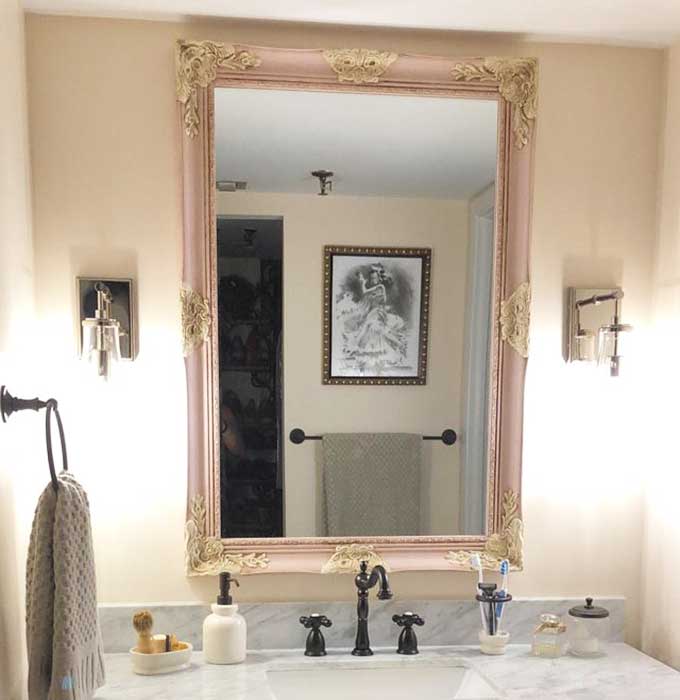 How big should a bathroom mirror be?
One common question we get is how big should a framed bathroom mirror be to fit the vanity. Many people hang wall lights that would sit on each side of the mirror rather than above the mirror. I would give a couple inches from the edge of the frame to the light. That often puts one's mirror a bit smaller than planned. As you can see our mirrors are very popular in bathrooms. We have another review photo below, where they placed our mirror in their bathroom. So you guys have to check out our son and daughter in laws new updated small bathroom! It is amazing what you can do to make a space feel so much bigger.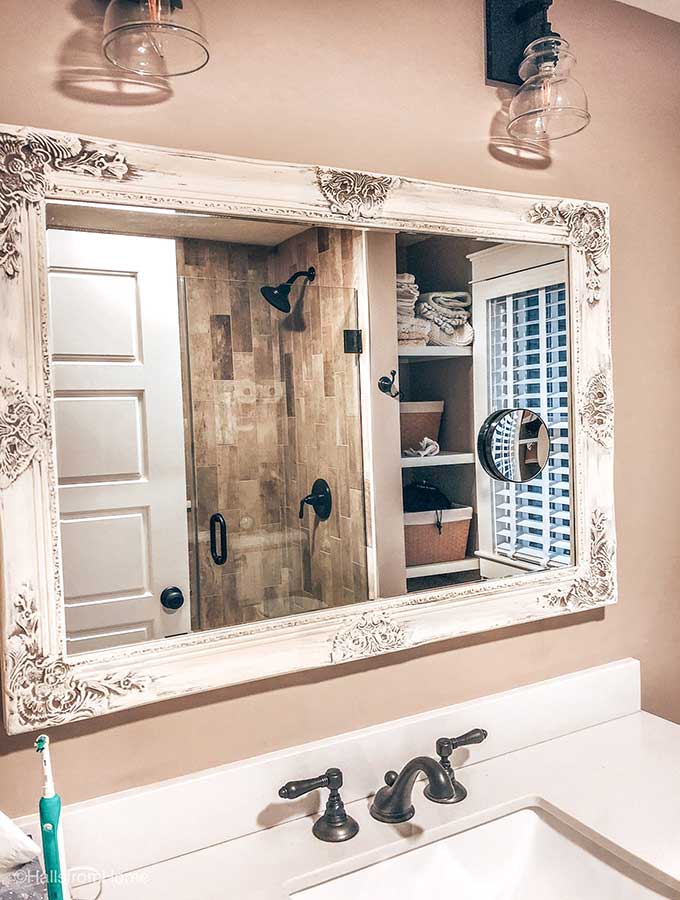 If you have lights above the mirror, you can have your beautifully framed bathroom mirror come almost to the edge of the vanity. Sometimes hanging the mirror vertical will work better than hanging horizontally. I recommend cutting cardboard in the size of our mirrors and then hold the cardboard to the vanity wall for an idea on how to best pick your size. If you want some more mirror bathroom inspiration we have a post with 19 trendy bathroom mirrors.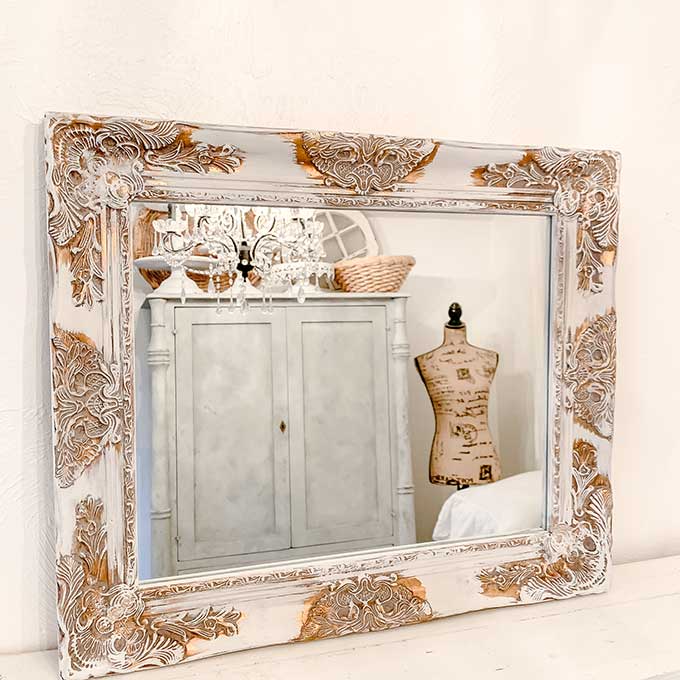 Lets say your decor style changes in a few years, you can always repaint your framed mirror. We have an Ebook that will help with this. Checkout our paint ebook here. I am happy to help guide you with your bathroom mirror decisions.