Our new farmhouse kitchen sink is better than I expected. With so many options for brands and styles, I couldn't be happier with this Fireclay farmhouse sink by Elkay. Let me share the details with you in case you're looking for a sink. We also got our farmhouse sink faucet from Elkay that is absolutely a dream come true. This post is sponsored by Elkay, but all opinions are my own.
Be sure to sign up for my email to get new recipes, crafts and home ideas in your inbox!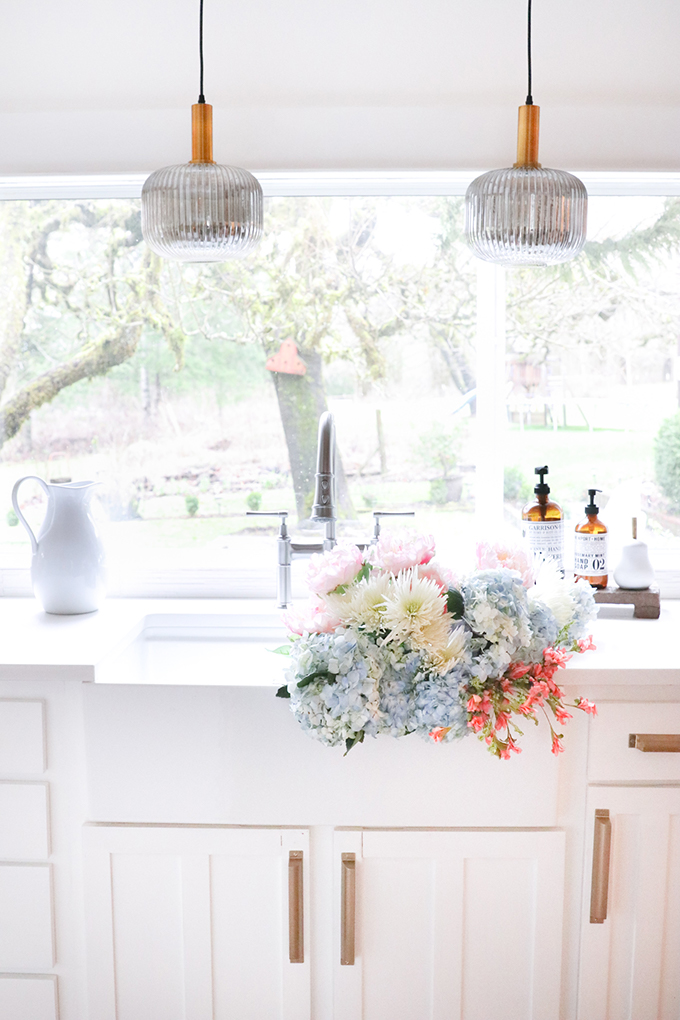 New Farmhouse Kitchen Sink Review
Growing up, my dad was a self employed plumber and I remember him talking about Elkay as the brand many of his custom home builders would use. Can you imagine the joy when I got the opportunity to use Elkay in our new kitchen design? I couldn't wait to tell my mom and dad about this.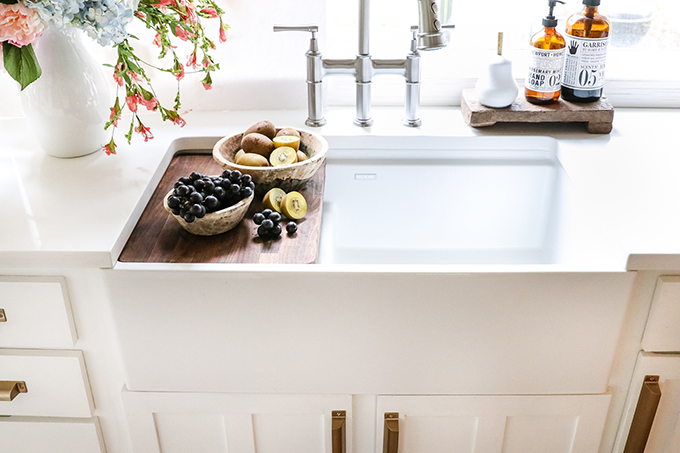 Modern Farmhouse Kitchen Design
We finally updated this old farmhouse after living here for 12 years. The last remodel happened in the 70's with yellow counters and an old drop in sink with metal edges. Here's a post on when we did a small update on the cabinet handles.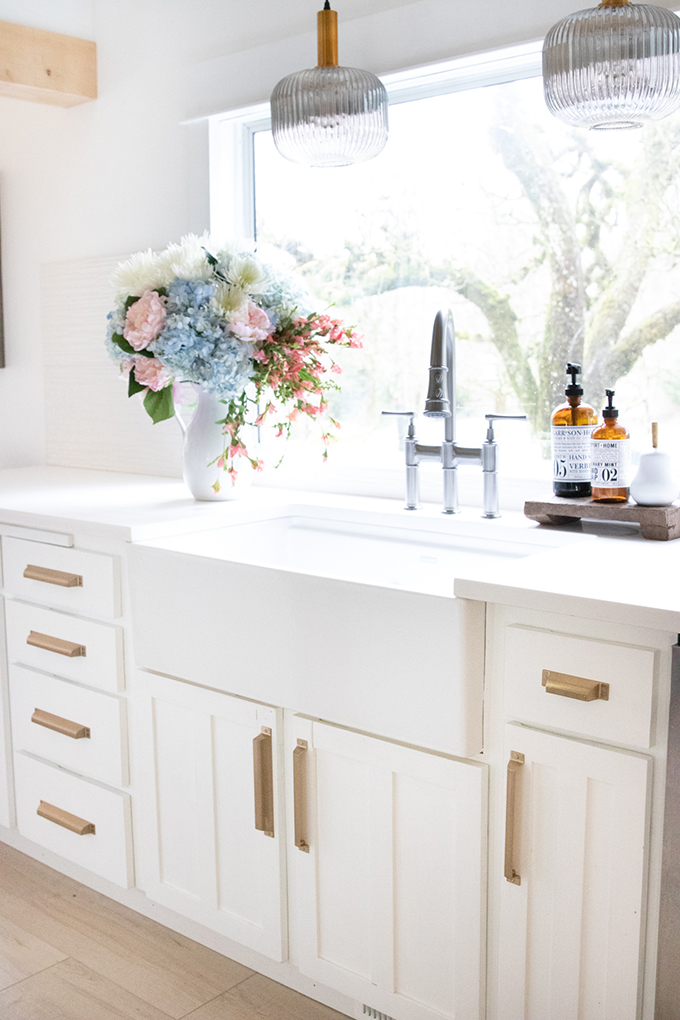 When we designed this new farmhouse kitchen remodel, I knew a farmhouse apron front sink was a top priority. I wanted it deep and white. At first I was thinking to go with a full sink without a divider. But when I found this Double Basin Fireclay sink by Elkay with the shorter divider and cutting board then I knew this was the perfect fit. Large baking sheets fit so nicely in this sink verses having the taller divider. That's one of my favorite aspects to this design. Also, having one side available for dirty dishes and the other side for soapy water works great for me to wash counters without running too much water.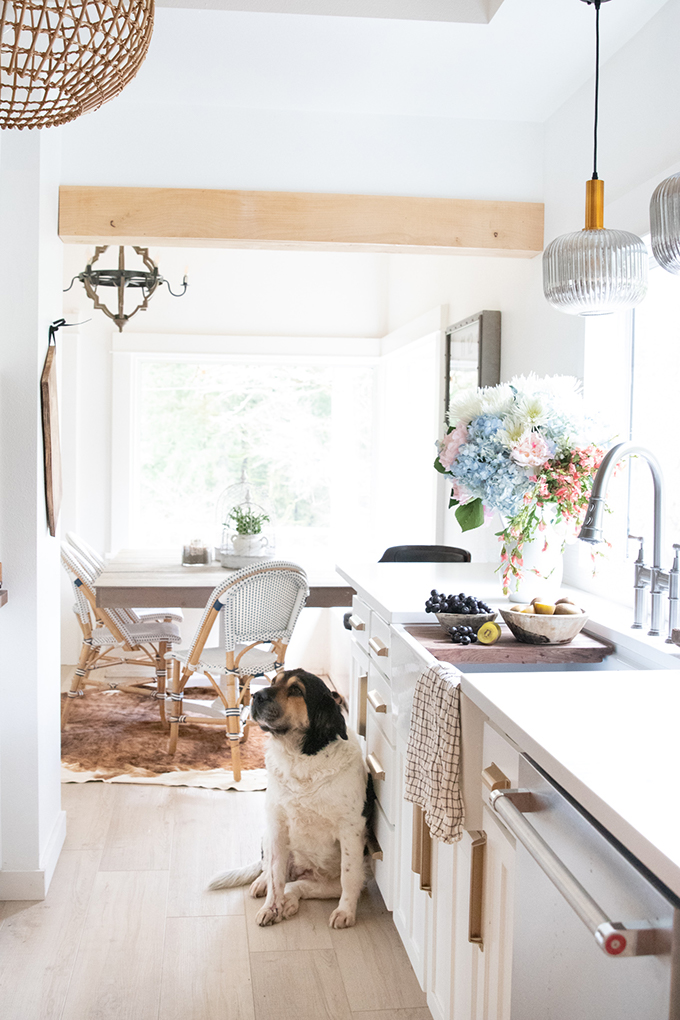 Best Farmhouse Kitchen Sink
The cutting board that comes with this sink is pretty handy. The dark stained wood adds a beautiful contrast to the white sink. It fits well with my kitchen style.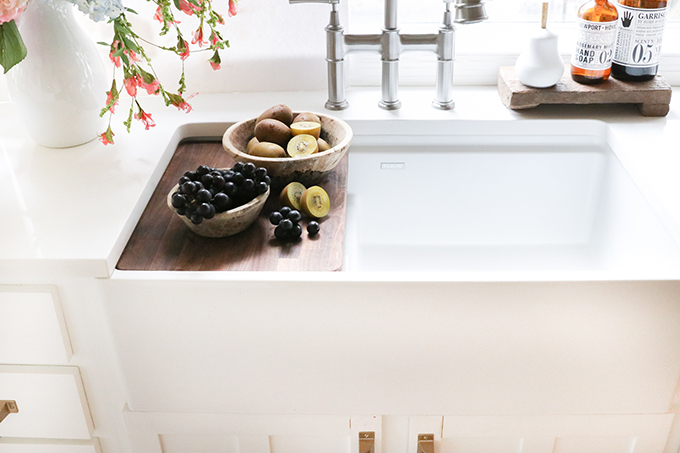 Cleaning this sink has been very easy. We just use a little Bar Keepers Friend or Ajax cleaner. I know there are many other options and some concerns with Ajax being too abrasive but I like my sinks white and bright without any grungy look. I also clean our new white quartz counters with Ajax as that is what the installer recommended and they look great. This cleaner takes out the grey scuff marks that happen from pans or belt buckles. I chose Quartz for the white, bright, clean look with easy maintenance. What I love is that spaghetti sauce doesn't leave stains.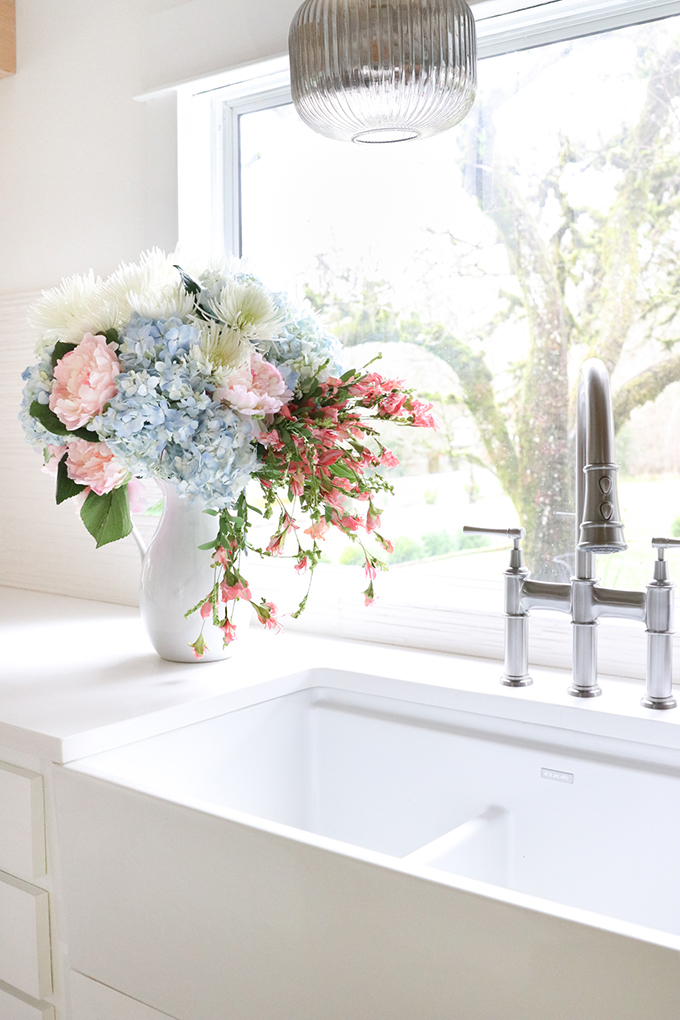 Farmhouse Sink and Faucet
Now let's talk about farmhouse sink faucet options. I had a few ideas but ultimately I went with this two handle gooseneck style, the Explore Deck Mounted Faucet because when I was a little girl I dreamed of having a faucet like this. At first I thought I'd go with one handle as I happen to have one here but. This Elkay faucet won my heart and I am happy.
Best Farmhouse Kitchen Sink Faucet
This pull down sprayer on the Elkay faucet works very well. I love how snug it fits and how nice looking it is. My girls use the sprayer when cleaning the sink and washing vegetables or fruit. I would get this faucet again. Having two handles really hasn't been a problem and the control of temperature is easy as well.
I also have the Elkay Explore Wall Mounted Pot Filler Faucet. The pot filler has been a life saver and we love it so much! It has added so much joy to working in the kitchen.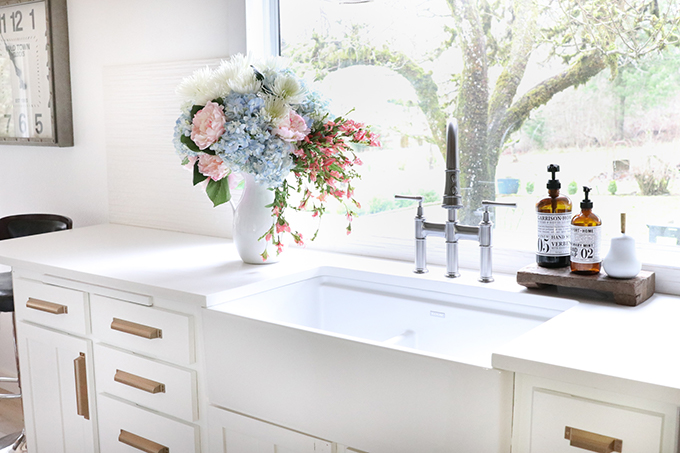 Kitchen Remodel
What's the most important aspect to your kitchen remodel design? For me it was white kitchen cabinets that we will talk about in another post and having a really good sink and faucet.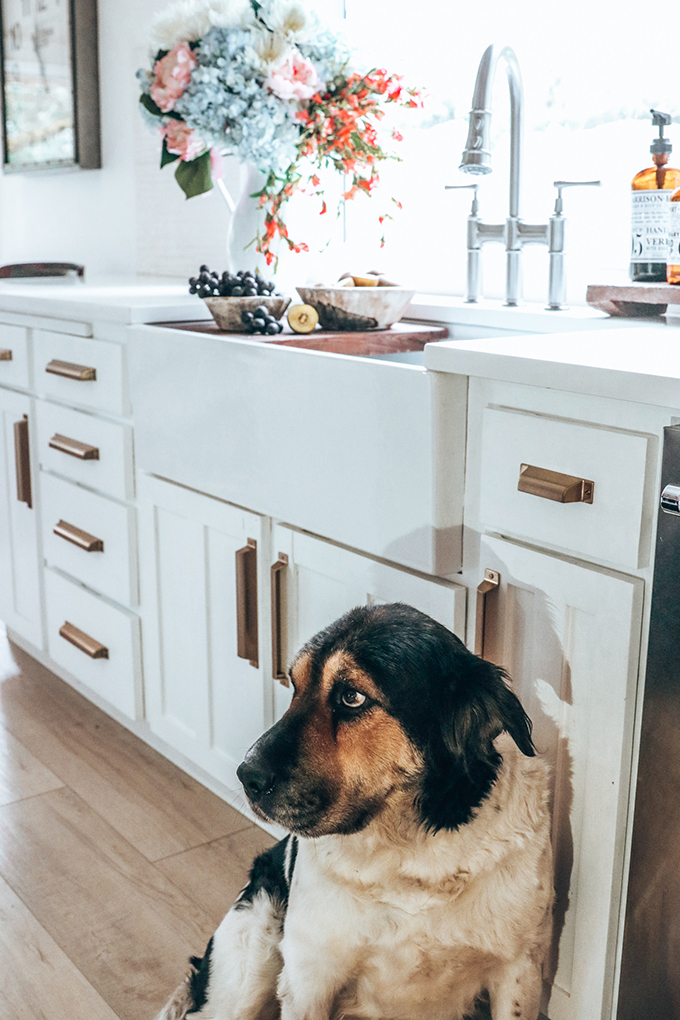 Follow Elkay on Facebook at elkayusa, Instagram at elkay_usa, Pinterest at elkayusa, and Twitter at elkay_usa.