Our small bathroom renovation was designed with the purpose of making this space feel bigger and flow better with the size we had. We also wanted beautiful bathroom fixtures that would give a modern farmhouse feel without sacrificing functionality. The Delta Faucet brand joined us on this project of Small Bathroom Makeover Ideas. Storage space, paint colors, and the decor pieces were all chosen to compliment our Delta bathroom fixtures.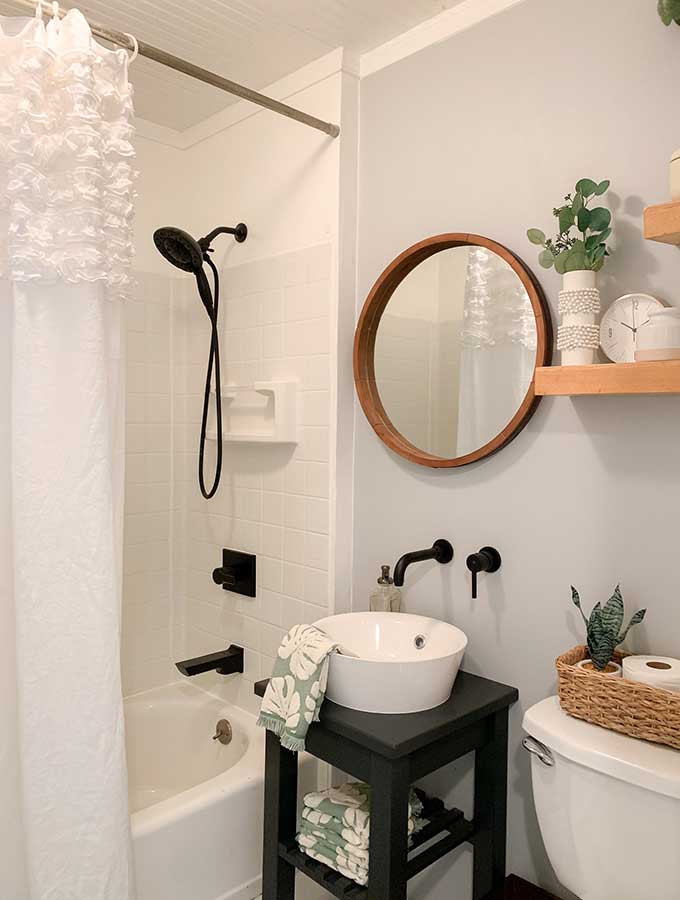 Small Bathroom Makeover Ideas
Come take a look at all the different elements we thought of when designing this small bathroom. We transformed it into something that is so cute as well as practical.
Choosing your bathroom faucet
We chose the Delta Trinsic® Single Handle Wall Mount Bathroom Faucet in Matte Black for its design versatility and functionality. This faucet has a suave, modern appeal that completes the look of any bath, no matter if your style is contemporary, traditional, or somewhere in between. Paired with this sleek pedestal sink bowl, we felt like it was a beautiful match.
We also love that it's a wall mount because it opens up the sink area so the vanity feels more spacious. Plus, the one handle control is easy for kids to use.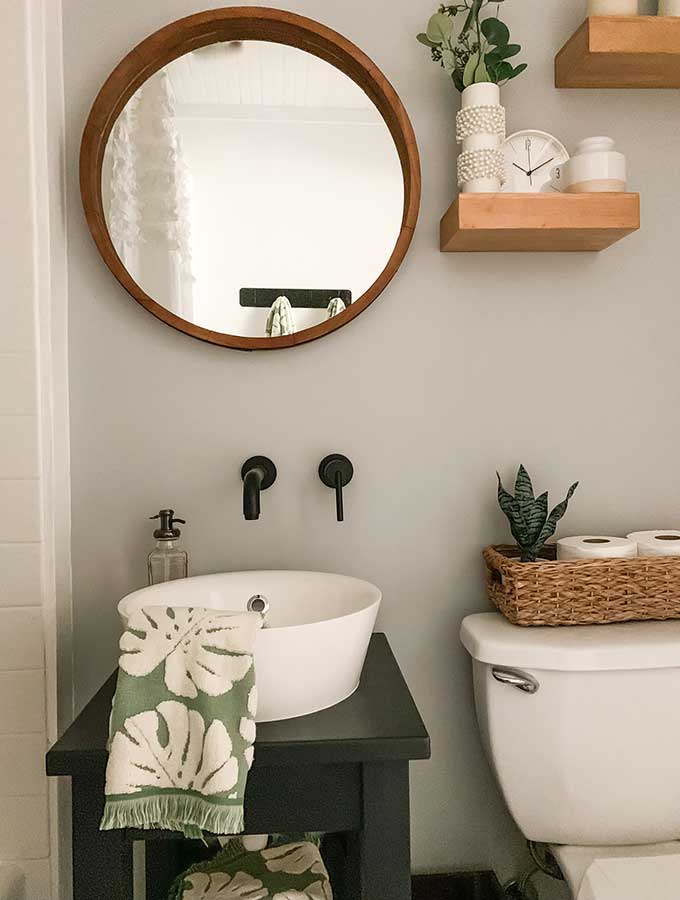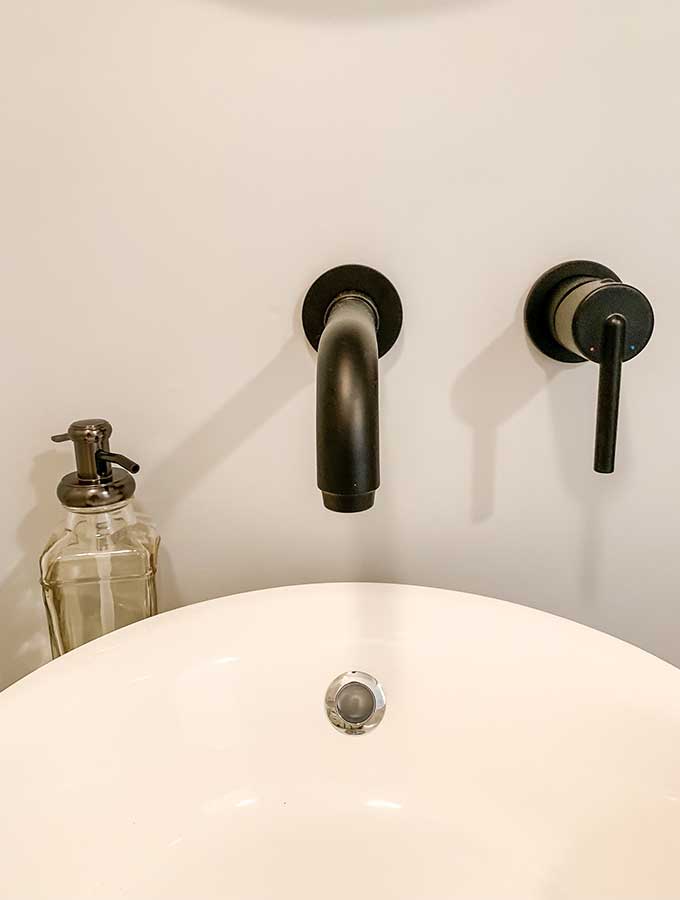 Choosing your shower head
Having a handheld shower head with dual functionality is a game changer. The H2Okinetic® In2ition® 5-Setting Two-in-One Shower has a detachable hand shower, which can be used separately from or simultaneously with the shower head. The flexibility makes bathing kids, washing pets and cleaning the shower so much easier. This is a great shower head for having pets. Now cleaning up the dog is much easier! No more grabbing a bucket to pour on them, just detach the shower head and there you go!
The Delta® In2ition® Two-in-One Shower features a detachable hand shower which can be used separately from or simultaneously with the shower head. This integrated dual-functionality gives you maximum flexibility without sacrificing warmth.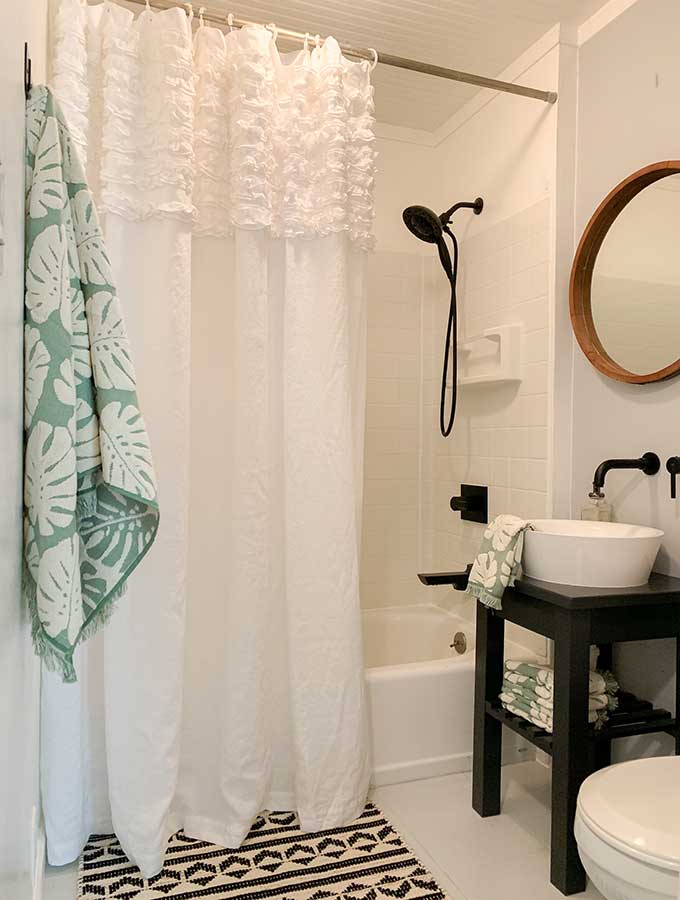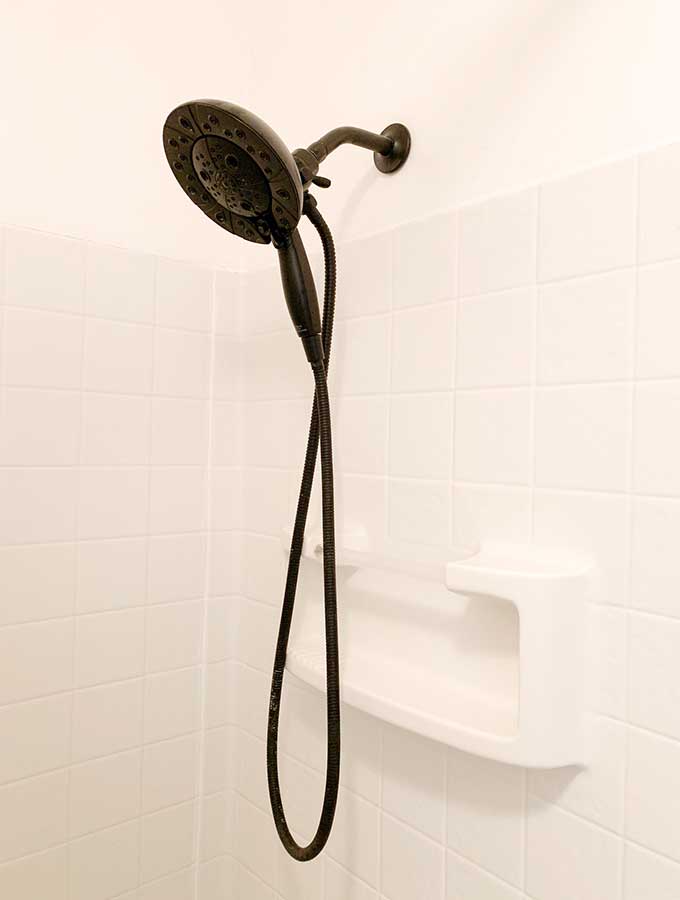 Choosing your tub spout
We wanted the style to be defined and to match with our bathroom faucet, so we stuck with the Matte Black finish. We chose the Pivotal™ Tub Spout and 14 Series Valve to add a striking look to the bathroom, while carrying out that urban, farmhouse feel.
The Pivotal™ Collection was designed with a global appeal in mind. This collection was inspired by the diversity of lines and curves found through the architecture of multiple cosmopolitan cities like Basel, Tokyo, Brasilia, NYC and London.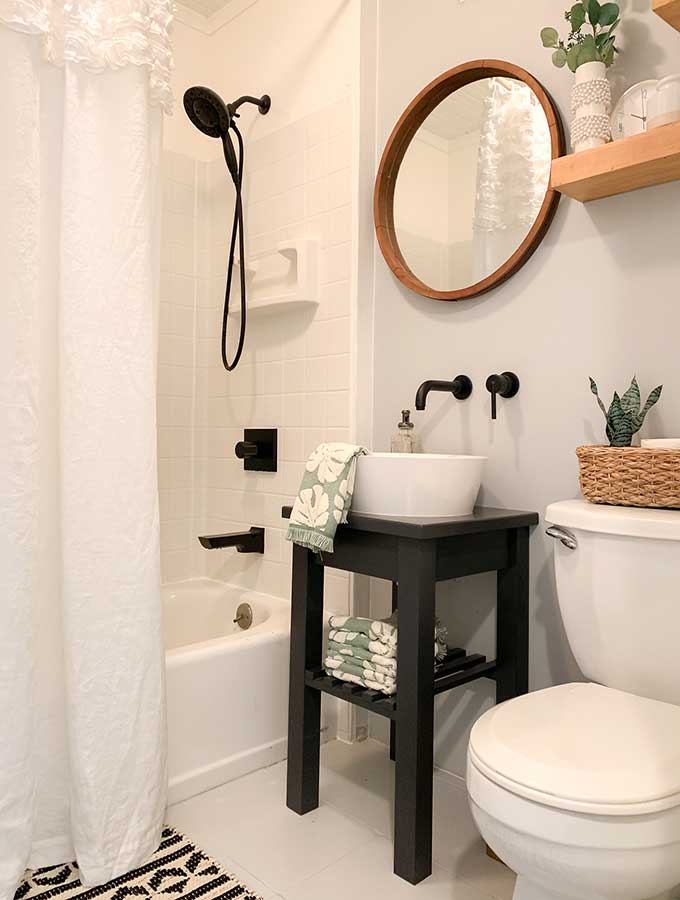 Choosing your paint color
We went with a soft neutral grey for the walls and floor. This helps make a small bathroom larger and more spacious. It also helps your eye bring the focal point to the faucets verses any other wall color. Small Bathroom Makeover Ideas can be so helpful in finding inspiration for your own space.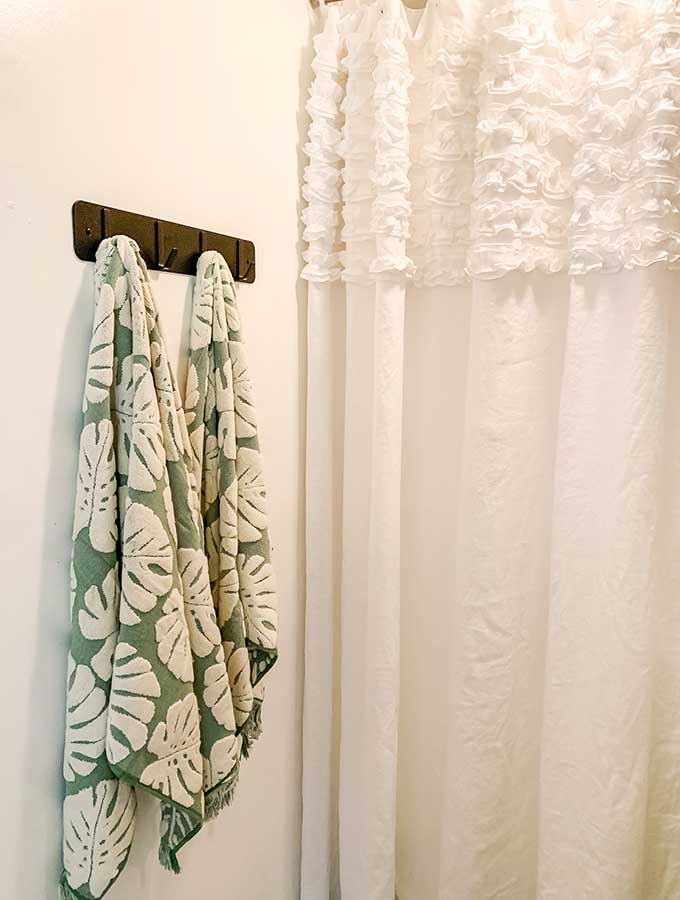 Choosing your pedestal sink
The biggest challenge in this bathroom was the cabinet that came with this very small bathroom. It was traditional and boxy with cabinet doors that were snug up to the toilet.  A great place to find smaller pedestal cabinets would be Ikea. Shelving on this cabinet helps open up the space and still provides a little storage for towels or a box of goods. .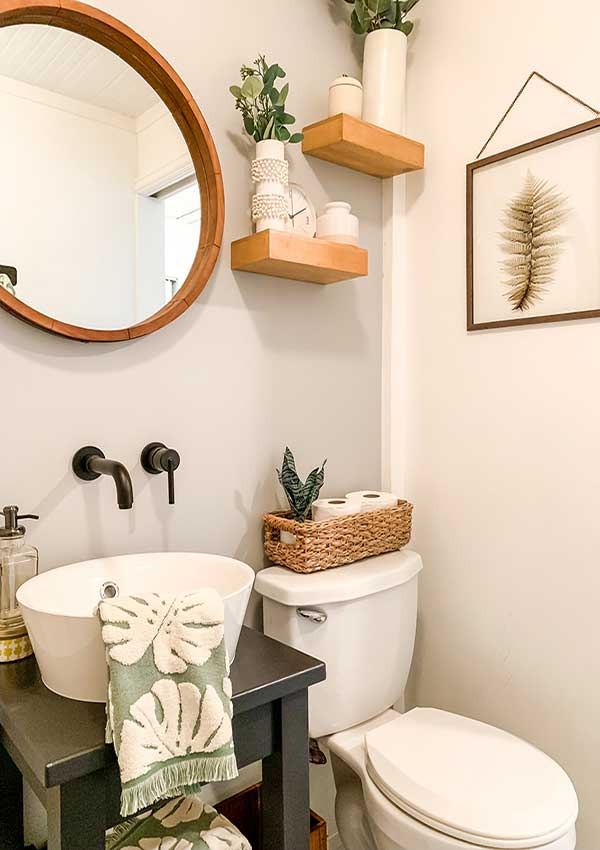 Planning your storage space
Having a storage cabinet in this bathroom would not work. As a result, we went with open shelving in that urban farmhouse style. We then found storage boxes that would fit perfectly on top. That's to hold things like shaving gel, hairspray, and other care products that you really don't want displayed on the shelf. If you need even more storage, I would just take off the decor on the second shelf and place another storage box.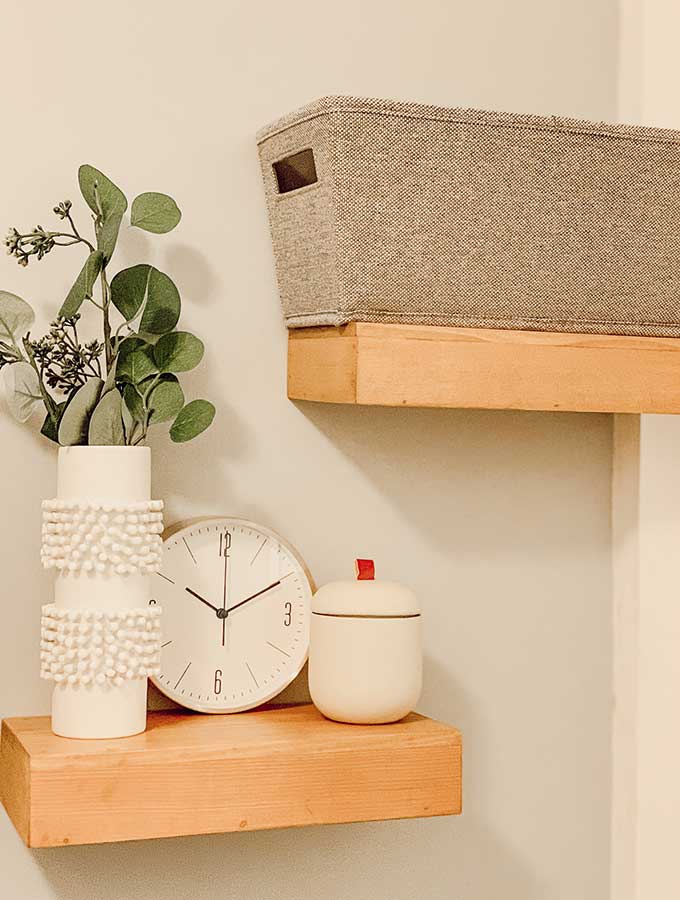 Farmhouse Bathroom Decor
We went with some earth elements in woods, greys, whites, and a splash of greenery to bring it all together. Bringing texture into space with linens, pottery and a patterned rug makes this bath feel trendy and vibrant. Having a small bathroom, I knew a white shower curtain would bring out a brighter, more airy feeling. Extending the length of the shower curtain makes the ceiling feel taller.  The shower curtain we went with was the 6 ruffle bright white that is found in our Etsy shop. Another idea that can really change up the bathroom is mirrors. We have a post on 19 bathroom mirrors, that will give you inspo when designing your bathroom.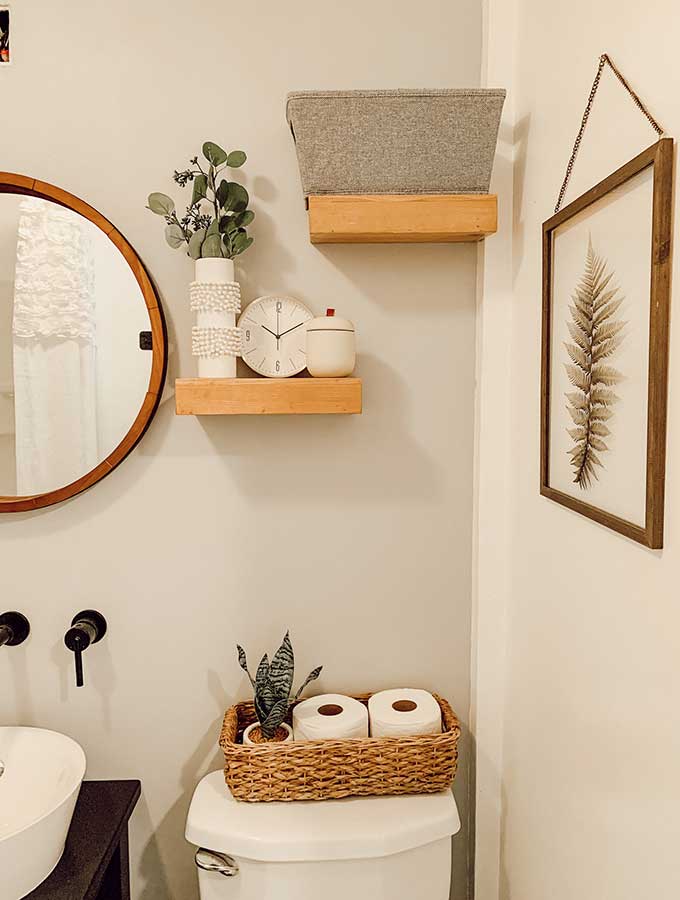 Thanks for stopping by today with Hallstrom Home and Delta Faucet! Check our our Farmhouse Bathroom Decor Ideas for more!
This post was sponsored by the Delta Faucet brand, however all opinions are my own.