Spring time on the farm is one of our favorites it means dining outdoors, fresh air, birds chirping, and yummy food. Many think decorating for dining outdoors is difficult, I'm telling you it's actually one of the easiest things. I will share with you a few tips I used when decorating a Spring table. But I will also share a few Spring Outdoor Table Ideas, to give you some inspiration to start enjoying dining al fresco.
Be sure to sign up for my email to get new recipes, crafts and home ideas in your inbox!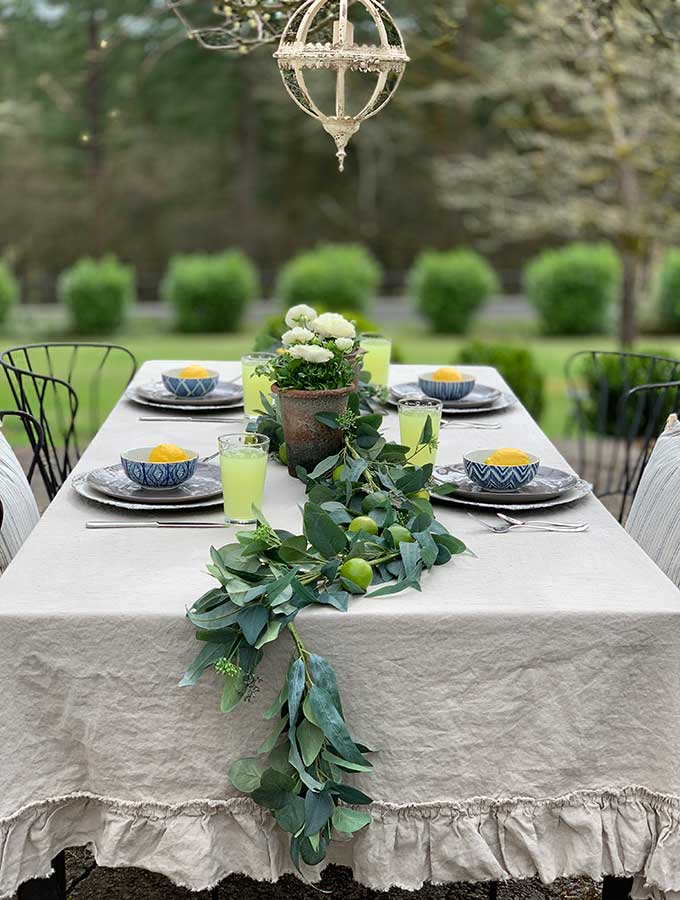 Spring Outdoor Table Ideas
This table maybe took me 10 minutes to put together, now talk about easy. Ok it might have actually taken a bit longer since I couldn't find my eucalyptus table runner. But I saved the day and found it hiding from me. Kim at Today's Creative Life came over and helped me on this, because she had a sponsored post she was going to use this for. Check out her post on Setting and Outdoor Table. It is so pretty and gives you lots of information for setting a table on a budget. I simply placed this running down the center of my table, over the top of our ruffle linen tablecloth. The ruffled linen softens the look of the table, all while adding that farmhouse touch.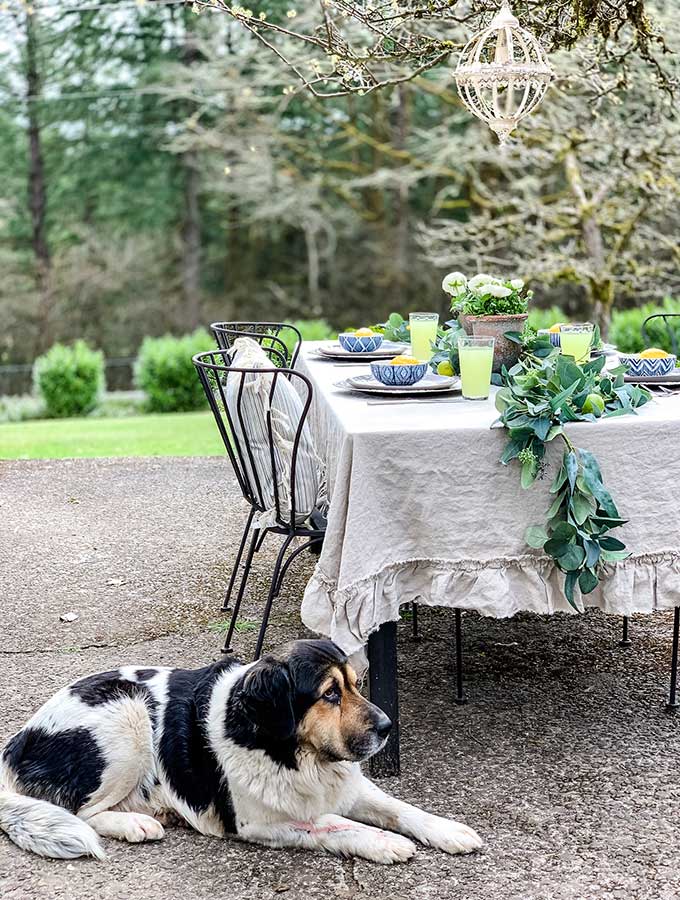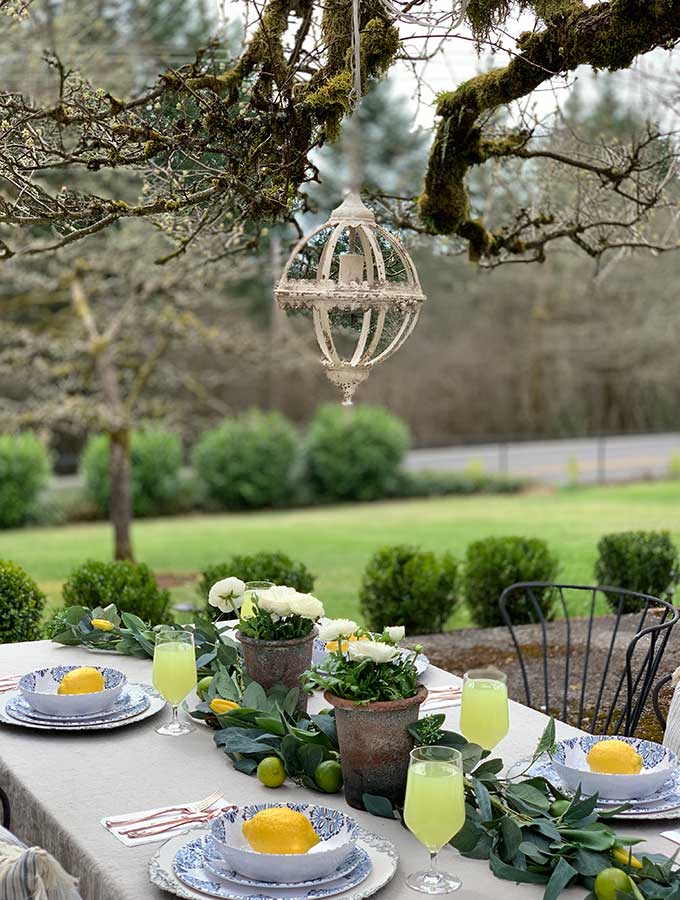 Choosing your centerpiece
Next is your centerpiece. For this table I didn't want to go too over the top. So I placed 2 terracotta pots with ranunculus. These were a nice, soft touch to the table and the pots really added that earthy element. Another fun centerpiece for the crafty type is a cabbage flower arrangement. Super easy and super fun. For a centerpiece, you want to add a little height. It helps to add drama to the space and not make it all the same.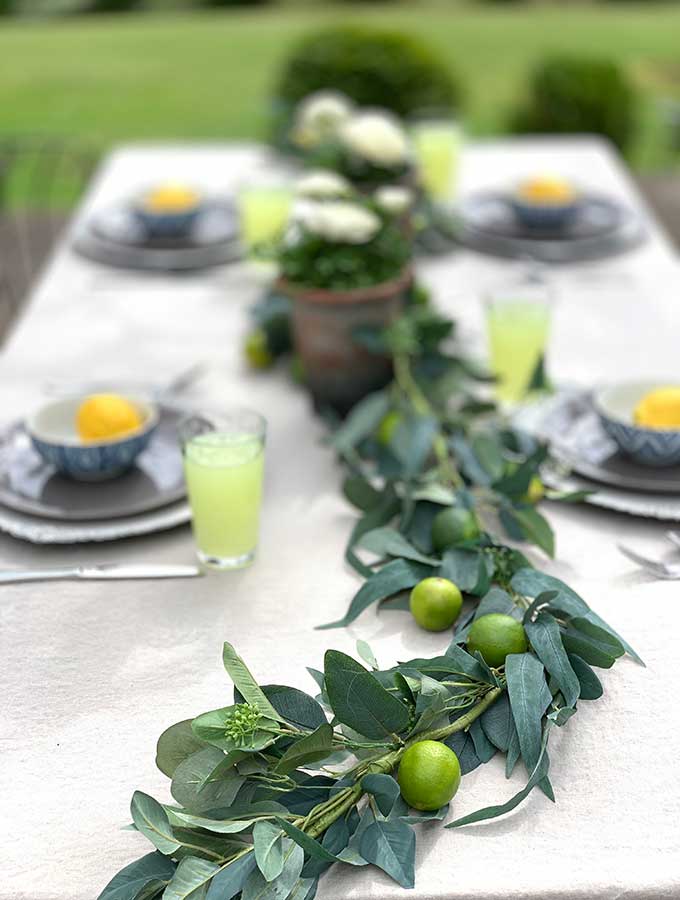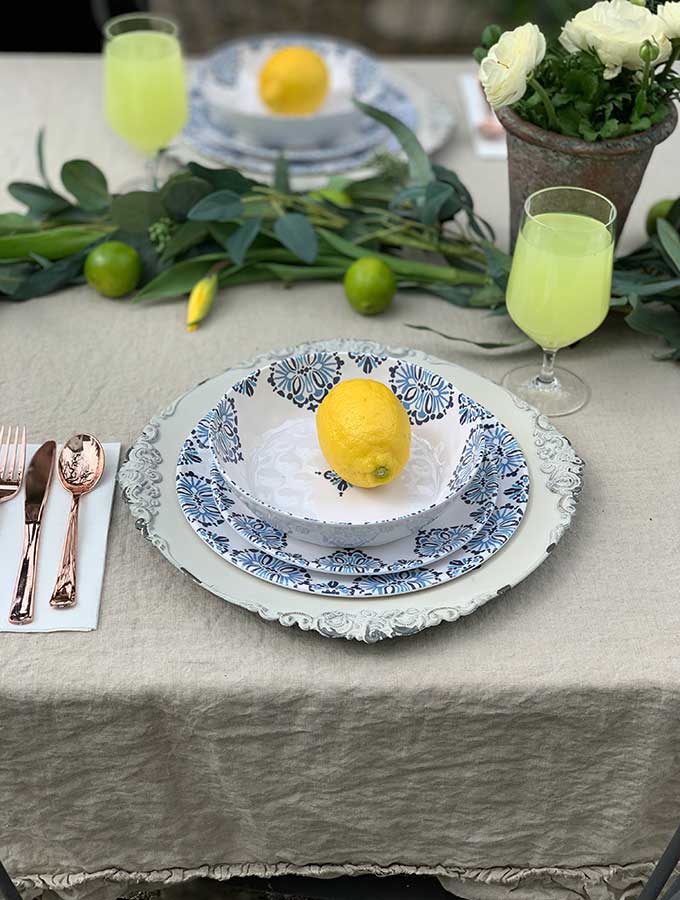 Choosing your table runner
Then we wanted to have a little fun and add some fruit to the center. Going with limes was a great touch to our Spring table setting. They got scattered along the eucalyptus garland, along with a few yellow tulips. Instead of limes, you could gently add some flowers or a different kind of greenery to break up the sameness of the eucalyptus. Now it was time for a break with a nice glass of refreshing lemonade.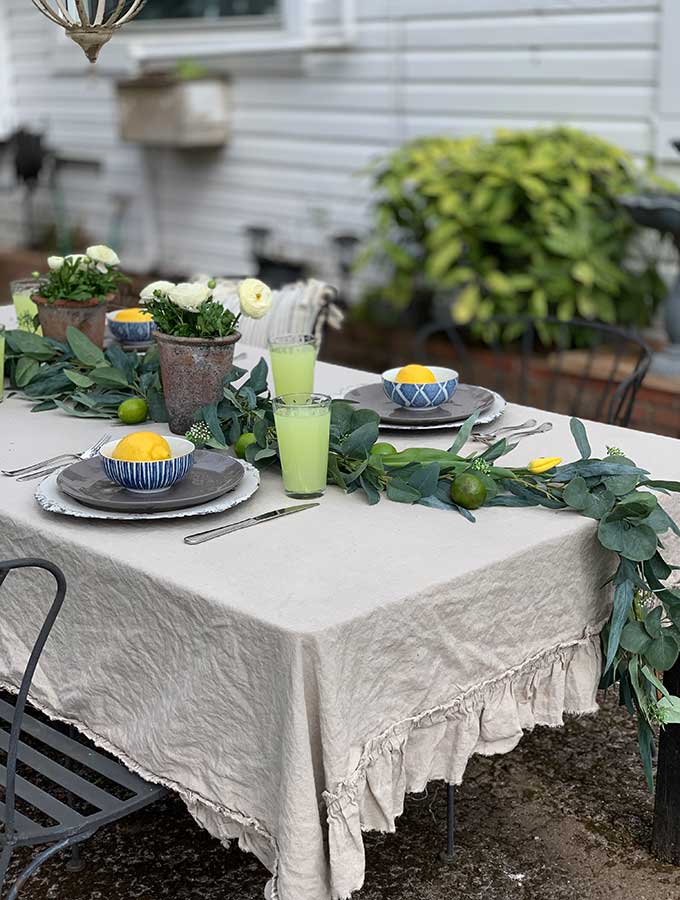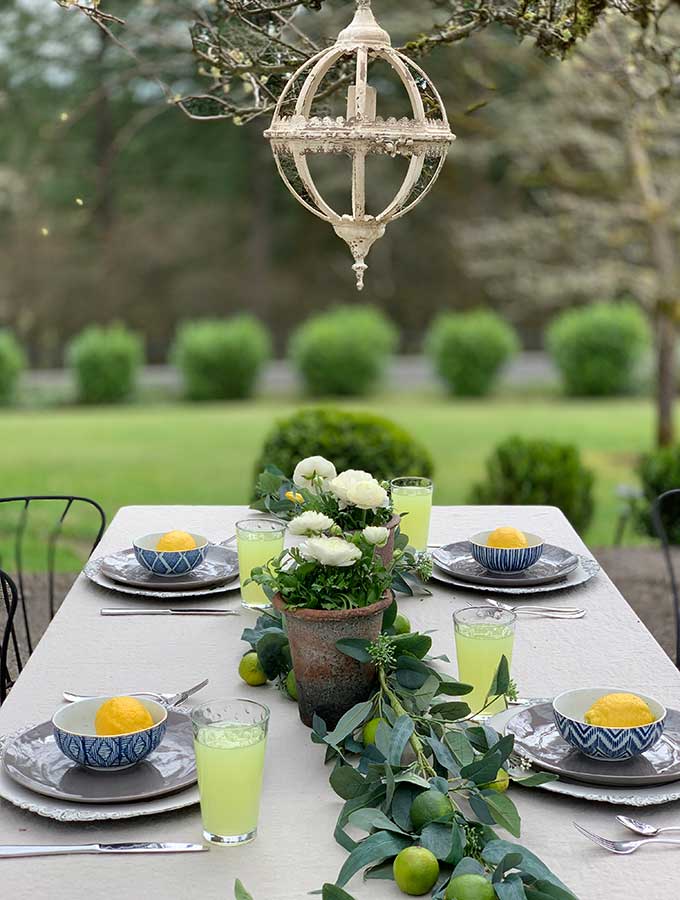 Lighting for outdoors
Ok back to work! I almost forgot to tell you about my new fave pendant light. This one has been super popular in our Etsy shop and I know why! It really does add that perfect vintage farmhouse look to the space. Plus it is also great for outdoors, as it is really durable. For this table, since it is pretty simple I went with some ornate chargers. I wanted to make sure I got another pop of color onto this table, that is why I chose these bowls. Plop, in goes a lemon into each bowl. Now this is a finished Spring table, easy as that.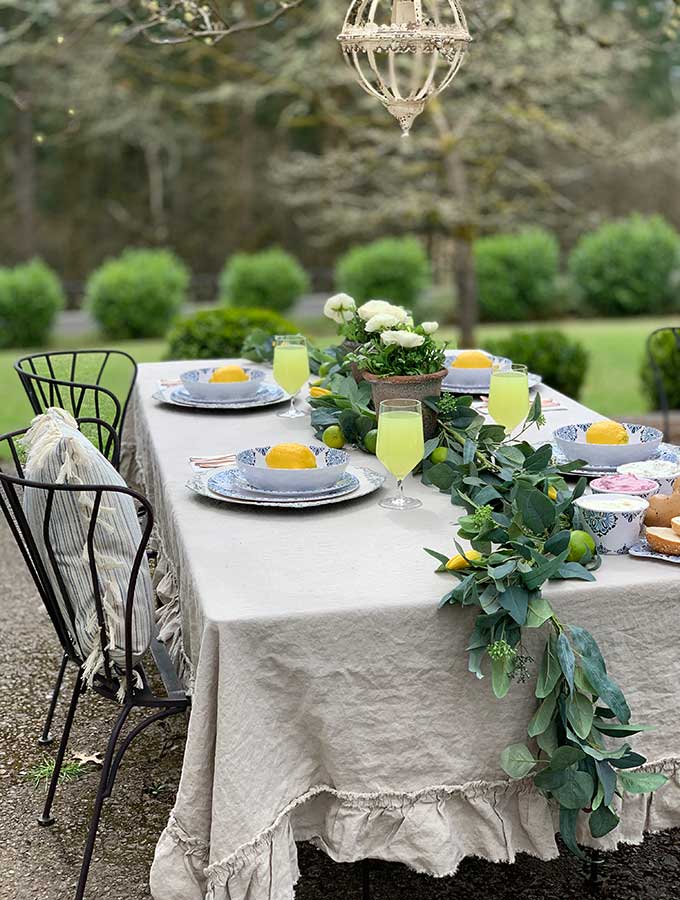 Don't forget to add a pillow here and there. Most people don't think of that in an outdoor space, but it really makes the space more inviting. Something else I like to add to my garden are angel statues, they are so sweet and the perfect touch for Spring Outdoor Table Ideas. The most important part is, is to have fun when decorating your Spring table. Also add elements you love that really make you think of Springtime.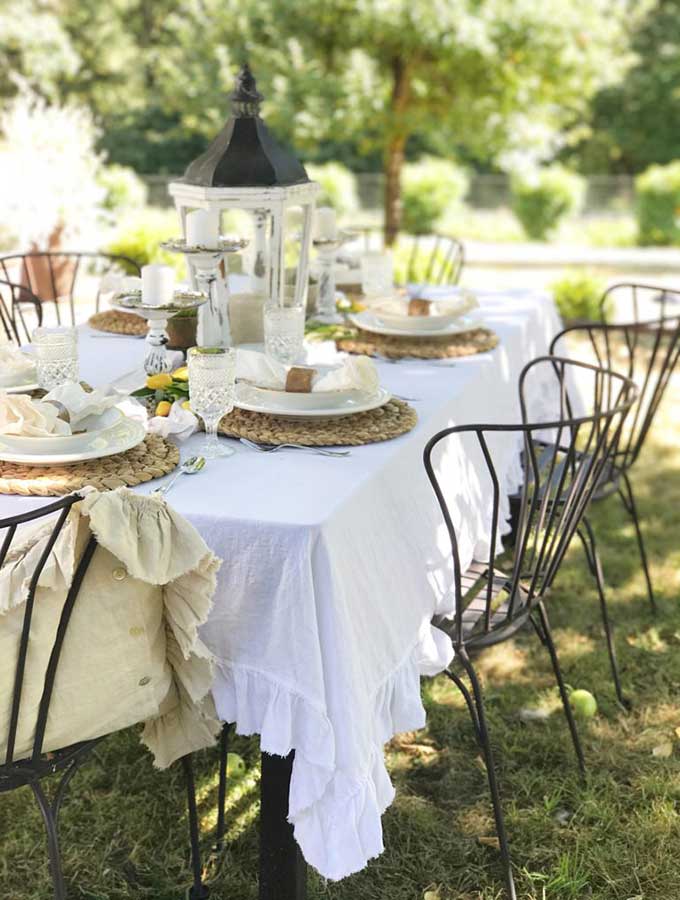 Hallstrom Home|Styles and Tips for Al Fresco Dining
This is one of my older table settings, but it still got to be one of my favorites. I just think of those warm Summer days at our crusty farmhouse with the kids playing, chickens clucking, and the dog running around. Now those are the days I love.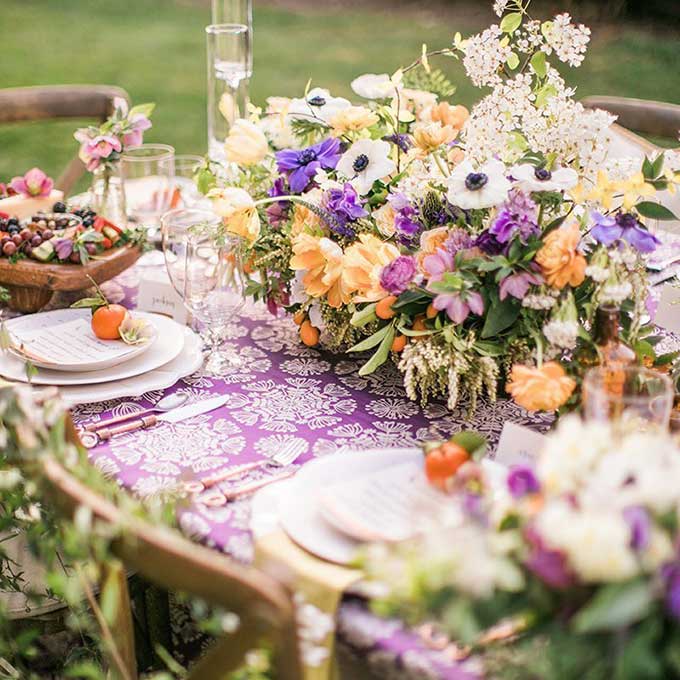 Happy Happy Nester|Spring Table Setting
Oh my word, Janine did a beautiful job. Can she please just come style all my tables? This is a gorgeous Spring table setting that could work for a mother's day brunch or even a wedding. The deep purple color really makes the table pop, and of course that huge bouquet!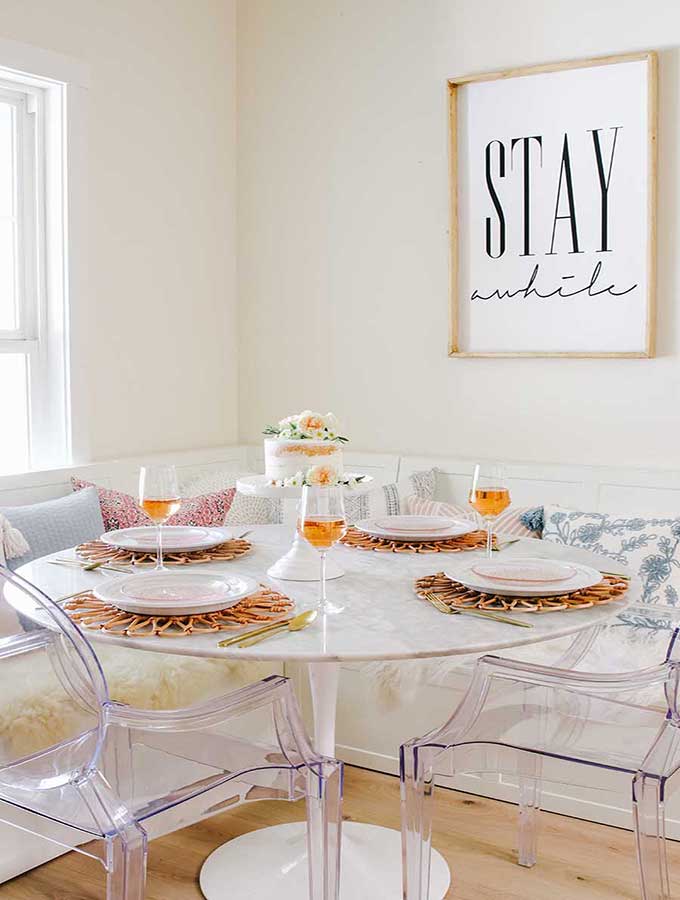 Modern Glam|Mother's Day Brunch Table
I love the simplicity of this table, but yet it is so pretty. Now this is a perfect tablescape for a mother's day meal. The rattan placemats really add that Spring feel. Let's talk about that cake though, it is so pretty and looks delicious too. But you guys have to click over to her post and see her stunning bouquet. Yet, another amazing bouquet to add to this lovely tablescape.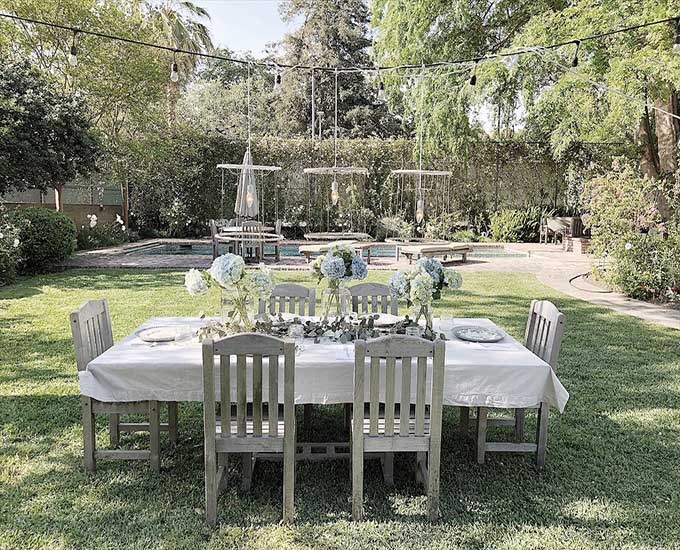 My 100 Year Old Home|Mother's Day Table Setting
I can't even stand it, Leslie has the most stunning backyard! I am so jealous, it is perfect for a mother's day table setting like this. She added 3 hydrangea bouquets to the table and the simplicity of those bouquets really makes the table gorgeous.
Thanks for stopping by! Don't forget to check out my Instagram to find the daily shenanigans that goes on at Hallstrom Home.