DIY Tissue Paper Flowers Tutorial
Pin for later.
Welcome. I want to share a really fun DIY Tissue Paper Flowers Tutorial with you. Many of you know that I just got back from a sponsored trip to Magnolia Market in Waco Texas to meet Chip and Joanna Gaines. It was there that I found a beautiful wall of paper flowers. So as I was flying home. I used a napkin to recreate my version of this wall.
Keep in mind that this DIY tissue paper flowers tutorial is a bit different that others. I wanted to create something unique and beautiful. To get started you will need a list of supplies. I will include some Amazon affiliate product links so you can get started.

Now lets get started. I used pink tissue paper that was on hand. Then I added paint to my flowers to give them more texture and depth. Process below. Find my post with Magnolia Home paint here.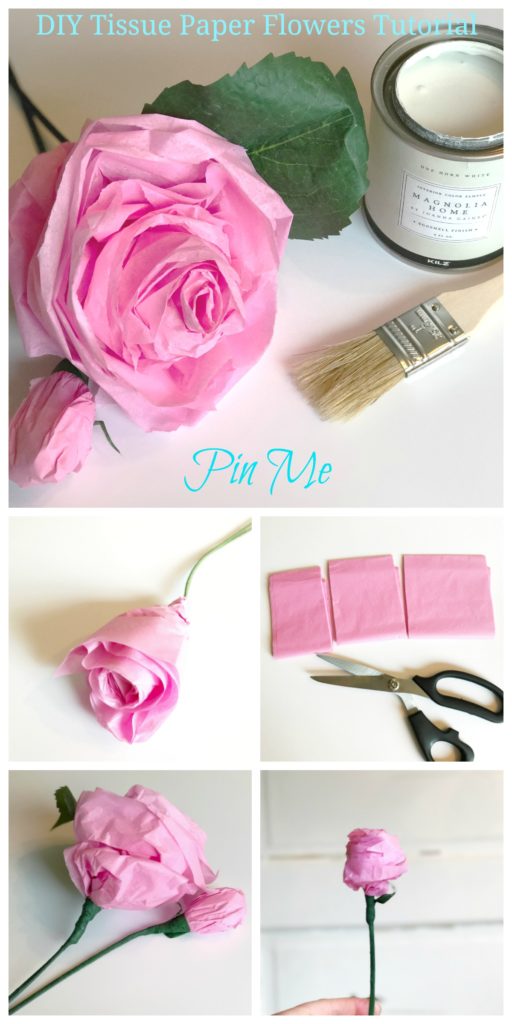 DIY tissue paper flowers tutorial.
Cut 2 sheets of tissue paper into strips, 2 inch, 3 inch and 4 inch strips. Now comes the fun part. Wrap 2 inch strips of paper around the floral wire. Roll like photo above. Then grab your 3 inch strips and crumple a bit before wrapping around the base. Continue with 4 inch tissue paper. Finish off by wrapping wire around the base of the flower so that it stays tight. Complete with floral tape.
Brush paint on lightly. Then add more as desired. You can really get creative with colors and texture.
I added my DIY tissue paper flowers to this beautiful Pottery Barn vase and faux olive leaf stems. Adding feathers and fresh heather from the garden create a layered look. You may find more Inspiration on my Instagram feed here.
If you are looking for my hand painted mirrors and linens, Please check my shop at Hallstrom Home where I love to create custom orders.
Shop this look below.
Lets not forget our fashion section that I add below every post. These are the shoes I wore to magnolia Market. I received many complements on them.