Everything you need to know on how to make an Easy Meat and Cheese Charcuterie Board. You can make a serving tray gorgeous as well as delicious! It's a great appetizer to bring to the party to please everyone with so many different options. Be sure to keep reading below to see many more holiday appetizers!
Be sure to sign up for my email to get new recipes, crafts and home ideas in your inbox, plus access to our free printable vault! *This post contains affiliate links*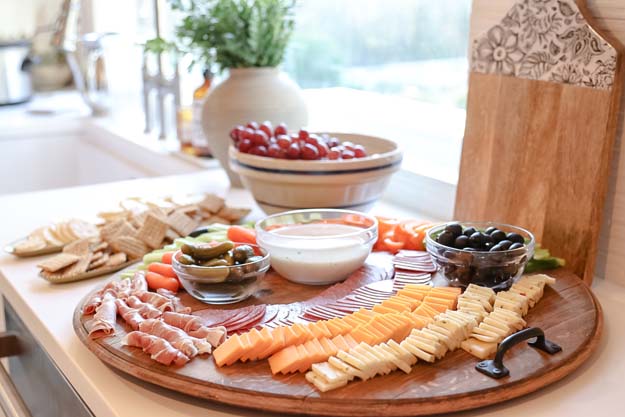 Thanksgiving Appetizer Charcuterie Board
Berries, dried fruit, pickles, meats, cheeses, olives, and dips are great bases for a charcuterie board. An appetizer board is just finger foods but it looks so much fancier than that. Some evenings if all the kids are visiting one of our favorite snacks is to make a cheese board. Everything is sure to get eaten up!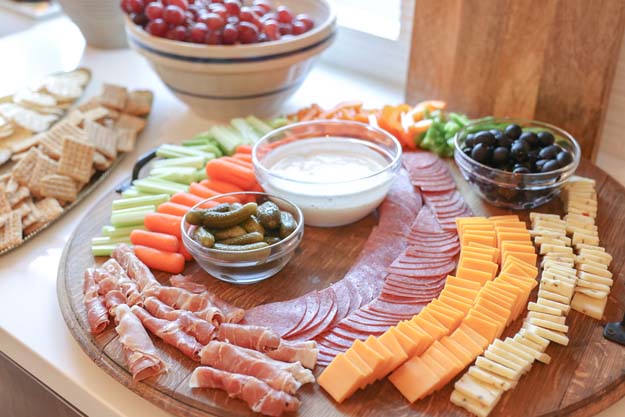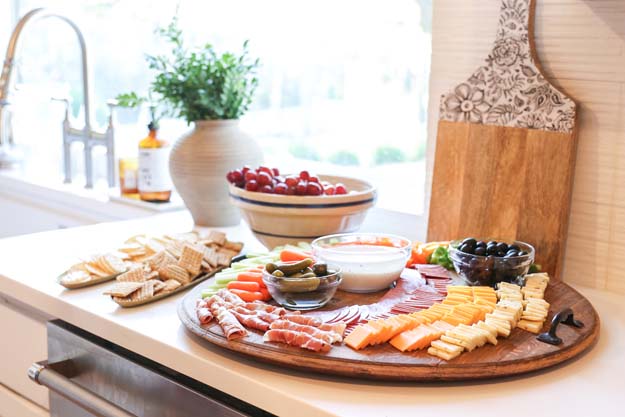 Cheese Board Tips
When creating a charcuterie board you want a combination of flavors from sweet, spicy to savory. This makes it easy for everyone to love. Preparing a cheese board is so easy and quick. I like to purchase Boars Head meat and cheese from my local store. I recommend getting higher quality cheeses and meats. You can either slice your own cheeses and meats from home, but if you want to make prep faster ask your deli to slice it for you. Some foods you can buy pre-sliced.
I like to create many different charcuterie boards, it is fun to get creative and use rounds, rectangle, or square boards. Here is how we created this wine barrel cheese board.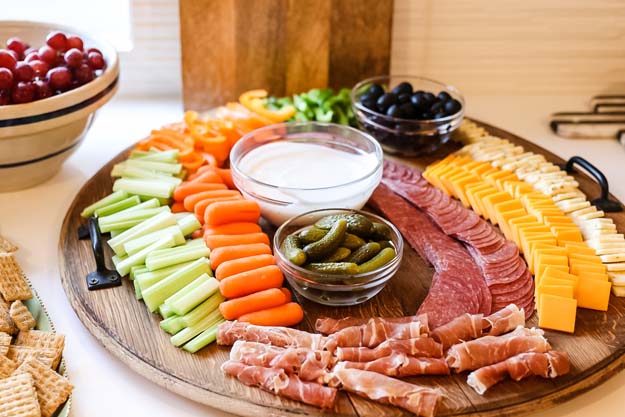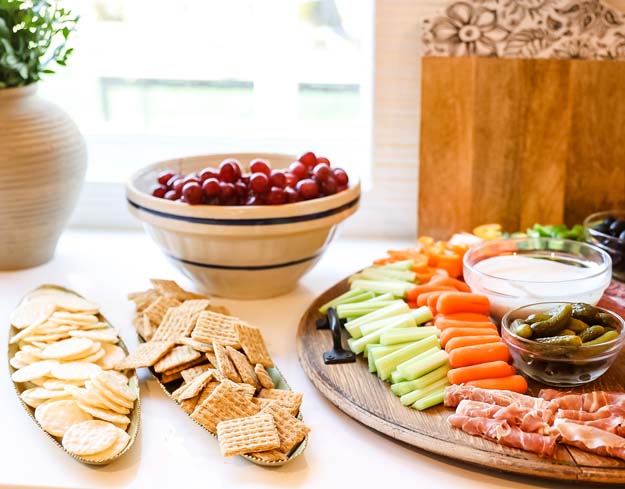 Easy Meat and Cheese Charcuterie Board
It always looks good when you board is almost overflowing. Sometimes you do have to separate things when your board is full. So think of ways to get creative. Separate our your crackers on other little trays for a fun look. Here is a shopping list printable below. Another fun charcuterie board idea is a waffle breakfast board!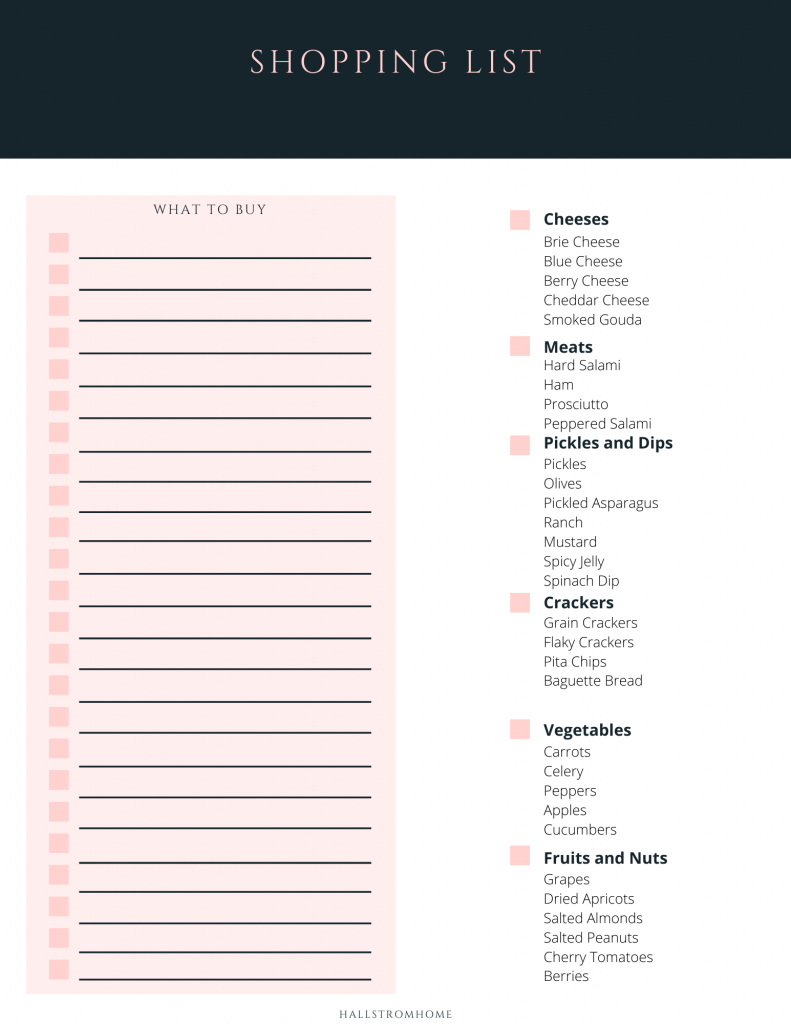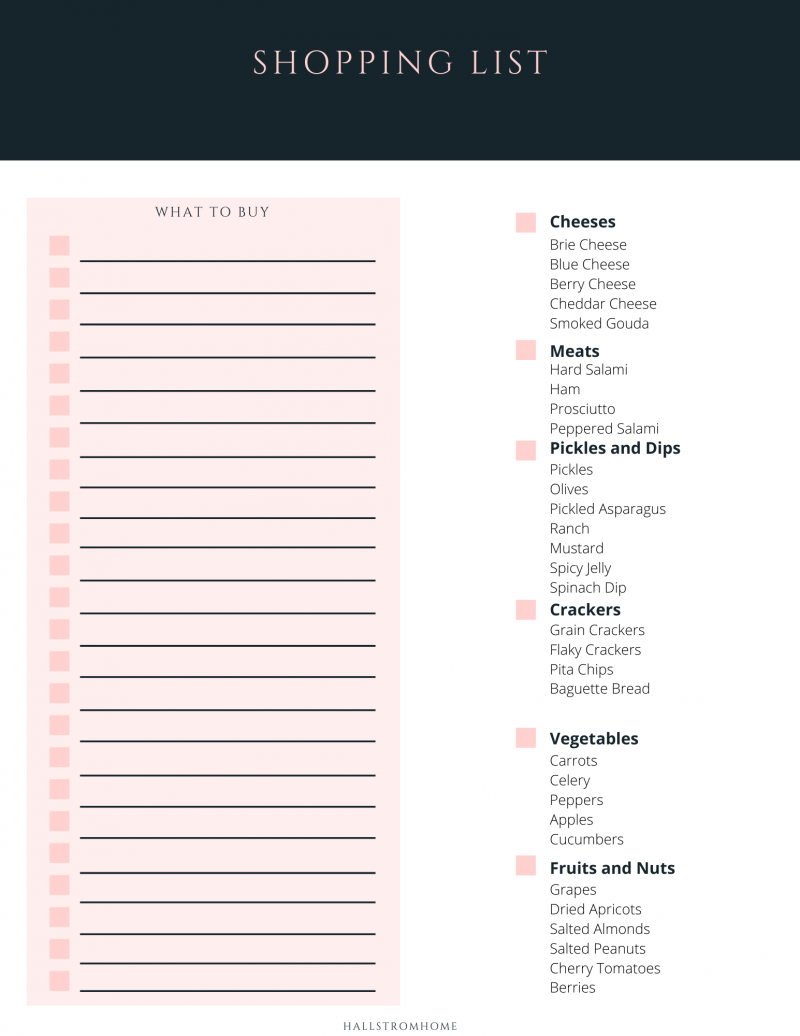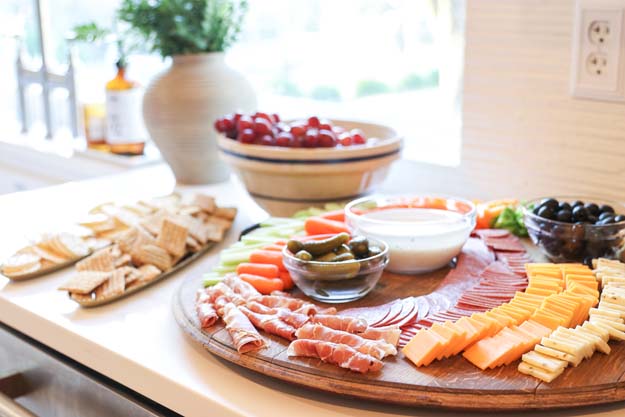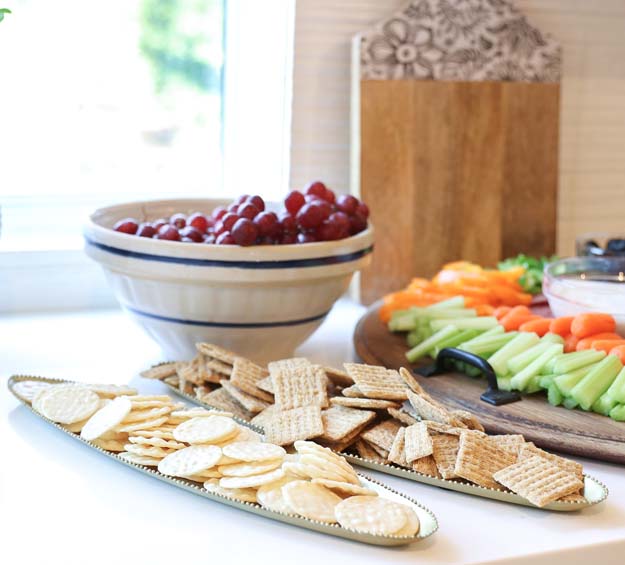 Charcuterie Board Shopping List
When shopping for an appetizer board you will want to think about different textures and colors to make the board interesting. You of course will also want to think about the taste and what works together.
Cheese List: It's nice when there is a variety of cheeses. From soft to hard. One of my favorite soft cheeses to have is brie, just serve along with a knife. For the most part it is nice to have the cheeses pre sliced unless they are soft.
brie cheese
blue cheese
cranberry cheese or any berry cheese
cheddar cheese
smoked gouda
Meat List: Hard salami and prosciutto. It is also great to get different flavors throughout the meat, peppered salami is a great option.
Pickles and dips: This is a perfect way to add a different flavor profile. Olives, pickles, pickled asparagus. All great pickled options. My fave dips are ranch, mustards, spicy jellies, and spinach dip. The best ranch is to get Hidden Valley powder mix.
Crackers: Choose variety once again. Grain crackers, flaky crackers, pita chips, and even baguette bread. I will also serve Gluten Free like these rice crackers when need be
Vegetables:
Carrots
Celery
Peppers
Apples
Cucumber
Fruits and Nuts: Have a variety of dried and fresh fruit. Have salted nuts as well.
Grapes
Dried Apricots
Salted Almonds
Salted Peanuts
Cherry Tomatoes
Berries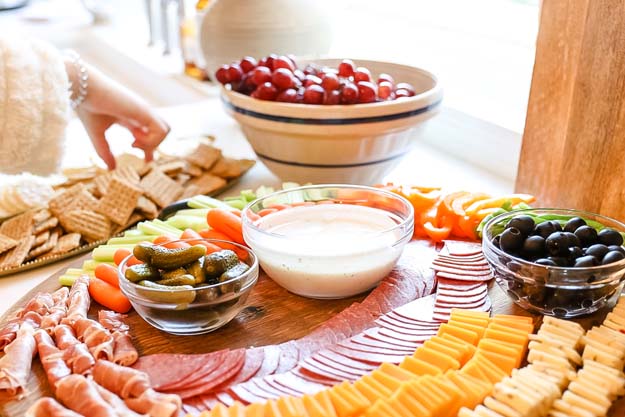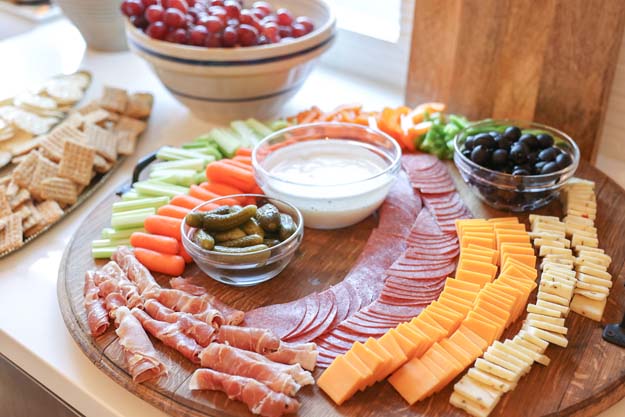 Meat and Cheese Serving Tray
When creating a charcuterie board it doesn't just have to be meats and cheeses. You can make hot chocolate boards, dessert charcuterie boards, and even make pizza night elegant with a serving tray.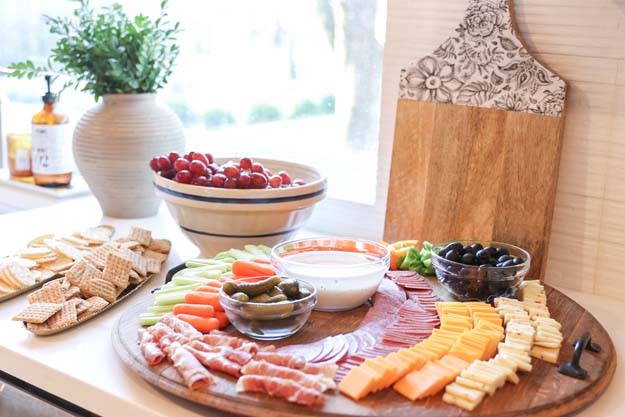 Follow my friends as they share more ideas

Holiday Cranberry Cream Cheese Spread – Zevy Joy
The Best Artichoke Dip Recipe – Happy Happy Nester
Baked Feta with Crostini Appetizer – Satori Design for Living
Cranberry Meringue Roulade – Jennifer Maune

Brie and Pear Crostini – Lemon Grove Lane
Cranberry Brie Pastry Puffs – My Sweet Savannah
Sparkling Cranberry & Brie Bites – Maison De Cinq

Easy Puff Pastry Appetizer – Modern Glam
Easy Meat and Cheese Charcuterie Board – Hallstrom Home
Easiest Baked Ravioli Appetizer – Taterots & Jello

Seared Ahi Tuna Recipe – My 100 Year Old Home
Savory Sausage and Mushroom Bruschetta – Twelve On Main
Proscuitto Wrapped Jalapeno Poppers – The Happy Housie