The holiday season is creeping up on us. I love having yummy recipes to enjoy during the Christmas season. I wanted to share with you one of my absolute favorites, our Homemade Marshmallows/Mint Chocolate Chip. These are the most delicious, fluffy, and minty marshmallows. You always need a good mint chocolate chip marshmallow recipe in your cookbook.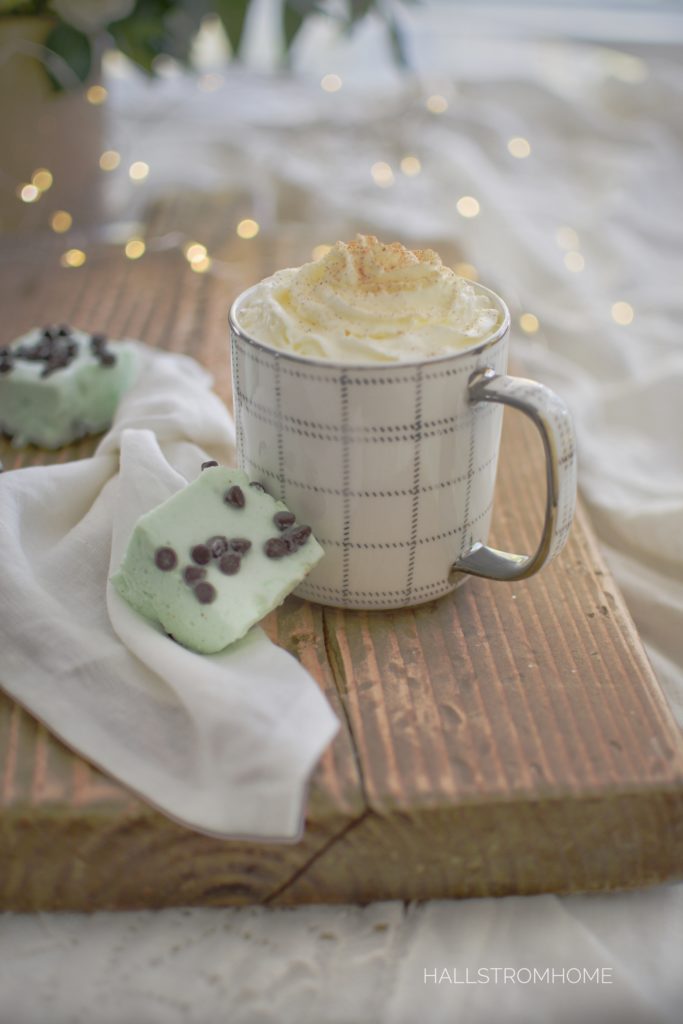 Have you ever had a homemade marshmallow? They are just not the same as store bought. Homemade mint chocolate chip marshmallows are so much better. The mini chocolate chips add a nice texture to the fluffy marshmallow. But of course the peppermint extract is that added bonus to make your marshmallow recipe perfect for Christmas. Something I have to tell you about this recipe, is that you need to use vanilla bean paste instead of vanilla extract. It is so flavorful and you won't ever go back to normal vanilla extract. I will share with you my favorite vanilla bean paste.
Quick video on how to make homemade marshmallows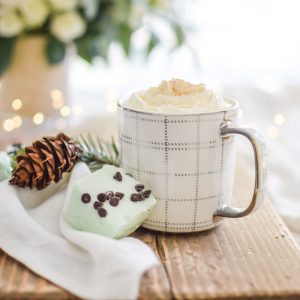 Mint Chocolate Chip Marshmallow
Mint Chocolate Chip Marshmallow are so soft and minty. They are great for gift baskets and just enjoying yourself.
Ingredients
3

Tbsp

Powdered Sugar

1

Tbsp

Cornstarch

3/4

cup

cold water

7 1/2

tsp

gelatin

1 1/2

cups

granulated sugar

1

cup

Light Corn Syrup

1/2

tsp

Salt

1/2

tsp

peppermint extract

1/2

tsp

Vanilla Extract

or paste

Green food coloring

1/2

cup

mini chocolate chips

reserve 1 Tbsp
Instructions
Sift together the powdered sugar and cornstarch in a small bowl.

Grease a 9x13 pan. Add 1 tsp of the powdered sugar mixture to the 9x13 and move around until sides and bottom are coated. Put aside.

In your large bowl add 1/2 cup water and sprinkle on the gelatin. Let that sit for 10 minutes.

While that is sitting, in a saucepan with a candy thermometer combine the sugar, corn syrup, salt and the last 1/4 cup of water. Heat it until the sugar has dissolved on medium heat.

Turn up to medium high heat and bring to hard boil for 1 minute, and once thermometer reaches 240F degrees.

In the bowl of gelatin and whisk, slowly add the boiling mixture. Turn the mixer on high for 5 minutes.

Stop and add about 10 drops of the green or until it is mint green in color.

Start mixing again for another 3 minutes or until there is stiff peaks.

Add the peppermint and vanilla. Mix another minute. Fold in your mini chocolate chips.

Pour the mixture into the pan and smooth. Sprinkle on the remaining chocolate chips. Cover with plastic wrap.

Let it sit for 3-4 hours. Take a knife around the edges then invert onto cutting board.

Cut the marshmallows in 2 inch squares. Enjoy.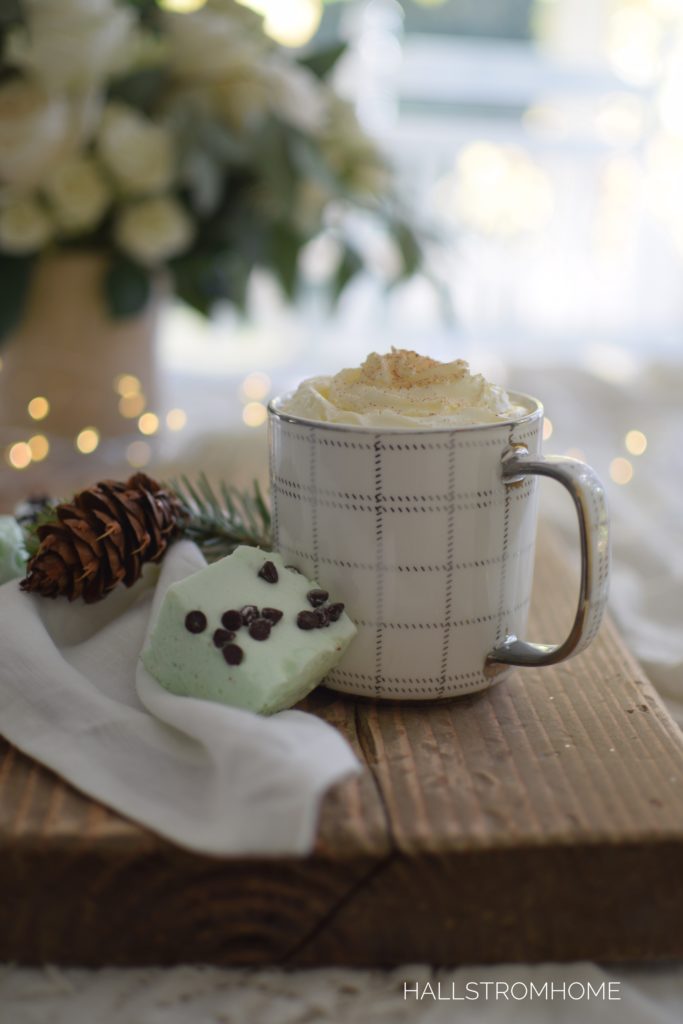 When making these delicious treats a stand mixer could be nice to have, if you have no one around to help you. In my home there is always someone around. So when pouring your hot mixture into the gelatin it is easier to have one person mix, while the other pours. I use a Breville hand mixer and it works wonders. It isn't just your normal hand mixer, you are paying for the quality. I highly recommend getting your self one, it will last you ages. I am able to make this on my own with my hand mixer, my arm just gets a little tired.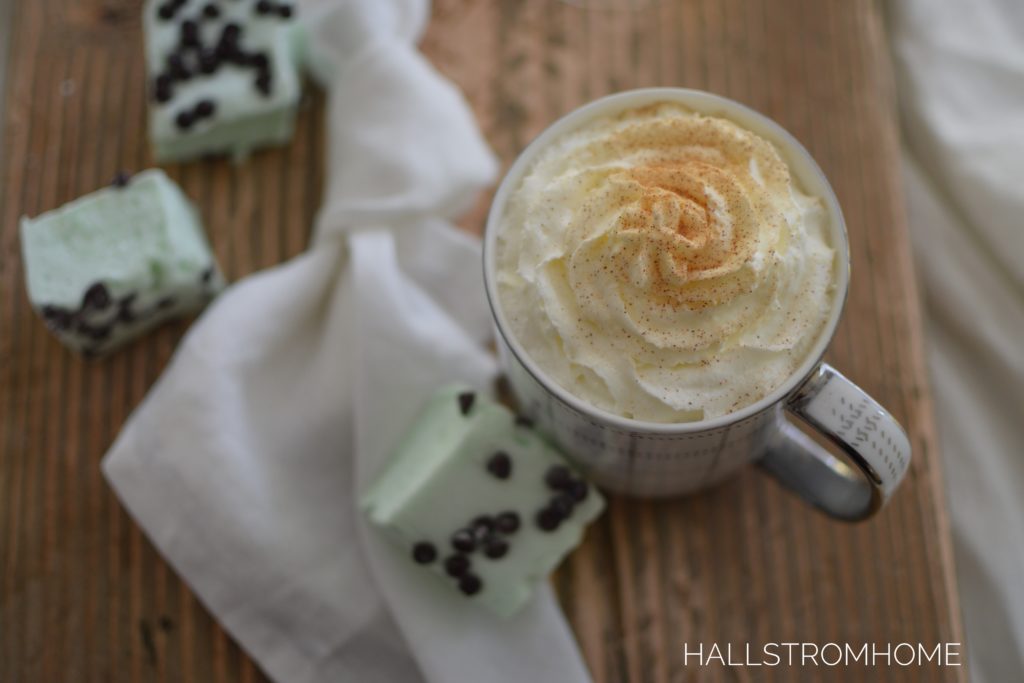 Do you see that cool charcuterie board my mug is on? That's in my shop for sale. It is perfect for when guests come over and you need to serve an appetizer. But it also is gorgeous for your home decor! I made this for one of my blog friends who use these boards for photography.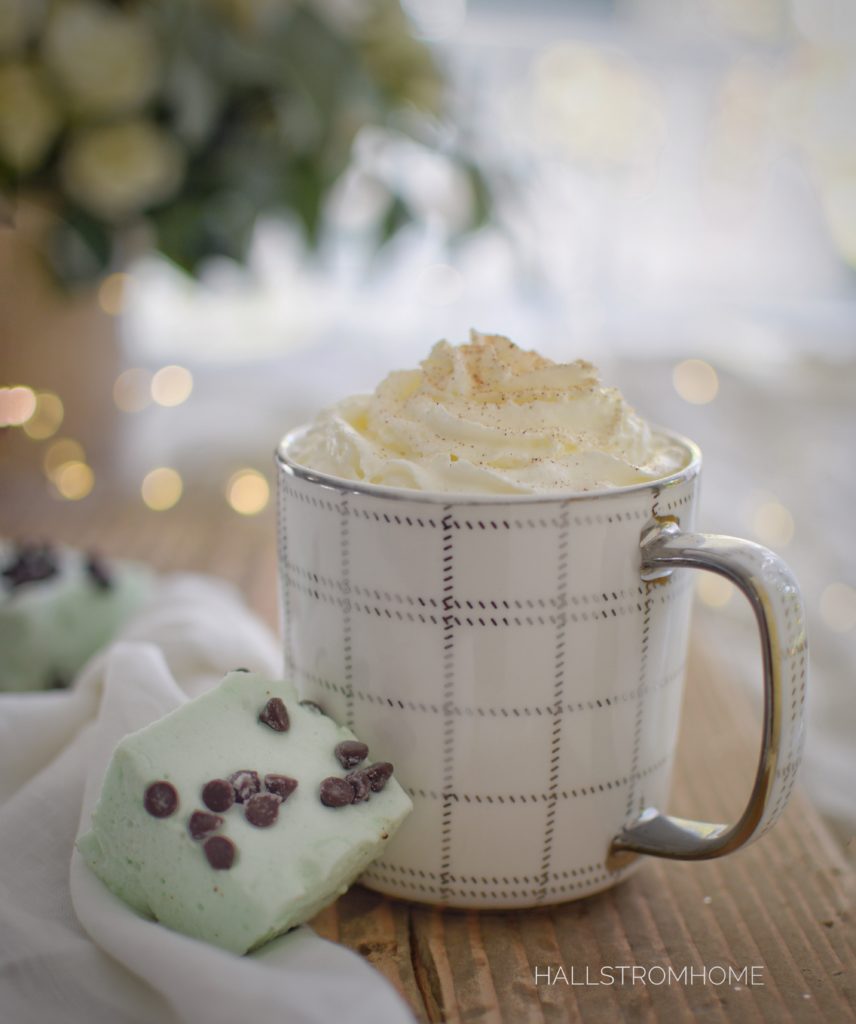 Homemade marshmallows are worth the effort. You can also make these your own, and customize them with any flavor you enjoy. Another one I like to do is the traditional vanilla marshmallows. Just take out the chocolate chips and peppermint extract and add in 2 tsps of vanilla. I love pairing my salted caramel pumpkin spice latte with the vanilla marshmallows. The latte is not that sweet, so the sweet vanilla marshmallows are the perfect touch to my coffee.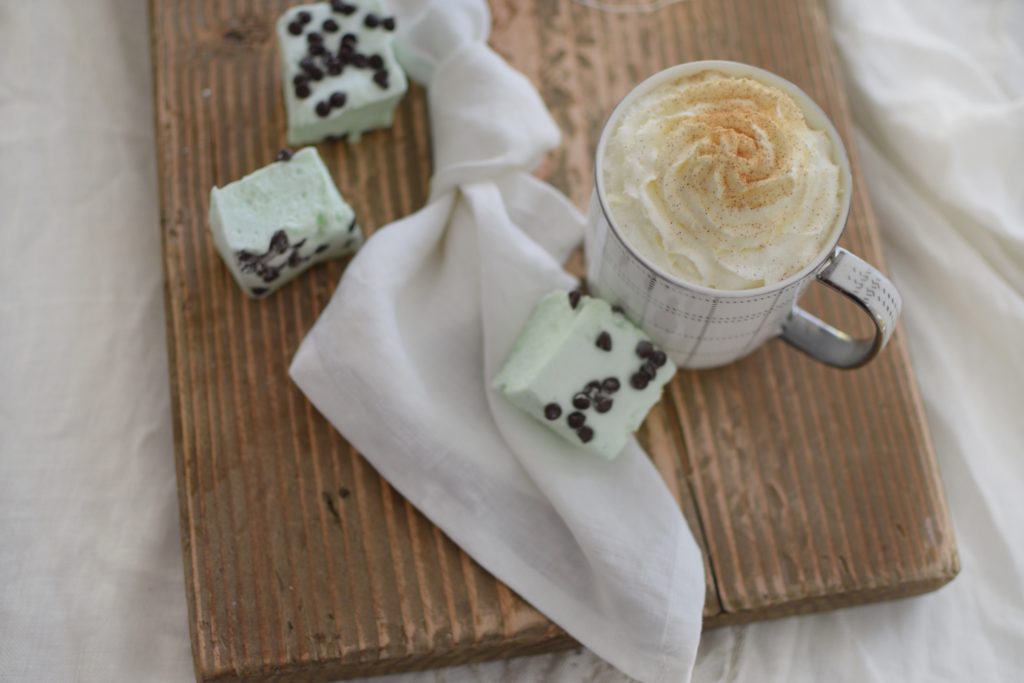 Something else that is great about mint chocolate chip marshmallows is that they are perfect gifts. Edible Christmas gifts to make in advance are perfect for the holidays. We usually have a baking day during the Winter season to prepare for edible gifts. I love putting our homemade marshmallows in a simple white paper bag and adding a cute gift tag. We will soon be adding a Christmas printable gift tag to HallstromHome just for you!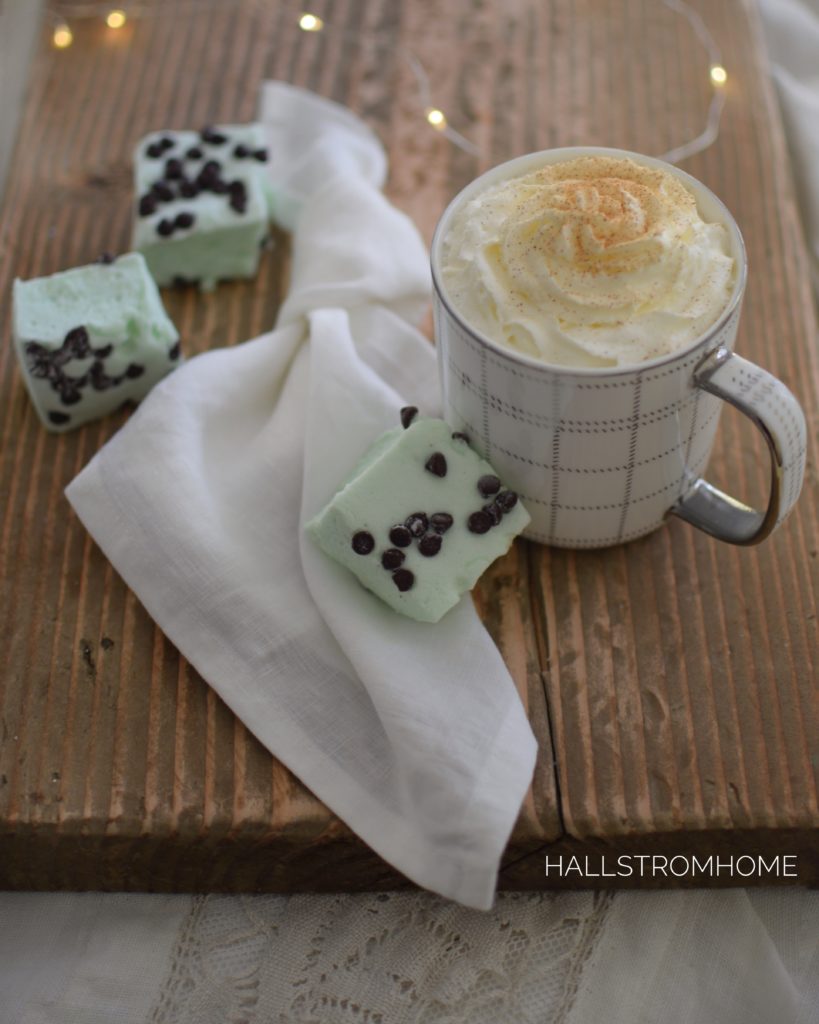 Can I use mint extract instead of peppermint?
Of course. They are very similar, so you won't taste much of a difference. It is mostly just preference.
How long do mint chocolate chip marshmallows last?
These can last up to 1 week in a container.
Can I make my homemade marshmallows vegan?
Yes! Use agar instead of gelatin. Although it will give a slightly different texture. To replace the gelatin it is a 1:1 ratio.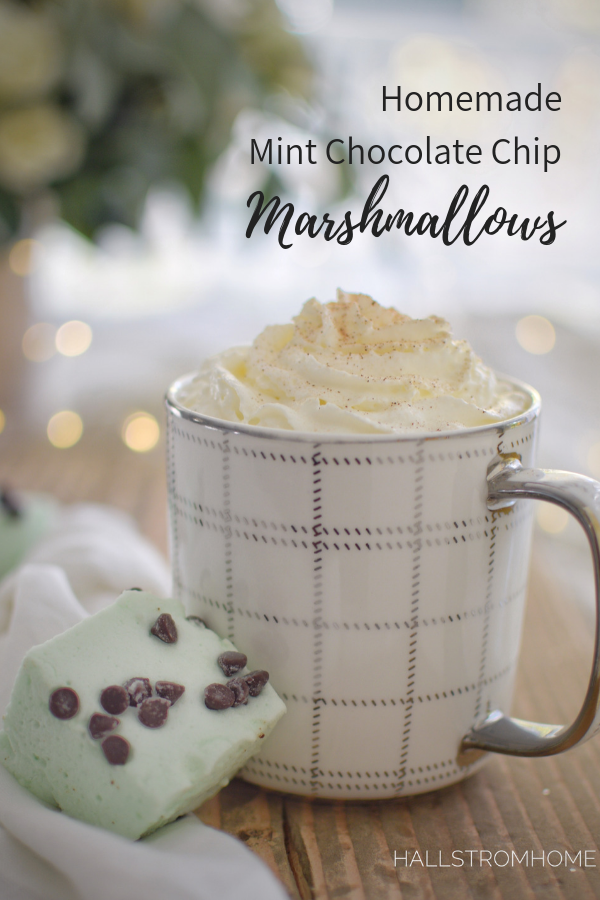 Cozy Christmas Farmhouse Bedroom Tour
Chalk Painting Christmas Skates