Is it ever just time for an update? Well my two girls who are now getting older were quite ready for a bedroom update. It all started with some rattan chairs, and if you keep scrolling you will see why we fell in love. Then came the idea for a bohemian style bedroom. I will share the 7 Tips to Boho Your Girls Bedroom, so you can create a space that is super fun and and so inviting. I think I'll just hangout in their boho room from now on. But shhh don't tell the girls!
Be sure to sign up for my email to get new recipes, crafts and home ideas in your inbox!

7 Tips to Boho Your Girls Bedroom
There are a few different things that go into creating a bohemian style room. So I will share what I learned when putting together this room. Something I love about the boho style is how relaxed it is. If you know me I go with the flow and most of the time things aren't very organized, but that's the way I like it! Also it's a style that doesn't need to be put together perfectly, it can be mismatched and still look gorgeous.
Choosing Color
With the boho style there are usually a few pops of color. For this room I went with blue velvet and a couple pops of pink and yellow. Just choose a couple colors that you love and work with it. I will also include affiliate links below so you can shop the post.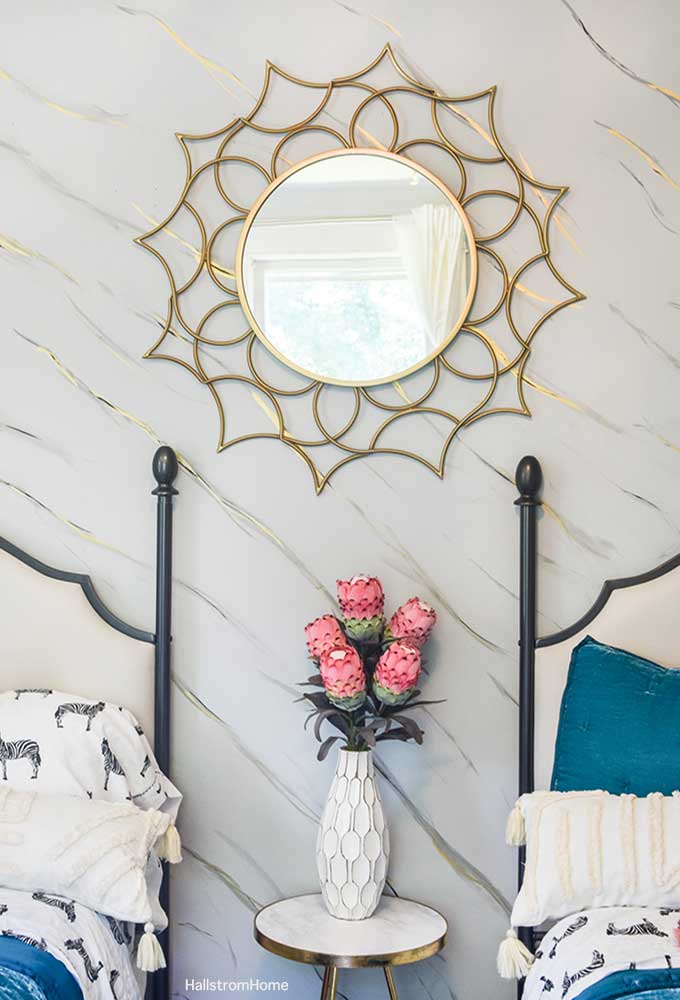 Textures and Patterns
When thinking boho don't you think of fun textures and patterns? Well that's exactly what should be added to a boho bedroom! We went with lots of velvet, tassels, and chenille. When I saw the zebra sheets, I knew they needed them. The zebra sheets added some patterns to the room along with a soft pattern on the bolster pillows. Mixing patterns and textures is something that really screams boho style. So don't be scared to mix it up and try some different patterns and adding lots of textures to the area.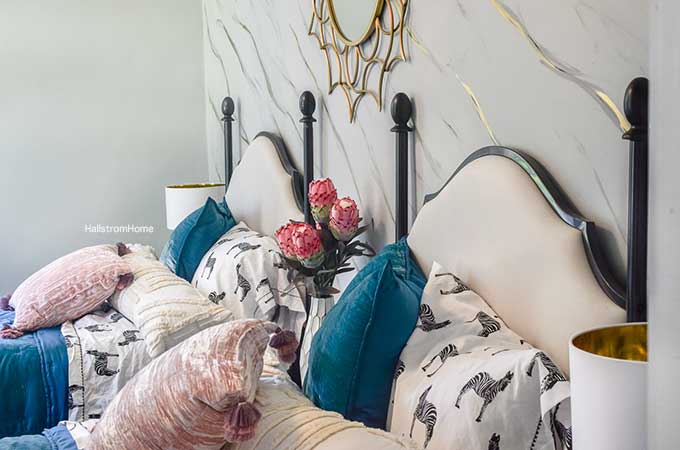 Wall Decor
I will have to say this zebra print is one of my favorite parts of the room. It is so simple, but adds such a gorgeous and special touch to the space. Wall decor is very important for a room. If your room doesn't have wall decor it makes the space look unfinished. We added a large gold round mirror above their beds. Because every space needs a mirror in my opinion (says the lady who owns a mirror shop!!) Since these pictures we have also added string lights to the corner of the seating area to make it even more cozy.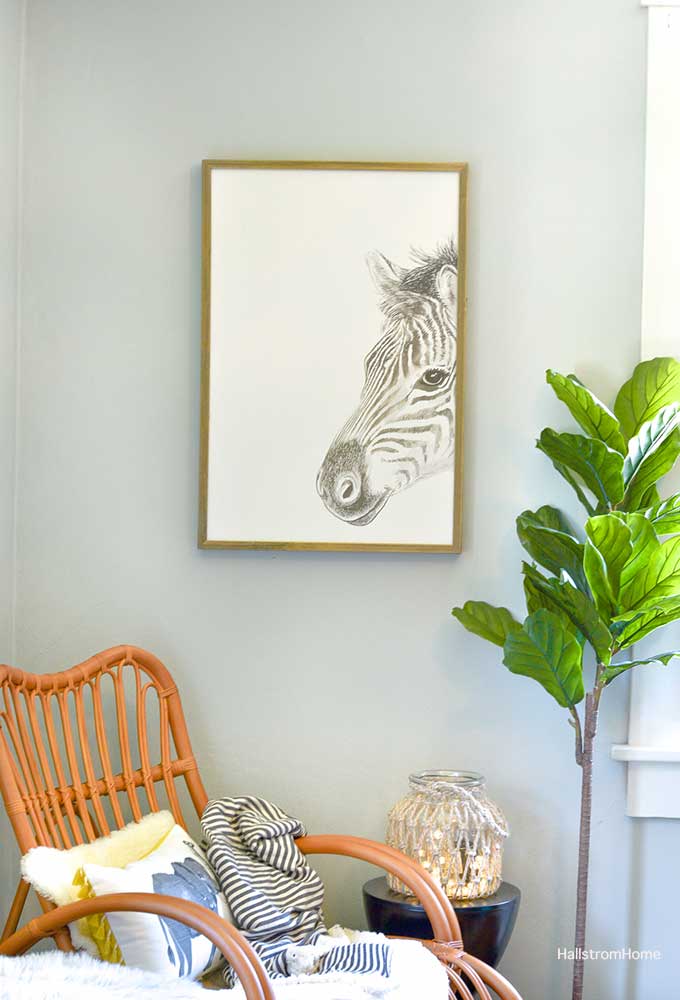 Furniture
Choosing furniture is really important. We used the bed frames they had before, if you want to check out the first bedroom update click here. Since we wanted to switch up the space a little, we just ended up rearranging the room with the same bed frames they had. The rearranging all started because of the rattan chairs I saw, I had to get them! Since I wanted a boho look for the girls room, I made sure to choose furniture that reflected bohemian style. Anything that has natural elements will do the trick. Keep reading to learn more about natural elements.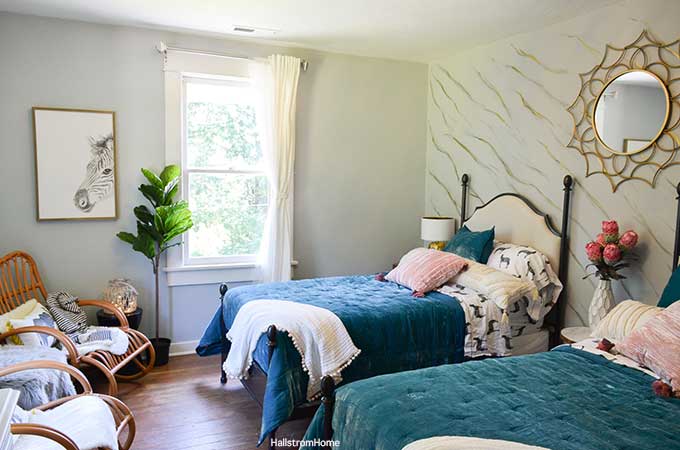 Natural Elements
Natural elements are very important when it comes to getting a boho look. Rattan, wood, and greenery are always a great way to add those earth elements. I didn't go too over the top with natural elements, just a few here and there. We just did another update on this room since one of the girls moved out! Here is our teen girl bedroom design.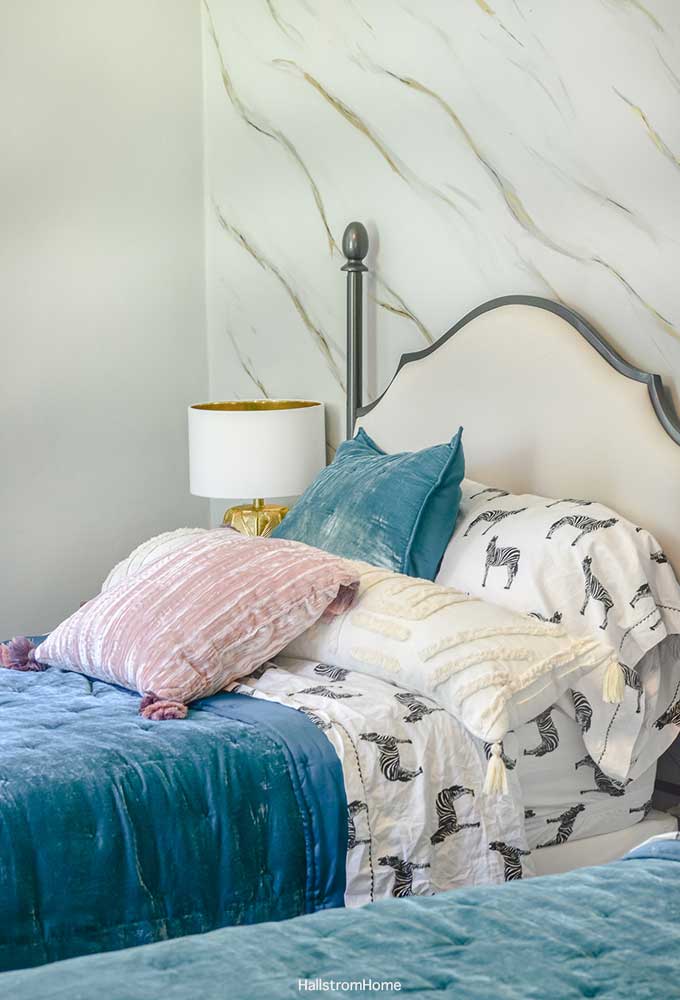 Lighting
I didn't want the lighting to be too much and draw attention. So I just went for a couple table lamps. But of course we did need a little pop of gold. I still wanted to keep the room light and bright. But I know with lighting for a boho room, some like the moody dark look. It is all just a preference on what you would like.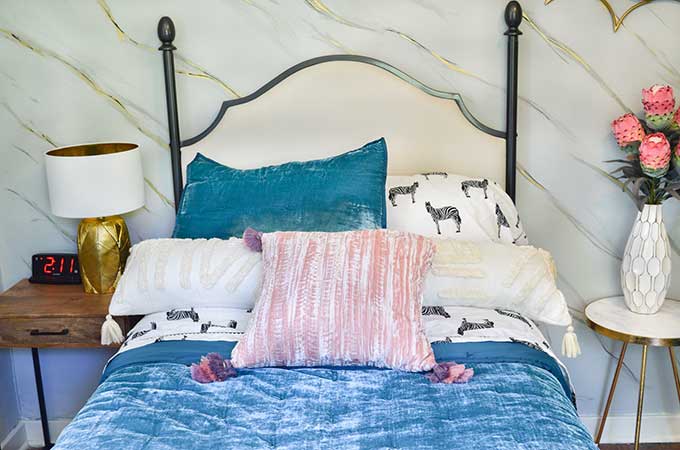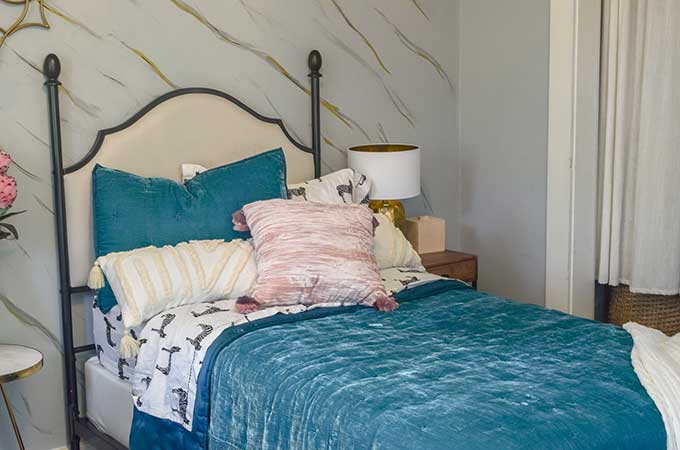 Seating Area
This part might actually be the girls' favorite. It is just such a fun area added to the room. When they come home from school they can hangout and relax in a fun spot. Rattan is cute and chic, perfect for adding boho to a bedroom. Seating areas work great in any room when the space is there. Adding rattan seating and pops of color, it really made this hangout area bohemian. If you want to read more about how to create a girls sitting area come check it out!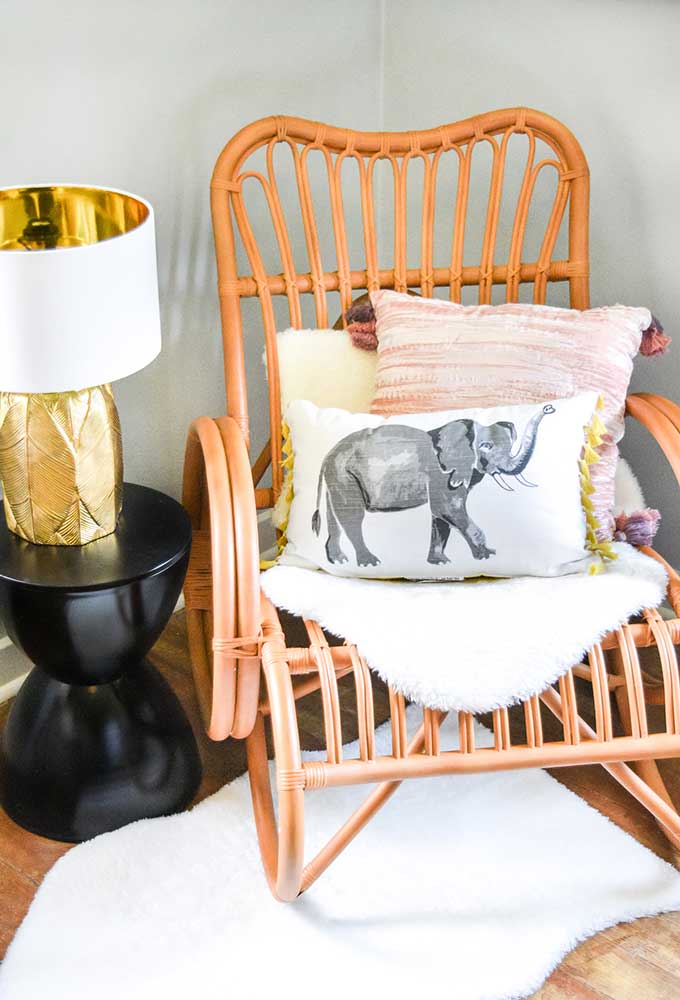 Don't you need this chair in your life? I'm thinking you do too, it just adds a little fun to life and changes it up a bit. Thanks for stopping by and let me know what you think of the girls boho bedroom. If you want to check out more at what happens at Hallstrom Home be sure to follow me over on Instagram.