Are you trying to decorate your bedroom on a budget? I can help you with that. You just need to get yourself one of those chandeliers you see at an antique shop or thrift store. The ones that when you look at them, need a whole new look with a nice paint job. Because boy those can be pretty ugly. This is a Chandelier Makeover in MinutesBedroom on a Budget. This can be done to any old piece of lighting in your home too.
Be sure to sign up for my email to get new recipes, crafts and home ideas in your inbox!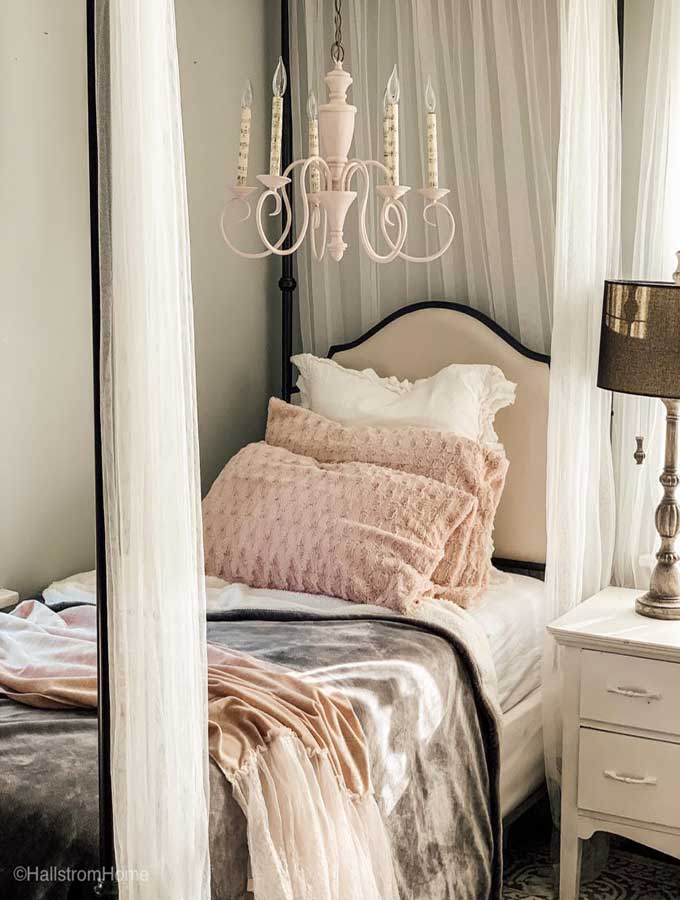 Chandelier Makeover in Minutes\Bedroom on a Budget
Being on a budget can be a difficult thing. Trust me I try to be on one, but it's a pretty hard. I just hope my bookkeeper isn't looking too close, but she always seems to catch me. Searching antique stores is always so fun because it is great to imagine the transformation of a piece. When I saw this chandelier before it was painted I knew something unique needed to be done.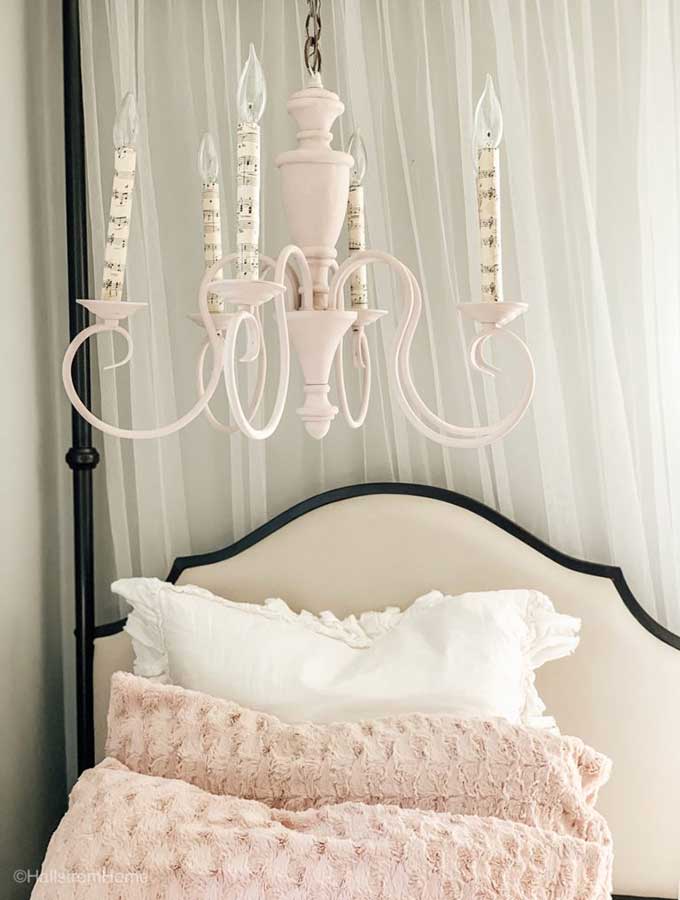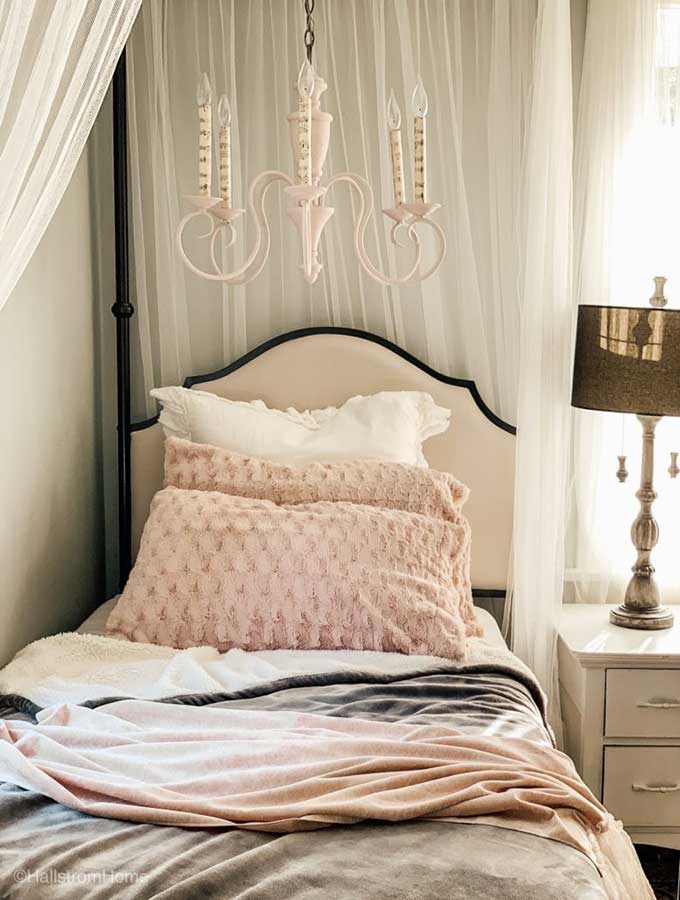 Of course I chalk painted it! I wanted to go out of the box with a soft pink. It turns out it could look great in many spaces. Like a nursery, girls room, play room, or even an office. To begin you might want to wipe down your chandelier with THP, but I usually just go for it and start painting. Once it is wiped down you can start the painting process. Below I will share with you some frequently asked questions about chalk paint.
I personally have a favorite paint brush I like to use. I just slapped some paint on and this chandelier was good to go. Well I might have done a couple coats. I just let the first coat dry completely, then repeated until it was fully coated. I have a few extra tips on how to chalk paint over metal. When updating an old chandelier, you can really get creative. You can do a couple different colors on the chandelier, change up the music sheets to cute little pictures. There is really so much you can do. I have another quick option on how to paint this below.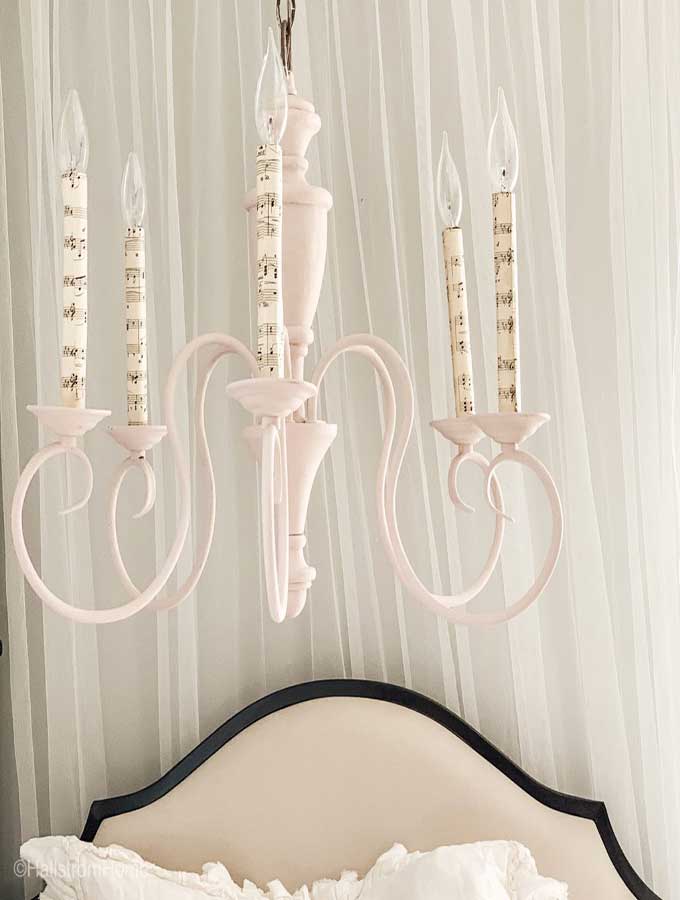 Chandelier Makeover in Minutes\Bedroom on a Budget
Another great option would be to use chalk paint spray paint. The only thing is, is that you need to do it outside or have a well ventilated area. For this chandelier the color I used was Tea Rose by Dixie Belle. Spray chalk paint is super easy and very quick. It will also coat the piece usually in the first go. If you love crafting, I also have a fun paper floral wreath tutorial. It is perfect to freshen up your home for the New Year.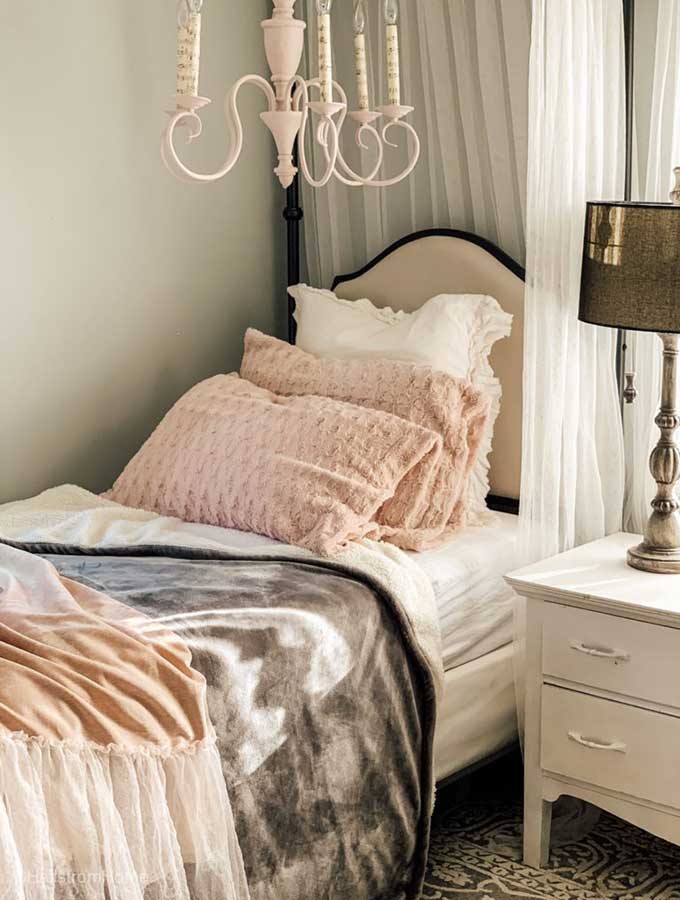 Chandelier Makeover in Minutes\Bedroom on a Budget
You know those plastic candle cover things on the chandelier. Well these ones were pretty discolored and yellow, so we needed a way to fix them. But you know when you're on a budget you've got to be creative. So we used old song sheets to update the candle covers. Which I thought was brilliant, it is so darling and the perfect match with soft pink. Do you love fun diy's? I have a fabric covered bulletin board diy, perfect for all year round.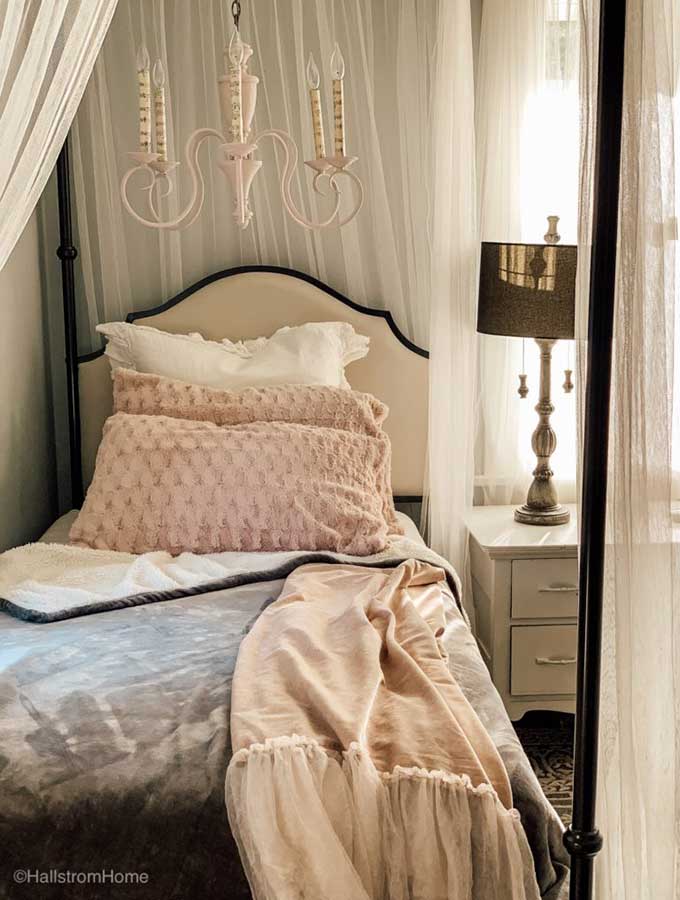 Don't be scared to start chalk painting. Trust me it is so easy and if you mess up it can always be fixed. But if you want a few more special chalk painting tips, I have a chalk painting ebook. It will give you all my tips to begin the chalk painting journey, as well as the best brands to use and the ones you want to stay away from. It will also include a few of my favorite projects and how to do them. So be sure to check it out and start those projects you've always wanted to.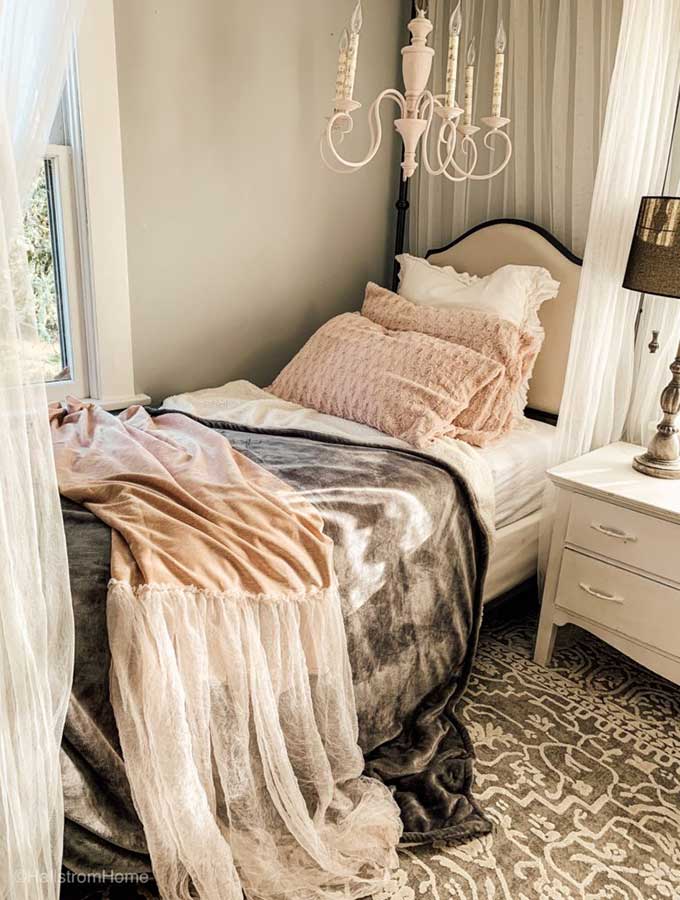 Now here are some very common questions people have about chalk paint. Thanks for stopping by and let me know if you have any questions.
DO YOU HAVE TO PRIME YOUR PIECE BEFORE CHALK PAINTING?
No you don't. Most of the time chalk paint will adhere great to any piece. Rarely you will have to sand down a piece.
CAN YOU CHALK PAINT WOOD FLOORS?
Yes you can. I have a great tutorial on how I chalk painted hard woods floors in my daughters room.