There's a few different ways on How to Get a Smooth Finish with Chalk Paint. My favorite technique right now is using a foam roller. We'll talk more about that process in this blog post. You can also use a paint sprayer that is designed for chalk paint. Or you can use a hand brush and if you apply the paint correctly it will come out nice and smooth. You can follow us on Instagram for all the behind the scenes.
Be sure to sign up for my email to get new recipes, crafts and home ideas in your inbox!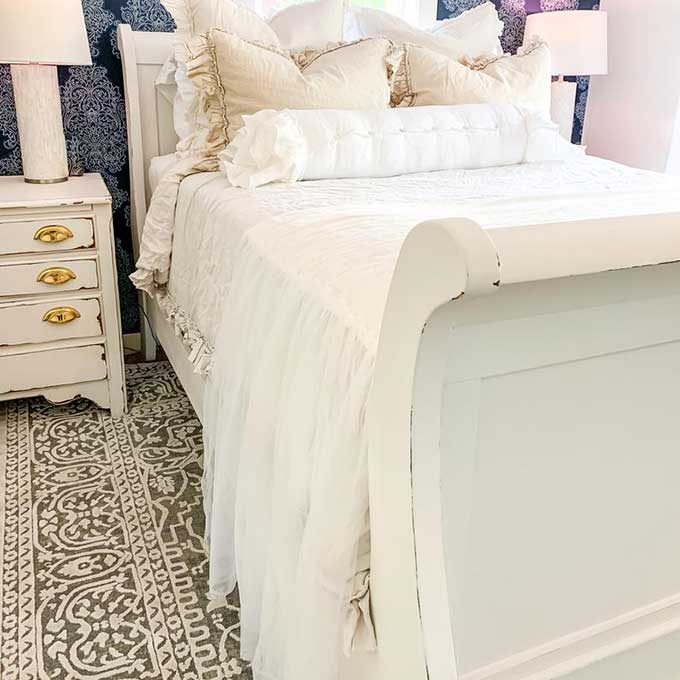 How to Get a Smooth Finish with Chalk Paint
To begin the painting process we started by wiping down the piece with TSP. You can even use Dawn dish soap to wipe away the grim. I would recommend using TSP on all the chalk paint projects you do, from furniture to home decor. Once it was wiped down we looked for any flaws on the piece, this one had drill holes. So we got wood putty and filled in the holes. You want to wait until it's completely dry then sand it. At the bottom of this post I have some frequently asked questions that might be helpful to you. But if you are wanting to try this but are a little scared with attempting, I do have an ebook that will help. A chalk painting ebook is available on my blog, and it will help you with all the basics of chalk painting to get started!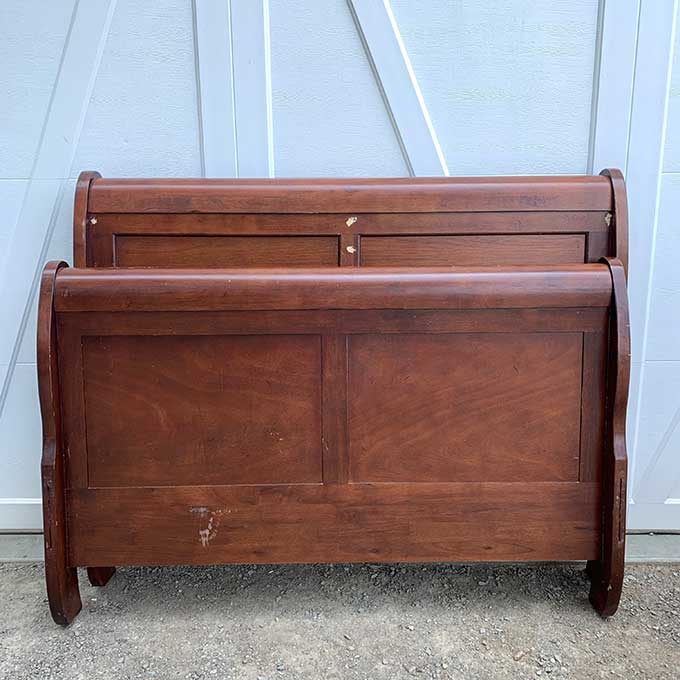 Chalk Paint DIY
Once the putty is sanded down smooth, putting a primer down will really help. When you are sanding down to raw wood, Boss by Dixie Belle will give you a really even paint finish. On this piece we didn't have to prime the whole thing. So we just covered the spots where we sanded.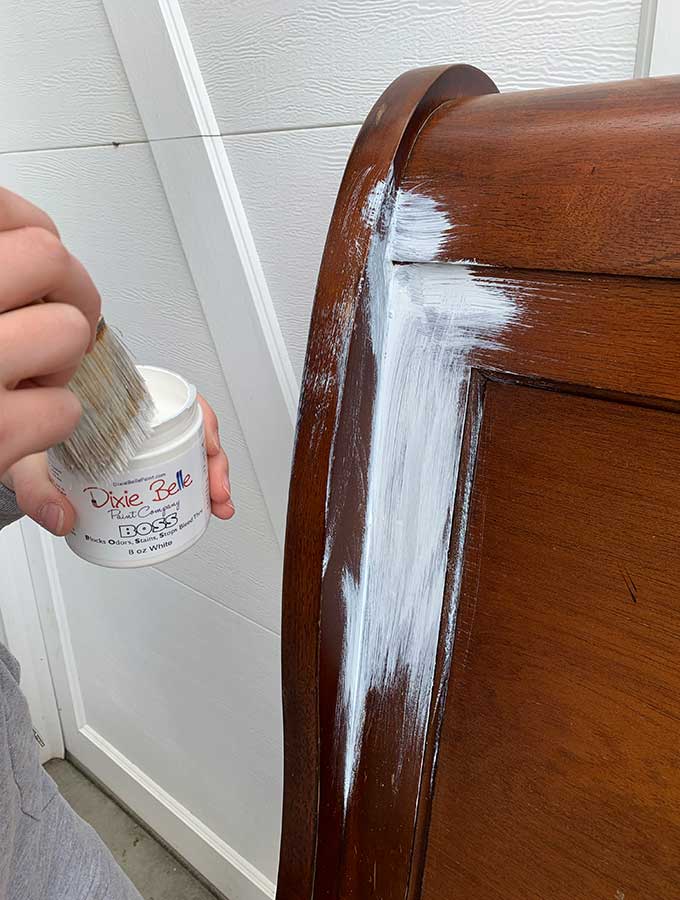 How to Chalk Paint a Bed Frame
Now that the primer is dry it is time to paint. I would start by watering down the paint a little, so it goes on thinner which will help get a smoother look. We used Fluff by Dixie Belle. Start by using a paint brush and getting in all the cracks and corners. If I were you I would do a quick layer with the paint brush and let that dry completely. Time to get the smooth look! With your watered down paint, use a foam roller to apply the paint to the bed frame. Do a complete second coat and let that dry. However many coats you do make sure the previous layer is completely dry.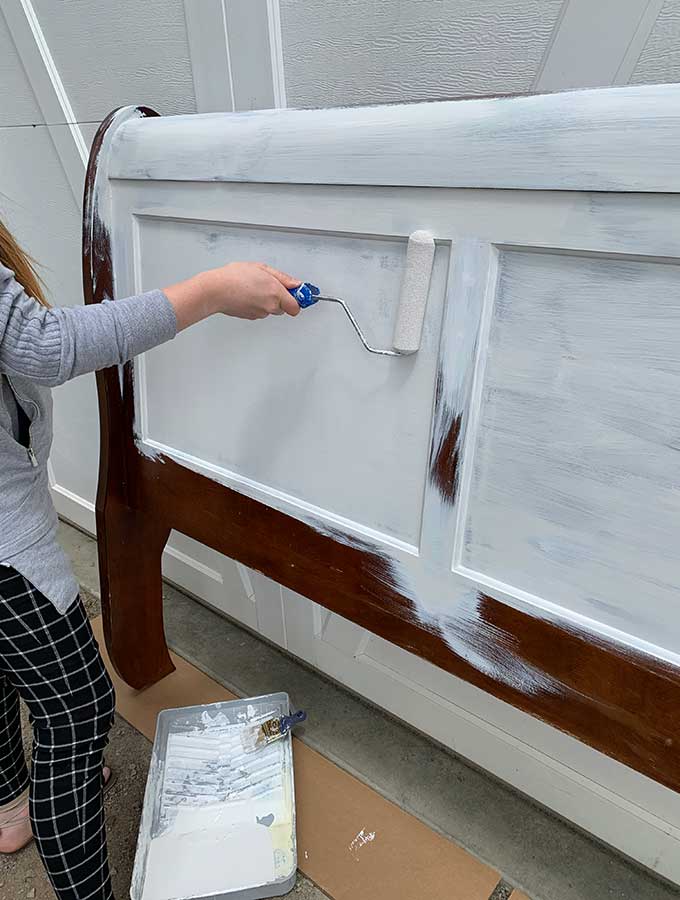 Chalk Paint with a Paint Roller
Once my layers were dry I went back through with my paint brush and the foam roller. With the paint brush I touched up the parts that the wood was still showing through, then went over the brush marks with the foam roller. There it is, a perfectly smooth chalk painted bed frame! Take a look at how we chalk painted leather.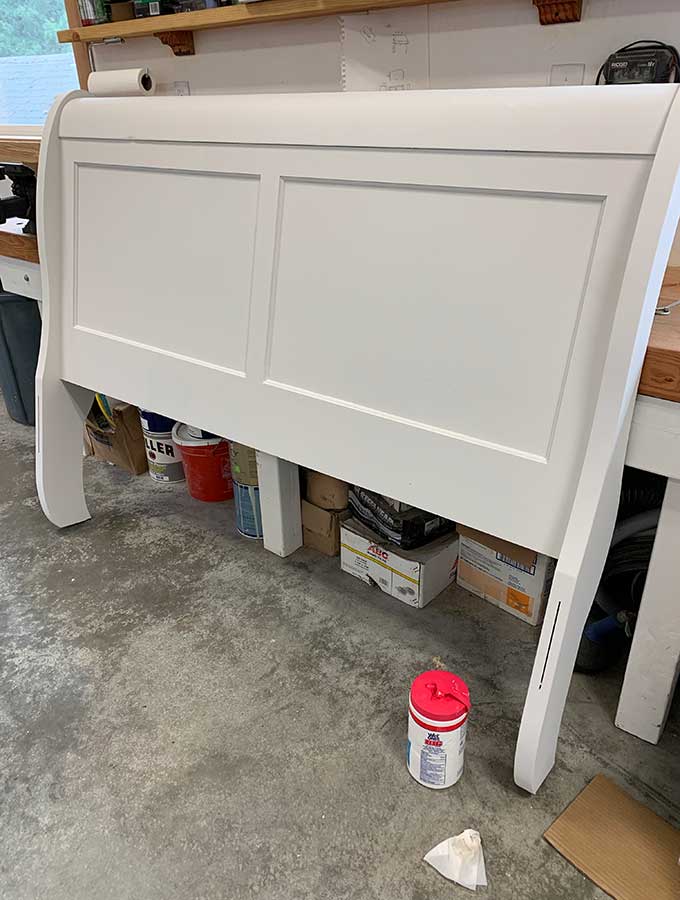 Since this was going in my room, I wanted a little bit of a distressed look. With my hand sander I lightly sanded over the details. I have this bed frame available in my Etsy shop.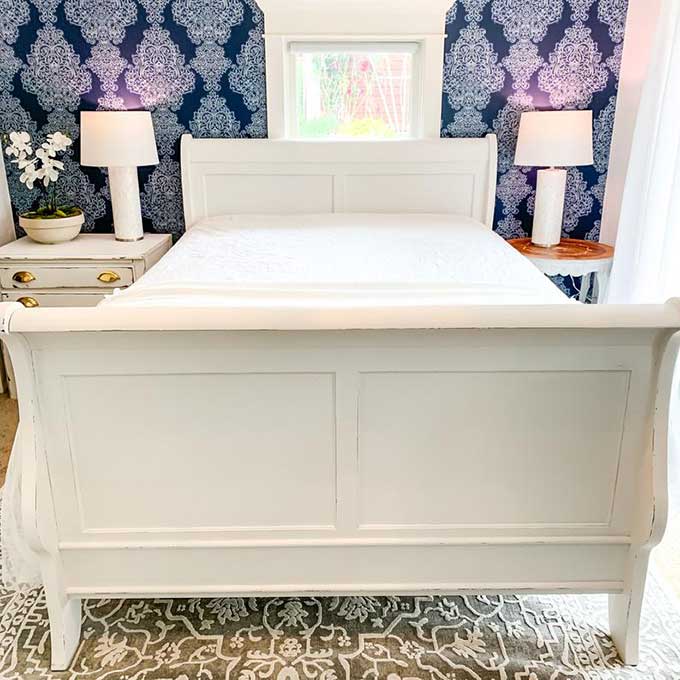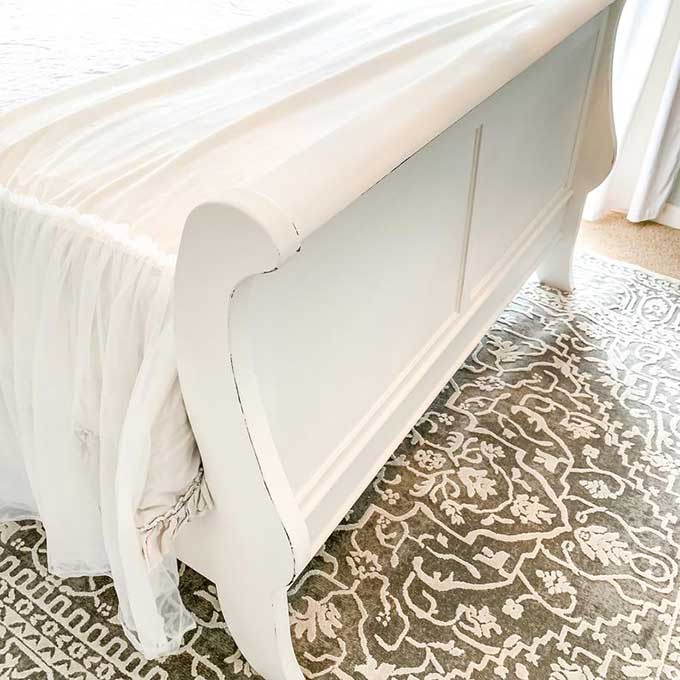 Here it is in our bedroom, and I love it! The subtle distressing adds a bit more character to the room. As you can see it has such a smooth finish, and does not show brush marks. That is exactly what we were going for!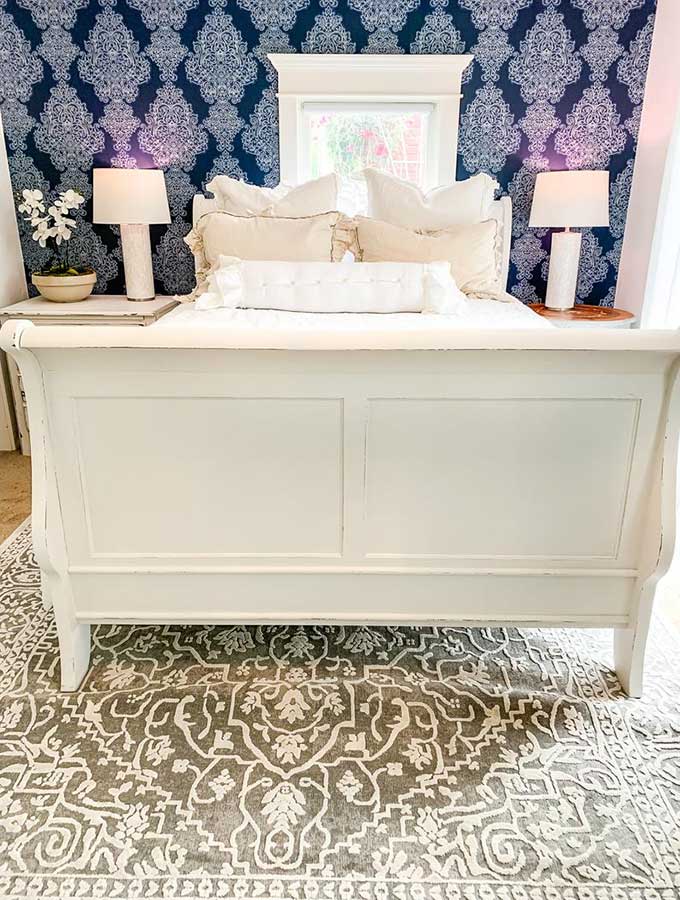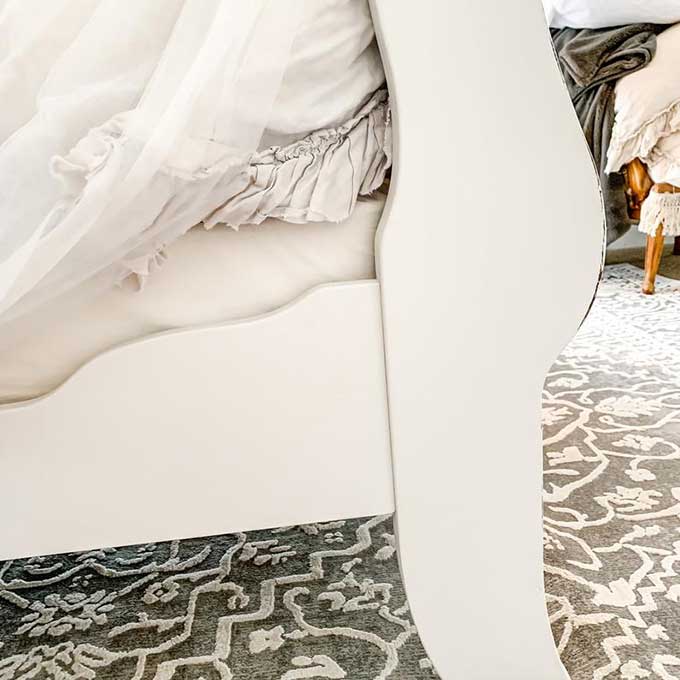 Now here are some frequently asked questions. Let me know if I can help you on any of your chalk painting projects!
Can you use a foam roller with chalk paint?
Yes you can. I would just do a first coat with a paint brush, then the second coat with the foam roller. It just gives a softer look.
How do I get a smooth finish on wood?
I would water down the chalk paint so it goes on thinner and smoother. If it is rough wood, I would first sand a little, then paint.
Can you seal chalk paint with polycrylic?
Yes. I do that for most of my mirrors that I chalk paint. I use a spray polycrylic. For furniture pieces, I like to wax them. But you can also seal furniture with polycrylic.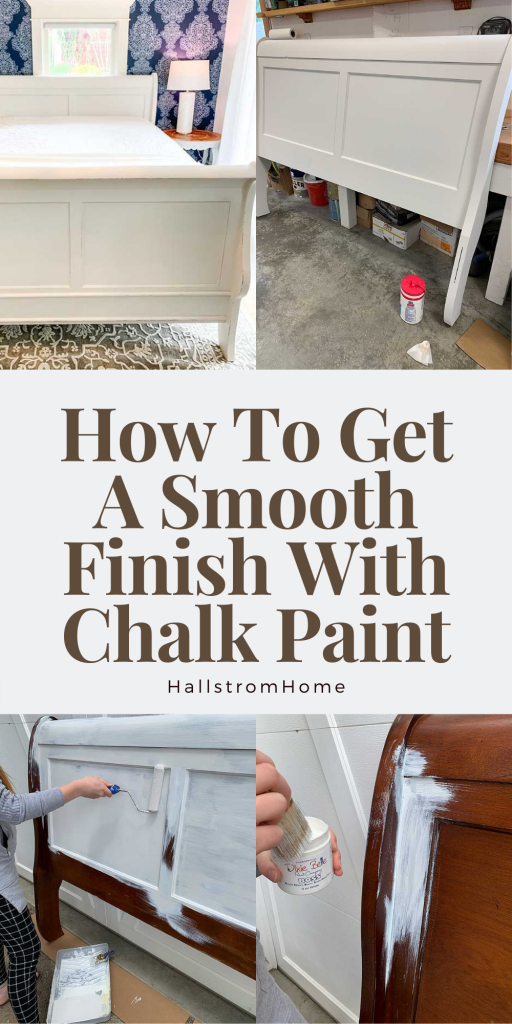 Check out our Chalk Painting over Metal Blog post here for more! Thanks for stopping by. Be sure to follow us on our socials for more!