I feel like a kid when it comes to colorful fall leaves. Oh how I would like to play in them again but feel I'm just a bit too big for that. Plus I don't think I like to get dirty. On this lovely fall day, with company coming for dinner, setting a table among the veranda leaves was a perfect way to play (maybe I'll go play in the leaves after my company goes home 😉 ) I had just created these chalk paint pumpkins last week so I decided to use them when creating this Fall tablescape. Now let me say this—I am not one to spend tons of time to create a beautiful table. This is my idea of How to Create an Outdoor Fall Tablescape that is super simple and looks fantastic.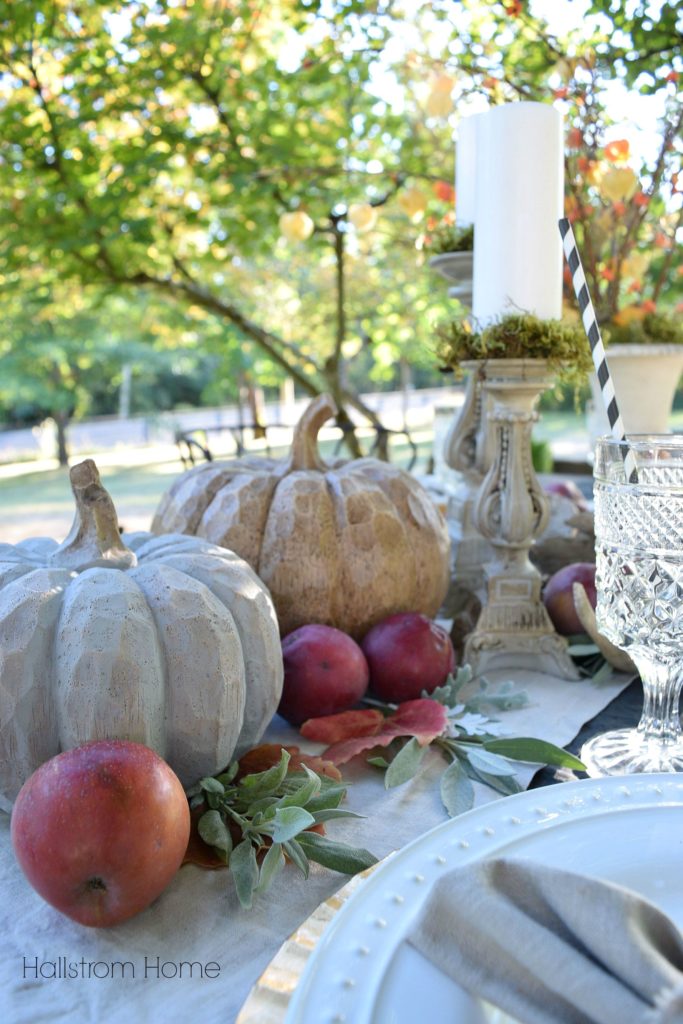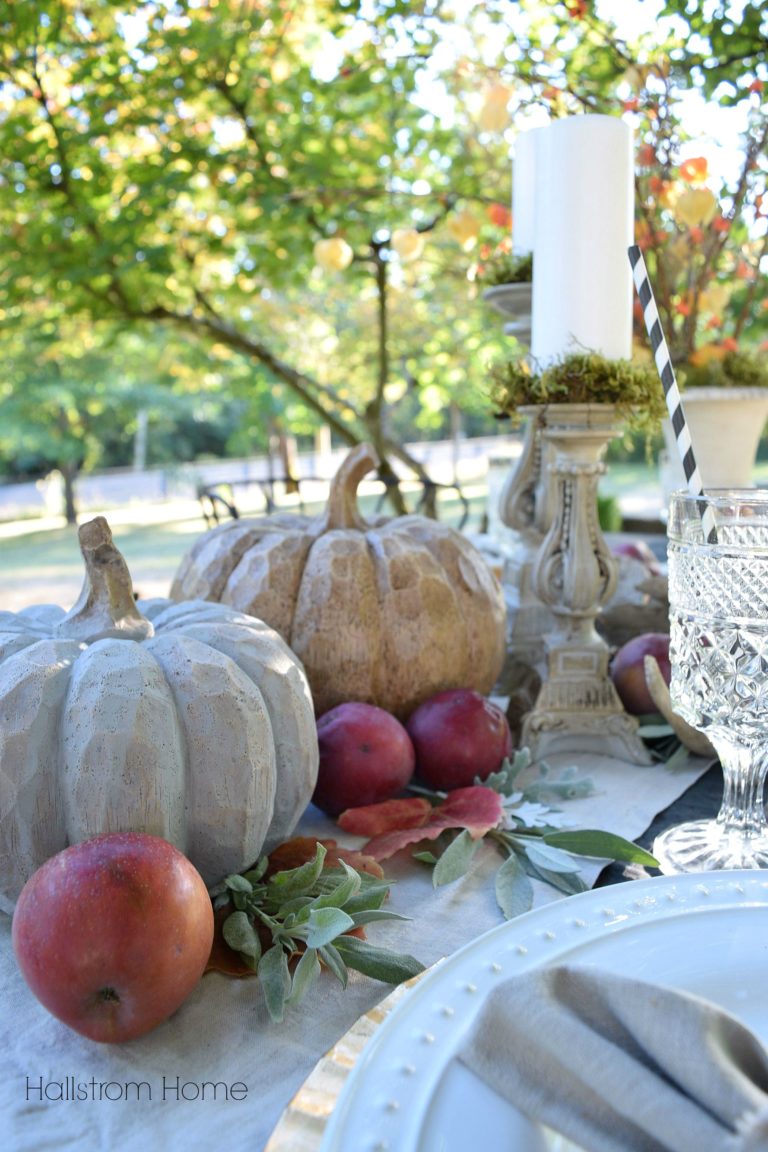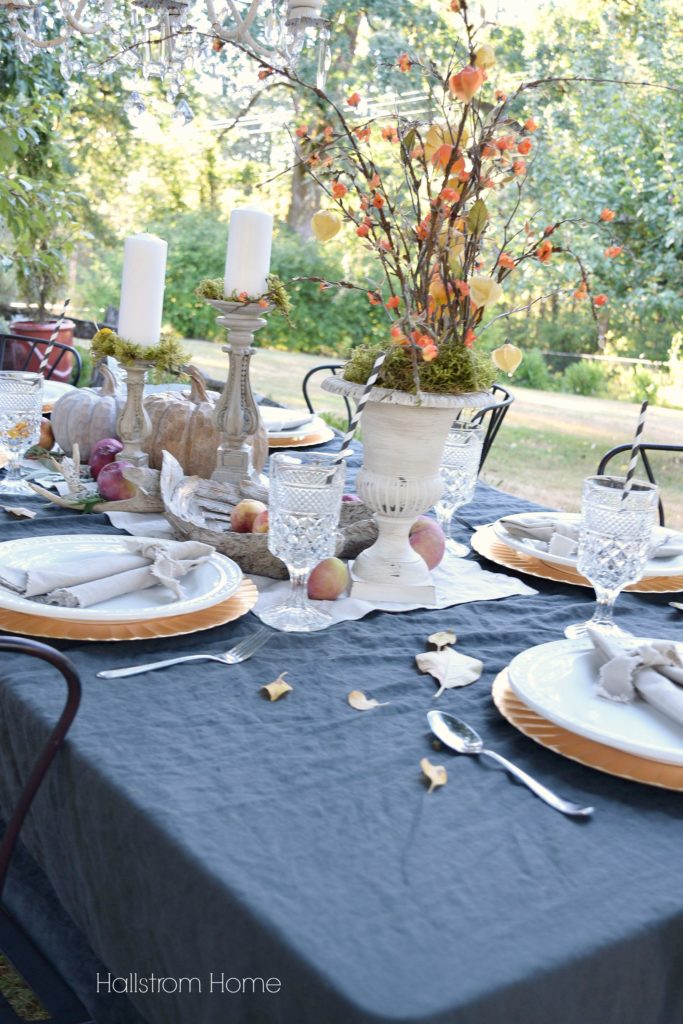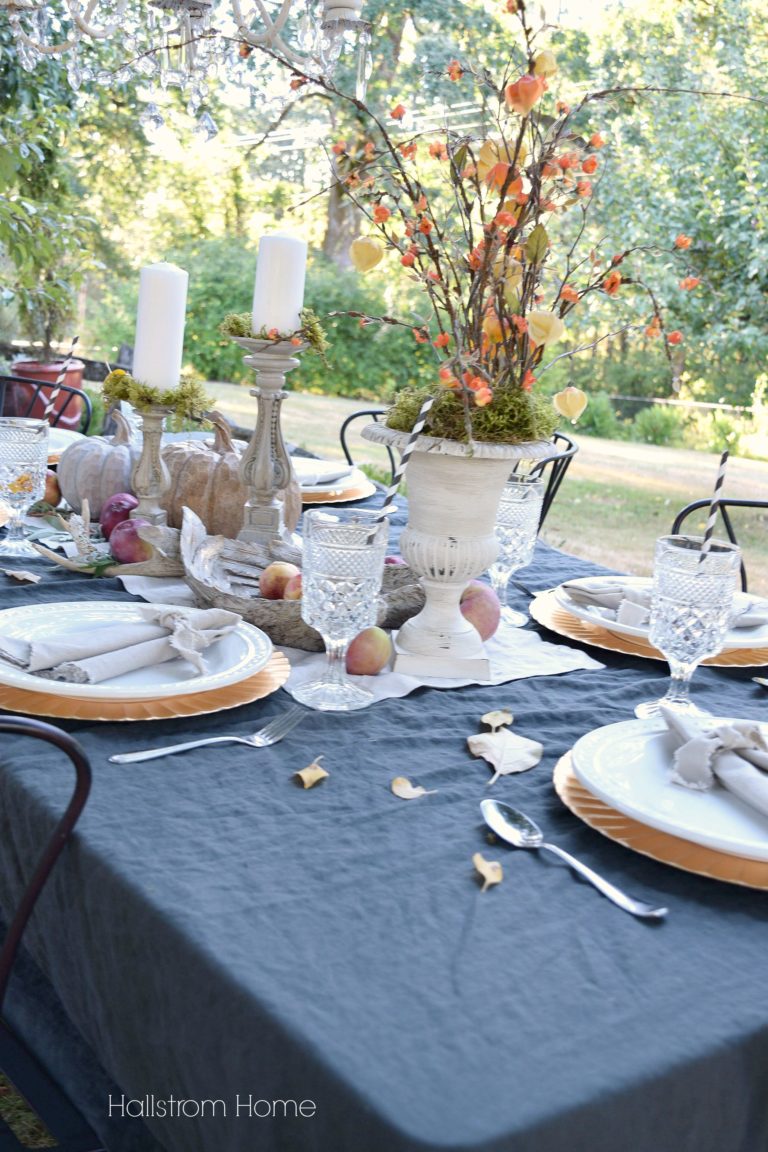 How to Create an Outdoor Fall Tablescape
Choose the right table linens. I used a deep grey color for my tablecloth. Don't get me wrong—I love bright white linens, but for this tablescape, I decided to use a deep rich tone using our graphite grey linen tablecloth. I then used our natural linen table runner to lighten it up just a bit. I love how the contrast makes this table look cozy.
Use gold chargers. Gold gives a classy and elegant look to your table setting. I used these gold chargers from World Market. I also used ivory plates from World Market. These are one of the most popular items right now for dinning in style. World Market happens to be one of my favorite shops for trendy and stylish items.
Scatter fresh fruit. Fall is the perfect season to put all that fresh fruit to use in your decor. Our fruit trees are in full harvest right now, so it is fun to mix apples, pears, peaches, and plums in with our decor. I also grabbed leaves from the grapevines that had already turned orange and then I clipped leaves like dusty miller from my flower beds to give a bold contrast and texture to the table.
Light candles. A fall tablescape needs to have ambiance. Candle holders give a warm and welcoming finishing touch to your table. I hung one of my custom hanging candelabras over the table for an added layer of charm. I just love how the crystals grab the fire light and dance it around as if its a magical setting. Shop our candle holders here.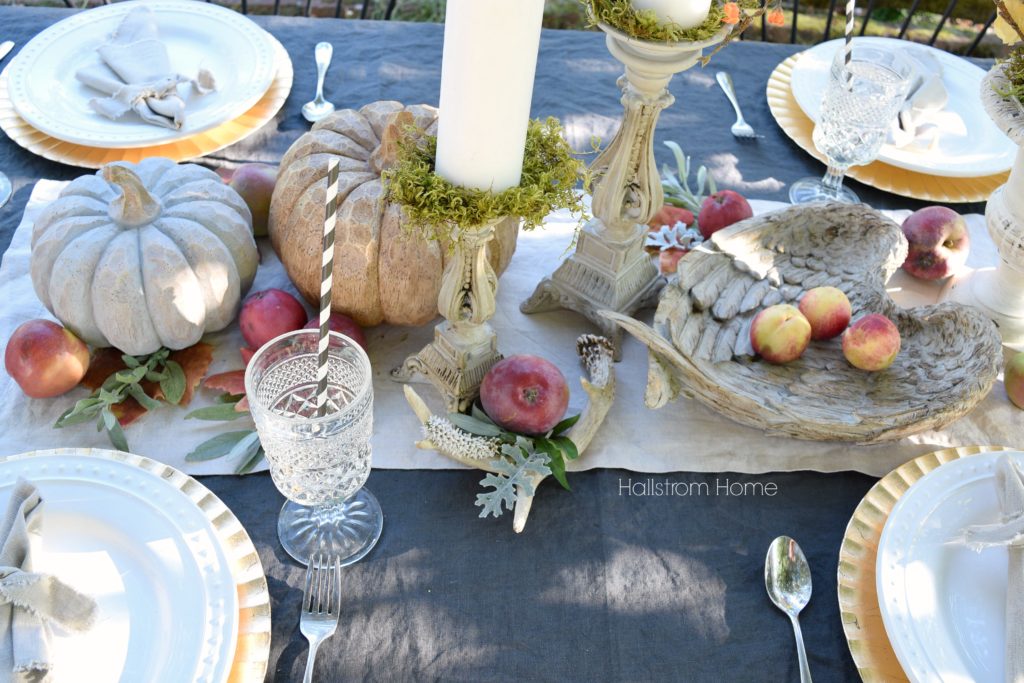 GET THE LOOK
*affiliate links used in this post*
My dad says there is only one kind of pie. It's Apple. Apple and Apple. So I tend to serve apple pie a lot to our company. It also helps that hubby is the apple pie maker. I will include
our classic apple pie recipe here
as well as our
Pear bar recipe
because I kinda think my hubby is the bomb and you might enjoy making his recipes. Apple pie is also a must for
How to Create an Outdoor Fall Tablescape
that looks and tastes yummy as well. Now don't forget
the Ice cream
.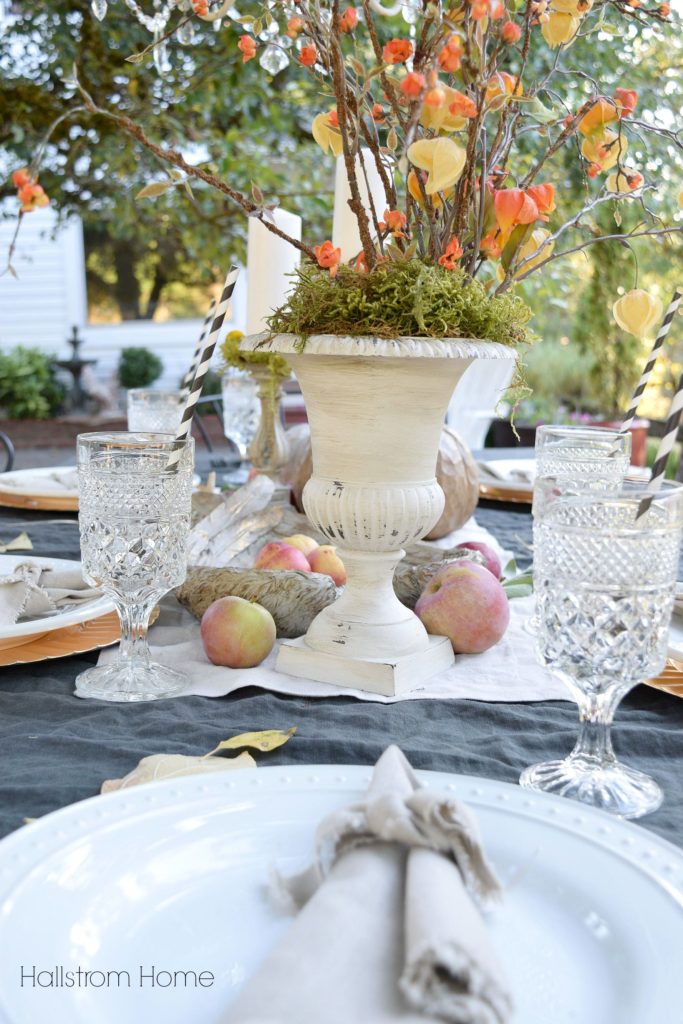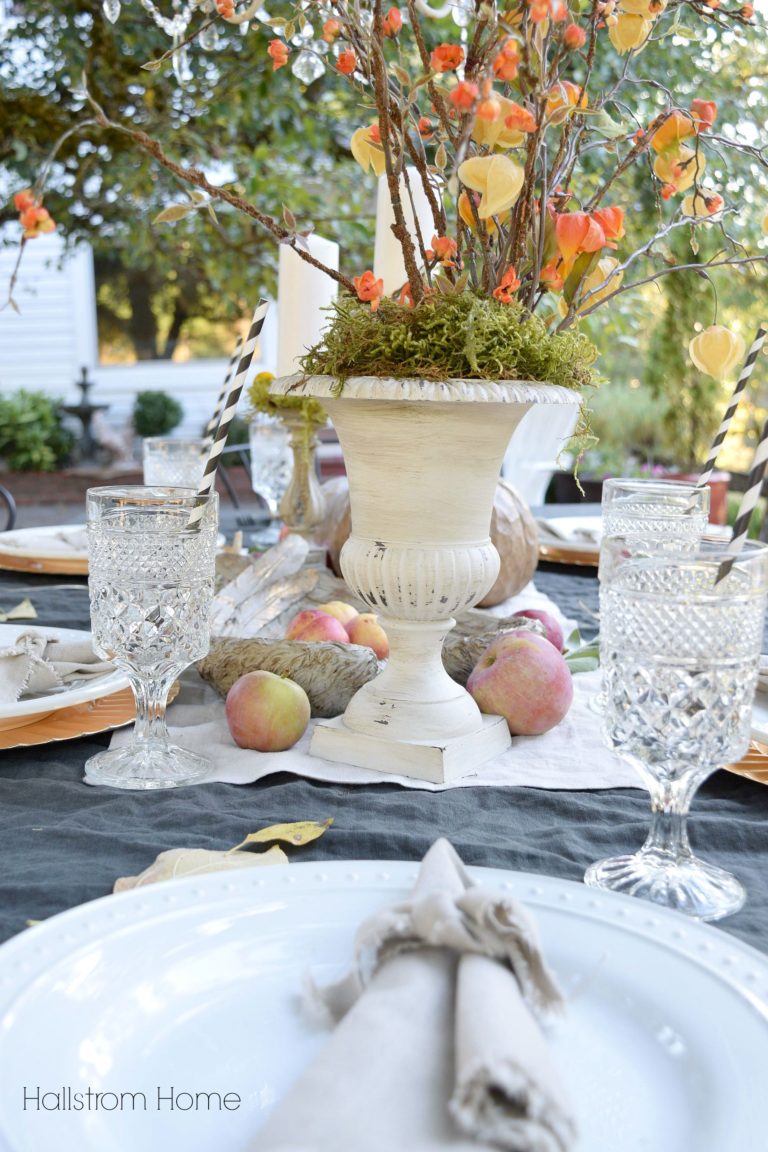 I would love to know if this is how you would Create an Outdoor Fall Tablescape. The options are limitless really, but I can say that I wouldn't forget the straws. I just happen to have a thing for pretty straws. They kinda make me feel like a kid again.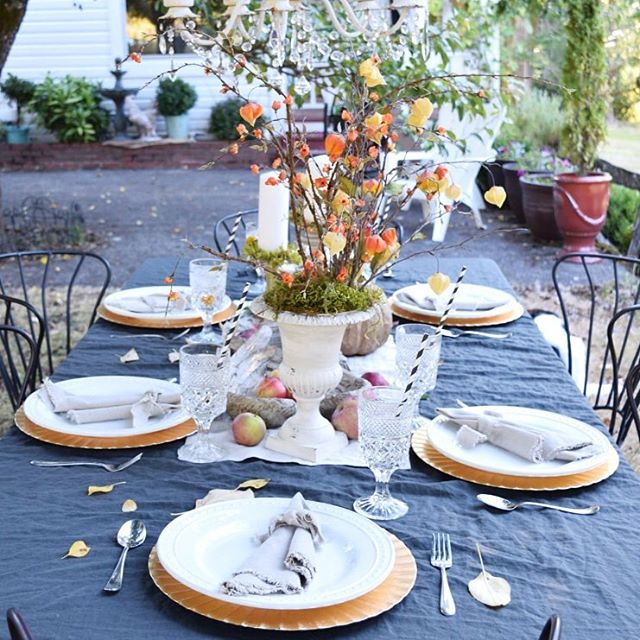 It always brings me joy to set a beautiful table for friends or family as we dine because it's these times that warm the heart and sets memories that we can look back on with love.