Have you been thinking to hang peel and stick wallpaper? This is my third peel and stick wallpaper project and the smallest one yet so it was easy. I am so happy to share a full tutorial on our DIY Peel and Stick wallpaper. This is the easiest way to change the look of a room without paint. I cover all your questions and share many tips on wallpapering here, I hope you find all you are looking for!
Be sure to sign up for my email to get new recipes, crafts and home ideas in your inbox, plus access to our free printable vault! *This post contains affiliate links*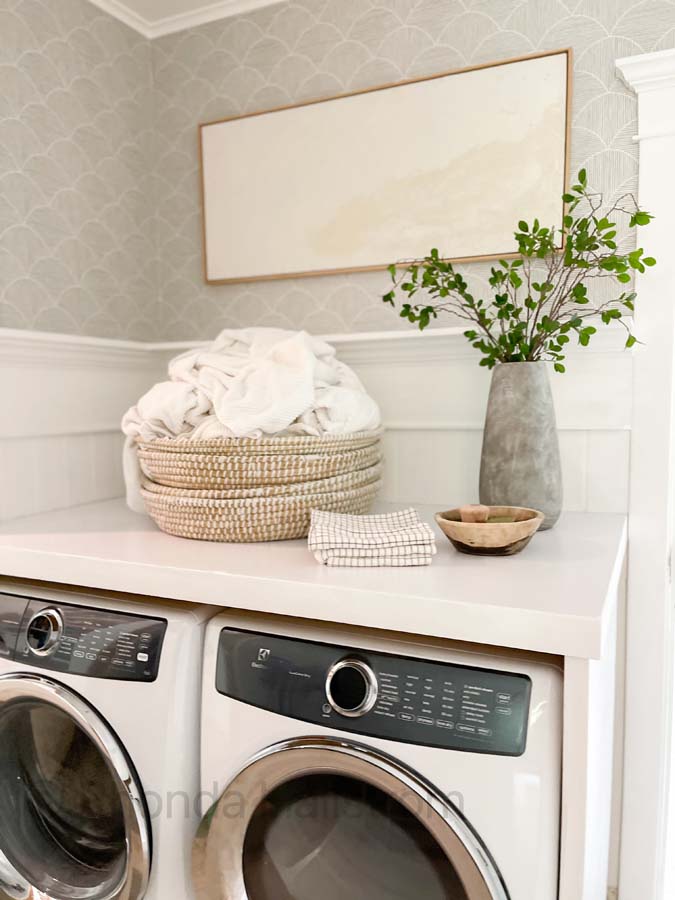 Easy Removable Wallpaper
Things to know before you get started on your DIY peel and stick wallpaper project.
Match your pattern per panel before you peel the backing off.
Use a cutting mat and cutting wheel for easy cuts. Each of my panels were cut one inch longer than the wall measured
Have a friend help if it's a large wall project. We will talk more about this below.
Smooth out any bubbles with a flat tool. I used my hands and it worked just fine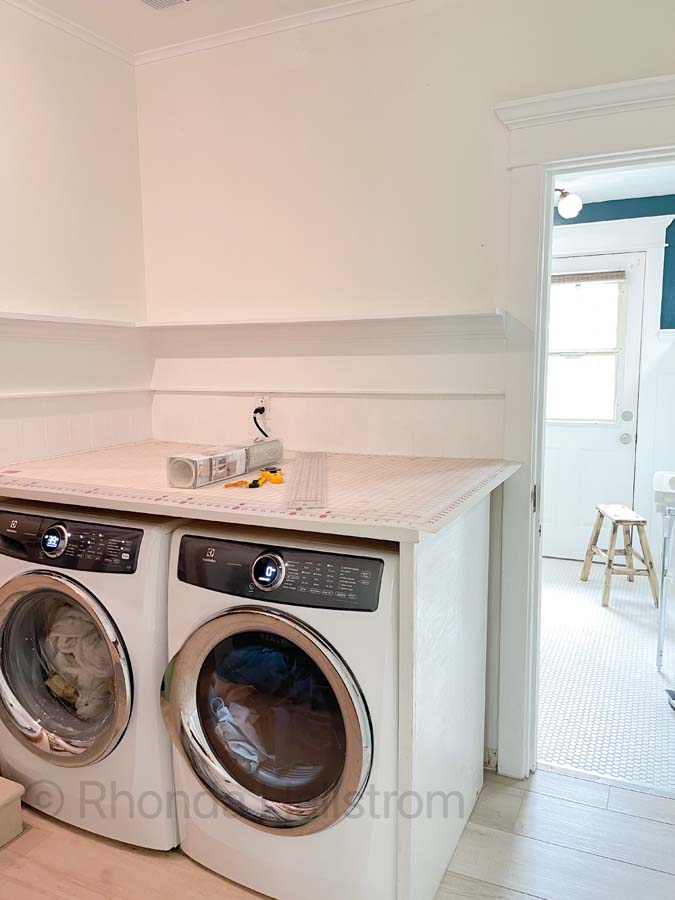 How To Hang Wallpaper
The first step to DIY peel and stick wallpaper is to paint the ceiling or edges so it looks nice and clean without any older paint colors showing through. I painted the entire mudroom so it was fresh looking. It didn't take this room long to dry on a warm day.
Cut your first panel one inch longer than the wall measures. My wall measured 38″ so I cut at 39″. The only time I messed up was the second panel. I forgot to match the pattern so I cut and hung it and then realized it was off. I easily removed this panel and moved it up so the pattern matched. I then was left with a two inch piece missing from the bottom which I pieced in at the very end.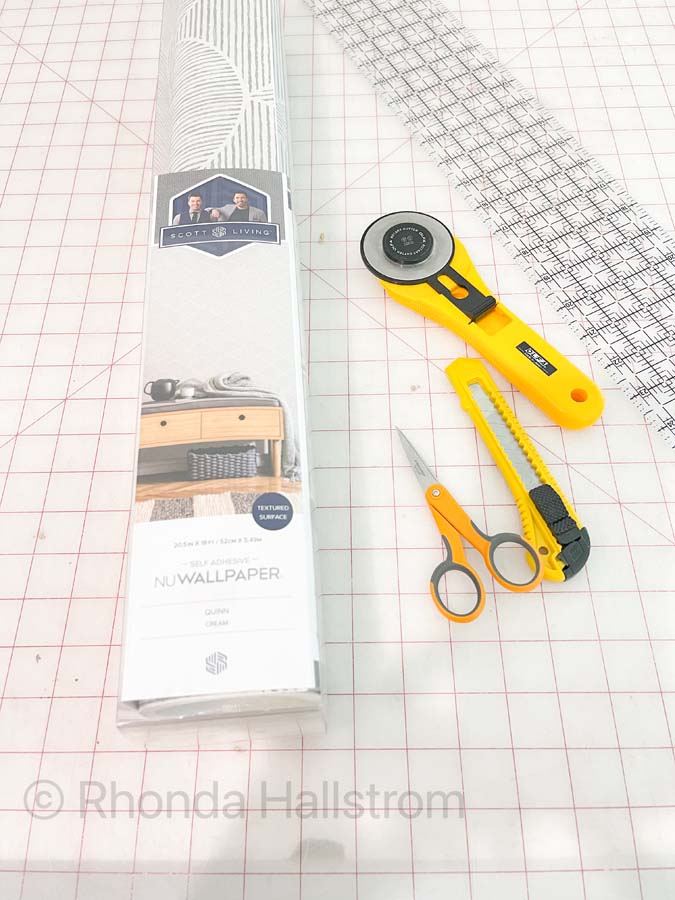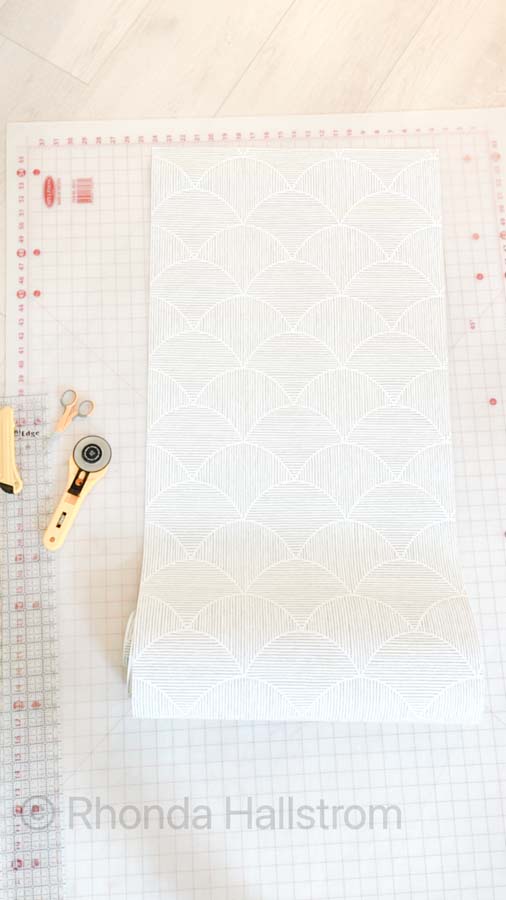 Wallpaper for beginners
3. Place the top left corn in place. Line up straight to the wall as you are working on a corner. Once it looks even. Romove the backing from the top left corner and peel down about halfway. Stick in place. You can move this panel around by peeling up and off if you need. I did this a lot to get it all to line up evenly.
4. The second panel and those after are the ones to be more watchful of the pattern layout. It is rather easy until you get to detailed trim like the doorway to the bathroom here. I totally messed up and pieced under the crown molding at the end of the project. It really wasn't as bad as I expected. I just patched it in and know one can tell.
5. Matching the corners required overlapping just a smidge a bit. Again I didn't think it was hard. Just a little thoughtful as I peeled the backing off and placed the wallpaper panel down to match the pattern.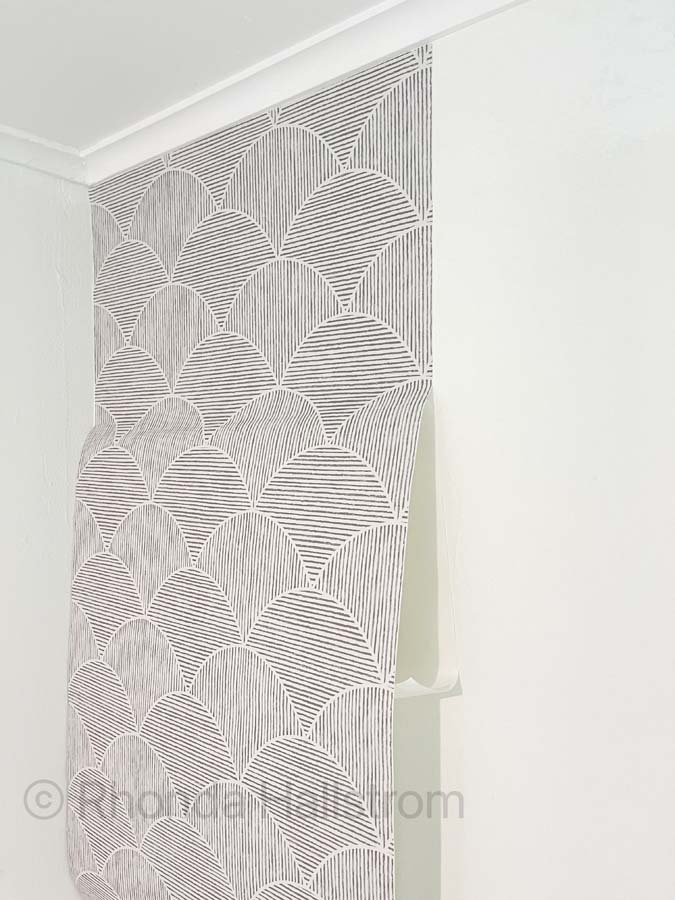 Tools you need to hang wall Paper
Best Tip to any DIY Peel and Stick Wall Paper project. Get a sharp razor blade as it will be your best friend when hanging any type of wallpaper. So far peel and stick in a small project space isn't bad but we will talk about using this in a big project below.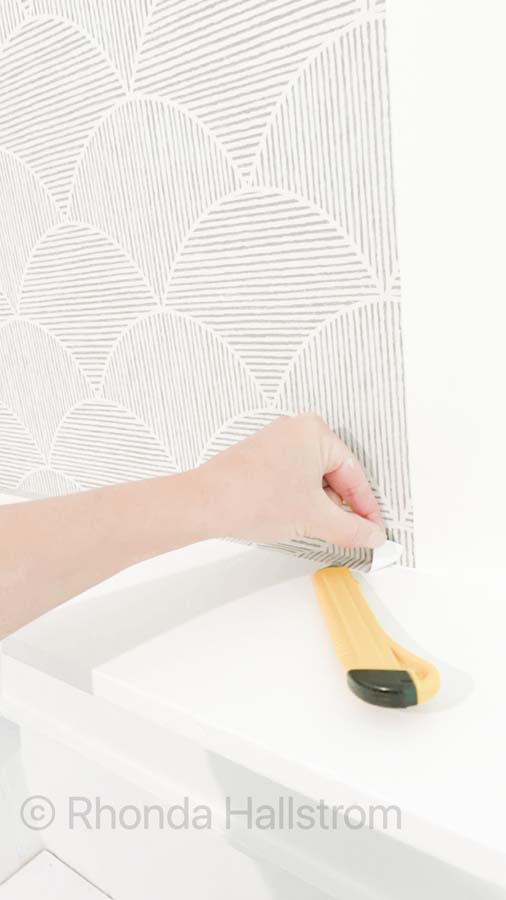 Modern Home Wallpaper
This print is a remake of the 80″s that looks great in Modern to farmhouse. I didn't expect to love this print so much for our 100 year old farmhouse. It gives it a cape cod vibe and I love that. I decided to go more modern with this textured wall art piece that I made using plater.
Once you are done reading this wall paper tutorial and decide you want to hang shiplap instead of wallpaper, I have a tutorial here on how to hang your own shiplap. We also have out Plaster Wall Art DIY for simple wall art here.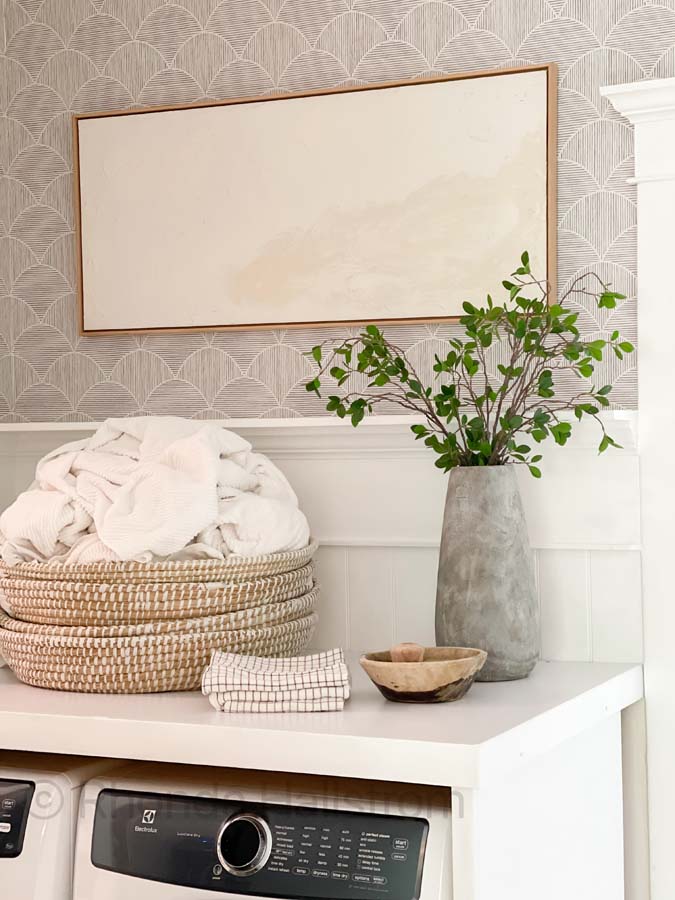 Lowes peel and stick wallpaper
Can you believe this peel and stick wallpaper was at Lowes? yep. Made by Scott living. This pattern runs $50 a roll so its not cheap. This project took 1 roll and just a little of the second roll. It doesn't go real far in my estimate. They have many designs but this was my fave and probably the only print I would choose out of the options. It's neutral and pairs nicely with so many colors. I kept this laundry more simplistic with these beautiful big laundry baskets that are available in our shop at HallstromHome.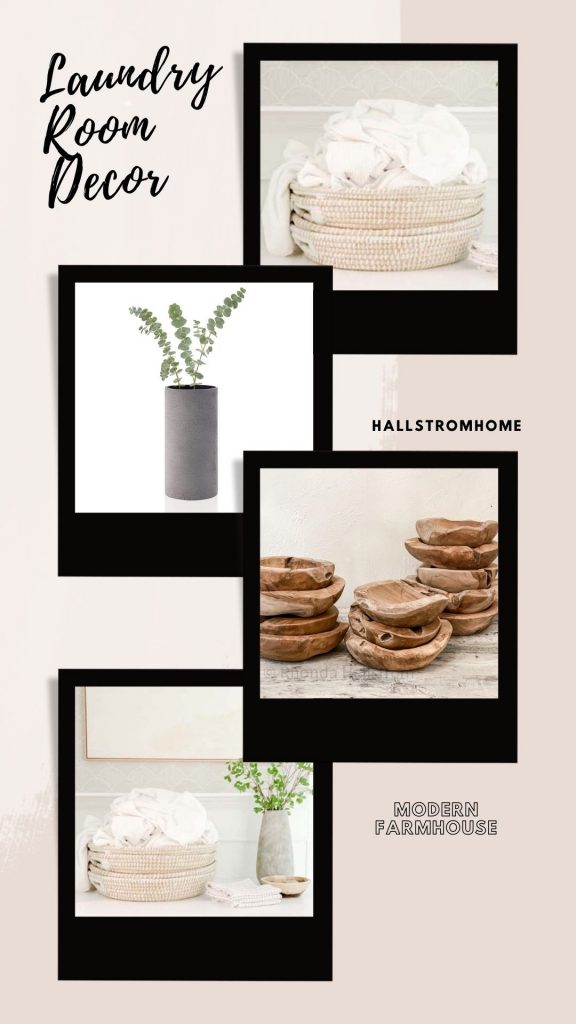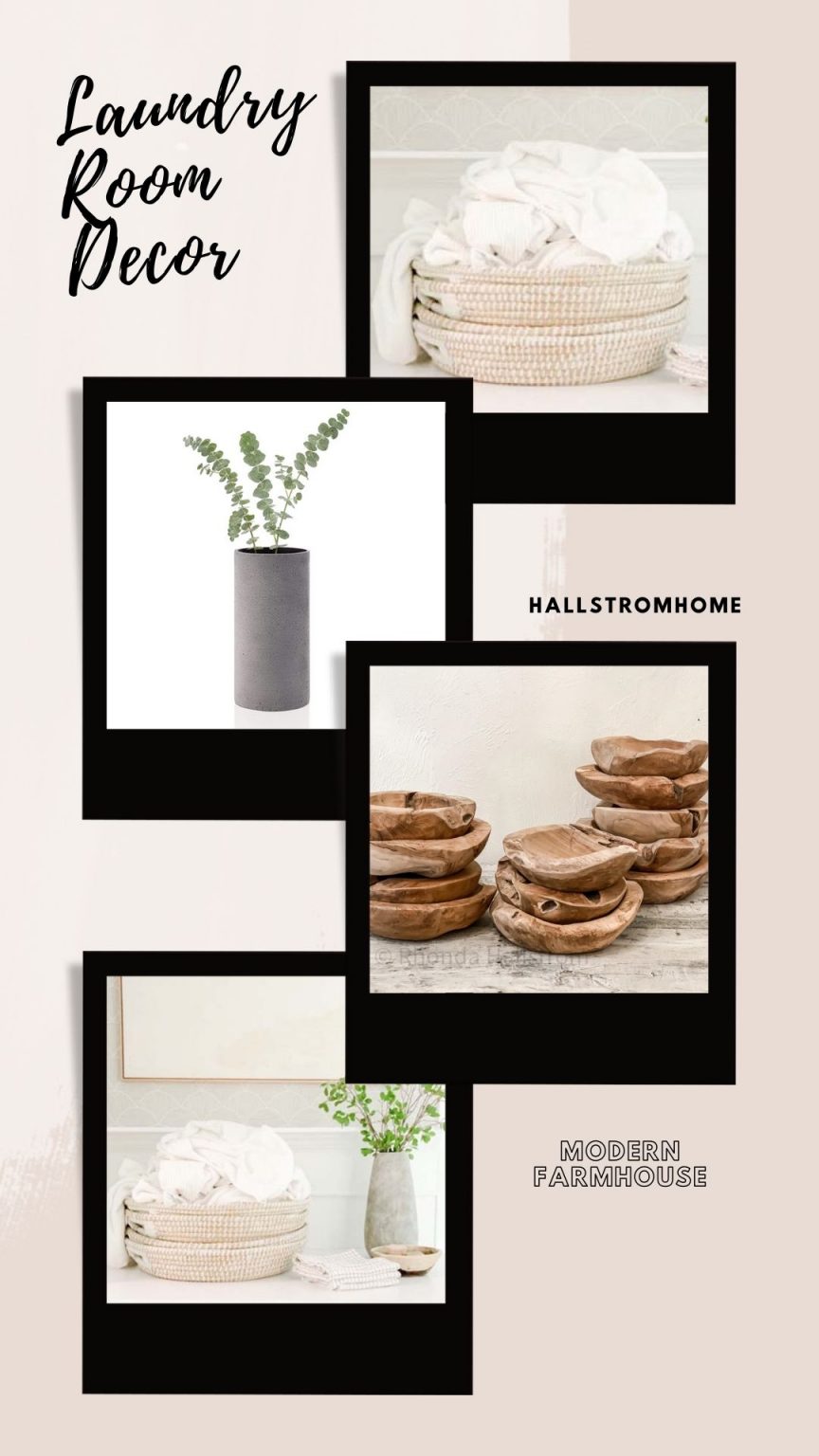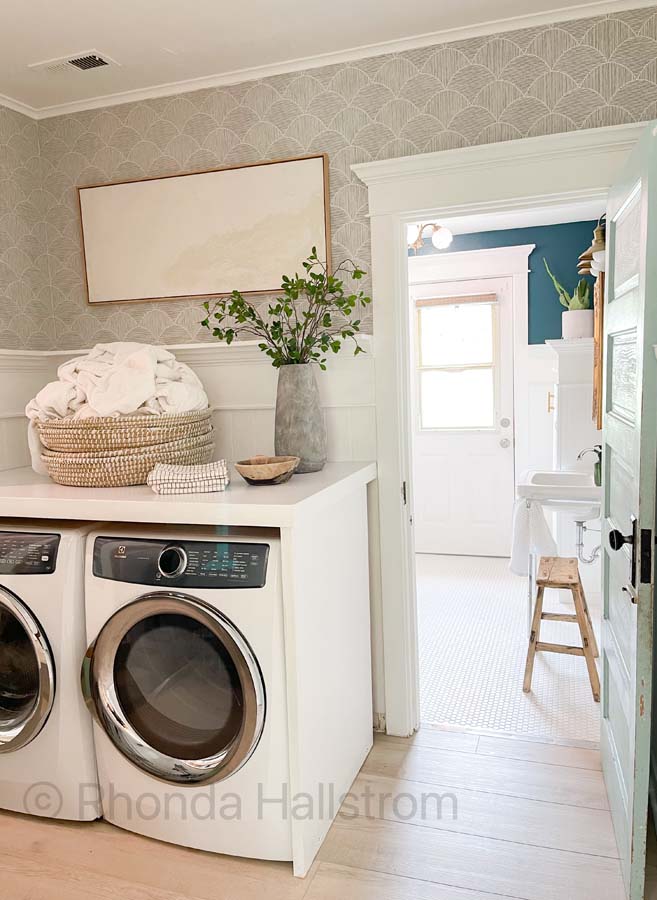 Wallpaper Ideas Tutorial
Choosing how much wallpaper to hang was a challenge. Cover all the walls, One wall are two walls like I ended up doing here. I wanted it easy on the eyes and not claustrophobic feeling. With so many wall paper ideas I wanted easy
Peel and Stick Verses Prepaste Wallpaper
I cant say I love hanging wallpaper but I love the walls once done. I used traditional prepasted wall paper in the office which I still love to this day. Read how we hung that wall paper in our loft office design.
I also hung a peel and stick wall paper mural in one of the teen girls boho style rooms that you can read about. Now that project was a sweaty mess. I had a friend help which was a must for such long sheets of sticky paper. it got stuck in our hair and was a stress to line the print up but once completed, I was happy.
I almost forgot that hubby and I hung pre-pasted wallpaper in a bedroom. That was all cut and pasted outside the sliding glass door. It was a half a day project. read How we hung wall paper without fighting
I think pre pasted wall paper is easier for large room projects and peel and stick for small projects. keeping in mind, I am not a-professional and its just my opinion. I would love to hear what kind of wall paper you prefer hanging.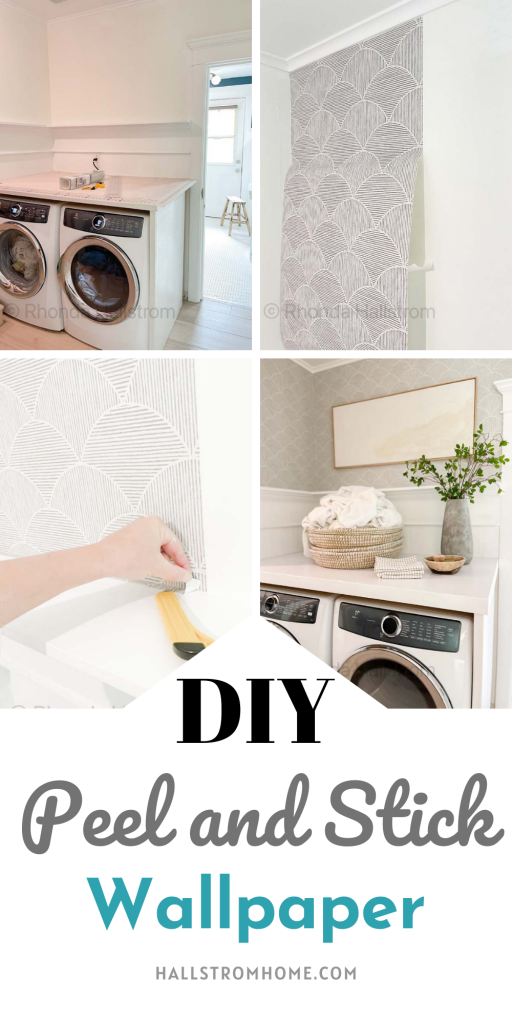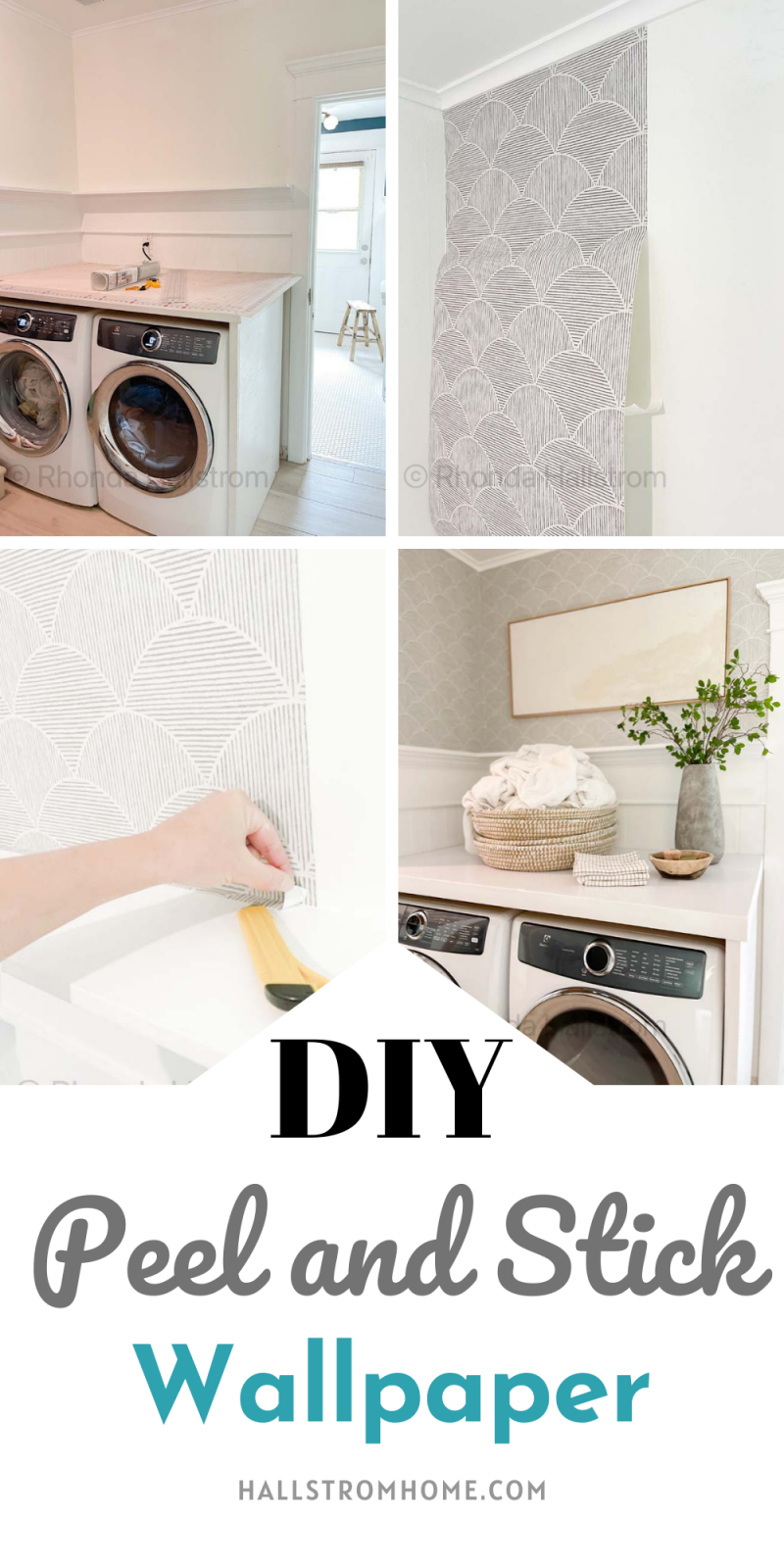 Pin this image for later or share with a friend who is thinking to wallpaper.
Wallpaper Questions
Is it hard to put up wallpaper?
Putting up wallpaper can be challenging. But with a step by step approach, I think you can find it to be a breeze.
Keep in mind to match your pattern on each piece before you hang it.
Smooth out any bubbles before moving to the next panel.
Measure twice, Cut once!
Can I put up wallpaper by myself?
I put this peel and stick wallpaper up by myself in the laundry but it was short pieces unlike the office or bedroom wall. Large walls do require help. This may be when you call a professional, it's overwhelming.
What is the easiest wallpaper?
The easiest wallpaper for big spaces is traditional paste or prepasted wallpaper. Peel and Stick is definitely the easiest for small spaces.
Can I put wallpaper on a painted wall?
Yes, you can easily put wallpaper on a painted wall. However, if it's high gloss I would ask a professional.
Let me know what questions you may have, I am happy to help.