Ready to Make Your Own Plank Flooring-Using 1 x 12″ Lumber? We completed 860 square feet of fir flooring in our new office space. This is what we did. I hope it helps to simplify your space.
Be sure to sign up for my email to get new recipes, crafts and home ideas in your inbox, plus access to our free printable vault! *This post contains affiliate links*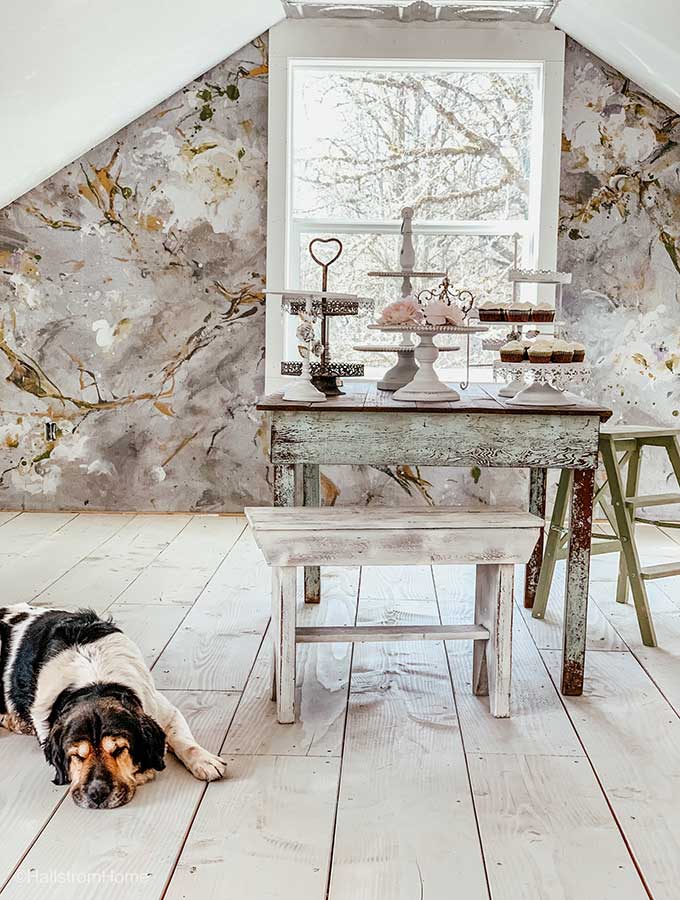 Make Your Own Plank Flooring-Using 1 x 12″ Lumber
We started off by purchasing 1×12" fir from a local guy who has a small saw mill for his vast amount of timber. It's always fun to dream of new creations when we go there. One thing when going through a small saw mill is the price of lumber is so much cheaper than the local hardware store. We bought kiln dried wood. But the boards all needed plained so we bought a plainer to get this job done. It took five times per board going through the plainer. It was a full days job. I'd recommend you buy your boards already done so you can save time.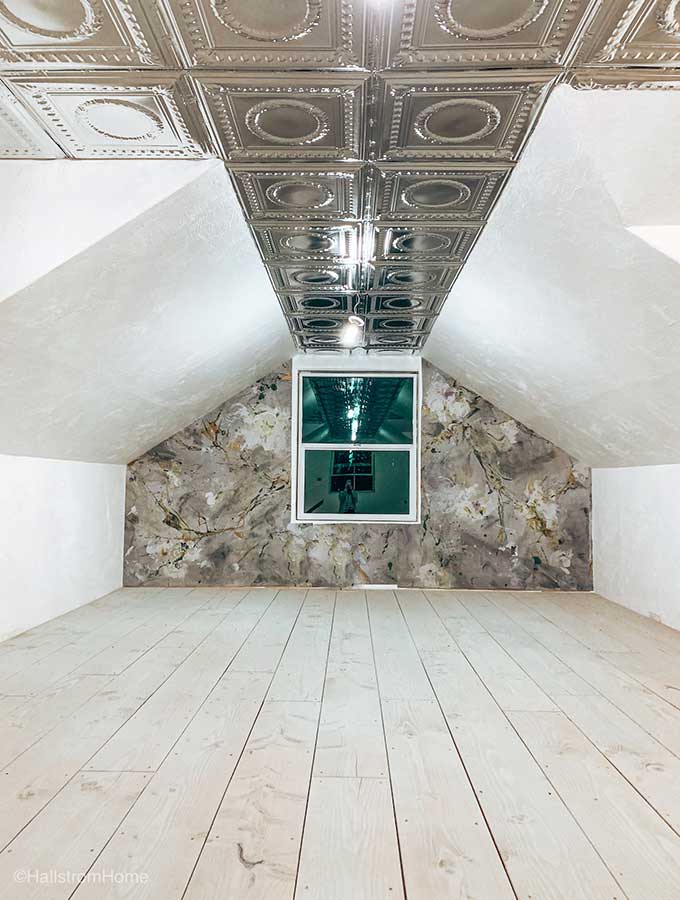 Hard Wood Floors
We also ran each board down the table saw to square the boards up on each side. We then added a groove along the sides so the floors would look like real tung and groove planks. This helps cover up the unevenness of the boards plus we thought it gave the floor a bit more of a classier look than just farmhouse plank flooring.
Before the wood could get put down we added a roofing paper barrier down. This acts like an insulation and water barrier. Most people probably don't add this but hubby likes to do things right. So once the paper was stapled down we could lay the boards. We didn't want the seams to match so we staggered the boards and had to cut some smaller so the seams looked more random.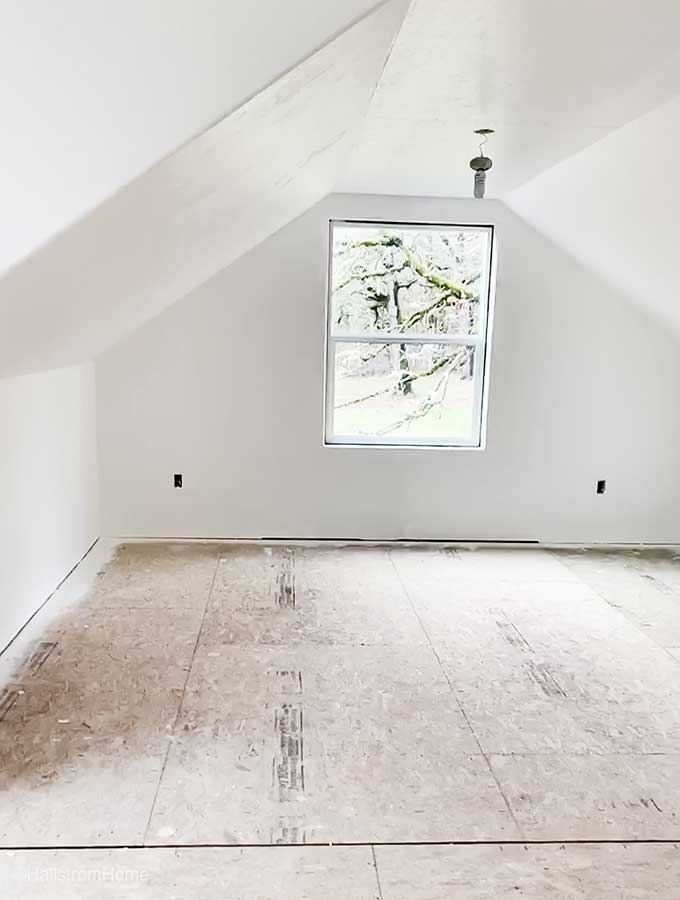 Wood Floor DIY
It didn't take as long as I expected to lay the wood down. Hubby used long wood screws and sometimes it would split the wood so just be watchful of that. For me I didn't care as we were going rustic with a grey wash over the boards. I knew I could work with any imperfections and there are a lot, but it looks great.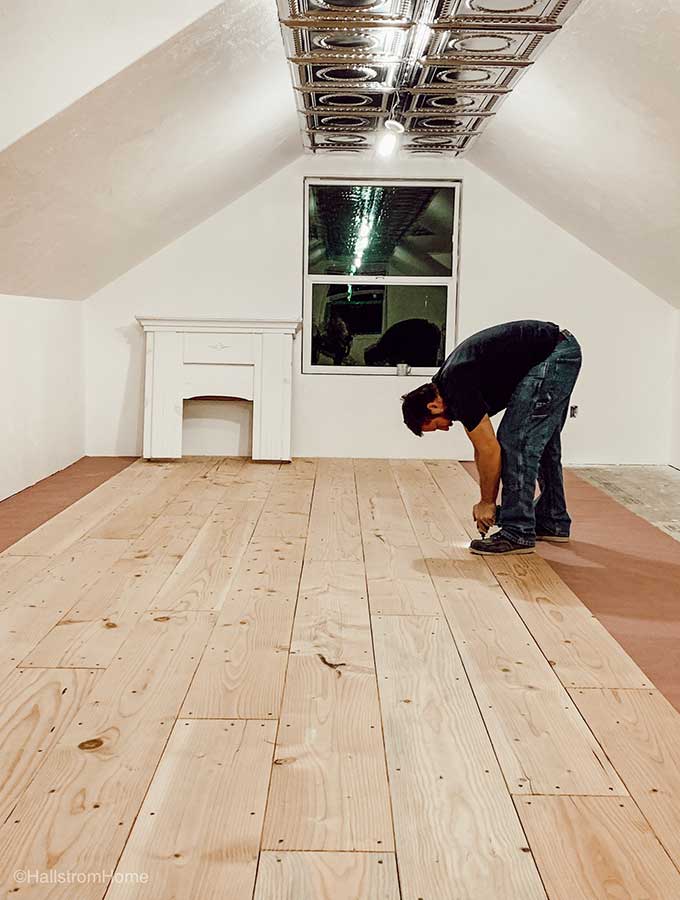 One thing I was hesitant on was adding the groves to the boards. I dreamed of sliding around in our office chairs from one corner to the next. After it was all done we found out that the chairs still roll quite nicely. Now that makes me happy.
We didn't use any putty in the cracks. I just applied a watered down chalk paint to the floors and sealed with tung oil. I have chalk painted floors and years later they still look good. Make sure you read all the directions in that post, to get the full understanding. Check out our Large Wood Pizza Paddle diy, this is one of my hubby Vic's projects I just shared.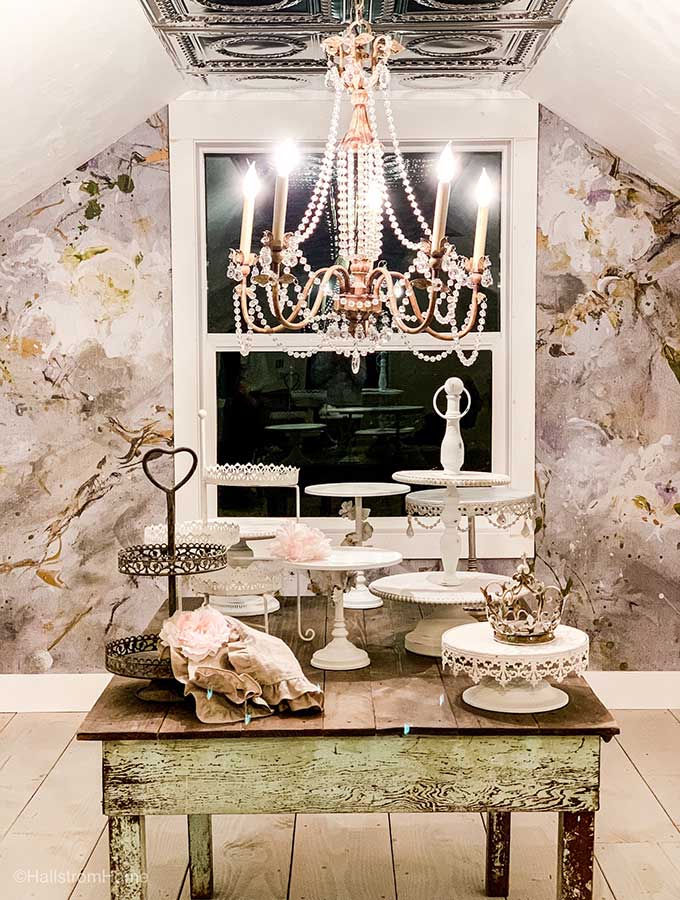 Tips for making your own plank flooring
1. Buy your wood from a local lumber store
2. Any type of wood will work. Fir and pine are very soft wood so it'll get marks and dings easier than a hardwood such as oak.
3. Apply a vapor barrier down before installing the wood planks.
4. Use wood screws. You can get decorative ones if you'd like. We used a star tip.
5. Stain, paint and seal the wood after installing.
6. We did not sand our boards so basically how you get the wood from the store is what we installed. I didn't want the extra work when I was going for a bit more rustic look.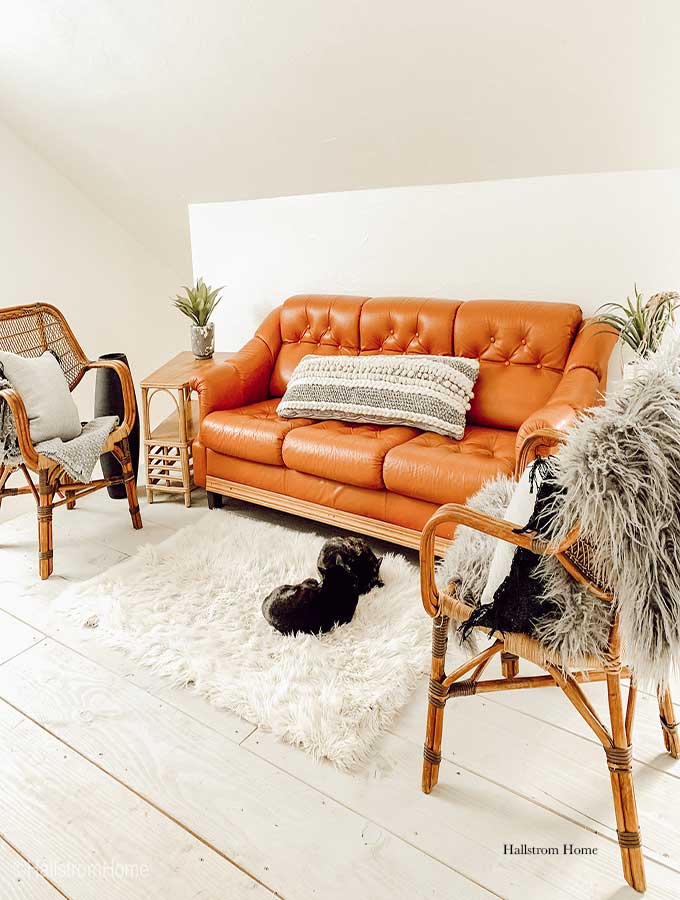 Questions you may have:
1. How long does this flooring last?
Years! Forever. It will be worn but it'll look good.
2. How often do you reseal the floors?
I'm not a professional but the wood floors in the house get new tung oil every couple years. It's super easy to apply and you can walk on it right away.
3. Would you paint or stain your floors?
I personally don't like stain as it's toxic but it depends on the look you want. I'm pretty good at using paint to get the look I want.
Bona has wood floor stain and finish is toxic free waterbased but it's a 3 day process and spendier than the typical finish.
4. How to Install Wood Flooring over Concrete Floors?
I would glue the wood down, there are screws that are used for going into concrete so that might work. There's glue in a caulk gun, I'd talk to someone at the hardware store and ask them for there strongest glue that holds wood to concrete. That should do the trick.
Let me know if you have any questions.