13 years after buying the old farmhouse we just updated the mudroom with a more open modern farmhouse style. We removed the old brick looking floors, the big wood pantry cabinets and removed the custom bench and coat rack system that was here. Checkout this post with how this mudroom used to look. That was back when all seven kids were at home. Now we only have a couple left and the grand kids are now arriving. Here are the best Modern Farmhouse Mudroom Ideas.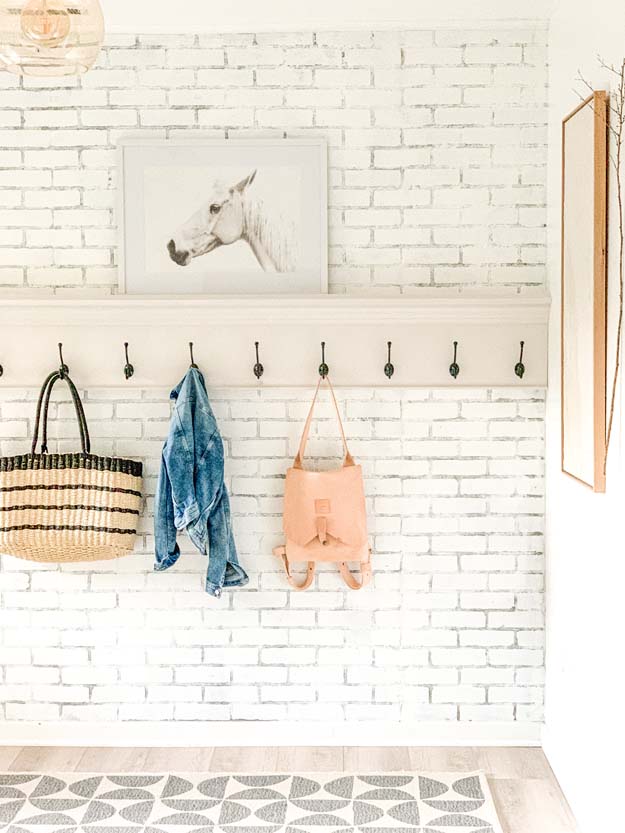 Mudroom with Brick Wall
We started by adding this faux brick wall as it's more of a farmhouse style. I have a tutorial on how easy it is to install a faux brick wall with wood paneling if you would like to read about that. These walls were painted with chalk paint because well I pretty much use chalk paint on most things. We have an ebook with all the tips and tricks to chalk paining and fusion mineral paint which has a sealer in it. This ebook is full of video content like how to use a white wax, paint metal and more. I hope you find it helpful with your projects.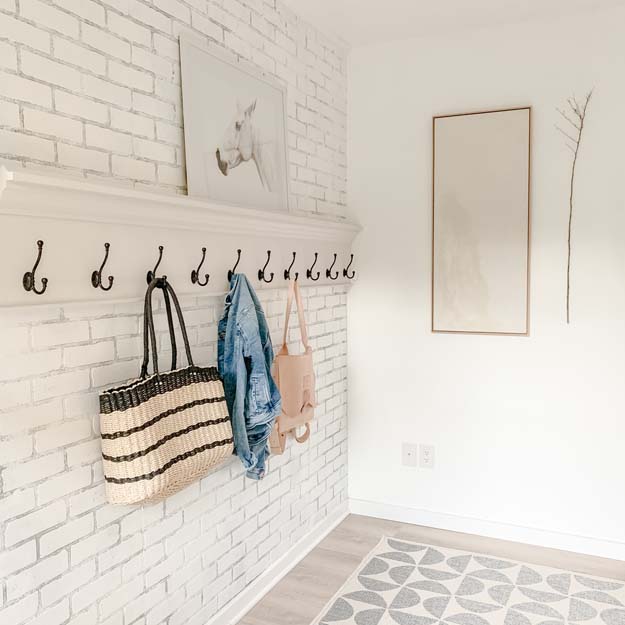 Modern Farmhouse Coat Rack idea
Then we added this custom made coat rack that we make and sell in our online shop. These are a true labor of love as it takes a lot of time and attention to detail. It's a pleasure to make these for others and when designers put these in their custom homes, it really makes our work worth it.
I can give you a link to some black hooks if you are thinking to make something like this modern farmhouse coat rack.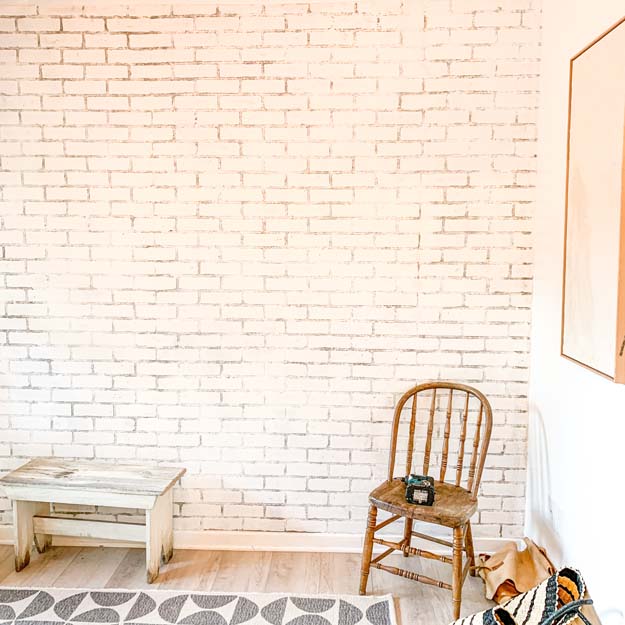 Modern Farmhouse Wood Floors
We updated the floors so all the rooms downstairs have this same style. It's light and fresh and easy to clean. I am asked on Instagram a lot about what floors these are and it's by Coretec Floors item #UV03500912. You can follow me there at Hallstrom Home.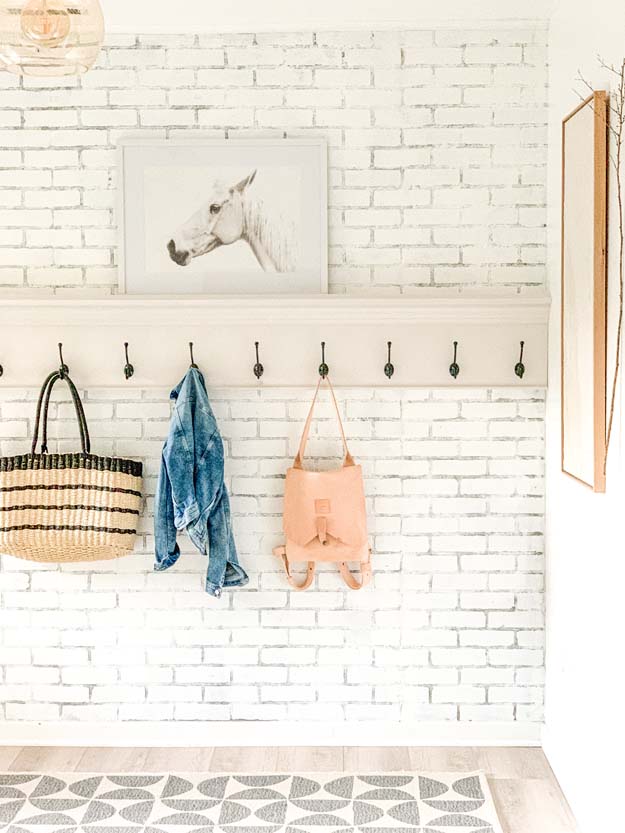 The rug you see here is an indoor outdoor rug that super easy to clean. I wanted a more textured boho style rug but it would hold up traffic at the farmhouse very well. This yummy leather backpack is made by my friend Carissa at OLUCA. She uses the best materials from right here in Portland to ensure quality and authenticity. She has several large pockets added with one being right in the back to hold a cell phone. Go check her out. She has some amazing things coming up this fall.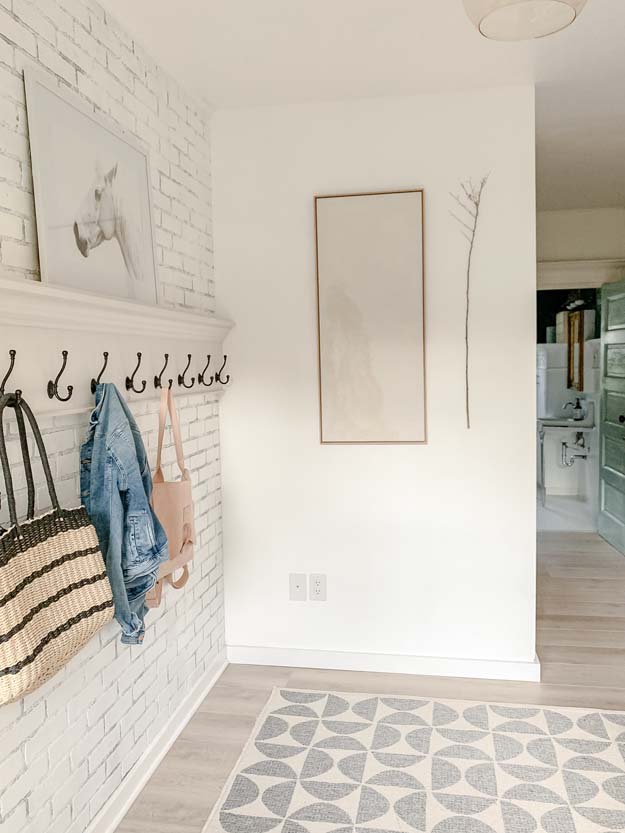 Modern Farmhouse Mudroom Ideas
Recently we got into making modern art work with plaster. I plan to share a tutorial on it soon. This one is just creams so that its not busy or to eye catching.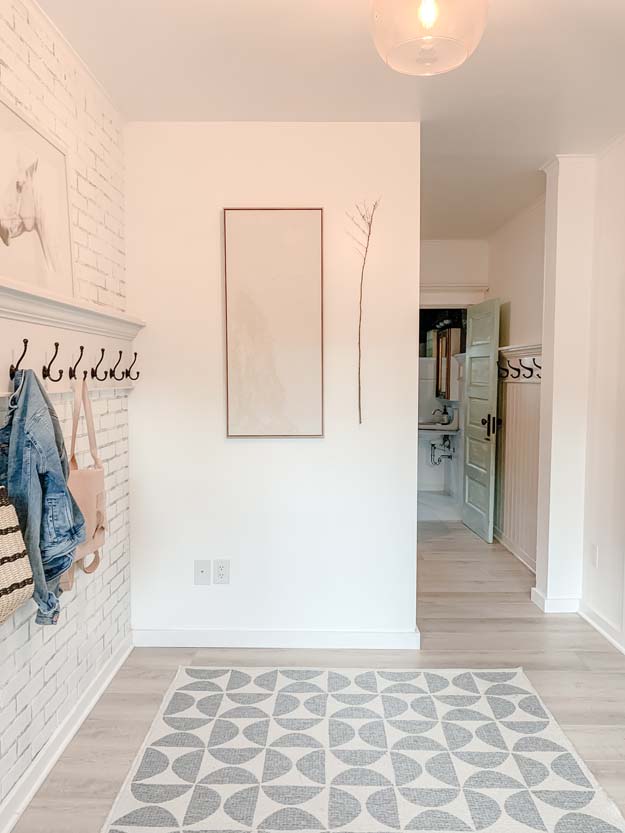 My boys laugh that I taped a branch to the wall. I told them they had no idea how cool branches are. I don't think they care about moms style but I like a splash of nature with Modern Farmhouse. Shop the post with affiliate links below.