Isn't it fun to plan a wedding? These gorgeous DIY Wedding Memory Board Frames make a beautiful and elegant statement. Use to display anything from engagement photos, thank you cards, menus, to seating charts. These large frames can also be used as a fun photo booth prop. However you decide to use frames in your wedding, we can personalize them to your color choice.

Let me go through the steps of how I create these DIY Wedding Memory Board Frames. They are super easy and cute.
First, I started with a simple ornate gold frame from my shop Hallstrom Home. These can be custom painted if you'd like to incorporate your wedding colors into your frame. We have four sizes to choose from, with options for mirror, chalkboard, chicken wire or as an open frame.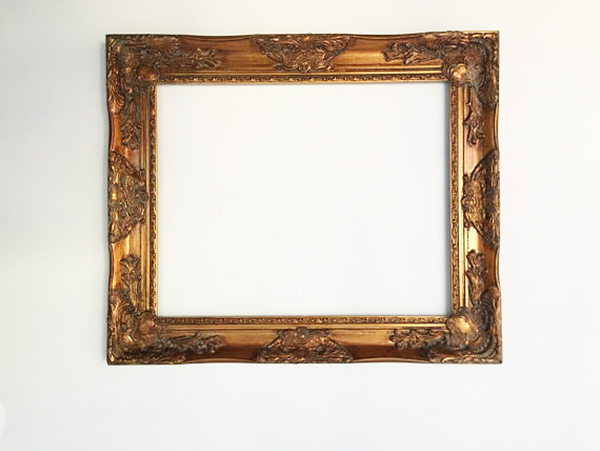 DIY Wedding Memory Board Frames
I cut a piece of fancy gold ribbon to fit across the DIY Wedding Memory Board Frames. The best part is, you don't even need a tape measure because you just hold the ribbon up to the frame and cut it to size! 😉 I then hot glued the edges of the ribbon to the back of the frame and wallah! Done! One of the fun parts to this project is picking out beautiful ribbon and darling clothes pins that will fit your wedding theme.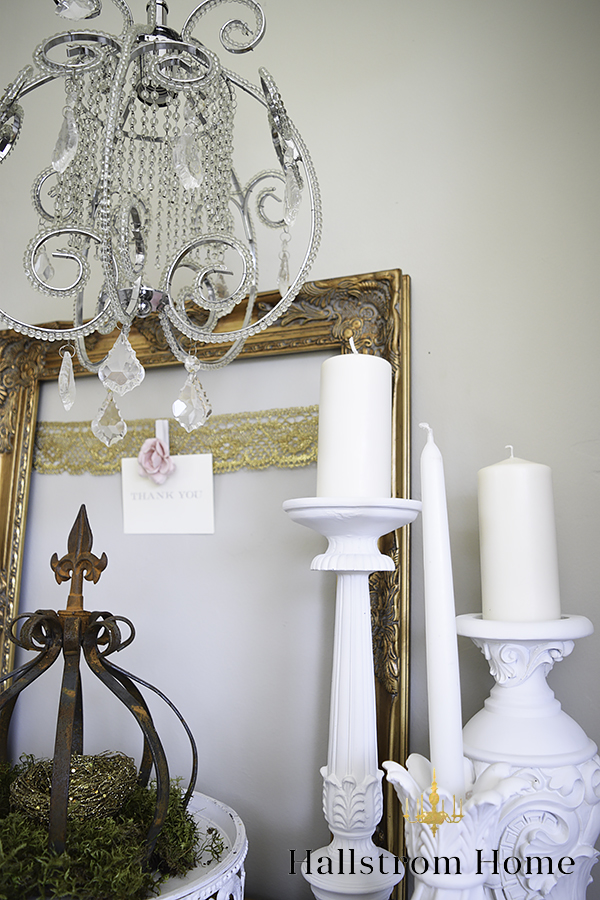 Now your DIY Wedding Memory Board Frames are finished! You can use this idea to display a collection of photos by using many layers of ribbons. I chose to use one strip across the top, but it would also be gorgeous with multiple layers. It's all in what you prefer.
If you are looking for a large collection of wedding candle holders as pictured above, check out our shop for my custom creations. I believe every bride should have a beautiful wedding that will be looked back upon with delight knowing that everything was designed perfectly. Candle holders also carry into ones home decor and look fabulous with your custom DIY Wedding Memory Board Frames.
After the wedding, you can put your DIY Wedding Memory Board Frames to use by making it into a mirror! We sell custom sized mirrors and often sell the frame separate from the mirror for this purpose. Just let us know when you purchase the mirror, and we will separate the mirror from the frame for you. If you are in a super big hurry, we can even put the ribbon on for you. All you have to do is leave a message with your purchase and we will do what you wish 🙂 I will add a couple of our mirror options below. Click on images for links.
Maybe you would rather use a chalkboard to display your wedding memories? No problem, we have so many chalkboard options in our shop Hallstrom Home using these same frames and here are just a few.
*Shop these awesome Amazon affiliates
Want more DIY inspiration? Check out these other great posts!
We would love to hear from you!
Please leave any questions or comments below! We would love to hear what you think. To see our entire selection of mirrors click here. For more DIY inspiration click here.
I hope you've enjoyed my DIY Wedding Memory Board Frames Post.