It is finally here, wedding photos! Ty and Claire Get Married and we wanted to share a little bit of our special day with you. This day was crazy, fun, and so special!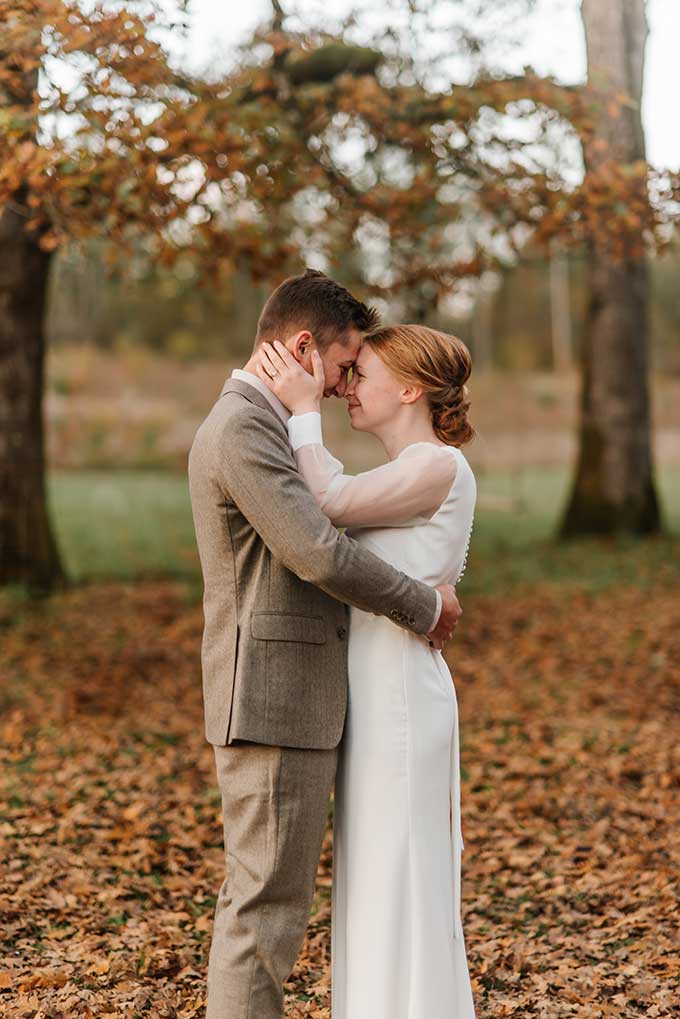 Ty and Claire Get Married
I have to mention the amazing Natalie Kysar took all of these gorgeous photos of mine and Ty's wedding. She was so fun and did a beautiful job on all of the photos. I am going to admit, my mom and Rhonda helped so much on our wedding! Personally I was open to ideas and a lot of the details were not a big deal to me. So I trusted them in what they wanted to go with. I knew the few things I really wanted, and stuck with that. But all the other little things they helped put together. Now we have a baby on the way!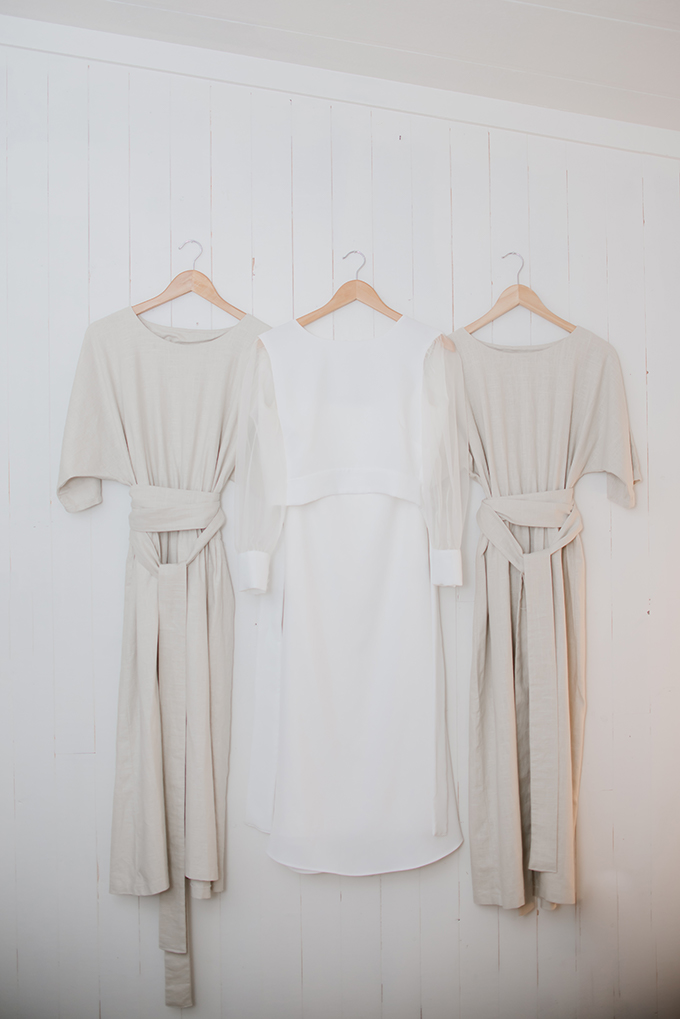 The girls and I got ready at my parents house. It was a nice, slow morning which was perfect.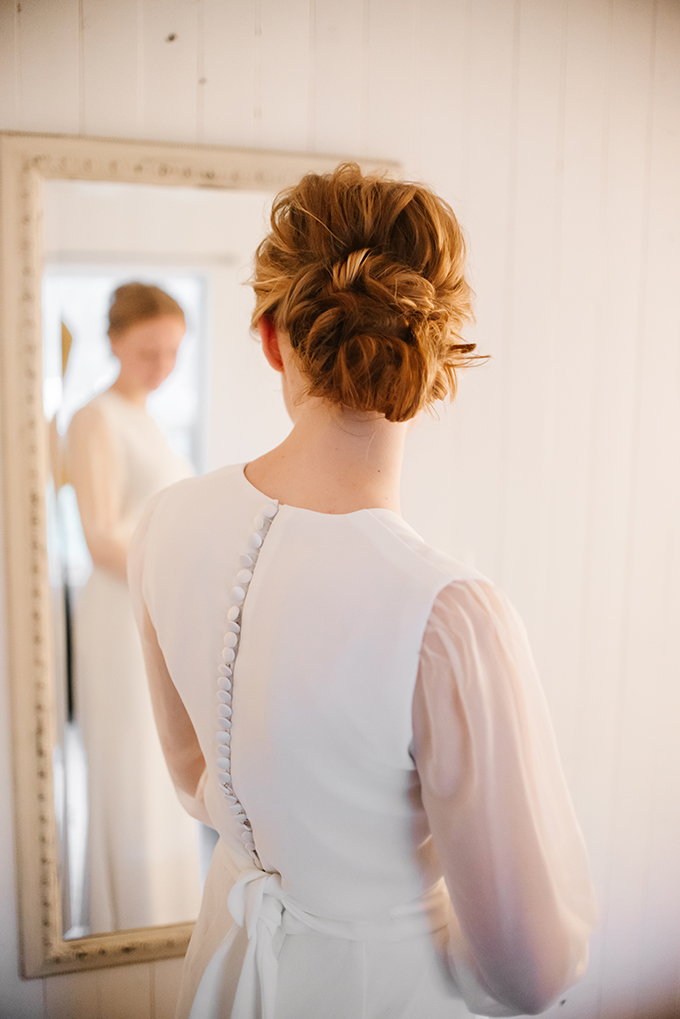 All week the forecast was showing rain on our wedding day. We were hoping that it would be sunny and clear. The morning of our wedding was a little gloomy and misty, but by the time we were supposed to leave for the photo session at Vic and Rhonda's house, it cleared up and ended up being perfect! This was from our first look, it was exciting but we started to get a little nervous at this point.
First Look of Ty and Claire Get Married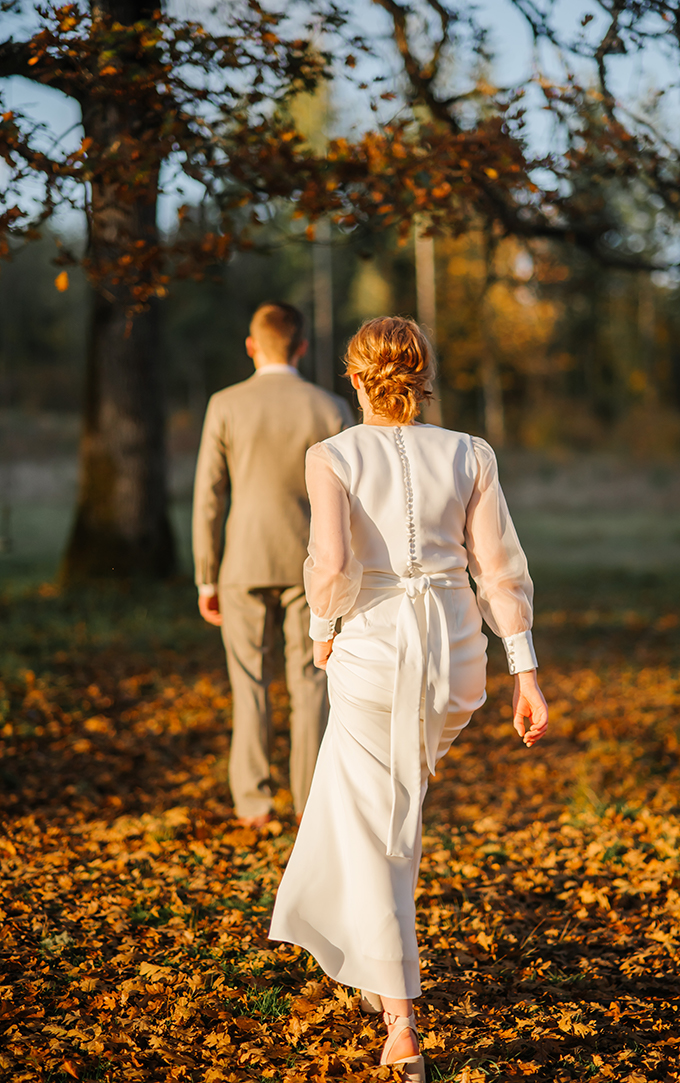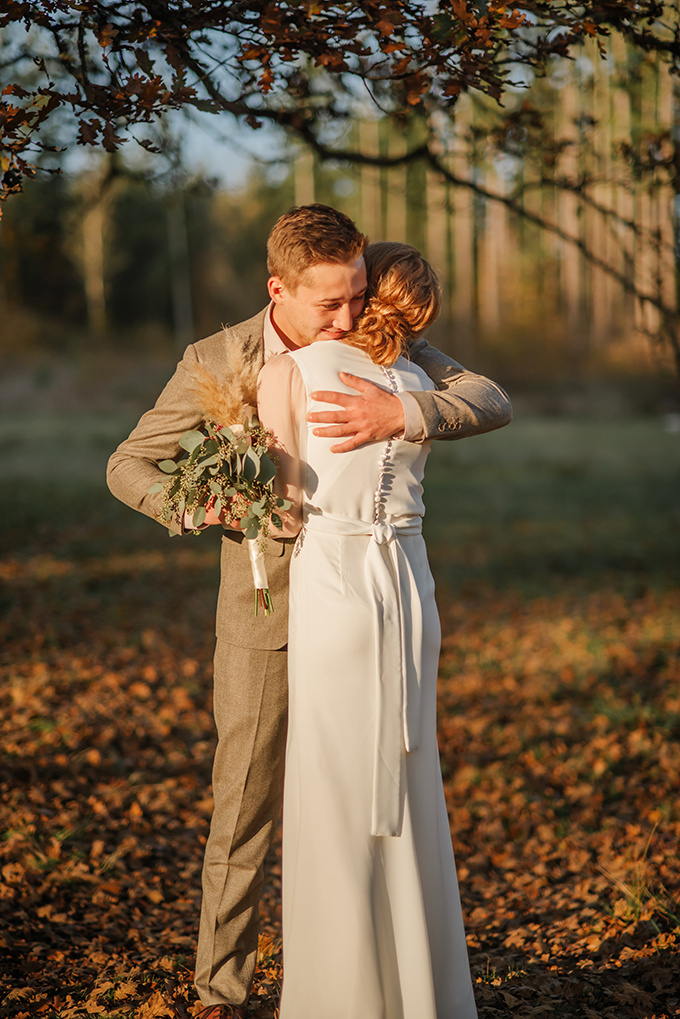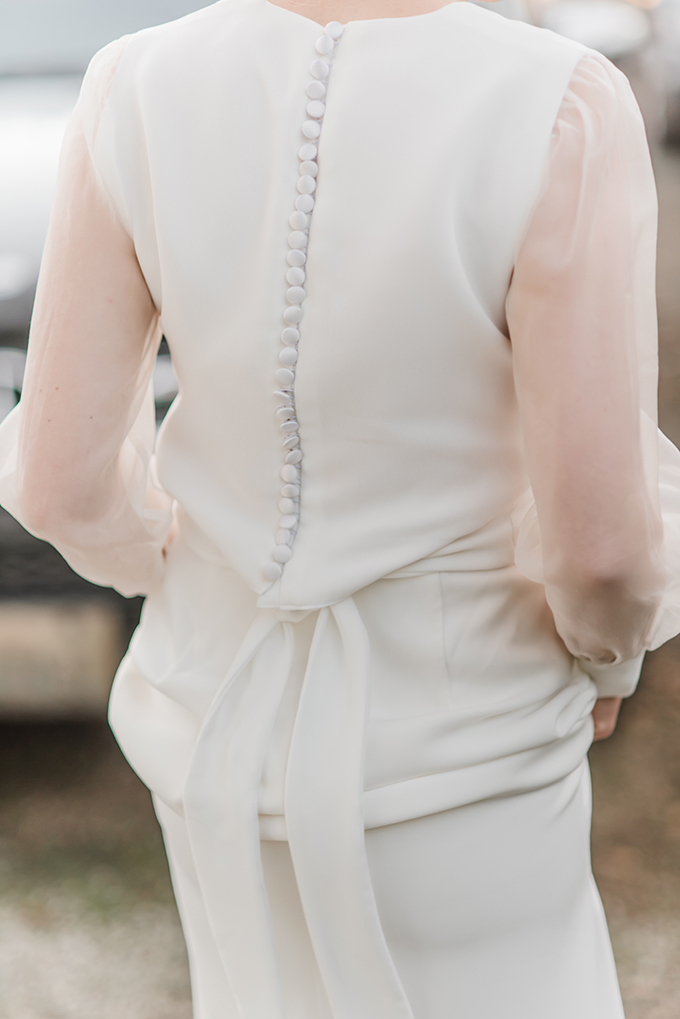 Classic Modern Wedding Dress
So I actually got my skirt from Anthropologie and them got the top custom made. A couple days before I was supposed to go in and start the process of getting the top made, I was still unsure of what I wanted. All I knew was that I wanted sheer sleeves and buttons! I came up with this and am absolutely in love! Now for the suits. We saw an image on Pinterest and knew we wanted something as close as we could get. This is a custom wool blend suit, so there is a lot of texture. We didn't want a huge contrast with the dress shirt. So we gave Ty a few options and this is what he chose. Exactly what we were going for!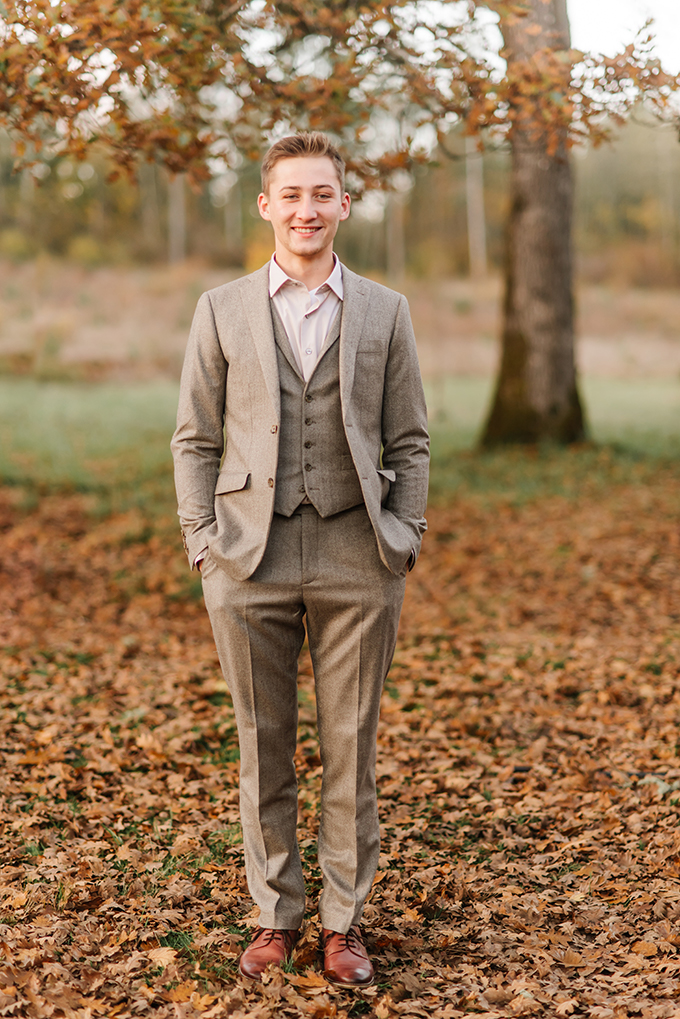 Choosing the Wedding Bouquet
My younger sister put all of the flower arrangements together. For the arrangements we used eucalyptus, roses, pampas grass and then some purple thistle flowers. We got inspired by some Pinterest photos with pampas grass. It adds so much texture and fun to the bouquet. My grandmother Trish helped with the flowers and she included the long stem gardenrose for the beauty and smell. They are incredible. The pampas grass was something we had to get locally and my mom and Rhonda had many ideas how to dress up in black and go out hunting at night but luckily there was a local gal who donated hers for our wedding so they didn't land in jail after all.

Ty and Claire Get Married
The ring was custom made. Again I found an image of a ring I loved and then created mine off of that one. The small diamonds came from my grandmother's collection. Something new, something used and never did get that something blue.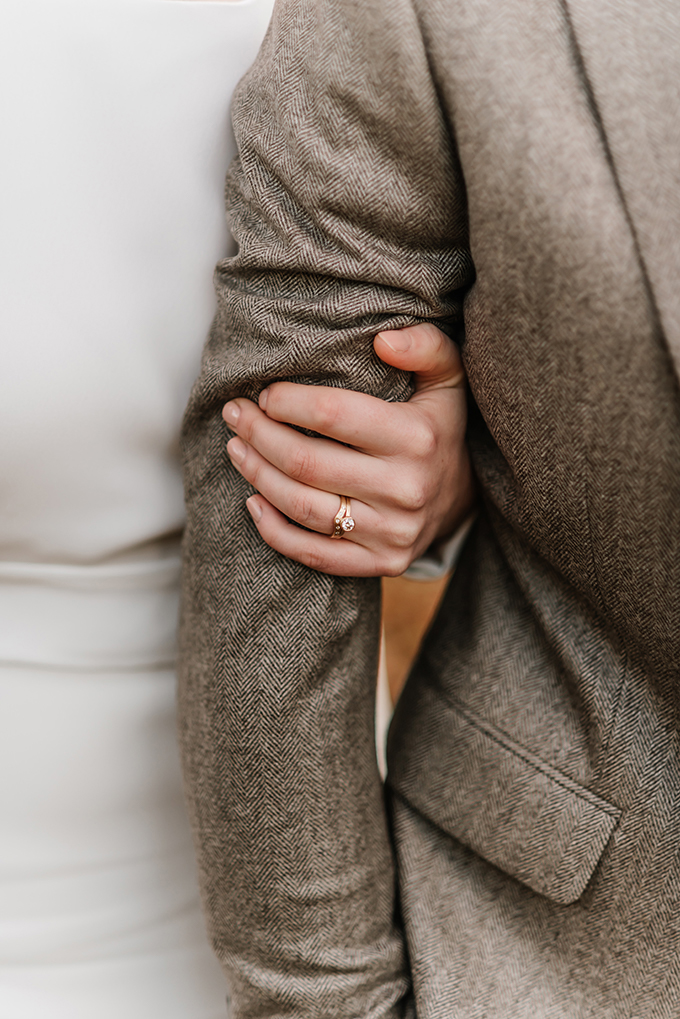 Oh but of course there was some craziness going on. After Ty and I took some photos. I stepped on my dress. Having it been a misty morning the ground was all wet. I got my shoes and dress all muddy. So we had to do some cleaning up in the bathroom!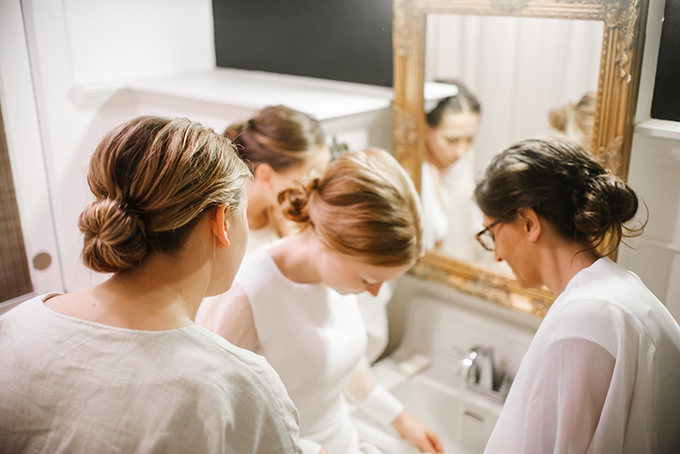 There was no freaking out and don't you worry we got it all cleaned up! It was a little bit wild and fun to add to our evening.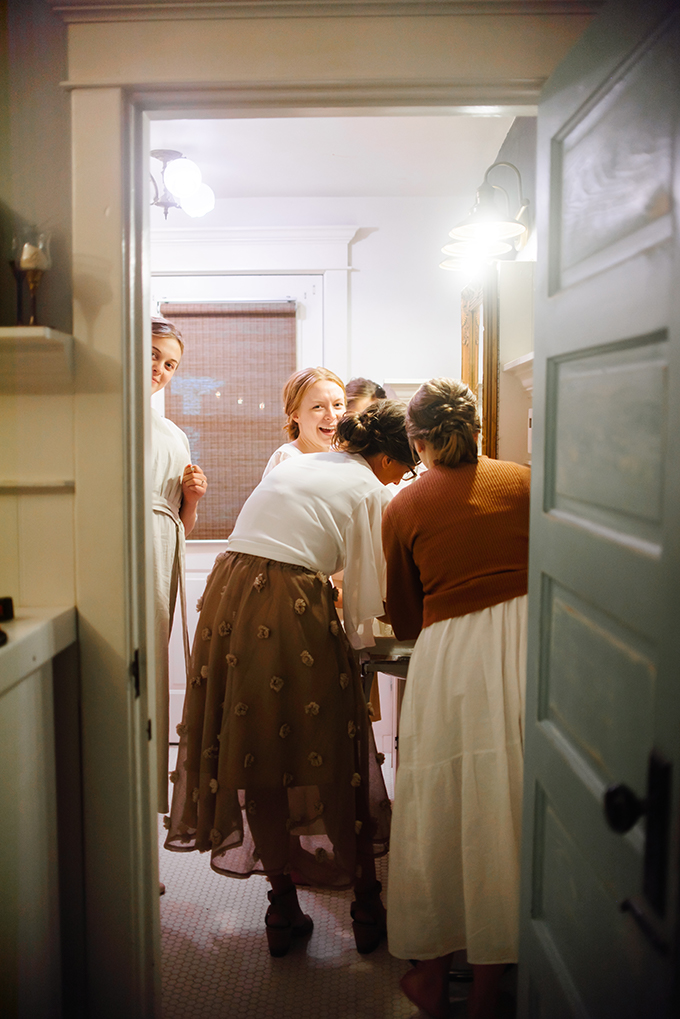 Done with the clean up. Now time for family photos!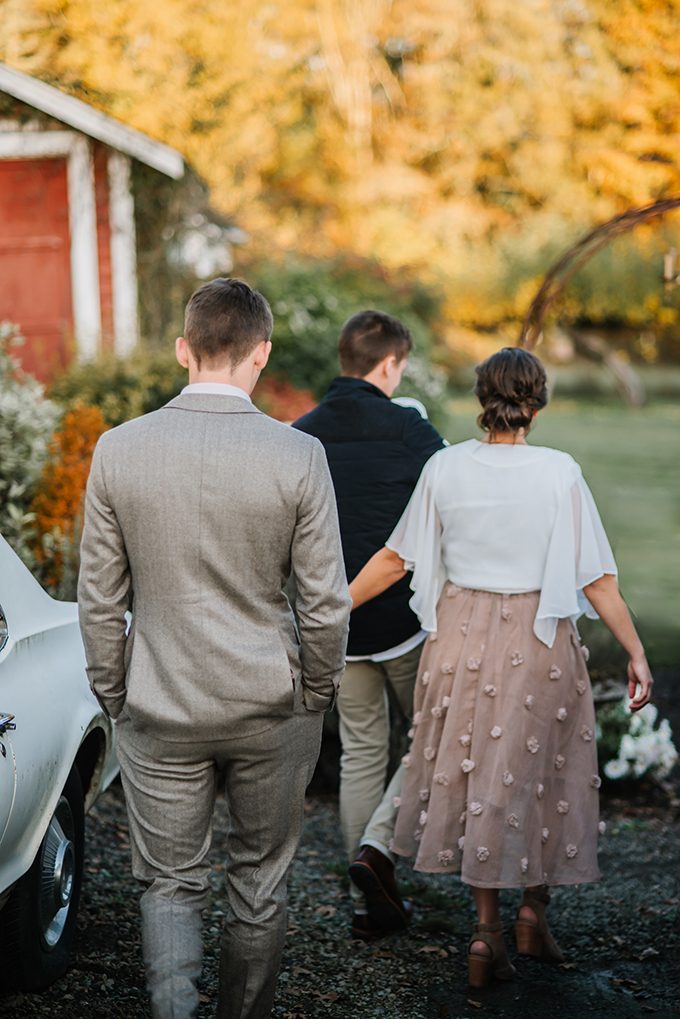 Family Wedding Photos
We headed to the backyard for the family photos. Both of the families were over before the wedding for photos and a light snack before the big event.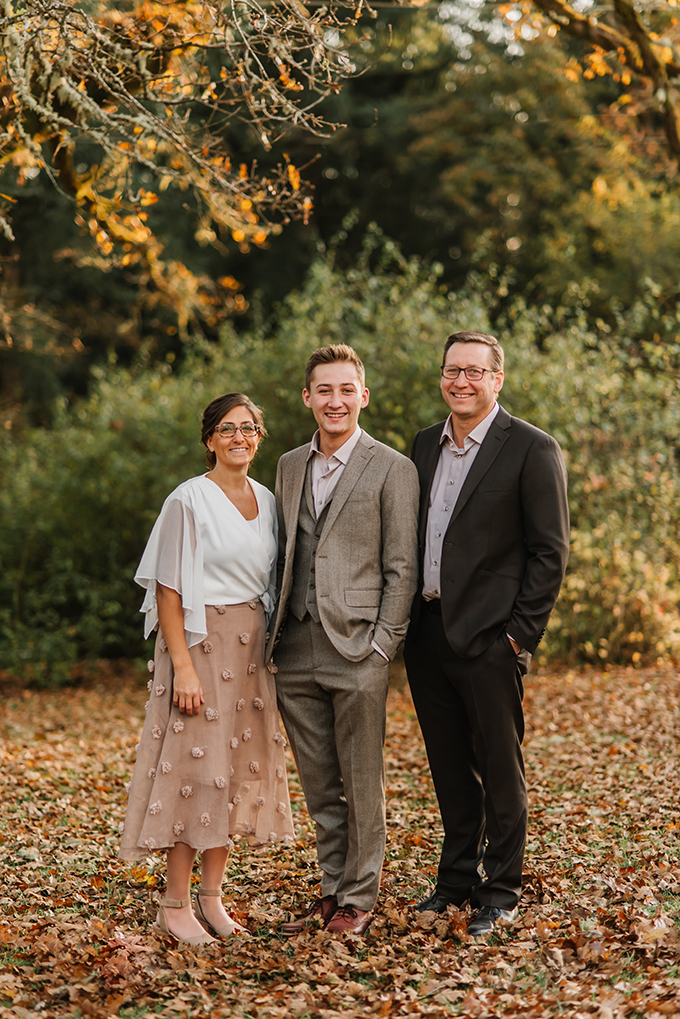 Here is Ty with his parents. Ty is their second kid off and married! And now below is my new family! They have four boys and three girls and now two daughter in laws.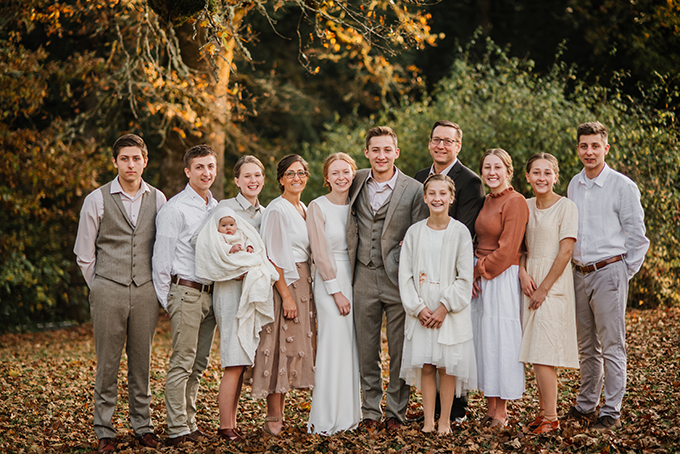 All of us girls knew we wanted simple hair. So they went with simple buns. I wanted my hair to be a little different, so mine is a bit more intricate.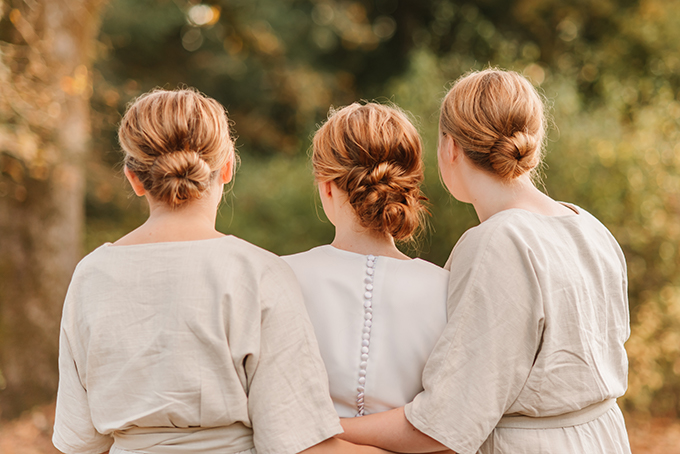 Bridal Party
The bridesmaids wore custom made natural linen dresses with ties in the front. The groomsmen wore the same suit as Ty, but without the jacket. I wanted my wedding to have a natural look and not a lot of bright colors. So I stuck to earthy, natural tones. Like browns, tans, creams, and then greens for the flowers.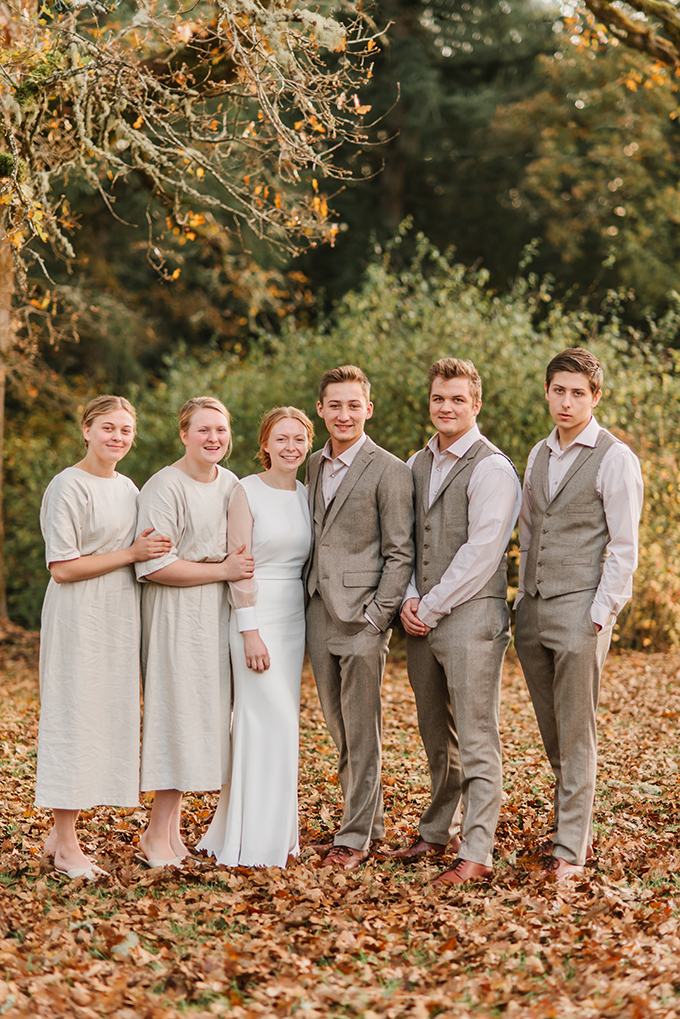 Here is my little niece Warner with miss Daisy. Daisy was loving all of the attention she was getting on the wedding day.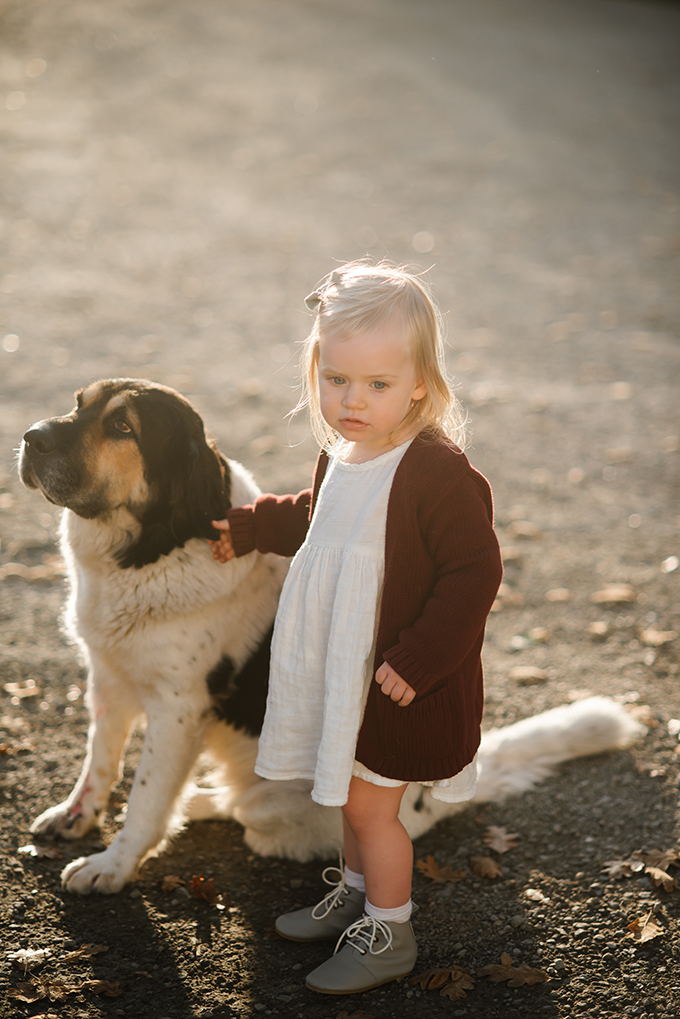 Time for sister pictures! My sister Makenzie on the left traveled all the way from New Zealand with her two kids, her husband Jamee came and visited around Christmas time. I actually visited Makenzie in New Zealand a couple years ago and it was so nice! Then there is Madisen, she lives in New York and came out here for the wedding. I also visited her last year there, and I am really wanting to go back! Then my younger sister Hannah on the right, the maid of honor.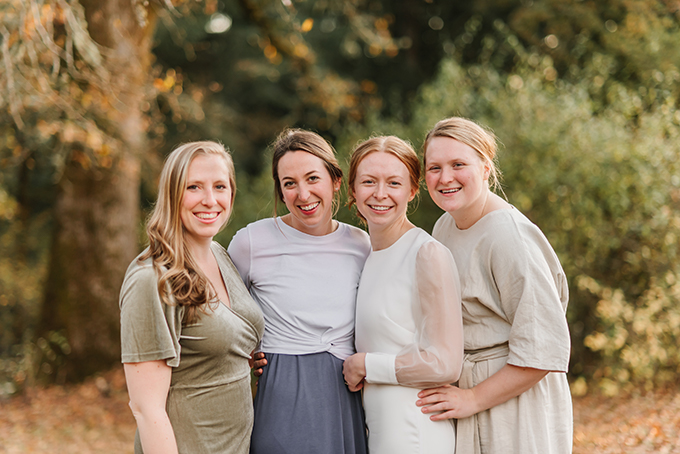 Some more family photos with my parents. My mom Debbie actually hangs out with Rhonda a lot. They go on their rainy day walks, but sometimes they might get sidetracked and go to the coffee shop or maybe even shopping!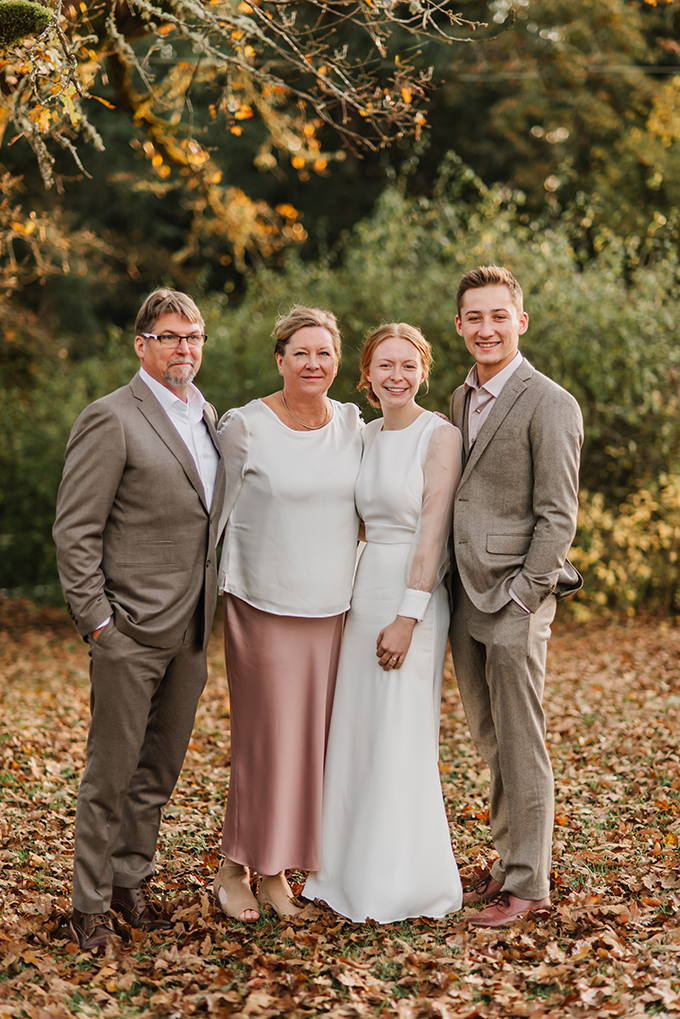 Here's Makenzie with her daughter Warner, and her son Grey. This was actually my first time meeting Grey since he's been born! She actually stayed out here for a few months, her husband Jamee came out for Christmas so I got to see him too. They were in the middle of a house build, so he couldn't make it for the wedding. I was so beyond happy to hear that they would make it out for the wedding.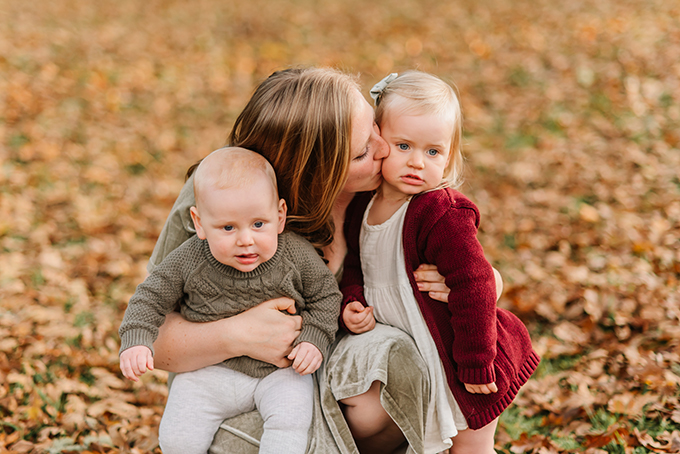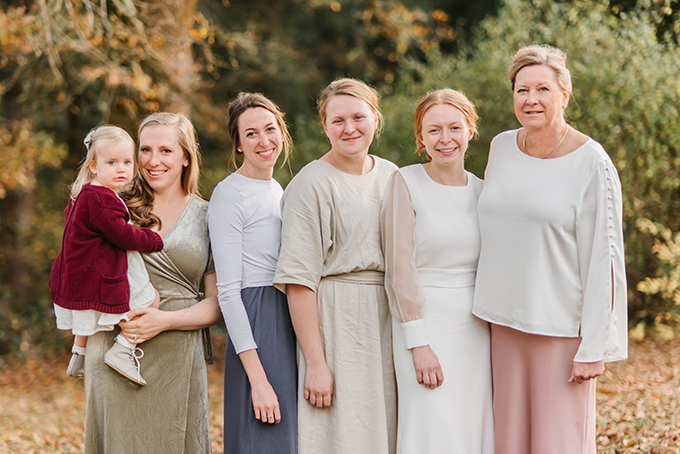 This is miss Josie, Ty's youngest sister. She was just watching all the wedding day shenanigans when taking photos. Rhonda, her girls' and mine and the bridal parties hair was actually done by the office manager Lynn's, daughter. Isn't her hair so pretty!?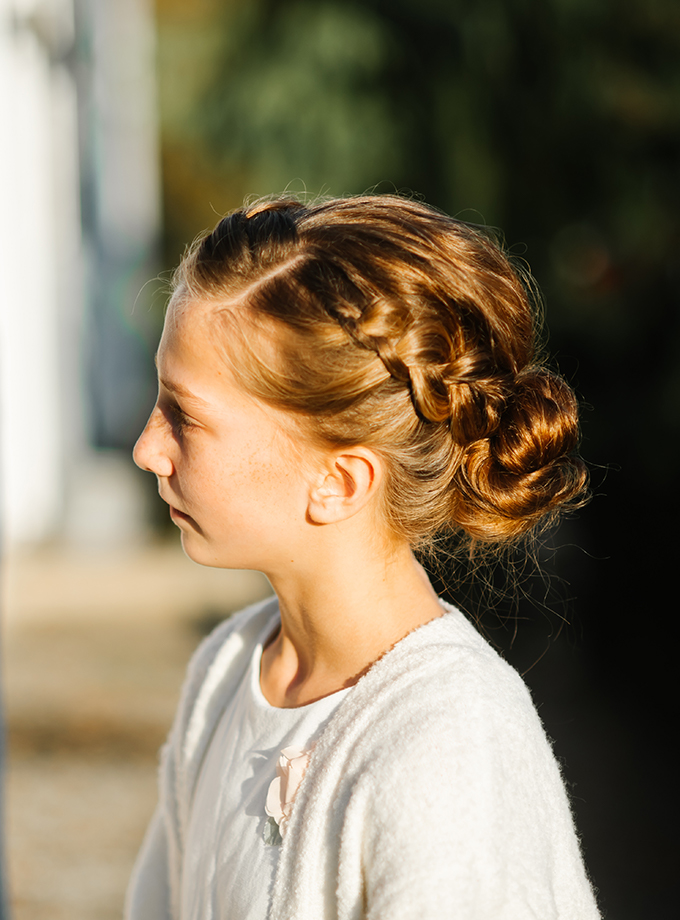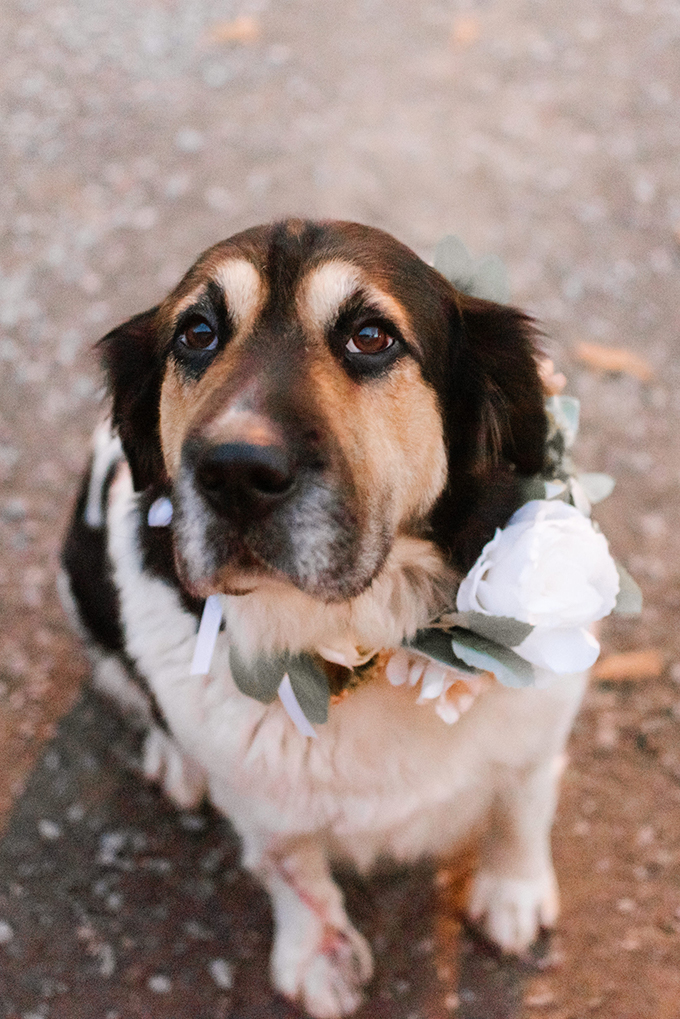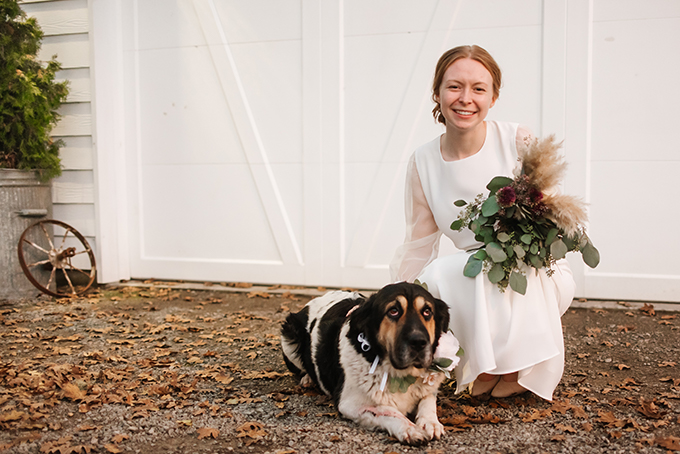 Wedding Day with Daisy
Of course Daisy had to get in on all the action. After photos and everyone was waiting till it was time to go, we snuck out and got a couple photos with Daisy. She got a pretty flower necklace to match with our bouquet.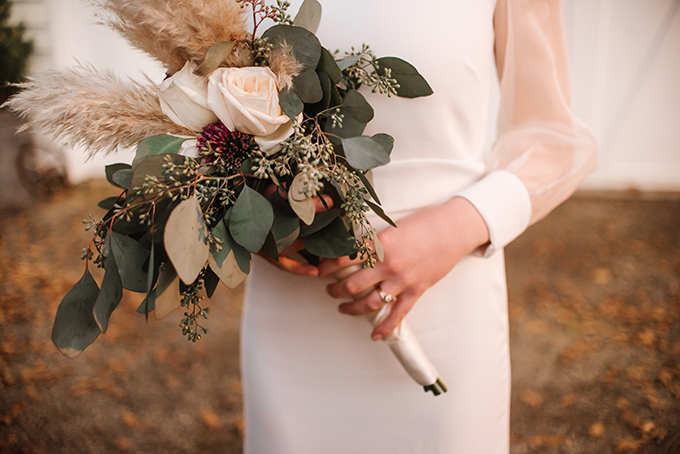 Here's just a few more from the day.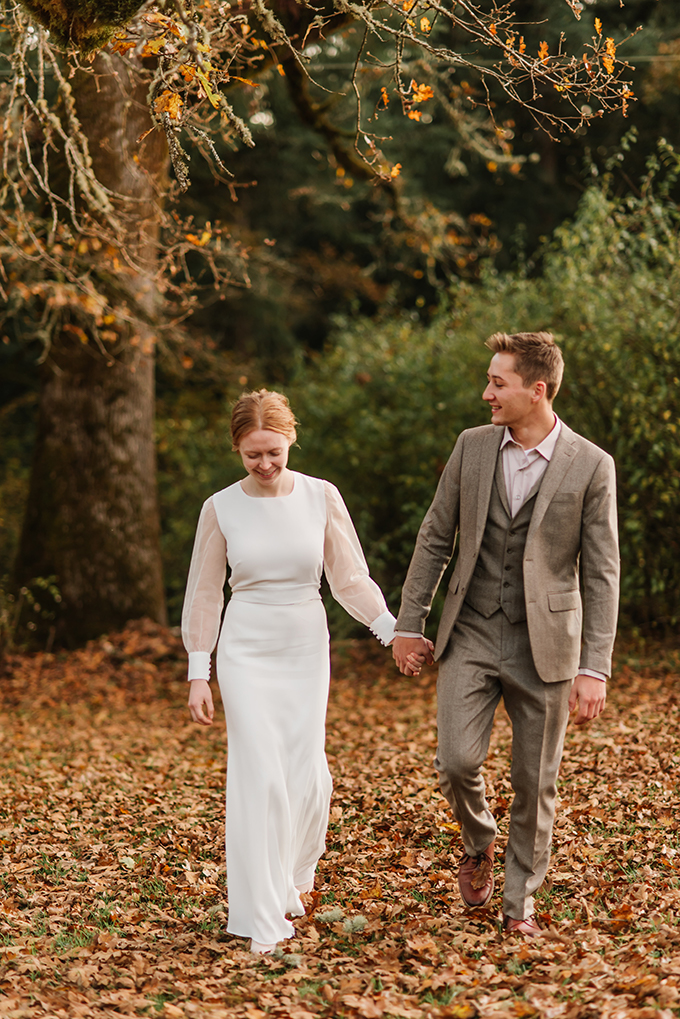 Just a photo with the cat! We might have had to use a lint roller after that.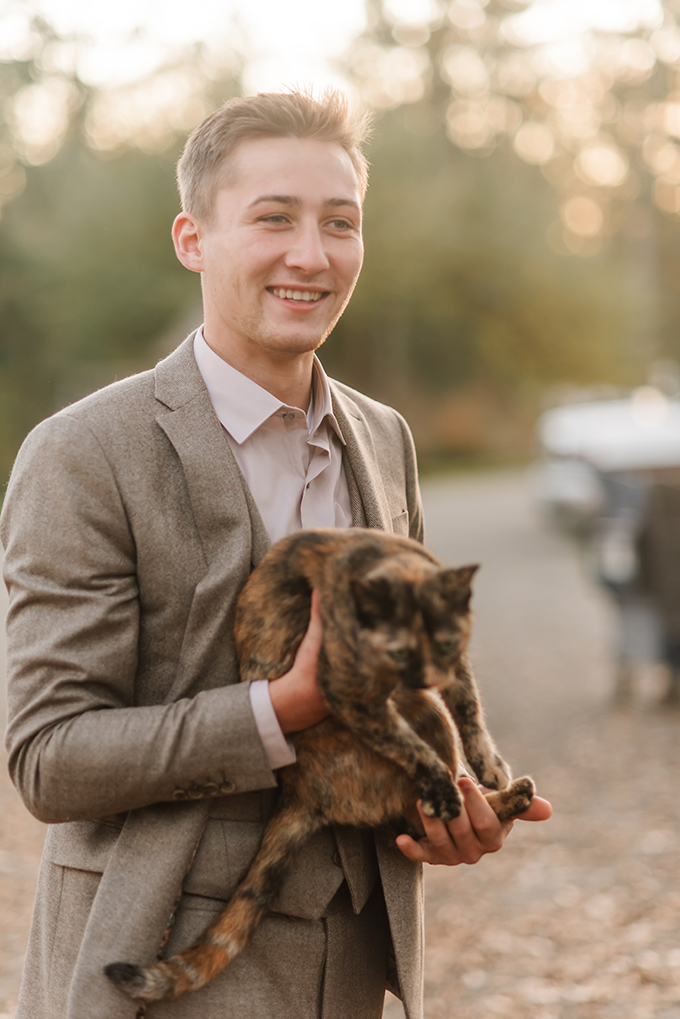 Ty and Claire Get Married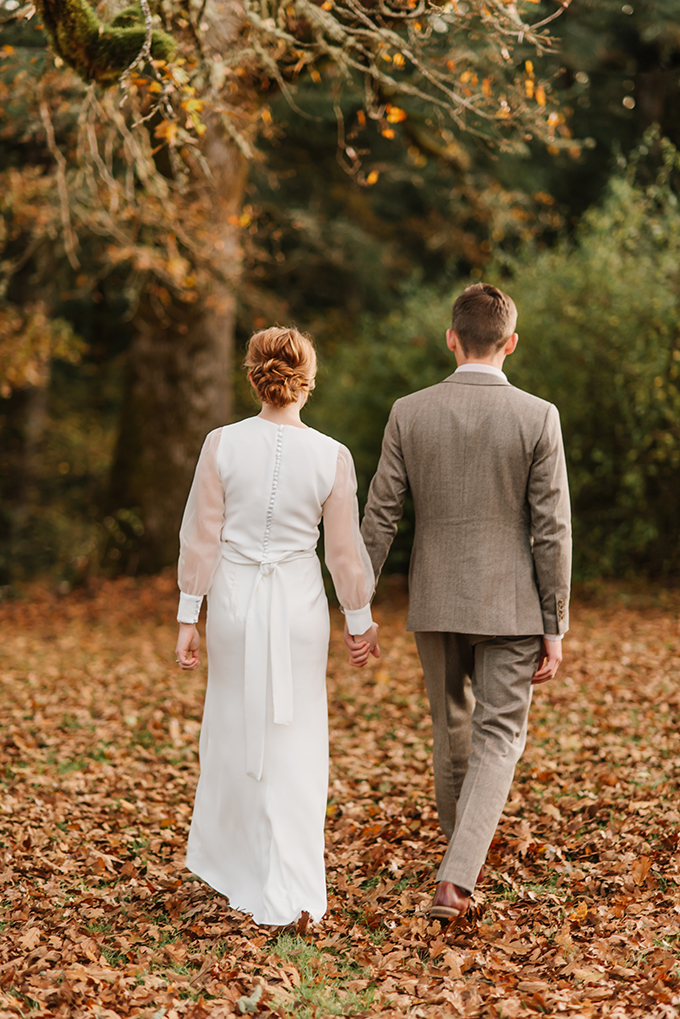 Wedding Cake and Food
Time to leave for the wedding!! I wanted a semi naked cake for the wedding. To me it's just more of an earthy feel. Then just a couple roses and greenery to finish off the look. Nothing too over the top, just what I wanted. Actually I didn't really know what I wanted, but I trusted my mom and Rhonda to figure out something pretty. For the food we did a couple recipes from this wedding food blog, like the bagel sandwiches. Oh they were so delicious.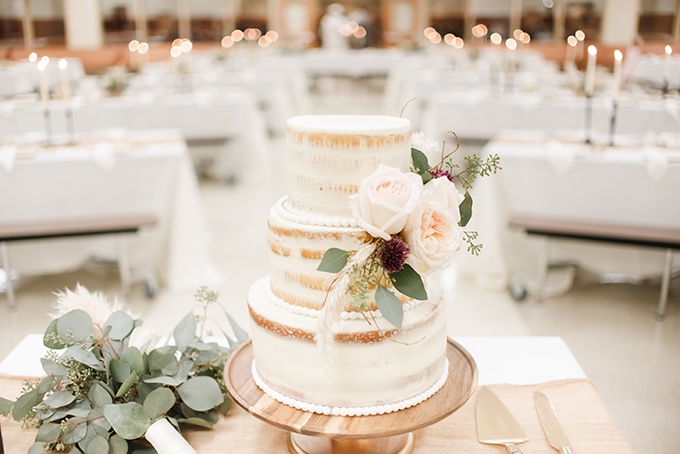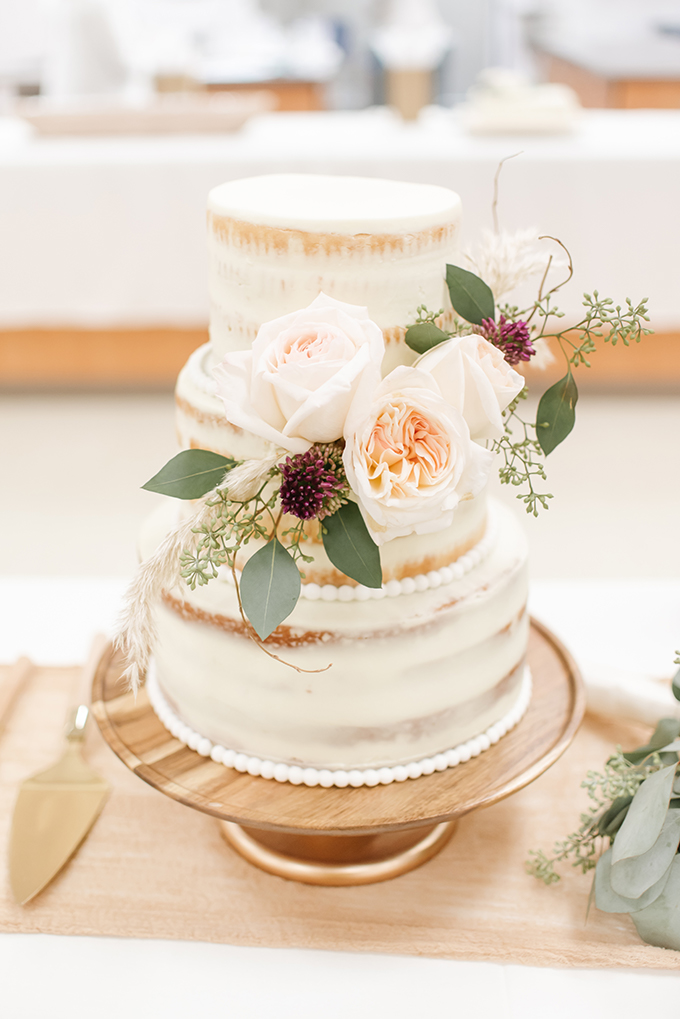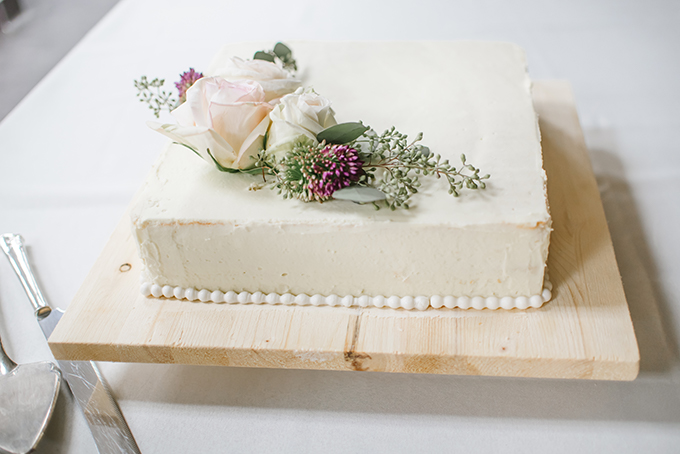 A lot of my inspiration for the wedding involved this gauzy material. So we got crafty and bought some gauze from Joanns and dyed it ourselves. Then I wanted a vintage gold for the candles holders, but we just couldn't find the right gold. So we went with black, we bought a lot of candle holders from second hand stores. They were all sorts of colors, so one day I just spray painted them all a flat black. One of my favorite parts about the table setting was our plates. They are bamboo plates and they really finished off the look of the tablescape for an earthy, natural look.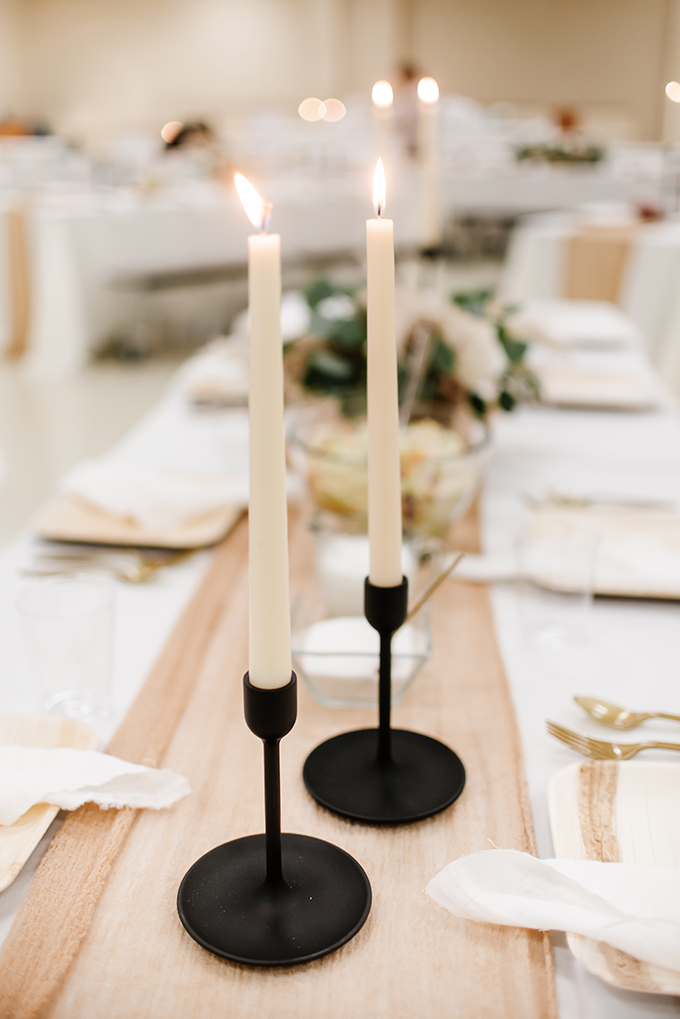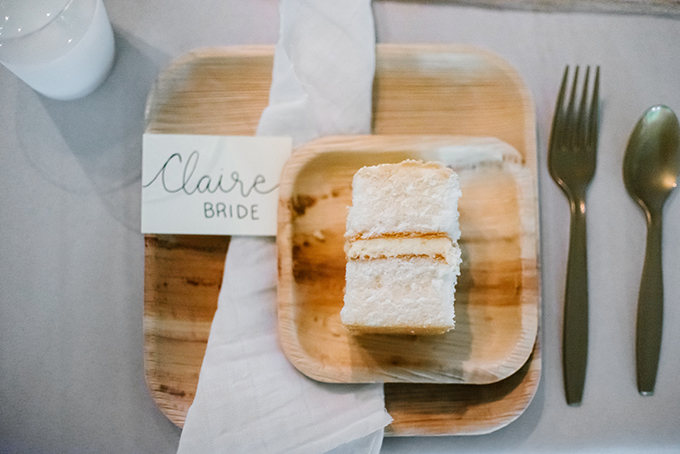 And we're off! Take a look at our honeymoon to Maui. Also here is the best way to host a bridal shower.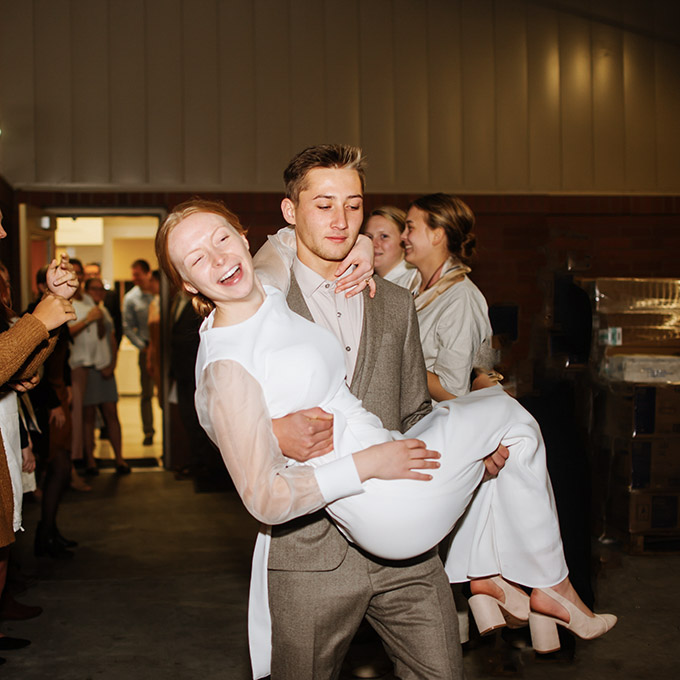 Thank you for taking a look at my special day! Thanks again to Natalie for the stunning photos, and we also want to say thank you for sharing Rhonda on your about page.