It is now officially Christmas time around here! Yes I just said that. Around here we love pom poms, so we decided to make a Pom Pom Christmas Mantel! Be sure to keep reading till the end because I joined many other bloggers with their pom pom diys.
Be sure to sign up for my email to get new recipes, crafts and home ideas in your inbox!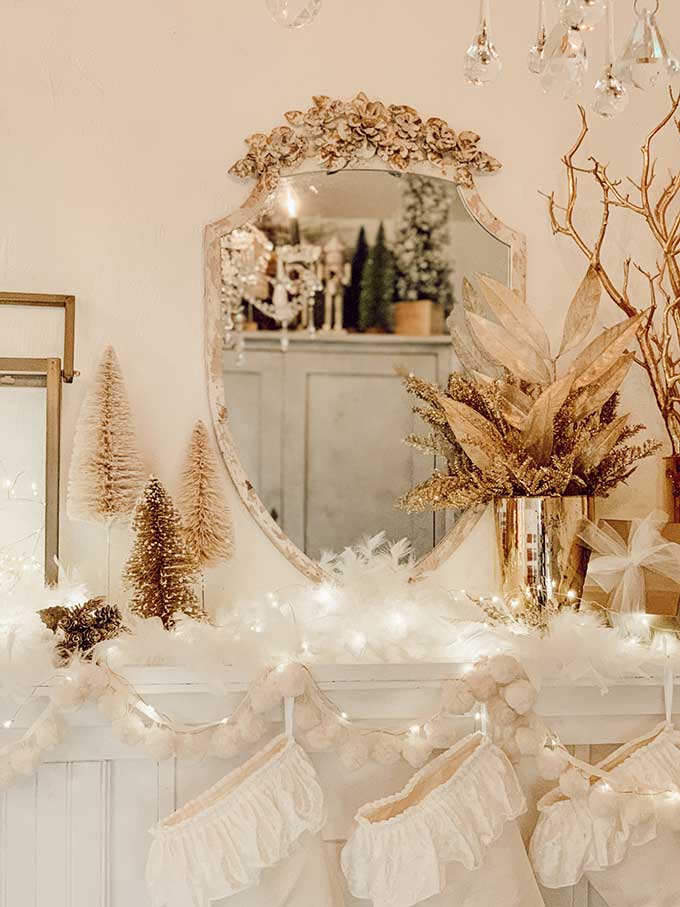 Pom Pom Christmas Mantel
I'm telling you, this was so much fun to put together! Our colors we decided to go with were white and gold, just a classy look. We started with our bigger items. Like our bottle brush trees, I just love those little things. They can be used for so many different styles. We then added our large gold vases with gold sparkled leaves.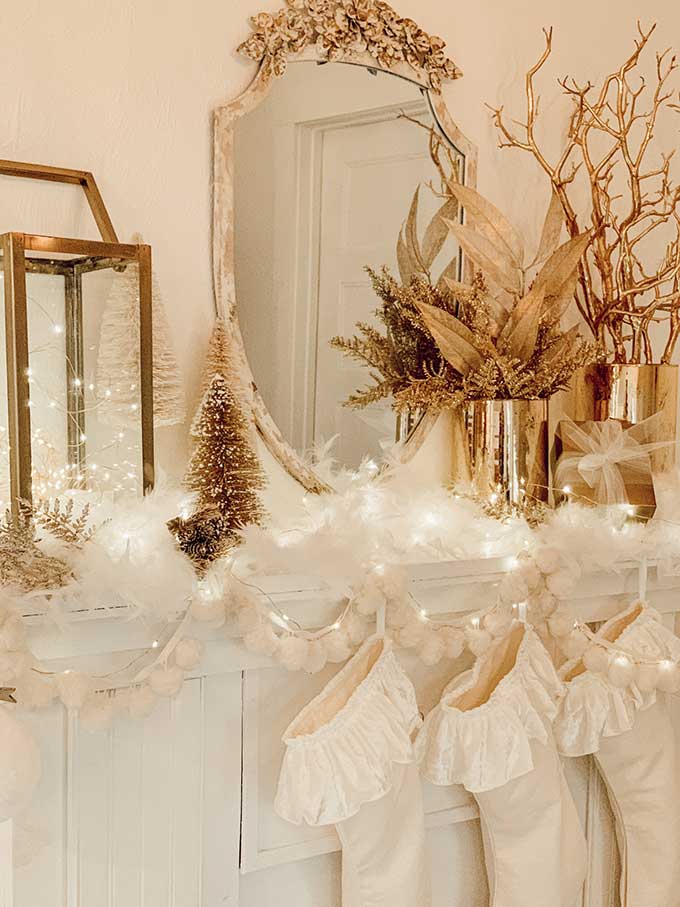 What's a mantel without a mirror? We added our metal rose mirror, the perfect added touch. With a lantern and twinkle lights, you really can get a cozy space. I am in love with twinkle lights. I think I could add them to every room in my house! Instead of a mirror you could also do a wreath. A wood bead wreath diy would be perfect for this spot.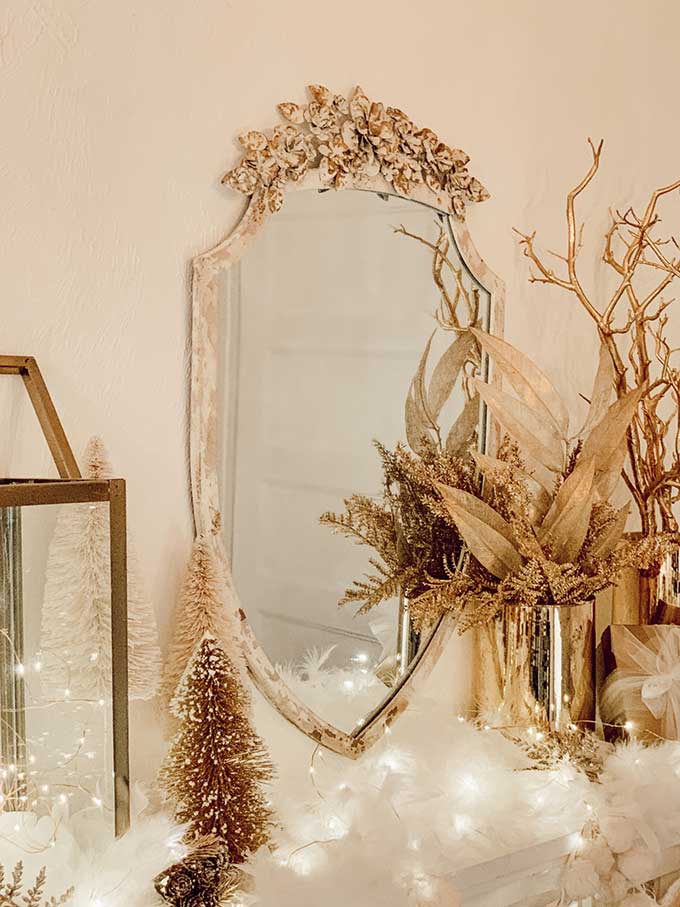 Next we added the pom poms. They really added some fun to the mantel and made it very whimsical. Can you believe we used pom pom trim for this! You can actually add pom poms to so many things, like a Christmas table or a bedroom with Christmas pillows. We have even made a cotton ball Christmas wreath. It is so easy and you can add your own decor.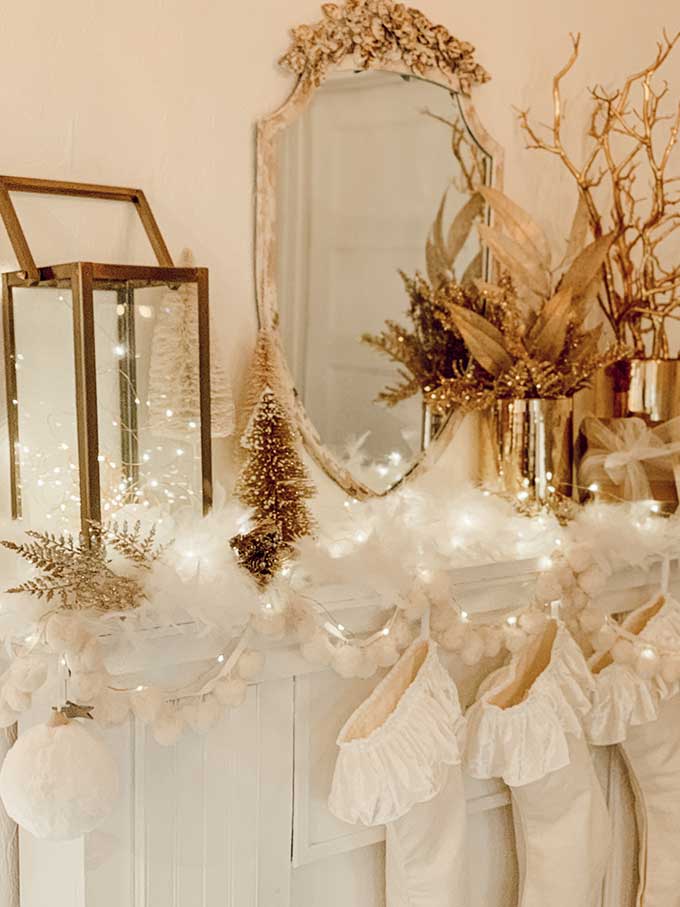 Pom Pom DIY
With a Christmas mantel you cannot forget the stockings. We created these velvet linens Christmas stockings this season, perfect for the holiday season. Don't the feathers just finish the look? They are so pretty and fun for the mantel. Last years Christmas home tour is perfect if you want to keep Christmas simple!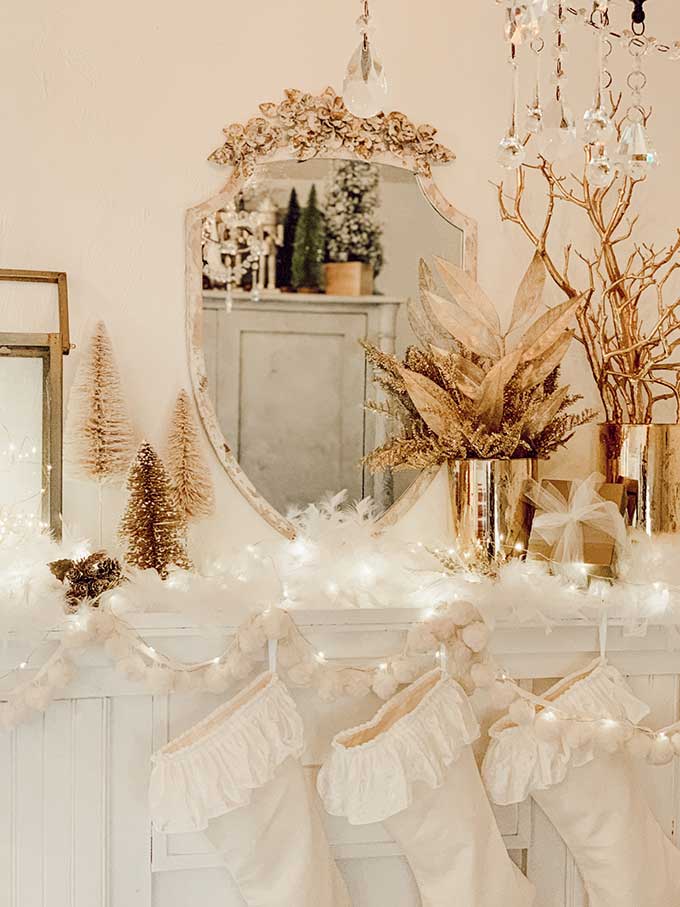 Be sure to take a look at all the pom pom diys below! I will also share affiliate links below so you can shop the look.

DIY Christmas Pillow // Pom Pom String Light Tea Towel // Christmas Wreath with Pom Poms // Farmhouse Wood Bead and Pom Pom Garland // Christmas Pillow

Pom Pom Christmas Mantel // Christmas Pom Pom Hoop Wreath // Pom Pom Snowflake Pillow // Easy No Sew Pom Pom Tea Towels

Rustic Pom Pom Wreath // Pom Pom Napkin Rings // Pom Pom Christmas Hand Towels // Pom Pom Basket

Oh I almost forgot be sure to sign up for our emails to get to our printable vault!